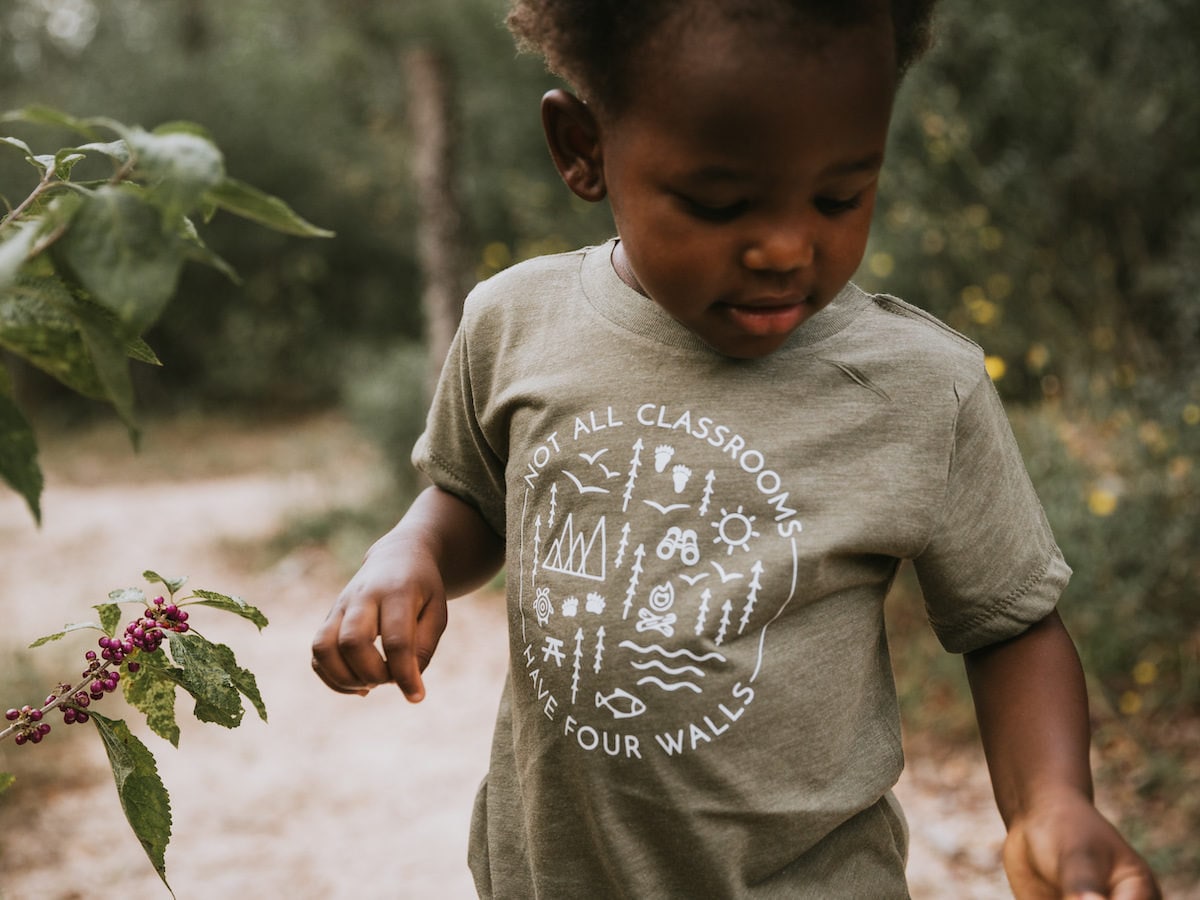 In our weekly Featured Shop series, we shine a light on a standout shop from Etsy's talented seller community, offering readers a behind-the-scenes look at their process and story.
Lindsey Huber knows the power of an eye-catching typographic T-shirt or cheerful canvas tote bag to spark conversation about the topics that matter most. "Support Your Local Farmer," "Live The Simple Life," and "Bloom Against All Odds," are among the dozens of inspiring and motivational messages she prints on luxuriously soft, sustainably-sourced cotton staples in her South Dakota home studio. There's something for everyone at Nature Supply Co., whether you're shopping for back-to-school outfits for your kids or just looking to proclaim your personal love of plants. 
Explore the Nature Supply Co. collection
Lindsey's ever-expanding line of apparel and accessories gives voice to a wide range of causes—from the migration of Monarch butterflies to the endangerment of bees—empowering her customers, young and old, to support and champion the issues they believe in. But the subject nearest and dearest to her own heart is infused throughout the collection. "My personal mission is to inspire families to celebrate the beauty, simplicity, and importance of nature," explains Lindsey, whose passionate commitment to the environment extends beyond her slogans to her ethically minded manufacturing partners and use of recycled packaging. "We like to say we're changing the world, one wildflower at a time." 
Read on to learn more about the earth-friendly ethos behind Lindsey's brand and discover her top picks for back-to-school—then shop the Nature Supply Co. collection.
How did you get started designing and selling T-shirts?
I've always had that creative bone in my body. I grew up in the dance world, and worked full-time as a cheer and dance coach at a local college. After I had my daughter, I wanted to balance my work-parent life. I had a background in e-commerce, and some members of my family had experience in the T-shirt world, so I used them as mentors, got their advice, and started designing shirts about things that I was passionate about. That's where the idea for Nature Supply Co. began, and it bloomed from there. 
Have you always been interested in nature?
Yes! And as I've gotten older—especially since I had my daughter—I've realized the importance of the natural world even more. It's crazy how much things have changed. Back in the day, when I was a kid, going outside was so common. Now it's harder to get kids to do that. I wanted to get my daughter outside, so we have our own garden, and we go to the farmer's market every weekend.
How would you describe your aesthetic?
We lean toward simple elements with a retro twist. When I first started out, I wanted to make shirts that were incredibly soft, and that I felt comfortable wearing. I had this idea to give my products a vintage-inspired look, but still make them feel modern. 
Can you walk us through your creative process? 
I'll start by thinking of a clever, unique saying that embodies a cause that I'm passionate about. I have a graphic designer that I partner with, and together we bounce ideas back and forth and come up with different visual iterations until I'm happy with the final version. My studio space takes up my whole basement! We start with blank T-shirts, which allows us to customize everything with different transfers. As orders come in, we'll print the design on whatever size and color shirt the customer wants using our professional-grade heat press. 
What's your most popular design?
During National Pollinator Month, we released a collection of bee designs, and "Save The Bees" became our best seller. Once I realized how important bees are, I wanted to help spread the word about the fact that they're in danger. A lot of customers have told me that when they wear the T-shirt, it becomes a conversation starter about the issue because someone will be like, "Save the bees? Why do we need to do that?" It's fun hearing that feedback. We're spreading the word.
What inspired you to create your collection of parent-child coordinated shirts? 
I actually started with just adult T-shirts in my shop, but I wanted something for my daughter in a similar style. Customers also requested that we print our designs on children's shirts so that they could match their kids. When we started branching out into coordinating tees, like "Mama Bee" and "Baby Bee," or "Gardner" and "Mini Gardner," we got a lot of positive feedback. Now we see our shirts being used for pregnancy announcements, birthday parties with a bee theme, family photos, and more. Moms tag me a lot on social media—they love showing off their shirts!
Speaking of kids, what styles do you recommend for families planning back-to-school shopping lists?
We have a few shirts that work really well for back-to-school. Our "Not All Classrooms Have Four Walls" tee promotes the idea that you can learn a lot in nature, not just in a traditional classroom. We also have a "Bookworm" shirt, and "M is for Monarch," which uses a fun typewriter font.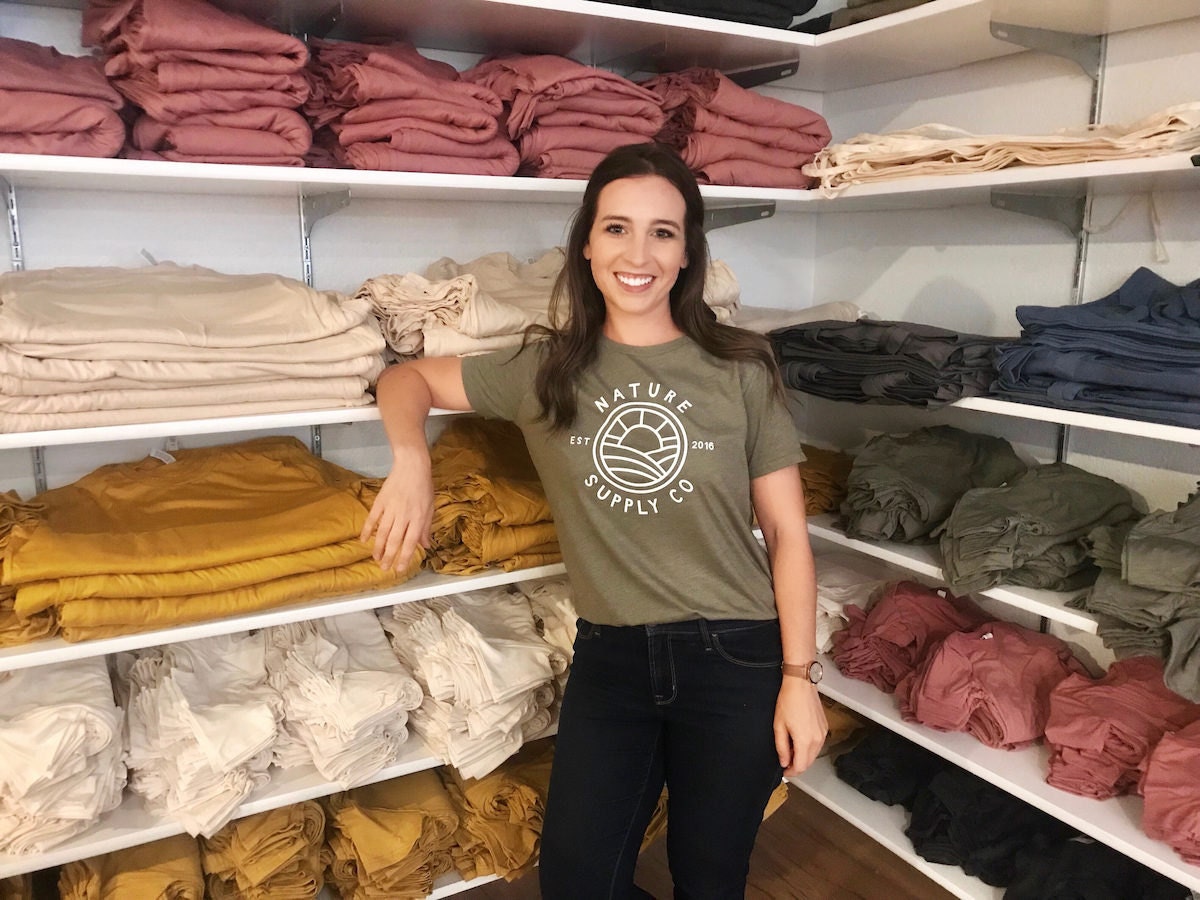 What role does sustainability play in your business? 
Our commitment to sustainability is an important piece of the brand itself. If we're going to share these messages, and talk about the importance of the environment, the items themselves should be a reflection of that. We made sure to carefully research our T-shirt manufacturers, to ensure their values lined up with our ethos.
We offer an organic line and a non-organic line of shirts, and both of the manufacturers we work with are eco-friendly, sustainable, fair trade, and based in the US. We also have a line of reusable tote bags, so we can promote the use of less plastic in the world, and we're proud to use recycled packaging.
So, what's next for Nature Supply Co.? 
I'm always full of new ideas! We're releasing several new shirt designs, including a "Farmer Family" shirt timed to National Farmer's Market week in August, and a campaign for National Honey Bee Day. We're also interested in branching out to giftable items, like enamel pins and patches using some of our graphics. 
I'm also super excited about focusing on the educational side of people getting into nature, from posters and prints to DIY kits and books, so that those who want to know more about these causes can celebrate them and teach their children about what's going on. Many of my customers are suburban homesteaders, like me. They want to have less of a footprint on the environment and get back to their roots.
Follow Nature Supply Co. on Instagram and Facebook.
Photographs courtesy of Nature Supply Co. unless otherwise noted.