Discover the handmade pendant lamps that light up any room—even when they're not in use.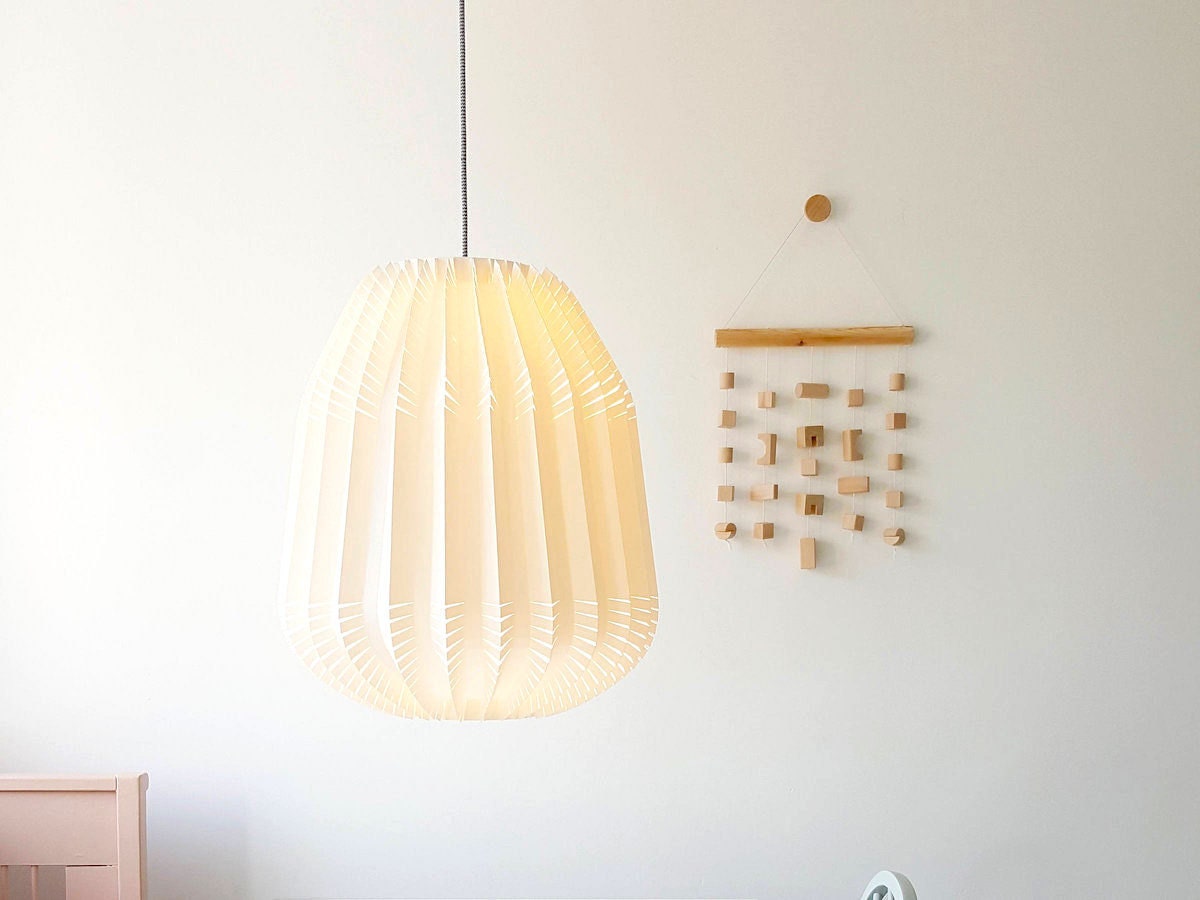 In our weekly Featured Shop series, we shine a light on a standout shop from Etsy's talented seller community, offering readers a behind-the-scenes look at their process and story.
Of all the words that might spring to mind upon spotting one of Nellianna's colorful origami pendant lamps—surprising, spectacular, wow—"practical" might not leap to the top of the list. And yet these elaborately folded forms were developed with a wholly down-to-earth function in mind: tempering the sometimes-harsh cast of energy-efficient light bulbs. "We like lighting to be soft and to give off a cozy, warm ambience," says Nellianna van den Baard, who runs the shop with her husband, Kenneth Veenenbos, "one that can help you feel happy and calm." Which is not something that garden-variety LEDs are famous for—that is, unless they're sheathed in one of Nellianna's sculptural, sorbet-hued shades.
Explore the Nellianna collection
Creating their line of distinctive statement lamps also served a second pragmatic purpose for Nellianna and Kenneth: It gave the Netherlands-based couple, who met in university while studying architecture and industrial design and worked for other creatives' companies after graduation, the chance to build something of their own—and with their own two hands. The discovery of an online origami tutorial back in 2010 was the last little push they needed to set them on the path to making some of the prettiest problem-solvers we've ever seen.
Read on to learn how these standout lamps are made, then shop the Nellianna collection.
How does one of your lamps come into being?
In our studies, we were both trained to follow a rather extensive and formal design process, which is certainly important when working at a design studio. That, however, is not the way we work on our own projects. We usually start with a rough idea that comes to us in a really intuitive way. Then we begin making a simple test model that we can experiment with; in most cases I handle this part of the process, while Kenneth works out the technical details.

I use a metal ruler, a knife, and a pair of scissors to make the test model by hand, and when we're happy with it, we make a technical drawing and talk with our production partners. We work with another company to press the folding pattern into the papers using a die-cutting machine; that gives a much better result than plotting the pattern out manually. Typically, a new product will need at least some minor changes before we're ready to put it into production. And not every idea we come up with makes the cut—some turn out to be impossible to produce or simply too expensive to make.

What can you tell us about the materials you use?

Over the years we've designed a number of lampshades that are all made from paper or wood. We like these materials, as they are renewable and biodegradable—and we also like the smell and the touch of them. When we're choosing which kinds to use, we consider both the quality and the price. The most important thing with paper is that it can be folded well. Some papers are better for folding than others, and we always look for papers that give a sharp, clean fold, and that are compatible with the die-cutting machines we use.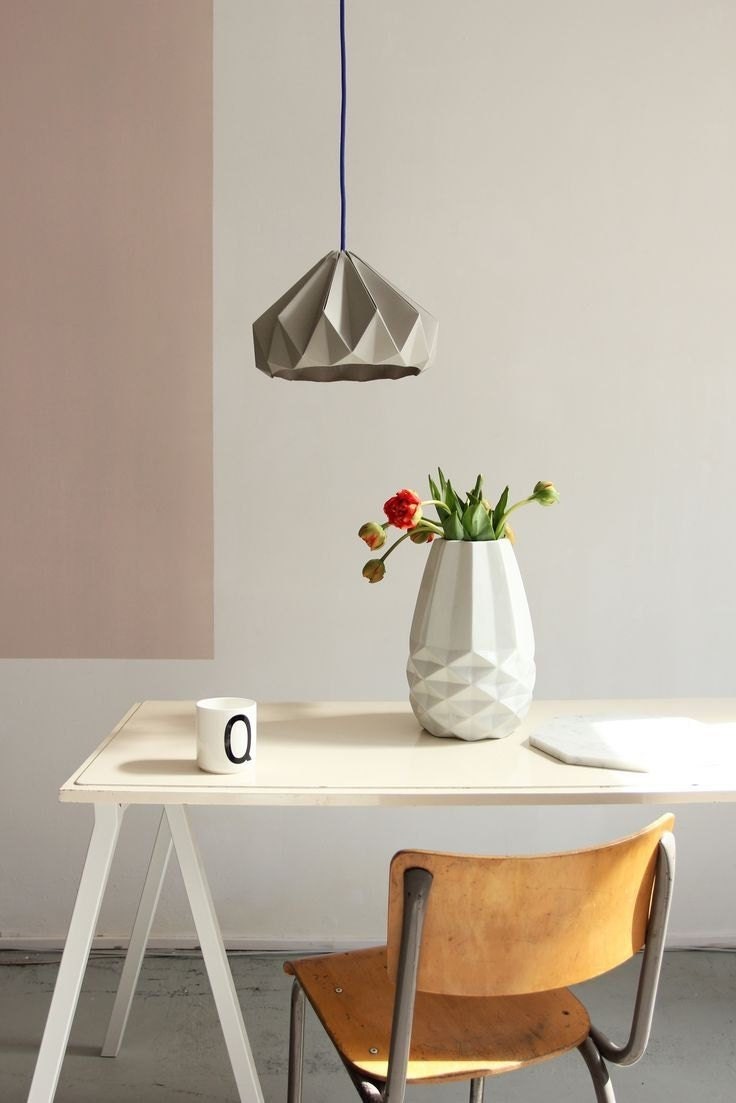 >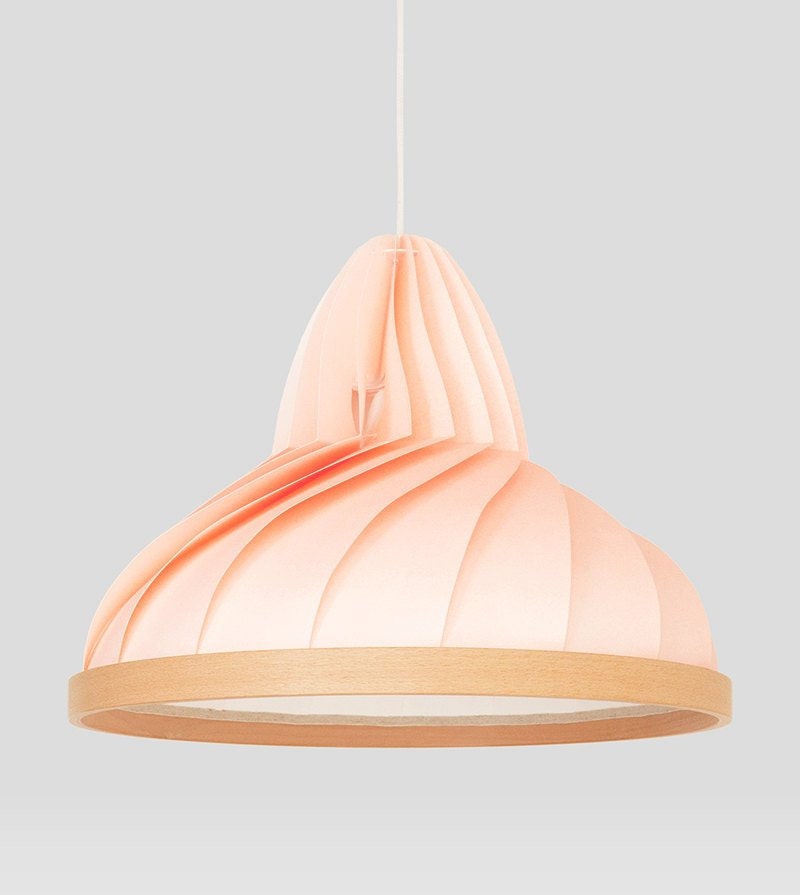 >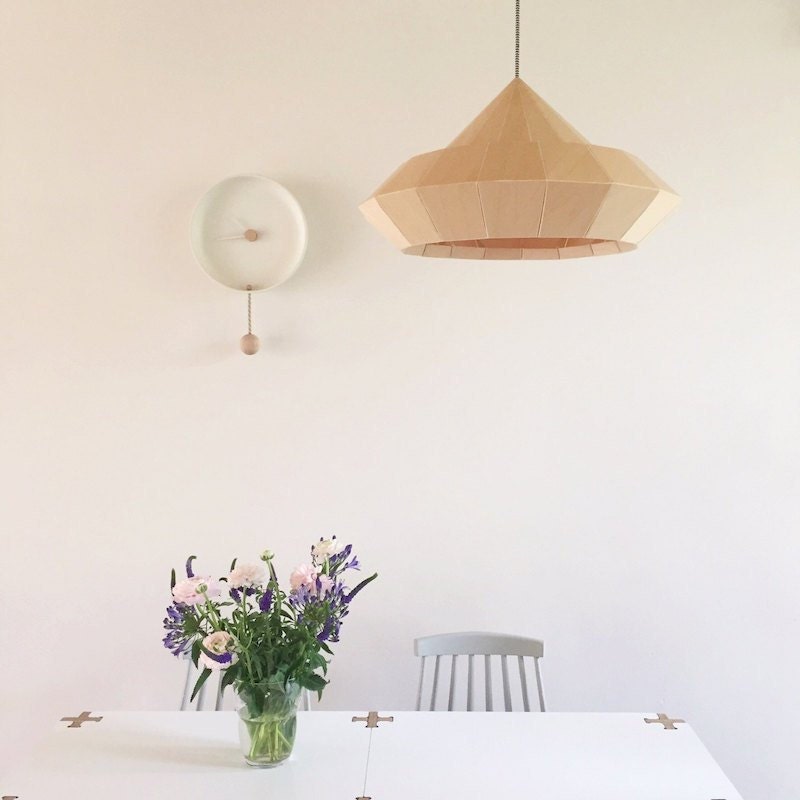 >
What else informs your design priorities?

The main things we look for in our designs are simplicity and nice proportions. We aim to create shapes that most people will find naturally pleasing to look at and feel at ease with. Even if the design is complex, the shape will still be minimalist.

Do you have any notable bestsellers in your shop?

The most popular item in our shop is the Moth lamp, which we initially created as a way to use leftover materials from our Chestnut lamp. The Chestnut was the first lamp we made, and we create it from a single sheet of paper. However, the papers we get from our suppliers are larger than we need for the Chestnut lamp alone, so we challenged ourselves to design another lamp that could be made from the excess. It turned out to be the most successful product in our shop.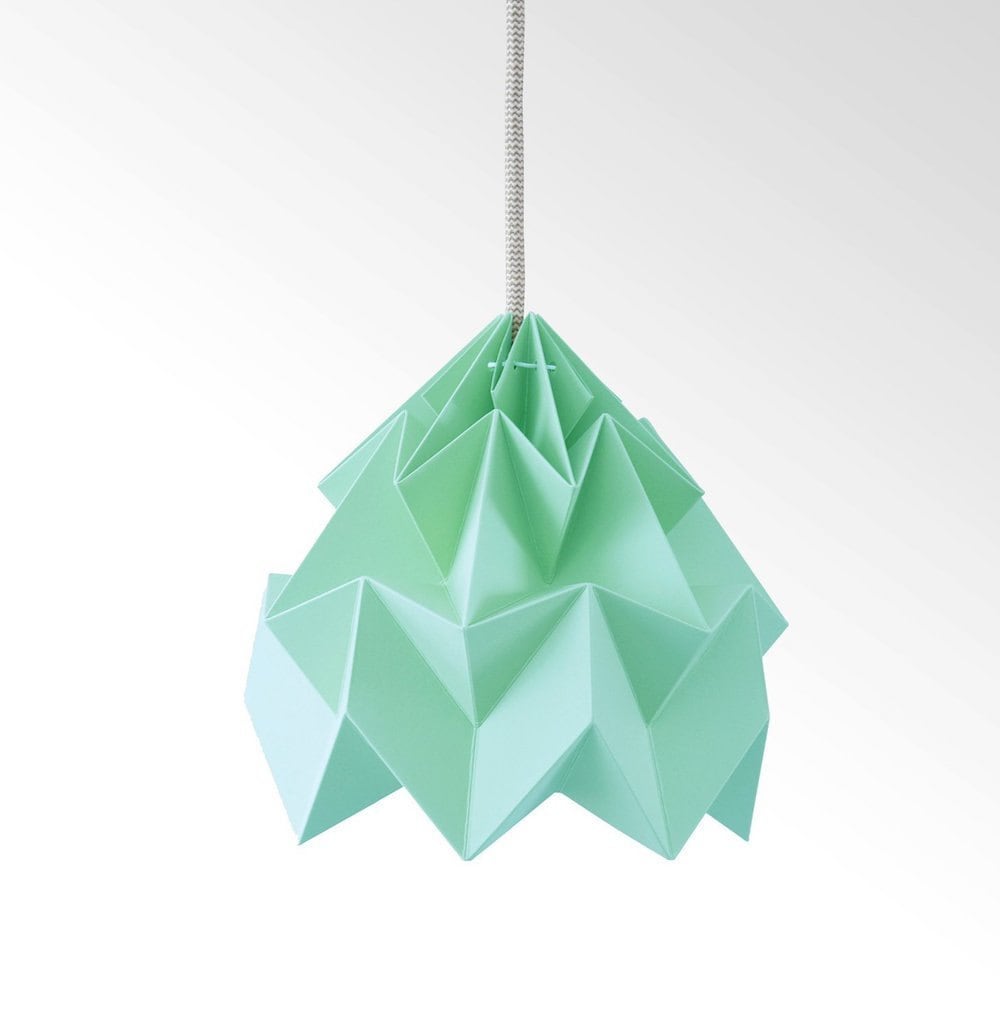 >
Interior designers seem to use your pieces quite a lot. What are some of the coolest places your lamps have appeared?

One installation that we like a lot is a bookshop in Milan, and our lamps are also in a gathering space in a park in Leiden where people can meet up and have drinks. We made a large version of the Chestnut lamp for the Schiphol airport—you can see those lamps even from outside the building. One of our most recent projects was a metal version of the Chestnut lamp for the Starbucks Reserve roastery in New York. Kenneth worked on the project with the designer Marc de Groot, who developed a clever way of attaching different hand-folded metal sheets together.

Are you working on any new projects these days?

We've been getting quite a few requests for a larger version of the Chestnut lamp, so we decided to follow up on that. We plan to offer it as a paper DIY kit with different segments that you can fold yourself and attach together. Recently we launched a book of DIY folded-paper home decor projects called Better Living Through Origami, and we're also looking into offering kits for some of those. In fact, there's a paper wall clock in the book that we liked so much we started selling it in our Etsy shop.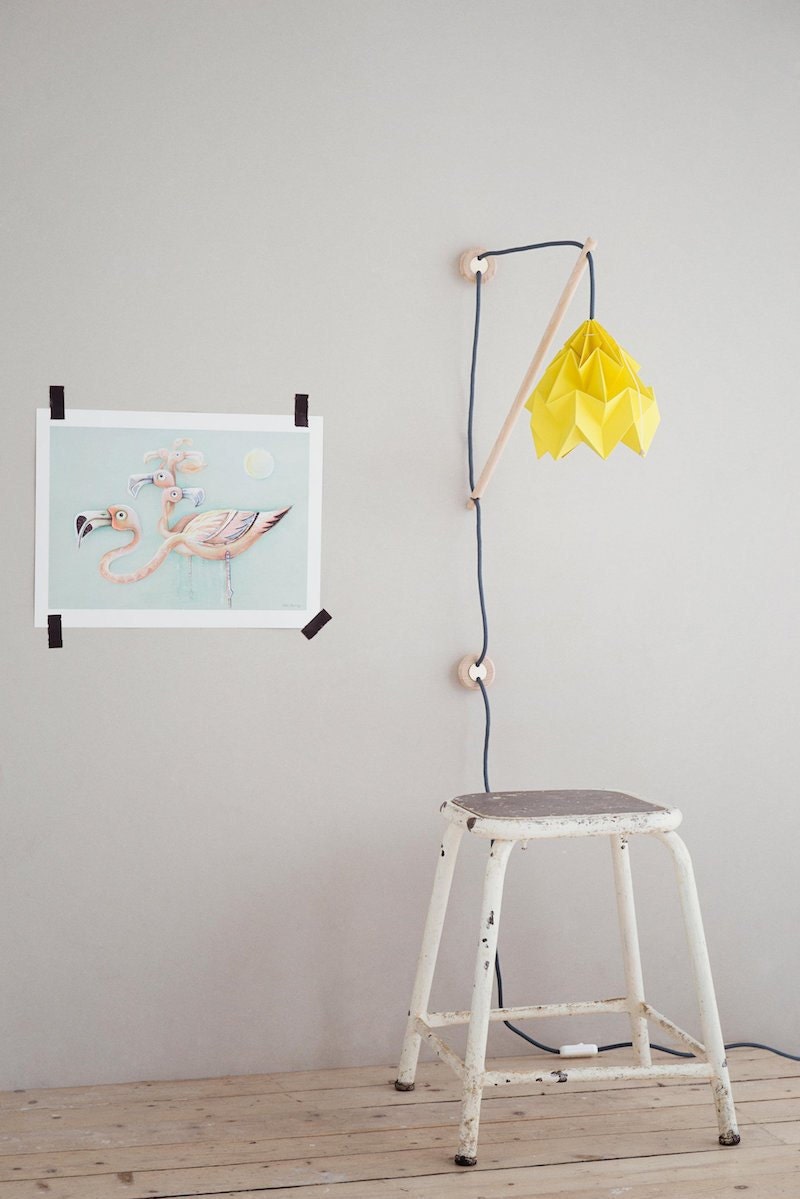 >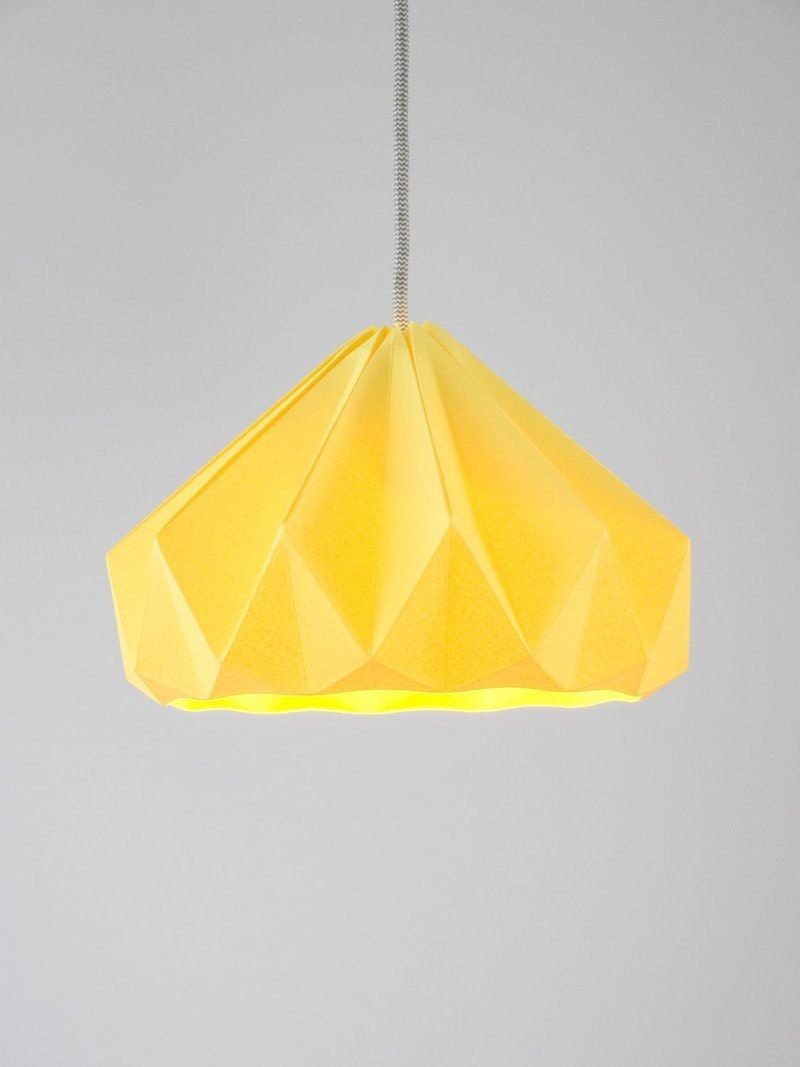 >
What do you love most about running this business?

Being able to work on our own creative ideas is what we like the most, along with working with our hands and not sitting behind a computer screen all day. We also really enjoy knowing when one of our ideas takes off and is well-received by our customers. Thanks to social media, we get to see how our customers use our lamps in their own interiors, and that's another aspect of this job that we really like as well.

Follow Nellianna on Instagram, Facebook, and Pinterest.
Photographs by Louise Boonstoppel unless otherwise noted.