With classic cuts and custom prints, these small-batch, designer garments are crafted to last—and made to stand out from the crowd.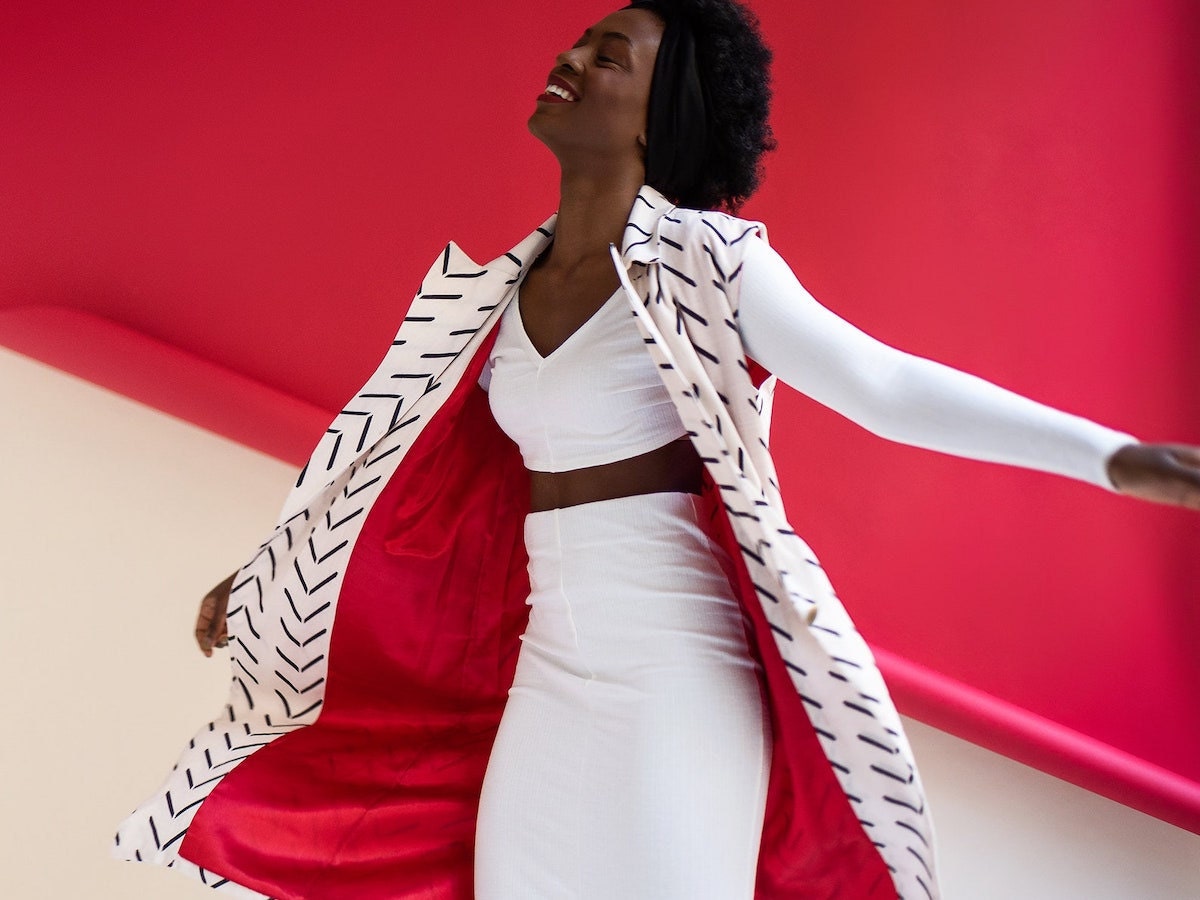 In our Featured Shop series, we shine a light on a standout shop from Etsy's talented seller community, offering readers a behind-the-scenes look at their process and story.
Sometimes an outfit is more than just an outfit—it's an affirmation. In fact, if you ask Atlanta-based fashion designer Ngozi Okechukwu, the way you dress has the power to accentuate and celebrate the self. "The whole purpose of everything I make is to uplift the person who wears it," explains the creative force behind Ngo Bolingo, a chic clothing line specializing in effortlessly wearable dresses, jumpsuits, and trench coats. "When someone steps out in one of my designs, I want them to feel really good." Even the singsong name of Ngozi's shop—which stems from the words for "love" and "blessing," in Igbo and Lingala, respectively—underscores her mission to spread a zest for life every time you slip on one of her stunning pieces.
But good vibes aren't the only thing enduring about Ngozi's garments. Created in limited-edition runs of only 10 to 25, each capsule wardrobe-worthy piece is made to last, and crafted with sustainability in mind. By combining quality construction and timeless, trend-transcending silhouettes—and peppering in her own original pattern designs—Ngozi has produced a collection that is as singular as it is stylish, filled with pieces meant to be adapted to suit the season, dressed up or down depending on the occasion, and cherished for years to come.
Read on to learn the meaning infused in Ngozi's designs and get her tips for styling your wardrobe, then shop the Ngo Bolingo collection.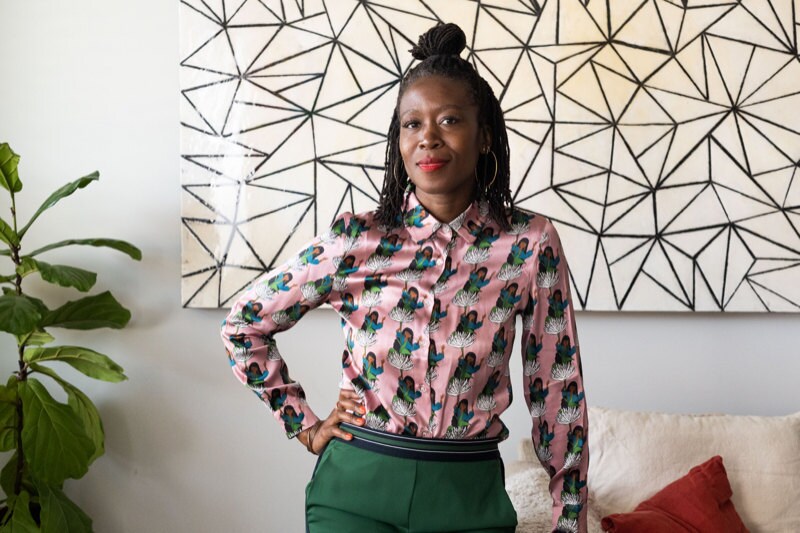 What draws you to fashion?
It's your voice speaking without having to move your lips. It's art, a blank canvas. My dream of designing fashion started in home economics class in high school. I came home and asked my mom if I could start using the sewing machine that she never used. She soon saw that I knew what I was doing, and I started altering my old denim jeans into skirts. My mom transitioned to the spiritual realm years ago, so it's nice to remember times like that.
What's your design philosophy?
The number one thing for me is sustainability and longevity. I use linen and cotton, and I've been sampling some mulberry silk, because good quality fabrics last longer than something that's cheap. And number two: I try to design something that's timeless and special.
I want to create fashion that's simple, but also pieces that make you stand out from the crowd when you wear them—pieces that no one else has. I choose classic silhouettes because I feel like they'll stay around longer than anything else, since they fit more people's style, and you'll still be able to wear those designs five years from now. I want to create garments that people can pass along over time, so they don't go to landfills.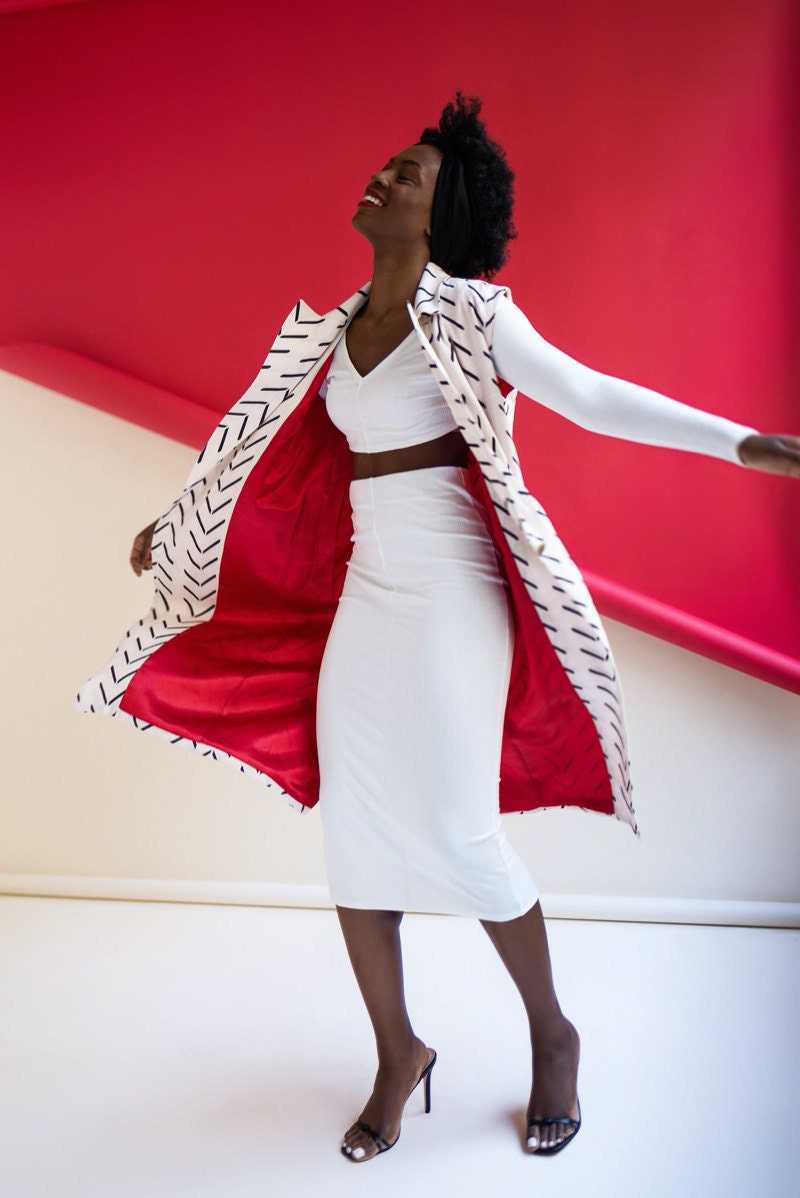 SHOP: Oya vest from Ngo Bolingo, $110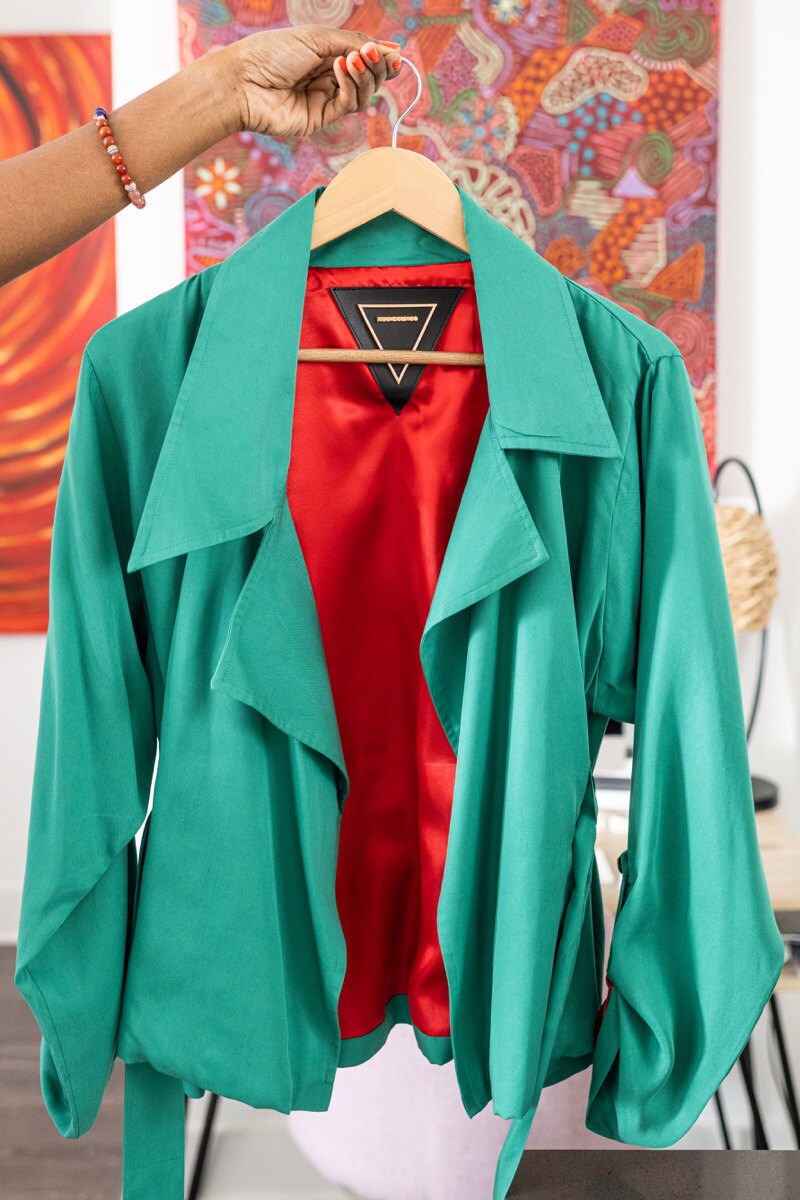 SHOP: Green spring trench from Ngo Bolingo, $109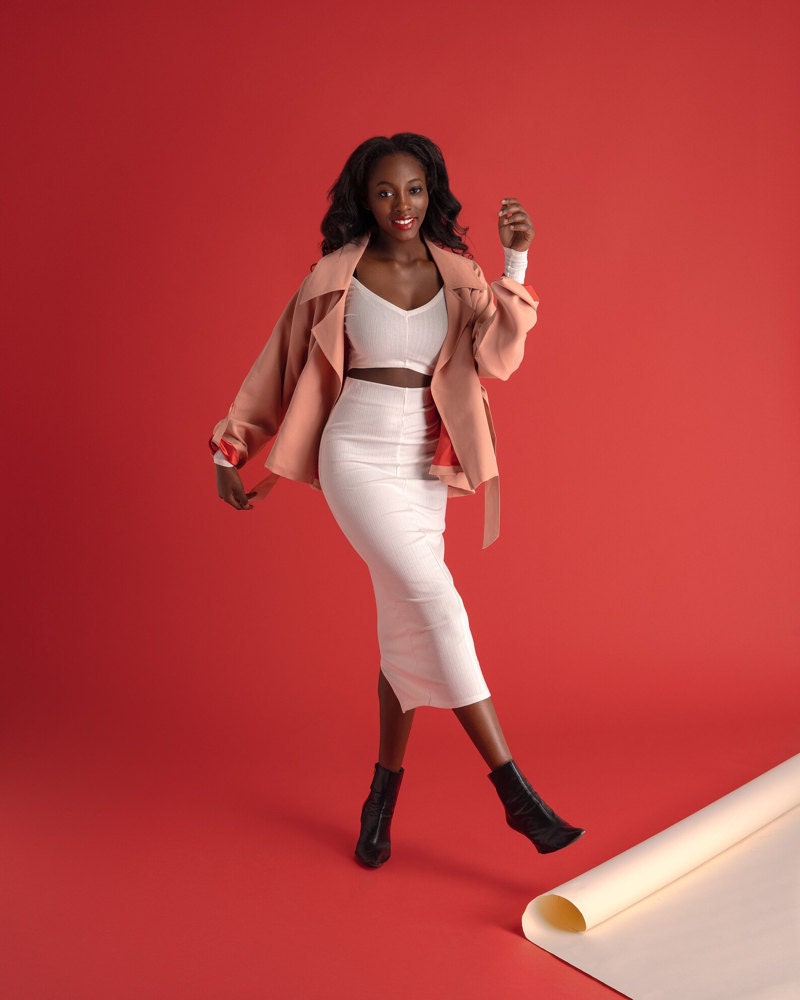 SHOP: Pink spring trench from Ngo Bolingo, $109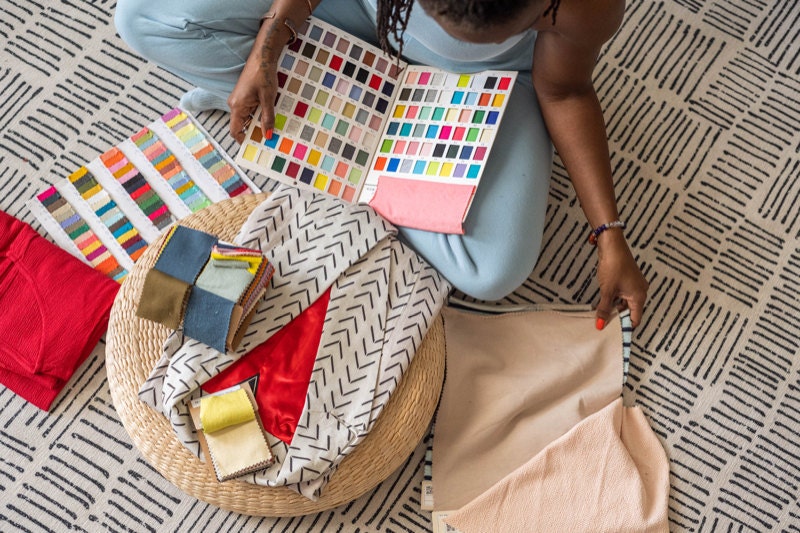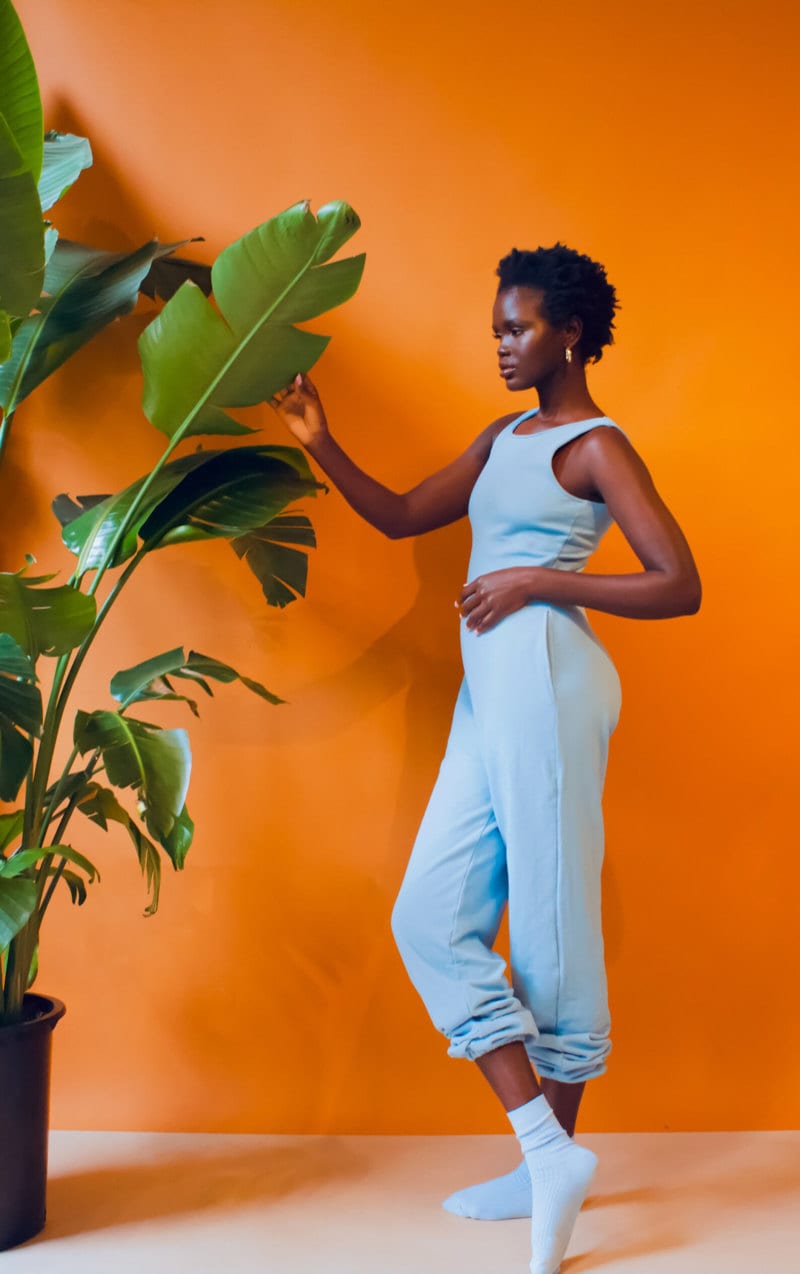 SHOP: Sky blue jogger jumpsuit from Ngo Bolingo, $79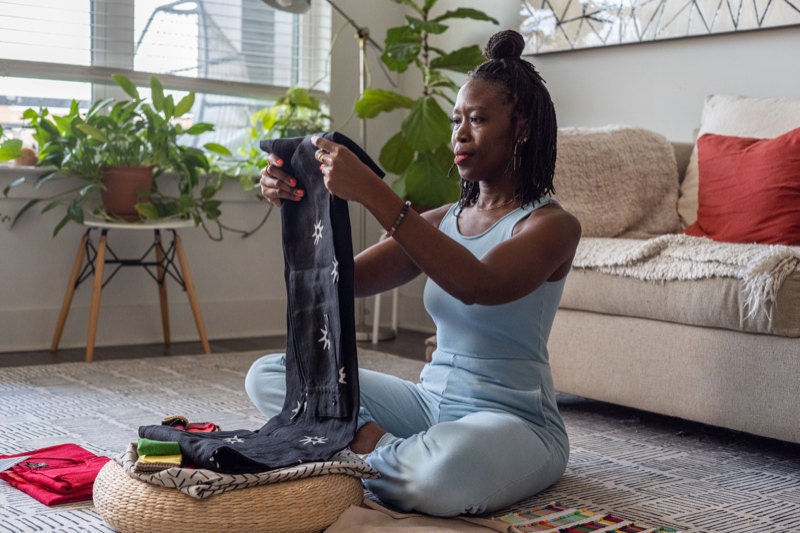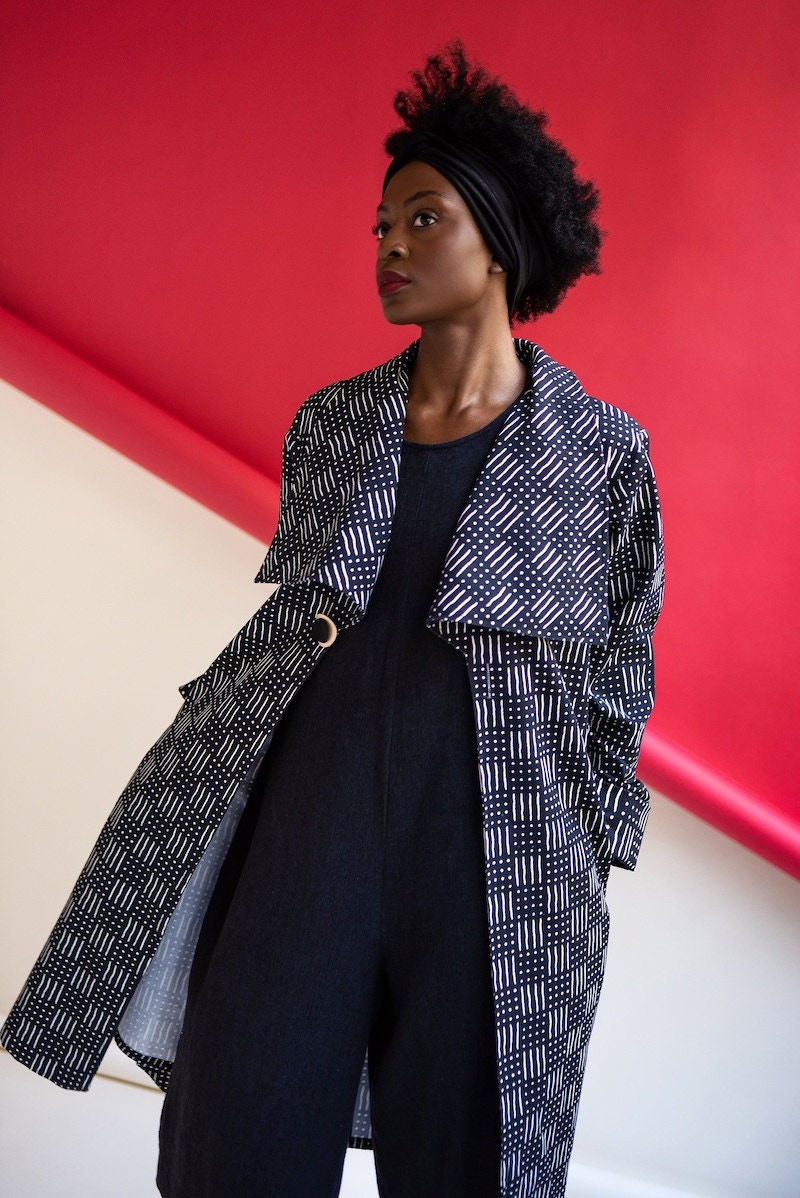 SHOP: Maya denim jacket from Ngo Bolingo, $139
Where do you find inspiration?
I would say the planet. I know that might sound strange, but I only want to create things that help and not harm. I love sustainability. In terms of aesthetic, a lot of my inspiration came from living in Brooklyn, being on the train, seeing the fashion and the people walking by. A good portion of my line was created when I lived there. It's about ease, functionality. I'm also inspired by old movies—Breakfast at Tiffany's, things like that—where they wear long gowns and classic pieces. When I watch an old movie, I can just start creating all kinds of things.
What's the story behind the patterns that adorn your garments?
I'm a print queen. I design my own prints that go onto the fabrics that I use. I like taking traditional symbols and amplifying them and having them stand out on their own. I'm Nigerian-American, so I try to incorporate some Nigerian culture into the American, so that they can go together, like my star print. That's an African print that is used quite often that means "beauty" or "child of the heavens." I use it over and over, like in my black and white pullover linen dresses. Sometimes my prints tell me what they want to be, like if they want to be a shirt or a dress or something like that.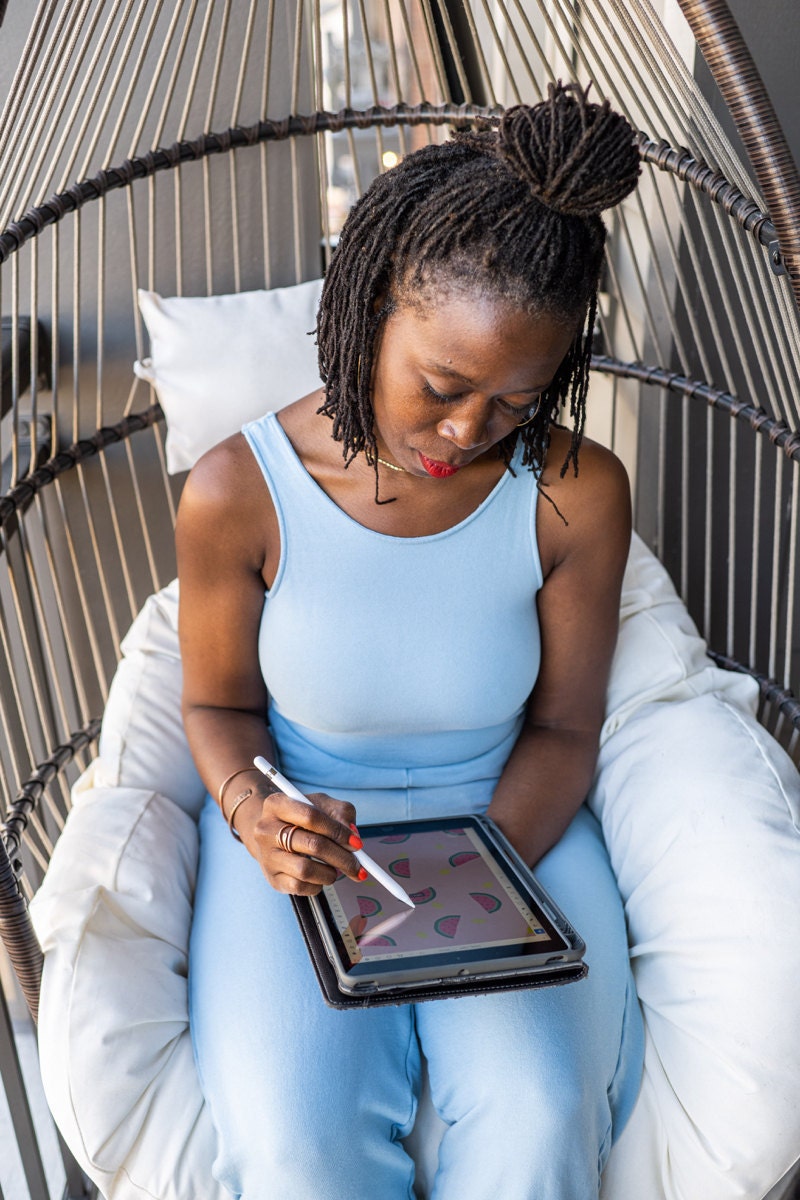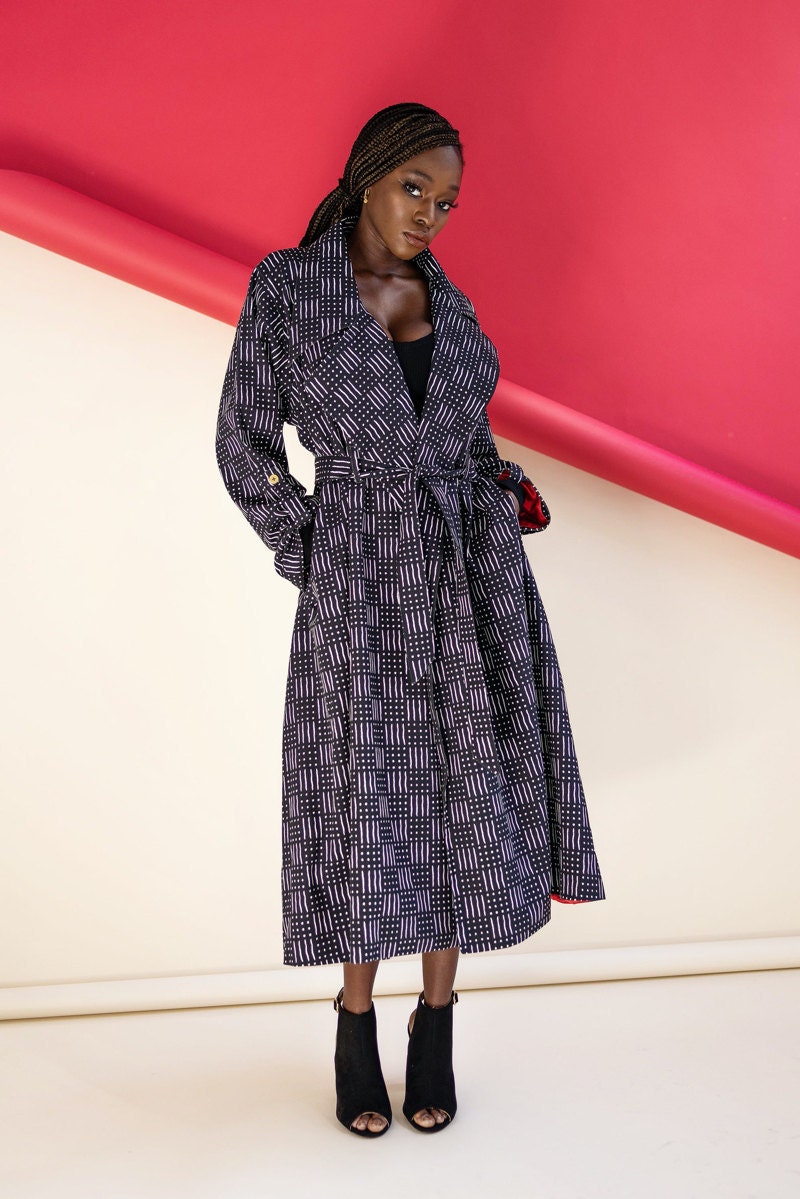 SHOP: Oko print trench coat from Ngo Bolingo, $169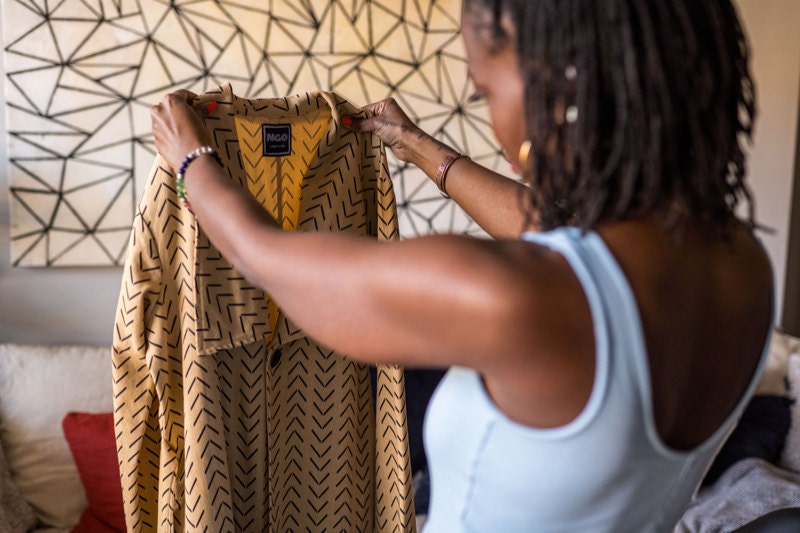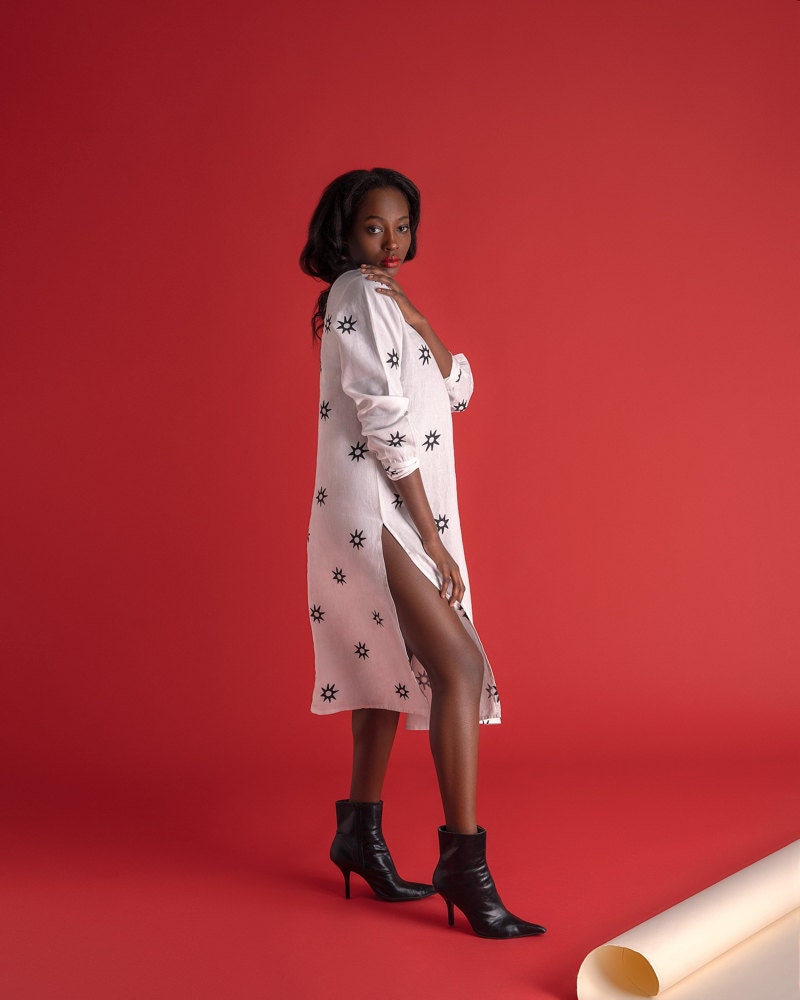 SHOP: Long-sleeved linen dress from Ngo Bolingo, $110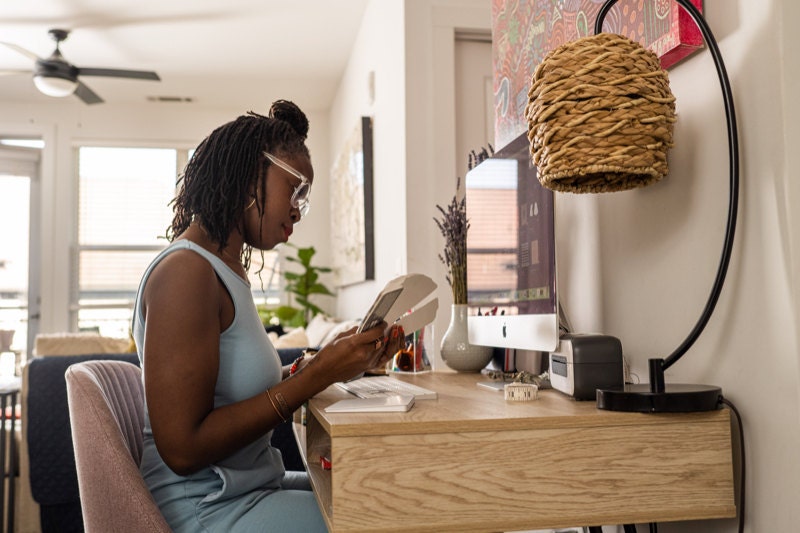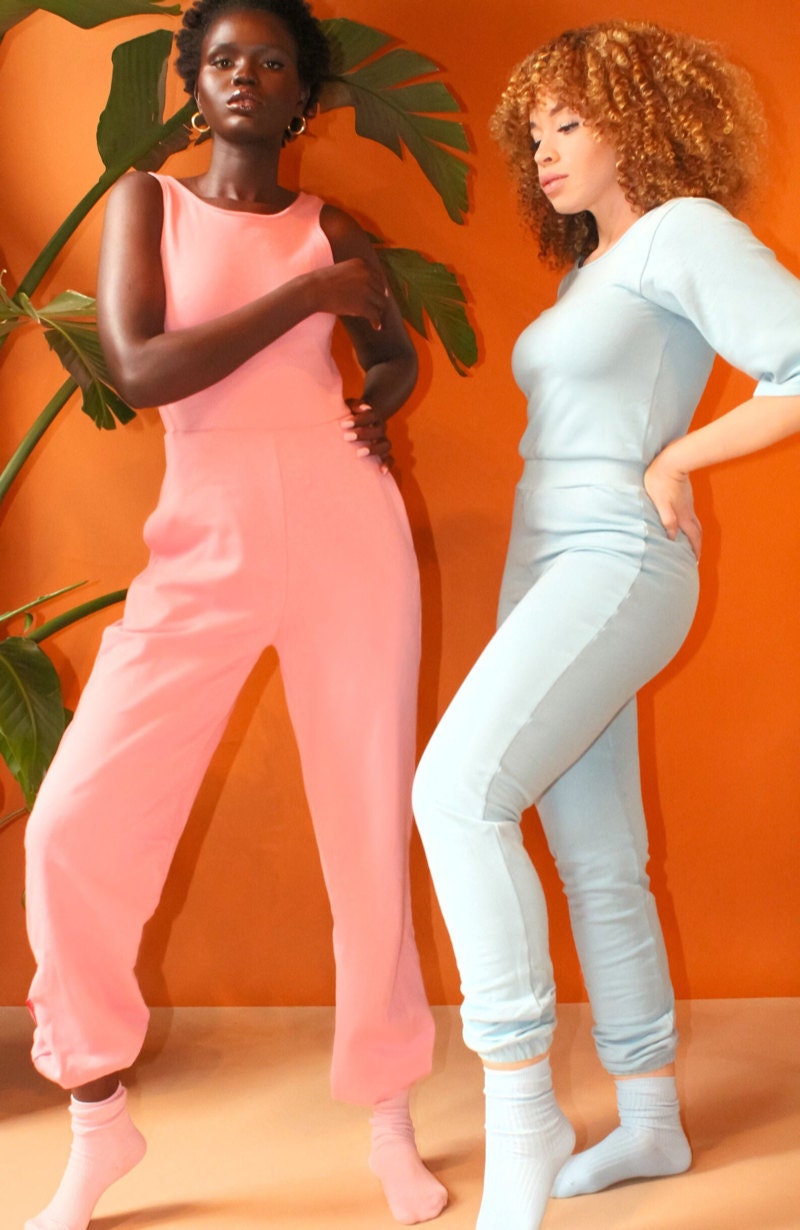 SHOP: Pink tank jogger jumpsuit, $79, and blue short-sleeved jogger jumpsuit, $89, from Ngo Bolingo
You've said that each of your collections builds on the previous one to develop a "world of garments." What's your approach?
I like to take what I hear from customers and expand on my existing designs. Even though I'm still using the same silhouette, maybe I'll change up the print or do a different color. Like the coral and the green trench jackets in my shop, they're actually the same as the printed jackets, but recreated in a solid color. I design so that if you bought something in my store a year ago and I create something new today, you can still put those two pieces together.
Any advice for styling outfits for different occasions?
As far as styling goes, I would say go simple. That's how I design. You'll notice in my store that I don't have any tops or bottoms. I mostly do dresses, jackets, and jumpsuits because, for me, those are easy fashion. I do the long dresses and the rompers because you can style those a million times over. You can wear them by themselves or with a jacket. I love styling everything with a jacket, even in the summertime, because when you go into stores, it can be cold inside. So, I make lightweight jackets that you can take on or off.
Which pieces do you recommend for anchoring a spring wardrobe refresh?
I would say my printed trench, my printed big-collar jacket, and my two trenches, in black and red, because they are very versatile. I love those trenches so much because you can wear it as a coat or you can actually wear it as a dress. They're made with a lot of cotton gauze fabric with a nice flared drape. I also love the printed trench coats because you can wear it with so many things and it's a guarantee you're going to get compliments or someone's going to ask you where you got it from. I get that all the time.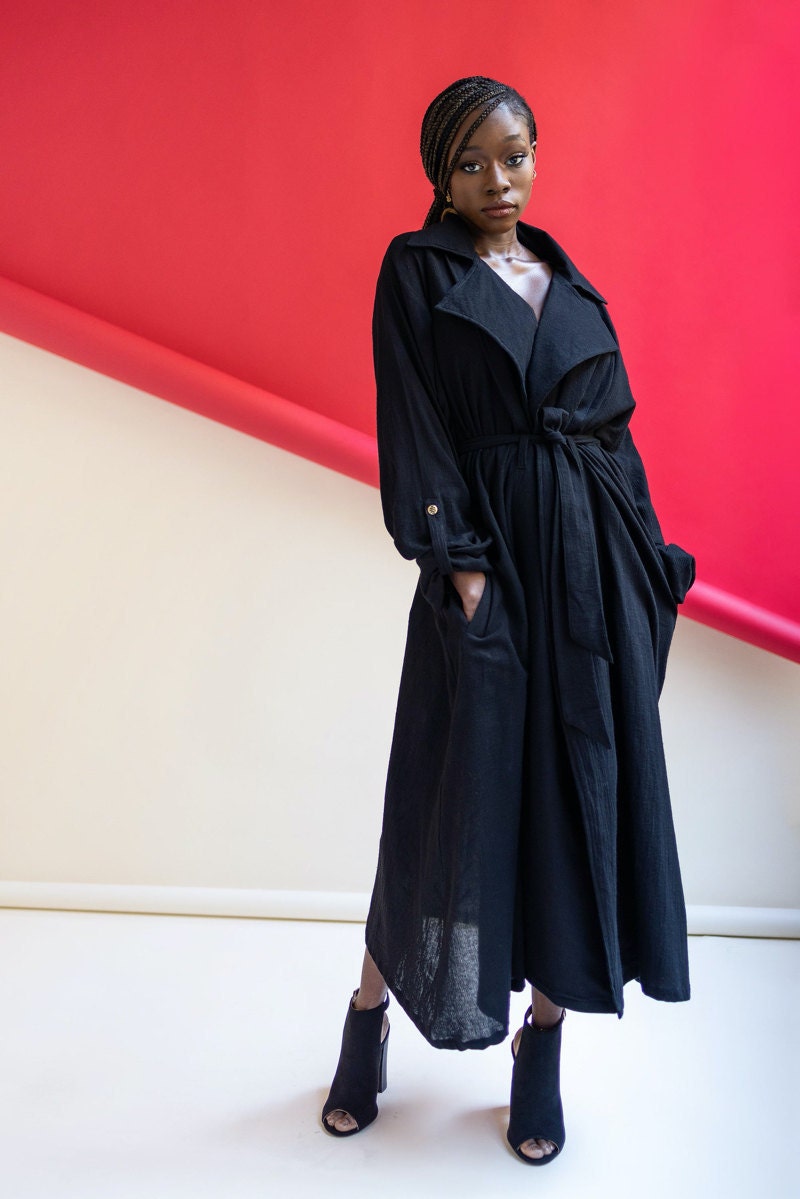 SHOP: Ana trench coat from Ngo Bolingo, $125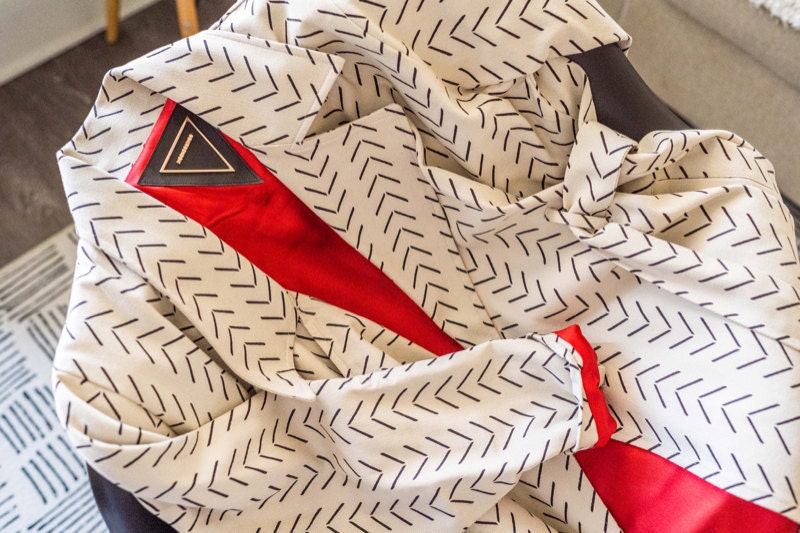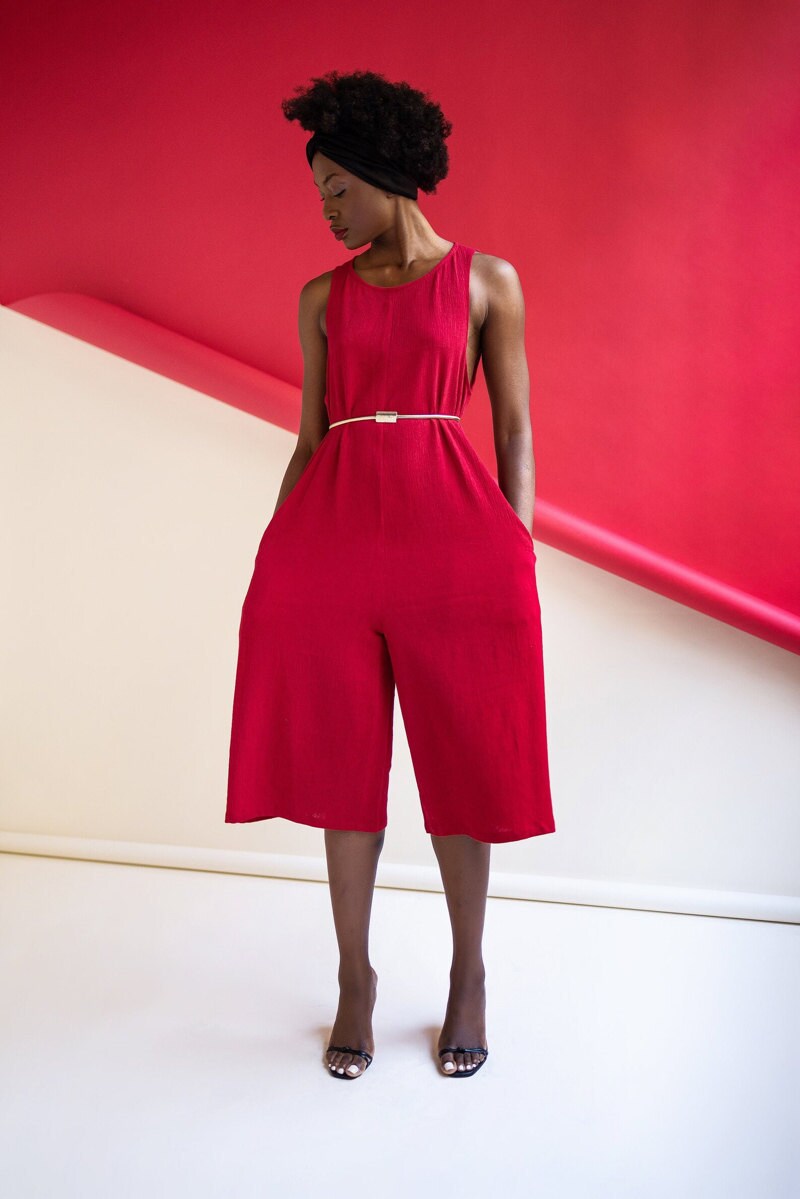 SHOP: Sheba jumpsuit from Ngo Bolingo, $69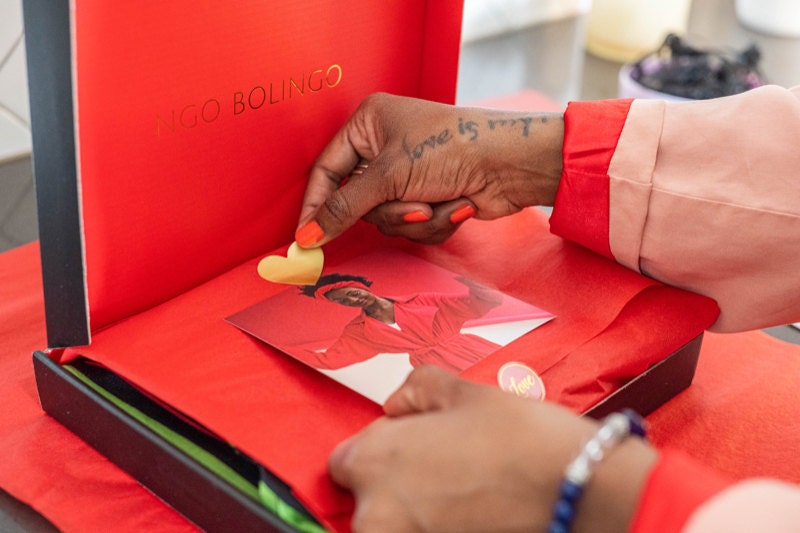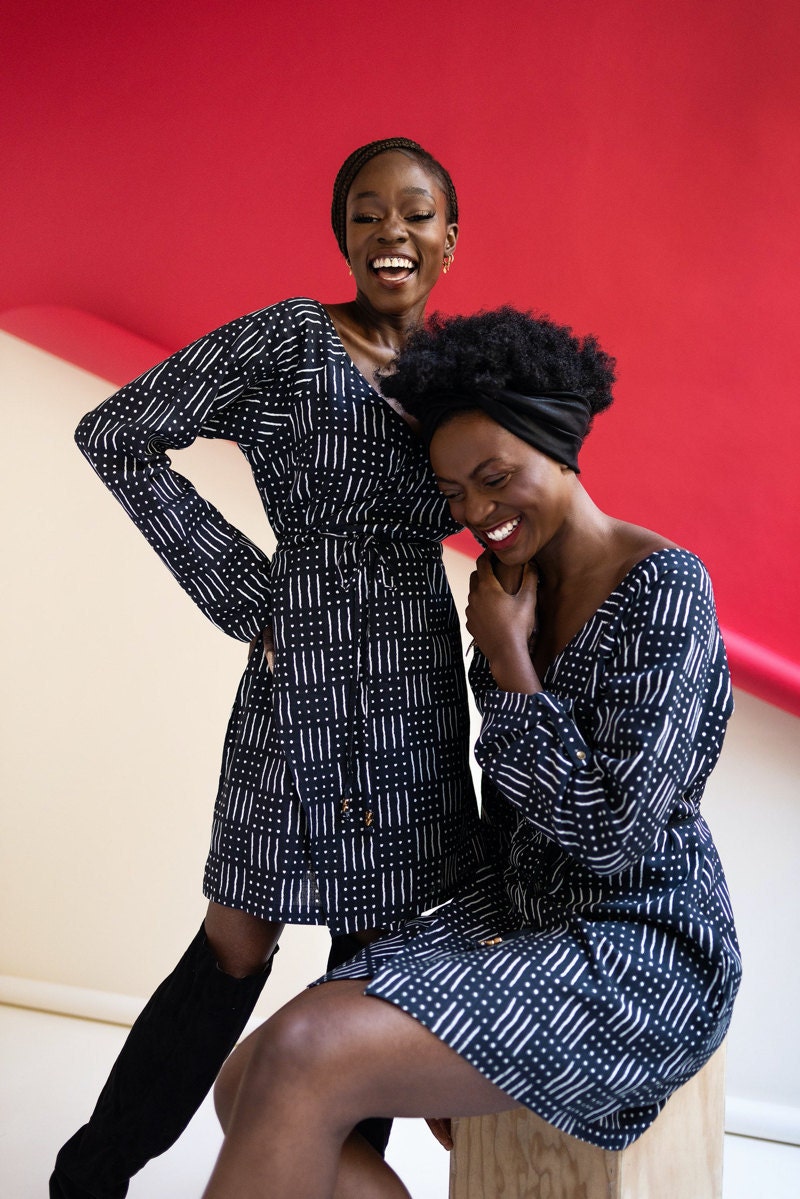 SHOP: Abena wrap dress from Ngo Bolingo, $89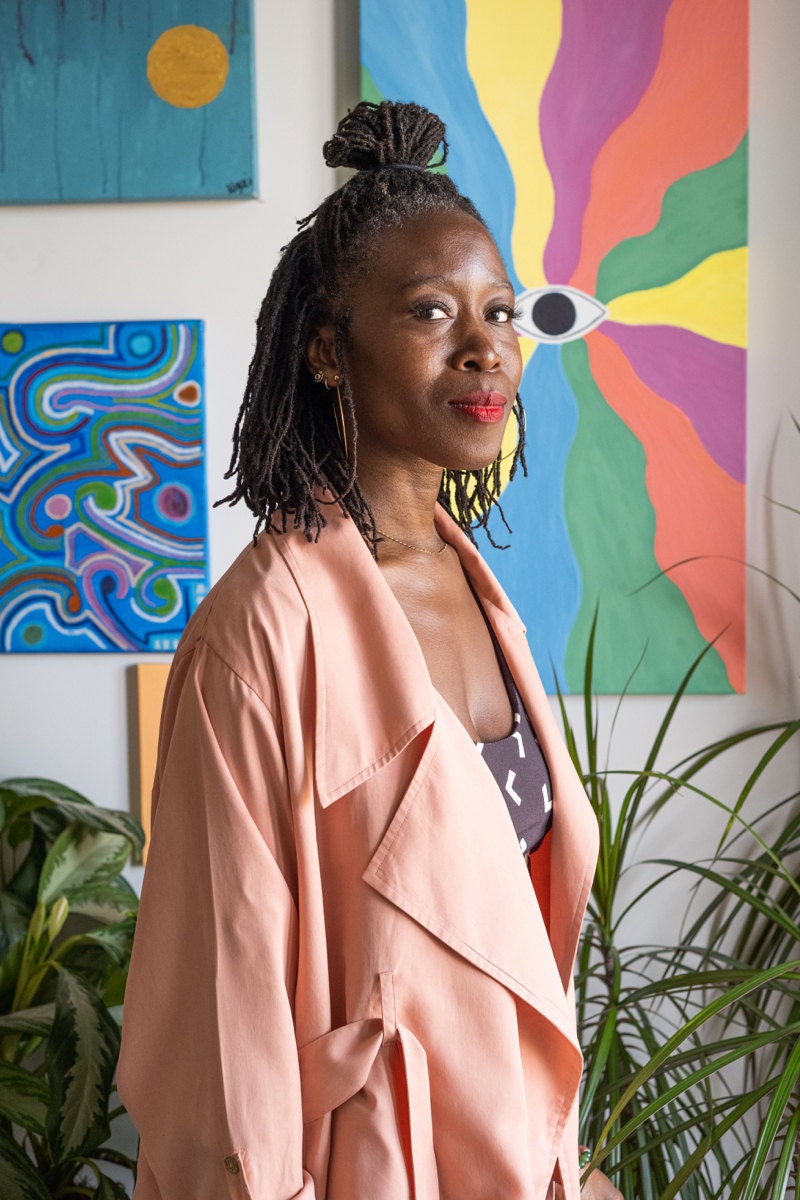 What does it feel like to receive a package from your shop in the mail?
On the outside, it's a black box, and the inside is red and it has my logo and my name. I wrap the order in red tissue paper with a card and a love sticker. Every one of them has an uplifting message. I have five different ones, so you never know who's going to get what. I also include a small, flat rose quartz heart, which is supposed to amplify love. I sometimes wear crystals in my bra because, if you have a crystal on your flesh, it's supposed to help your energy, your aura.
The world, it's crazy, so I want to at least try to put a smile on someone's face. I really want people to know that love is the answer to a lot of things. I encourage people to find it even when it's difficult.
Follow Ngo Bolingo on Instagram and Facebook.
Studio and portrait photography by Angie Webb. Additional model photography courtesy of Ngo Bolingo.