These decorative furnishings sourced straight from the flea markets of France will add a rustic touch to any living space.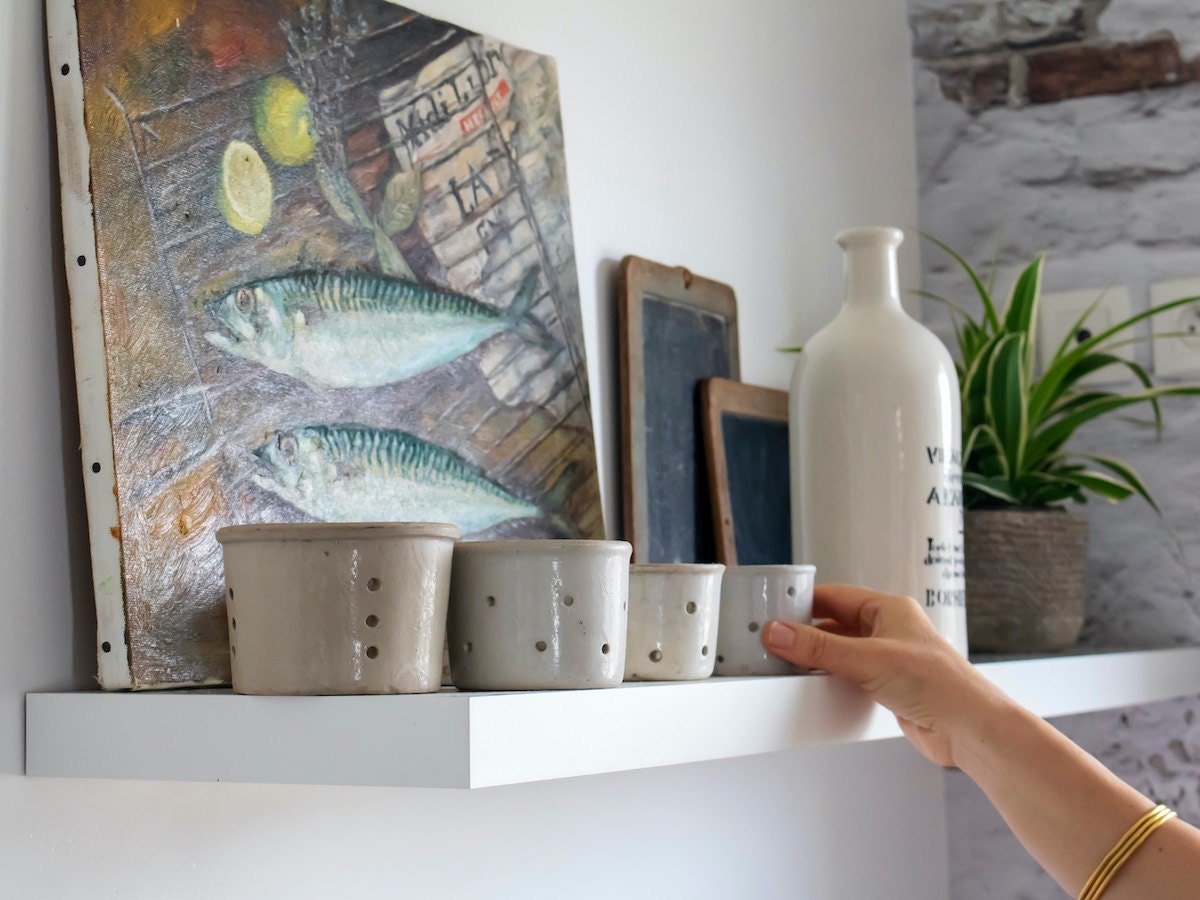 In our Featured Shop series, we shine a light on a standout shop from Etsy's talented seller community, offering readers a behind-the-scenes look at their process and story.
For many, buying vintage is a lifestyle. That's certainly the case for Anne-Lise Laborderie, curator of fashionable vintage line Oh La La Camille, who has dedicated the last 9 years to collecting rare, well-made home goods from her travels all over the French countryside. But for Anne-Lise, it's not just about finding pieces that add character to a decor scheme—it's the unique feeling she gets from each of her discoveries. "What has always appealed to me was hunting for an object that brings up an emotion," the shop owner says. "Vintage evokes memories in a way that gives a bit of soul to your home." It's a quality that comes through strongly when browsing Anne-Lise's timeless treasure trove, which boasts everything from elegant, rose-tinted glassware worthy of a fancy dinner party to bucolic oil paintings that bring the charm of French landscapes straight to your living space.
"In an era of standardization and mass production, these are objects with a story and a patina that only time can give," Anne-Lise explains. "That's the magic of vintage!" An expert scout, Anne-Lise visits villages throughout the French Alps to source the most stunning pieces of history, inspecting every item with care to ensure its authenticity and durability. The result is an extraordinary arrangement of primitive wooden stools and porcelain plates, canning jars and confit pots—all made to stand the test of time, and ready to become a part of your story. "The fact that these pieces will continue their life journey in another home where they will be loved—that's truly fascinating to me," Anne-Lise says.
Read on to learn how Anne-Lise searches far and wide for authentic French goods, then shop the Oh La La Camille collection.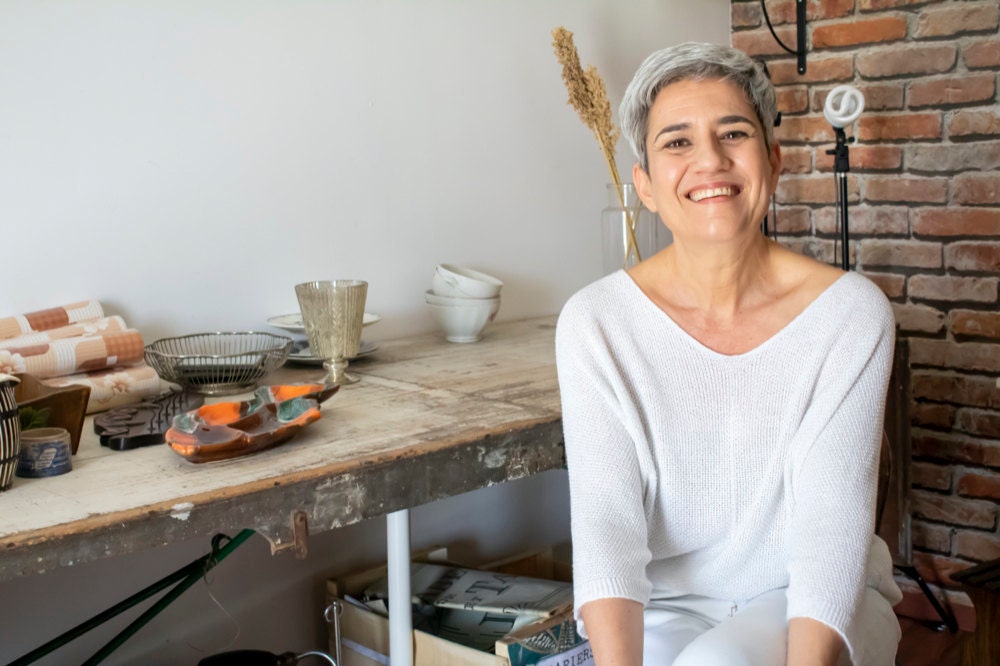 How would you define the aesthetic of your shop?
In general, I have a couple of rules that I stick to: All objects have to be made in France or, if they're not, be very typical of those found in French homes in the past. I love that my customers can tell themselves they are buying a little slice of France when shopping from Oh La La Camille.
What types of items do you get most excited to find?
I do a happy dance on the inside when I find Rosaline glasses, the famous pink glasses from Cristal d'Arques. They're getting harder and harder to find.
Could you share some tips for mixing eras or styles when buying vintage for the home?
The first step is defining the overall atmosphere you want your home to have: elegant, minimalist, chill, classical, cozy. Then, to make mixing and matching easier, pick a color palette that will guide your choice and allow you to experiment with textures and configurations. Adding small vintage pieces will have a great impact without overloading the room. Think about your decor the way a painter would when composing an artwork: Proportion is important to create harmony and balance.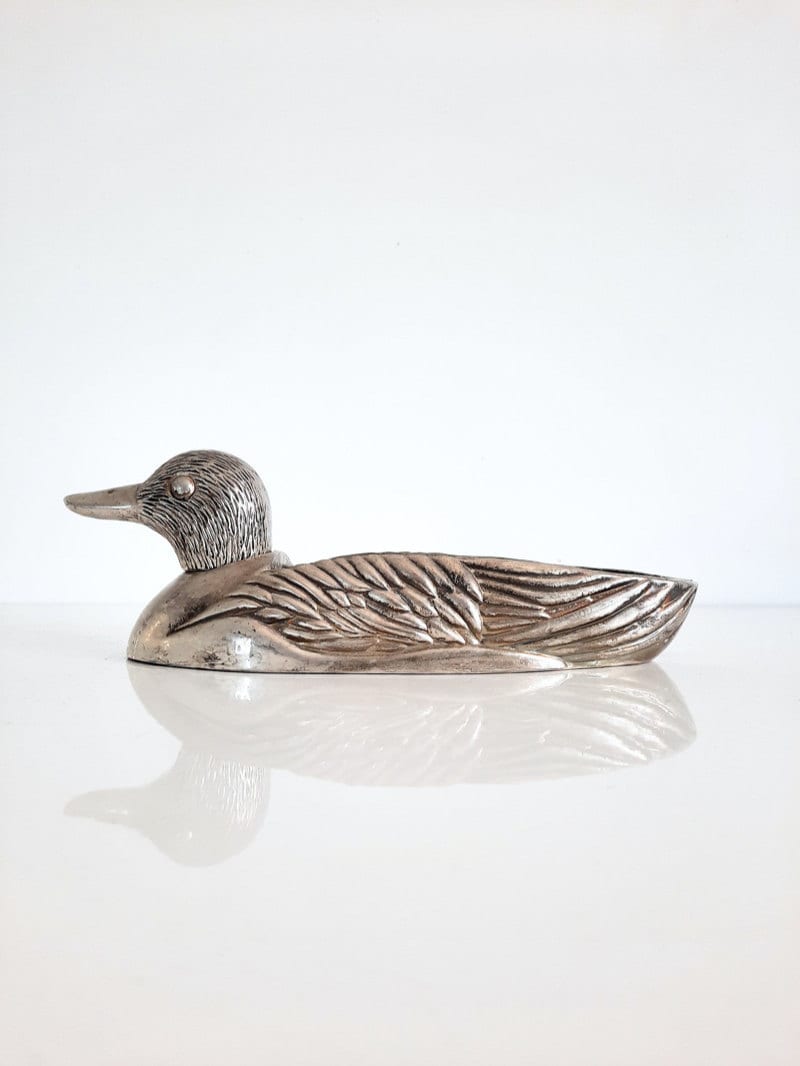 SHOP: Vintage metal duck dish from Oh La La Camille, $52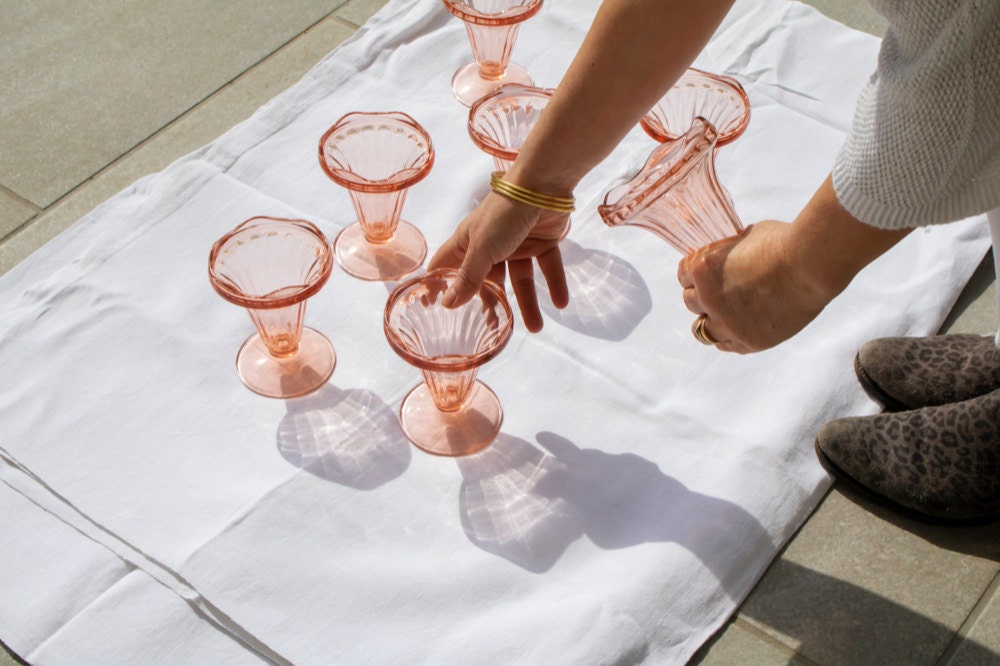 SHOP: Vintage pink glass ice cream bowls from Oh La La Camille, $23 for set of two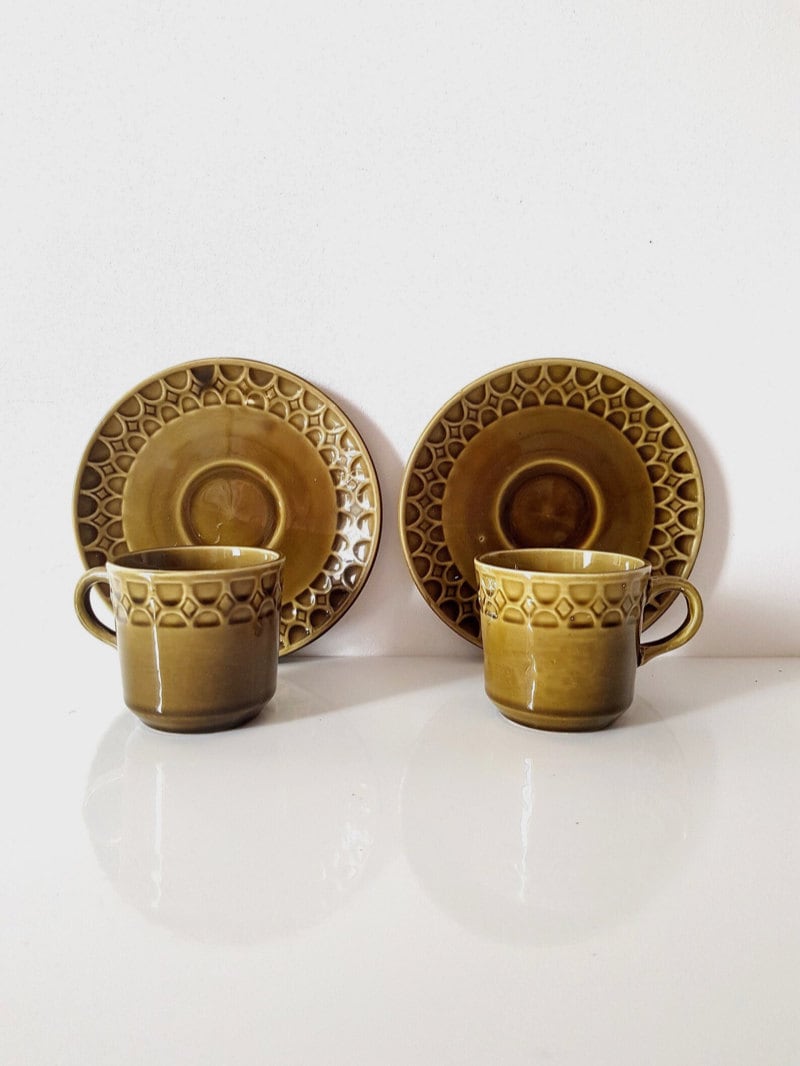 SHOP: Vintage cup and saucer set from Oh La La Camille, $46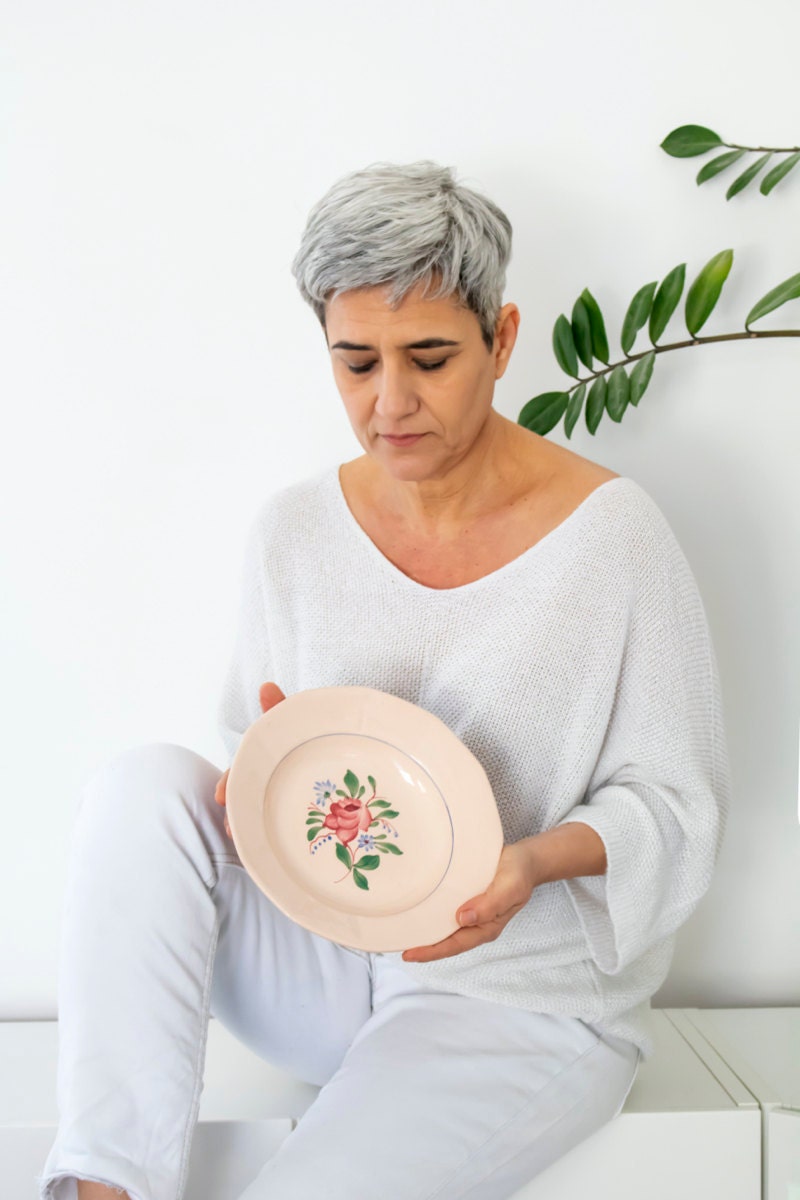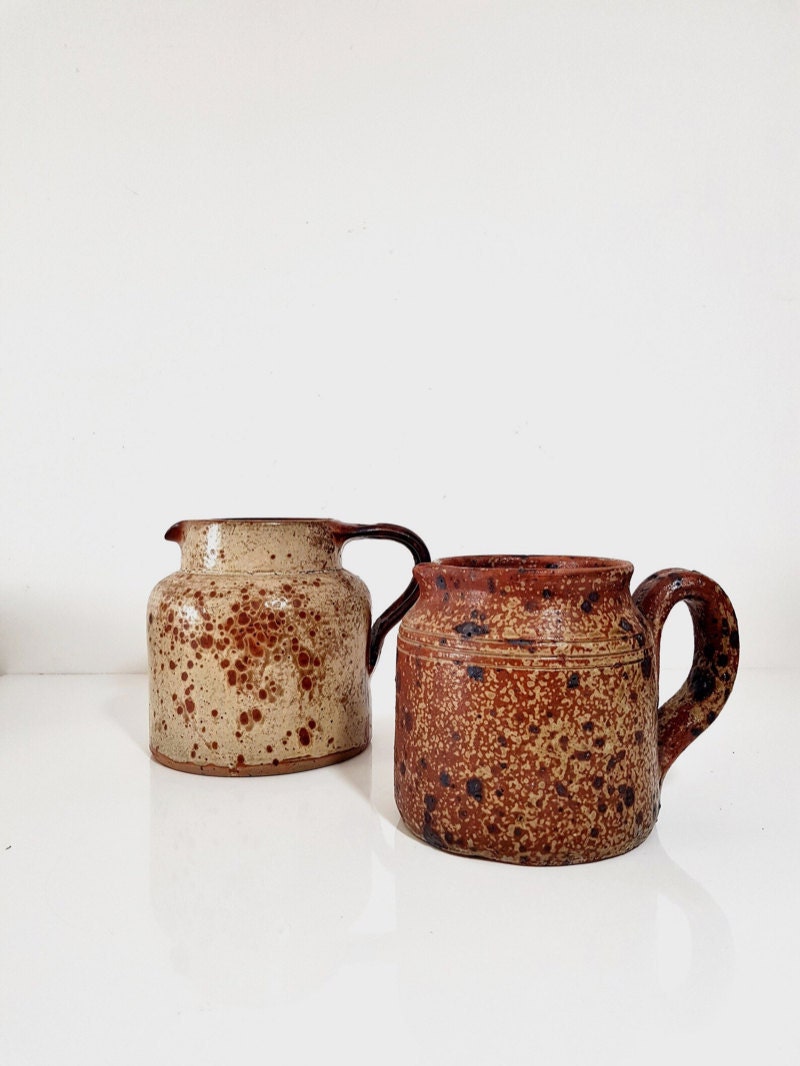 SHOP: Vintage stoneware terracotta pot from Oh La La Camille, $63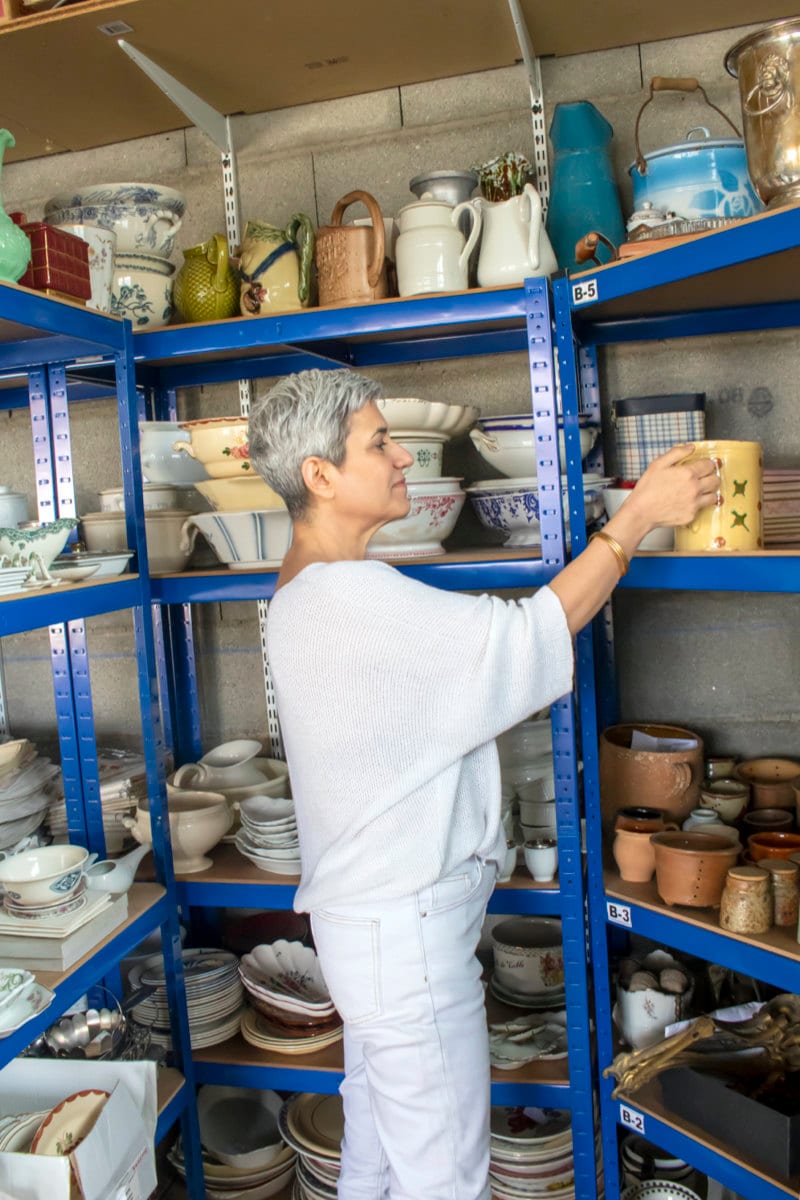 What do you enjoy most about selling vintage?
I love unique objects and fall head over heels for a material, a shape, a brand. I'm lucky to be in France as its history is very rich and home to numerous porcelain factories, even if some of the know-how is now lost. I like to have a piece of history in my hand and think about all the work and craftsmanship needed to create such a piece. Finding a hundred-year-old plate in perfect condition in a dusty box in the middle of a field gives me incredible joy. I think about how many lives this plate had before landing there. I have a particular attachment to each object that I list in the shop because of how much time I spent finding it.
Can you tell us about any memorable interactions you've had with customers?
The amazing side of Etsy is that my customers are all over the world. I've had the pleasure of selling vintage items to famous actresses, photographers, musicians, and even to a princess! But what I love the most is when people share a bit of their personal history with me. My favorite story is the time when a sweet American girl ordered an anniversary gift for her parents: the exact same dishes they had when they were studying in Paris, 50 years ago! It was very moving to be a part of this gift.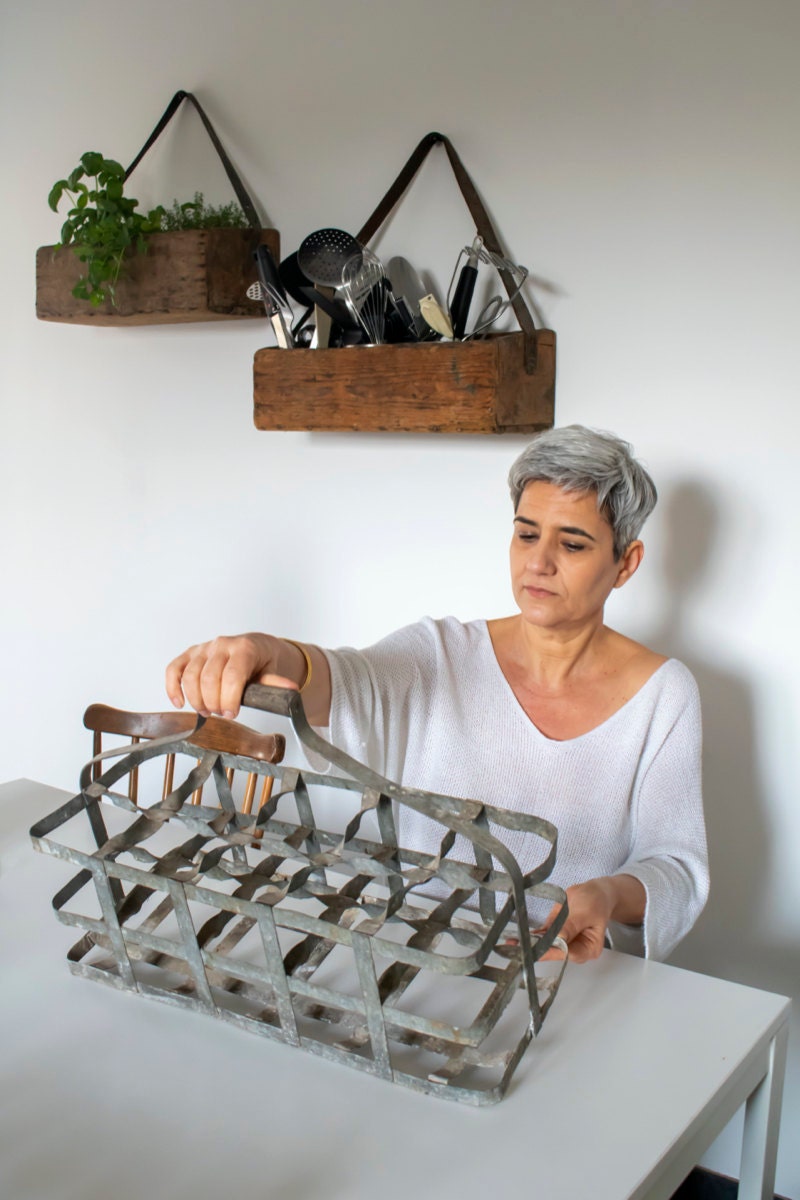 SHOP: Vintage bottle carrier from Oh La La Camille, $345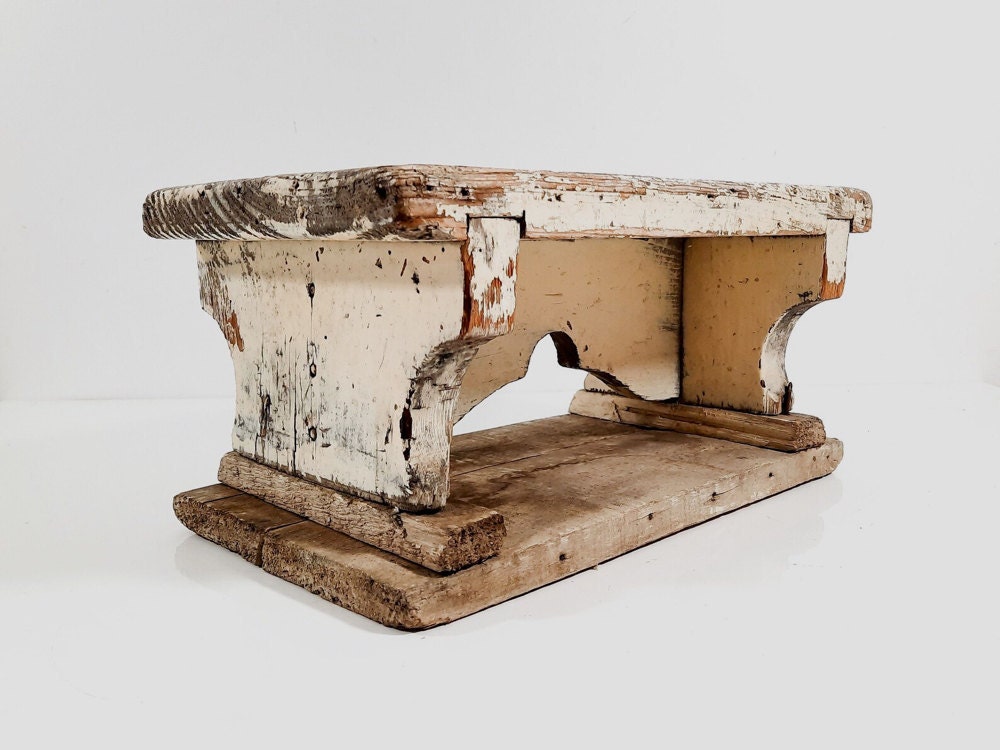 SHOP: Vintage primitive stool from Oh La La Camille, $115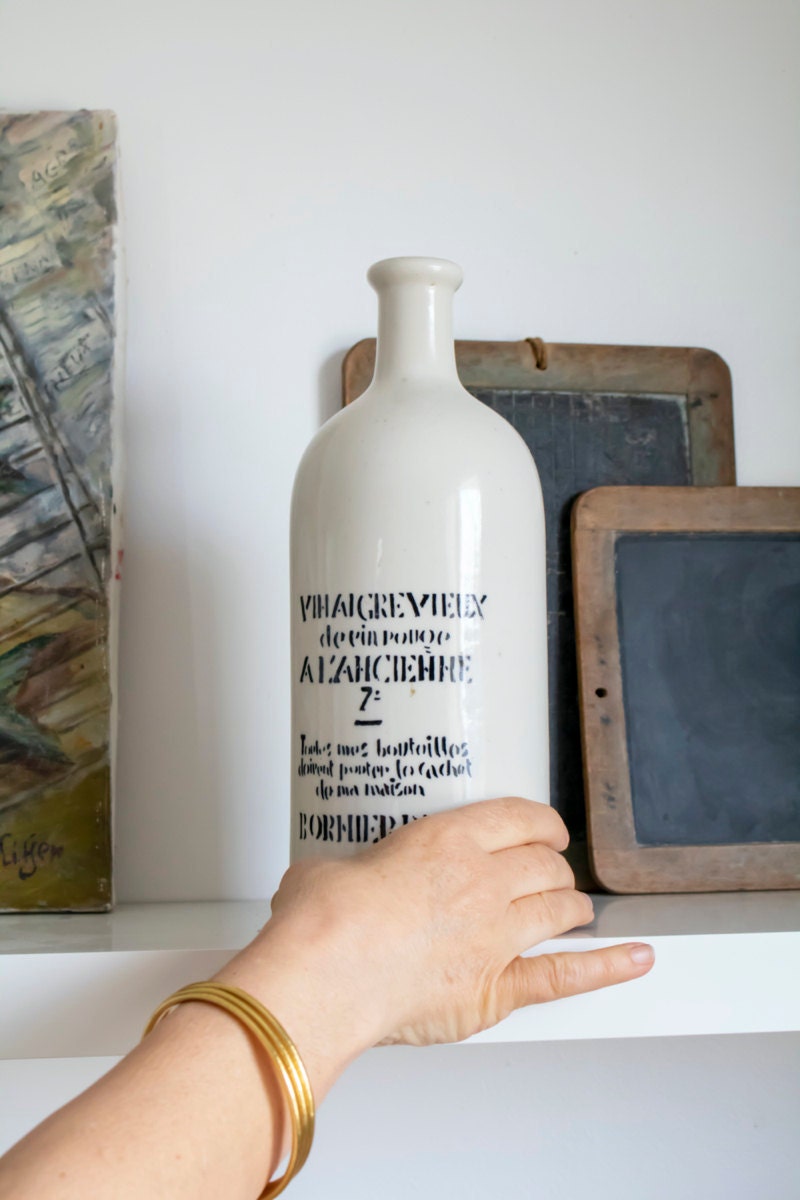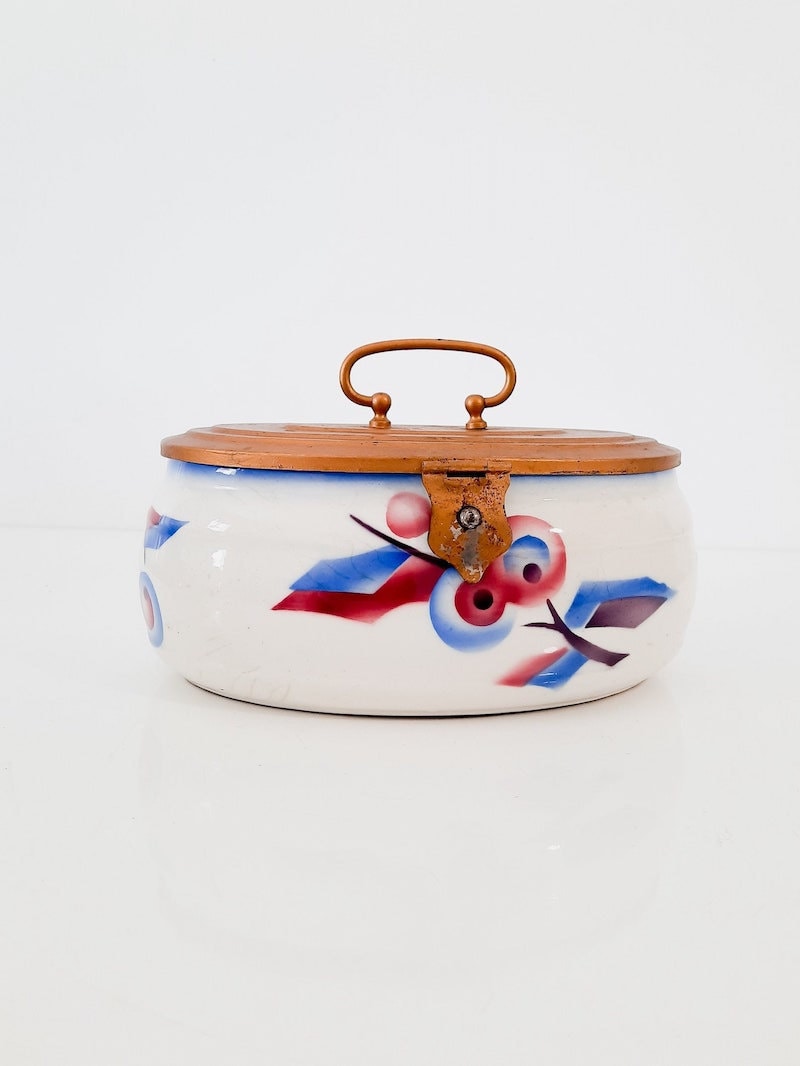 SHOP: Vintage ceramic pastry box from Oh La La Camille, $195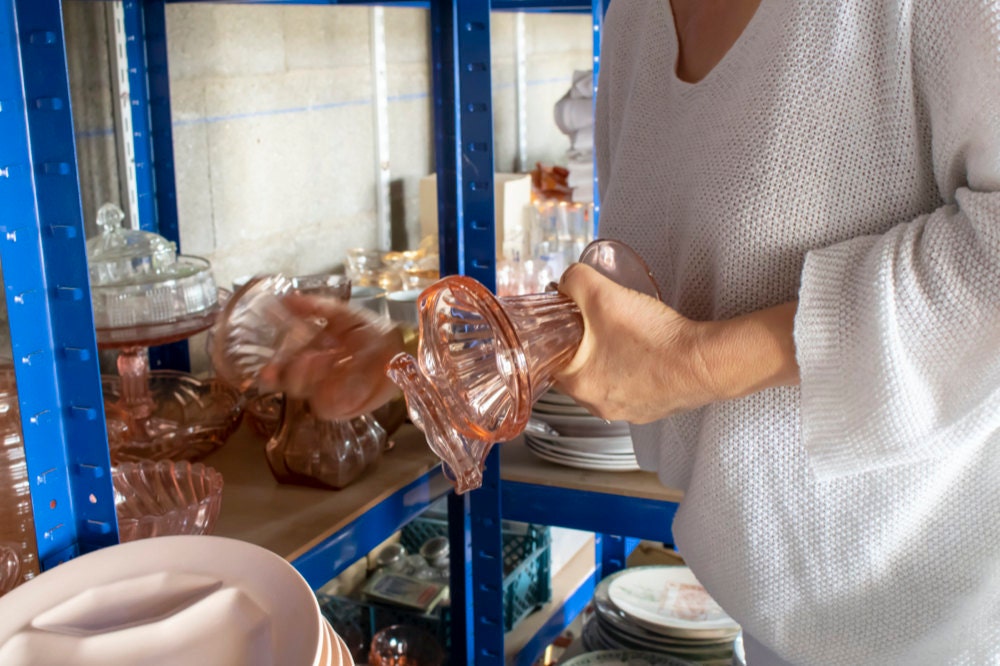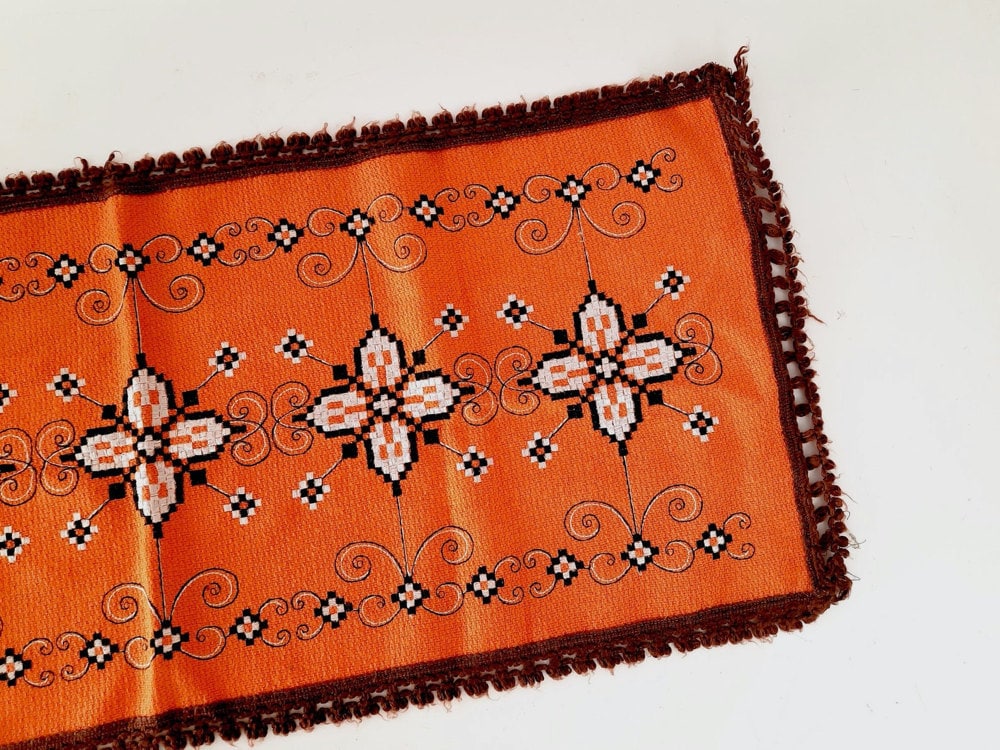 SHOP: Vintage table runner from Oh La La Camille, $29
Can you share a little bit about how you source your items?
I'm not scared of driving miles and miles if I think I'm going to find new objects for the shop. I'm in love with the region I live in, as it's close to the French Alps. When I visit other regions, I make sure to save time for treasure hunting, because France is really diverse and every region has its particularities.
Most of the shop inventory is found in brocantes—or French antique shops—and flea markets. I prefer to buy from flea markets because I like buying the object directly from its previous owner. That allows me to know more about the object, who it belonged to, and its story. All of that information helps me write a better description for the listing and inform the next owner of the past lives of the item they're buying.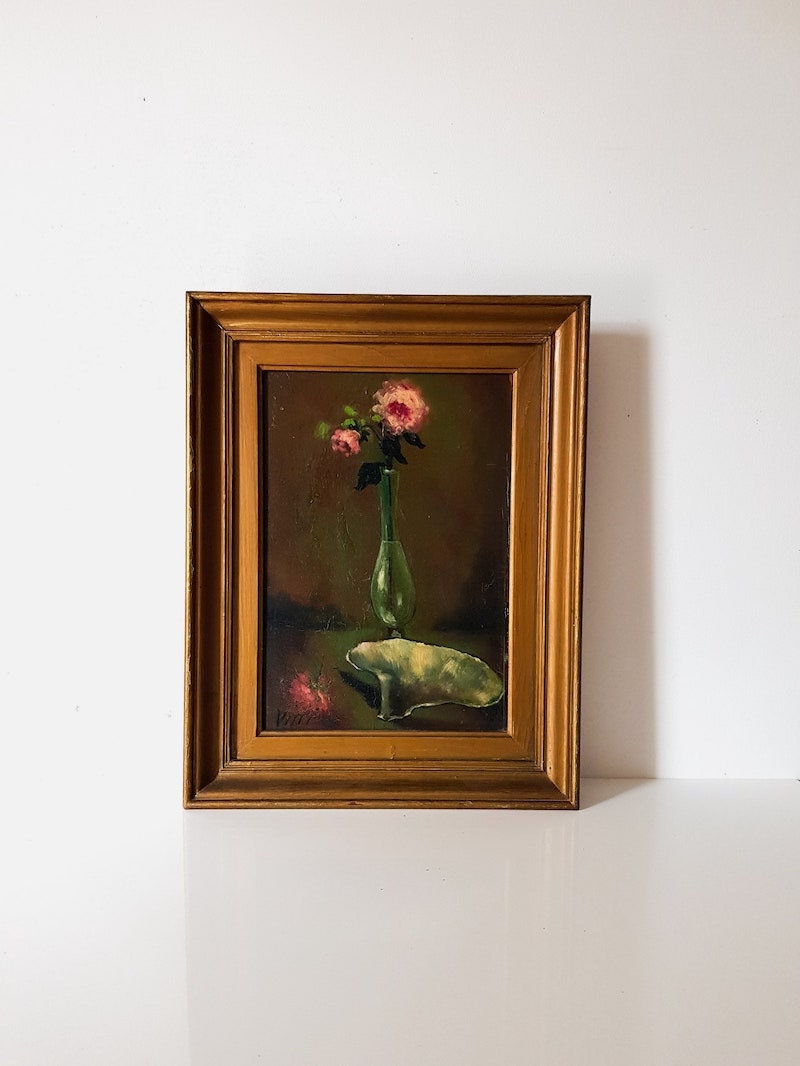 SHOP: Vintage oil painting from Oh La La Camille, $253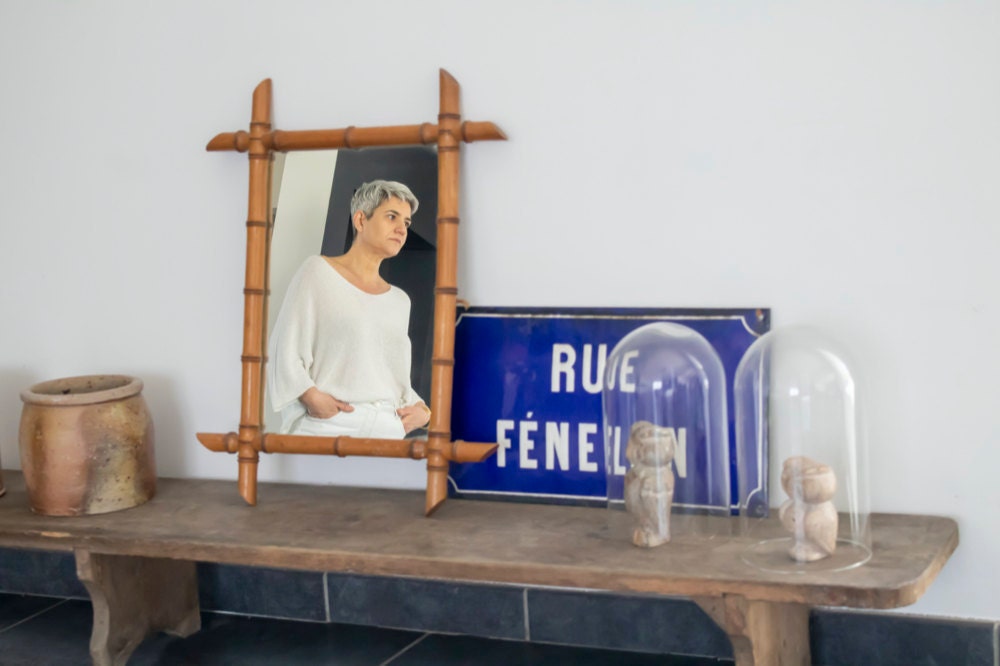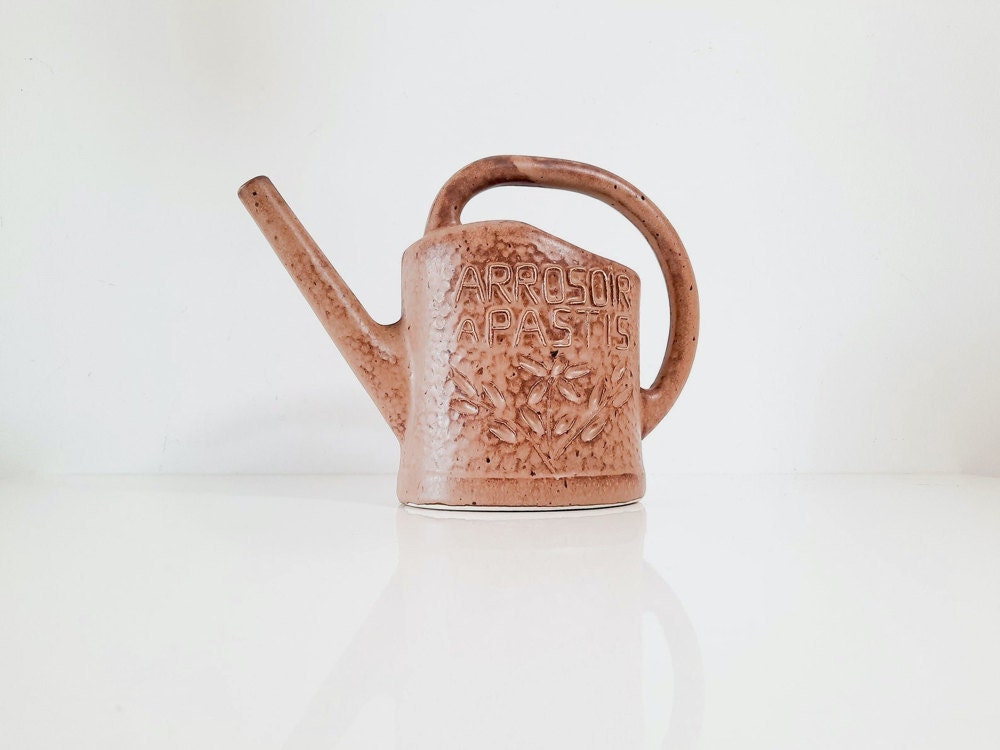 SHOP: Vintage water jug from Oh La La Camille, $55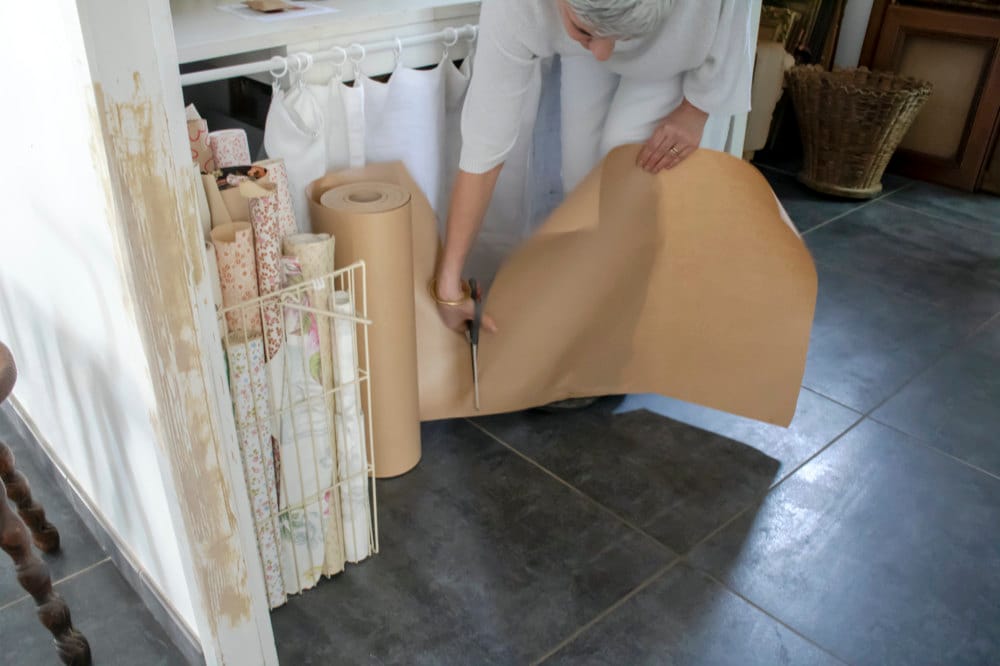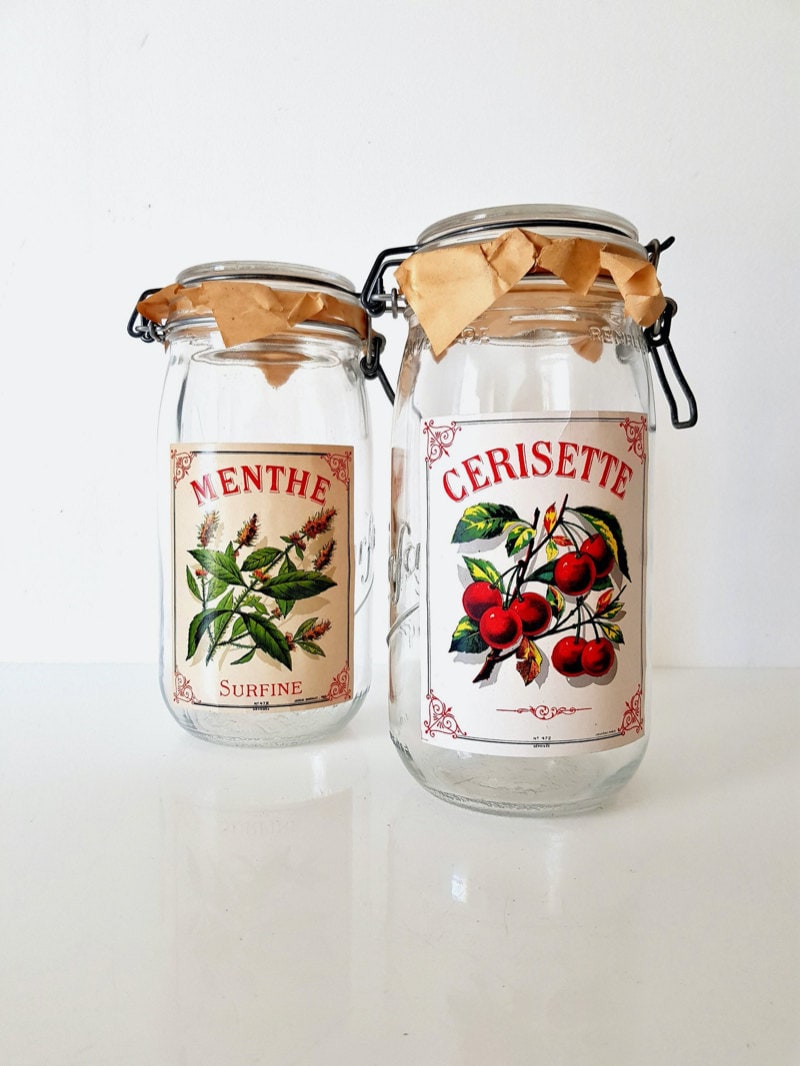 SHOP: Vintage French canning jar from Oh La La Camille, $46 each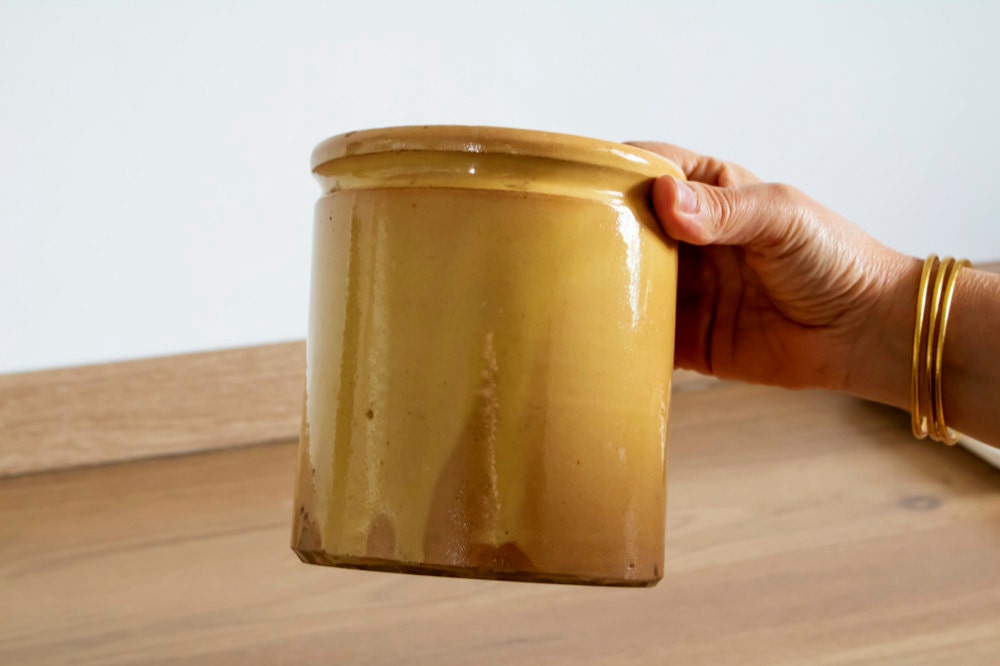 SHOP: Vintage crocks from Oh La La Camille, from $35
What should customers know about caring for your pieces?
I'm all about using ancient tips and tricks my own grandmother would use in her own kitchen to clean and take care of vintage pieces. For example, old crockery is fragile, so I wash porcelain with warm water and lemon juice. One trick for removing stains from porcelain is to sprinkle your sponge with baking soda, scrub the dish, rinse, then dry it by hand. You can also clean these stains with hydrogen peroxide.
Linens such as tablecloths and tea towels will sometimes yellow at the creases when kept neatly stored for many years. I treat these by applying a paste made up of baking soda and a little salt to the creases. Then I sprinkle water on top, let it sit for an hour, rub gently, and then wash in the washing machine.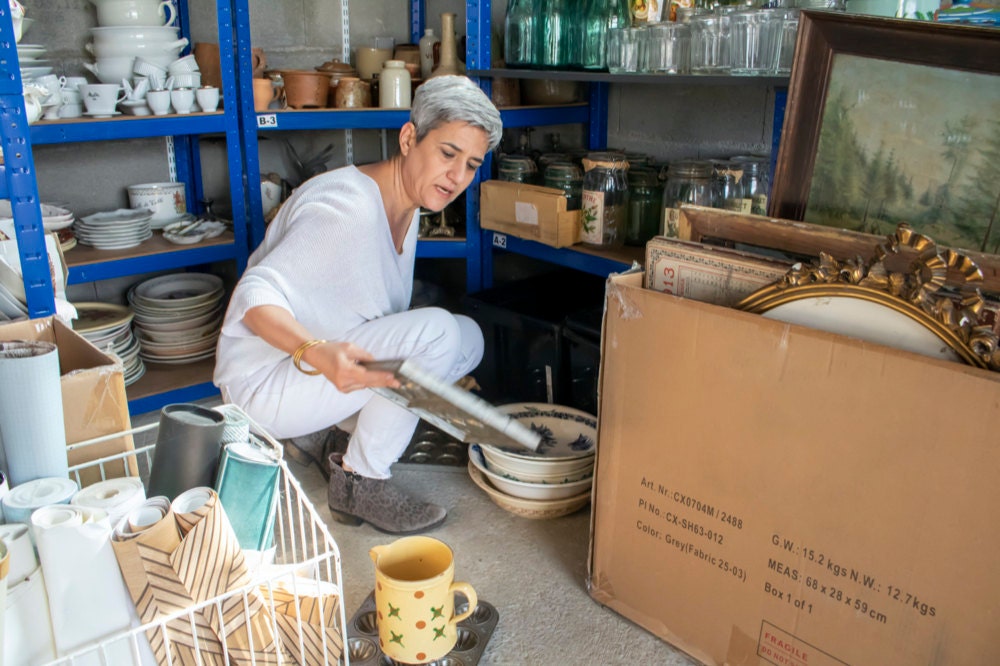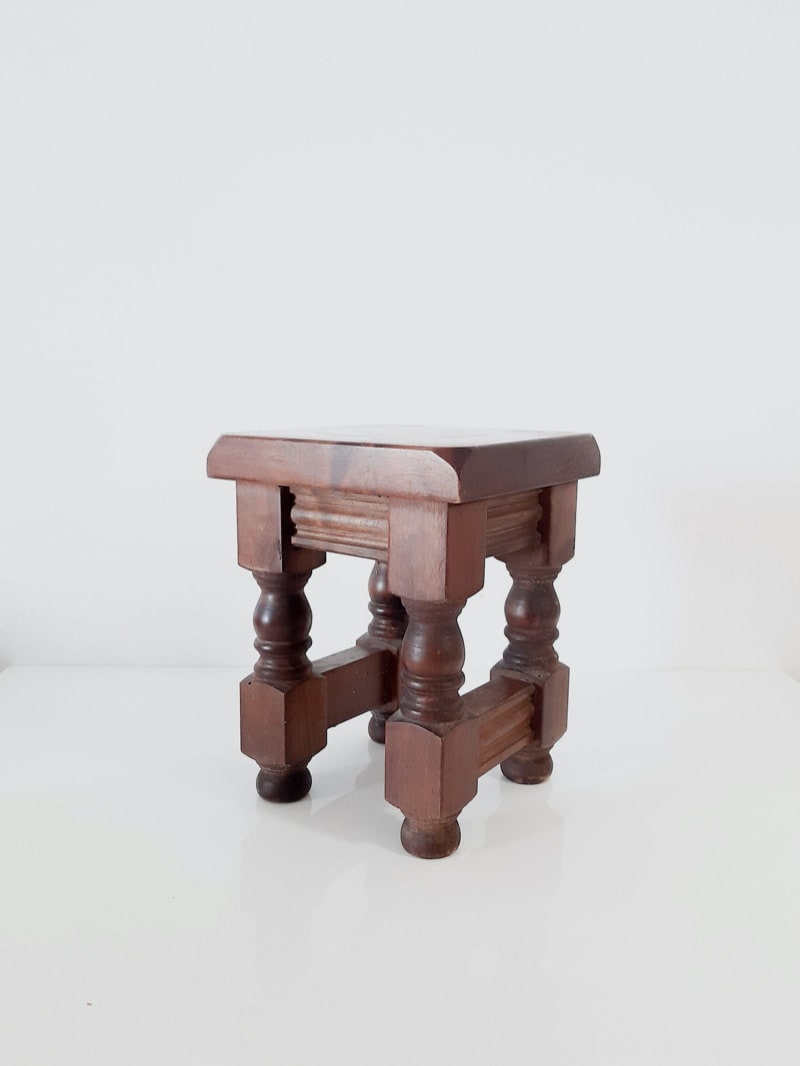 SHOP: Vintage turned leg wooden stool from Oh La La Camille, $103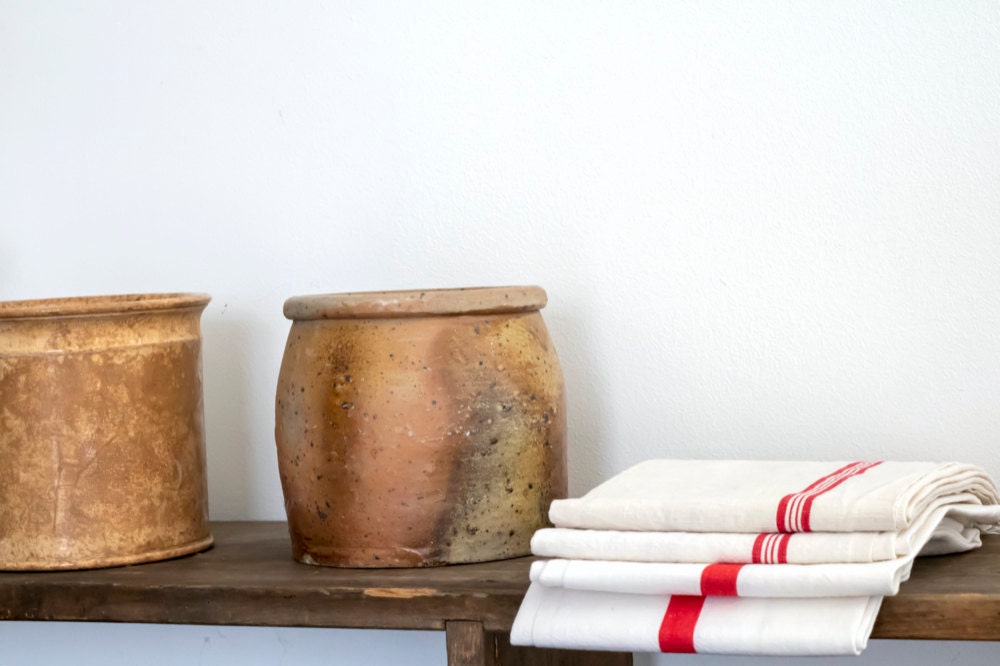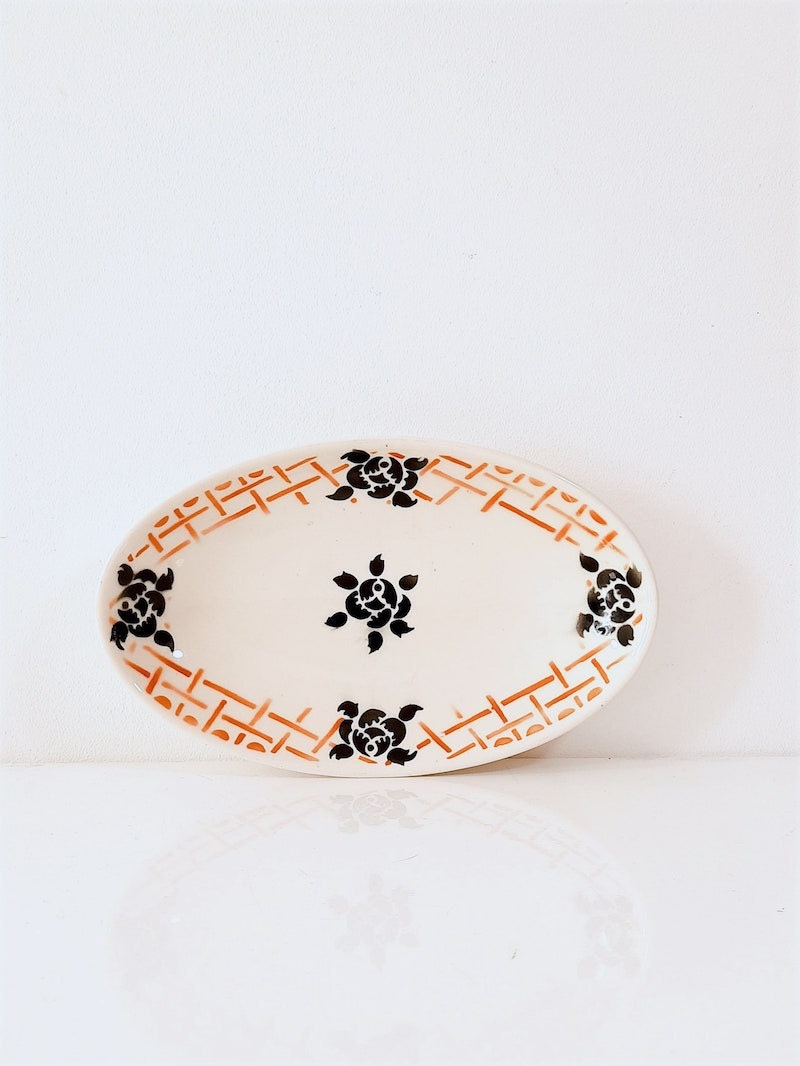 SHOP: Vintage serving dish from Oh La La Camille, $21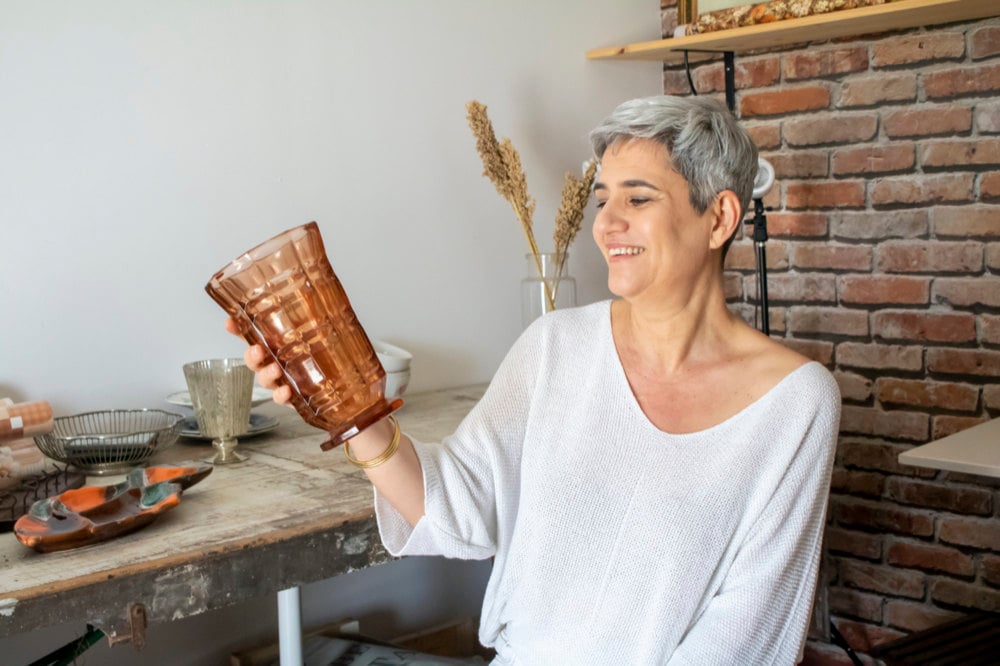 SHOP: Pink glass Art Deco vase from Oh La La Camille, $103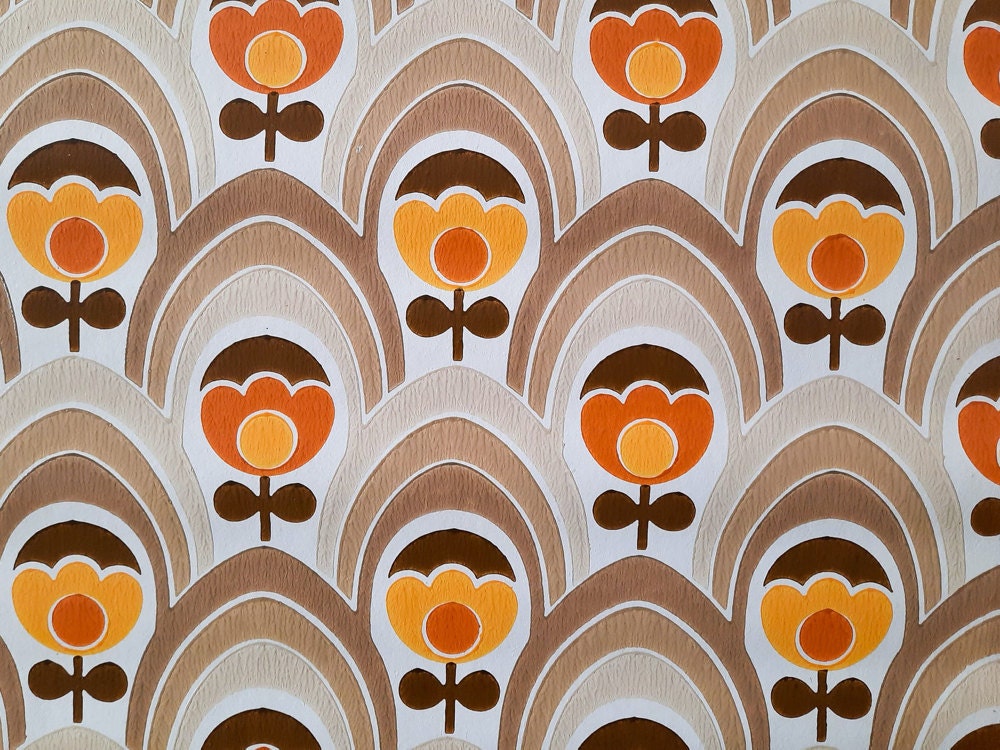 SHOP: French vintage floral wallpaper from Oh La La Camille, $46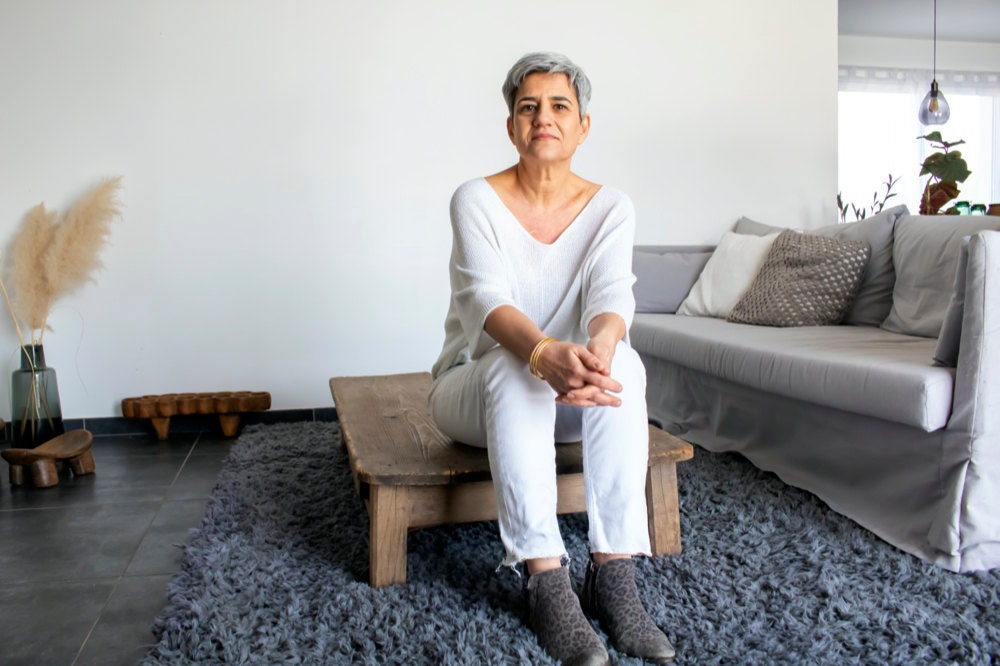 You've been on Etsy for almost 10 years! How has owning a small business impacted your life?
I'm ecstatic about having a small business. Being able to handle everything from A to Z is such a game-changer for a creative personality like me. I love being in charge of my work hours, although I do work a lot more than I did in my previous corporate jobs. It's such a privilege to be able to do what you love for a living—it's priceless! For that reason, I don't mind the late hours. I wake up every morning excited about the day to come. I'm also very proud that I inspired my oldest daughter to be an entrepreneur. She now has an Etsy shop of her own.
Follow Oh La La Camille on Instagram, Facebook, and Pinterest.
Studio photography by Lucy Cullingworth. Product photography courtesy of Oh La La Camile.