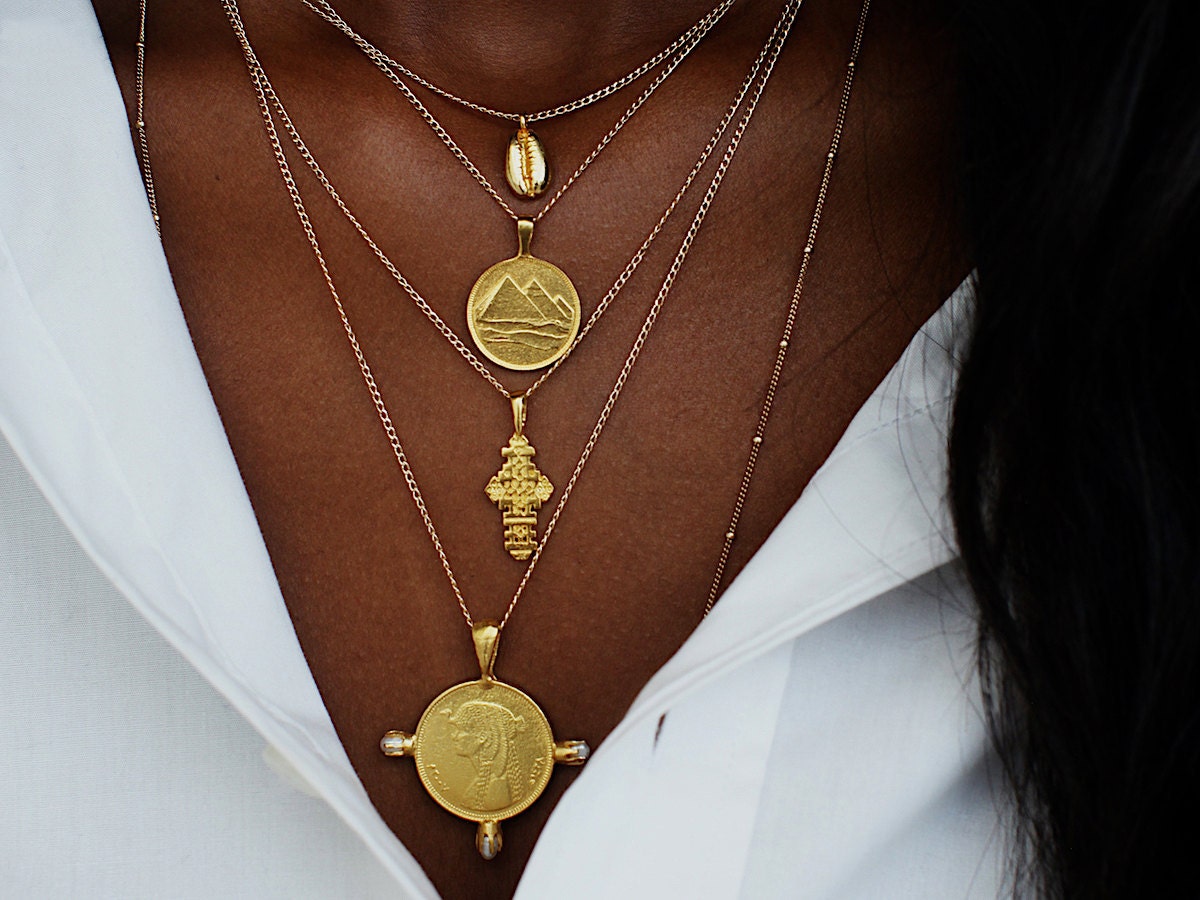 In our Featured Shop series, we shine a light on a standout shop from Etsy's talented seller community, offering readers a behind-the-scenes look at their process and story.
As any jewelry buff worth their weight in gold will tell you, wearing an heirloom-quality pendant necklace or pair of earrings can be much more than a fierce fashion statement. "Jewelry is something you can pass on and tell stories with," explains Toronto-based designer Ashley Alexis McFarlane, who launched Omi Woods—her signature line of gold and silver pieces featuring cowrie shells, ankhs, and African coins—to help customers celebrate their personal heritage, cultivate a deeper appreciation for ancient cultures, and begin building their own collections to share with future generations.
Explore the Omi Woods collection
Driven by the desire to explore her Caribbean roots after inheriting a golden bangle from her grandmother, Ashley began researching ancient jewelry customs and was inspired to honor the motifs and stories she unearthed through her own modern line. "I wanted to centralize the folks who have not traditionally been represented in jewelry traditions," Ashley says of her symbolic, African-themed designs. Each exquisitely crafted piece speaks to the identities of her culturally-conscious customers—and offers shoppers around the world a meaningful opportunity to connect with their own ancestry or historical heroes in style.
Read on to discover how Ashley creates these gorgeously giftable keepsakes, and shop the Omi Woods collection.
How would you describe your shop's aesthetic?
The aesthetic is supposed to look a little ancient but also contemporary. I've always loved ancient civilizations, and when I go to a museum, I'm immediately drawn to the jewelry section. There are certain classic forms you'll see repeated throughout time. Women have worn metal hoops, for example, across various cultures. I just find that so interesting. And signet rings, which are so fashionable now, go all the way back to ancient Egypt.
When you're designing pieces, who are you envisioning as your future customer?
It's really for anyone who has a connection to Africa and the diaspora—which inevitably is everyone. It's for the folks who are like, "I've never seen a coin with a Black woman on it, and I want that piece." Or it's for a person who thinks, "This woman was an amazing person in history. She may not be the same skin color as me, but I really love Cleopatra." Ancient Egypt is one of the oldest civilizations with a lot of recorded history, so a lot of people gravitate toward that. Part of my audience has always been people interested in culture and history from diverse populations.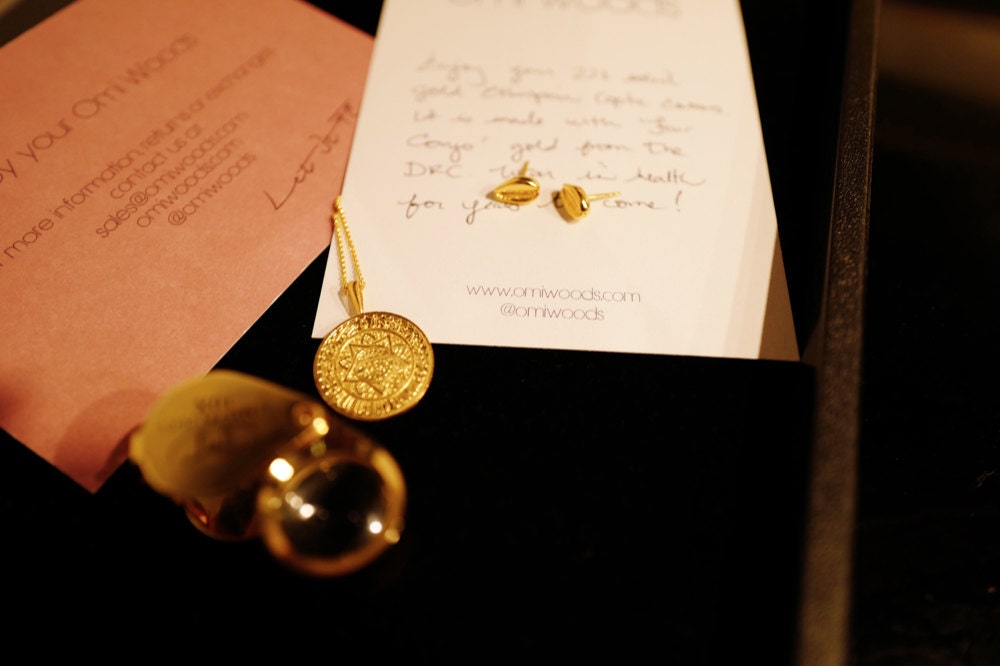 Why does your jewelry make a great gift?
It definitely makes for a sentimental gift. If someone is from a certain country, and you get something representing that place, it shows you were being extra thoughtful. A lot of people buy pieces for anniversaries, or for their biracial children. It's about honoring the traditions that we've had and amplifying what's come before us.
Do you have any especially memorable customer stories?
There was this man who was 80 or 90 who bought a Jamaican signet ring. He was married to a Jamaican lady who had given him a similar one, but he'd lost it after she passed away, and he was so relieved to have it back. Another woman said that her aunt had a little shop in Trinidad where she remembered coins being counted, so she bought the Trinidad coin to remind her of that.
How would you describe your design process?
It's a mish-mosh. For the cowrie shells, I sifted through a whole bunch to find the perfect one to replicate. Sometimes, I take inspiration from archival jewelry and modify it. There's always a lot of research. When I work on a coin pendant, for example, I look into what's on the coin and what that signifies, because it just makes it more meaningful. It's kind of like having a little museum.
Can you explain some of the symbols used in your jewelry line?
Some of the meanings behind the symbols have to do with peace, life, fertility, and abundance—and gold pieces symbolize protection. People have worn jewelry with these themes in mind for centuries.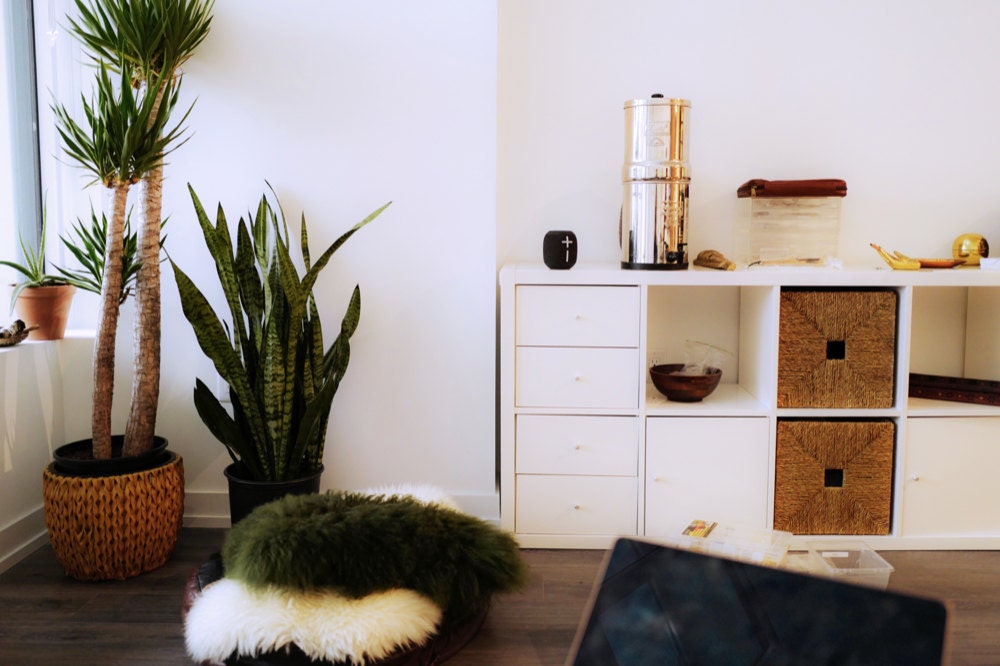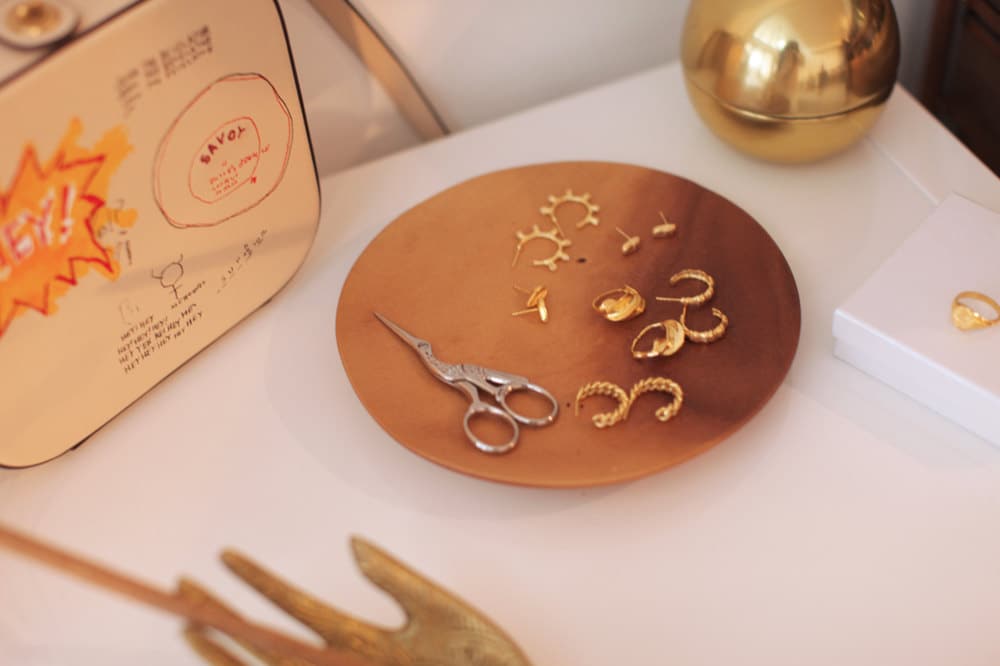 You use ethically sourced metals for all your pieces. Can you explain what this means and why it's important to you?
There's conflict-free gold and precious metals, but then there's also fair trade. Conflict-free gold standards are focused on the safety of the miners, but fair trade adds another level: fair pay.
On a personal level, my family is from a place in Jamaica called the Maroons, and my ancestors were very likely sold into the slave trade for gold. I definitely think there's a connection between being descended from enslaved Africans and making sure that the gold that I sell is fair trade and raising awareness around that. I think that's what brought what I was doing full circle. It's like, sure we're selling coins, but we also want to have a conversation about what it means to trade resources fairly.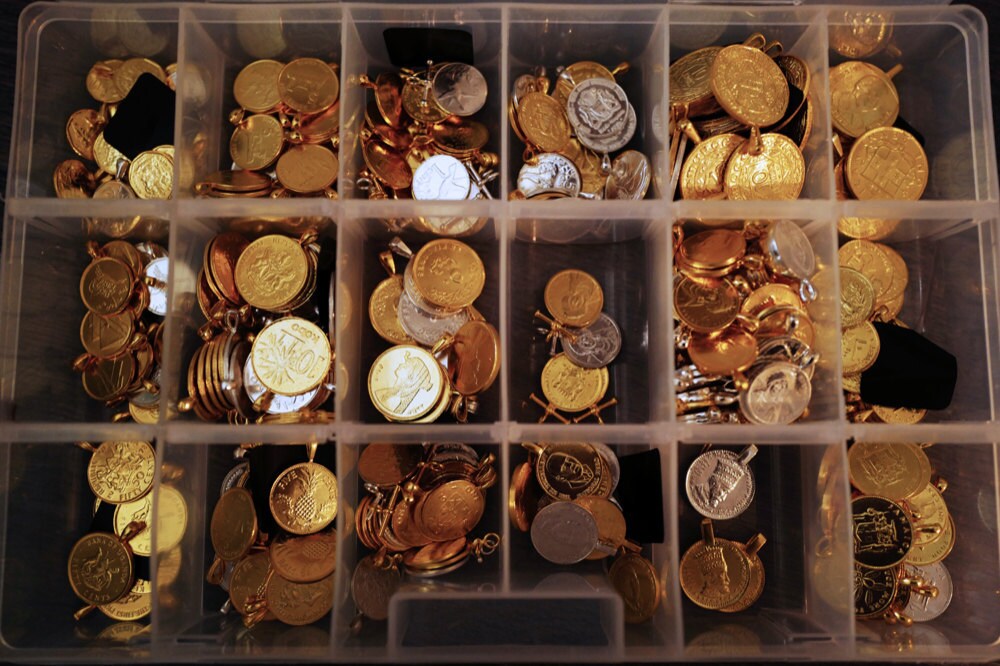 What has it meant for you to be a Black business owner during this time?
It's been good because people are more interested in discovering their own heritage, and want to learn more about Black culture and support Black businesses. It's added a layer of stability. When Black Lives Matter said, "buy Black because a lot of businesses are struggling," it allowed me to expand my staff. I have two other people on board now, so that's providing them with some stability financially as well.
How do you think your work has affected your customers?
Fashion, in a sense, is a part of how people imagine themselves, and how they represent themselves, which has its own sort of grounding effect. I've been able to build a space that speaks to what's going on around the world in a creative way, and I think that really resonates with people.
Follow Omi Woods on Instagram and Pinterest.
Photographs courtesy of Omi Woods unless otherwise noted