This Australian designer draws on her background in environmental science to create eco-friendly, laser-cut jewelry inspired by nature.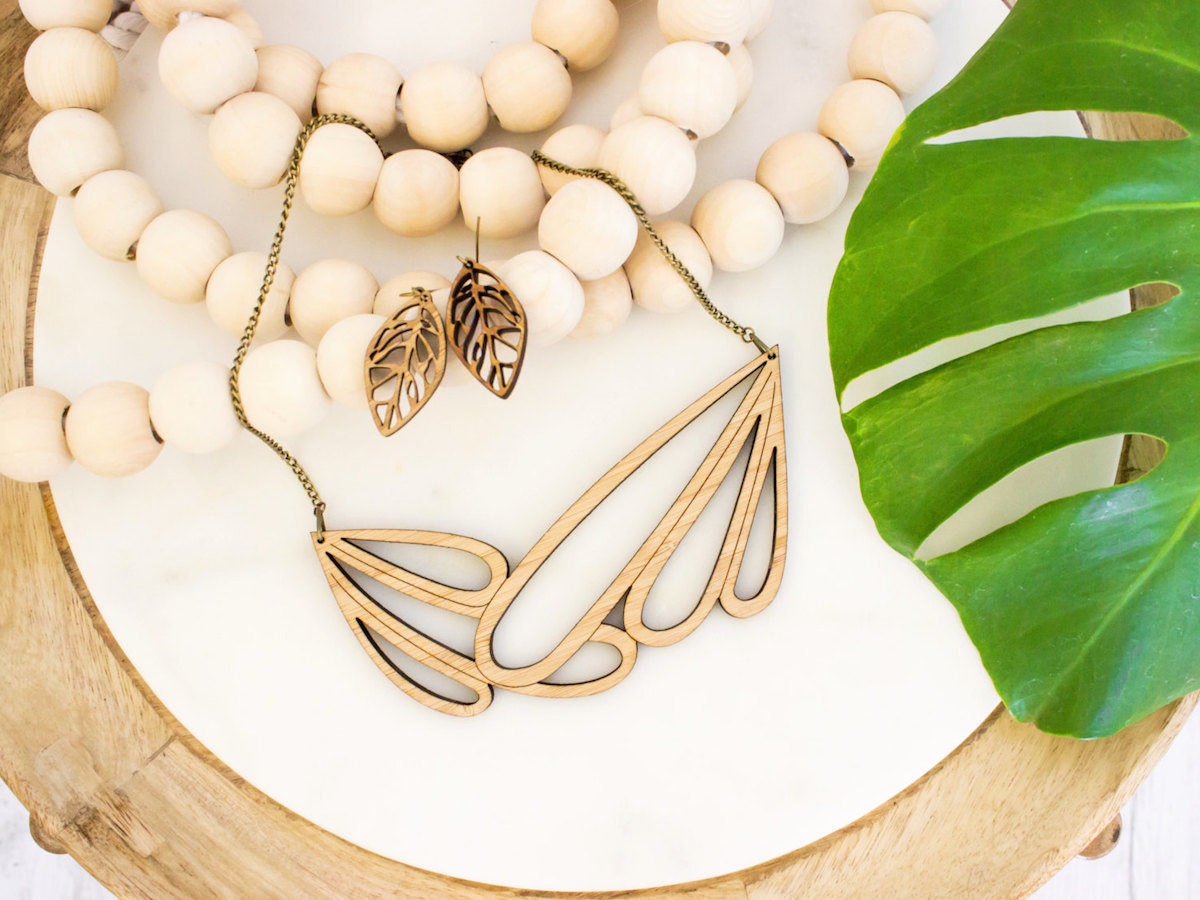 When you consider an artist's origin story, it's tempting to imagine them entering the world with a paintbrush in hand, leaving a series of mini-masterpieces in their wake. (After all, Picasso's first word was "pencil," and the paint-slinging prodigy polished off his first oil painting at the ripe old age of 9.) But for some makers—including Australian jeweler Anna Anagno of 
One Happy Leaf
—their formative years were anything but creative. "There was nothing artsy about me as a kid," says the maker behind this environmentally-minded accessories line. "I wanted to do biology, chemistry, and geography. When I look back at my childhood, I don't remember making things." Given her early scientific leanings, it's not surprising that Anna grew up to work in environmental health legislation. After 10 years in a corporate job, she felt her creativity stirring. "It wasn't until I was pushed into a corner in my job, which was very rigid and full of rules, that I felt like I suddenly needed to move out of that space and give balance to my life by doing something where there were no boundaries." Intrigued by a pair of laser-cut earrings she stumbled across online, Anna set out to learn more about how they were made. "I became fascinated by the technical side of using a laser cutting machine to make jewelry," she says. Entranced, Anna began designing her own laser-cut accessories and selling them at local craft fairs and online. By the end of 2014, she'd left her day job to pursue 
One Happy Leaf
full time.
Read on to learn how Anna draws on her background in environmental science to create her modern, eco-friendly jewelry, and shop the collection.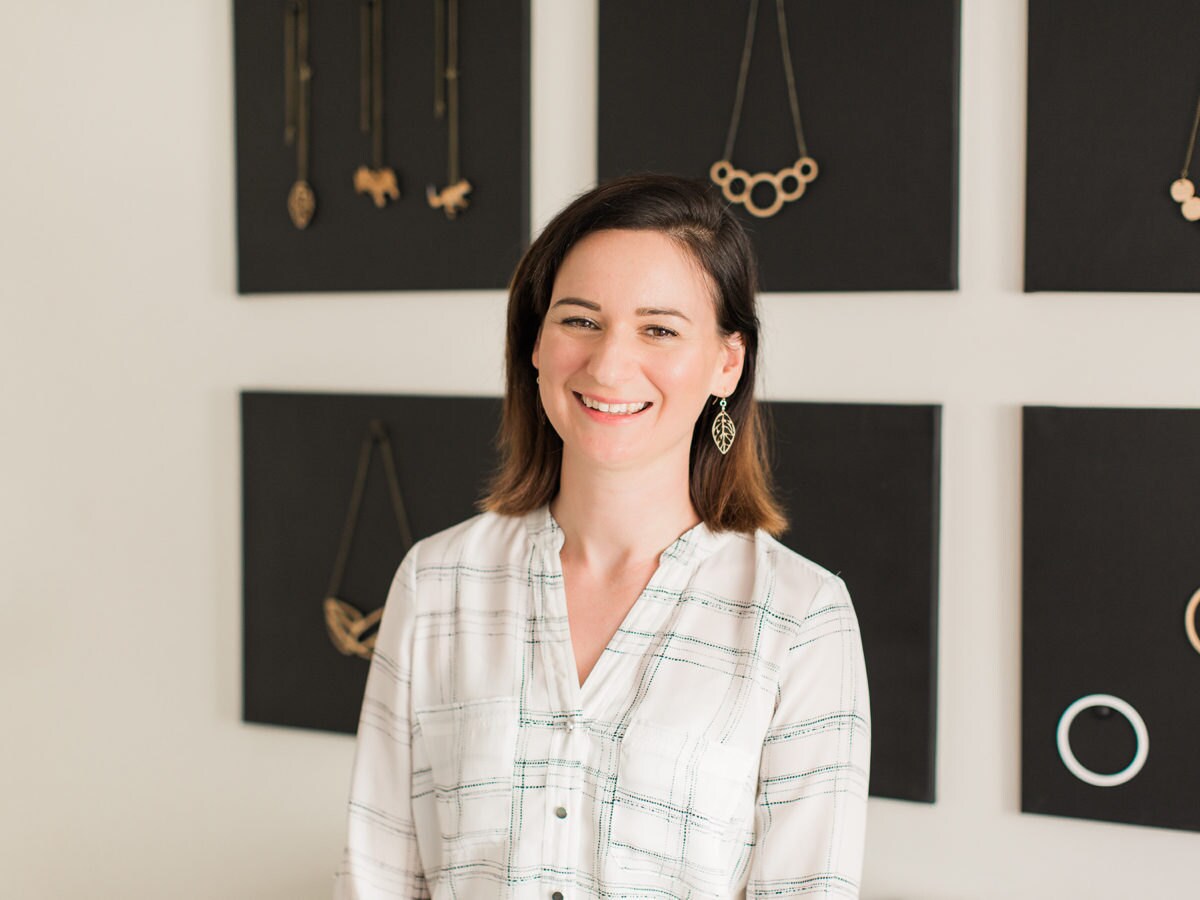 How did you take the plunge to leave your day job and focus on One Happy Leaf?
After I started selling on Etsy, I became obsessed with the Quit Your Day Job series in the
Seller Handbook
. I used to print the stories out and take notes on what other people had done. I learned about expanding my product range, improving my photography, and all sorts of other things. I started planning to leave my day job in the middle of 2013, but it took me about 18 months to make it happen. I had a whole business plan—I knew I needed to have a steady income coming in. I kept my goal quiet for a long time. All my friends are very corporate—no one operates in the creative sphere. When I finally got brave enough to say, "I want to make this my real career," it was about 6 months before I quit. My friends were surprised, but also very supportive. Personally, I was thrilled.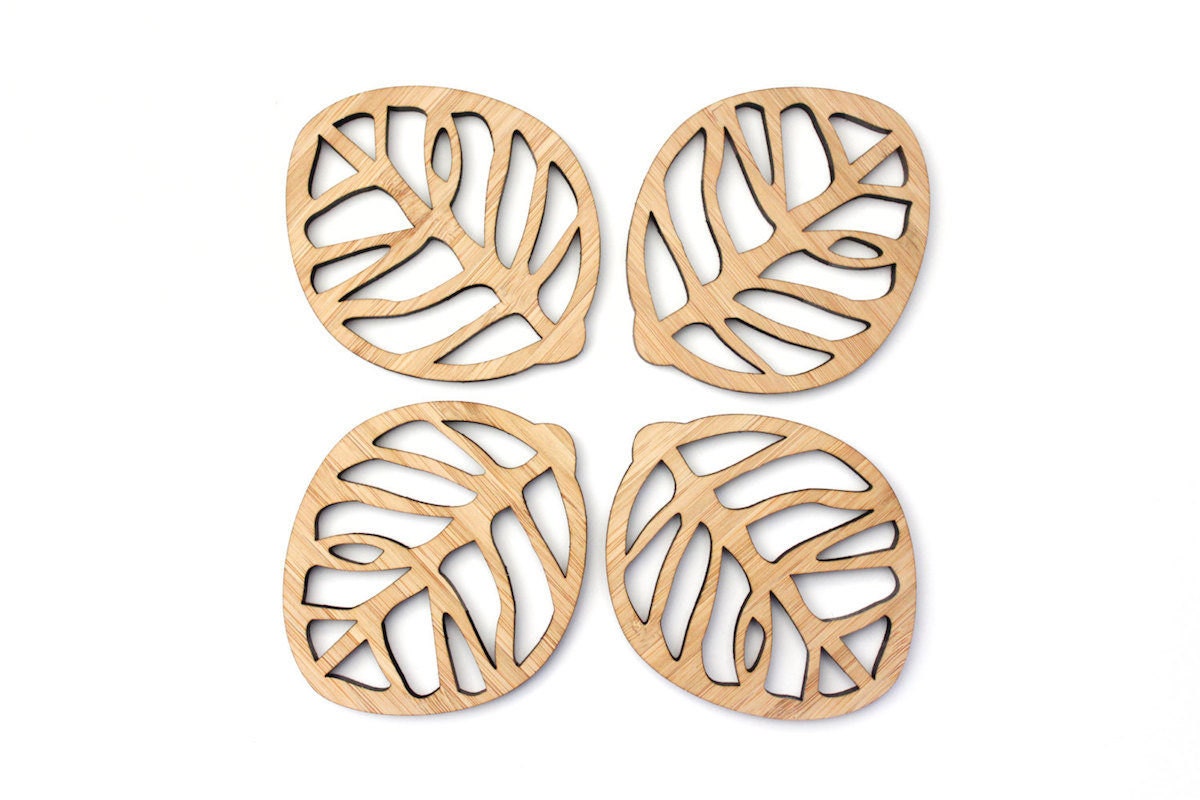 Photo courtesy of One Happy Leaf.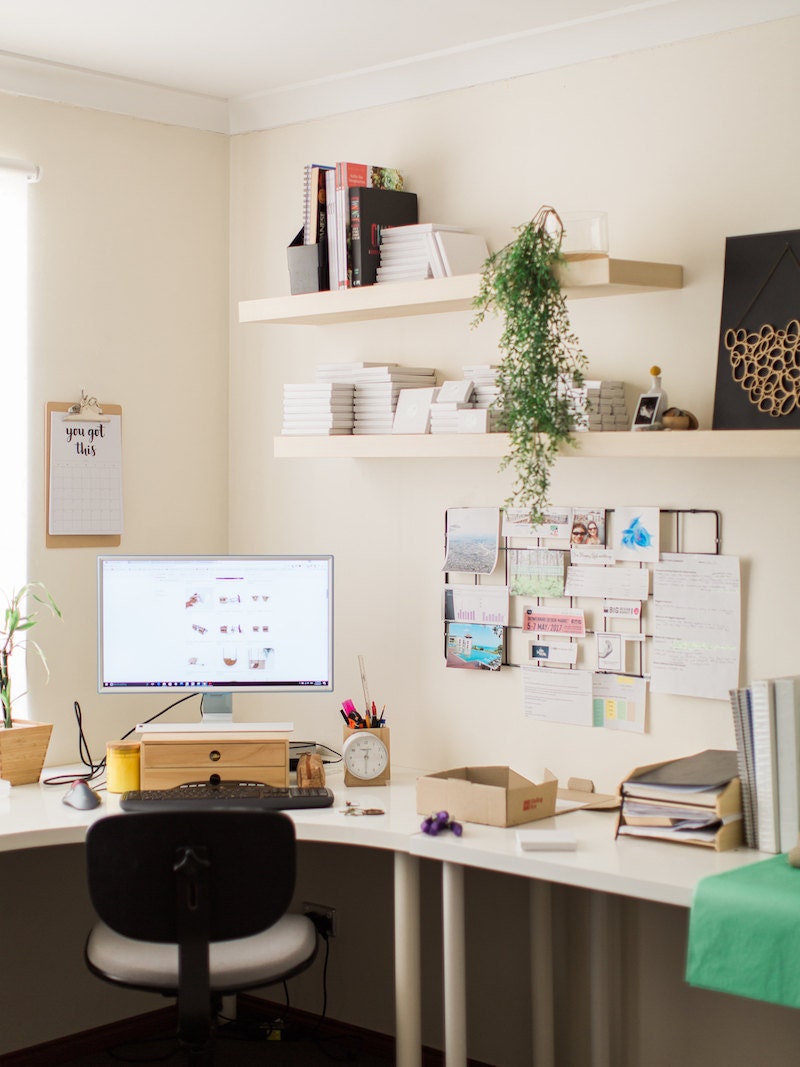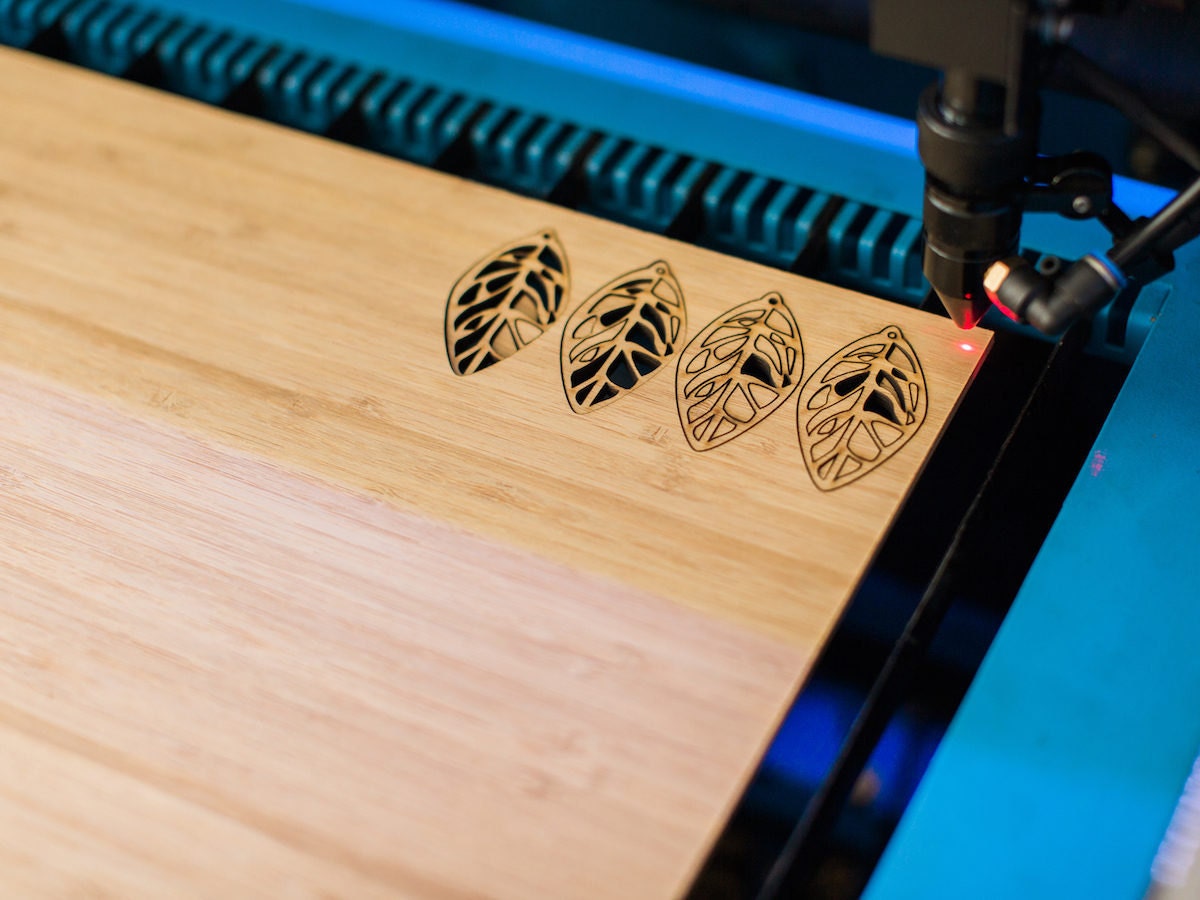 Tell me about your making process. How do you go from an idea to a finished product?
I typically start with sketches, but they're terrible—I can't draw to save myself. But where I do blossom is when I convert them into a computer program for vector drawing. That's where I can really work to get the design just right. Then I color-code the different lines to mean certain things—blue means cut, black means engrave—so my laser cutting machine knows what to do. After that, I pop my sheets of bamboo in, close the lid, plug in my laptop, and the machine gets to work. Once the bamboo is cut, I make the attachment—the
earring
hooks or
brooch
 backing, or whatever it is. I sand the wood so it doesn't splinter, but apart from that, everything is untreated. I like to keep the look natural.
Do any of your designs have a special meaning to you?
My
bubble necklace
, which was inspired by these bubbles I saw in a river when I was on a bush walk. It sticks with me because the 
design came from nature
, but I actually sketched it in a very boring meeting when I still had my day job. I didn't want to be there, so I just sat and sketched. It was my coping strategy. The necklace was my first abstract design and it sold really well. I'm strangely proud that the design stemmed from such a non-creative environment. I was able to find something special where I thought I couldn't.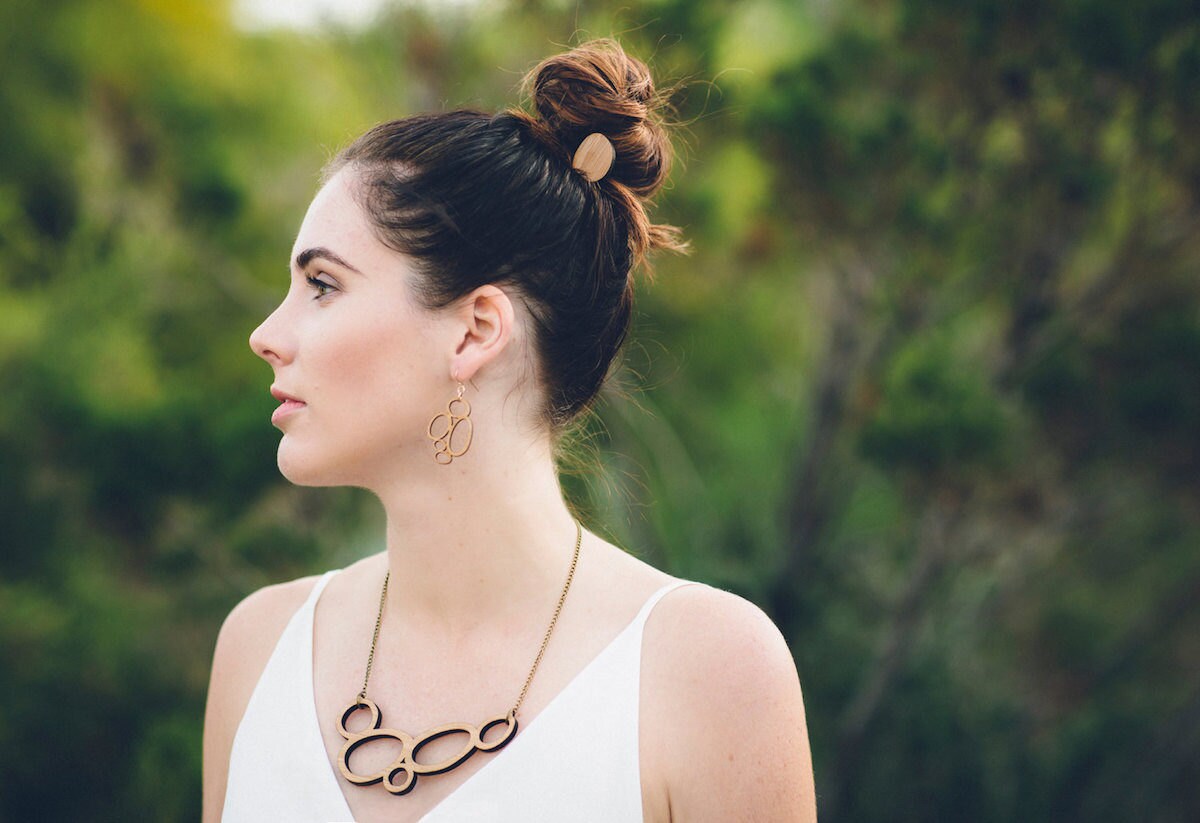 Photo by
We Are All Stardust
.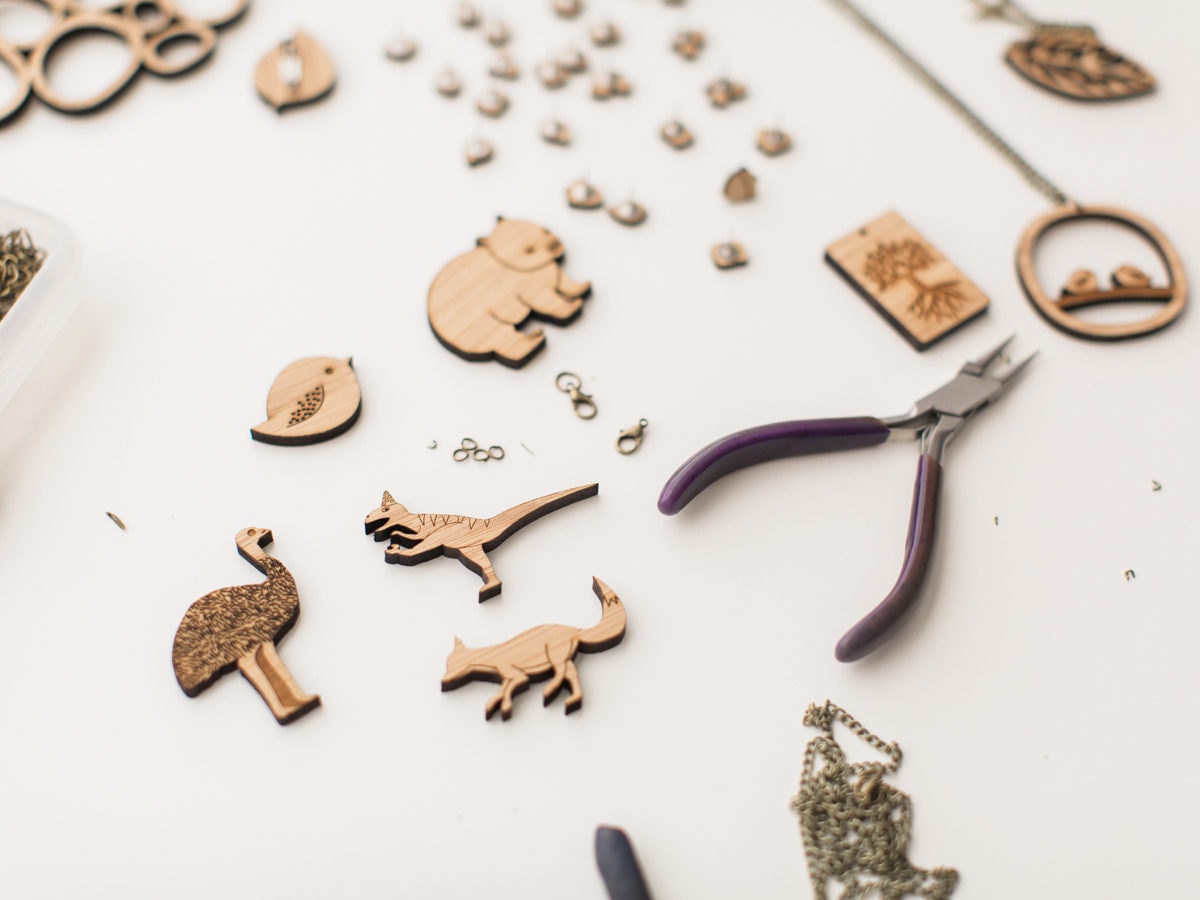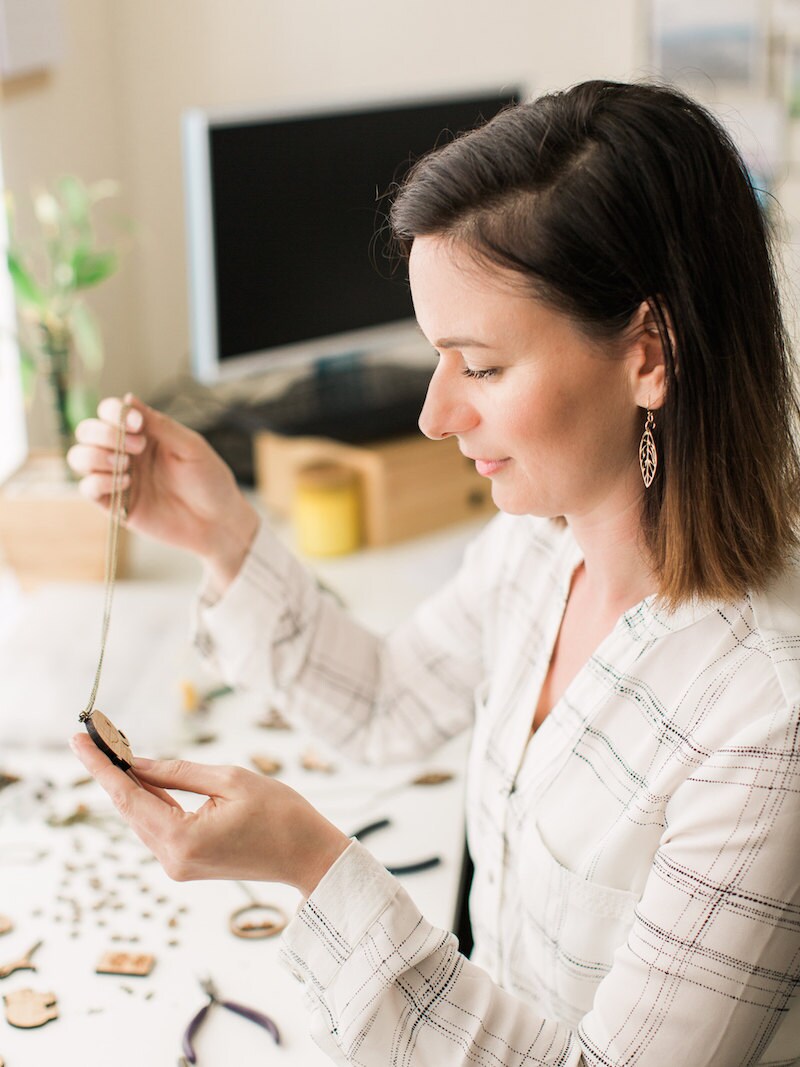 What's currently the most popular item in your shop?
My top sellers are actually the 
bubble necklace
, along with my little
bird earrings
and, strangely,
cufflinks
. The square
"You and Me"
cufflinks sell phenomenally. A girl actually contacted me and said she wanted to propose to her boyfriend with them! It was so cute, and I was so impressed: She put them in a box with the "you" on top and the "me" below, and she wrote "will" and "marry" between them. She asked him on top of a glacier in Iceland and he said "yes." I love knowing that one my designs played a role in such an important moment in someone's life.
Your Instagram feed is super impressive—almost 6,000 followers! What role does Instagram play in your business?
It's been a long journey to get here! I only started taking it seriously after I got 1,000 followers or so, and that seemed like it took forever. Before that, I was never particularly happy with my photos, but then I developed a more cohesive look for my feed and became prouder of it. Now it's about sharing my life, my jewelry, and my vision for my brand. I try to post at least a photo a day and give my followers something of interest in the photo or the caption. I use Instagram Stories a lot, too—they're nice because they disappear so you don't have to worry about them being super-matchy. I like to do them throughout the day. Instagram is a big part of my social media strategy, but what I really love is connecting with other people who believe in the same things I do. One of my favorite accounts to follow is Natalie from
Sustainably Chic
. I love how she promotes living an intentional lifestyle.
Photo by
We Are All Stardust
.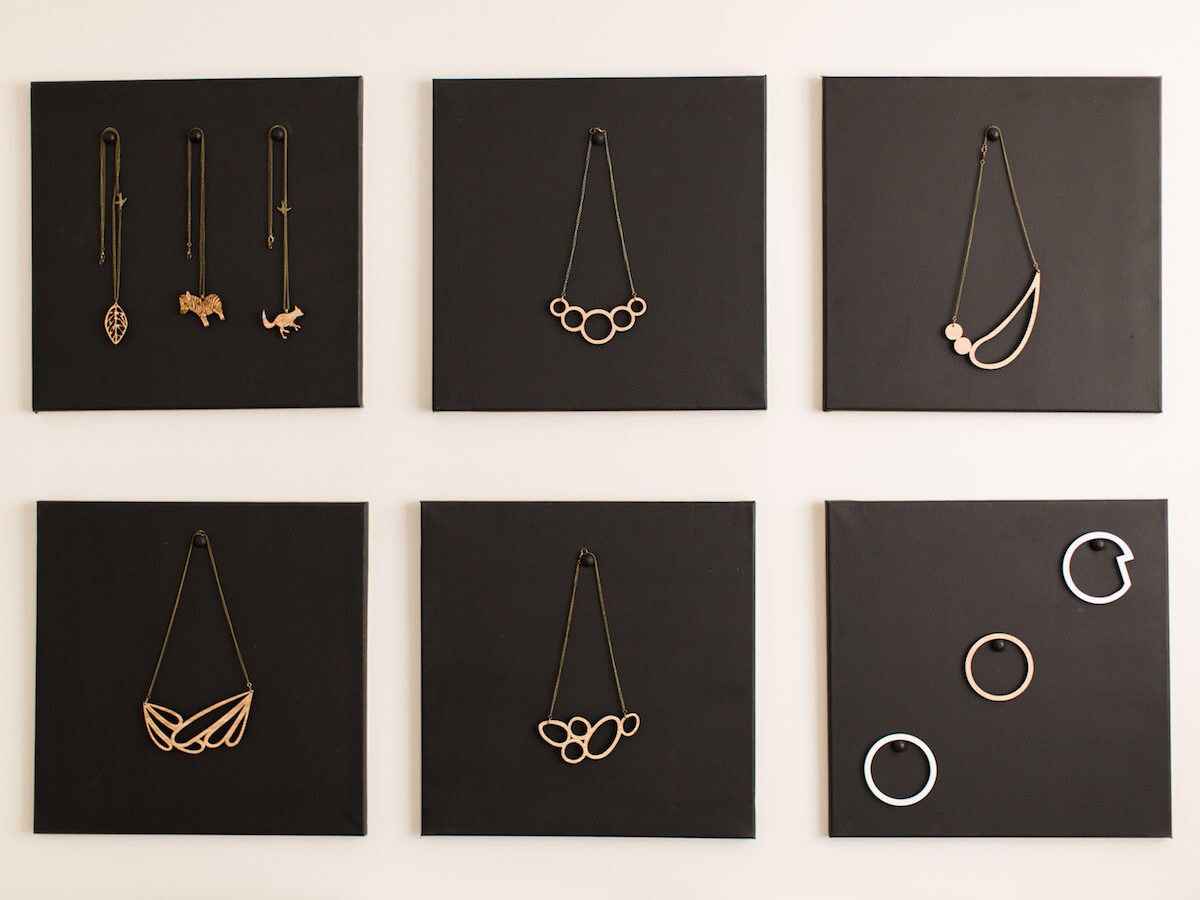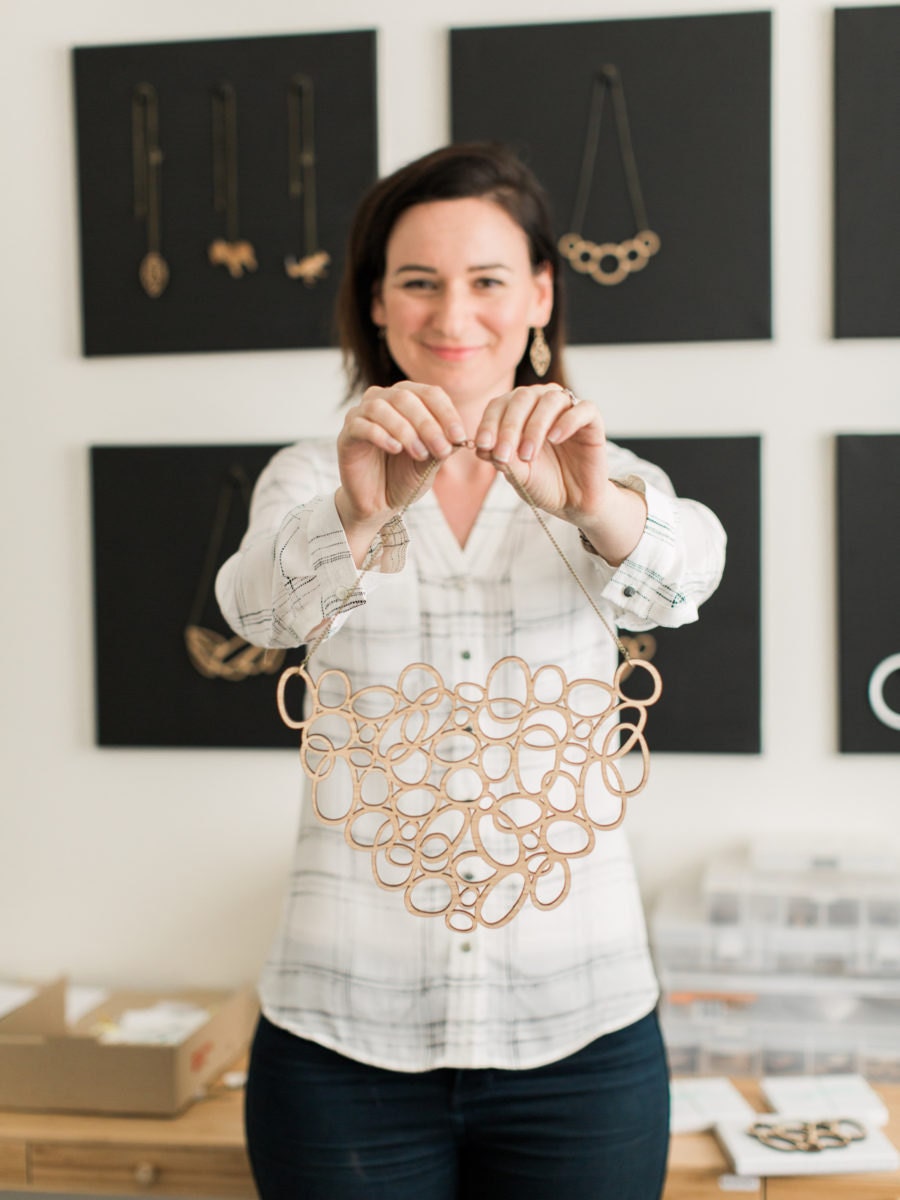 As a former environmental scientist, how do you incorporate sustainable practices in your business?
My background in environmental studies has heavily influenced many aspects of the business. My designs are organic, and I use a particular species of quality bamboo that pandas don't eat, so you can rest assured that no pandas will go hungry in the making of your jewelry. Being a greeny at heart, it was a bit of an obvious choice—I'd never want to negatively impact the land. All of my boxes are custom-made by a women-owned business that recycles paper from hotels in Indonesia. They shred it, soak it for 24 hours, and then turn it into anything you want. It's all all sun-bleached and dried, and they recycle the water that's used for soaking. I was so thrilled to hear about them. My business cards are all printed on eco-friendly paper, too. I'd love to be able to get to the point where everything in my business is eco-friendly, but right now I just make progress as I can. I'm trying to leave the world greener than it was yesterday.
Follow One Happy Leaf on Facebook, Instagram, and Pinterest.
Photographs by Sarah Bailey unless otherwise noted.