by Karen Brown
From their Nashville studio, two friends (and one resident shop dog) create intricate, fun-to-assemble 3D kits in a variety of shapes and sizes.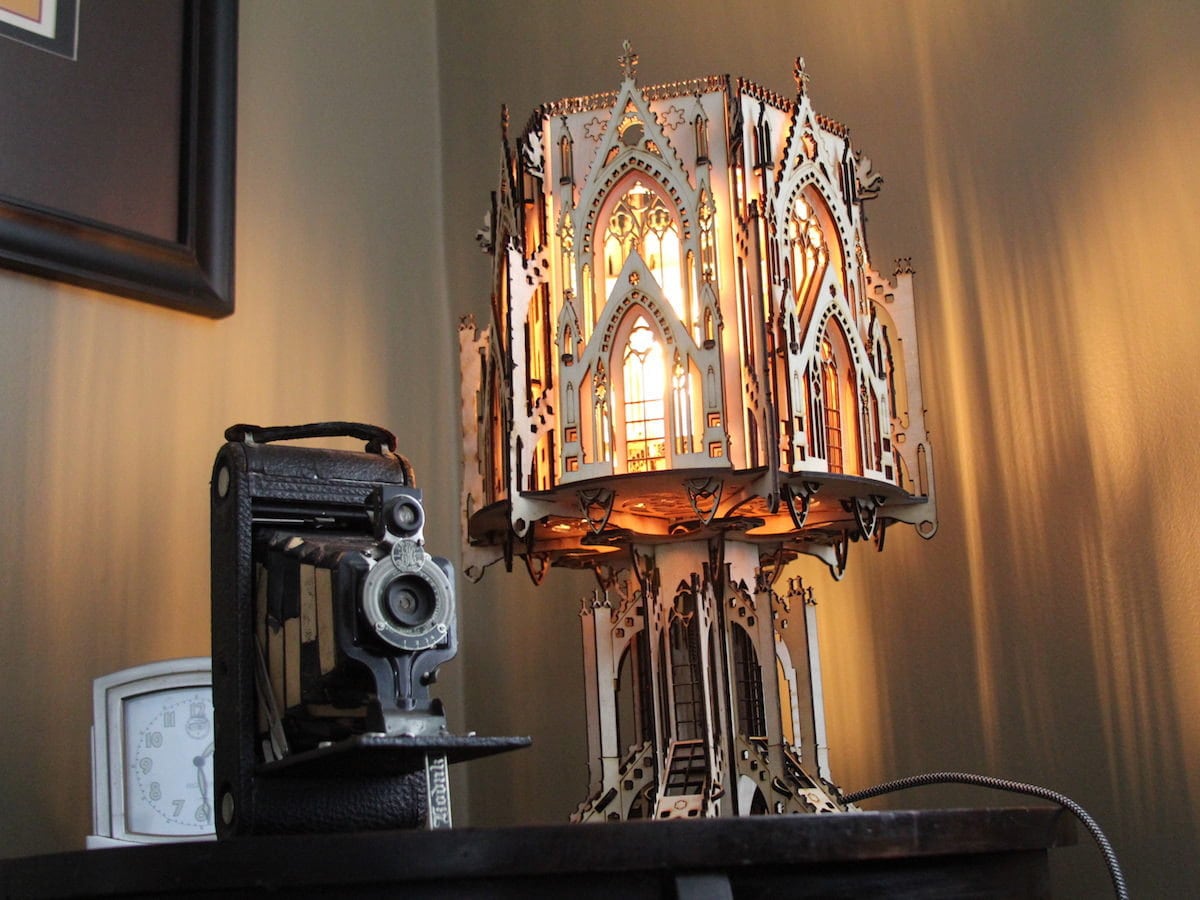 The first thing you'll notice about
One Man, One Garage
is that there are actually two men working in that garage, Marcus Williams and SJ Stone. These two friends share a business, a shop dog named Ellie, and a 1950s ranch house with a detached garage on a residential cul-de-sac in Nashville, Tennessee. "The name of the business is a joke," says SJ, "but I also see a deeper meaning in it: You can get anything done and you can do it anywhere, whether it's in your garage or your craft room. Just get started." Marcus and SJ use their garage as a workshop and laboratory, designing and fabricating original
laser-cut kits
that assemble into lamps, birdhouses, planters, maps, ornaments, and more. With over 15,000 Etsy sales, this team thrives on nonstop innovation. "It's totally based on passion," says Marcus. "If you've got the drive, you can do it. We're living proof of that." Read on to discover exactly how Marcus and SJ got their start, and
shop the collection
.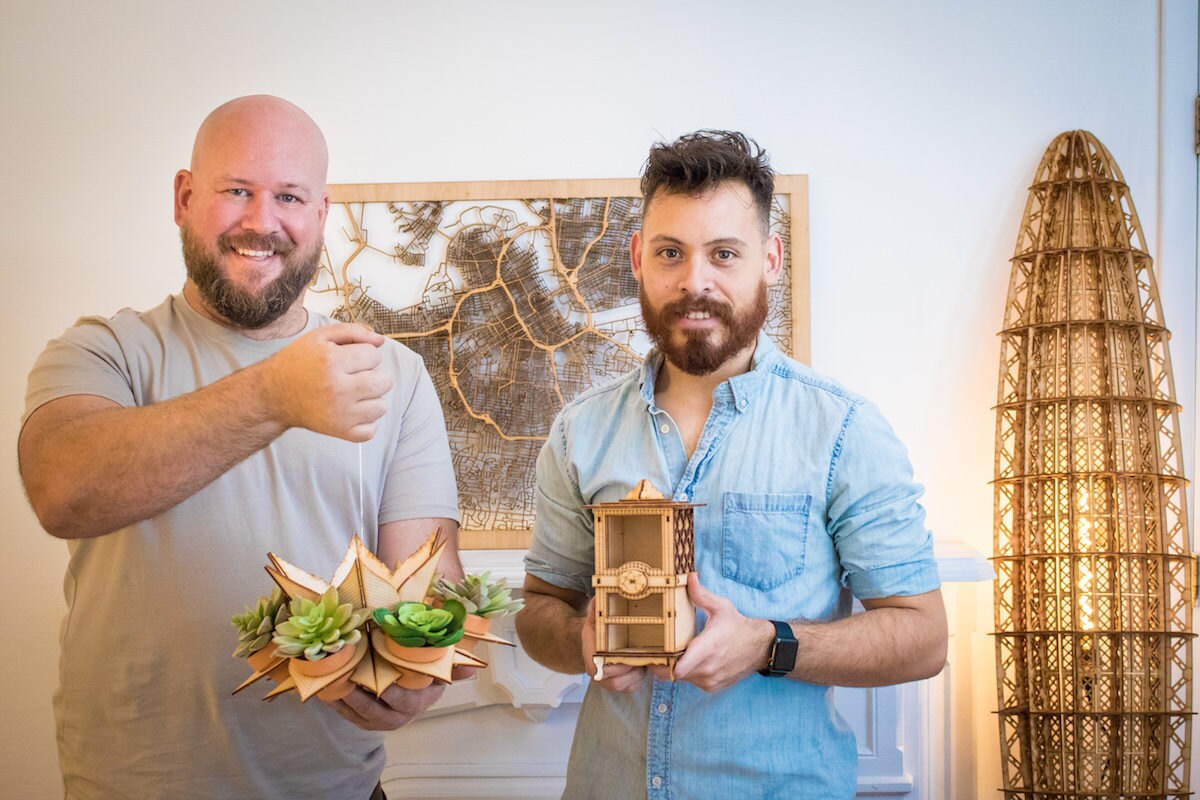 SJ: We had been friends for a while, and the business evolved organically. We started out just playing around with the laser cutter, going into it as amateurs. And then one day, we naturally became business partners. Marcus: Etsy was a great start for us because we got to launch basically from our garage, put some items online, and quickly see what the public liked. So launching happened really fast.
With such a wide variety of products, how do you decide what to make next? What guides your product development process?
M: Passion really drives our designs and it can be a long process. I've always had a love for different styles of architecture. I first got to explore that through 3D objects like lamps and lanterns, and things have evolved from there. Our house is full of little UFOs: unidentified, (un)finished objects. We have prototypes we've been working on for two years—and we don't take on custom work because we have a notebook full of our own ideas. It's a business decision that sometimes disappoints people, but ultimately lets us follow our passion. SJ: I first started designing based on something I wanted—a wooden case for my phone—so I tinkered around and learned how to make it. Later, I wanted to make a gift for my mom for Mother's Day. She loves tea, so I made her a tea caddy with a cookie jar on top. It's that functionality that is so important to us. We always want to make designs that are artistic, but once you put them together, they have a purpose.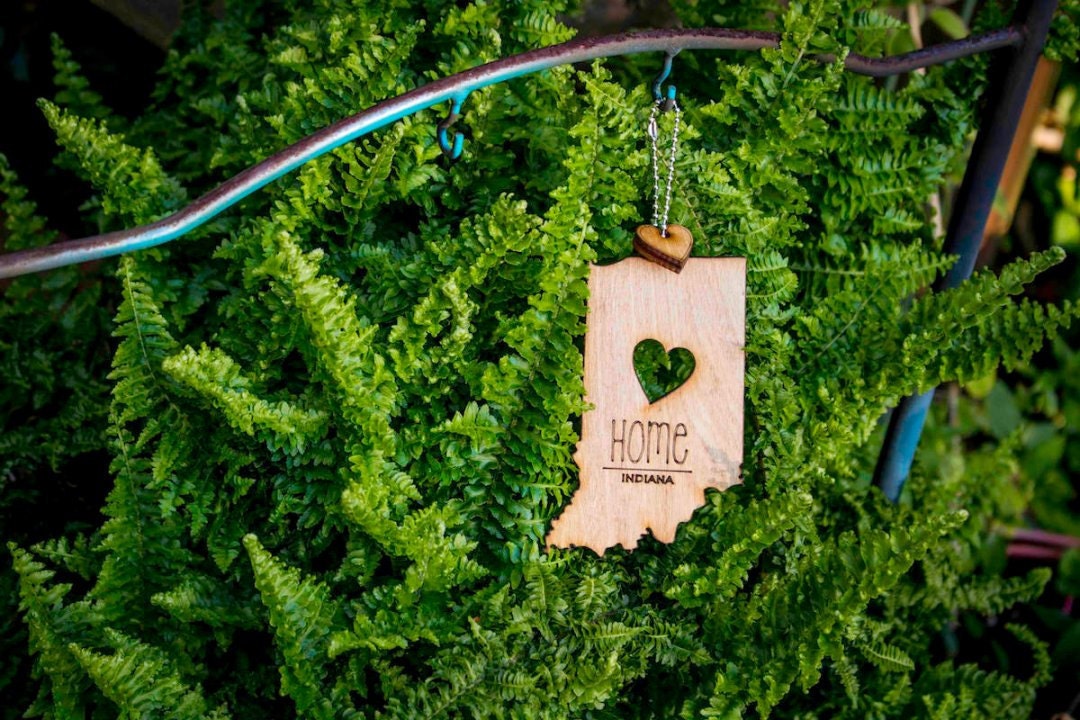 >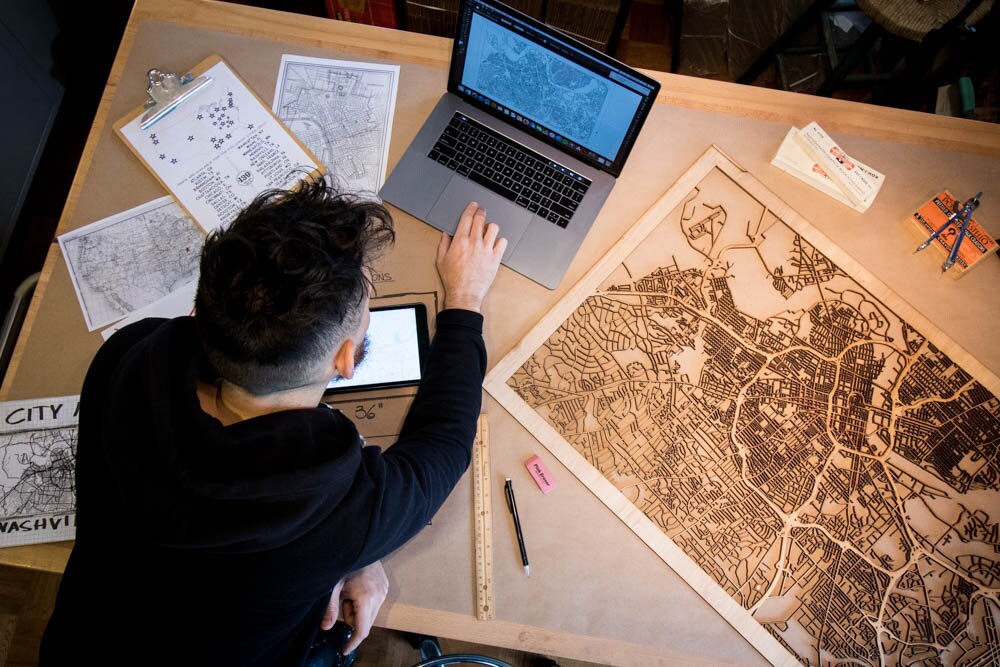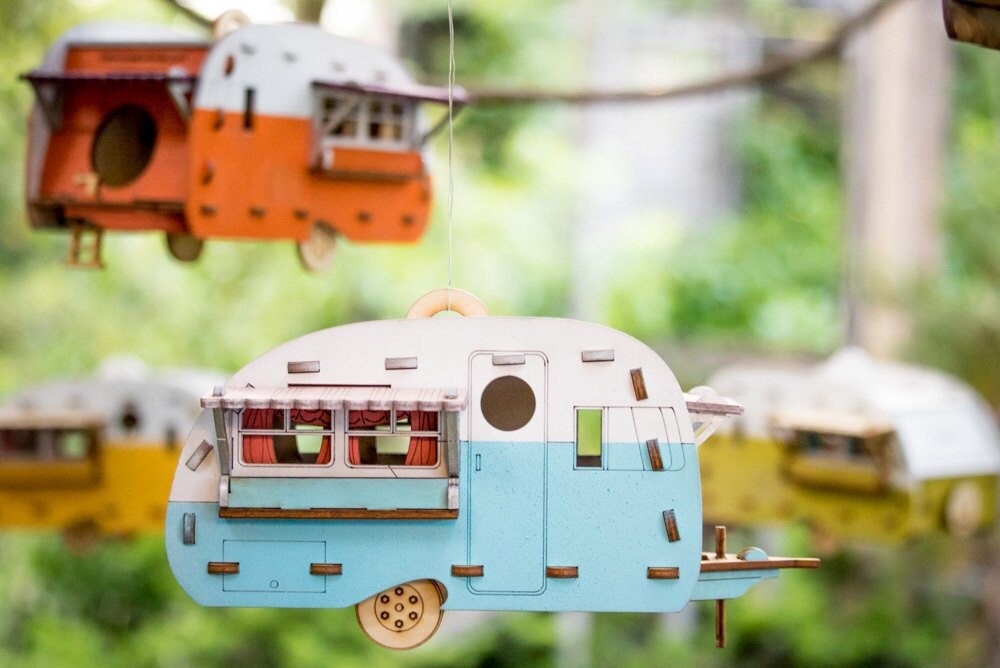 >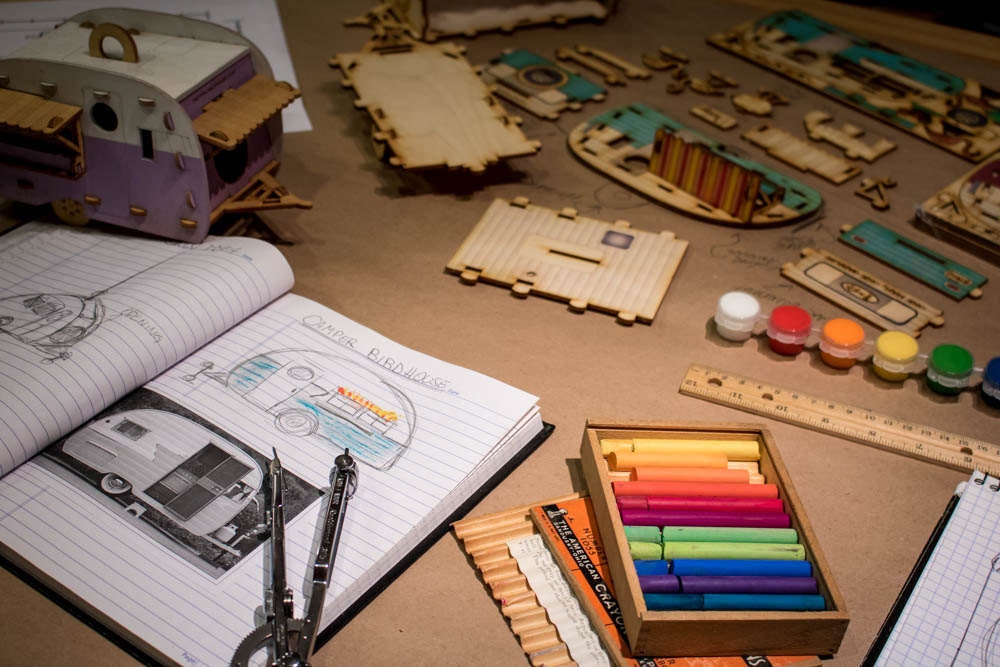 With the holidays coming up, everyone is on the hunt for the perfect gift. What are some of your best sellers?
M: People have always steered toward the
tabletop fireplace
. We designed the kit to be a whole unboxing experience—the parts lift out and everything's included inside. The 
vintage camper birdhouse kits
are a favorite, too. They're loved by people who love trailers, people who love models, people who love birdhouses, and people who love toys. Plus, it's such a small flat pack that it ships easily. And our
United States ornaments
are really popular. No one lives where they grew up anymore. Some people buy two: one for where they were born, and another for where they live now. In Nashville, which is a tourist town, we really get to cater to locals and visitors from around the country with those designs.
Part of the One Man, One Garage experience involves assembling the finished piece from a kit. How does that part of the process resonate with customers?
M: One of the things that makes me happiest is hearing how our designs encourage families to spend time together. We design a gift, but that's just one piece of the puzzle. The other piece is the quiet time, where a couple people can sit down and make something together. Maybe it's taking an hour to hand paint your
retro camper
, or sitting down with your dad to help him out with the
Craftsman-style birdfeeder
. We love the idea that you're gifting some of your time in addition to thoughtfully finding a perfect, unique item. It's also encouraging to watch people grow with us. They start with a small kit. They make it, and it's a confidence-builder, and then we see them come back for something larger and more challenging.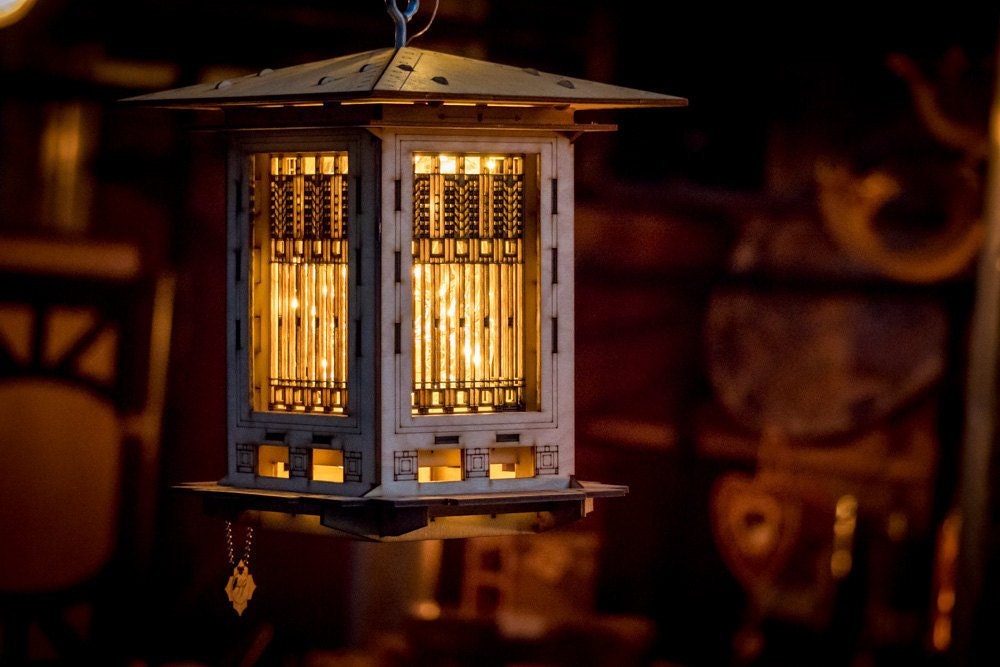 >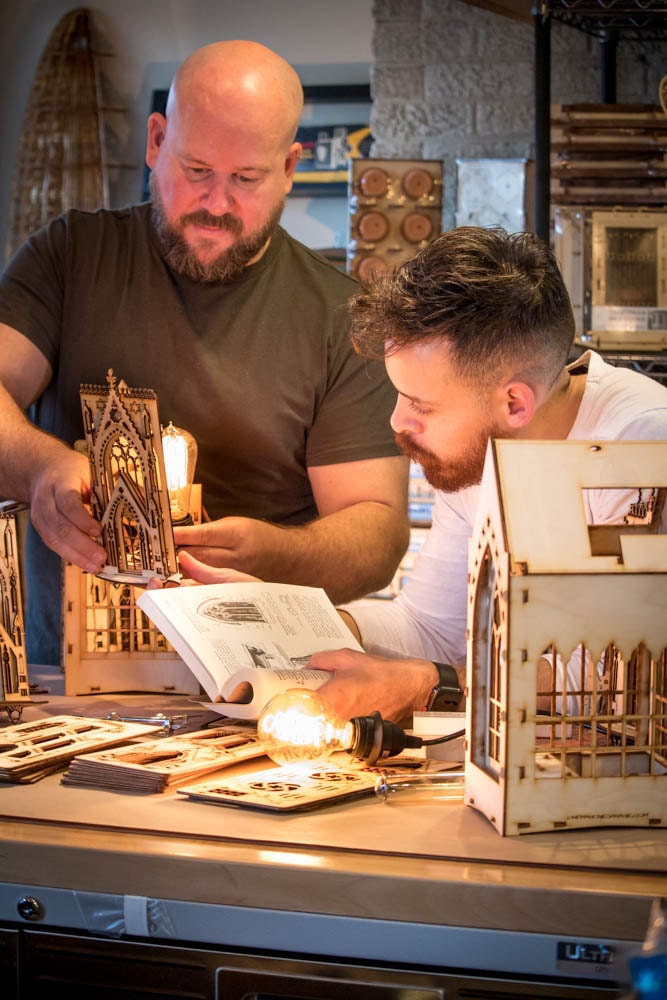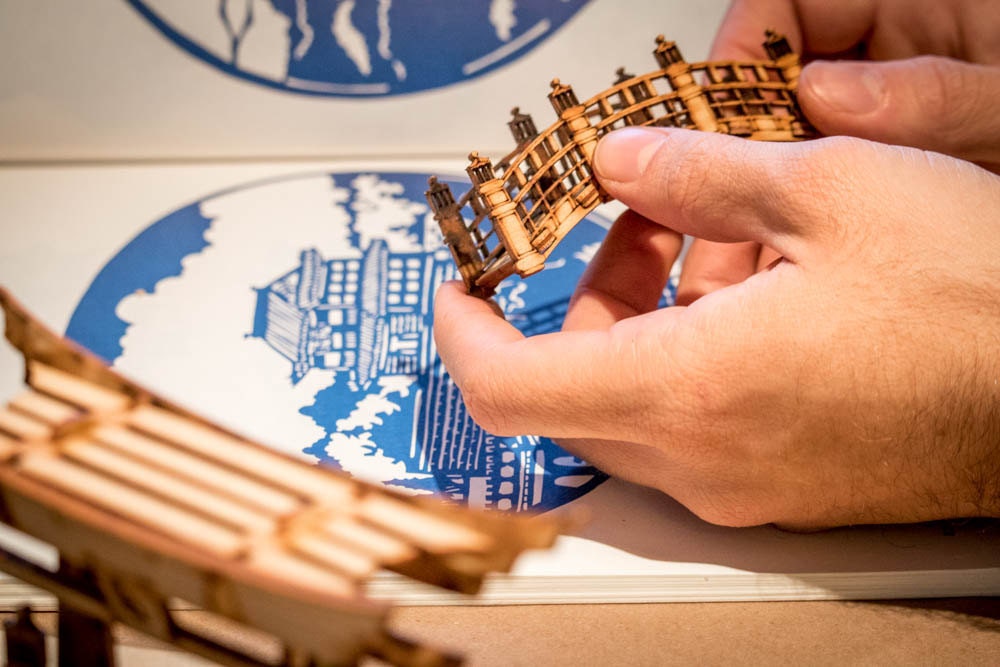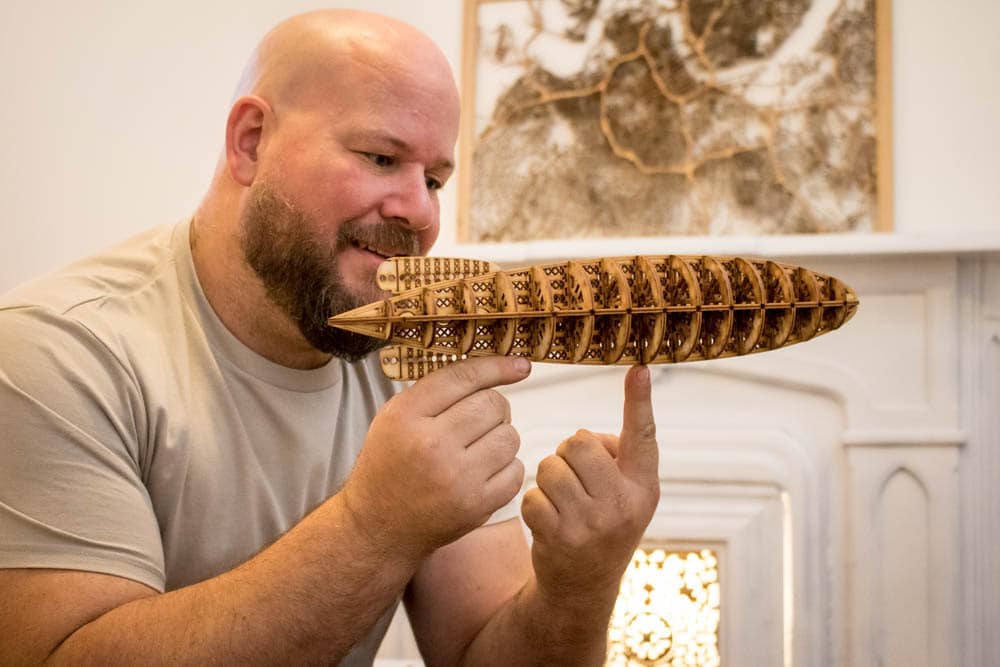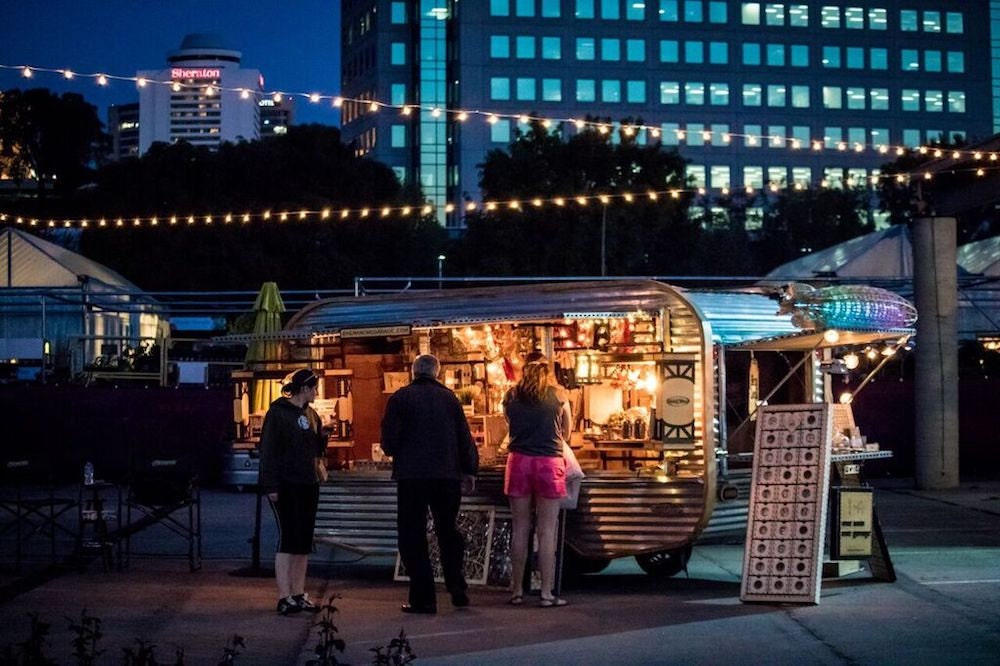 Nashville is a very creative community. How does your environment influence your business?
SJ: There's a lot of talent here. We're part of an artists' co-op of 50–60 artists, and we often get together for pop-up sales on the weekends. In Nashville, there are so many street fairs, farmers markets, and festivals. When we first started out, we were unaware of the
local craft market
—we didn't know it was a thing you could do every weekend, complete with food trucks and music. M: That's probably a unique quality of Nashville. It's a happening place and there's always something going on. A lot of artists need to travel for fairs and shows around the country in order to reach new audiences, whereas in Nashville we have tourists coming every weekend. We see new faces all the time.
You have an incredible mobile trailer that you use for pop-up markets. How did that come to be?
M: We built it from the wheels up. There was a Maker Faire coming up and we wanted to participate, so the trailer became our Maker Faire project. We started working on it in June and the deadline was September. Those were some late nights. It was worth it though, because it gets a lot of attention. It even lights up at night. Not many people can do a pop-up in the evening, but we can.
What kind of equipment do you use to make your kits?
M: We have three laser cutters now. We have the original one we started with, and that's the baby. We have a medium one, and that's the workhorse that makes most of our kits. And now we have the monster that's 4 feet by 8 feet. The garage is pretty full. SJ: That's another funny thing about the name,
One Man, One Garage
—we're way past the garage. It's pretty much taken over the whole house now.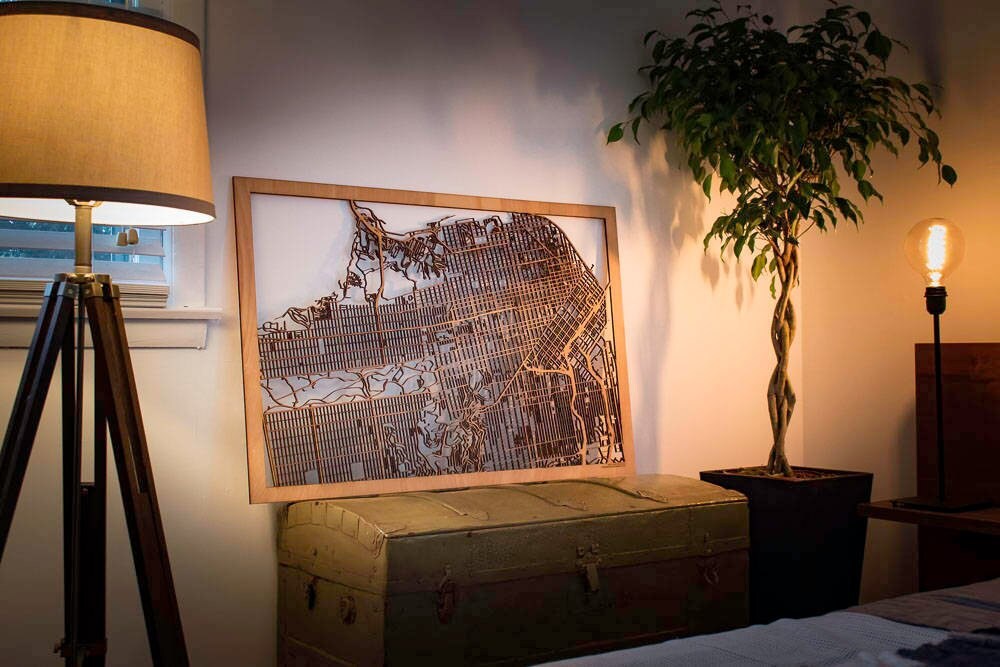 >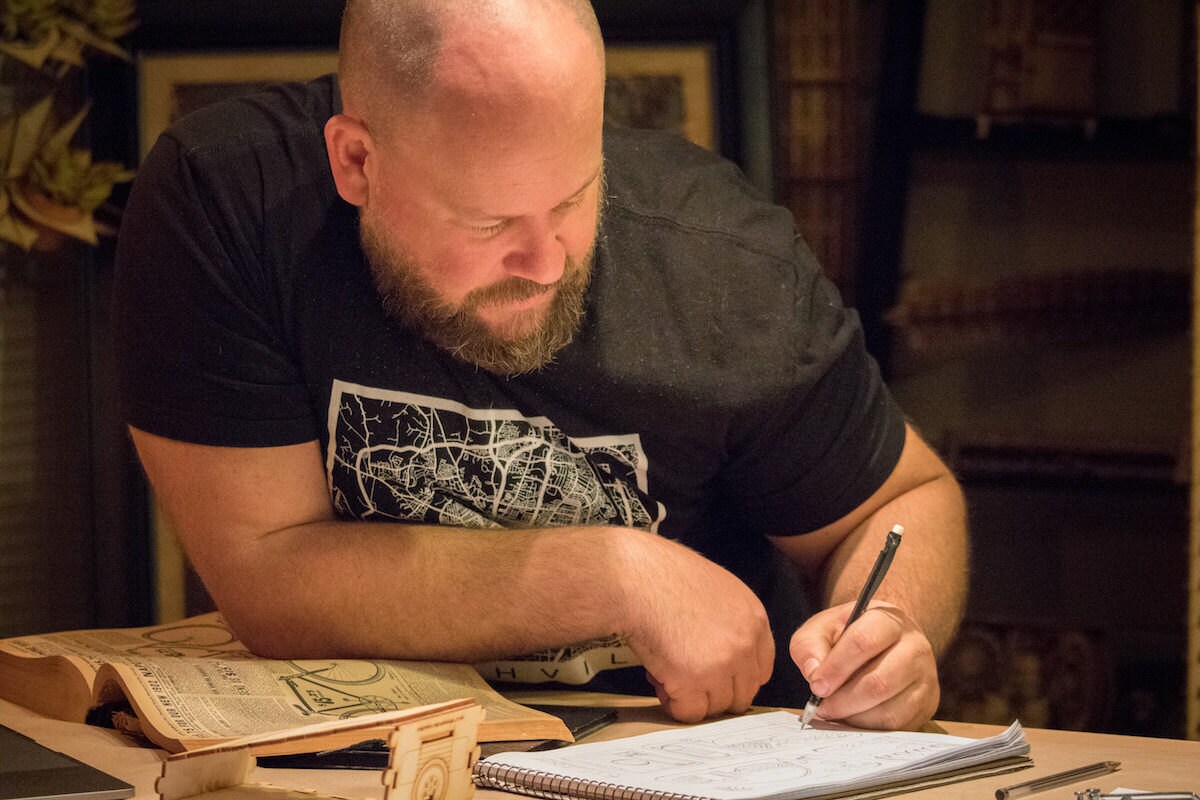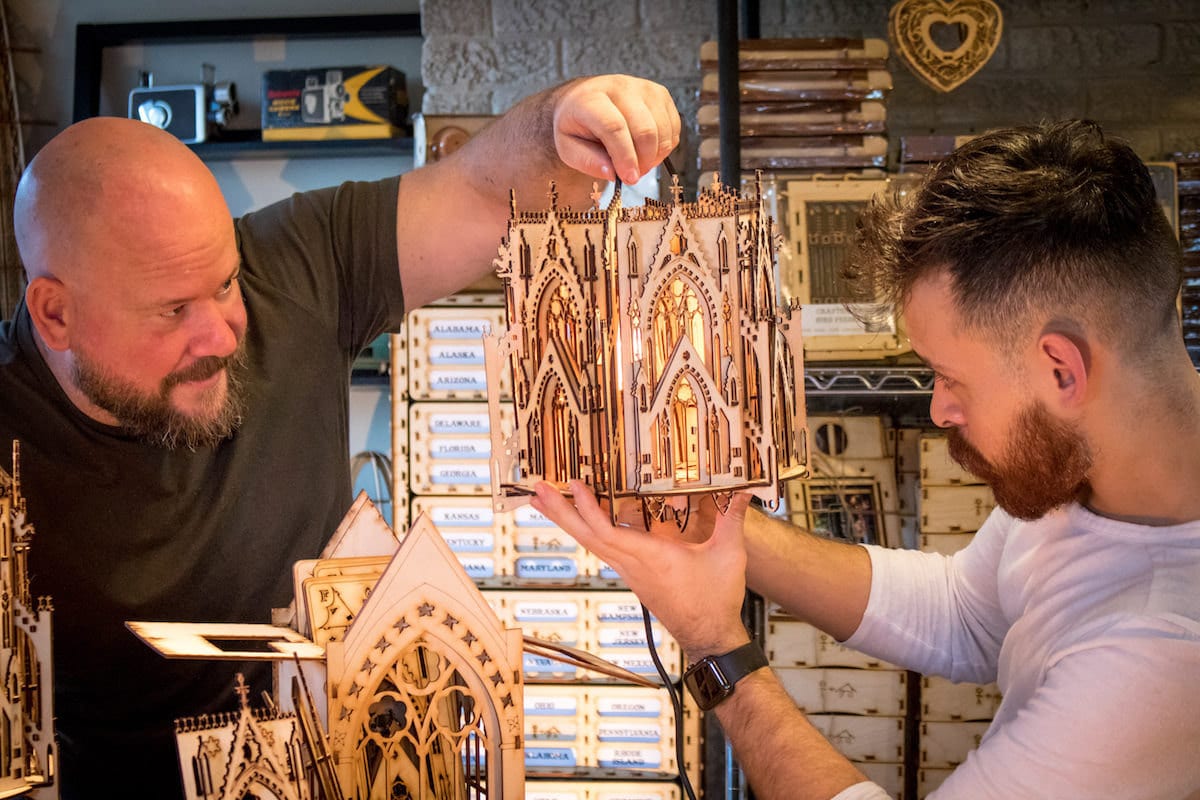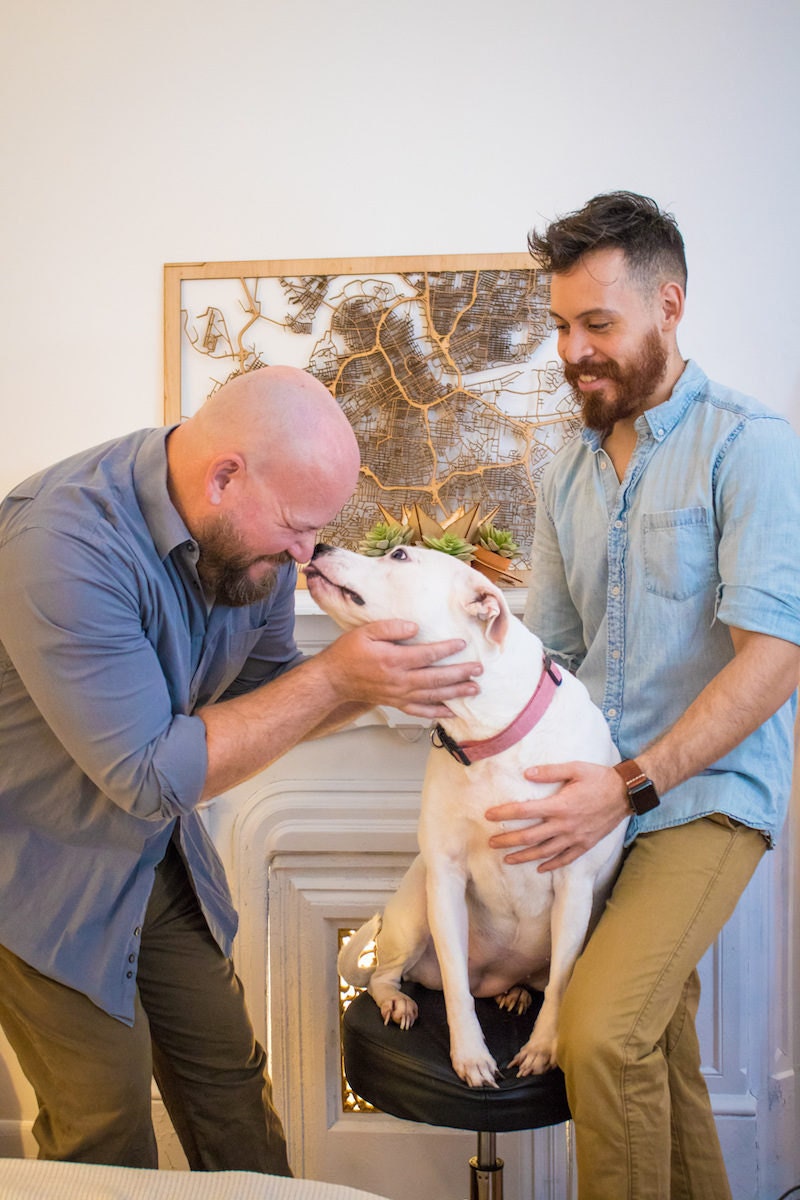 Besides the two of you, there's another important member of your operation. Tell us about your shop dog, Ellie.
M: She's a princess. She turns nine this year. She has her own place in the studio, a dog house under a table, so she can see everything. She doesn't like it when we work too late. She's a good therapy dog, very good for stress relief.
So after nearly four years in business, what's next for One Man, One Garage?
M: To get through the holidays! There's always an ebb and flow in retail sales, and after Christmas we can scatter, learn new techniques, develop new products, and get ready for spring. It's a wide-open world. And we're also at a tipping point in terms of needing a larger facility. We've filled the garage and the house, and until we solve that hurdle, it's going to be difficult. We would love to bring in new equipment and start working with other materials like glass or metal. SJ: Another goal is to learn a little more about expanding into wholesale. We really want to push our limits and see how far we can go.
Follow One Man, One Garage on Instagram, Facebook, and Twitter.
Photographs courtesy of One Man, One Garage.