Learn how this Michigan-based maker combines her two great loves of art and science in her colorful line of electroformed birthstone jewelry.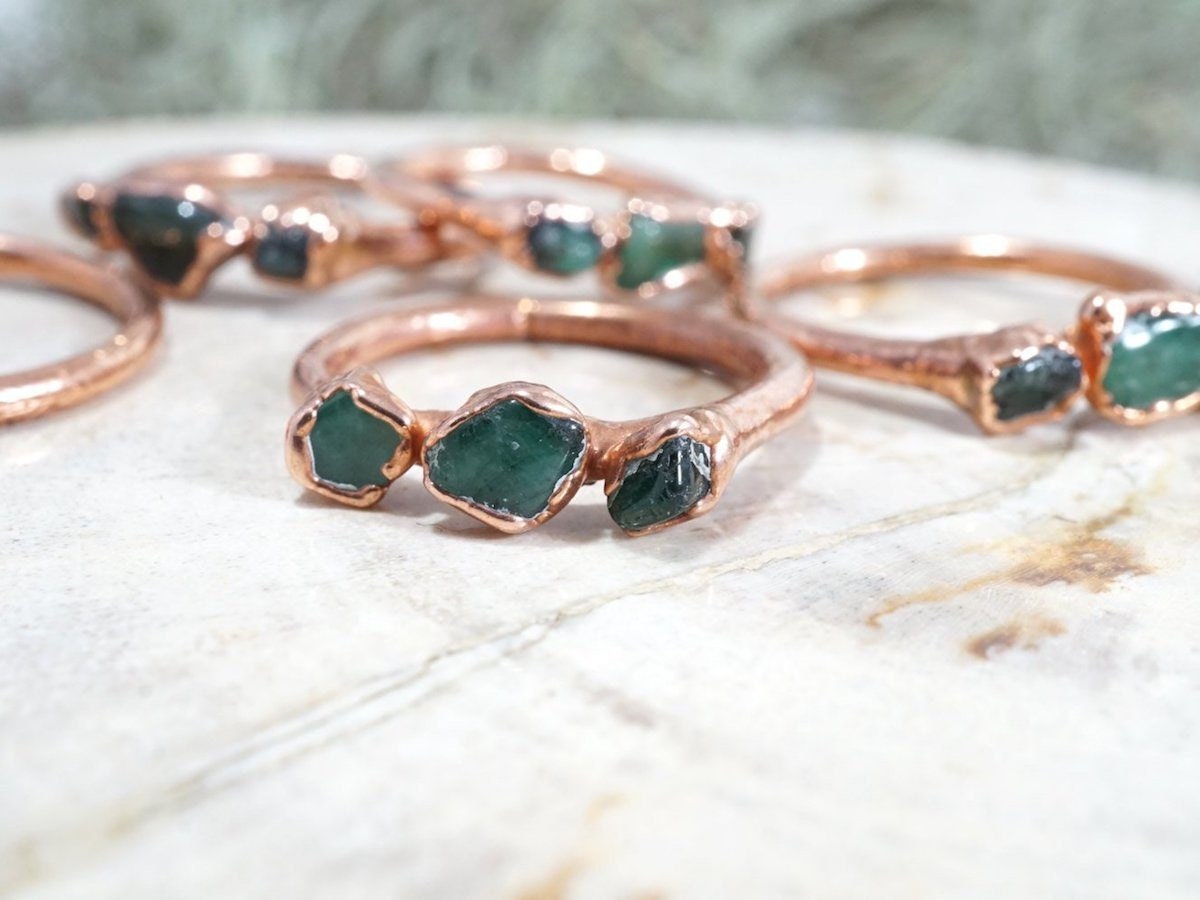 In our weekly
Featured Shop series
, we shine a light on a standout shop from Etsy's talented seller community, offering readers a behind-the-scenes look at their process and story. "I was always torn between the art world and the science world," says Alicia Molin, the owner and chief designer behind raw stone jewelry line
Pebble & Stone
. "As a kid, I nerded out on biology, but at the same time I was acting in plays, singing, and crafting." Like many great adventures, Alicia's journey to become a self-described "nerd artist" began on the road. "I grew up in Redwood City, California, and my grandparents took me on long car trips when I was young," she explains. "At first, I would travel with my headphones on, zoning out and listening to the Spice Girls, but gradually those road trips through the West Coast and Canada instilled a love of nature in me."
Explore the Pebble & Stone collection
Later, Alicia's work at the University of Oregon in environmental studies deepened her connection with the natural world, and when she and her partner moved to Michigan in 2012, her dueling interests combined when she discovered electroforming. She began experimenting with the conductive metal-forming technique to create wearable works of art, using sentimental stones from her childhood to fashion 
delicate birthstone jewelry
. "The look electroforming created was unlike anything I had ever seen, and it piqued my interest hard," she recalls. "I never really wanted to choose between art and science, and now I believe you don't have to."
Read on to learn how Alicia brings her gift-worthy line of rough gemstone rings, earrings, and necklaces to life with her trusty rescue pup Rigby by her side—and shop the Pebble & Stone collection.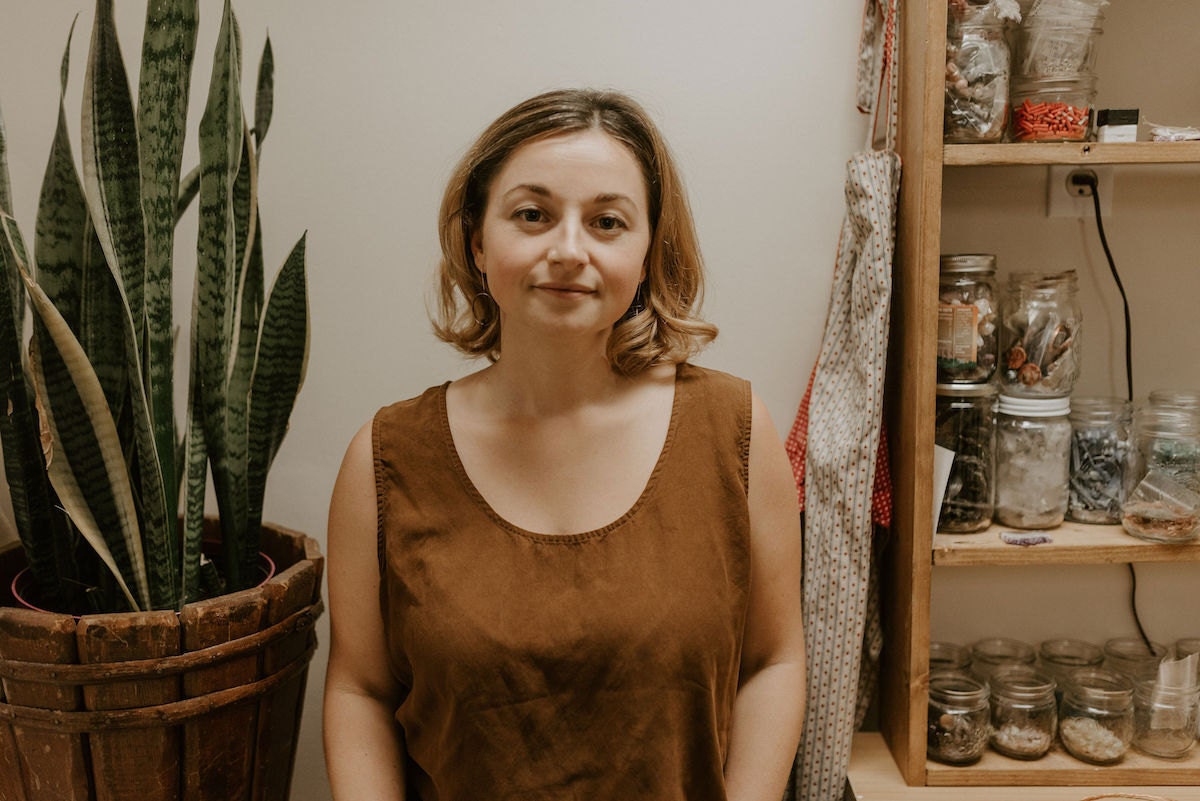 How did you begin making jewelry?
When we first moved to Michigan, I hadn't anticipated how big of a culture shock it would be for me. Being from California, I had never experienced being "snowed in" longer than an intentional weekend in Lake Tahoe. With six feet of snow on the ground, I didn't know what to do with myself; I felt isolated, stir-crazy, and a bit homesick, so I just dove into what I was interested in, what fed my soul. I thought picking up a new craft would be fun and cathartic. All I had to work with were some raw stones my rock hound stepmom had given me:
opals
from Idaho and
Lake County "diamonds,"
a kind of silicon dioxide, from California. I wanted a way to wear those Lake County diamonds because they reminded me of pleasant, familiar memories—hiking through damp ferns in the Redwoods or diving in the ocean—so I taught myself electroforming as a hobby during that first long, cold, winter. I spent that whole season perfecting the craft by making pieces for myself, until the snow finally began to melt. You still use electroforming for your jewelry settings today. Can you describe how it works? Here's how I think about electroforming: it helps me provide customers with a stone that for some reason is being drawn into their lives. What I do is facilitate a way for them to wear it. I first stumbled upon the technique through an artist based out of the Sierra Nevadas who was making large solitaire pieces. So, true to my nature, I started going down several rabbit holes, uncovering loads of information. I found it was an age-old process used since the 1700s, and I was instantly attracted to the science behind it. For my pieces like
rings
, I start with electrician's wire and wrap it around a
mandrel
to size it. I set the stones with jewelers' epoxy glue, and then I paint them with a conductive paint—it's like painting liquid copper where I want more metal to grow. Next, I put the pieces in an acid bath and adjust the electricity. The positive and negative charges magnetize copper to the conductive paint, molecule by molecule. When I'm done, I can leave the piece in copper, or plate it in rhodium or gold.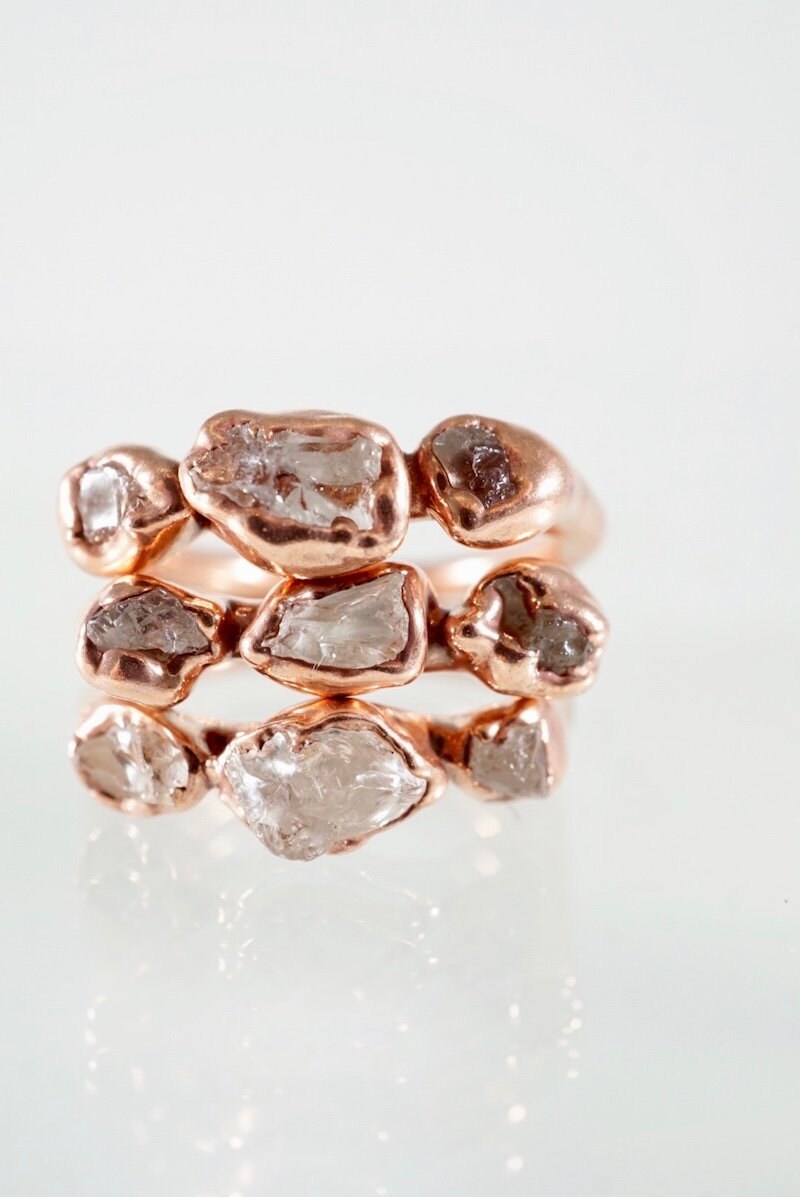 >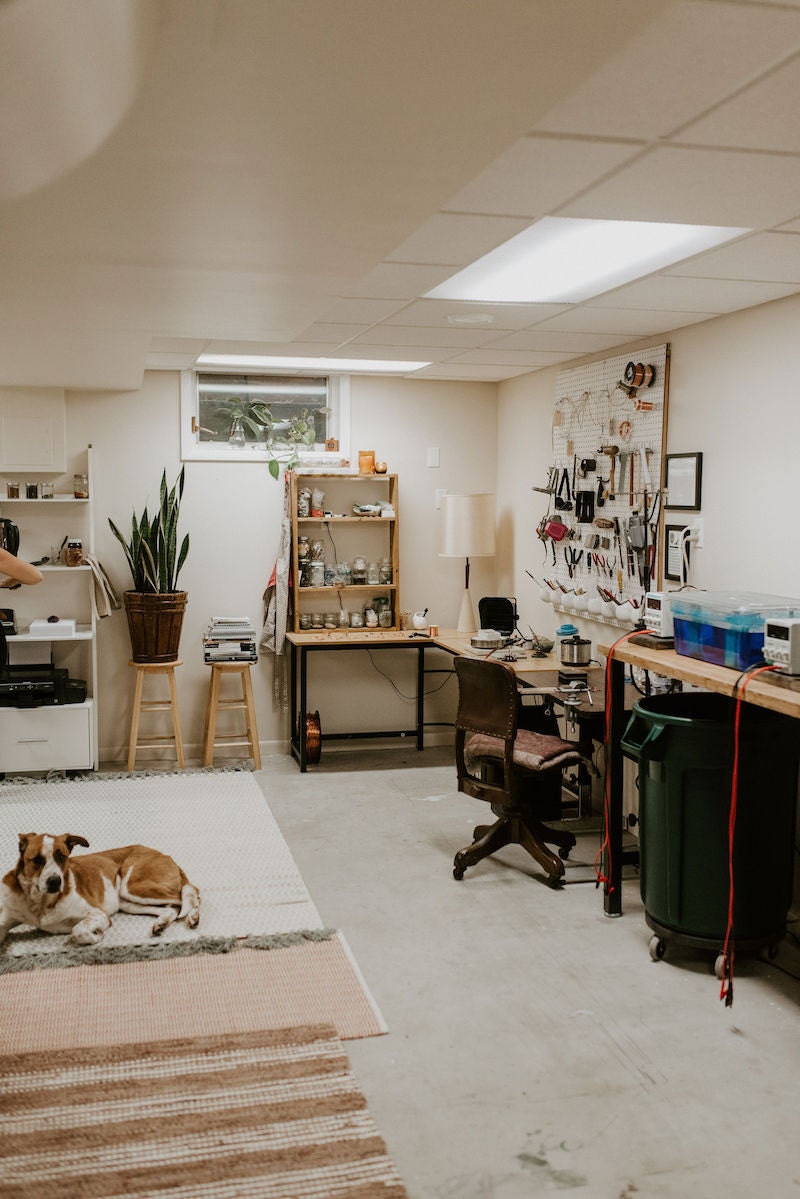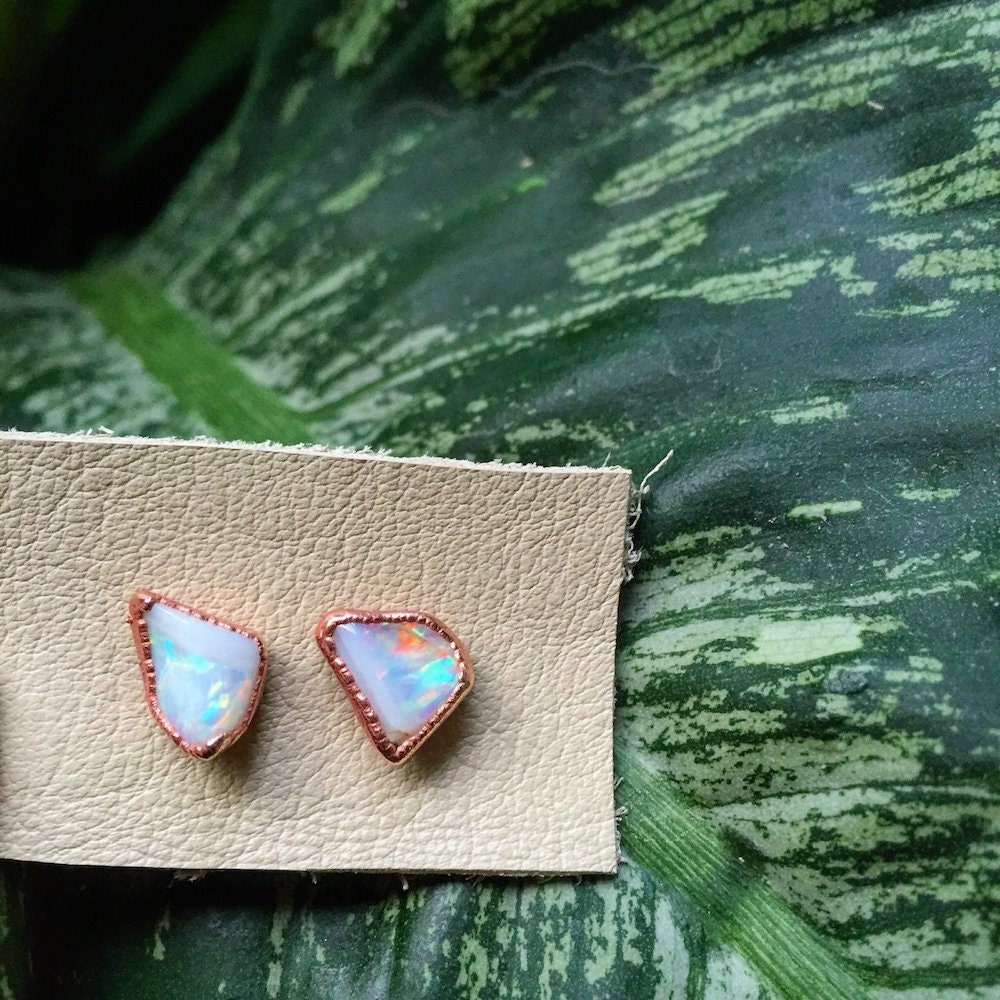 >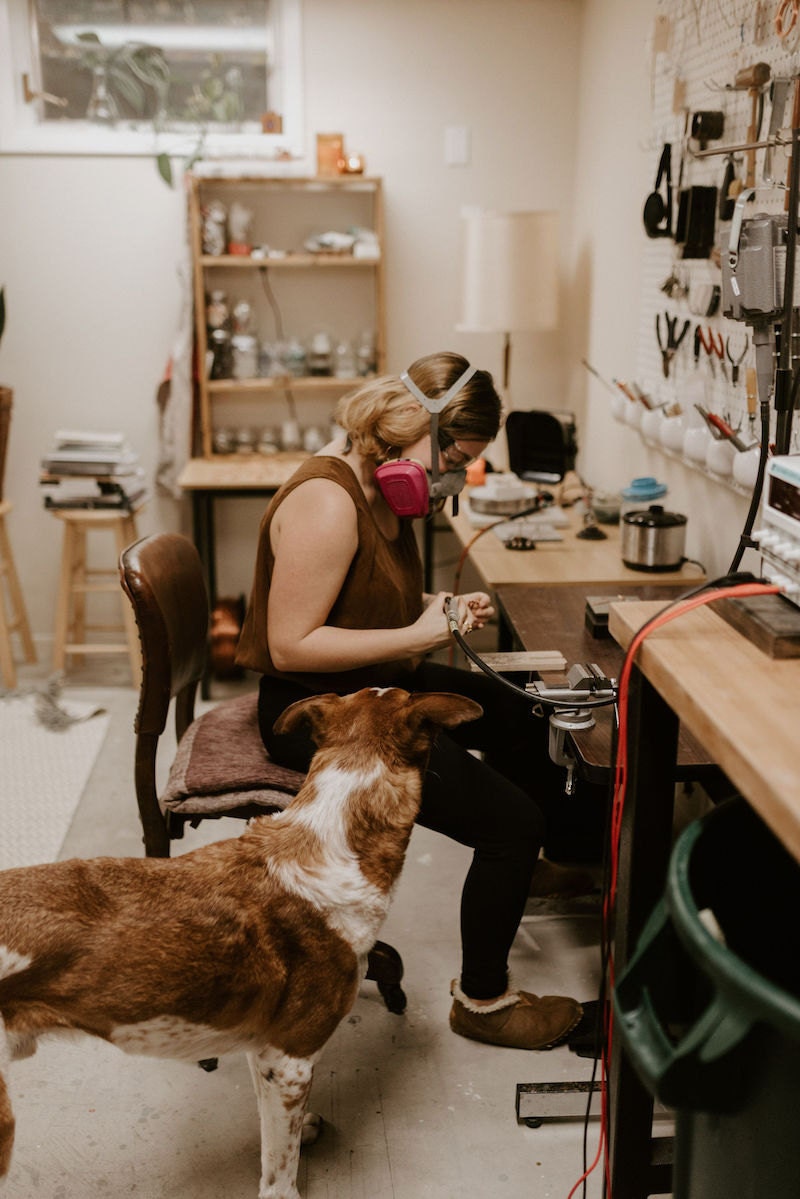 How do you source your beautiful stones?
All my
stones
are sourced domestically here in the United States, and I really nerd out on it. Lake County diamonds are still a favorite of mine—they have a really beautiful iridescence. And a lot of people don't know there are opal mines in Idaho where you can pay a few bucks, grab a pick, and mine your own opals! After I used up the
opals
my stepmom gave me, I contacted a mine and now I work directly with them to get my stones. For
peridot
, I found a Native American gentleman in Arizona on Instagram. He inherited land with peridot from his grandma, and he now sends me raw stones in a ziplock bag. Occasionally I work with a middleman, but for the most part every stone I use has a direct, local, and personal story.
The holidays are right around the corner. Why does raw stone jewelry make a great gift?
Raw stones are beautiful and so perfectly imperfect. They are everything all at once—hard, delicate, rough, smooth, tough, and sweet. I think a lot of people can identify with that. Take me: I like pretty things, but I also have dirt under my nails.
What are some of your most popular gift items?
My
raw stone stacking rings
are really popular. They probably account for 70% of what I offer in my shop. People give them for all kinds of occasions—birthdays, Christmas, anniversaries, and weddings. One of my happiest surprises has been seeing how many people give them as
engagement rings
. I was accustomed to engagement rings being very traditional, but people are quite open to what they use as a symbol of partnership. It's very exciting and humbling to make a ring for a moment so special and significant.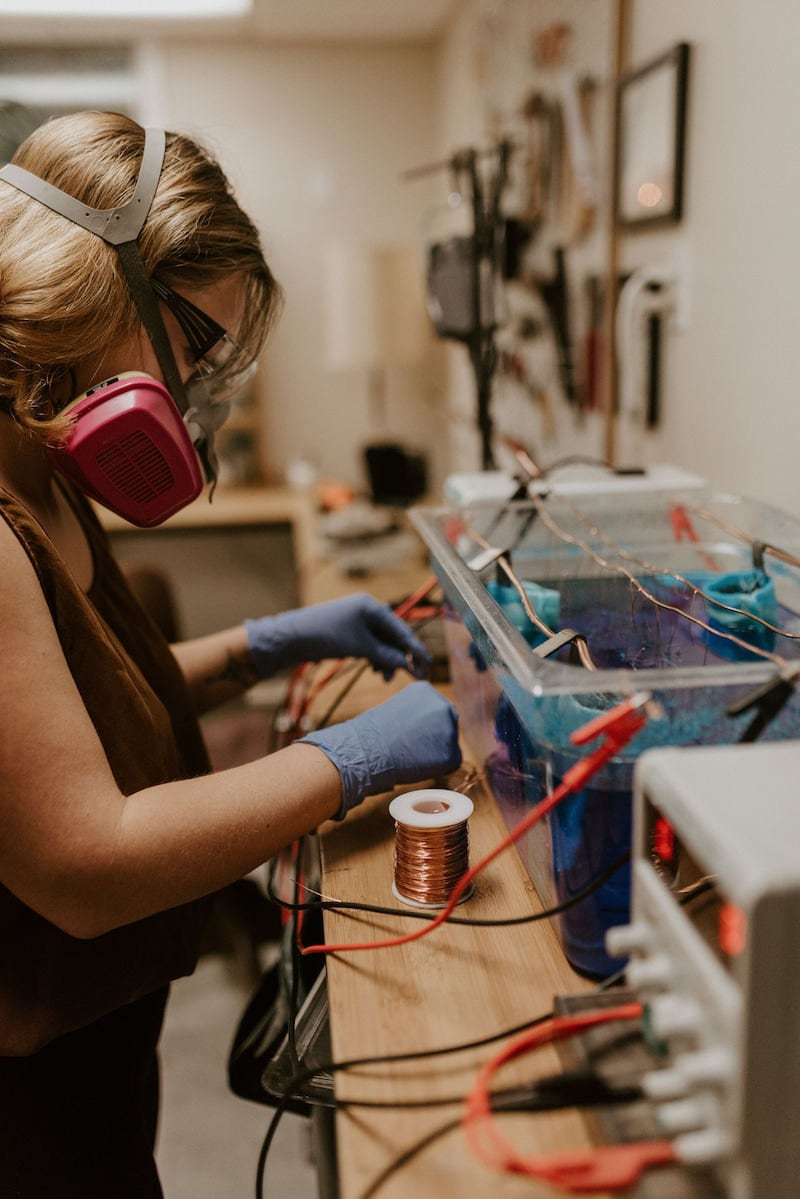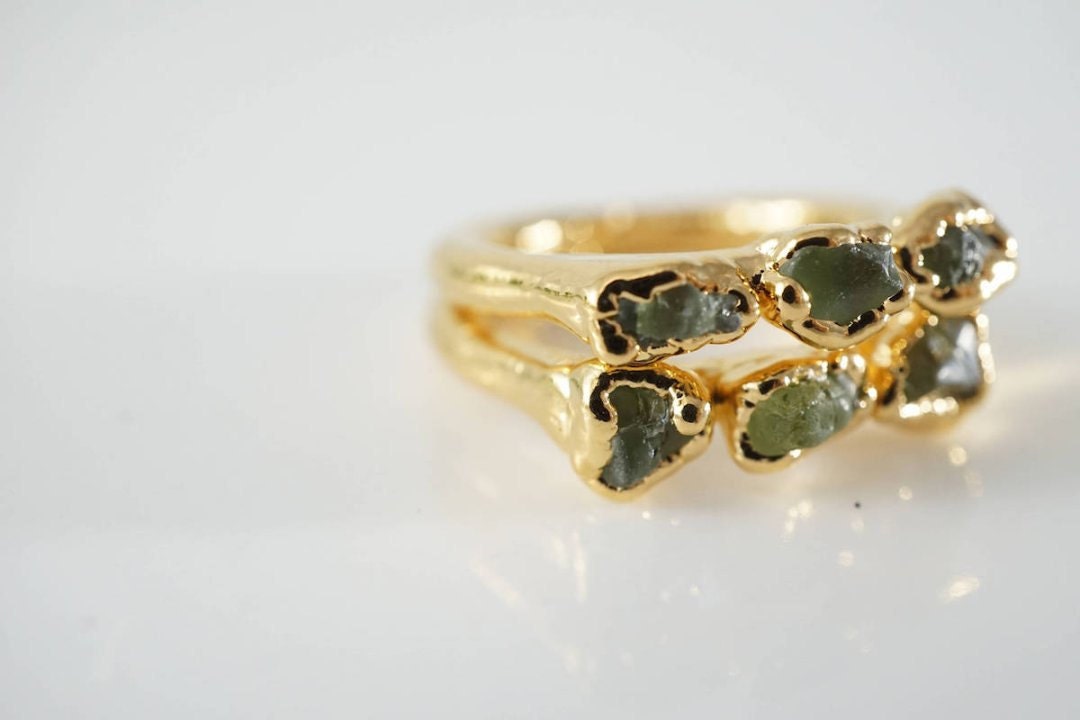 >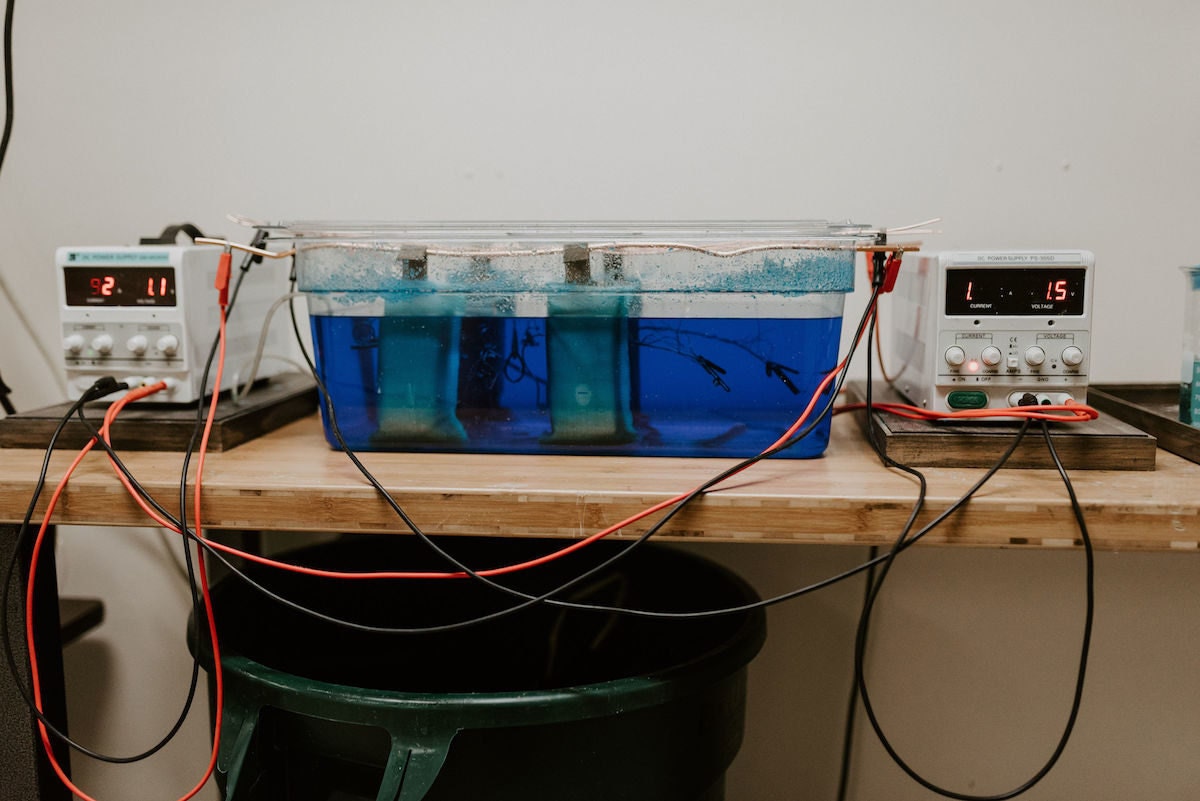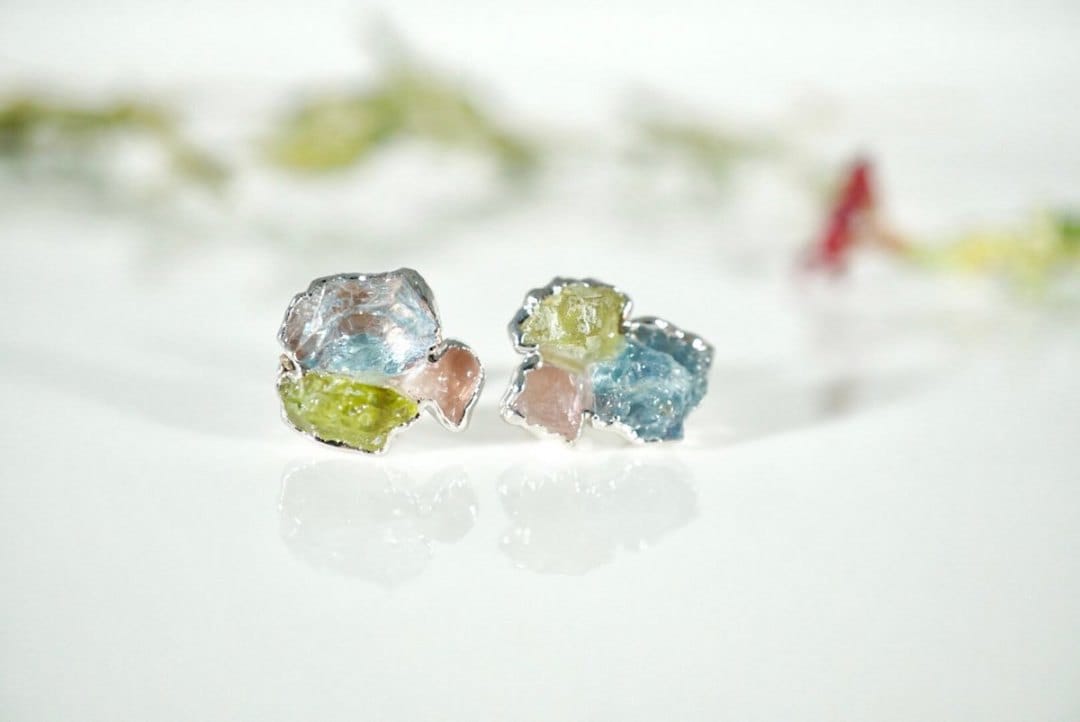 >
Besides rings, what other pieces make great gifts?
I have two kinds of earrings that are really easy to gift. I design
personalized cluster earrings
that have been received really well. They are very delicate and can be made with different stones. And then there's my personal favorite, the
kyanite statement earring
. I'm a statement girl, and I made them for myself, but then someone asked to buy them and I took it from there. I'm also working on a version with orange kyanite.
Let's talk about raw birthstones. Do you offer them for all 12 months?
I do, and it turns out that a lot of people have never seen their birthstone in its raw state! For example, for some reason a lot of peridot people don't seem to like
peridot
, but when they see it raw they love it. They discover that their birthstone, like all stones, has an amazing story and a special beauty all its own. Scientists have found pieces of peridot on meteorites that they think date back to the Big Bang!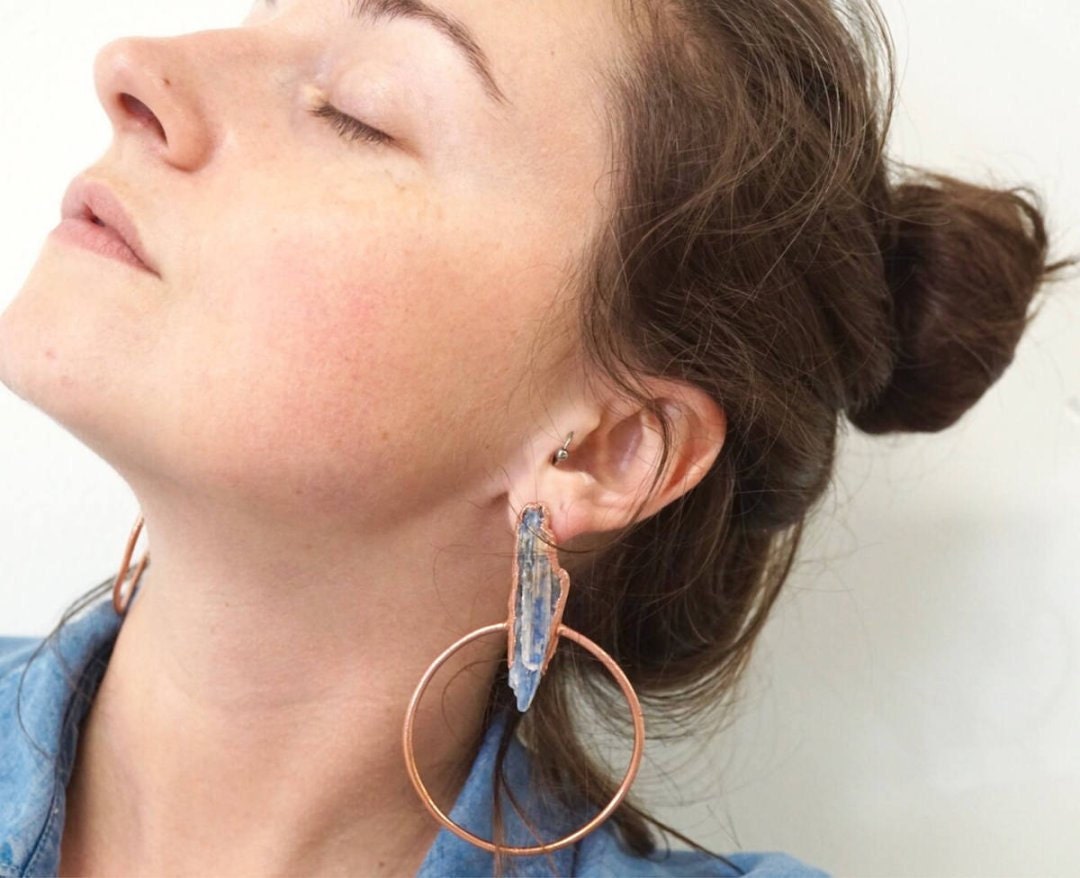 >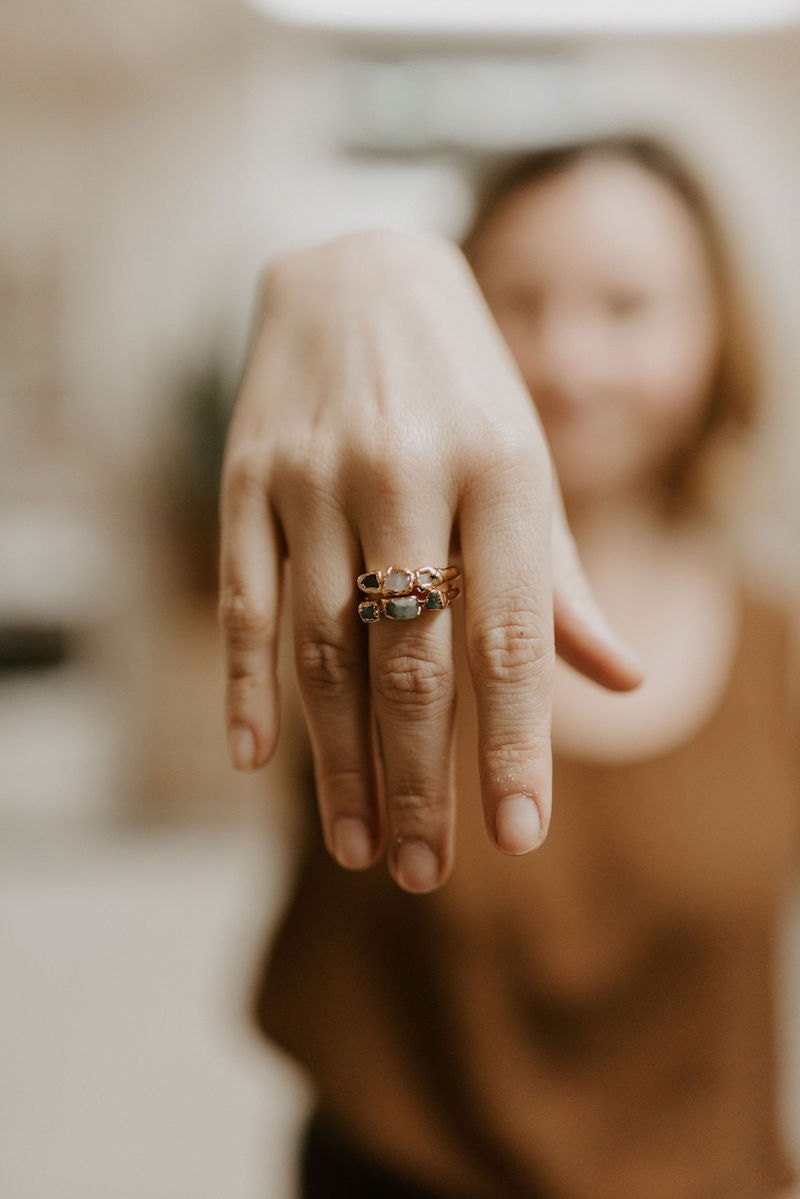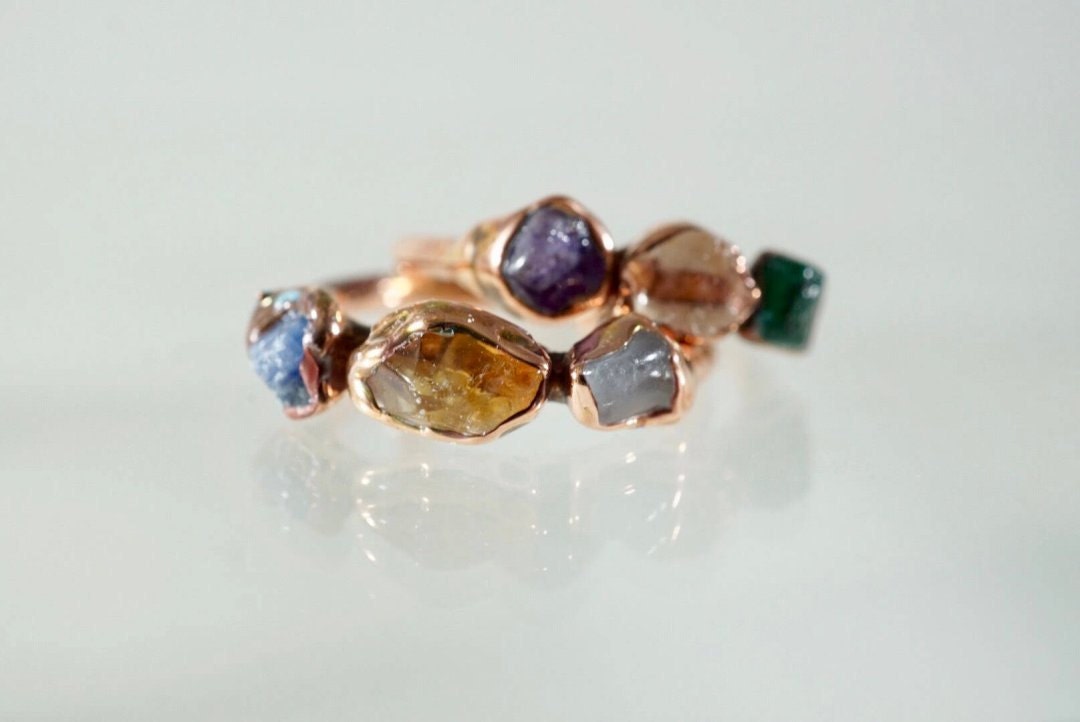 >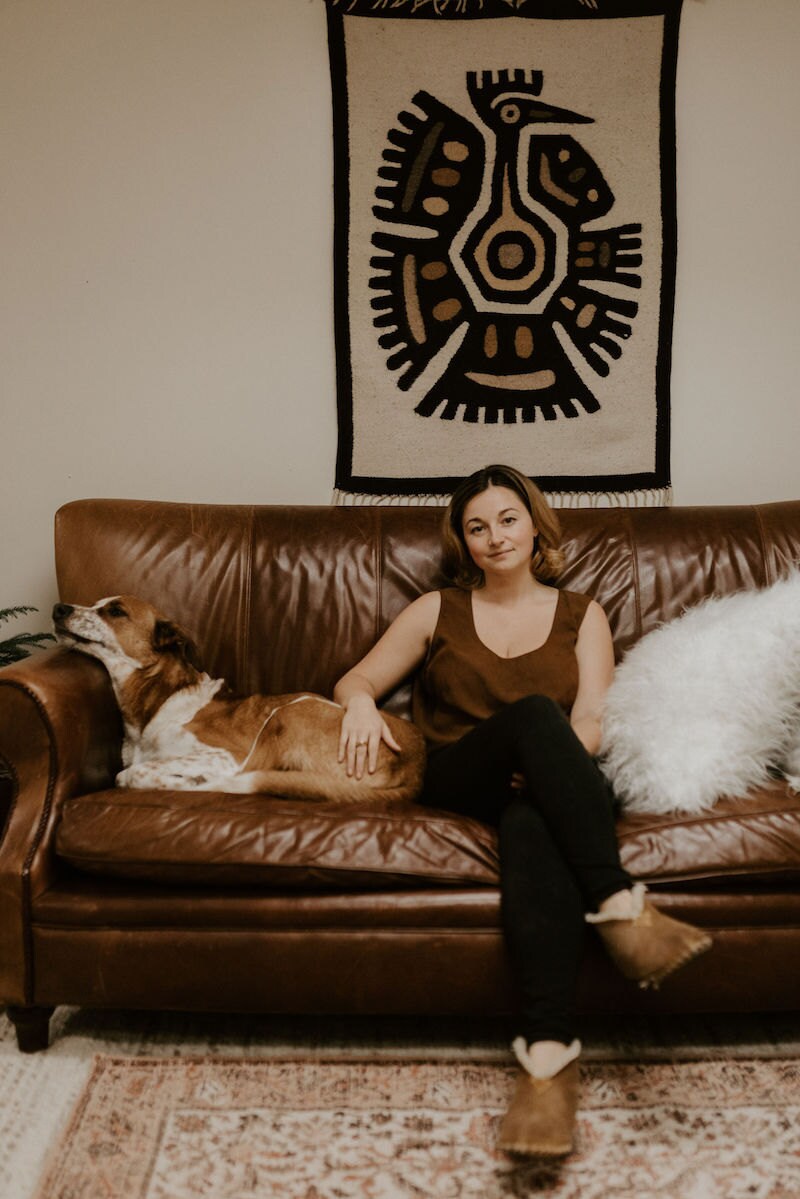 What do you like most about working with customers?
Collaborating with my customers makes me feel warm and fuzzy. Some of their stories are very, very personal. For example, one customer ordered a triple stack of
aquamarine rings
when her grandmother passed away, and gave one each to her mother and two aunts as a Mother's Day present. There were three sisters and three stones on each ring. She told me that these three sisters were having a hard time that year, with lots of grieving, and the rings have been part of their healing. I cannot tell you how much meaning that brings to my own life and my work. And what role has Etsy played in your business journey? Etsy has given me access to a community of people who are interested in buying what I have to sell: something
handmade
, something imperfect, something that's connected directly to the artist who made it. After about six months on Etsy I was creating a full-time income for myself with my own hands. I hope my customers know that when they buy something from me, they're helping someone small, someone who is doing this out of her passion for art, people, and the beauty of the natural world.
Follow Pebble & Stone on Instagram, Facebook, and Pinterest.
Studio and process photographs by Northern Native Photography, product photos by Pebble & Stone.