by Karen Brown
Between takes on set, this multi-talented actor knits up a cozy collection of chunky cowls and stylish sweaters guaranteed to help you stand out.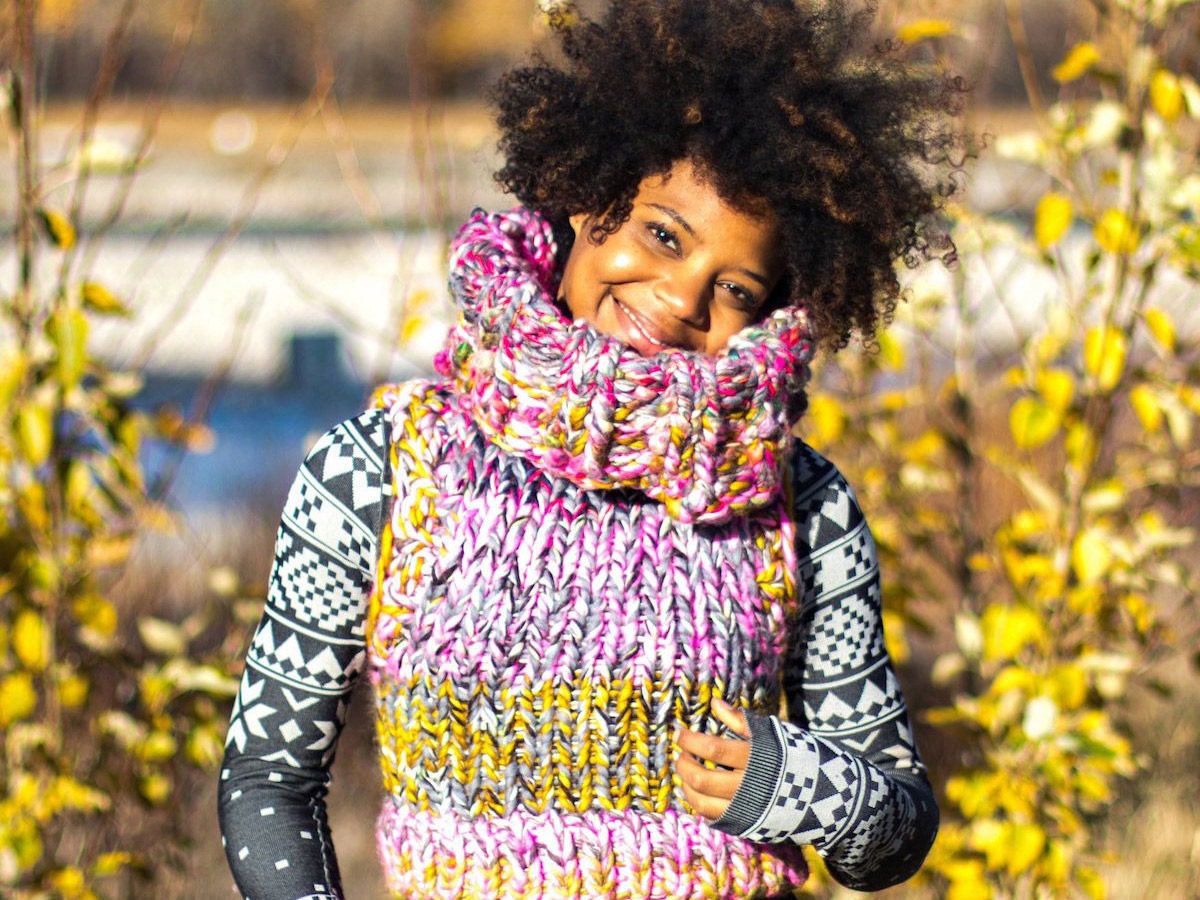 "I've always loved to perform and I've always loved making things with my hands, so my life has been a journey mingling the two," says Chasten Harmon, the multi-talented maven behind knitwear shop 
Plush Armour
. Over the years, this self-taught knitter and
Yale School of Drama
alumnus has found a way to weave together acting and knitting in a perfect tapestry of self-expression. Whether backstage, in her trailer, or on set, Chasten uses her downtime to design and develop her vibrant line of chunky cowls and cozy cropped sweaters. "Sometimes you're waiting around for hours and hours between scenes," she says. "So I have my music and my yarn, and it's a good way to help me stay focused."
Explore the Plush Armour collection
So how exactly did Chasten's hobby translate into a design career? "It really started to expand when I was on tour with
Les Misérables,
" explains Chasten, who is based in Los Angeles. "I was traveling for two years and one of my favorite things to do on the road was visit yarn shops all across the country. I would generate a whole collection based on what I found in local shops and whatever emotions I was feeling at the time." Chasten started fielding requests from her tour mates for plush pieces of their own, and eventually someone suggested that she open shop on Etsy. "It just kept evolving from there."
Read on to discover why Chasten loves teaming up with shoppers on custom pieces, and shop the Plush Armour collection.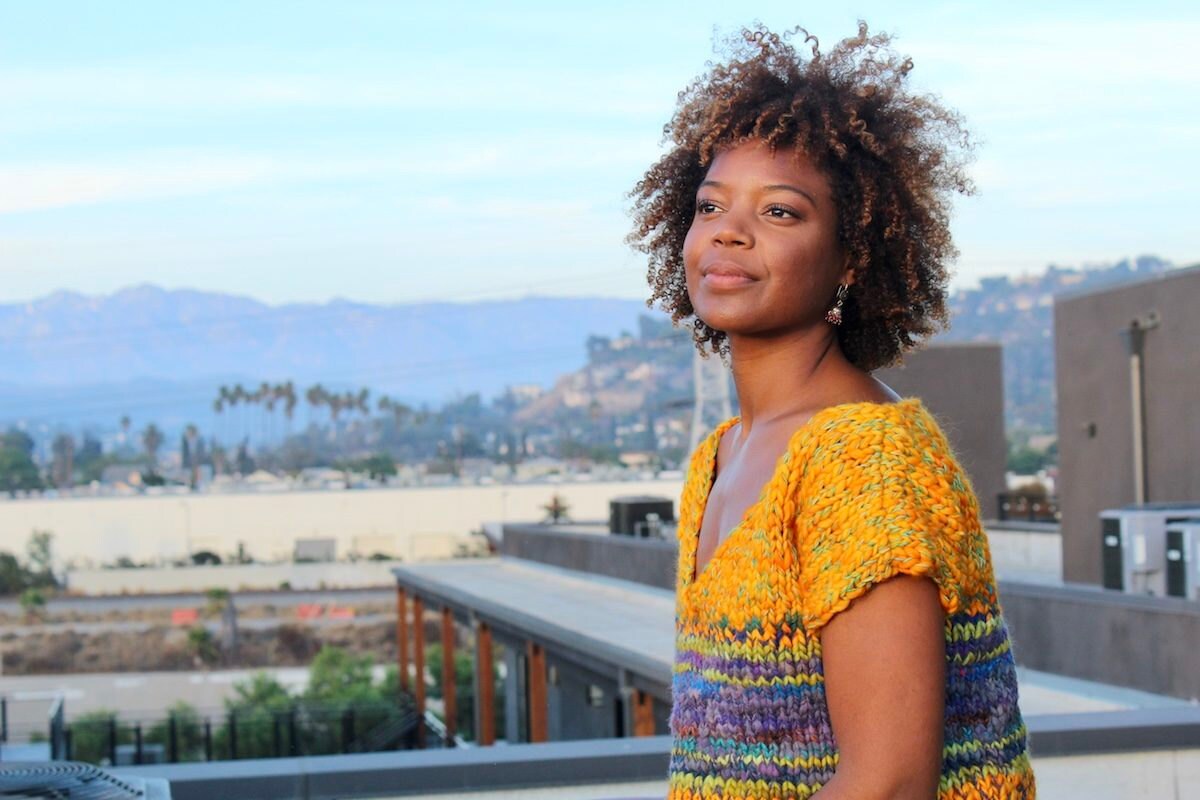 You're an actor, so I have to ask: What might we have seen you in?
So far, I've done a little bit of everything—musical theater, straight theater, Shakespeare, Broadway, off-Broadway, national tours, film, and TV shows. Right now, I'm focusing on on-camera work because—you want to know the truth?—it allows me more time to knit! Part of the
collection
I'm going to be releasing later this month is made from yarn I got when I was in Calgary, Alberta, where I lived last year when I was shooting a new series on USA called
Damnation
. Currently, I'm shooting a new show for ABC. It doesn't have an airdate yet but it's called
The Fix
and it's written by Marcia Clark. It's a scripted legal drama loosely based on her experience with the O.J. trial. I play O.J.'s daughter who's wrapped up in all the accusations.
Fascinating! Bringing it back to knitwear, the majority of your pieces are custom-made, right?
A good 70%! Different people want to have different degrees of involvement and I'm open to it all. Sometimes people say, "Go wild with your imagination and just make me something crazy." Sometimes people want to be more involved in the creation of it. It's fun when I take the lead, and it's fun when I collaborate because I wind up making things that I never would have thought of without this other person's mind and ideas.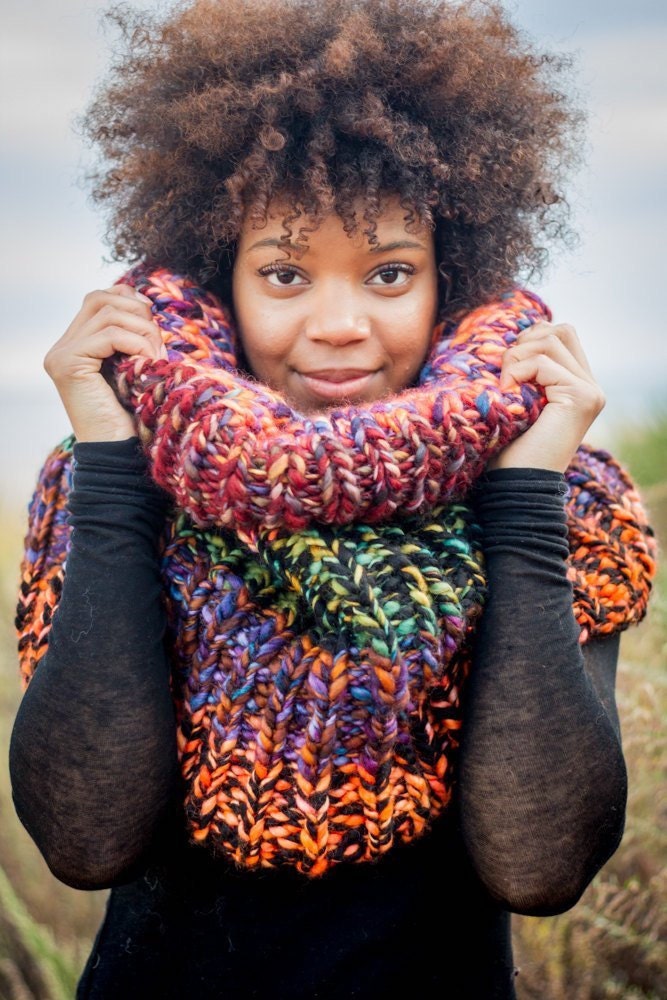 >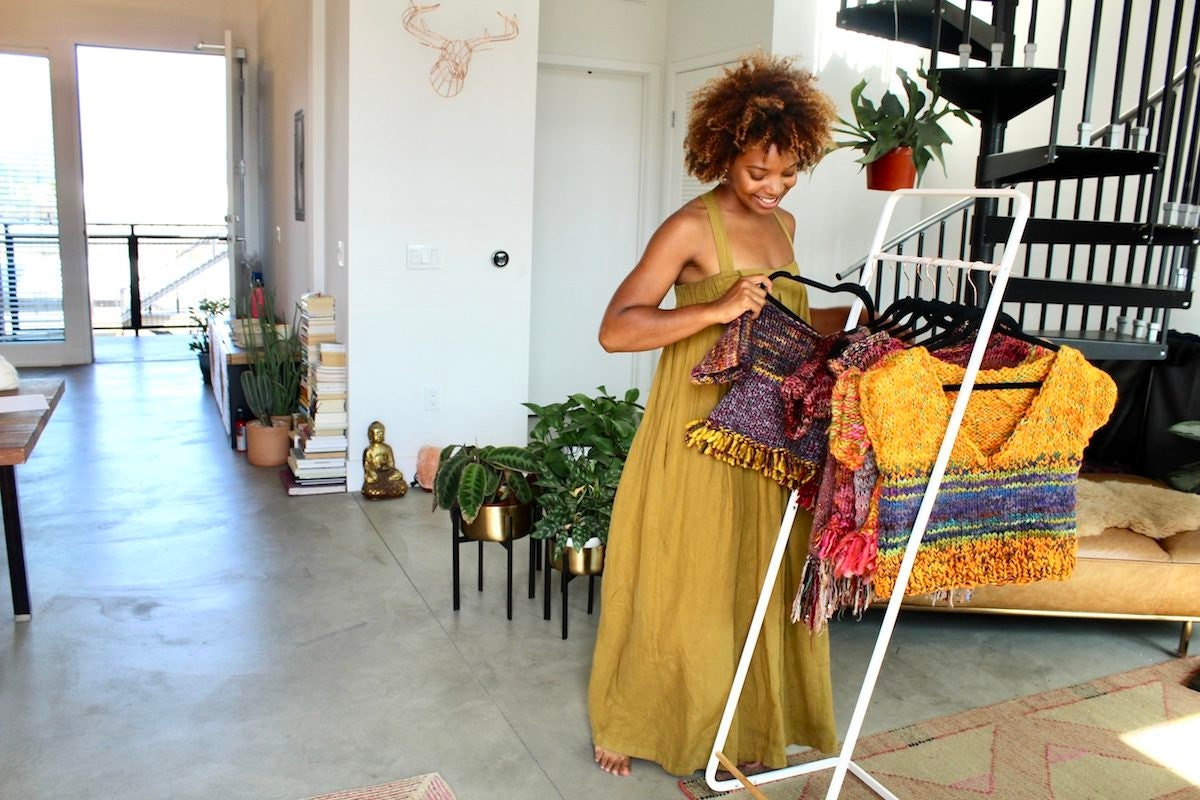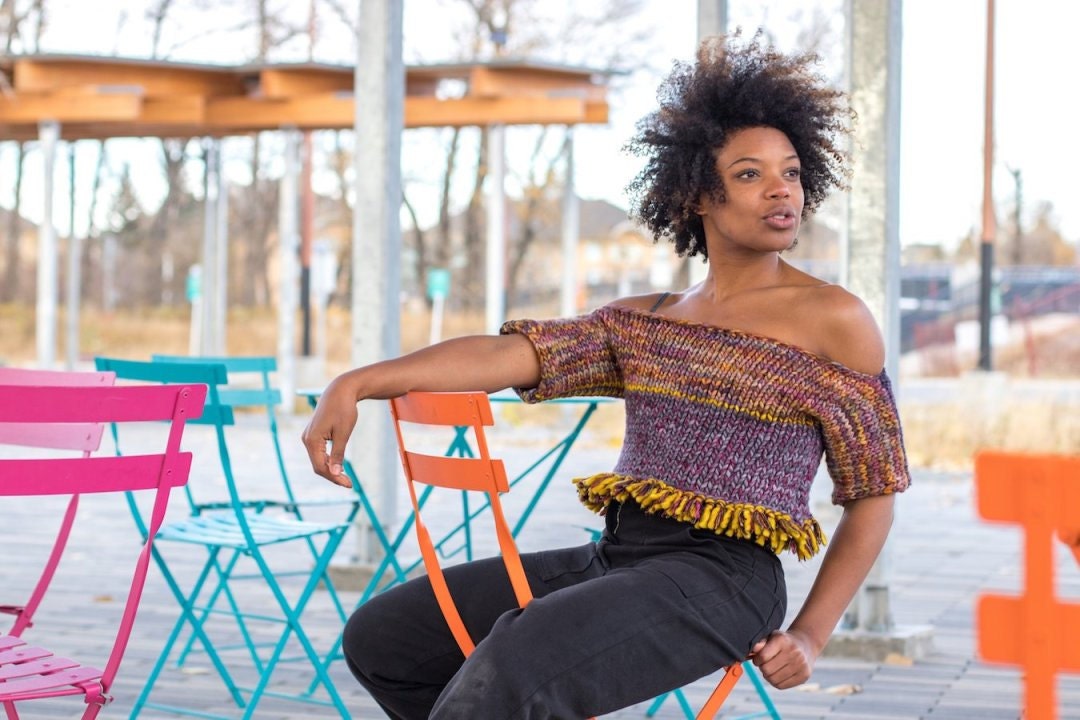 >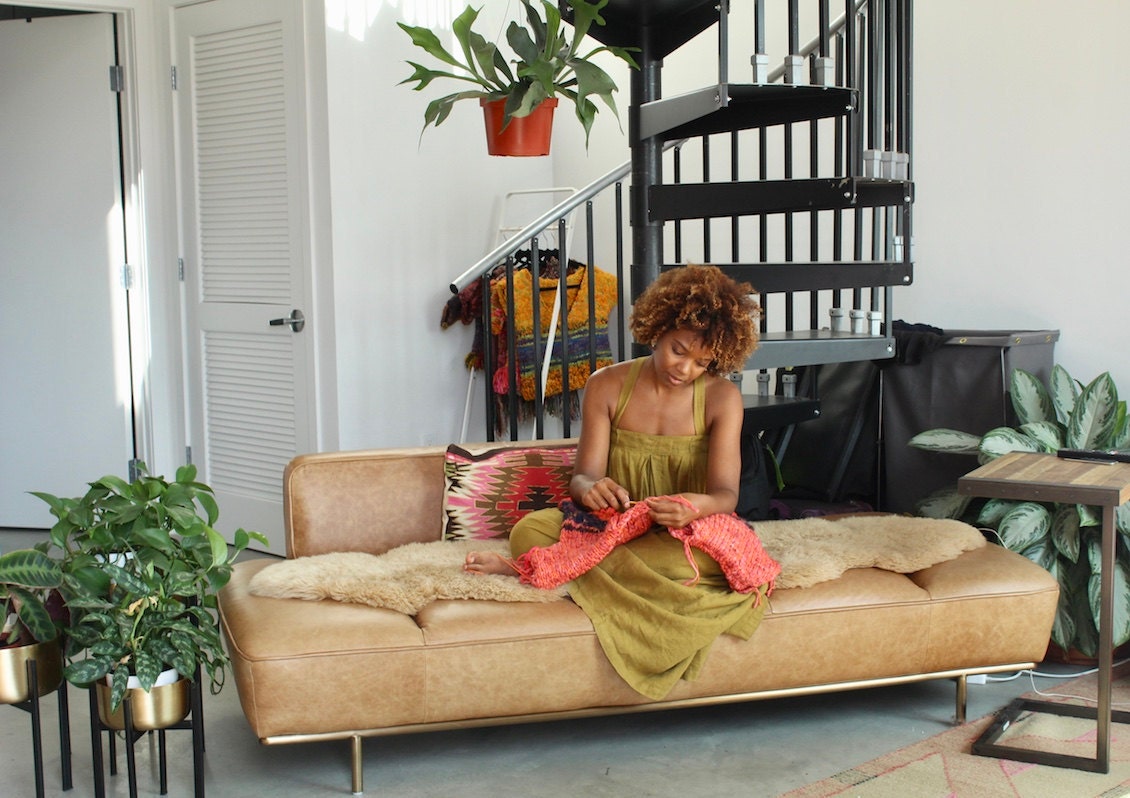 What's it like working so closely with your buyers?
I'm really interested in creating a
piece
for somebody that's an expression of who they are and that makes them feel happy when they wear it. Through this work I get to know so many different types of people. There's the woman who says, "I used to knit and I'm older now and I have arthritis, so I can't make things anymore—can you make something beautiful for me?" Or the woman who told me she had just received a cancer diagnosis and was going to lose her hair. She said, "Can you make something that is fabulous to take me through this transition?" We'll go back and forth for months if we need to in order to get it perfect. One of the biggest things I've learned with these pieces is that you have to be willing to take it all apart and start over again. And what you build after that is usually ten times better than what you had before.
The texture of your pieces really stands out. Why are you drawn to chunkier knits?
I love chunky knits because they give you a lot of texture and soft, cozy depth to work with. I also find that when the yarn is thicker, the colors show more richly and stand out more than they do with finer yarns. Mixing yarns together to develop color and texture is my signature stamp—and what excites me the most. I improvise a lot and since I don't always know where I'm going when I start, I think chunky yarn gives me a better map to work through.
What styles are you most excited about for fall?
I'm actually a little disoriented about seasons because I recently moved from New York to Los Angeles. I woke up and said to myself, "Where's fall?" I miss East Coast fall fashions. But now I'm really excited to integrate East Coast and West Coast. I'm working on a line of
sweaters
that are large and baggy and cozy to give you warmth, but are short-sleeved. They would work on both coasts for a perfect day in fall or spring. I'm also dabbling in a men's line of big Lenny Kravitz–inspired scarves.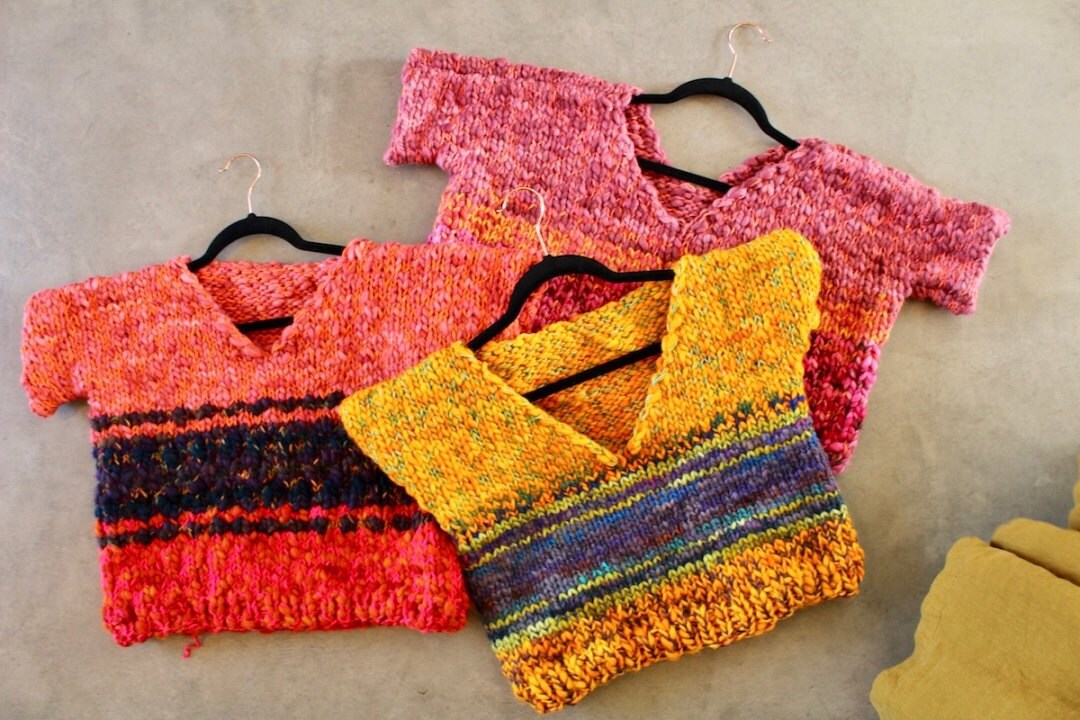 >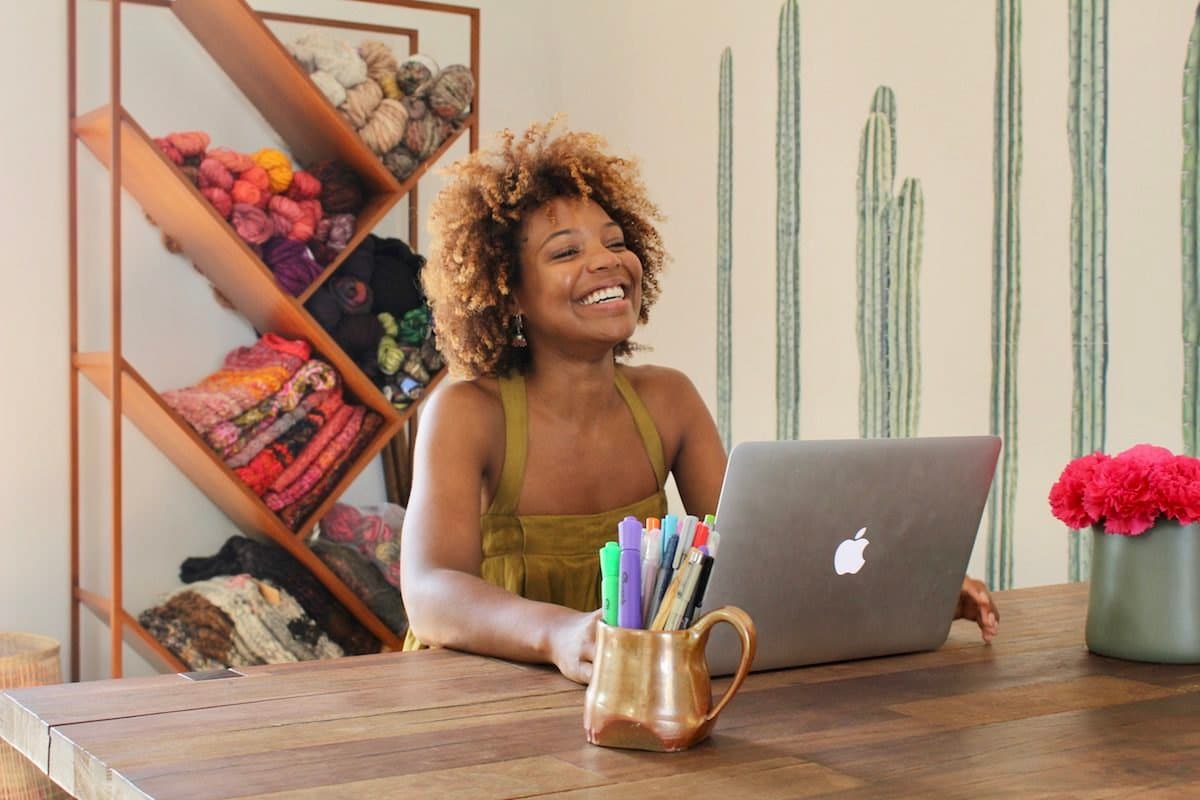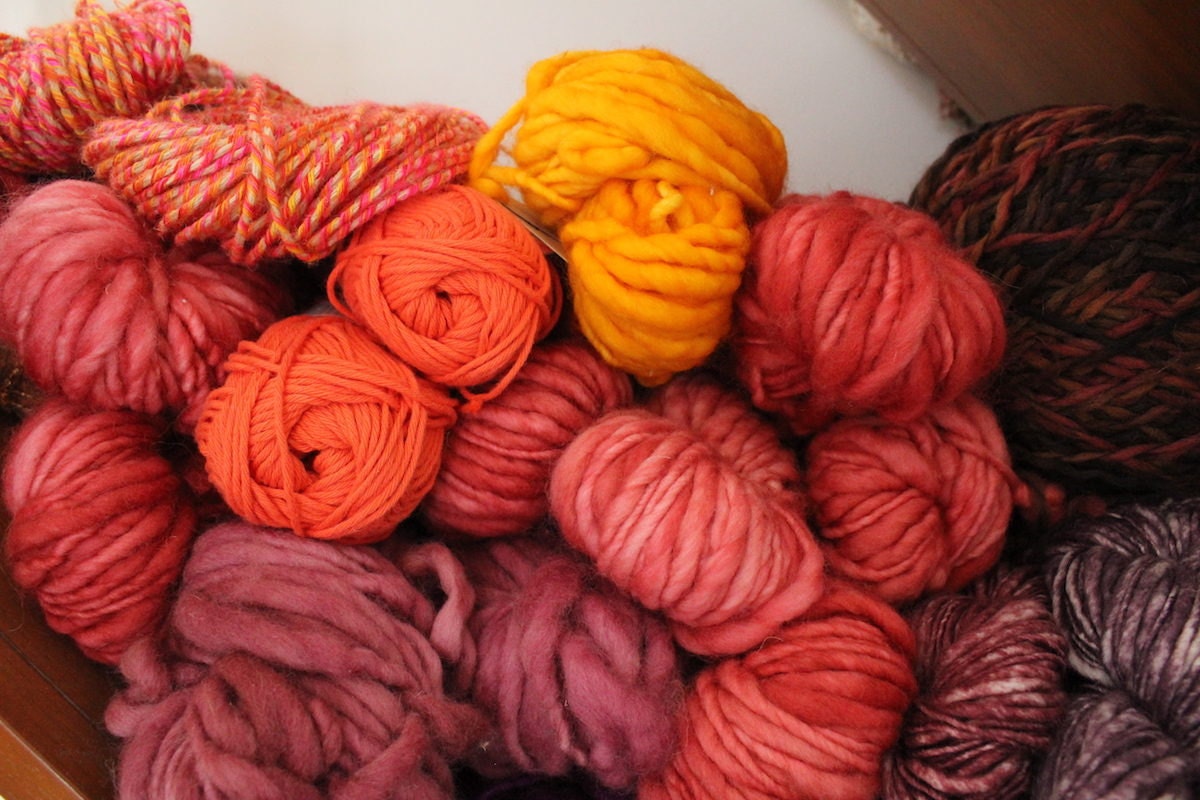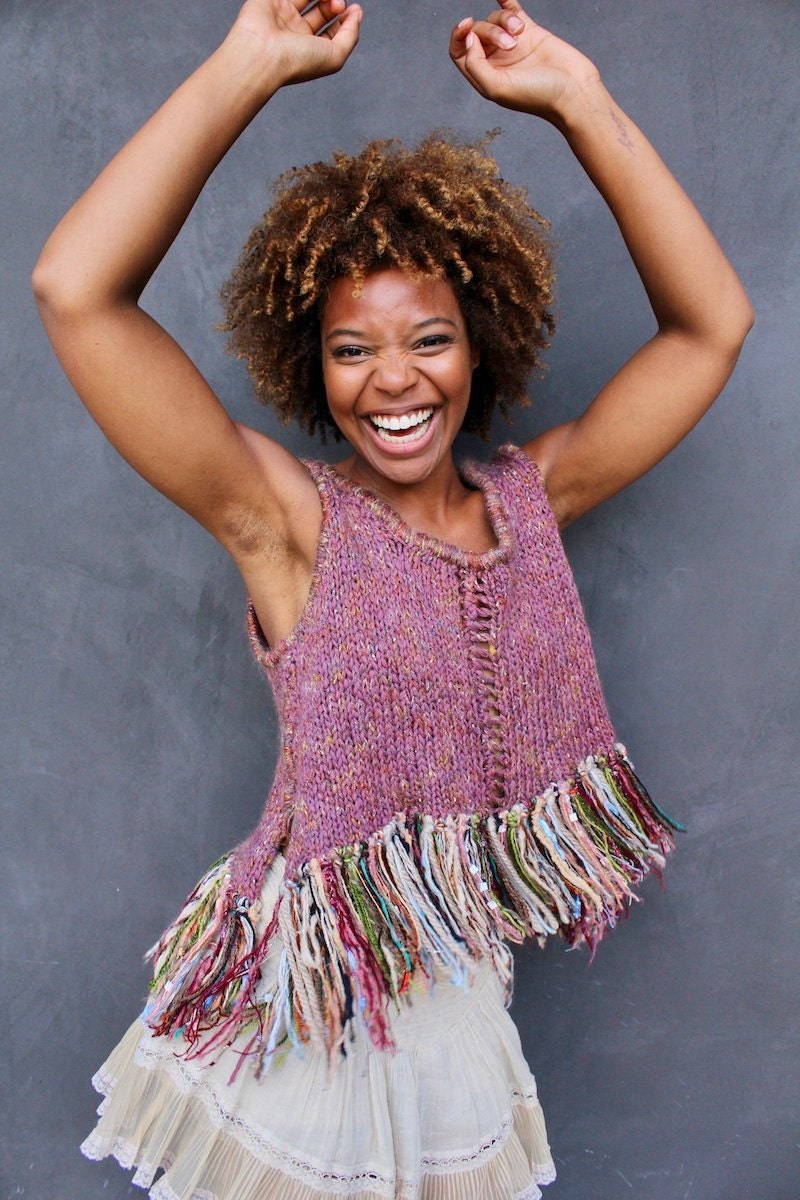 >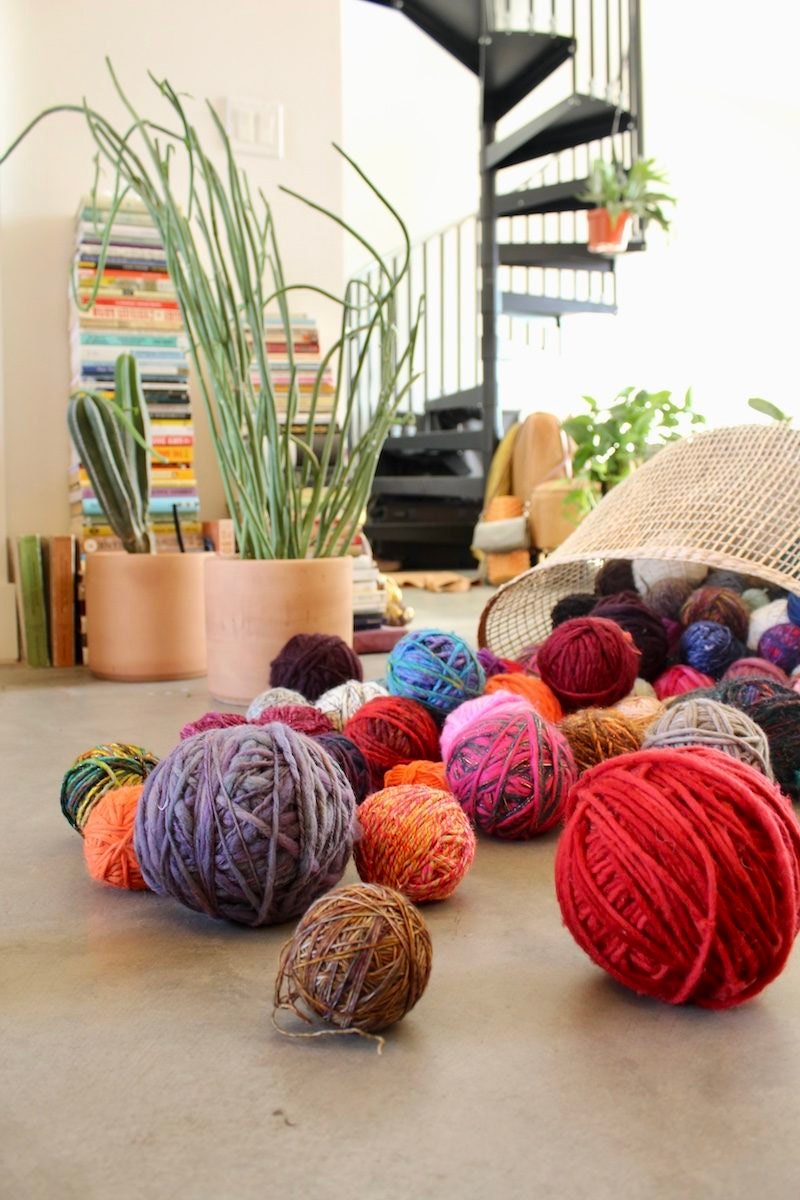 How do you develop your patterns?
I make up all my patterns as I go. I'm not a huge formula girl. I work on the fly, just guessing, and start with a color I like even if I don't know what I'm making yet. If it works, I write it down. One thing that unites a lot of
my pieces
is that I'm interested in creating patterns with simple construction that are knit in one piece without seams.
Tell us more about the yarn you use.
I have a heavy list of major brands with bold colors that I really love like Madelinetosh, Malabrigo, and Knit Collage, but I also like to find unique locally produced yarns and art yarns. And I do a lot of
yarn shopping
on Etsy. There are a lot of Etsy sellers who make thick and thin yarns in bold colors that I love.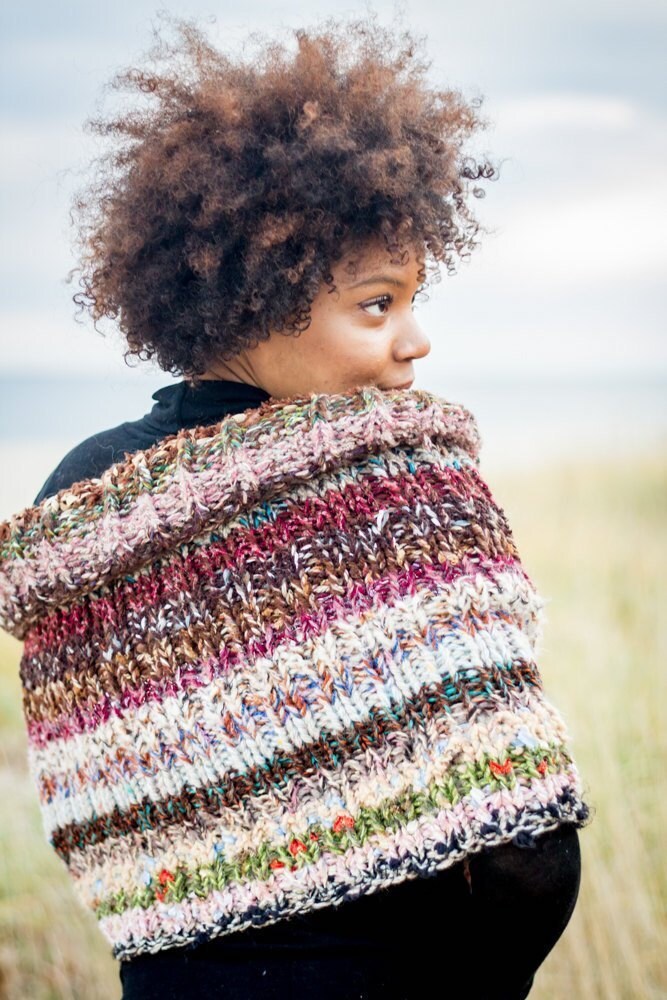 >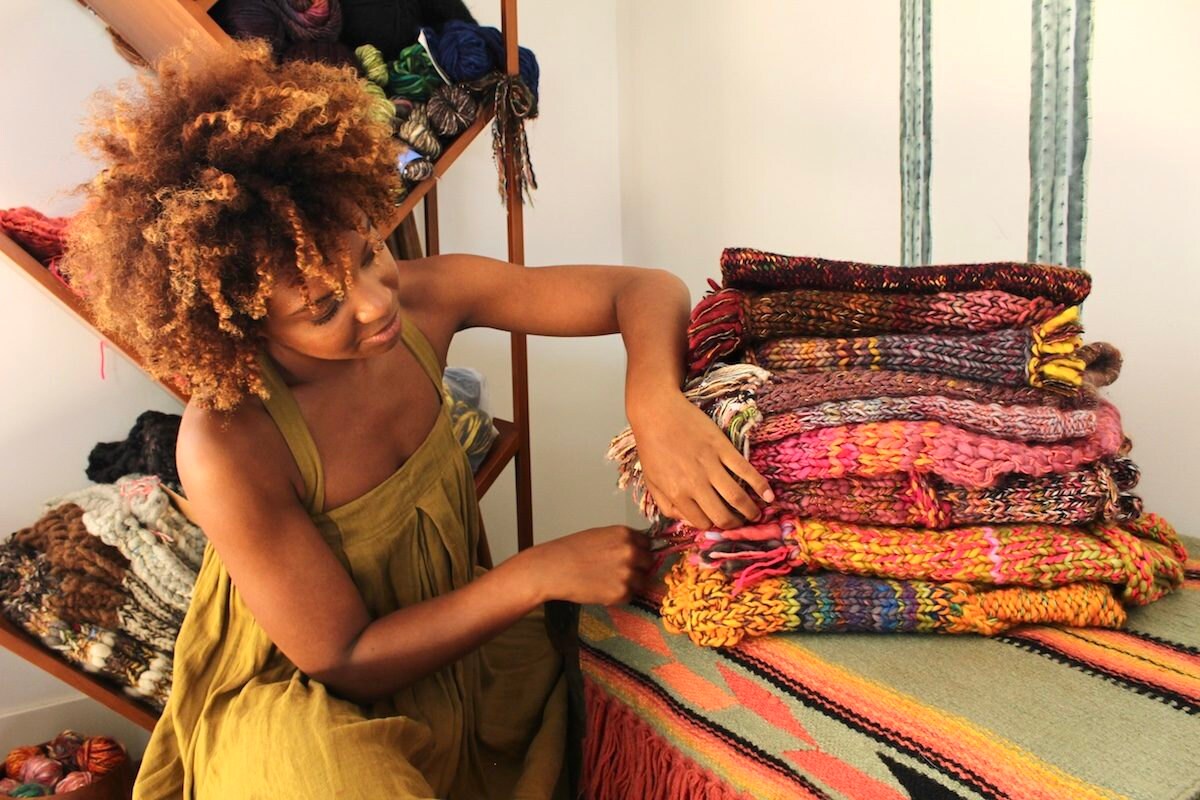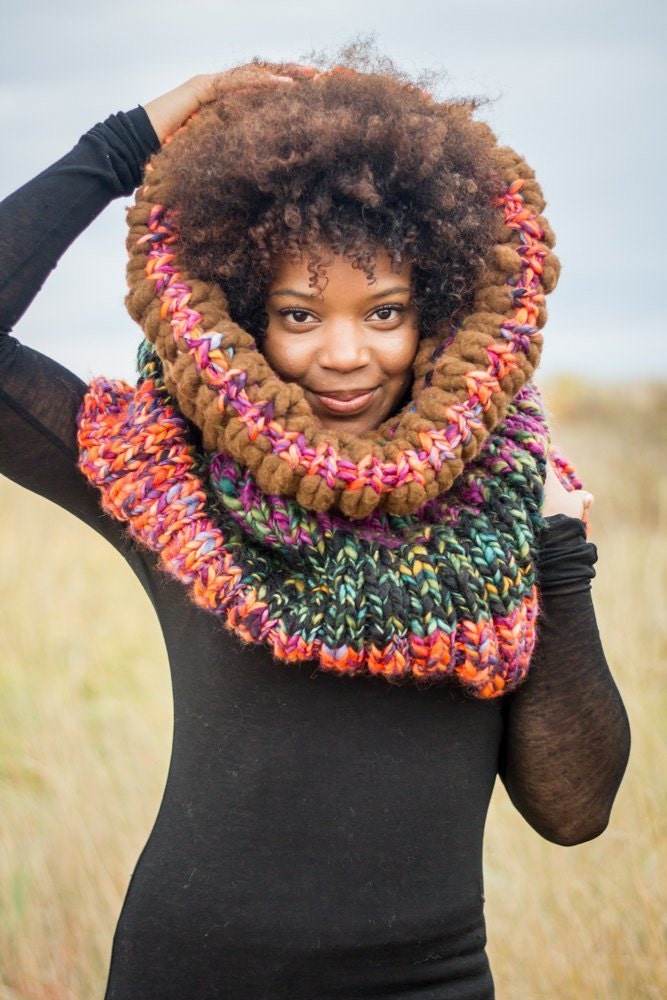 >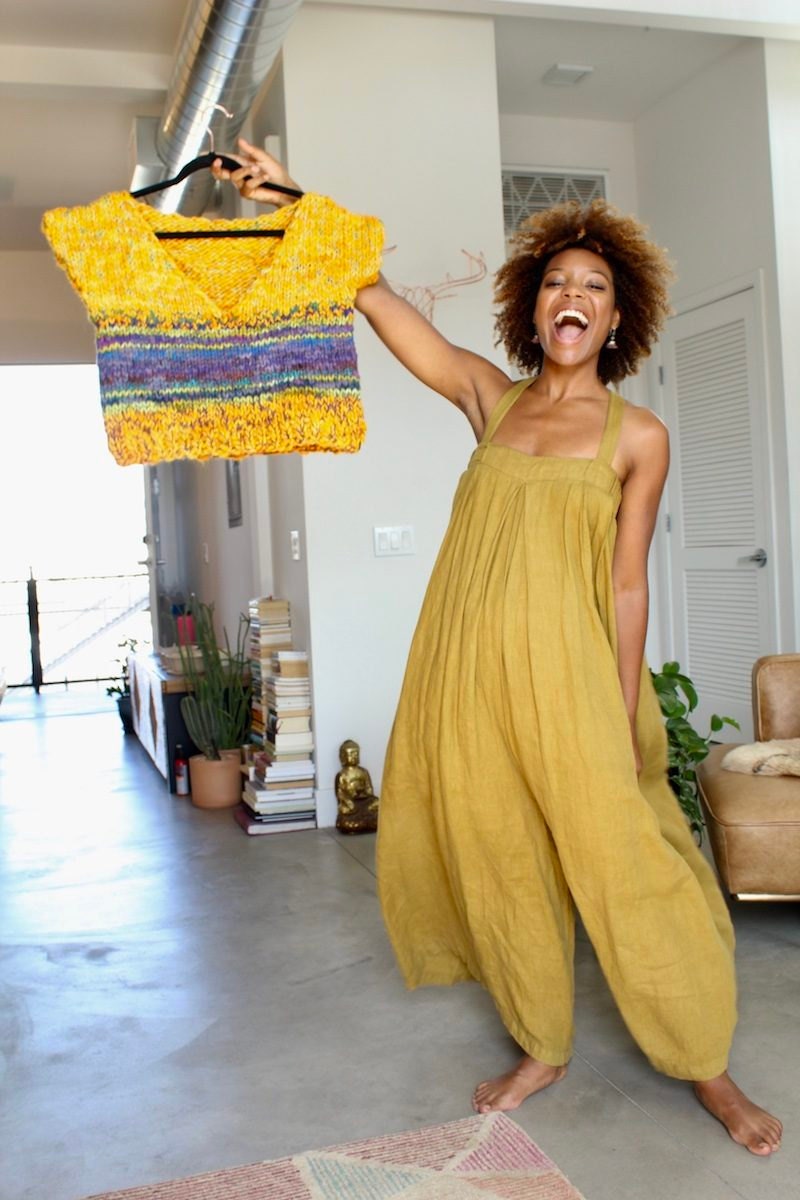 What would you say to other creatives who are blending multiple interests and careers?
Don't believe that you need to choose. I have an adverse reaction to being put in a box and labeled as one thing. Film and TV are mediums I pursue and I also make things with my hands. For me, those are perfectly complementary pursuits. The way I'm working now is the best of both worlds. We all know Hollywood can sometimes stifle creative expression, so being able to take
my knitting
with me wherever I go keeps me fully expressed and grounded, and reminds me why I am an artist first and foremost.
So what's next for you?
One of my dreams that I hope to realize in the next year or two is taking a cross-country road trip. I want to make a list of yarn stores to visit, rent a van, and go from store to store and fill it up. What I make from that will be my American Road Trip collection. That's the
Plush Armour
dream.
Follow Plush Armour on Instagram.
Studio photos by Kym Allen; product photos courtesy of Plush Armour.