Get a glimpse into the process of this architect-turned-furniture maker.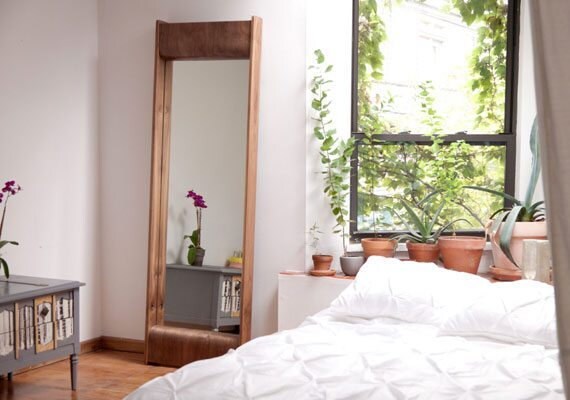 For architect and furniture designer Chris Jamison of 
Plywood Office
,
his first commission came as the result of being in the right place at the right time. Chris had just designed a set of tables as part of an object-making class at the 
Southern California Institute of Architecture
in Los Angeles, where he was attending architecture school, when his piece caught the eye of someone nearby. "They shot car commercials on the road behind the school," he explains. "I was outside finishing a piece in the parking lot when one of the photographers for a Lexus commercial saw my coffee table and commissioned me to design and build out his recording studio." Not long after that first commission, orders for more of his
hand-built, thoughtfully designed furniture
started rolling in. "I kept selling the same end table over and over again, and I was making them all in my backyard," he says. "Plywood Office essentially became the moonlighting arm of my architecture job." Eventually, though, the balance tipped, and Chris found a lasting legacy through his furniture designs and custom pieces. "I've been amazed at the difference between furniture and architecture: Most of my architecture jobs have disappeared — a client gets a divorce, the house sells and gets knocked down — but my end tables are still around. Of all the work that I've been doing, the stuff that is more permanent is the furniture. I like that."
We got in touch to learn more about Chris and his work.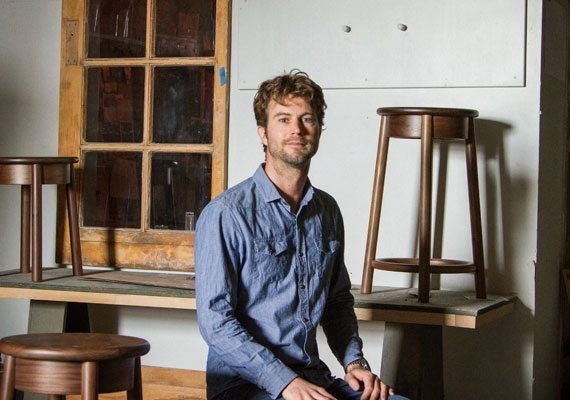 Where do you work? What is your space like?
When I started, I was working in my living room, and then I moved on to a neighbor's basement. When I outgrew that space, I moved into my current studio, which has access to a freight elevator, industrial power, and high ceilings (which help with the noise). The space is about 2,000 square feet: There's a main shop area, a wood room, an inventory room, and a spray booth area, which is also where I cast my
cement items
. All of my machines are laid out with enough clearance around them that I can just go from one place to the next, quickly going through the process. It's good to be organized, because otherwise you're moving stuff all the time. My office is here too, but it's sectioned off to keep the dust out.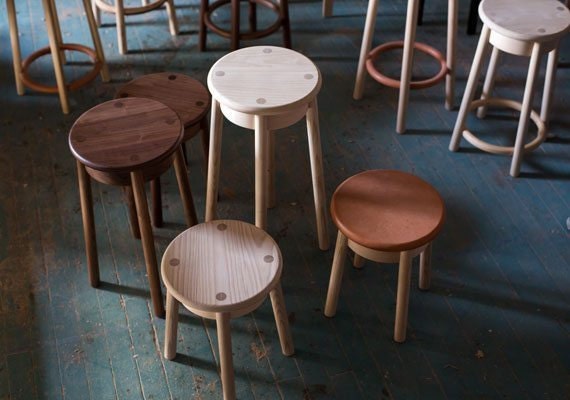 How did you go about setting up your woodshop?
I basically built up my woodshop myself. As larger companies in the Midwest were going out of business, I would buy the equipment from them at industrial auctions. For me, the thing that I needed the most in setting up my shop is what I refer to now as the "farmer's skill set." It wasn't anything in design, it wasn't anything from architecture, it was just the basic knowledge of how to move really heavy stuff. I've had to move so many heavy woodworking machines and racks as I built up the shop — and I had no idea how to carry them, or how much work it actually was. I spent a lot of time researching how to move things on the Internet, as ridiculous as that sounds.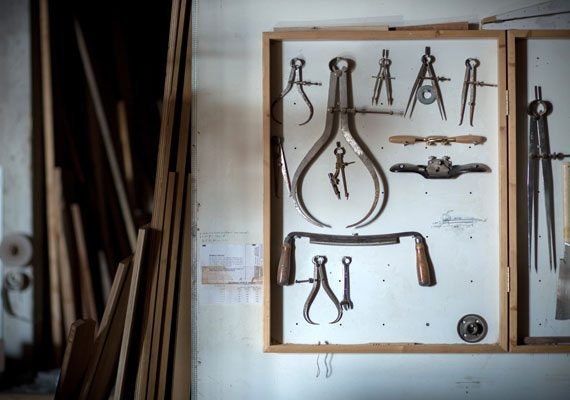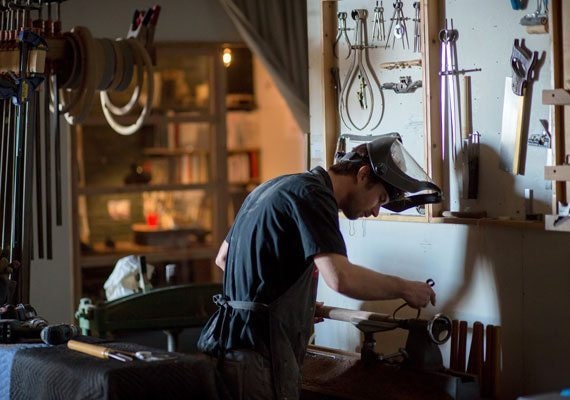 Can you tell us a little about the wood you work with? Where do you source it?
As I was driving around picking up machines from Midwestern towns, I'd also see saw mills on the side of the road. I kept seeing more and more of those places, so I would stop, take notes, and go back later. I kind of developed a network of people to get materials from that way, which is really useful for furniture-making, when you want something sawed in a specific way. For example, I recently had two walnut trees sawed into four-inch planks. It's hard to get something like that done – if you call up an order of four inch-thick walnut, it's crazy. But if you can find the trees, and you know someone sawing wood, and you're patient, then you're doing pretty good.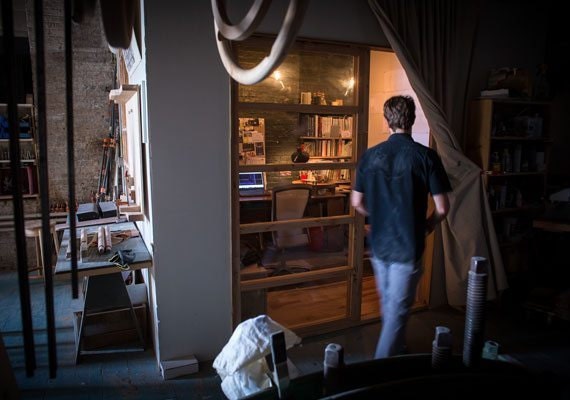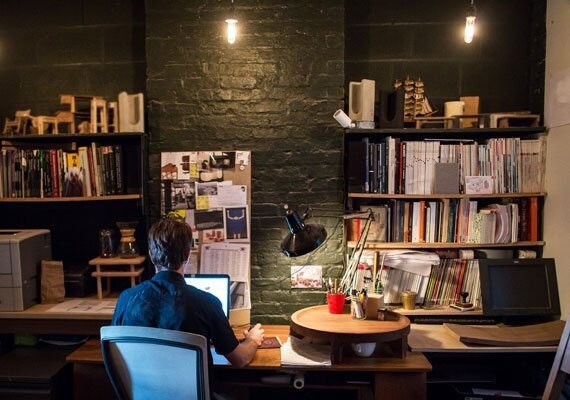 What part of your work do you enjoy the most? Is it the conceptual part of thinking about what you're going to design, or the more hands-on part?
I think for me, I'm more interested in the design. I make things for my company because that's how I started; as a young designer, you can't get people to make your work, so a lot of people end up making it themselves. In the future, I want to start working more on the design and growing my team so it's not just me doing everything. I'm trained as an architect; I don't have professional experience spraying furniture. I mean, I've learned these things, but it's a lifetime worth of knowledge to be excellent at making and finishing a giant table. It's hard to wear so many hats.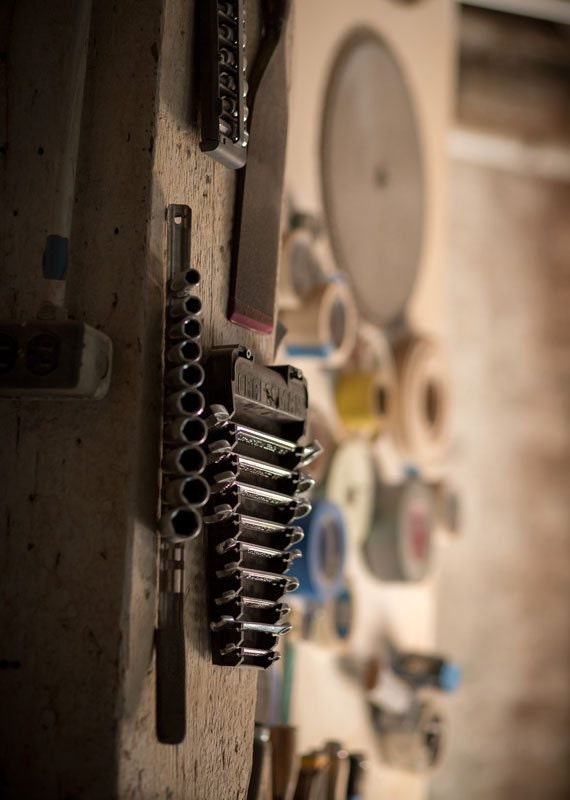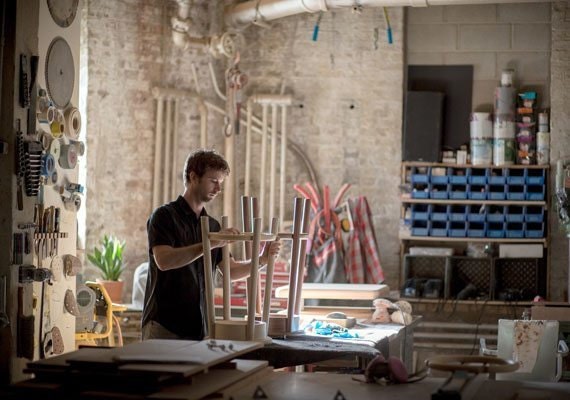 How often do you release new products? Are you on any sort of schedule, or do new designs come about organically?
Rather than designing a new object every year, I focus on learning a new technique every year. I produce all of my own work, so that's a good way for me to keep things fresh, and to come up with something new while also enhancing my skill set for production and my personal development as a woodworker. One year, for example, I focused on learning how to cast
cement
; another year was about
bending plywood
. Since my method is technique-based, I don't necessarily know what the product is going to be until I figure out the technique. The product comes from there, and I focus on constantly developing the same small group of products, rather than having a large catalog. My products have developed over years of constant production and tweaking. They get better that way.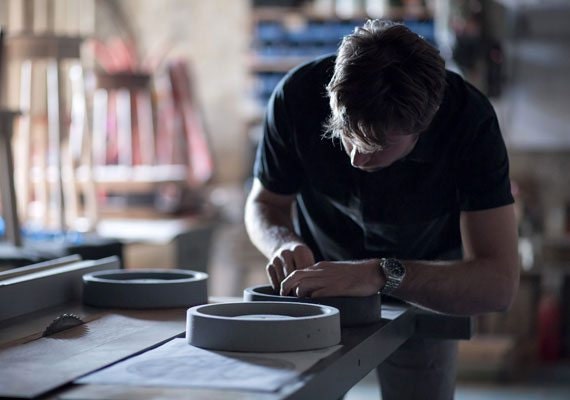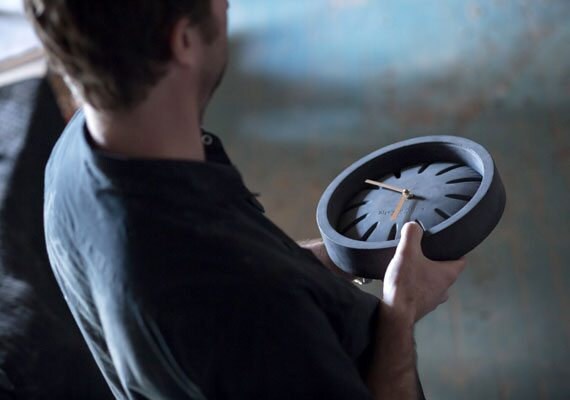 How long does it take to make a product once you've got the technique down?
It takes a long time to figure out all the technical details – the joinery, how things go together, and how to finish it. There's a lot of trial and error with that stuff. I guess one of the things that's interesting for me in dealing with process is that there's not a lot of difference between the first couple of prototypes and the final product two or three years later, but there is a
huge
jump in the skill with which something is made. That's the part of my job where I want to spend the most time – in improving my skill.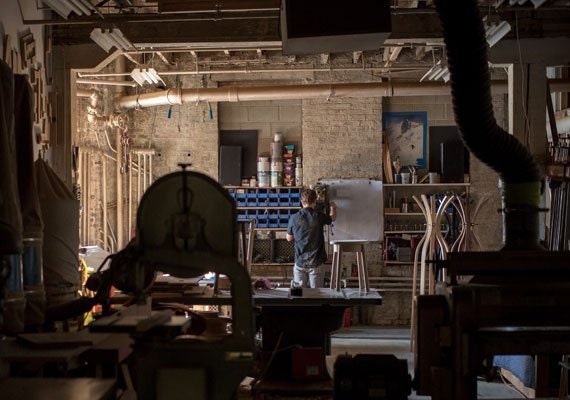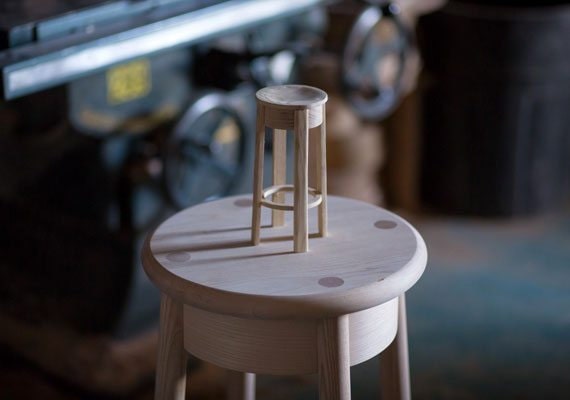 What part of your work brings you the most joy? What makes all of these challenges really worth it for you?
One of the things that's beginning to pay back in a big way for me is that my level of finish has really improved; I'm able to have the level of finish that I want now. For example, I have
this mirror
, and there are all these little details about how it meets the floor and how it leans against the wall. It has leather pads there so it doesn't scratch the wall – you know, all these little things that nobody even sees. But the first time you lean it against the wall, you notice. If you've ever leaned a mirror against a wall without that stuff, you notice it. And I guess working at that level and paying attention to that stuff is what excites me. I'm also pretty interested in wood. It seems like something I could spend the rest of my life learning about.
All photographs by Mark Wierda.