by Sharon Steel
This Kansas City-based illustrator celebrates her love of family and home with one-of-a-kind watercolor portraits and stationery.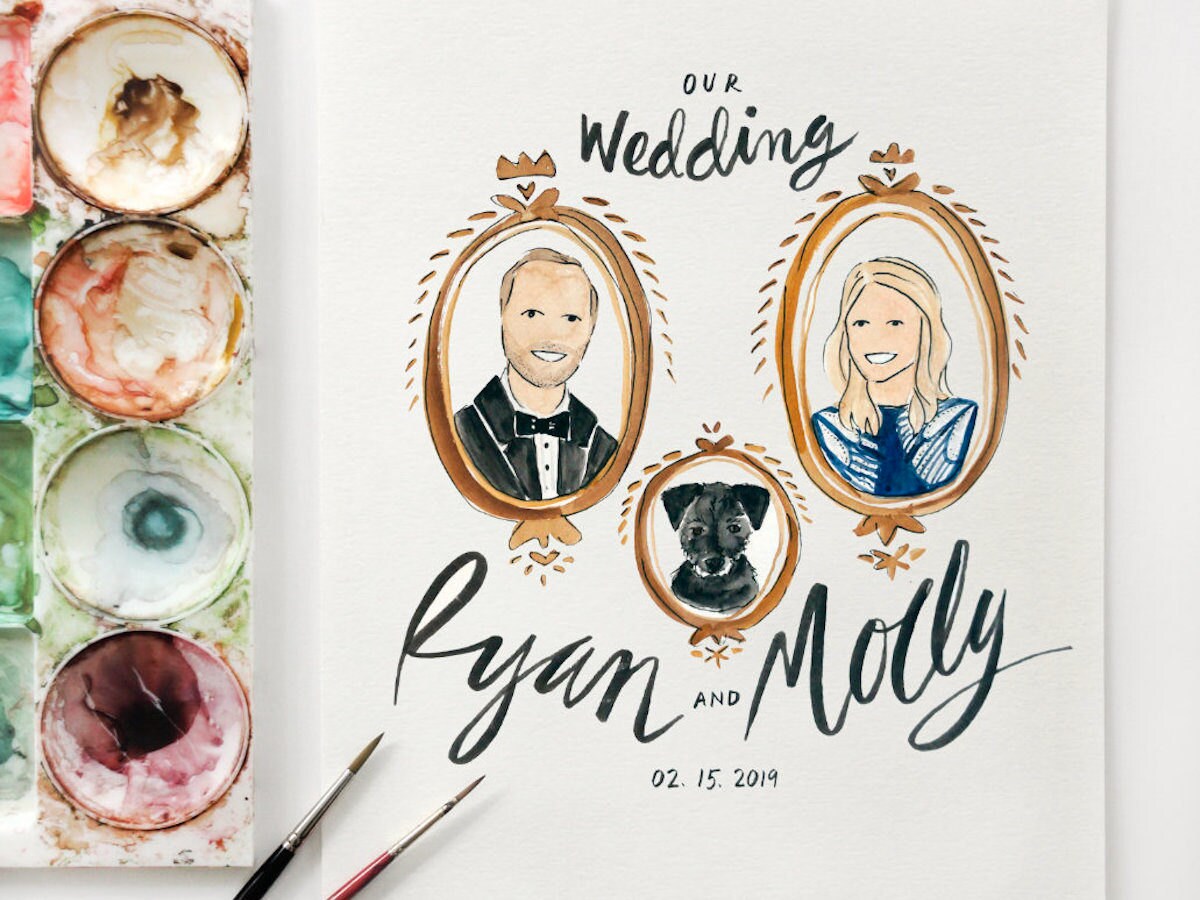 In our weekly Featured Shop series, we shine a light on a standout shop from Etsy's talented seller community, offering readers a behind-the-scenes look at their process and story.
It's the tiny details that get Public House Co. founder Samantha Sullentrup excited about an illustration: the small statues outside a church, the print on a new baby's blanket, or the vase of flowers perched on a windowsill inside a reception hall. And as a result, Samantha's custom watercolors—which take the form of wedding invites, save-the-dates, and giftable family portraits perfect for brides- and grooms-to-be—radiate authenticity and warmth. "I'm a romantic, and while I work, I like to think about how a couple is going to start their life," Samantha explains. "I want the visuals for their big day to be as personal as possible."
Explore the Public House Co. collection
After teaching art for nearly a decade, Samantha launched Public House Co. two years ago, and found an immediate customer fan base. Today, she works out of her cozy home studio in Kansas City, Missouri, in a light-filled room where her children play and make art beside her. As she grows her business, Samantha remains committed to treating each of her clients with care as she brings their one-of-a-kind visions to life on paper. "I have so many brides who say, 'I trust you, do your thing,'" Samantha says. "When they give me free rein, it's amazing. It feels less like a job, and more like a lifestyle."

Read on to discover some of Samantha's most memorable commissions, and shop the Public House Co. collection.

How did you get started creating custom illustrated wedding stationery?
I've always been drawn to architecture, interiors, and design. When I started staying home with my two youngest girls, I needed to fill that void a little bit, so I did a few portraits for friends and family, and they were really encouraging. After that, I decided to make some practice portraits of houses and sell them on Etsy. I made 15 sales that first month, which just blew me away. It was organic in the sense that I wasn't pushing toward something—it was coming to me.

Today, your entire line is custom. How did you come to focus on personalization?
So many people wanted custom couple portraits for a wedding gift, or a family portrait with their new baby. So I focused on that, which is how I started doing wedding venues, too—a client saw my house portrait and wanted me to paint their venue as a welcome sign for their wedding. In terms of stationery, when you do someone's save-the-date and they are pleased, the same client will come back asking for invitations. It just spiraled.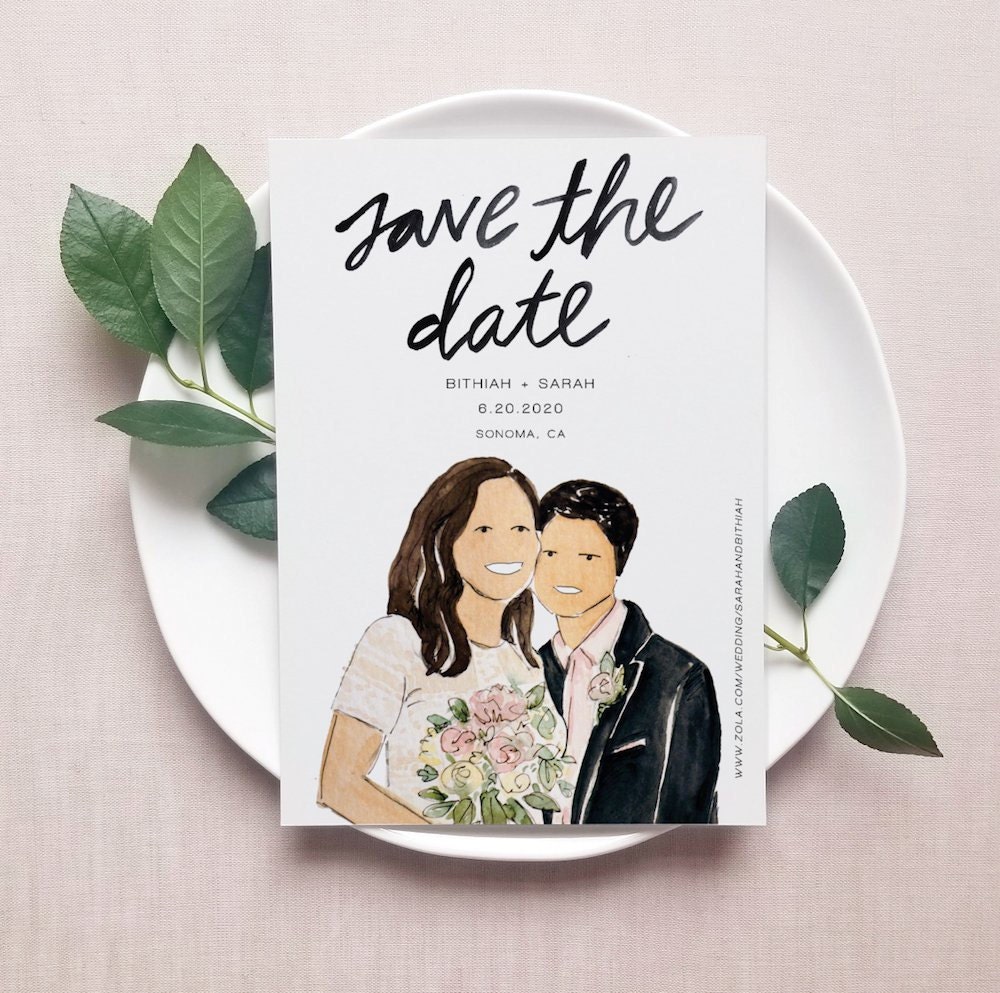 >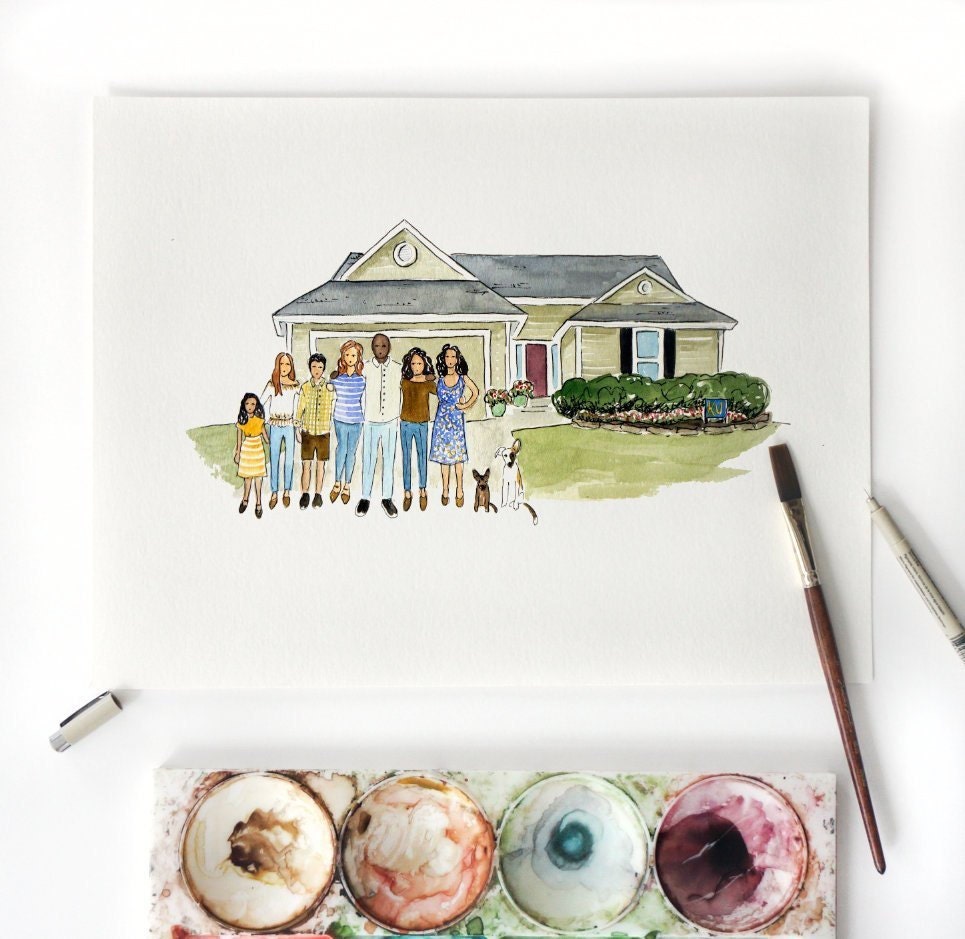 >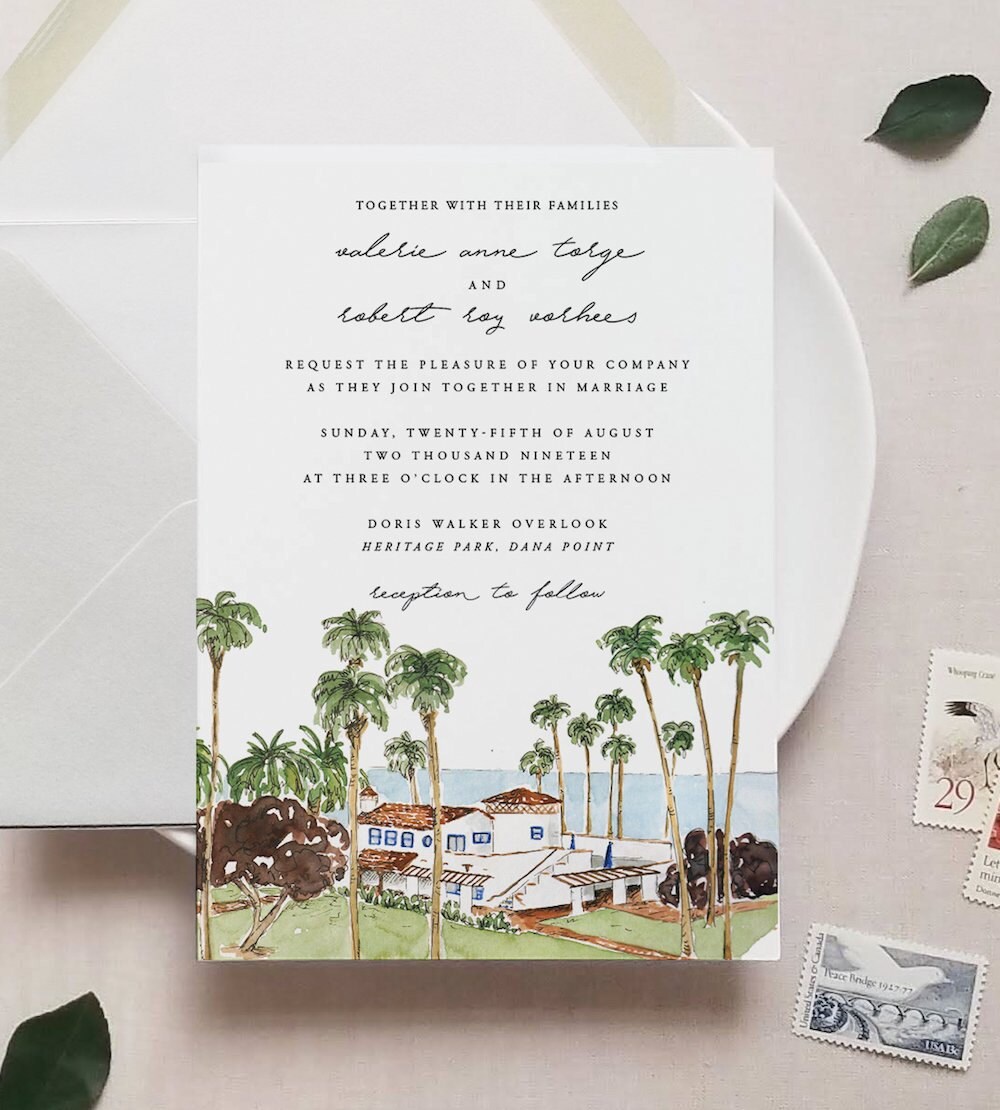 >
How would you describe your creative approach?
I try really hard to incorporate a fresh, warm feeling in my designs. I know a lot of watercolorists who are very precise in their technique, but that's not necessarily me. I want you to sense the artist in the work. For me, it's more about conveying the vibe of the space and the feeling of the day, as well as the people.

Can you walk us through the process of how you create a custom illustrated wedding suite?
Before I get started, I like to get a visual of what the whole day is going to look like, so I'll ask the customer to send me links to the wedding venue and their Pinterest board, which is especially helpful if we're doing custom florals mixed in.

Once I have a sense of the vibe, I sketch everything out in pencil and paint, and then I pen over it to add the little details. Next, I photograph the work, pull it onto my computer, and touch it up a bit. I always send digital sketches, but if a client wants to keep the original artwork of their venue or portrait, I'm happy to send it their way for a little keepsake. I think it's a great way to remember the day.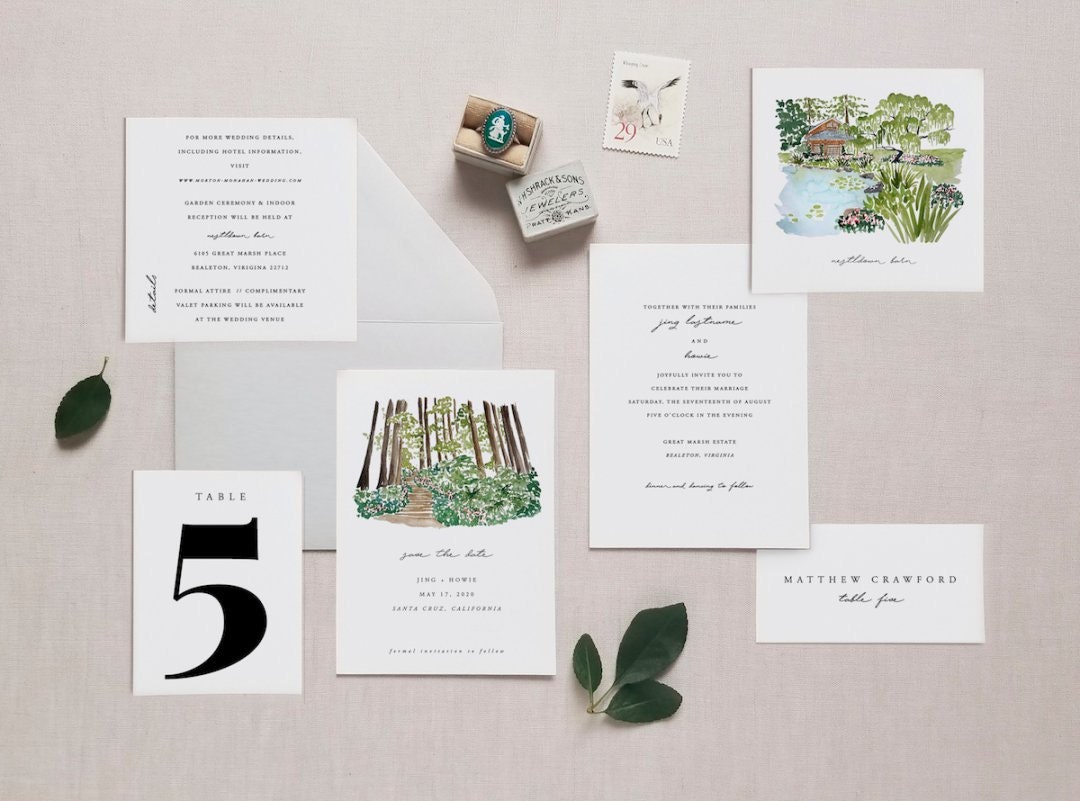 >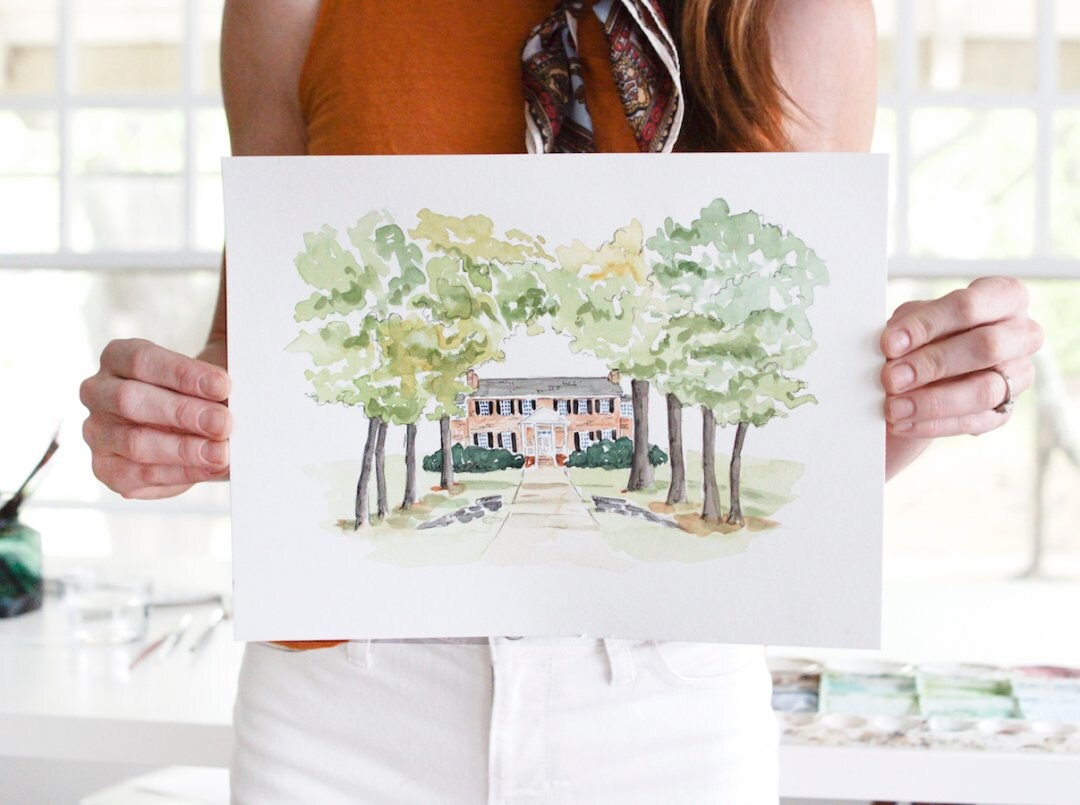 >
Can you tell us about a particularly memorable order?
One couple I worked with, Alison and Ryan, first asked me to do their save-the-date. They had this gorgeous venue, which was built out of limestone in the early 1800s. I painted it and it turned out beautifully, so they came back for a wedding suite.

They had a joint wedding email address, and as we were sending files back and forth, Ryan kept chiming in to say, "I'm just so excited about this, it looks great!" I was thrilled, because grooms don't always have as much to say about this stuff. For this particular suite, I did custom florals, and they really trusted and challenged me. Theirs is one of the most romantic, whimsical wedding suites that I've ever done.

Pivoting to presents, what's the most popular item in your shop that people give as a gift?
The house portrait is not only my most popular listing, but also one of my personal favorites. Last Christmas, a client ordered a house portrait as a gift. Years ago, her sister had lost a son, and the family always thought of him as a red bird. For this house portrait, the client requested that a red bird be pictured flying around the house. For her sister, the gift was more than just a house portrait—her son was in the painting.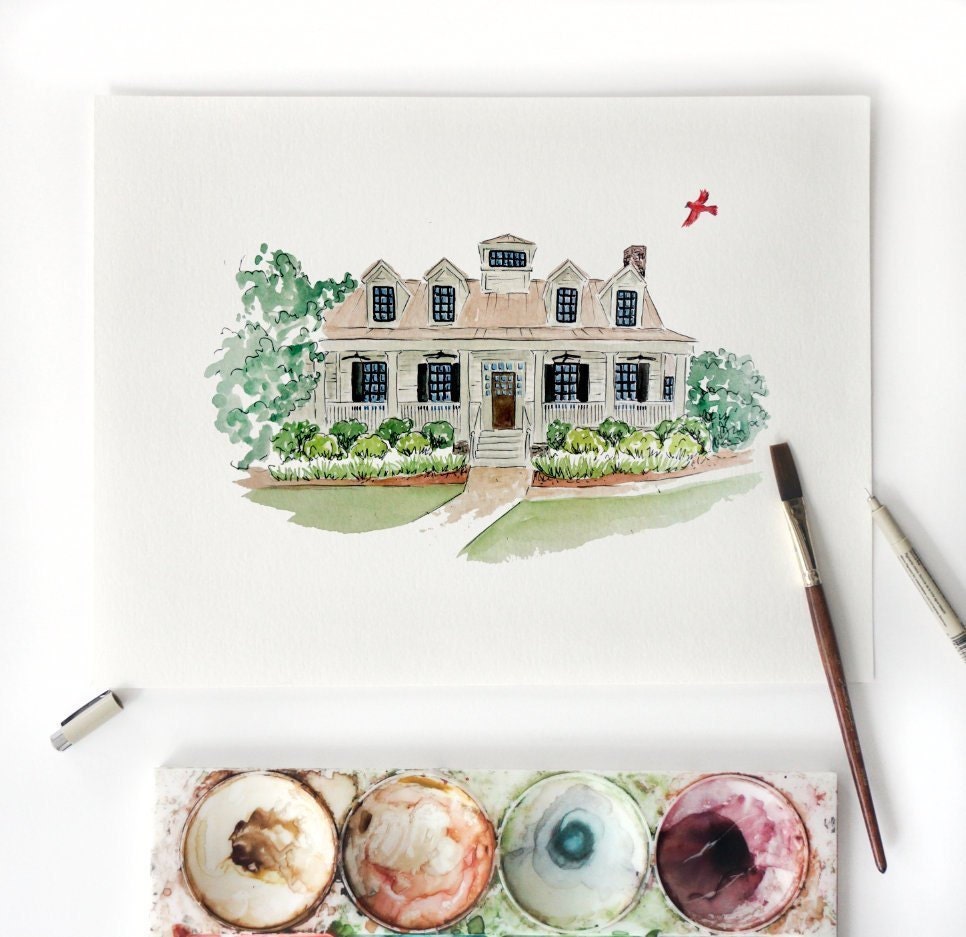 >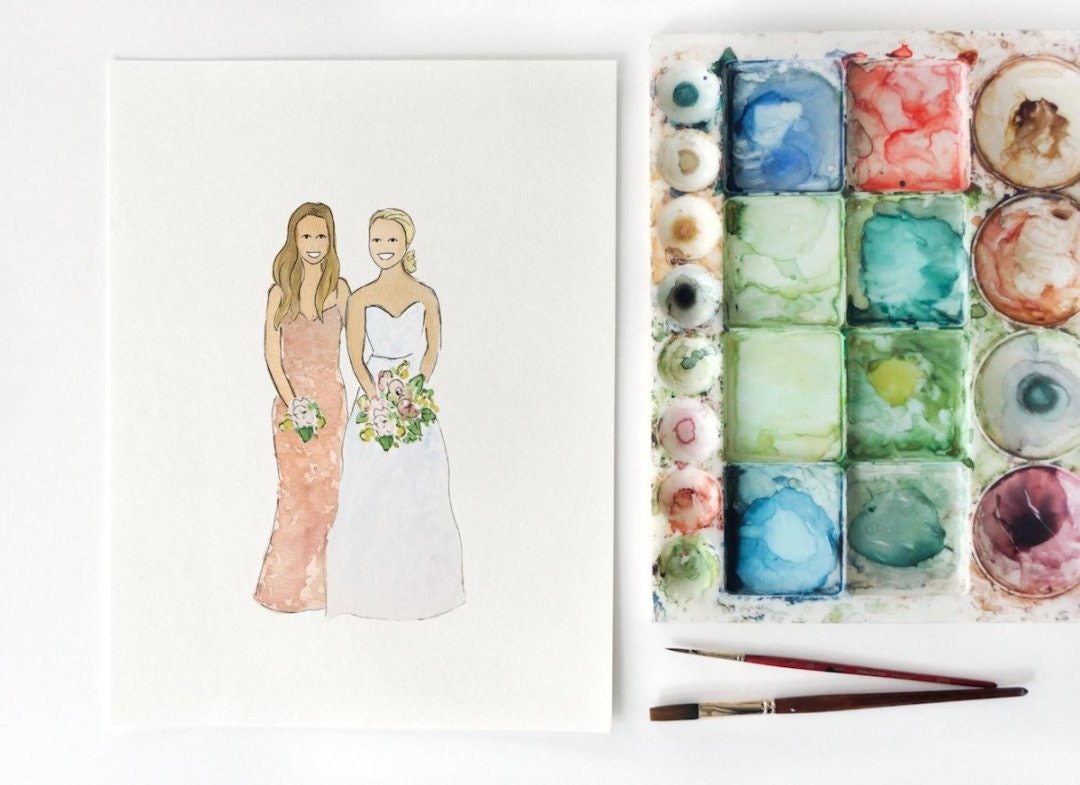 >
Your pieces also make great gifts for weddings. Is that something you see a lot of?
Yes! Lots of customers will purchase wedding portraits as gifts for the bride and groom, with their first home pictured behind the couple. That's a very common request. Some will say, "established" and whatever day they got married or moved in together, which is another way to customize a portrait and make it even more personal.

In terms of that process, it's the same: They'll send photos of the couple and the house and I tie it all together. Once I send it off, my job is done, but I get a lot of lovely follow-up emails from customers. People will reach out and say, "It was the most talked-about gift at the shower, everyone thought it was the cutest thing ever!" I love hearing that.

So, what's next for Public House Co.?
One of my goals for this year is to create more interior scenes and illustrate different kinds of spaces. I'm putting it out in the world, and it will grow the way it's supposed to grow—I feel like my clients will lead me where I'm supposed to be going.

Follow Public House Co. on Instagram and Pinterest.
Studio and process photographs courtesy of Public House Co. Invitation photographs by Veraly & Company.