by Sharon Steel
This NYC designer creates eye-catching, easy-to-wear statement jewelry that goes with everything from T-shirts to cocktail dresses.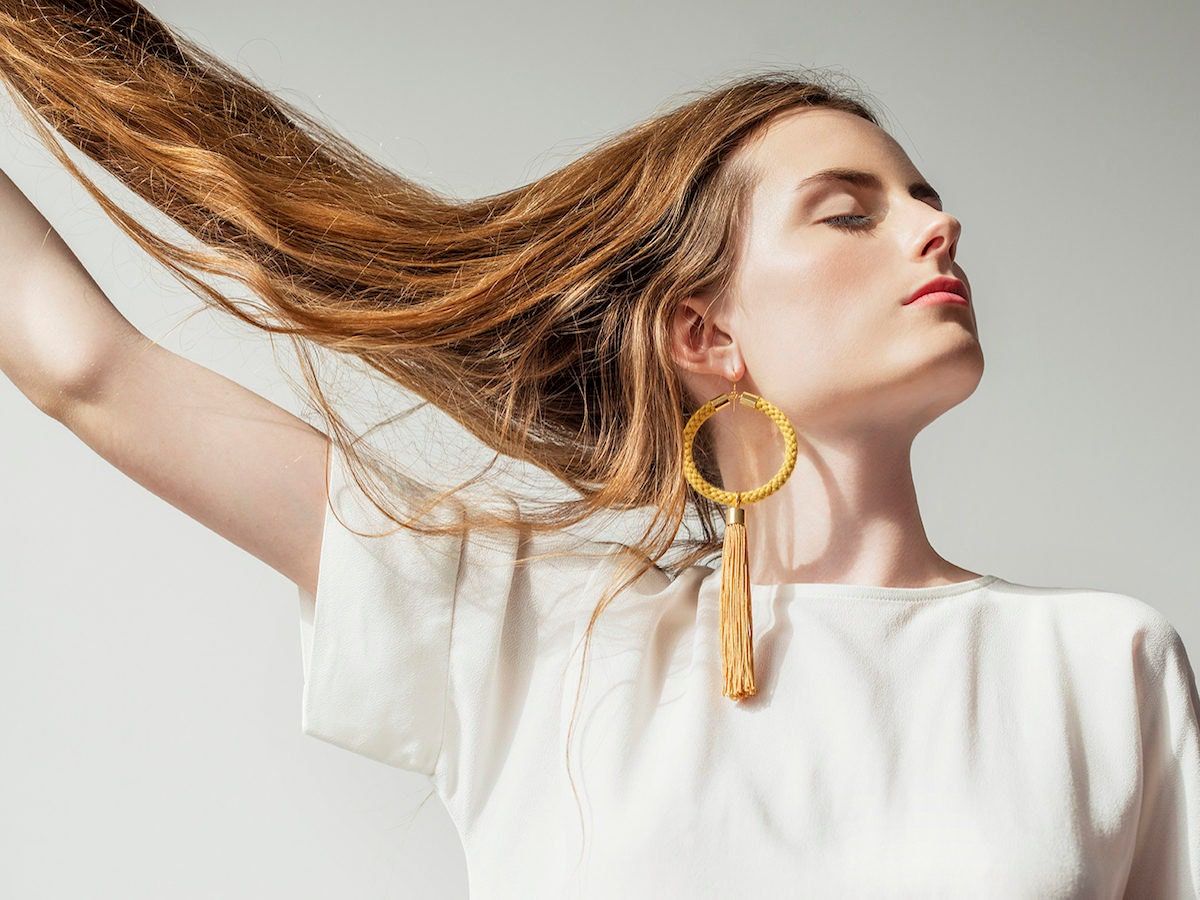 A passion for boho-chic embellishments runs deep in Nophar Haimovitz. It first surfaced in Israel, where she attended fashion school and specialized in embroidery. After graduating, she began selling her intricate, high-end accessories (as well as a separate fashion line) but soon realized she wanted to create more affordable, bohemian-inspired pieces that could be layered for day-to-day wear. Aiming to find the sweet spot between modern minimalism and the maximalist flair she loves, Nophar launched
Reason To Be Pretty
in 2009, and now runs her shop full-time from her cheerful home studio in New York City.
"I think everything pretty is the essence of life, and that you feel pretty when you're the most comfortable," Nophar explains. Her vibrant
statement jewelry
incorporates a wide range of materials, from fringe (sourced from Japan) to cords (made in Spain), wooden beads, and gold and silver-plated chains. Her goal is to keep everything as lightweight as possible so that you can forget what you're wearing until someone gives you a compliment—ideally, telling you how pretty you look. "I want to show people that big, colorful pieces can be worn by anyone, and worn with everything in your closet," says Nophar. "When you wear my designs, you're still going to feel like you."
Read on to learn more about Nophar's design process and how travel inspires her work—then shop the Reason To Be Pretty collection.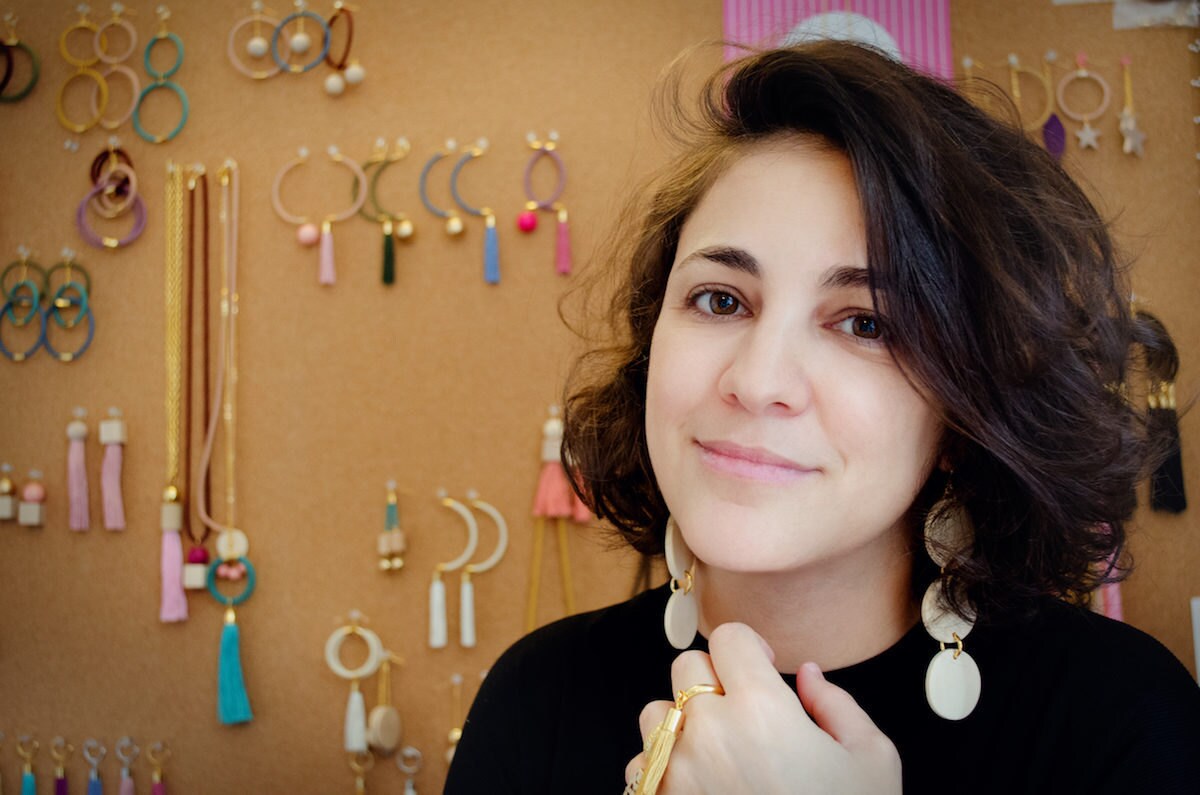 Fringe is at the heart of all your designs. What is it about the material that interests you?
For me, jewelry is fabric, so I feel a dissonance between being a fashion designer and a jewelry designer. I treat my jewelry as pieces of clothing, like fractions of an outfit. That's why I work with fringe and cord, because they're textiles, and they form silhouettes I can understand. I've been working with fringe for ten years and I'm obsessed with it—it's fluffy, light, feminine, and mesmerizing. When you walk with fringe earrings and they move, they have their own energy and their own space. But they're not suffocating, and they don't take over everything. I think it's marvelous to have a material that does that.
Can you walk us through the process of how you go from an idea to a finished piece of jewelry?
The first thing I do is choose the colors. Each
collection
will have at least six colors, and some of them reappear again and again, like the yellow, white, and black. Then I sit down with all the materials in front of me—fringe, chain, cords, metal pieces—and I start playing with them, attaching things, adding new components. My studio is a big room that's very messy! I surround myself with jewelry, pieces of fabric, design books, and boxes and boxes of crystals and beads.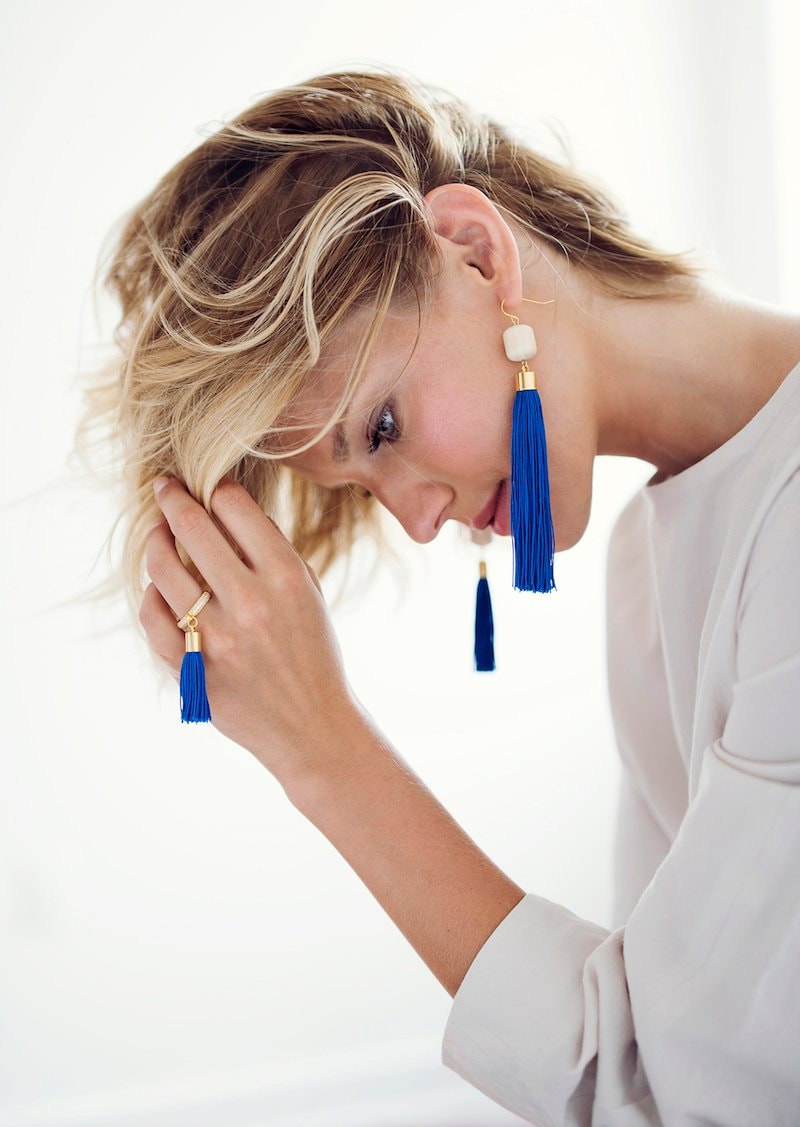 >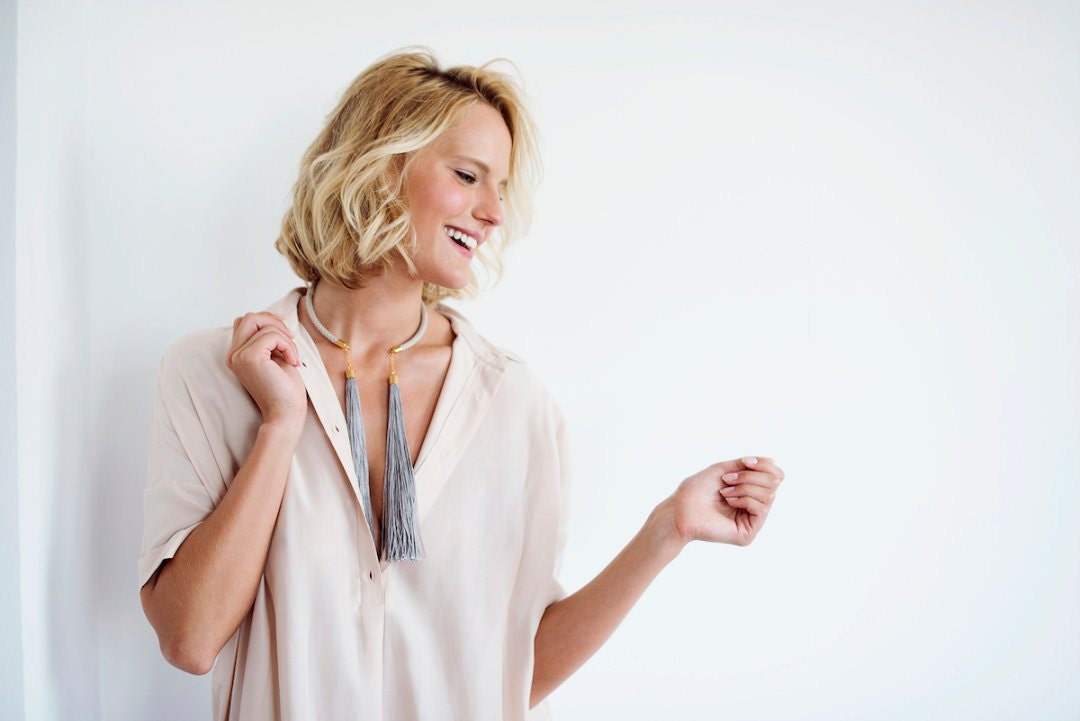 >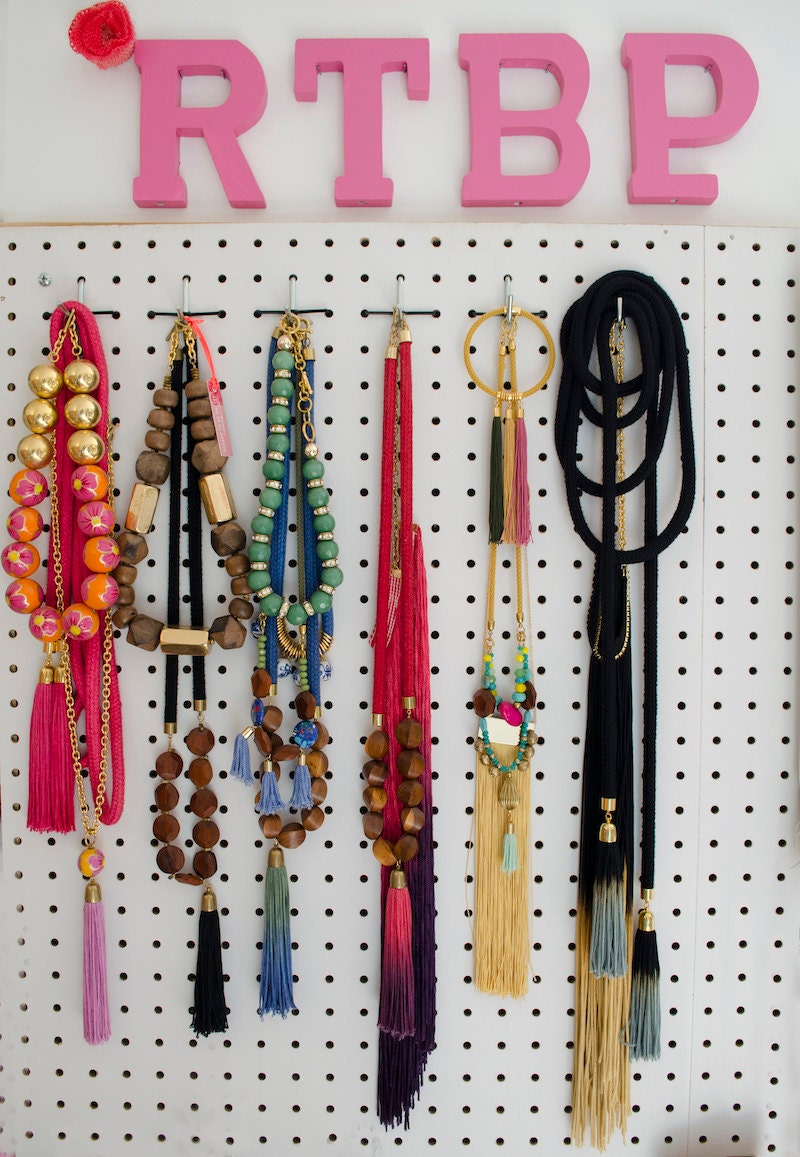 How do your travels inspire your designs?
It started with the
"Japan" collection
, because my partner and I had just come back from Japan and my mind was blown at Mount Fuji. I hand-dyed all the fringe for that collection, and did ombre as well.
"Desert Sun"
came after visiting L.A. and Joshua Tree, because I really loved the desert and the cactus and colors there. The new "Tropical Boho" collection, which comes out this spring, was inspired by everything Brazilian, where the colors are so bright. I'll have green, three kinds of pink from millennial pink to a darker one, plus blue and yellow.
What's the most popular item in your shop?
Earrings
in general are my best sellers. Right now, my customers love asymmetrical earrings. They're very modern and very minimalistic. The
geometric tassel earrings
with a round bead, square bead, and colored tassel are also very popular. I'm bringing them back in the new collection, this time featuring colorful beads that match the fringe, instead of the natural wood beads.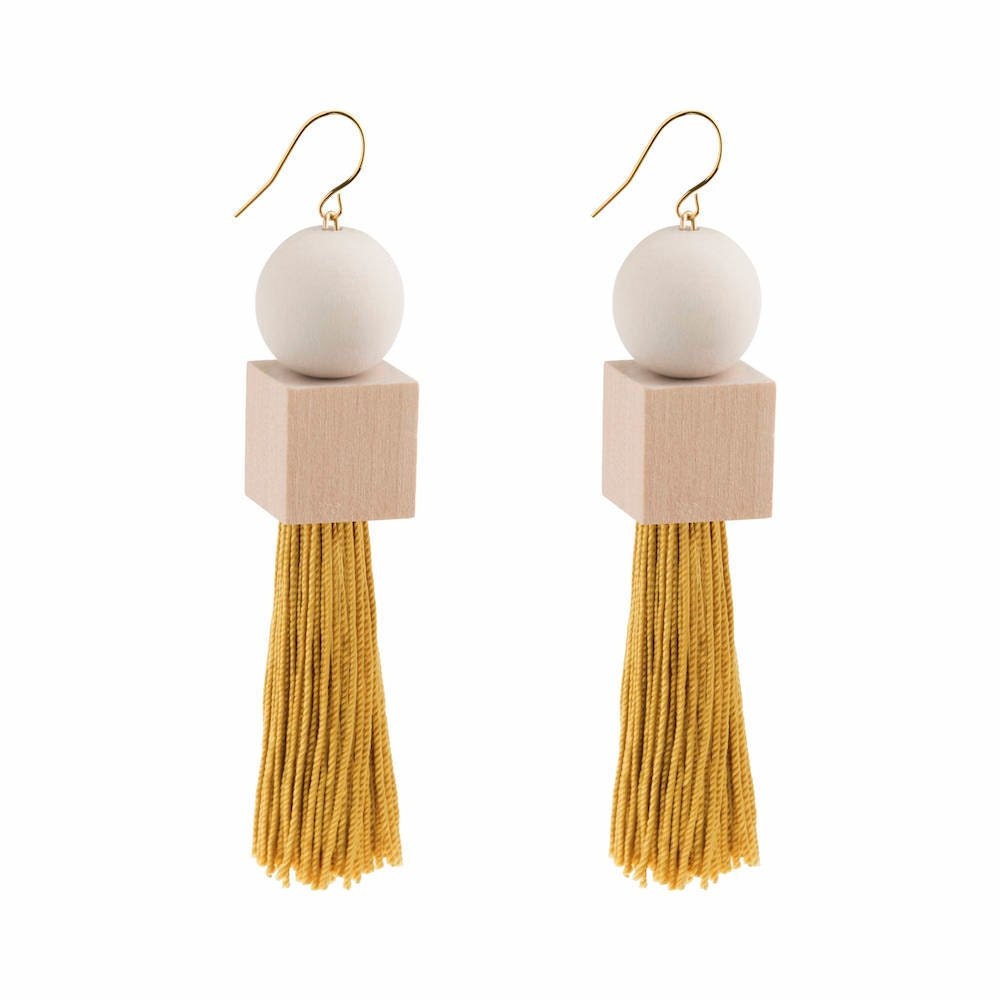 >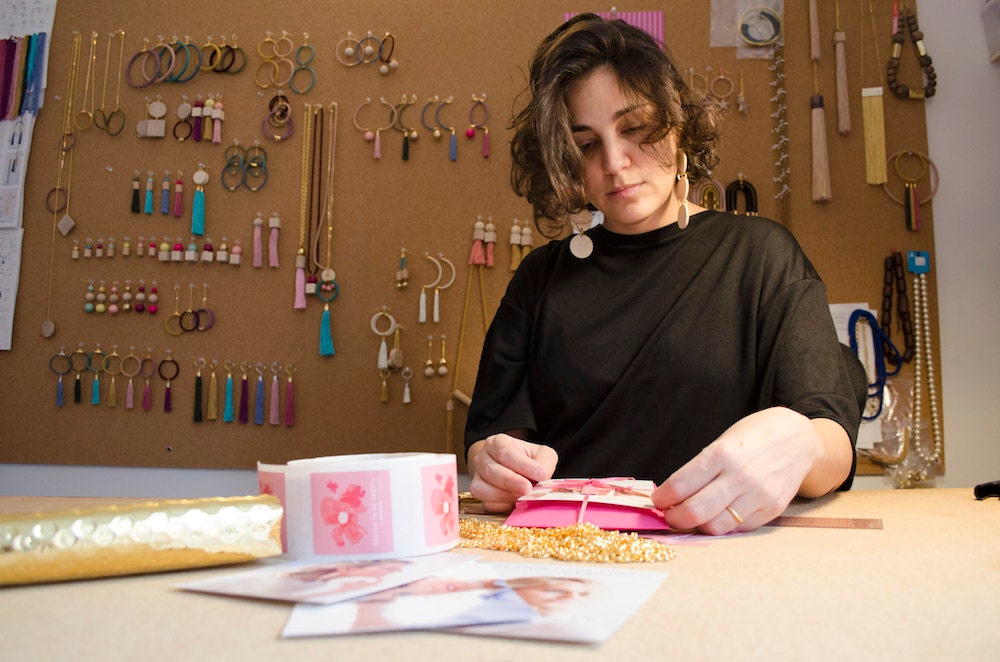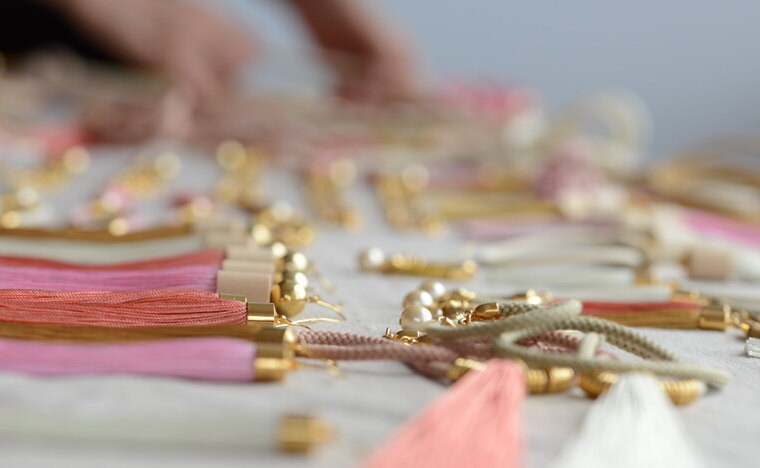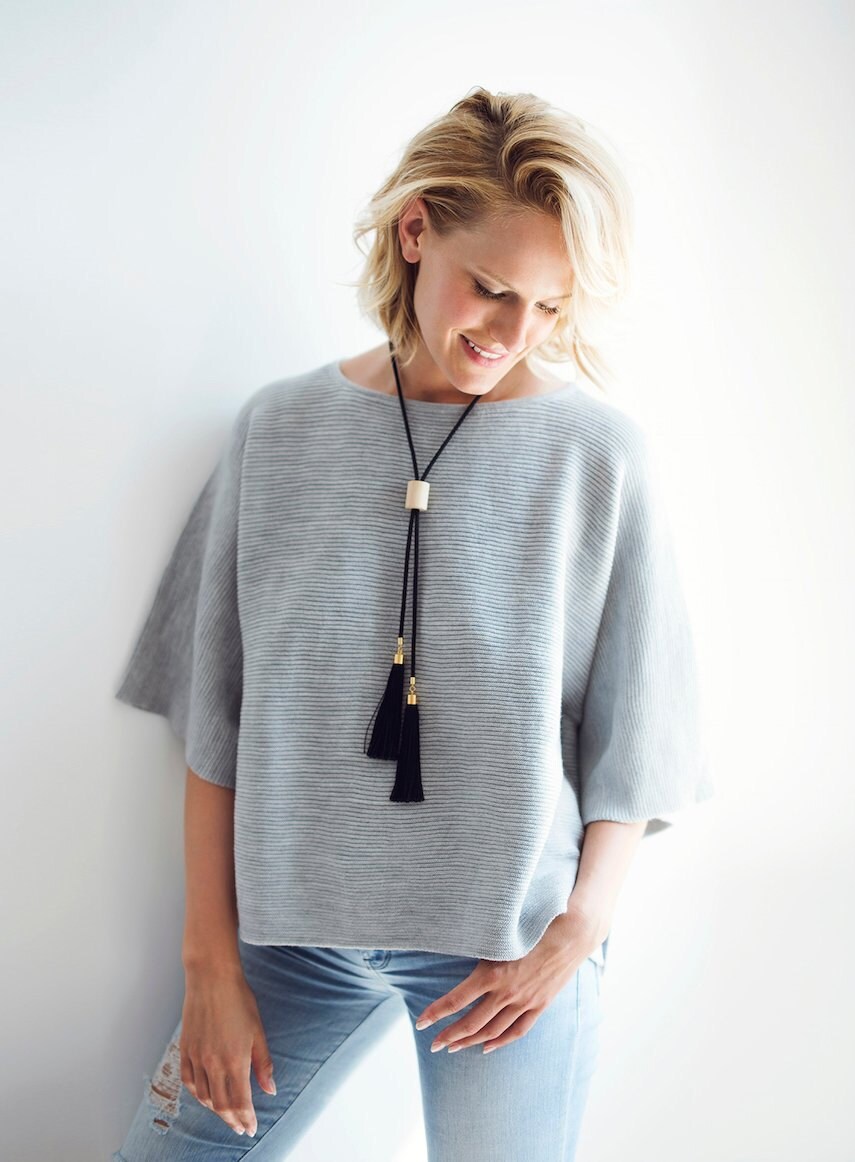 >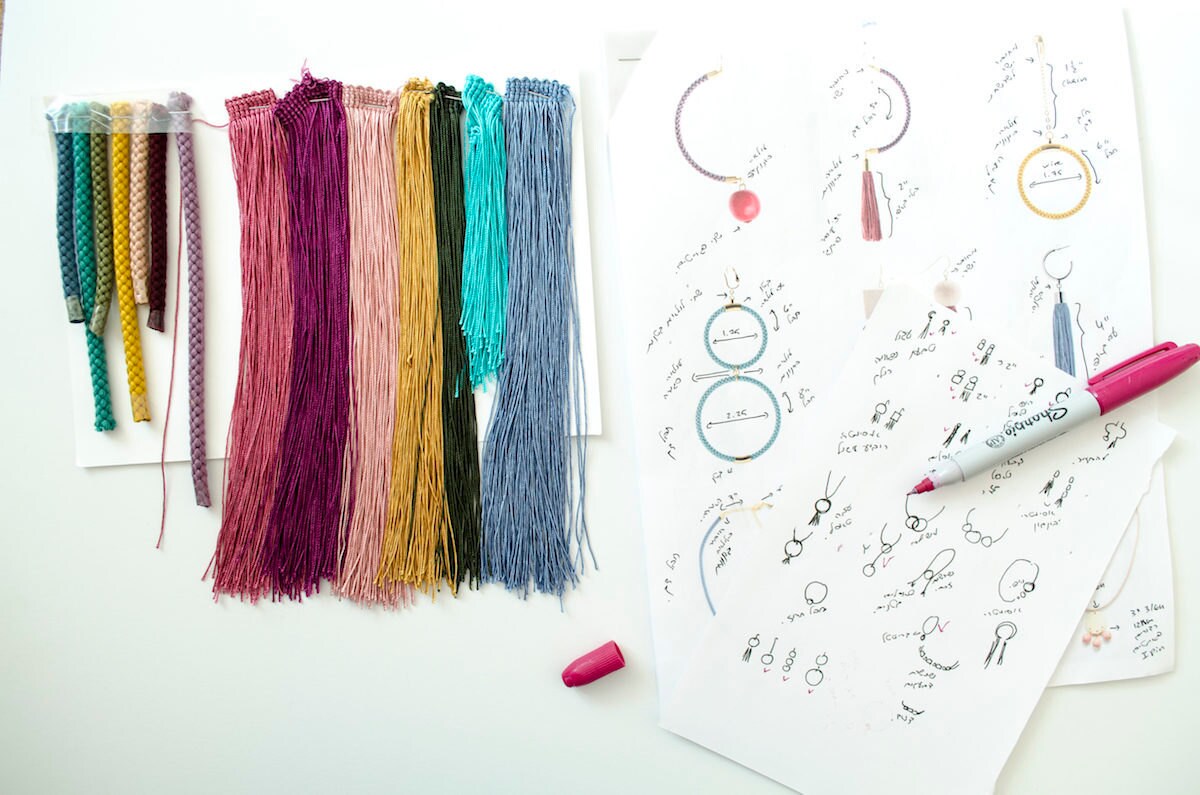 When and where do you feel most inspired?
When I'm not traveling, I'm a New Yorker, and I live in Harlem, which is one of the coolest, most colorful neighborhoods. Right now, I think it's the most happening place—Gucci is even photographing their collection here. I'm an old-fashioned kind of girl, so I'll go to the library and look through books, too. And it's great having a partner who is also a designer. We get inspired together, and lead each other to new ideas.
How has selling on Etsy made having a small business more fulfilling for you as a designer?
I'm all about making dreams come true for my customers—I love making people happy. If you want something in a different color, even matching a color to fabric swatches of a dress, I can offer that. People can shop anywhere in the world, so when they come to me, I make sure they have the best experience possible. If you have an idea, I'll give you 50 more ideas to make sure you get exactly what you want.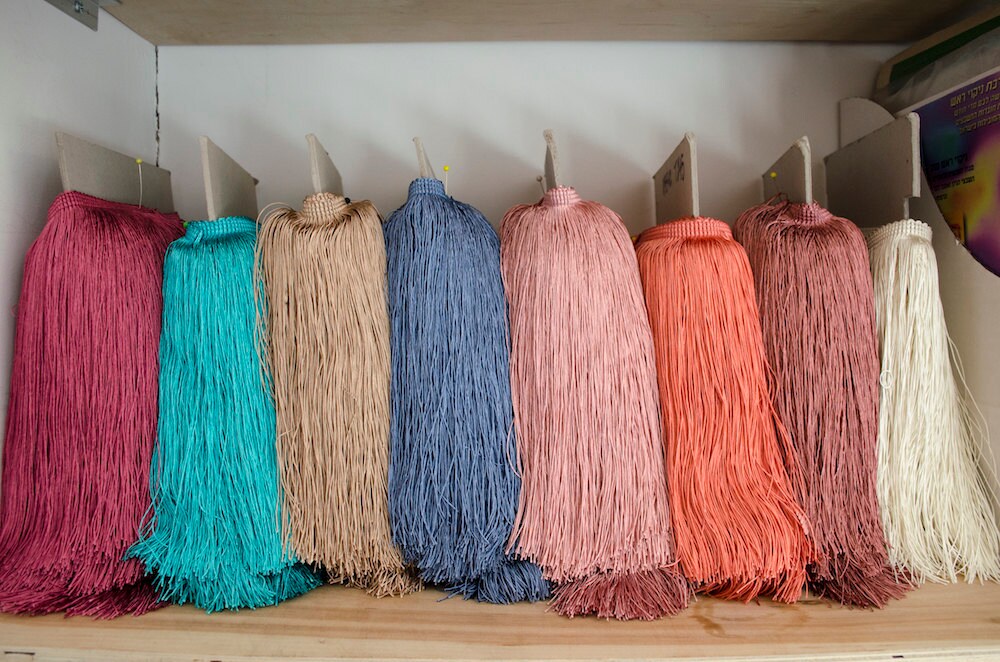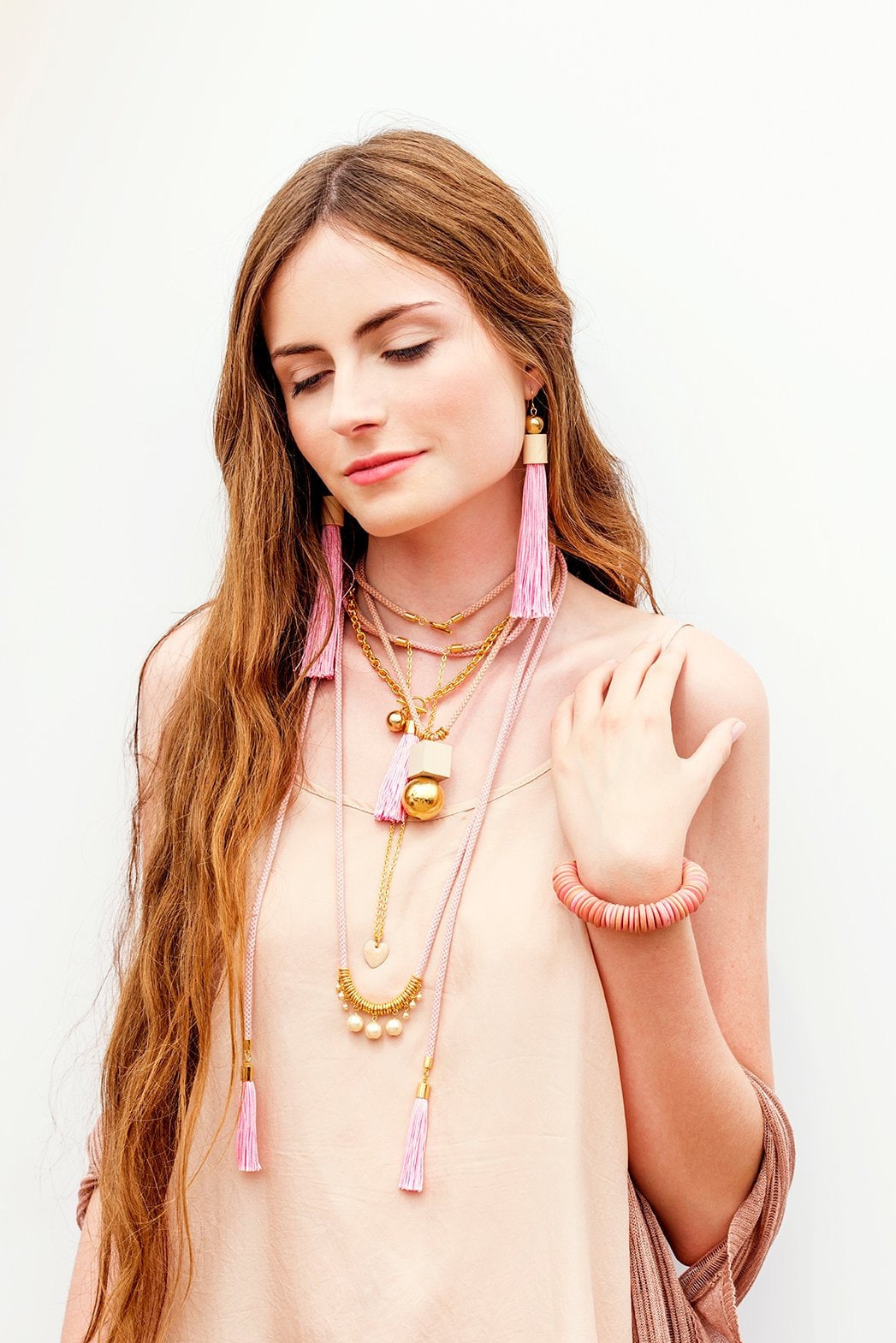 >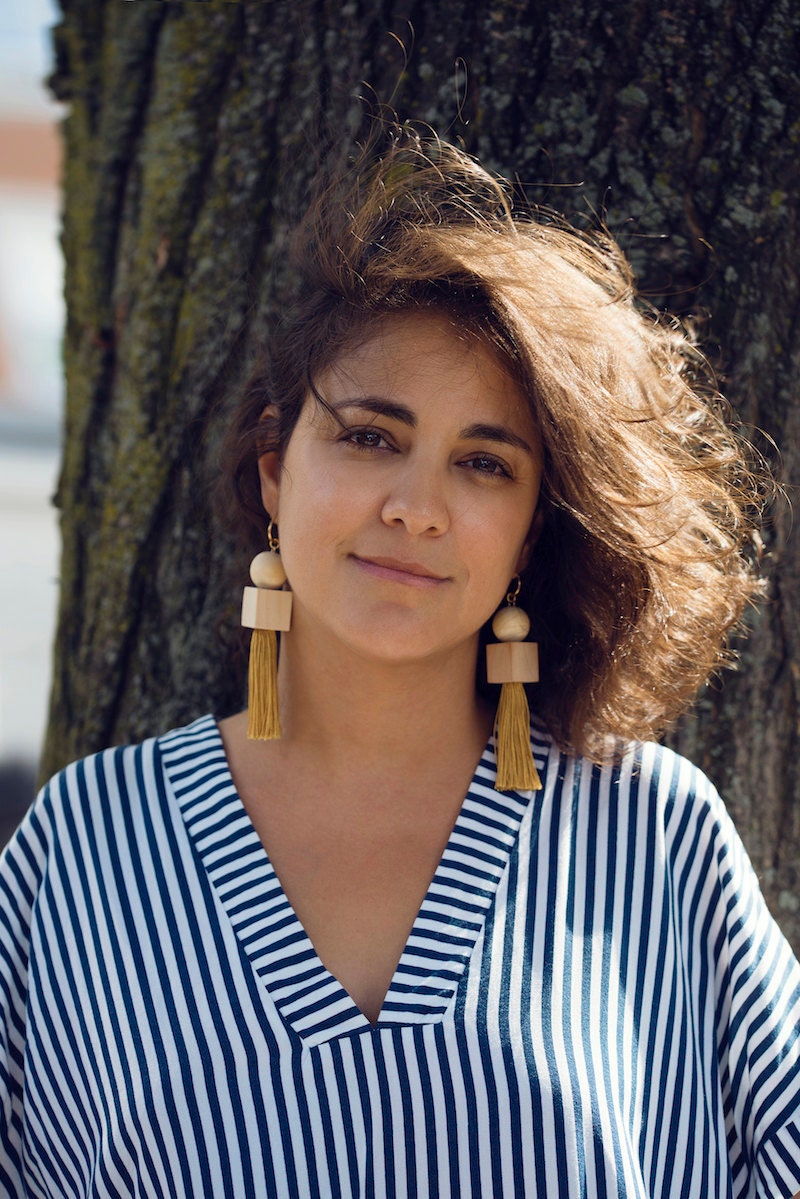 What do you love most about what you do?
In 2016, I was part of the "The Etsy Shop," a pop-up partnership with Macy's, and I've been featured in some wonderful blogs and magazines, like NYLON and Refinery29. So I've had my share of success. But truthfully, what I love most is reading the reviews people leave me on
my Etsy shop
. They bring tears to my eyes. Consumers right now are so busy and rarely write reviews, especially good reviews, so to know someone sat down and did this in praise of my work is amazing.
Can you share the most memorable response you've gotten from a customer?
A couple of my customers actually met on the subway in New York—they were both wearing
necklaces
by me from the same collection and sent me a photo of the two of them, posing together! It can be difficult to be a small designer, but it's an incredible feeling to be known by what I create. I feel so lucky to be able to give back and put things out into the universe. Etsy is a community. For designers, the more we can be a community, and share and give each other knowledge, the better we can all be at what we love to do.
Follow Reason To Be Pretty on Instagram, Twitter, and Pinterest.
Photographs courtesy of Reason To Be Pretty, unless otherwise noted.