by Katie Hawley
This bridal designer creates timeless, comfortable gowns that enhance a woman's natural beauty—and give her granddaughters something to fight over.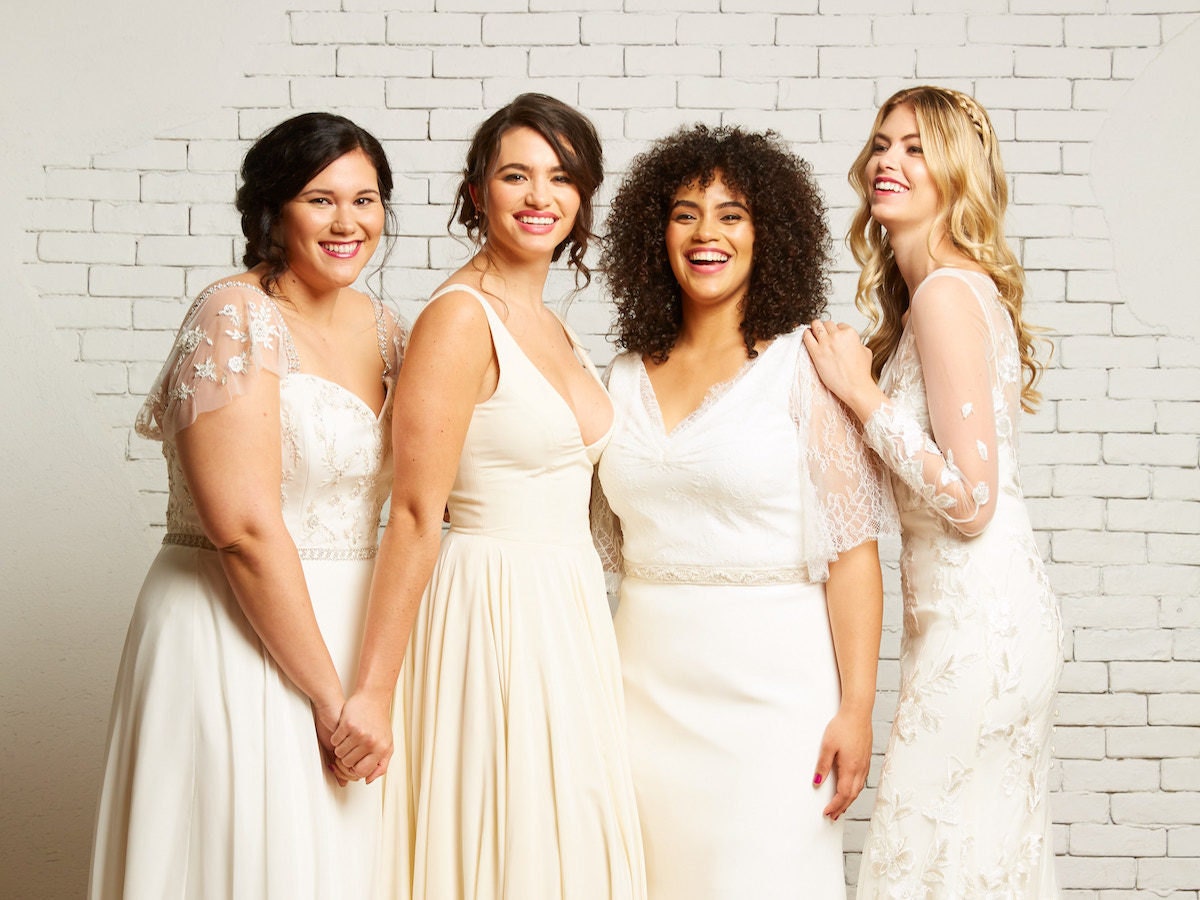 It was 2008, and Brooklyn-based designer
Rebecca Schoneveld
was flying high. She was 24, and her debut line of eco-friendly maternity wear was a bona fide hit, occupying the shelves of over 100 retailers, including major players like Nordstrom and Saks. Everything was going according to plan—until the economy crashed, shuttering shops and factories and forcing her out of business. "I was totally devastated," she recalls. After a year of soul-searching, a startup project that didn't quite get off the ground, an apartment fire that left her temporarily homeless, and—to top it all off—a surprise pregnancy, Rebecca found herself back at square one. "Nothing was working," she says. "I realized I needed to take a deep breath and go back to the basics." Which, for Rebecca, meant only one thing: dresses.
Discover and shop the Rebecca Schoneveld collection
"I've always loved dresses," says Rebecca—a not-entirely-surprising statement, coming from the woman who spent her high school days deconstructing vintage
bridesmaid
gowns and giving them new life as updated separates. "I love making people feel pretty. It seems superficial, but making a woman feel pretty is pretty damn awesome." Inspired by some old maternity favorites, Rebecca began sewing cocktail frocks, snapping photos by her bedroom window and
listing the dresses on Etsy
. She made her first sale just six hours after opening her shop, and when customers began requesting "long, white" versions of her dresses, Rebecca realized she'd stumbled onto an unexpected new market—
brides
. Within a few months, Rebecca was staffing her first bridal photo shoot in a nearby park, with her two-month-old son strapped to her chest. "My sister photographed it, a friend of mine helped style it, and our model was a friend of a friend we found at the last minute," she says. "But the photos turned out beautifully, and as soon as I posted them on Etsy, I started seeing a huge increase in my traffic." Seven years later, she's still waiting for things to slow down.
Read on to learn more about her feminist-minded design philosophy and her refreshing approach to plus-size bridal—then explore the Rebecca Schoneveld collection.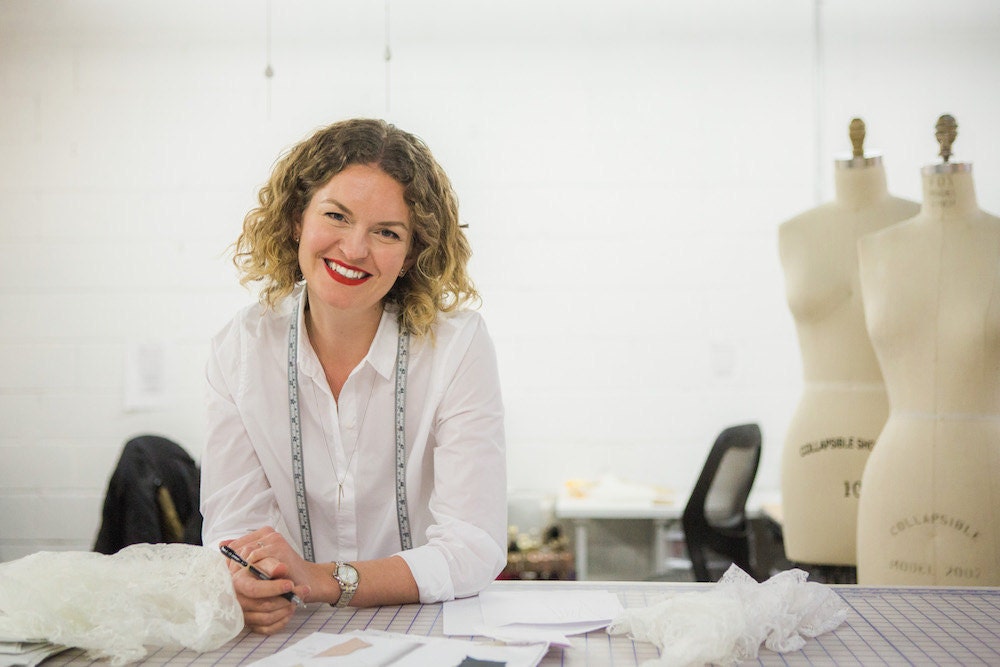 How has the business grown since you first set up shop in your apartment?
Pretty quickly it got to a point where I was busy every weekend meeting brides, and it was just really clear that there was so much room for growth. So in 2013, I got a little storefront and renovated it from top to bottom. As soon as I made that leap, I found out I was pregnant with my second son, so it was like: Okay, we're having babies and starting a business! Soon after that I started getting wholesale inquiries, and by September of 2015 we'd moved into a new space, which is where
Schone Bride
, our flagship boutique, is now located. That was another big leap of growth. We carry my whole
collection
, and we also carry other independent designers, a lot of whom started on Etsy. There are four dressing rooms, and the back half of the space is where we actually make everything, which has always been my dream. I want everyone to see the process of how a dress is made and really connect to the makers—to see the quality of the fabrics and watch the workmanship come to life.
I love that you're pulling back that curtain. Tell me about the team you've assembled—who's doing the making?
My mom was actually the first tailor that I hired. My son was born in March, and in early July I got a call from a bride whose wedding was a week away. Her dress had never had come through, and she needed something last minute. There was absolutely no possible way that I could make it by myself with a newborn, so I called my mom and she came into town and stayed with me for a week. The two of us were hand-sewing like the wind, and literally chased the FedEx truck down to get it to the girl in time. She met it at the airport and, amazingly, it fit her perfectly. She wore it the next day to her wedding. It was totally insane, and that was the first time I realized: I can't do this on my own. I really need help—I'm only one person and this thing is growing. So my mom was my first hire, and then in November of that same year I hired Eladia. She was my first seamstress, and she's actually still with me, although she's retiring this month. Eladia brought in one of her friends, Mercedes, who's also one of my full-time seamstresses. And my production manager, Maria, has been with me since my first storefront—she's such an integral part of this company. Bit by bit, we've grown this hodgepodge-y family from all over the world. I really want to create a healthy, positive, supportive, and understanding work environment that gives people space to be creative. It's a place where people are accepted and their ideas are listened to and respected—I try to create opportunities for collaboration. We're like family so we don't always get along, and sometimes there's an argument about the Spotify playlist, but there's also a sense of loyalty.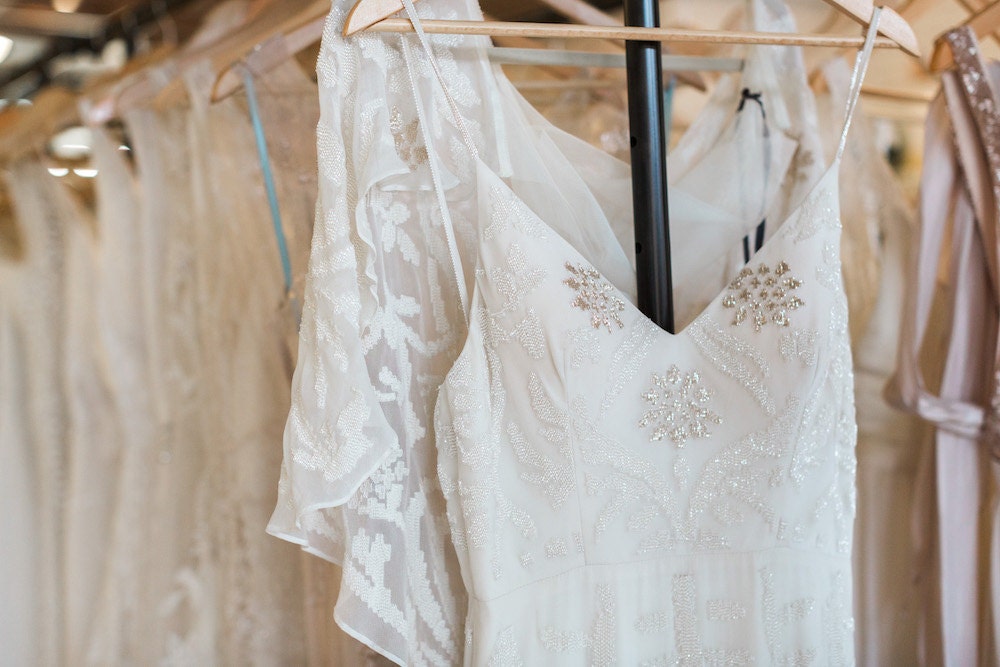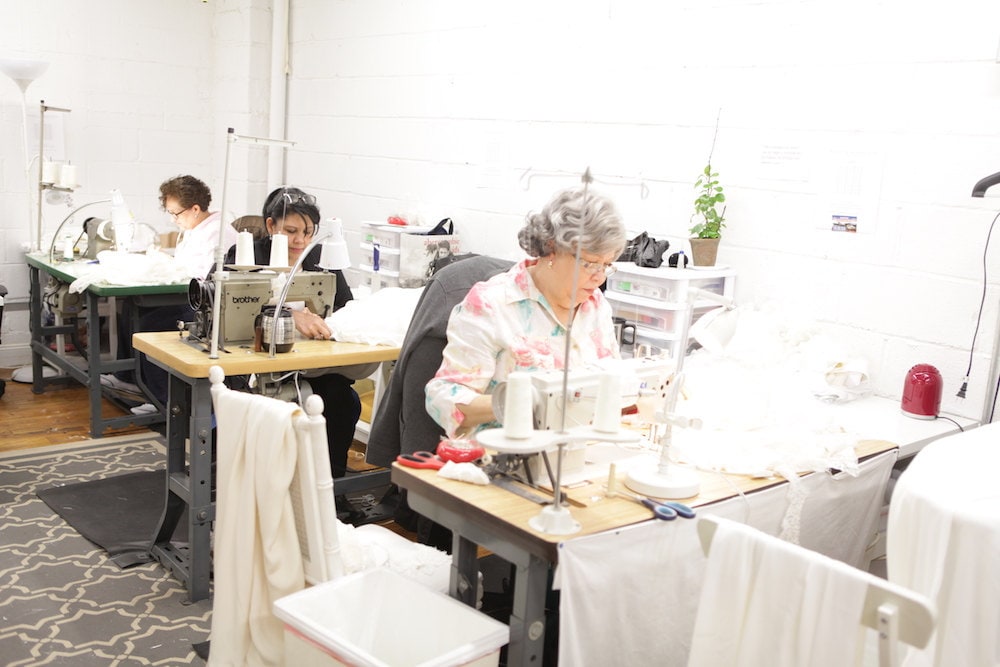 Photo by
Anneke Schoneveld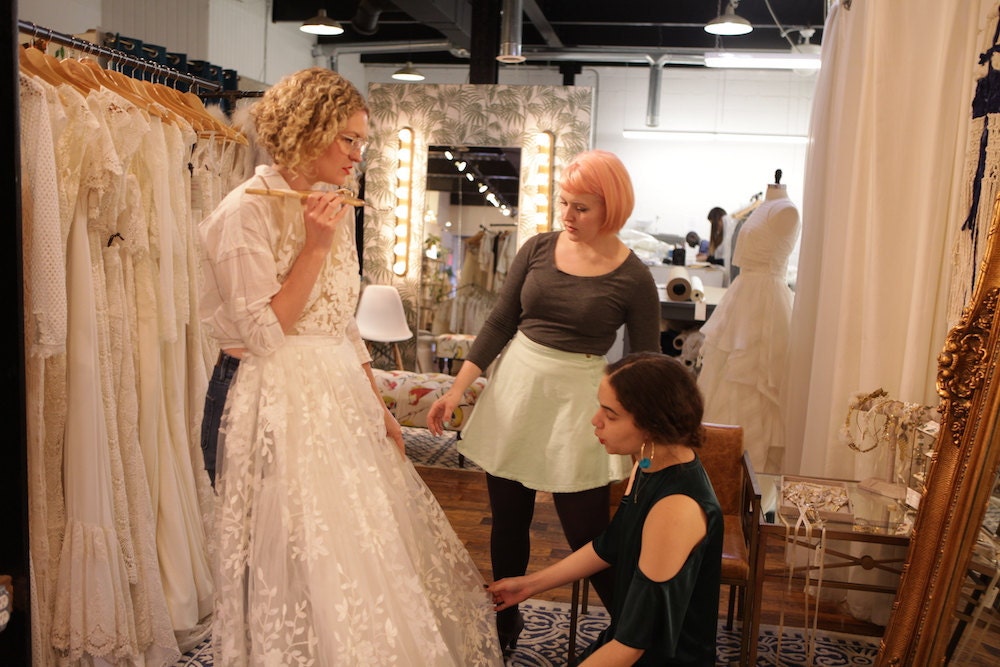 Photo by
Anneke Schoneveld
How has your line evolved over time?
I've tried to grow everything organically, and not put all my ideas out there at once. But from the very beginning, I've always had the
mix-and-match
idea: Every gown is made of components that can be combined into custom versions. So even if you buy a very clean, simple gown, we have all these different toppers you can put over it. I've always offered everything in any size, but for a long time, I couldn't afford to make all of the samples. I could really only afford to make my photo set of samples, which are generally a size 6, and then I would also make a trade show set of samples to travel around the country to different boutiques, and those are a size 10.
How has your approach to sizing changed over the years?
Finally, I was able to do' for all intents and purposes, a plus-size collection. But the way I approached it is not to call it "plus-size," because I think it's an annoying term—I'm just really letting it be known that we accommodate all women. Everything in the regular collection can be made in any size, and we also took the dresses that work best for women with more curves, fit them on larger-sized models, and revamped the patterns for that size range, so they fit as ideally as possible.
Amazing. What prompted you to take this on?
I have a lot of friends who are curvy women, and they almost don't even want to have a wedding because they want to avoid everyone looking at them. They worry about what they're going to wear, and they don't want to go shopping for a dress because of the moment of shame that they're expecting when nothing fits. I really wanted to do my small part to heal that as much as I can, and help all women feel seen. I want to make sure that these women especially, who are so often overlooked in our culture, and made to feel less than they are, are acknowledged and made to feel beautiful. That's what we're here to do—to make people see how beautiful they really are. I'm so excited to do more photo shoots with diverse models and just to try to represent what authentic beauty really looks like. Because it's not a size—it's something inside of you, and there's nothing better than making a woman feel prettier than she's ever felt before.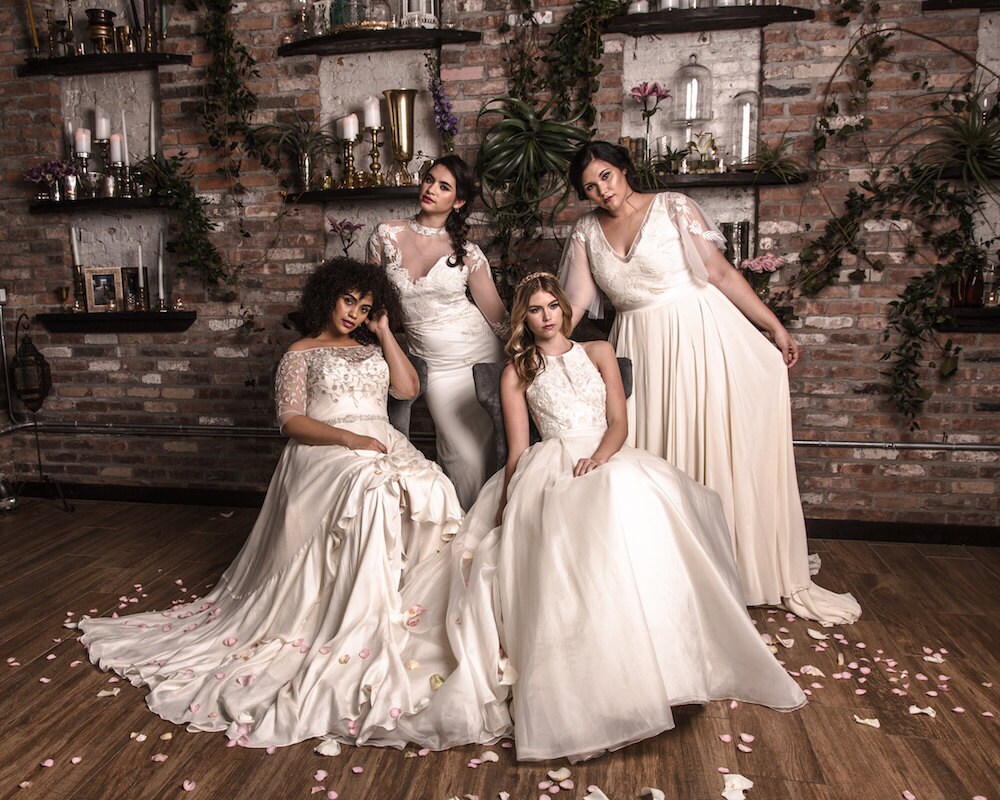 Photo by
Monica Baddar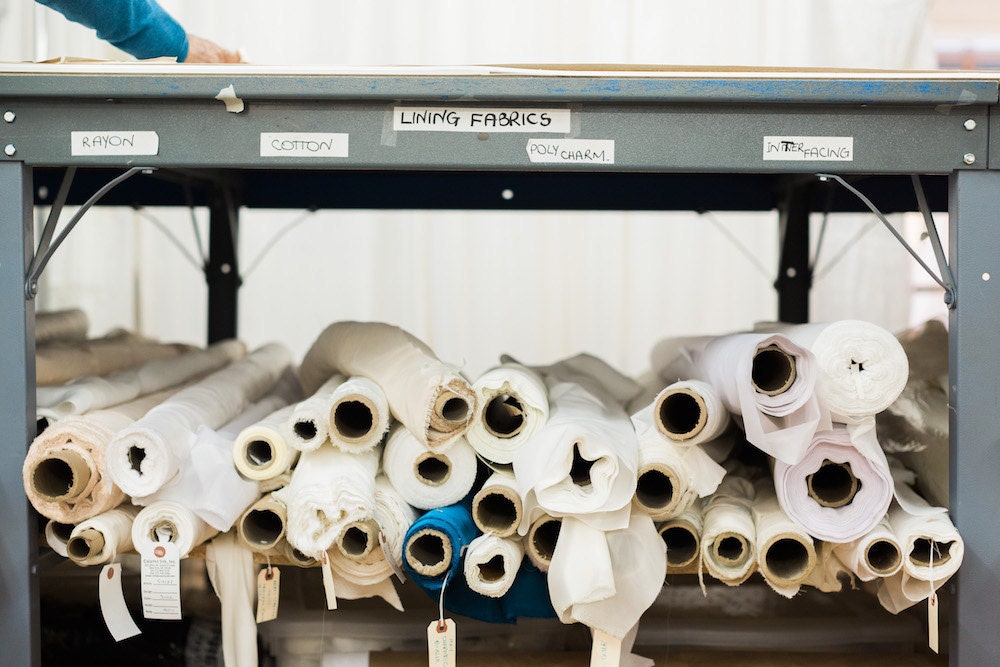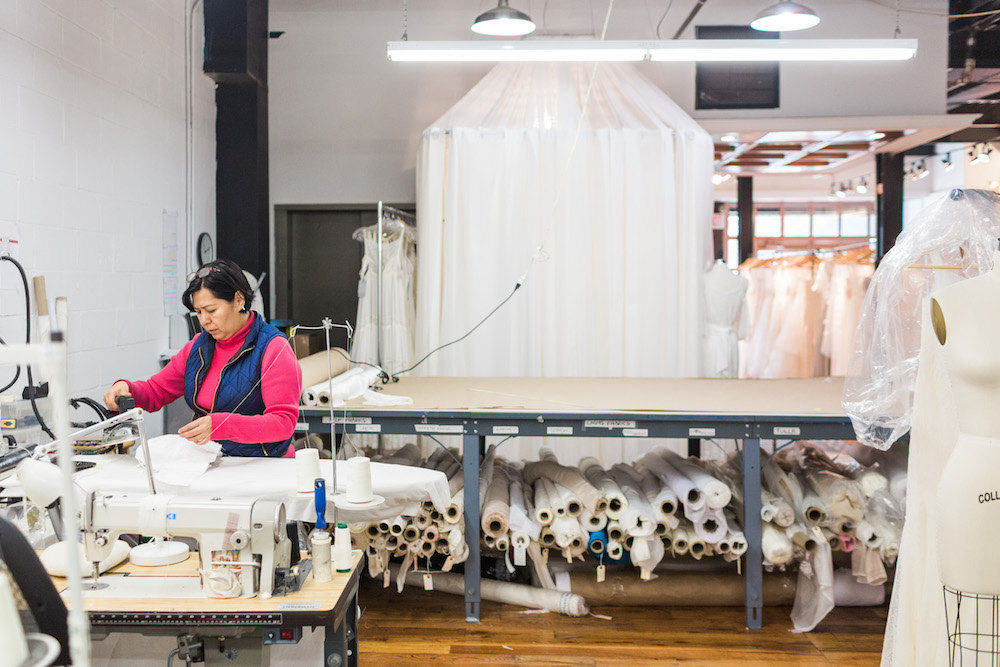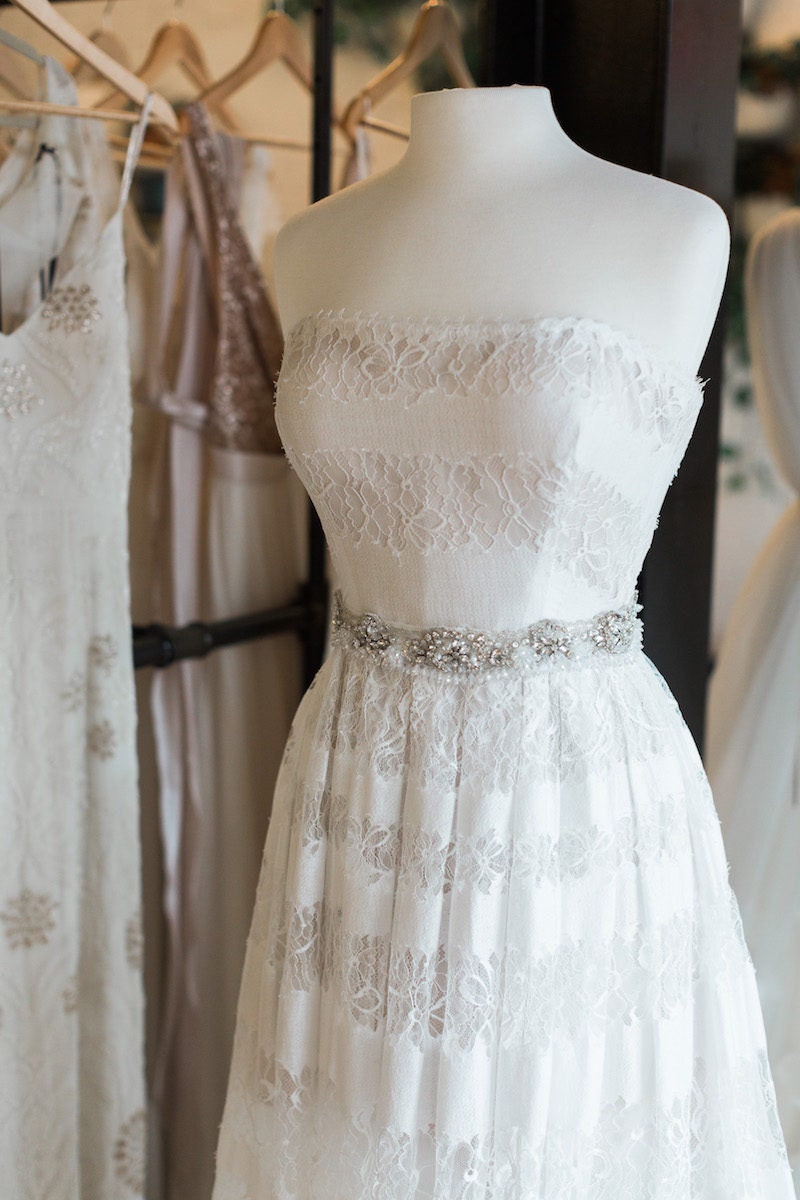 It's a collection of readymade, ready-to-ship bridal that you can buy online, starting this August. The idea is that it's geared towards women who are just ready to get married, hence the name. They don't want to go through the whole hoopla of waiting six months for a dress—it's more of a city hall, backyard, laid-back wedding kind of vibe. You can buy it online, try it on, and if it works, you keep it. If not, you can return it. And everything is priced well under $1,000, so it's not this super high-pressure purchase. I wanted to do something really accessible. The
collection
consists of a lot of separate tops and skirts that are mix-and-matchable into unique ensembles. There are three dresses, seven tops, five bottoms, and then a kimono and a cape. There's also a long jumpsuit and a short romper, and one of the bottoms is this super-awesome pair of pants. One thing I'm really excited about with this collection is that the pieces are all re-wearable. They're wardrobe staples that you'll want to wear again and again, so you get a lot more use and value out of them.
How would you describe your design philosophy?
It always boils down to making sure that the bride herself is the star. I want to make
pieces
that bring out the best of someone's natural physical beauty and their personality, and don't overwhelm them with fashion or boning. It's sort of humble in a way—I want the look to be subtle and a little bit pared down. It should feel authentic and timeless. I want to make things that will look good for another 30-plus years. I always tell brides: I want your granddaughters to fight over this dress. I also really want everything to be comfortable. Why do men always get to wear something comfortable and women have to be shoved into things that we can't breathe or sit down in? It's sort of a feminist design approach—making women feel empowered by their beauty and still able to eat, and lie down, and not feel gross. You should be allowed to button your dress and feel fine.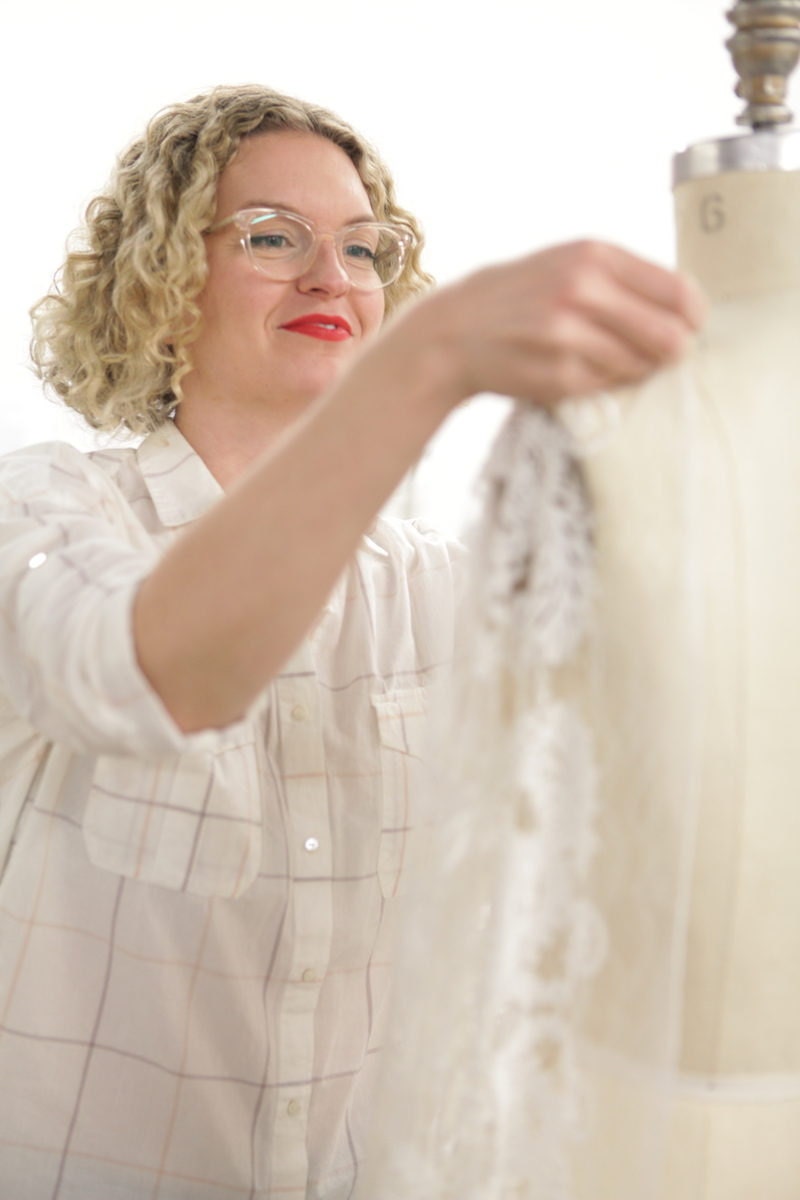 Photo by
Anneke Schoneveld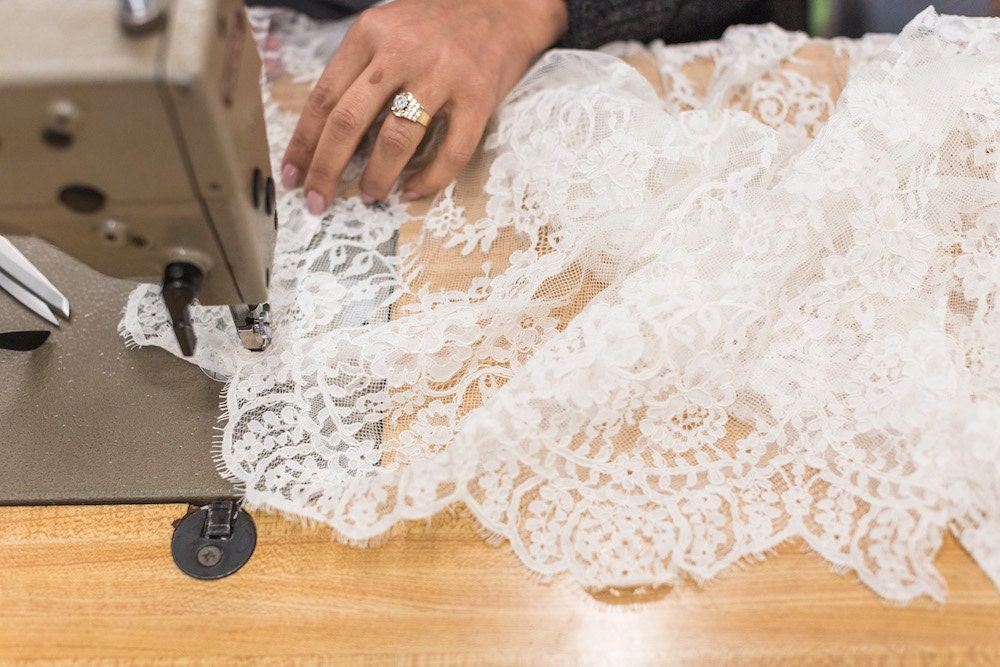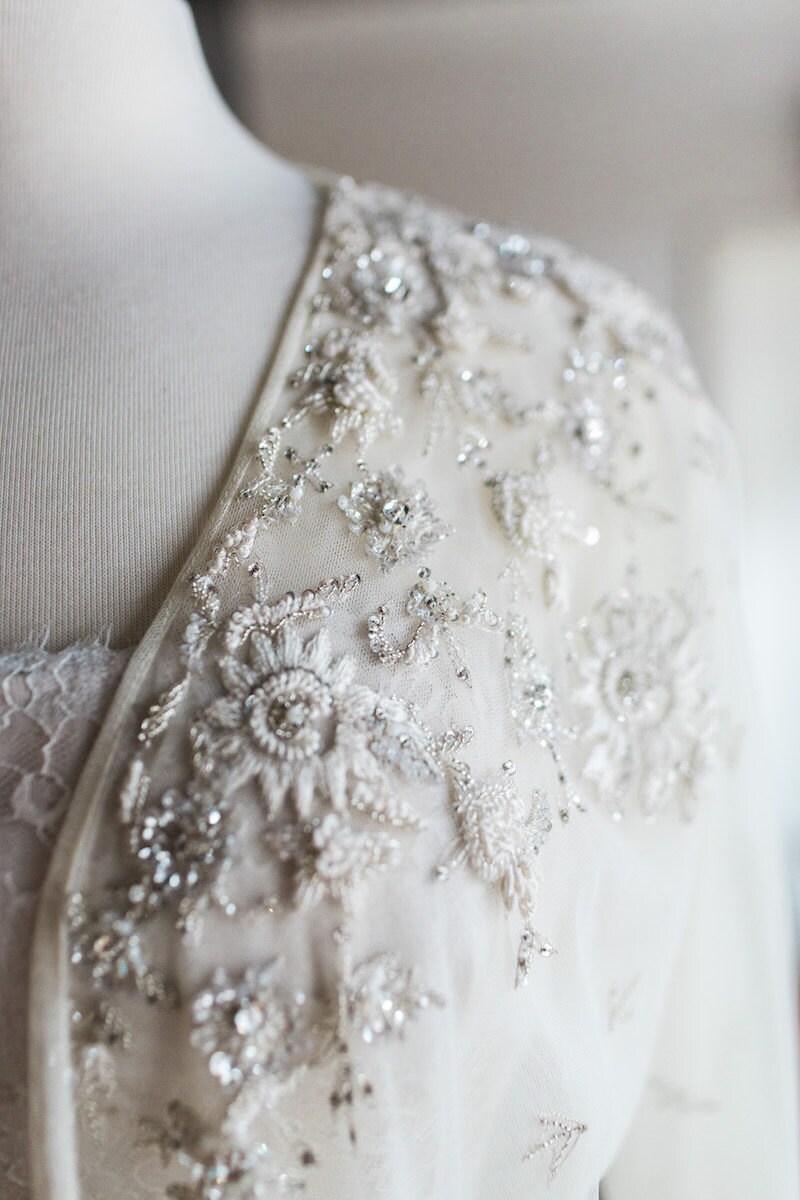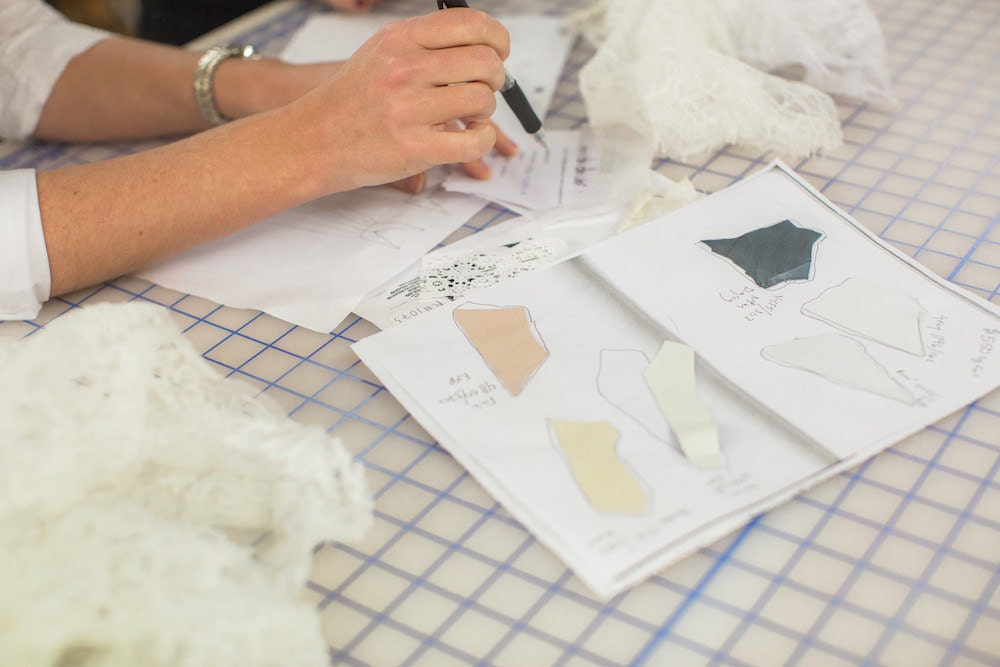 What trends are you most excited about right now in the world of bridal fashion?
I love that more people are embracing color! I've always loved color, and I personally feel like if a girl is inclined to wear green or blue, she should totally go for it. It's so memorable, and there's really no rule about the white thing. I also think that everything's been really, really sexy for a long time, and I'm excited to see how things are becoming more modest. Take Miranda Kerr, who recently got married: She wore this 
amazing Dior dress
with a high neckline and full sleeves. It was really beautiful, and so refreshing to see. Don't get me wrong—there's nothing wrong with feeling sexy. By all means, if you want to be ultra-sexy at your wedding, and that's who you are, go for it. But personally I like that there's a movement back towards a little bit more modesty. I also definitely see people going for more low-key weddings, which is one reason behind the new
ready-to-ship collection
. I think more people are trying to keep the focus of the wedding on the marriage, and not on all the pomp and circumstance. I like that there's a movement back to really simple, relationship-focused weddings.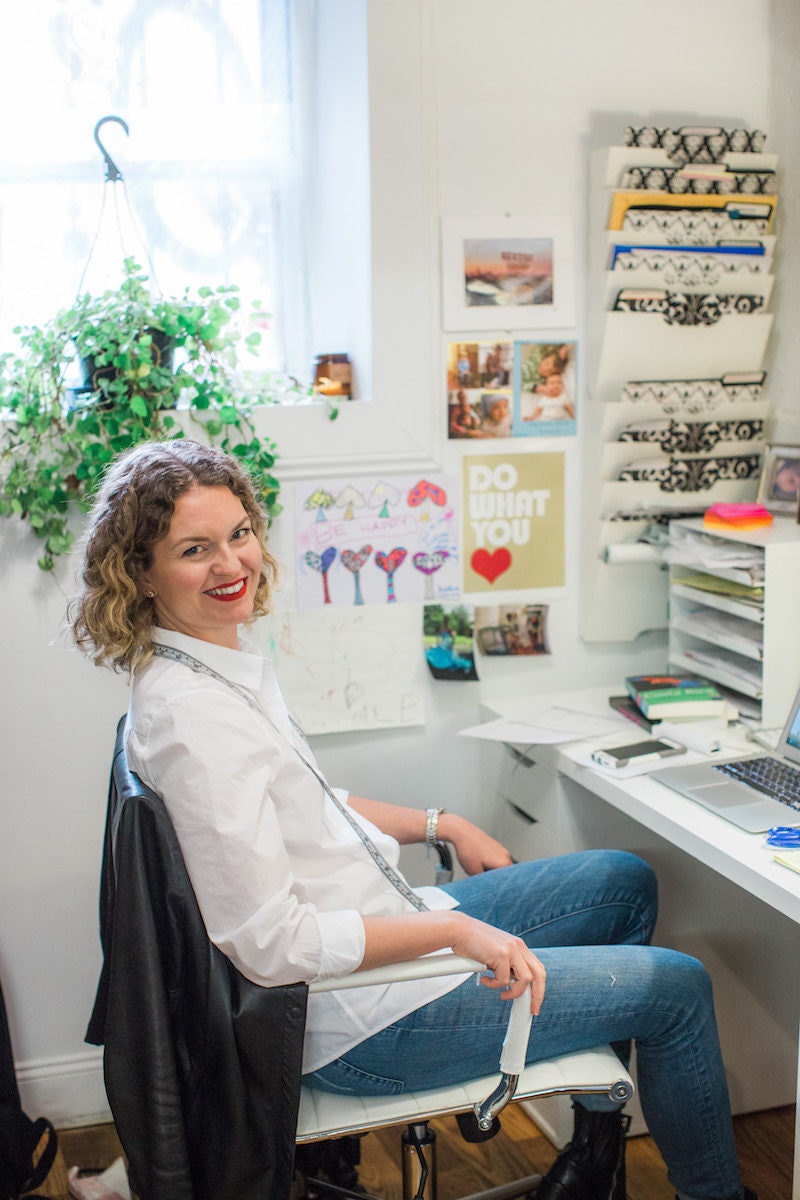 All told, what's your favorite part of your job?
I love that I get to be creative, and I love that I get to bring creativity into other people's lives, too—because
our collection
is so customizable and you can style it so personally. I love when a bride comes up with a new combination that I never thought of that looks super-awesome. I feel like creativity is a spiritual gift. There are a lot of ways to experience spirituality, but I think that when you're inspired to do something, that's an expression of something greater in the universe. It's your way of being something a little bit more than just human for a moment. To be able to dream up beautiful things, and add beauty to the world, and then to help other people experience that, too—it's pretty amazing. There's nothing quite like it.
Follow Rebecca Schoneveld on Instagram and Facebook.
Photographs by Diane Hu, unless otherwise noted.