For their upcycled line of vintage-inspired spirit decanters, this husband-and-wife design duo prioritizes sustainability and customization.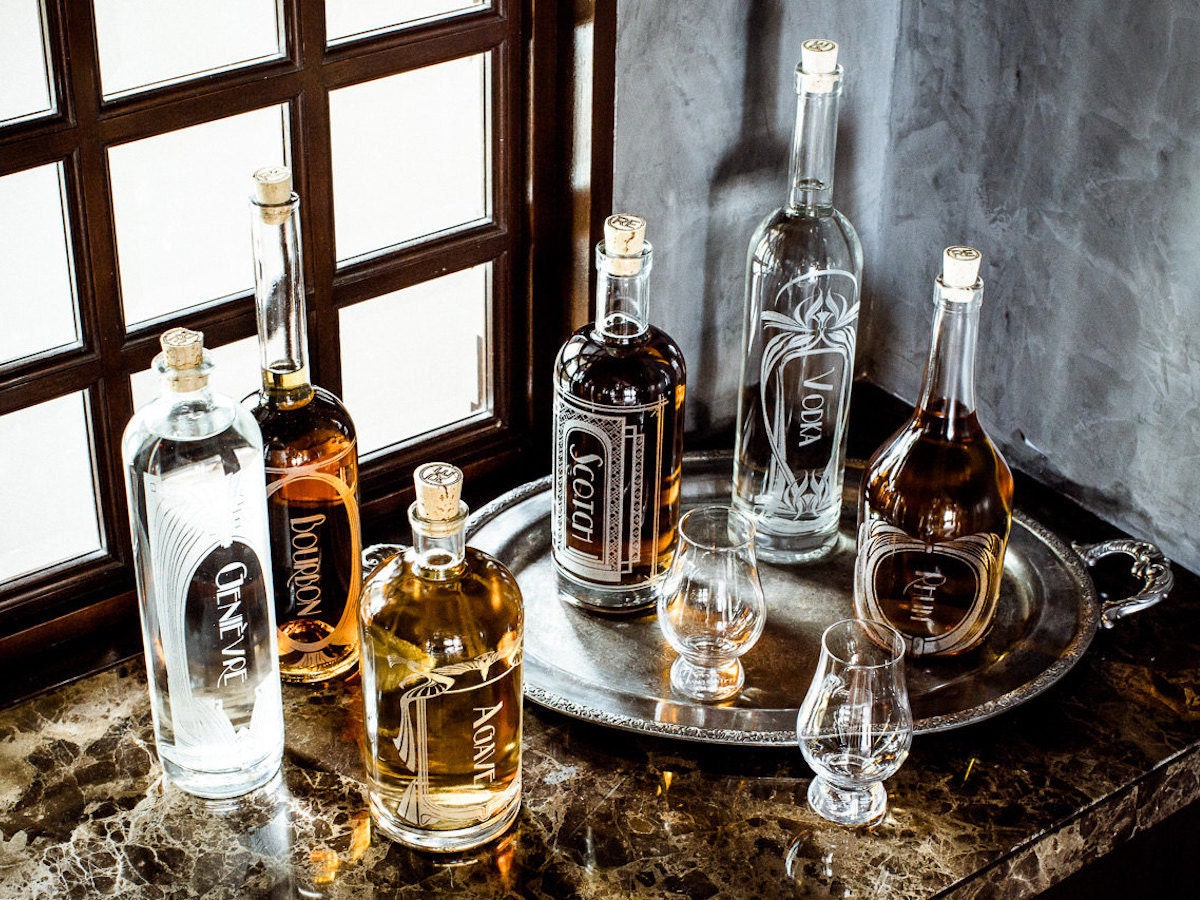 Timothy Daw spent 16 years tending bar and waiting tables in the elite San Francisco dining scene, so when he decided to host a holiday party in 2012, the pressure was on. He wanted to serve Manhattans, and his friends—who were all bartenders and servers themselves—had discerning tastes. Hoping to impress, Tim experimented with the laser machine at his local co-op space to etch a bourbon label onto a long-necked bottle that originally held an obscure Italian digestif.
The custom decanter was a hit, and Tim quickly listed a small run of laser-etched products on Etsy, giving new life to 20 bottles he and his friends saved from behind the bar. That first collection sold out immediately, and Tim, who studied industrial design in college, realized he'd discovered a way to merge his passions for sustainability, cocktail culture, and vintage aesthetics. "Recycling is great, but you use a lot of energy to melt things down," Tim explains. "There had to be a better destiny for all that glass." Since that fateful holiday party, Tim and his wife Tanessa Handl Daw—they met working in a restaurant, of course!—have expanded their shop,
Reclamation Etchworks
, into a full-time business. Once destined for a recycling bin, their gorgeous (and highly
giftable
) bottles are now enshrined atop home bar carts all over the world.
Read on to find out how Tim sources design ideas from "the golden age of drinking," and shop the Reclamation Etchworks collection.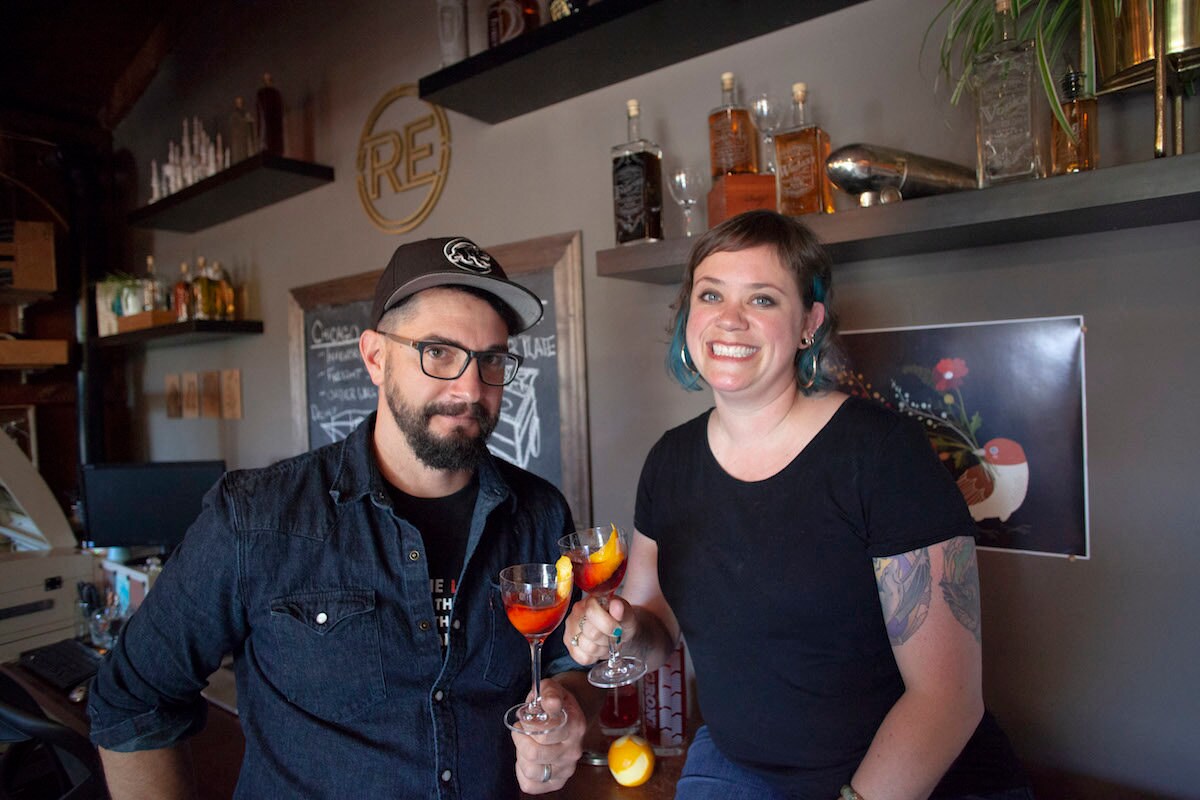 What inspired your commitment to sustainable design?
We live in a very disposable culture, with so many things you use once and throw away. Our goal is to create products that people will hold onto and pass down, things that really stand the test of time. I love to imagine someone coming across one of our bottles in an attic one day and saying, "Look, that's Grandpa's whiskey decanter, with his name on the back."
What spirits did you spotlight in your first collection?
Our
Variance collection
is a set of four spirits: bourbon, rum, gin, and tequila. These are the four spirits we felt were the foundation for making classic cocktails. We were having fun being a bit bar snobby—instead of
tequila
, we used the word
agave
, and for gin we used the French word for juniper (
jenevre
), because the French were the first to distill gin. We also used the French spelling for rum (
rhum
). Not everyone is shopping for a spirits education, but the people who know about that stuff are always stoked to see it.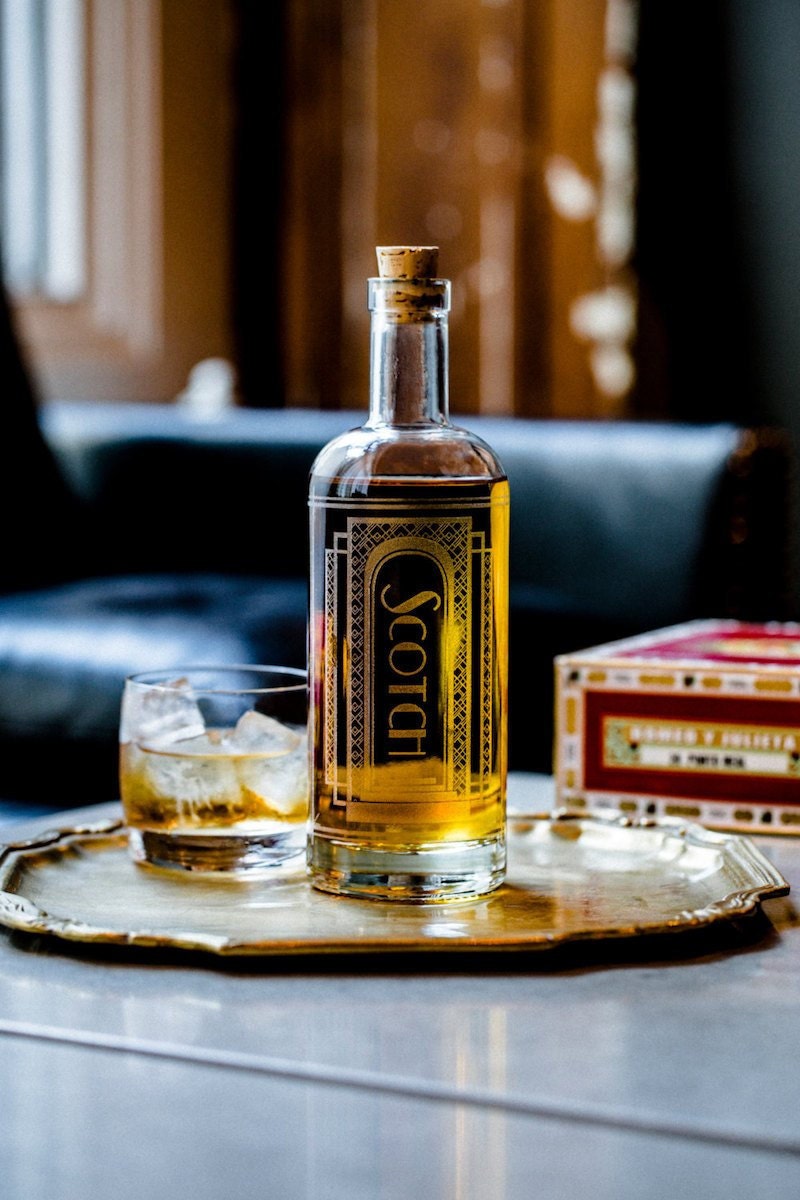 >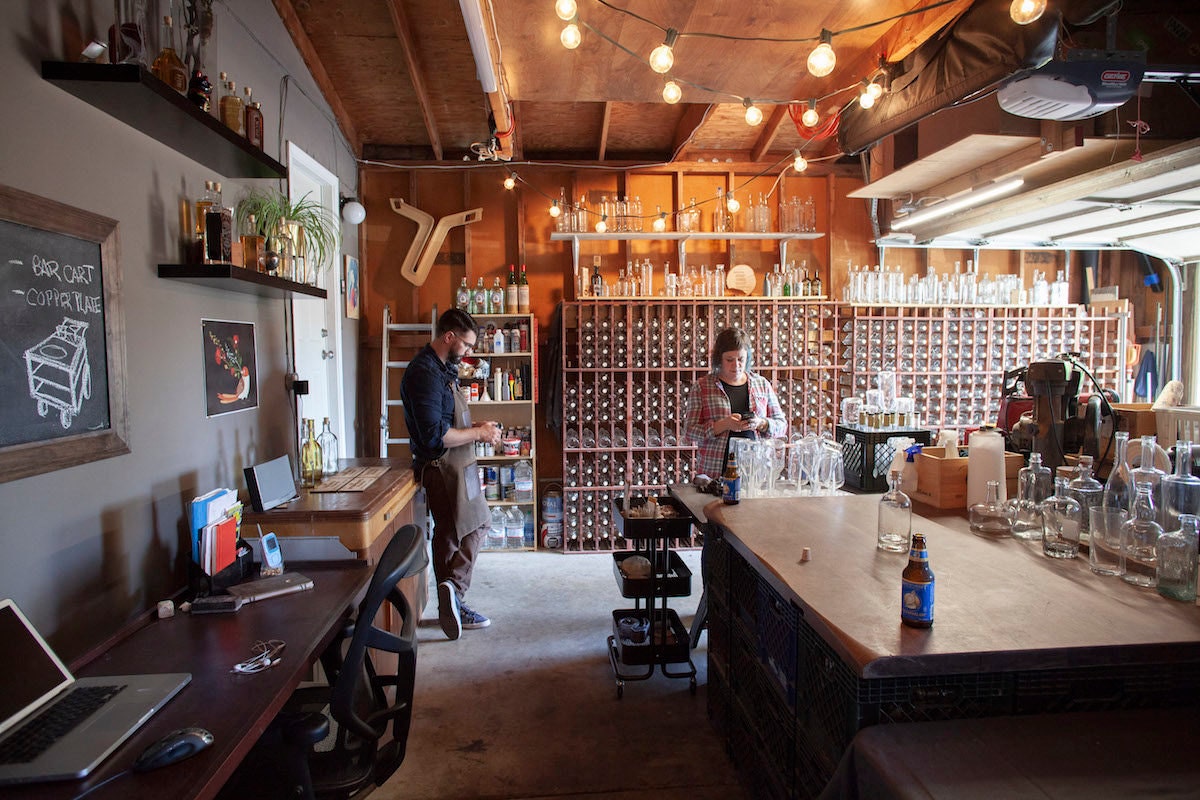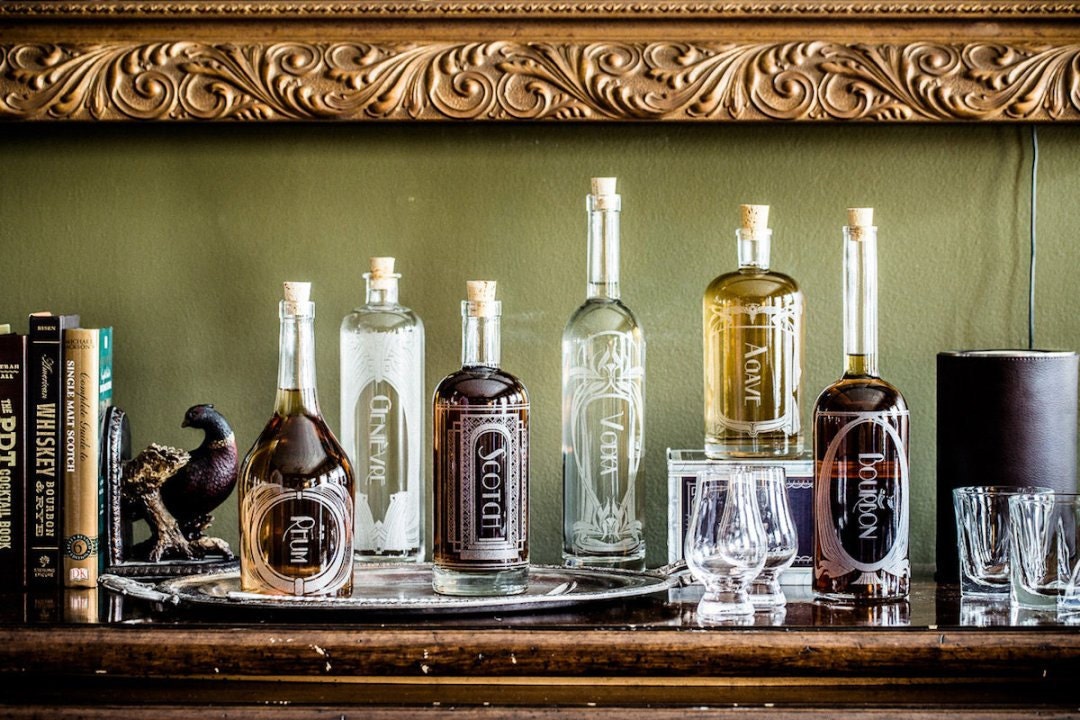 >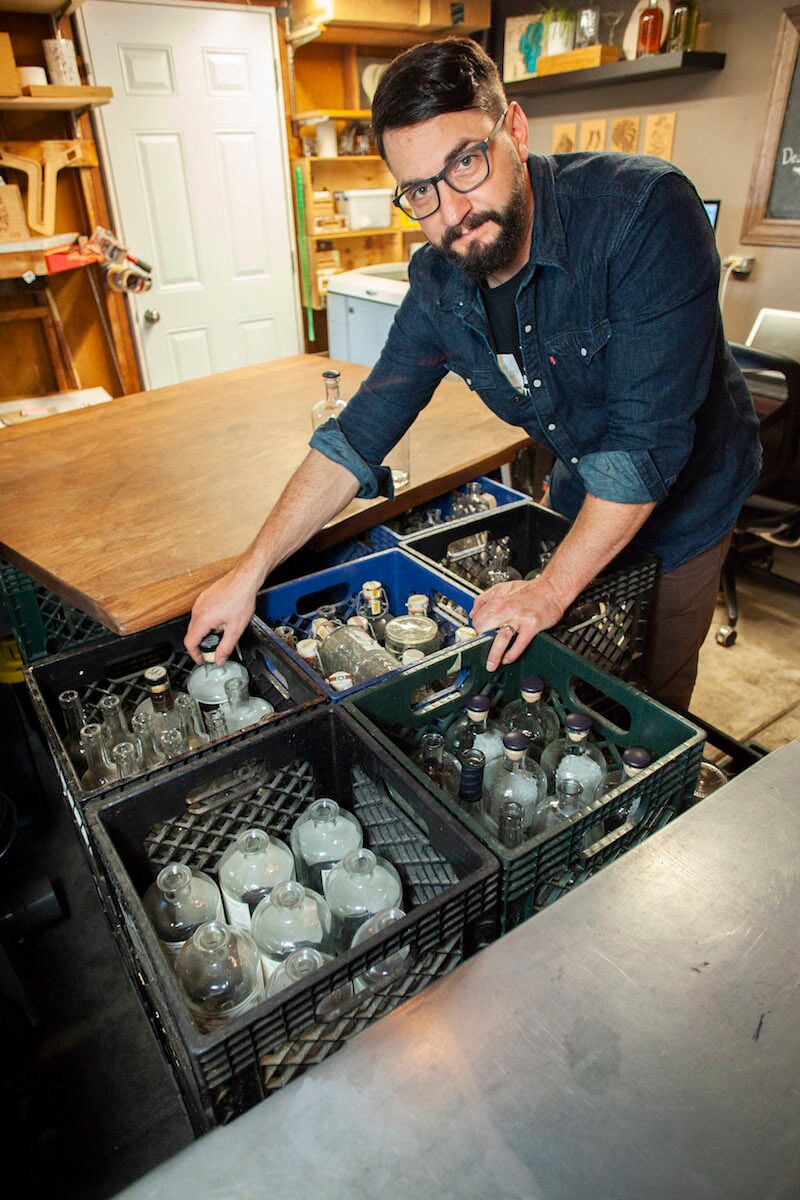 How has your shop evolved since then?
In 2013, we purchased our own laser machine thanks to a successful Kickstarter campaign. But 2016 was our biggest year yet, because we both quit the restaurant industry to commit full-time to our shop. Since then, we introduced cocktail decanters, and two
new collections
: We etch poems and quotes about booze in our Inebriated Intentions line—it's become a hobby for us to find new ones, and we have
a Pinterest board
with hundreds of drinking quotes! Our Intemperance line, which we released last holiday season, features square bottles. Since it's difficult to find recycled bottles that meet those criteria, we do purchase those. Our
Variance bottles
are still 100% upcycled, and our
Constance collection
is about 50% upcycled.
Do your friends and colleagues in the dining industry help you collect bottles?
Do they ever! We know bartenders who go out of their way to collect bottles for us so they can get to zero waste. It started out small, with the restaurants where we were working. Then, we began branching out, introducing ourselves to managers at other restaurants or bars where we liked to eat and drink. I build milk crates and make wooden signs with pictures of the bottles we need. When the crates get full, we pick them up, scrape off all the labels, and sanitize them. We etch special water bottles or carafes for the bars as a thank you.
Pre-Prohibition was what's referred to as "the golden age of drinking," when classic cocktails were popular and played to the strengths of the spirits. We source label design ideas from that time period. Deco and Art Nouveau were prevalent, but trends come and go. We like the fact that the home bar has existed through many different styles and eras.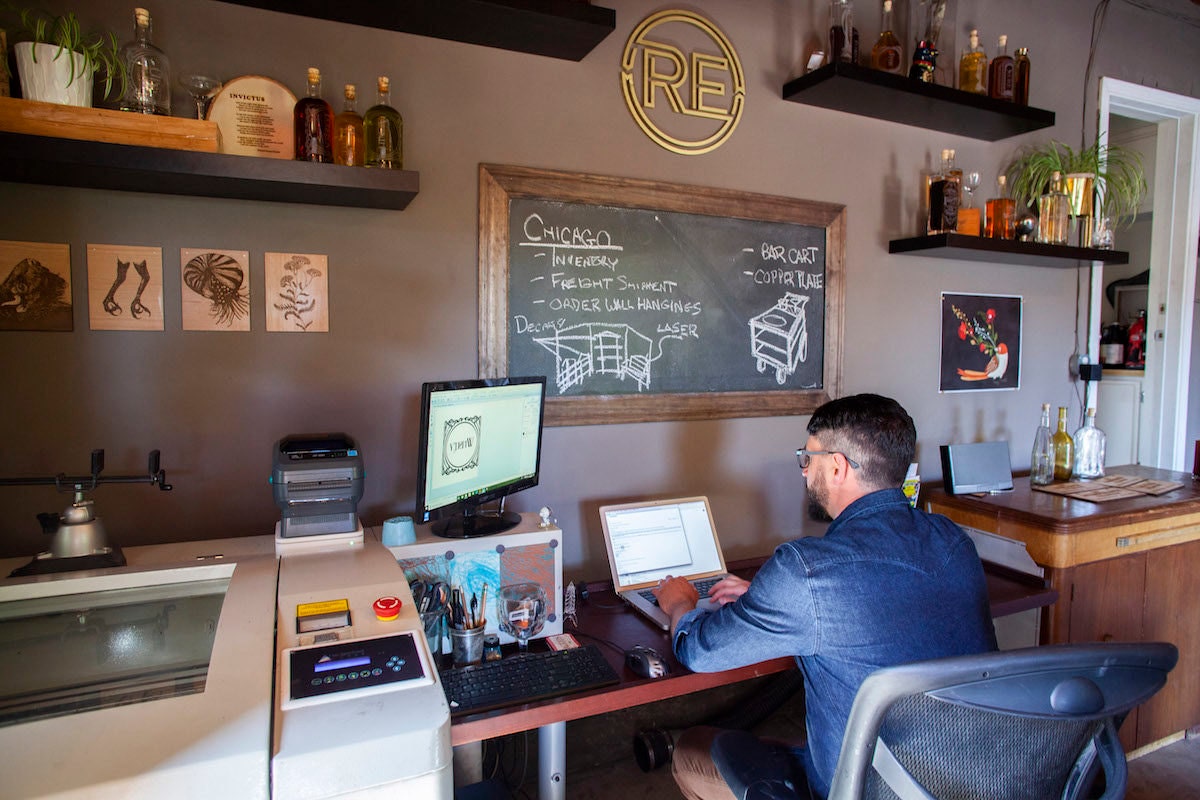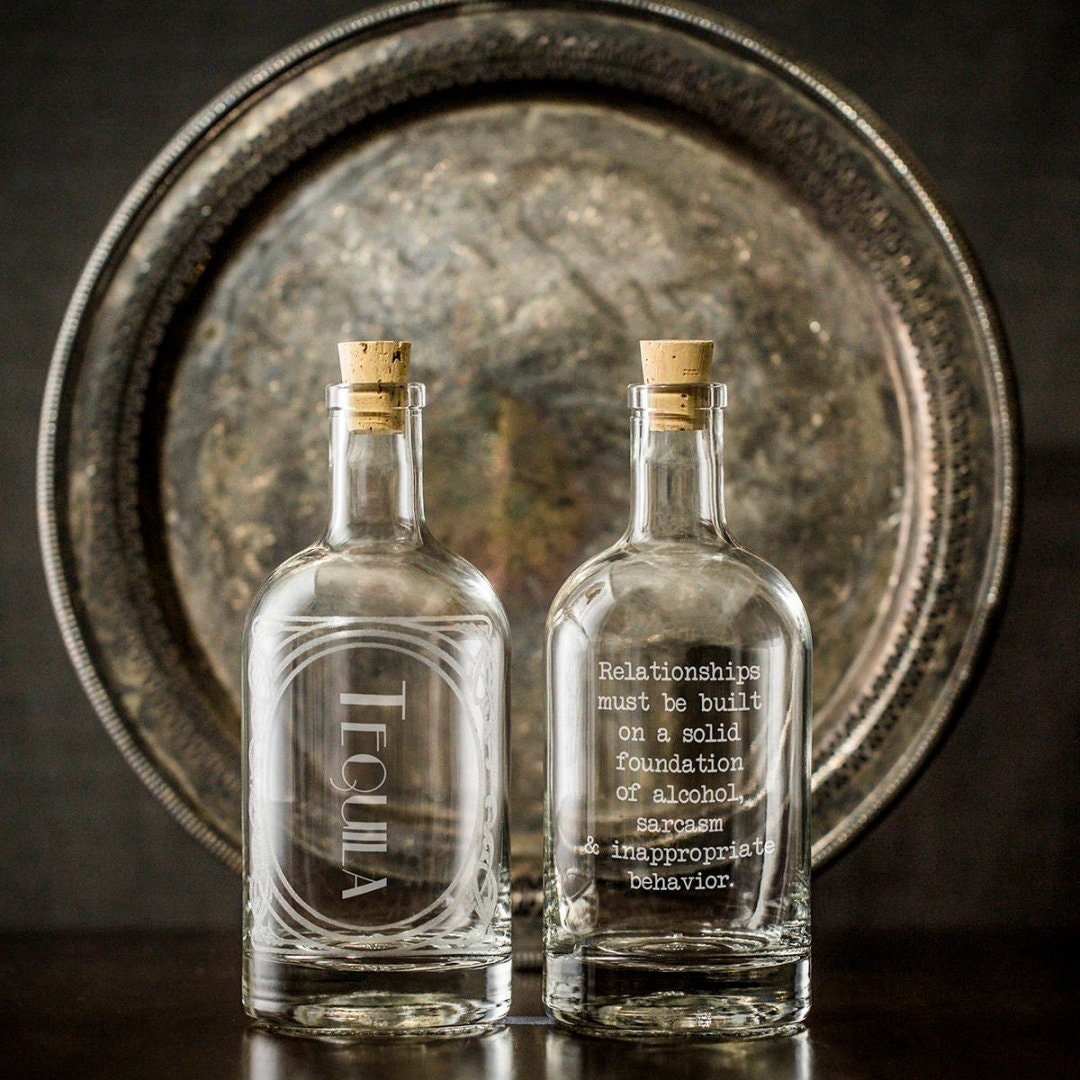 >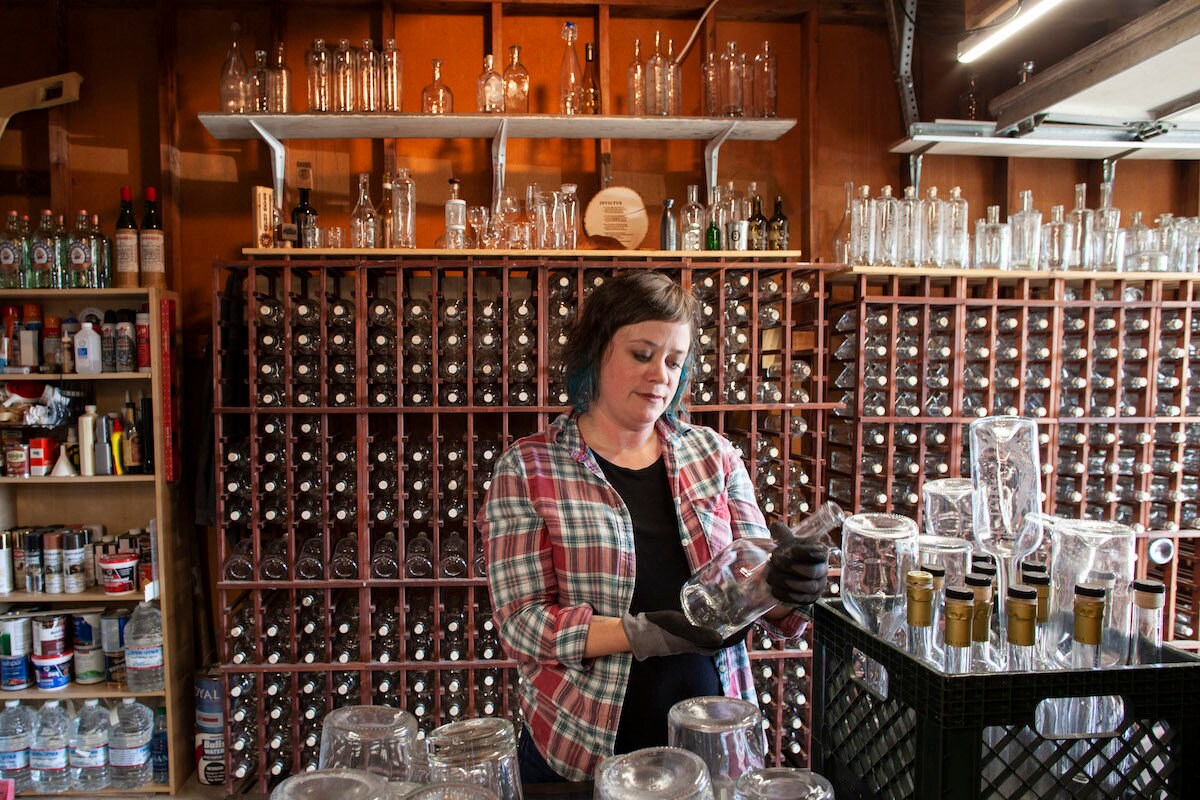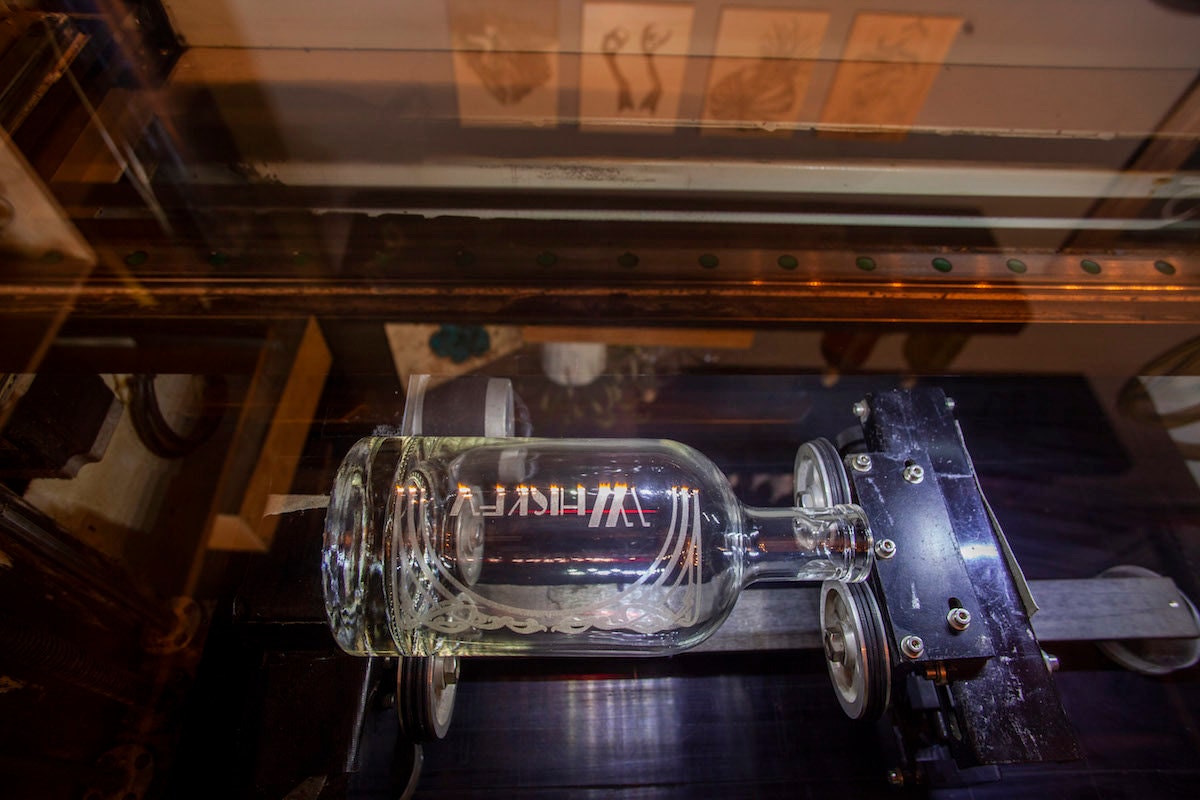 How do you choose the right bottles for the right spirits?
We use bottles that we feel speak to the spirit they're going to contain. But if a customer wants what we call a bourbon bottle to hold tequila, that's fine with us! The shape of a bottle doesn't change the way the liquor is stored or tastes. That's actually the most frequently asked question that we get about decanters. While a wine decanter will change a flavor profile, spirits are much more stable than wine. Spirit decanters do need to be properly sealed, though, because alcohol evaporates fast. That's why we ship our bottles with chemistry-grade cork.
Can you walk us through the process of how you go from an idea to a finished product?
The etching designs are very much informed by the bottles themselves. We'll make a test model and put it on the shelf in our home bar and look at it for a long time—and then redo it. Once we get to the point where we have a final product, we have that ready to go, but we're all about
custom orders and personalization
. So it's never really final—we're always changing our bottles to suit what our customers want.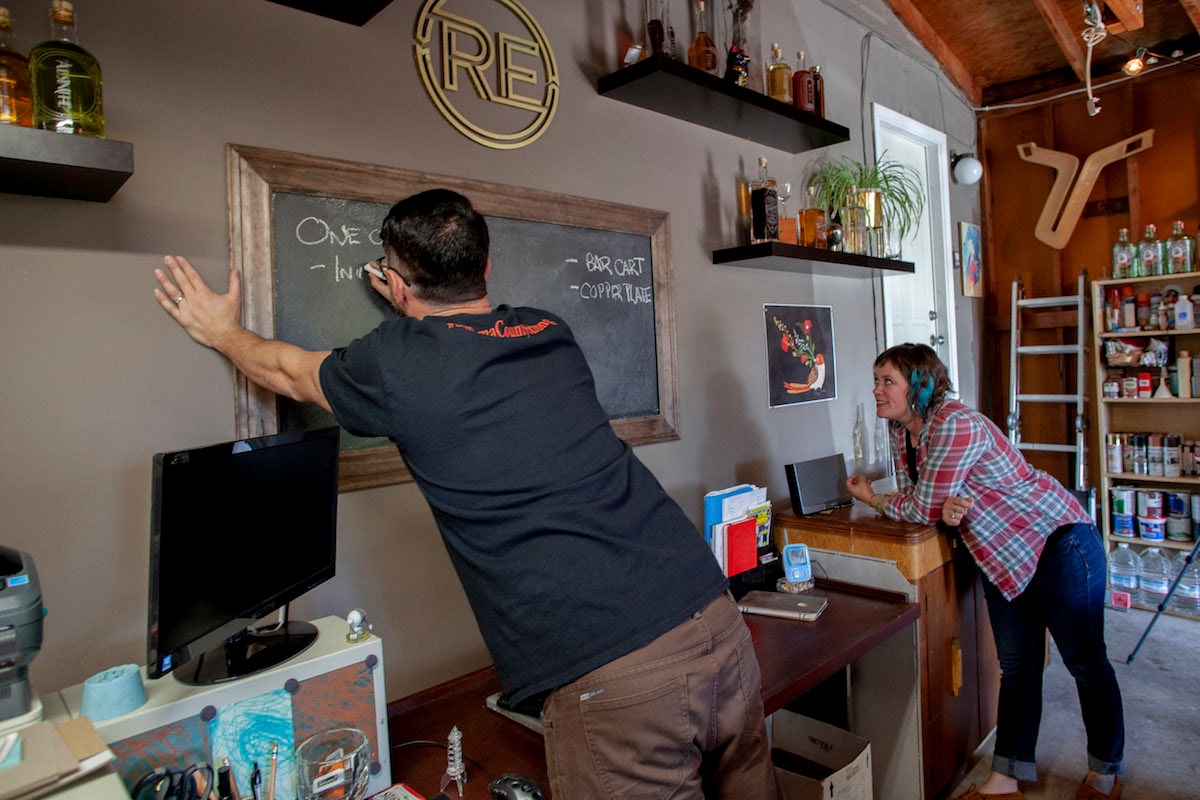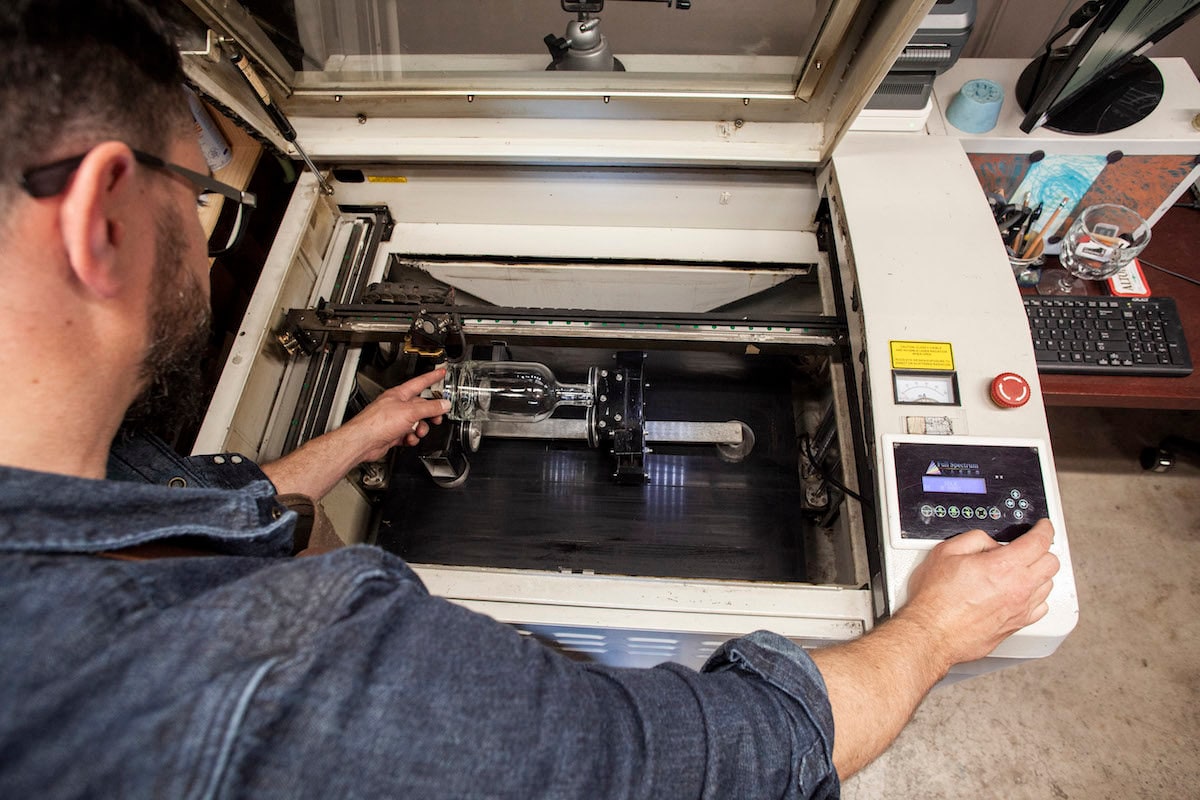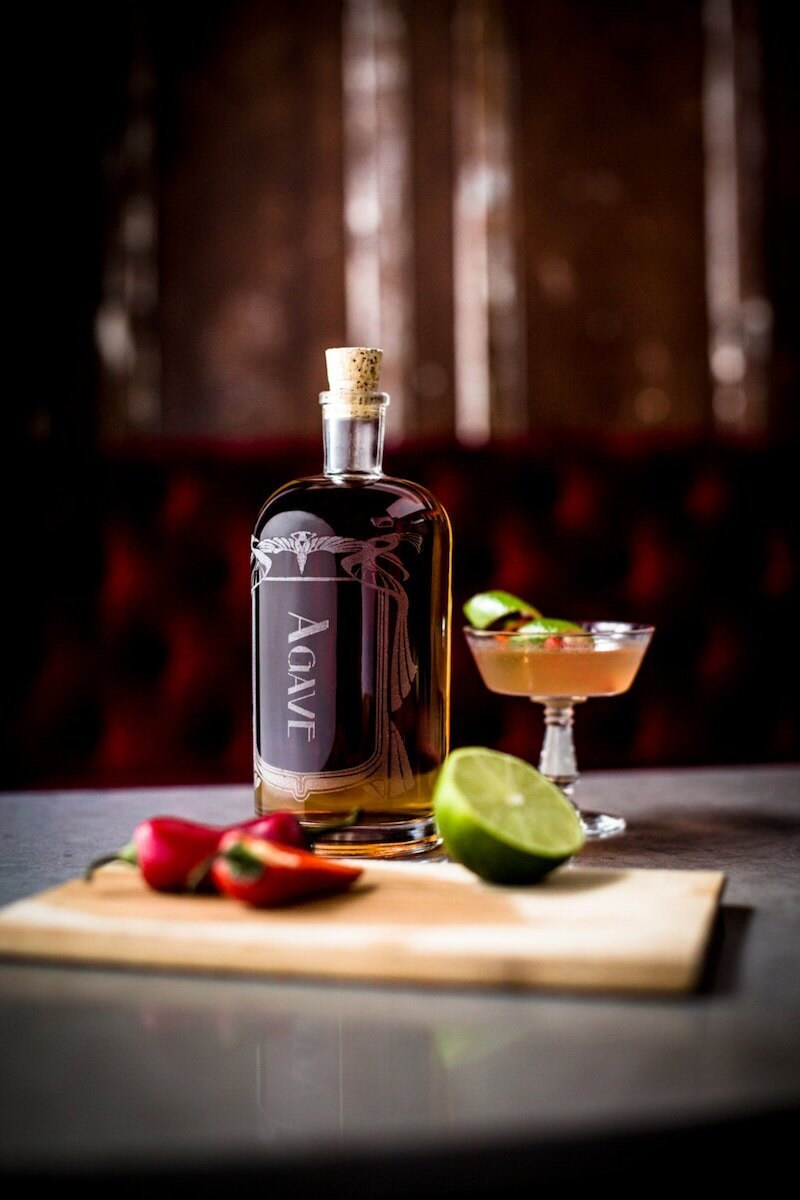 >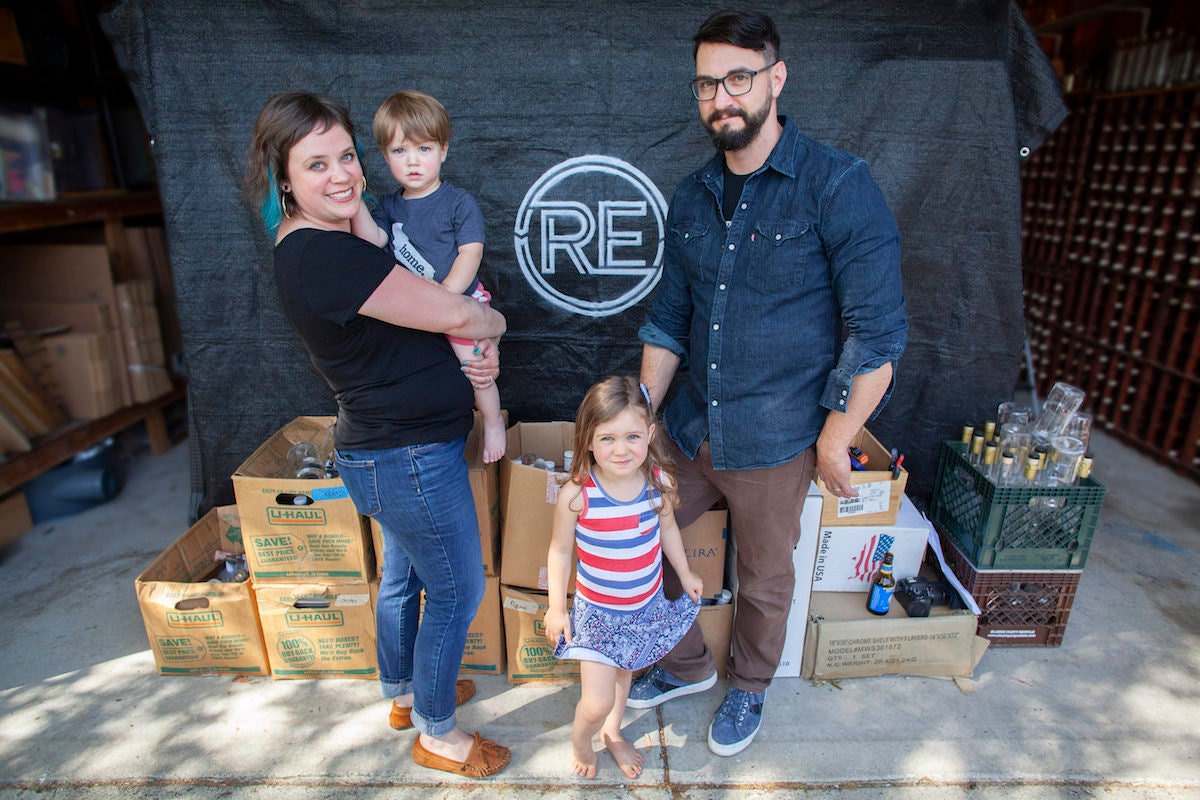 Speaking of custom orders—Father's Day is coming up. Can you share a story about an especially memorable order you created for a lucky dad?
We worked with a proud new dad who bought a bottle and had us etch his baby son's name and birthday on it. He said he was going to put whiskey in it, age it 21 years, and give it to his son on his 21st birthday. For people shopping for gifts for their own dads, we recommend finding out what his favorite spirit is, then thinking of something meaningful only the two of you know about. We can etch that into the bottle to commemorate the occasion, and create a permanent memory.
This fall, we're planning to release a midcentury collection, and we've also started experimenting with copper plating on vintage bar tools. We love looking for ways to upcycle discarded items into things people want to own again. That's one of our core values—finding products that may have gone out of style and using the tools at our fingertips to reinvent them and make them appeal to the modern world.
Follow Reclamation Etchworks on Instagram, Facebook, and Pinterest.
Photographs by Alana Rios unless otherwise noted.