by Valerie Rains
Inspired by the creative process, this innovative designer has combined laser-cutting and resin casting to create a line of thoroughly modern jewelry.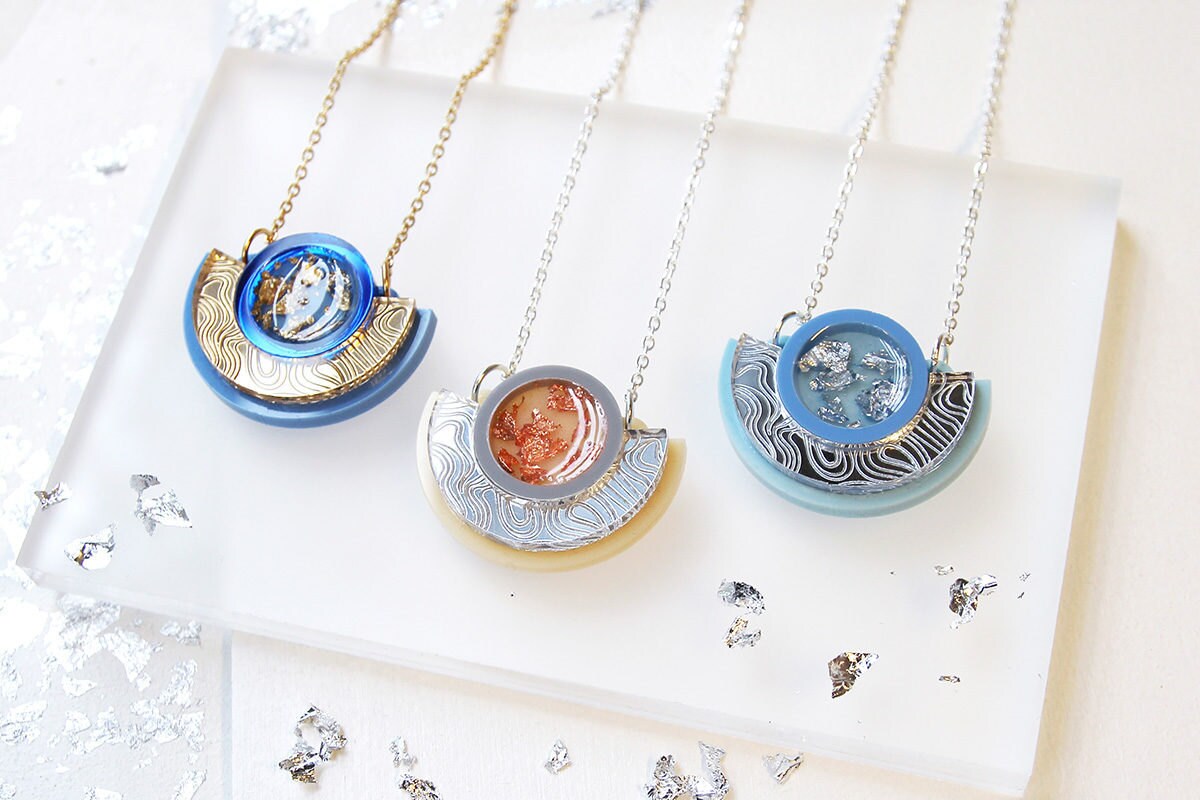 The daughter of an artist and a textile designer, 
Rosa Pietsch
 studied fashion design at university in Brighton, but found her true calling — and her signature style, a hybrid process of laser-cutting acrylic and resin casting — through a series of serendipitous events. First, there was the decision to make a few pieces of statement jewelry to pair with her graduate fashion collection. Then, the happy coincidence of studying computer-aided drawing and Illustrator, essential parts of the laser cutting process, at the same time her father was teaching her how to work with resin. "I was really just sort of experimenting with the two processes — and really enjoying it," Rosa recalls. After selling a few excess "experiments" at London markets (and receiving a good amount of friendly encouragement),
Rosa found herself opening an Etsy shop
. It has since blossomed, like her vibrantly colored floral necklaces, into a wholly unique creative endeavor — and Rosa's primary source of income.
Read on to learn where Rosa finds inspiration and what she loves about her one-of-a-kind work process, and shop her collection here.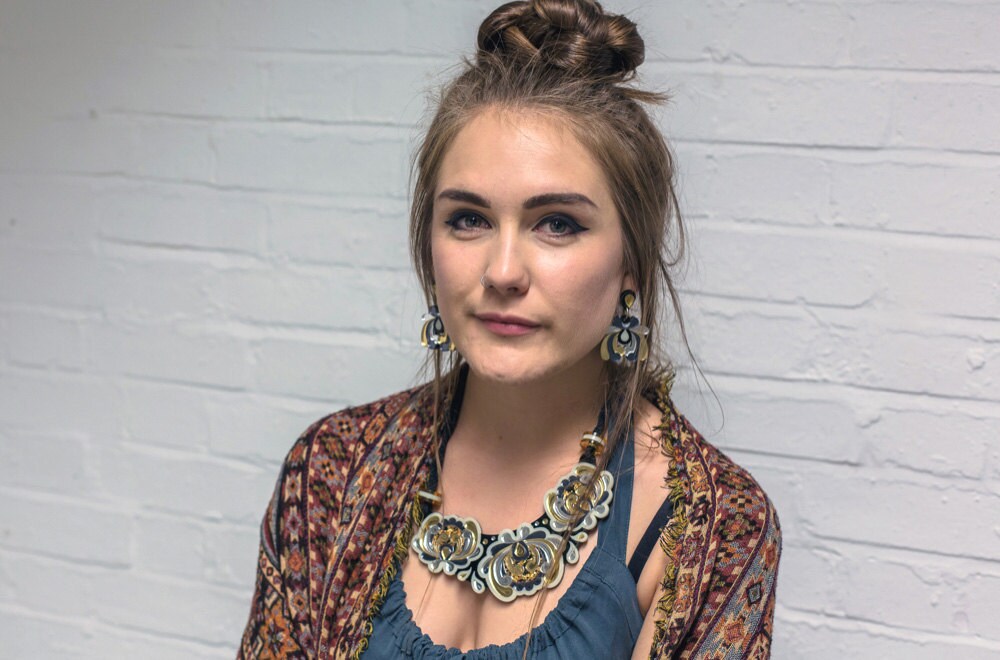 If you had to choose one thing that makes your work really different from everyone else's, what would it be?
I'm not sure if it's apparent to my customers, but I know that for me, it's my process. I work in a slightly different way than a lot of laser cut designers in that I'm combining a very slow, traditional, time-consuming process — resin casting — with a very modern, precise, fast one. This process makes my work stand out because it has this slightly unpredictable finishing touch — even if a piece could be replicated on the laser hundreds of times, you're never going to get quite exactly the same finished product. Also, the fact that my inspiration comes from textiles and patterns rather than jewelry results in some
quite unusual pieces
.
What drew you to these specific materials in the first place?
It was kind of a coincidence that I ended up combining the two, really. When I was back at university finishing my graduate collection, I wanted to make some
big statement jewelry pieces
to go with the outfits I had designed. And I'd seen my dad's work with resin, I'd always thought I'd like to give it a go, so we worked together on some resin jewelry. After seeing the resin casting process, I found it really interesting that you can suspend materials in resin and it almost looks like ice. I started going to visit my dad on the weekend so that he could teach me a bit more about using this material. While all this was going on, I was also learning about Illustrator and computer-aided drawing through a course that I was taking in the evenings after work. I think it was because I was working on these two processes at the same time that it struck me that I should try combining them. I couldn't find anyone else who was doing this, and I just thought, there's this one process that's really laborious, it's traditional, and it's unpredictable, and then you've got laser cutting, which is completely precise; I liked the idea of combining these processes and thought it would make an interesting result. Luckily, it worked, and I was really happy with the outcome.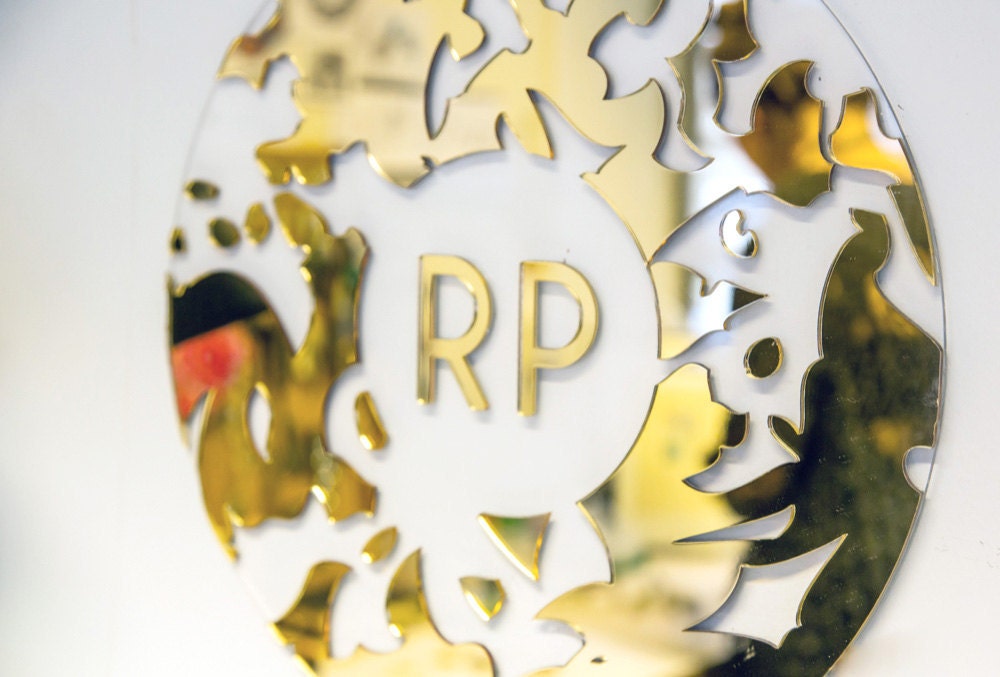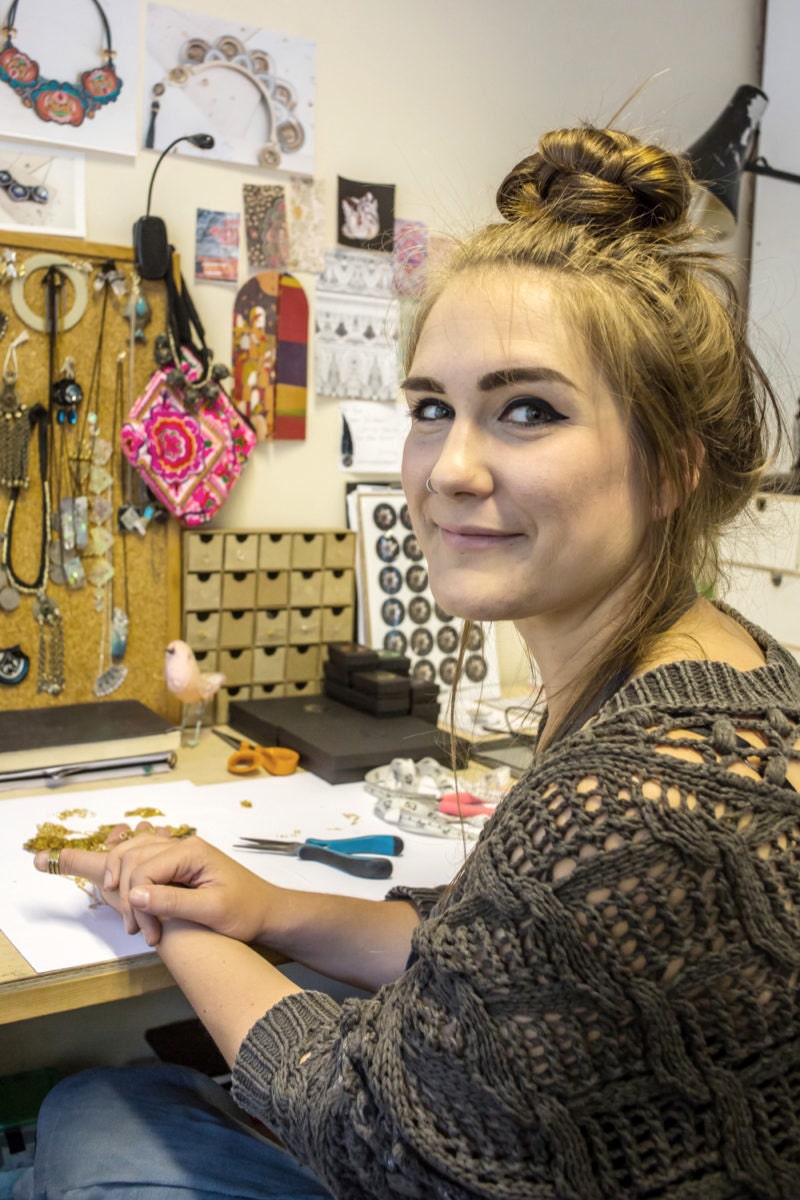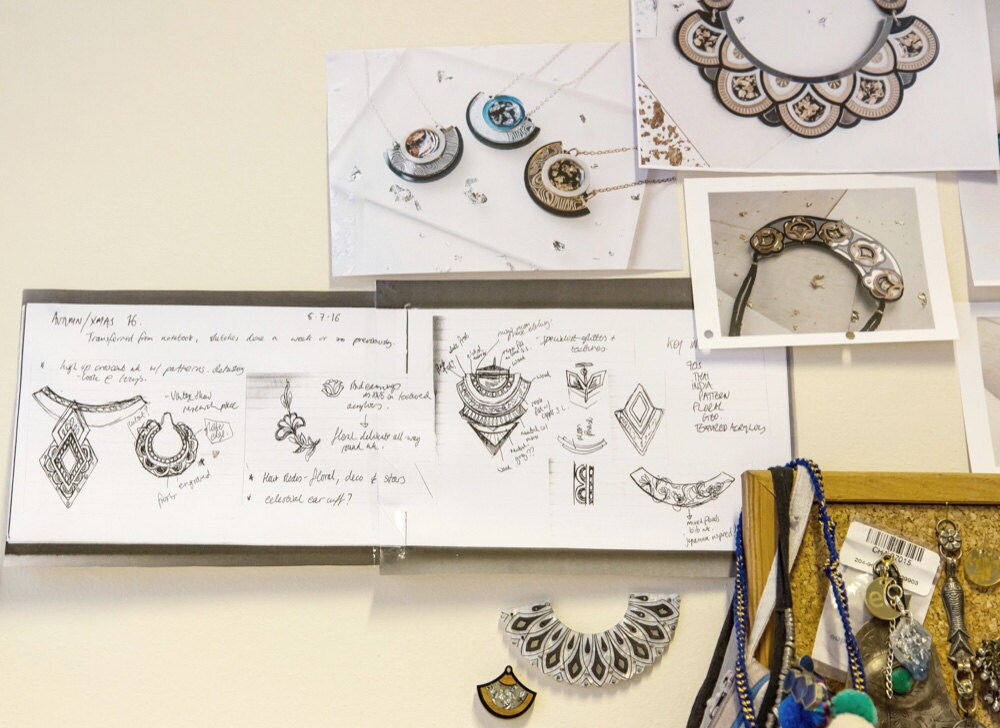 Your work and aesthetic are so distinctive — did it take you a while to develop your style? Or do you see your style as always changing?
I think it is probably always changing.
When I first started making these pieces
, I was just testing out the materials in different colors and different combinations, so I don't think the designs were very evolved — partially because I was working full time in a design job for someone else at the time. As I became more confident with the materials and the processes I was using, that's when I started to think more about the inspiration behind the shapes in my drawings, and that's when my designs started to become more complex. At the time, my job was working with textiles, and I was always surrounded by these beautiful prints and embroideries and doing research trips and working with artisans in, say, India and Thailand. I found it so inspiring, and I thought that prints would translate really well into jewelry because with laser cutting, you can cut basically any shapes you like. I am always experimenting with new sources of inspiration, but I reckon I do gravitate toward textiles, print, embroidery, and travel. I've had a lot of influence from Indian textiles, and 
the tropical necklaces I designed last year
were inspired by a trip to Thailand where I picked up some beautiful embroideries.
Is there any place that you're feeling especially inspired by right now?
My first proper internship when I was at uni was with a block printing company in Rajasthan, India, which is well known for its beautiful textiles and prints. That was unfortunately so long ago now that I'm really hoping to go back as soon as possible: There's just such a variety and wealth of different textile patterns and techniques and motifs that you can see in Indian textiles. Apart from that, I've just begun looking at some vintage English textiles for the first time, which seems a bit weird, but I guess because I am English it's never really occurred to me that that would be a source of inspiration. I'd also really like to go to South America, which would be a completely new source of inspiration for me. I'd love to go to Mexico and immerse myself in their fabrics and textiles and see what comes out of that.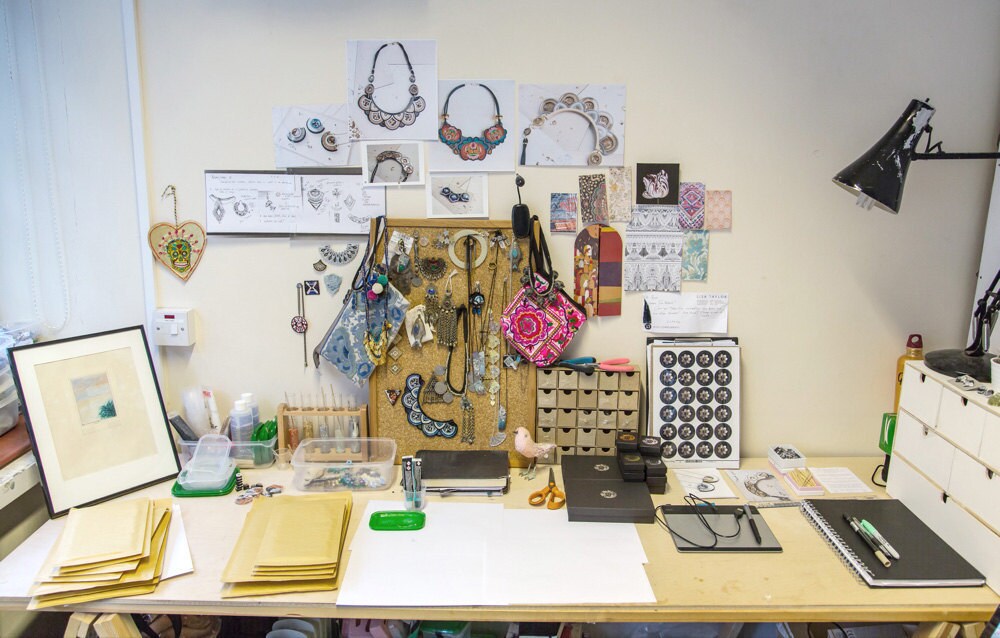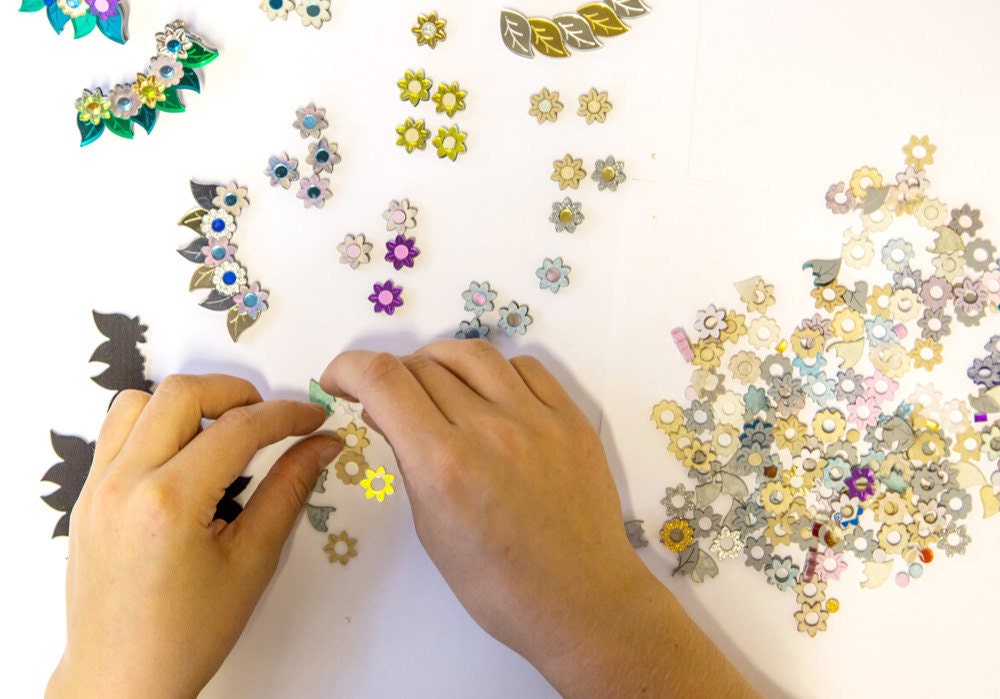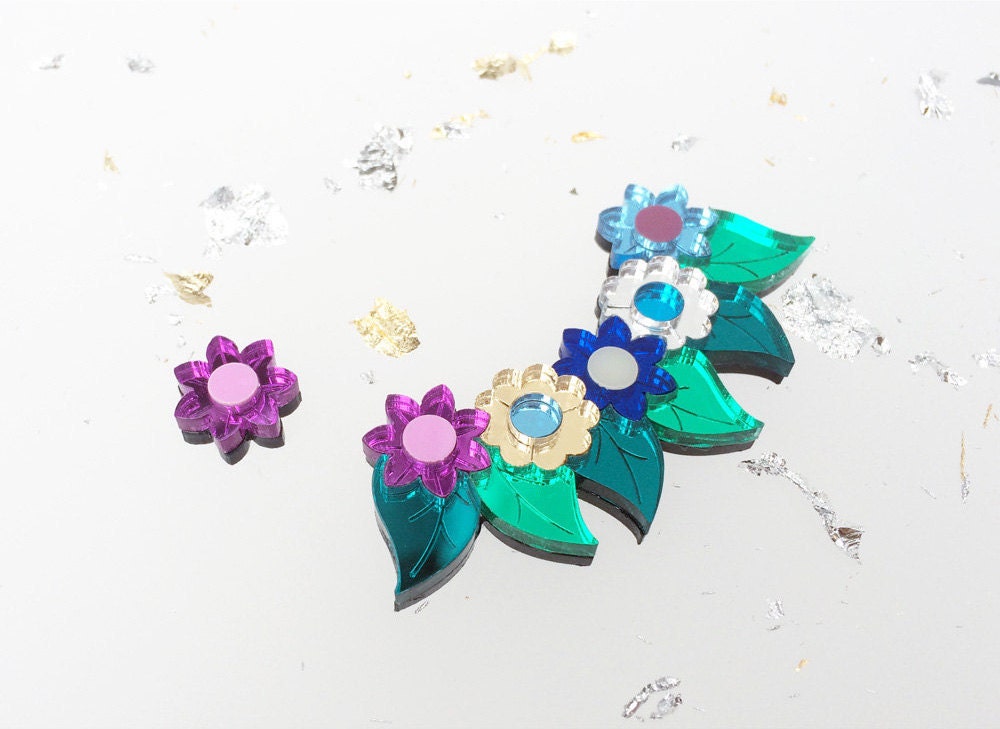 How do you go from an idea to a finished product? What's your workflow like?
I often sketch things out by hand to start, but as I've become more adept at computer artwork, my sketches have gotten messier. After that, it's a pretty tech-y process; I use a graphics tablet to draw everything up, and then it's a case of really zooming in on my artwork to make sure everything looks perfect and there are no mistakes. It has to be exactly how you want it before you take it to the laser cutter because it will cut your artwork out completely precisely. Once I've done my artwork, I'll put it into Photoshop and try out different colorways. After that's ready and I'm satisfied with it, I do the laser cutting. A lot of people send their artwork out and have it cut for them, but I'm lucky enough to have my studio near a workshop where I can pay to use their laser cutter, so I go and do all of that myself. Then I assemble the pieces really carefully, making sure it's nice and neat and properly adhered. If it's a piece that involves resin, which is my signature finishing touch, then I  hand mix and cast the resin, and that's where I have to be very, very careful and precise. My work surface has to be very clean and level, and there's quite a lot of babysitting the resin to make sure that there are no bubbles and the finish is looking nice and clear. If I'm using gold leaf, silver leaf or copper leaf in a piece, I flake that by hand into the resin before finishing the process. Once that's done, it's another 24 to 48 hours of the resin curing until it's completely solidified and ready to have the chains or brooch backs added on. So it takes a lot of forward planning to make sure I've got enough pieces ready for, say, a market. And it also takes a lot of precision: If you get your measurements wrong with the resin, it'll stay sticky forever, which is a nightmare. It's been lots and lots of trial and error and quite a learning process; I've still got some of my first pieces, and I can look at them now and see where I went wrong.
What have been some of the best-selling items in your shop?
I tend to get waves of bestsellers; I don't know what it depends on, to be quite honest. When I first did the
engraved arc
and
engraved fan designs
, which are all metallic, mirrored acrylics in a single layer, they did quite well at markets as well as on Etsy. I think that was because they're quite every day, even though they still have a lot of detail. Last year's
psychedelic
and
tropical florals
— in particular,
my drop earrings
— were also very successful because they're surprisingly light to wear, considering they're such big statement earrings. They are really eye-catching and can transform your outfits, but they don't weigh your ears down, which does seem to matter to a lot of people. Then the
mountain rocks
, which are something totally different, they always do really well at markets and they do well online when I have a batch. Those I make far less regularly because I have to make them in my dad's studio, which is miles away. For cast pieces, you use a different kind of resin and you really need a big open space with lots of ventilation, so I usually just tie that in with a visit home. They're very ad hoc, just when I have the time and the resources to make them.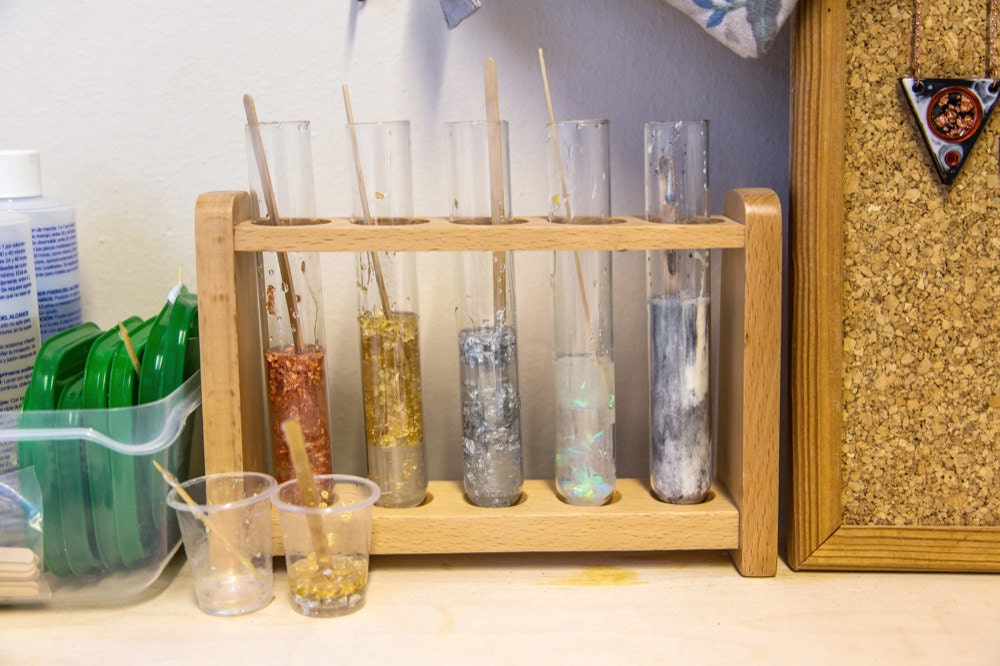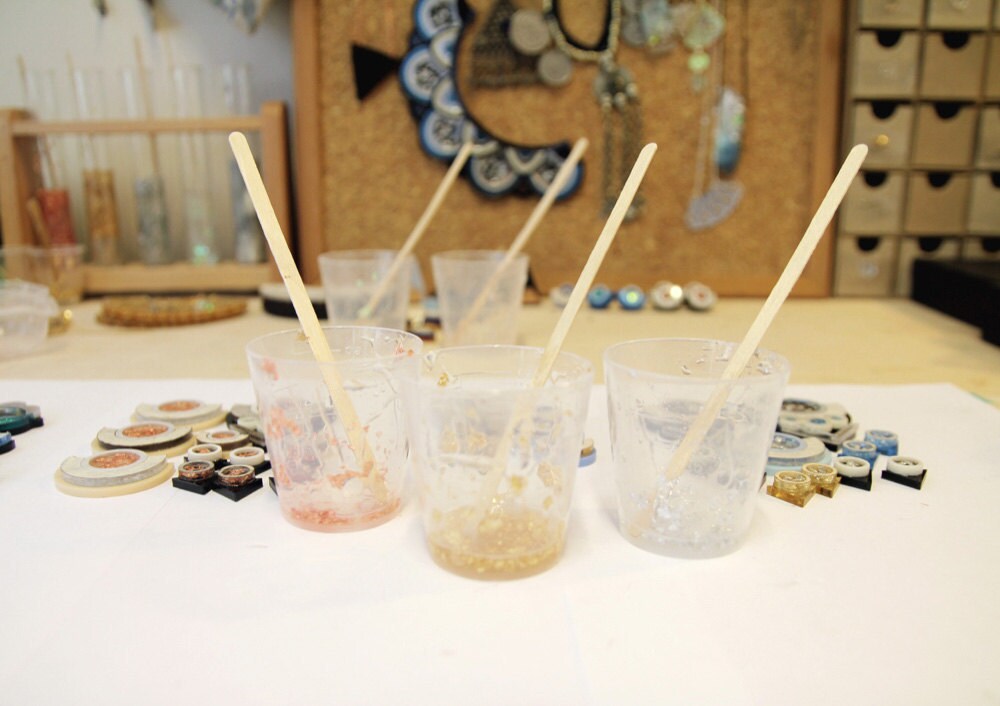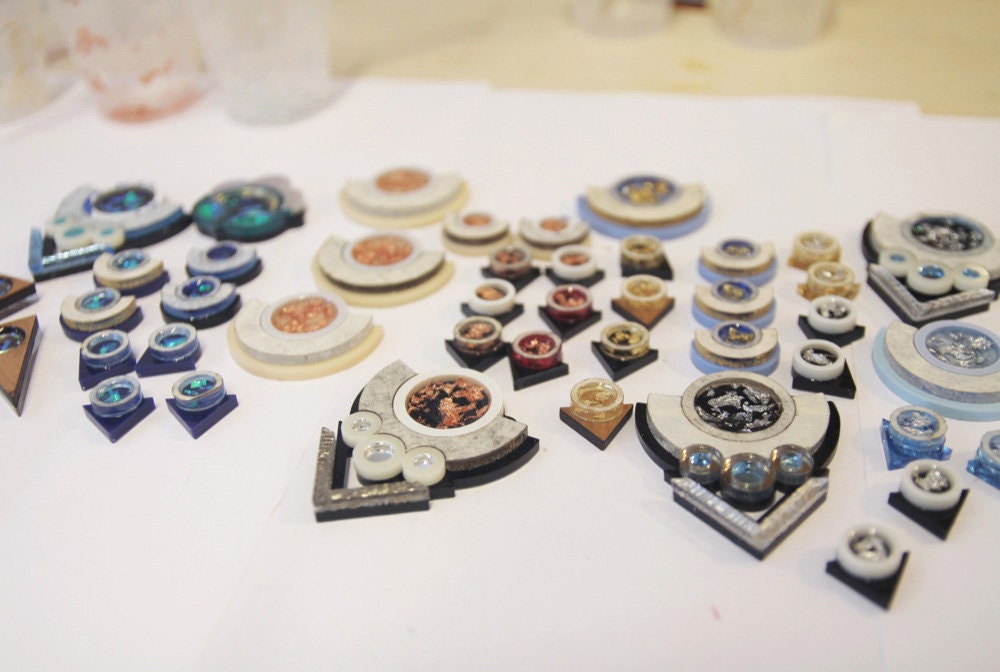 Do you feel like you have a typical customer, or is there a wide range of people who are interested in your work?
It's interesting with Etsy, because you don't really know who you're sending your stuff to. I've been getting more and more orders from the States and Australia, and I've been kind of wondering who I'm selling to and what they're like, and that's always really fun. When it comes to selling face to face, I do have quite a range of customers, really — a lot of stylish girls in their 20s who wear vintage clothes or whatever, and might go for a statement piece for a festival. But then a lot of really cool older ladies will go for the big statement earrings and necklaces, and they might buy a set and wear them to a Christmas party, maybe. So I'm still always learning, really, who likes my stuff and what they want. I learn the most from doing these events and markets where I can talk to people and get to know them a bit.
 Do you have any creative heroes, or other artists or designers whom you admire?
Yeah, there's loads! My godmother, 
Georgina von Etzdorf,
is an amazing textile designer; I wouldn't say I necessarily align my work with hers, but I'm inspired by her work ethic and her determination when she was younger. She was creating some very artistic textiles and trying out lots of new processes and new techniques, and just through her determination, she was able to set up a successful company. That's inspiring for me, because if I ever feel like it's not going so well or I'm not selling enough, I remind myself that it's not an overnight thing, and she got where she did through being really determined. As for design inspiration, when I was at uni I was studying fashion design, so a lot of the designers I was influenced by, it might not seem like translate directly into jewelry. I did intern at Vivienne Westwood very briefly in their jewelry department;  that was great because she's just incredibly bold and always stuck to her guns. Designers like Dries van Noten, who create really beautiful textiles and really heavily embellished work, I always found really inspiring when I was at university and I still do now, along with classic brands like Marni, for their bold prints, and Marimekko for their folk colors and prints and graphic florals. But also, the company I used to work for, they work with artisans in India who are small family businesses, and they are amazing — their skill is just unbelievable. That's an inspiration as well because that's something they've passed down through families, and creating these amazing textiles is part of their everyday life.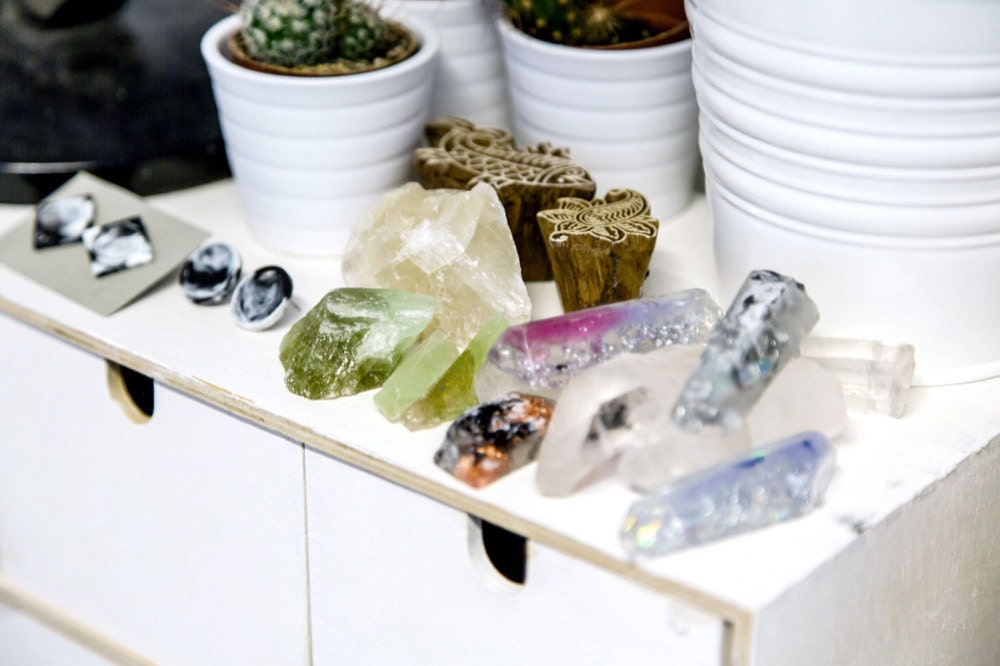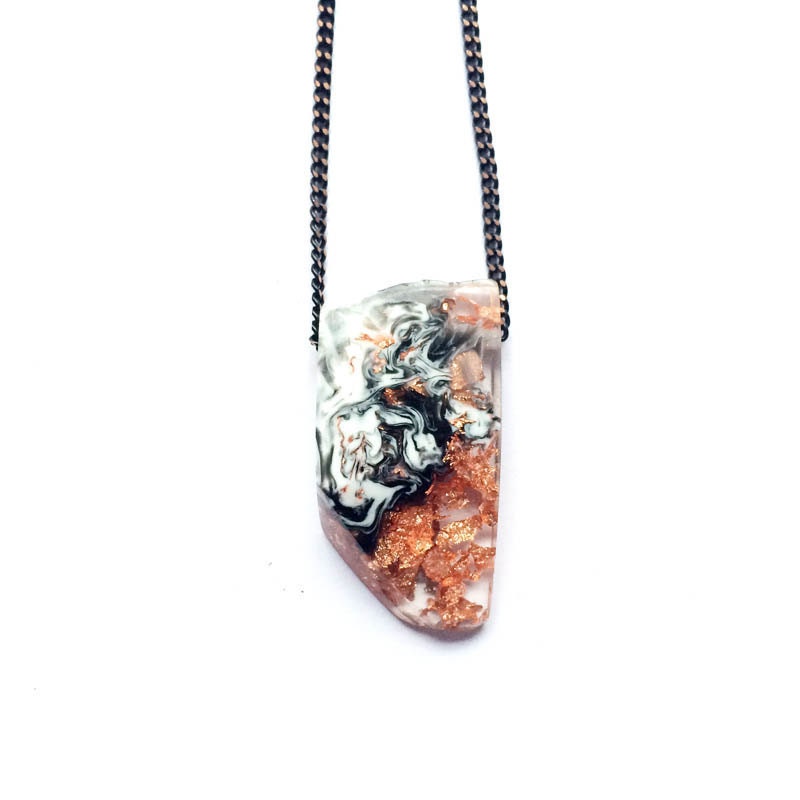 What other art forms or mediums do you enjoy working in?
At the moment it's just the jewelry, but I really miss working in textiles, print, and embroidery, and I'm hoping to make myself make time for that again. I've recently developed a couple of printed notebooks, and I've really loved working in a different way to produce something printed. I would love to do more textiles again, maybe have some soft accessories made, and then perhaps more printed paper products, like notebooks and wrapping papers. I think although the products are really different, the processes can overlap; I'm already doing a lot of drawing and pattern-making, so it would make sense to work more in printed goods.
Are you experimenting with any new products or processes these days that you're excited about?
Definitely — I'm always playing with new ideas, new color combinations, and different materials. Recently I have been experimenting with doing more mold making for cast resin pieces — and doing it in a way that I can do from my own studio, so that it can become something regular. The goal is to create my own finishes that you can't find in sheet acrylic, making my pieces even more bespoke. I've been making molds from laser-cut shapes, so the precision and the edge is the same as a laser cut piece, but I'm casting resin into the mold. I'm also looking at new materials and pigments and dyes that I can mix in with the resin; I currently use gold, silver, copper, and holographic, and I want to branch out from that and find some new textures to mix in. I'm really excited about that.
Follow Rosa Pietsch on Instagram, Twitter, and Facebook.
Photographs by Rosa Pietsch and Nicholas Jessup.