"Our family defines Smiling Tree Toys, and Smiling Tree Toys defines our family." Meet parents, partners and wood toymakers Kathleen and Justin Smith.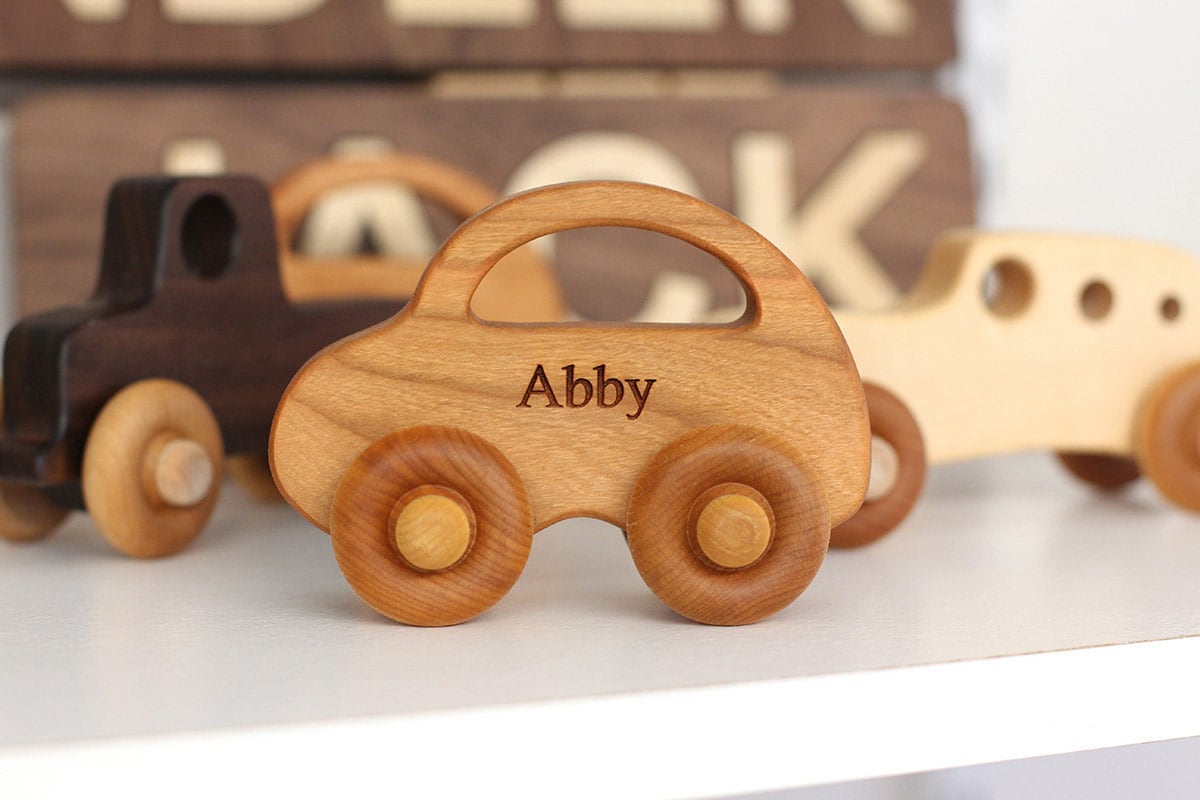 Kathleen Smith and her husband, Justin, run their handmade toy business,
Smiling Tree Toys
, from a location very close to home — that is, in a classic red barn on the same property as the rural-Minnesota farmhouse where the two live today. But the endeavor has its roots in a life the couple once shared on the opposite side of the world, when they spent two years serving in the Peace Corps in West Africa. "We got back to the States in 2010 and just kind of looked at each other and were like, 'Now what?'" says Kathleen. In Africa, they'd lived in a remote agricultural community, working in environmental resource management. "Even though there were a lot of hardships in West Africa, there were a lot of great simple things about life there, too," she says. "That was something that we wanted to carry over into the life that we created here in the States." So they rented a farmhouse near where Kathleen grew up, and Justin set up a woodworking shop where he began making a few home decor items; his focus shifted to children's toys when the couple was expecting their first child. "To be quite honest, I never ever thought I'd end up moving back here," Kathleen says. "But it's funny how things come full circle in life sometimes."
Read on to learn how their family life informs every aspect of Justin and Kathleen's business, and shop the collection.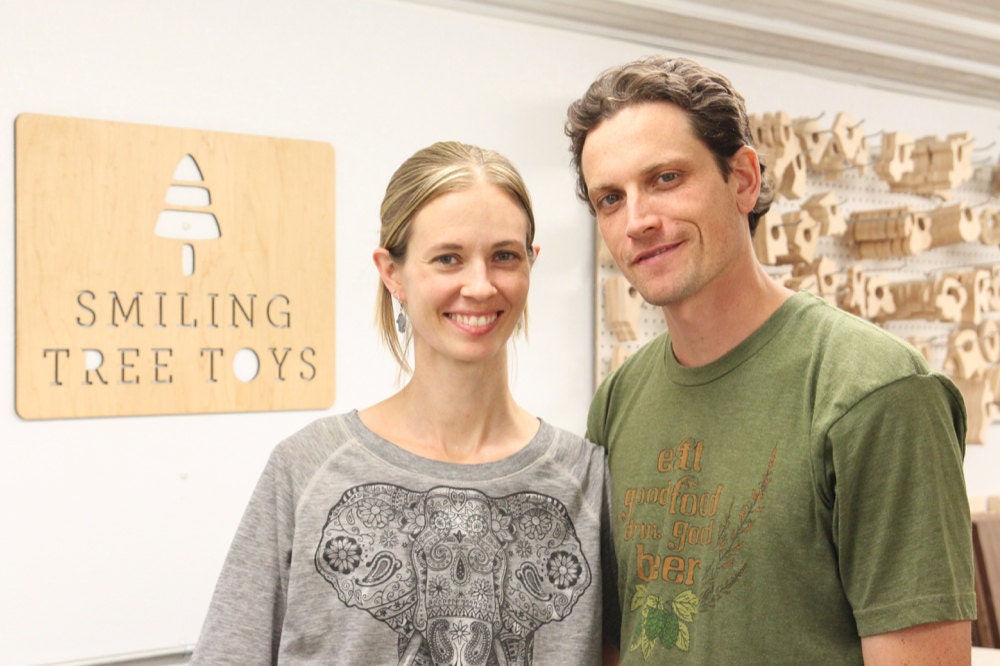 You talk about living simply, and it seems to be reflected in the toys, too.
Above all, we want to create quality over quantity. That's a guiding principle in our lives, both as consumers and as parents. Our goal is to create
toys that are heirlooms
, toys that are going to last. When we're designing, that's always in the backs of our minds. Safety is number one, but second is how can we design and create things that are long-lasting, that people are going to want to save and pass on to their kids.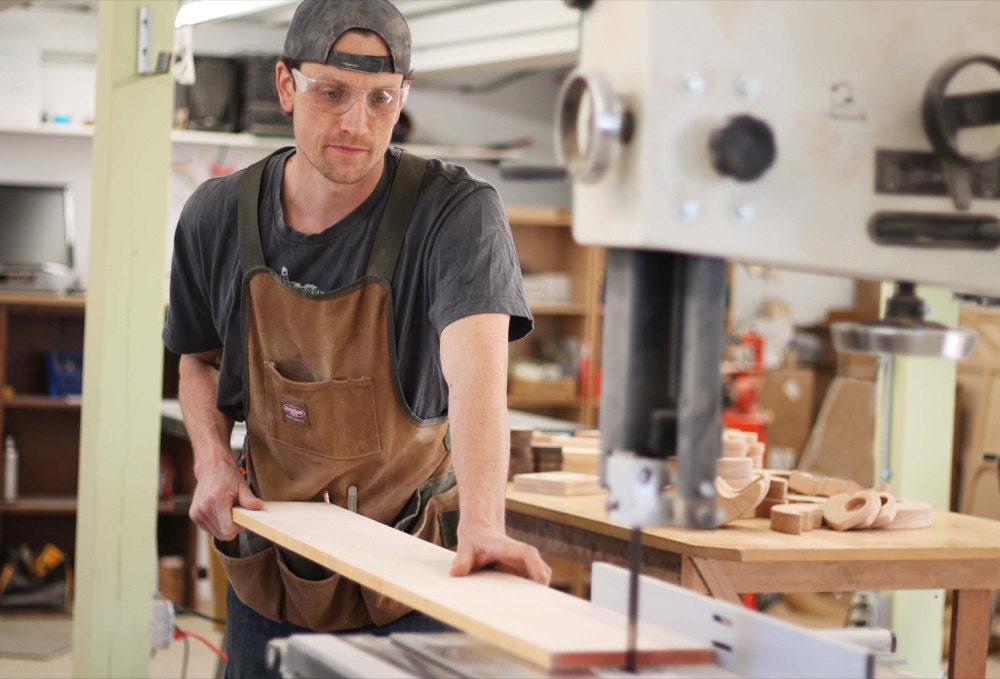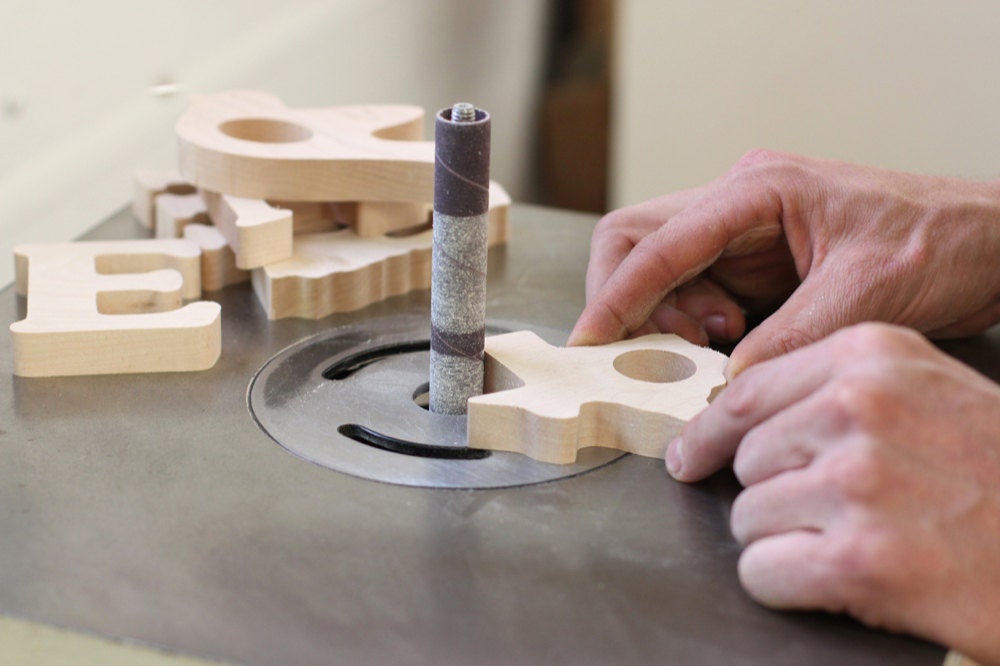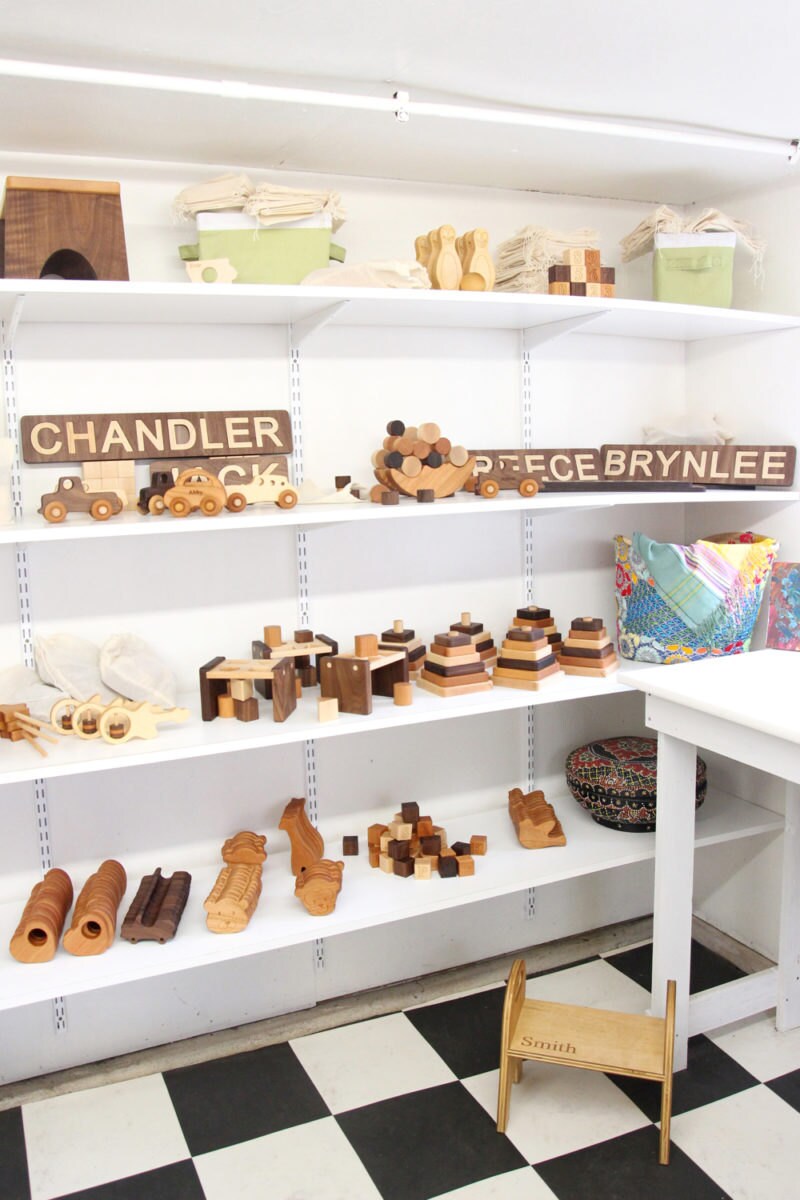 Speaking of, what toys do your kids like the best?
Our son is three, so he loves anything on wheels. And our different sets of
building blocks
are just such a timeless, classic toy. Whether it's our six-year-old daughter or our one-year-old, they just love building with them, knocking them over, and building more!
It must be so nice to work with your family!
Our family defines Smiling Tree Toys, and
Smiling Tree Toys
defines our family — and in a good way. We don't have that separation between our professional and personal lives, but for us, that's actually how we love it.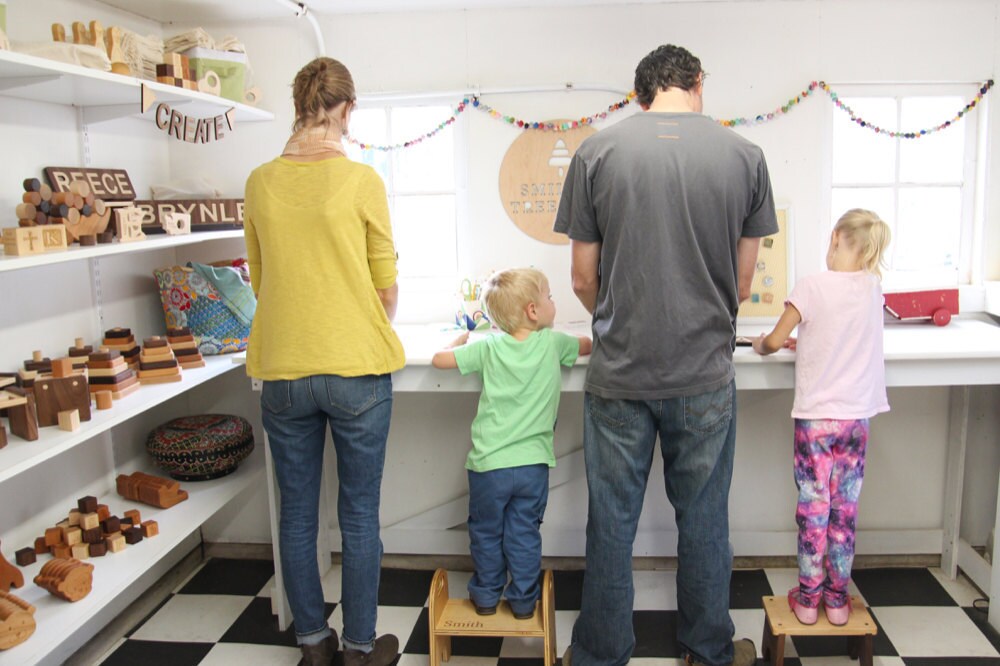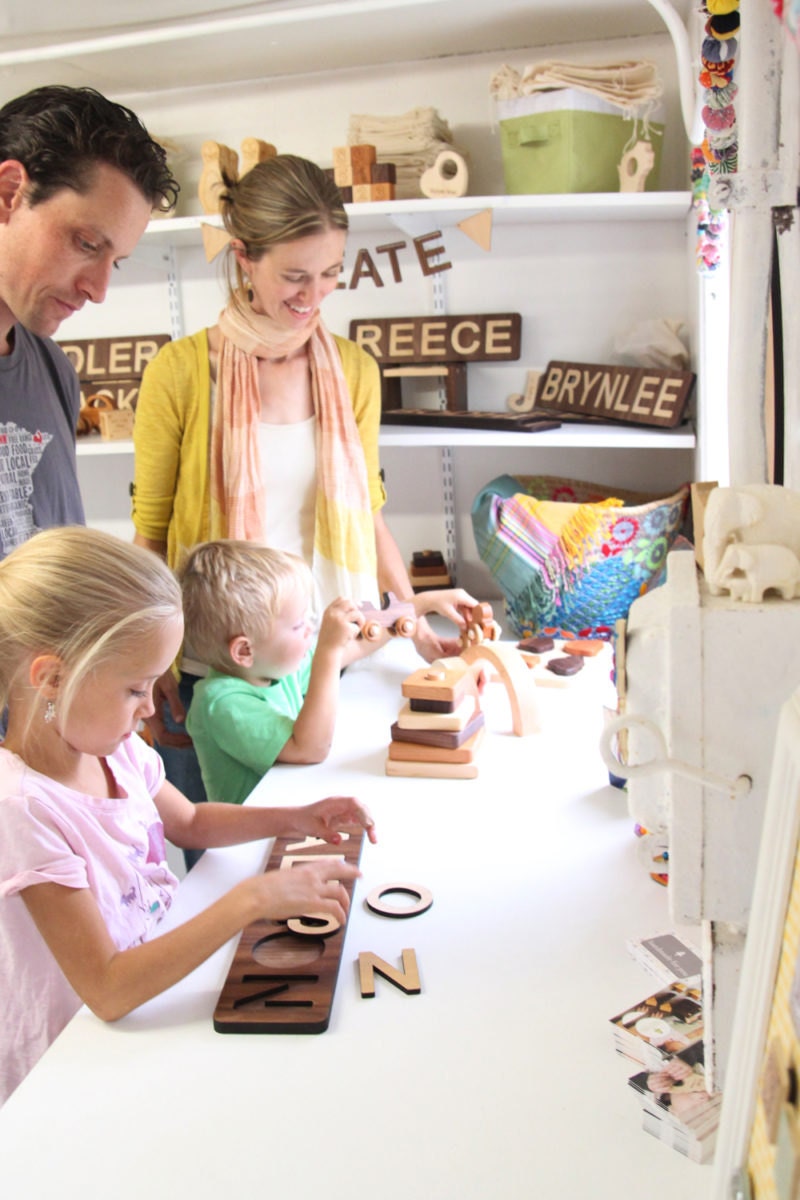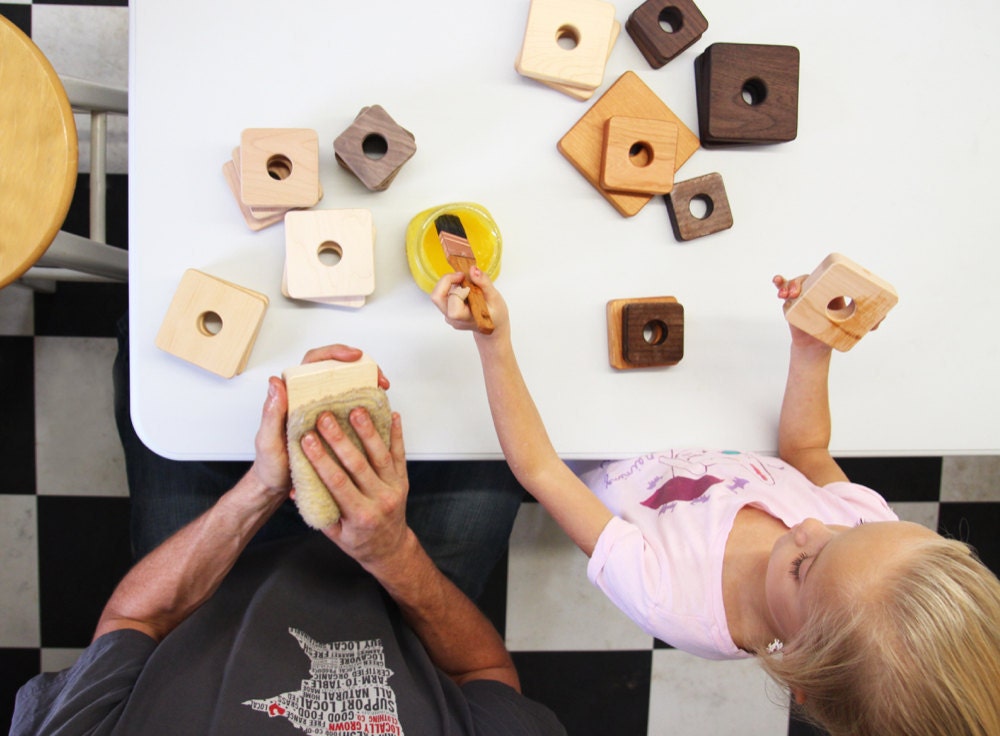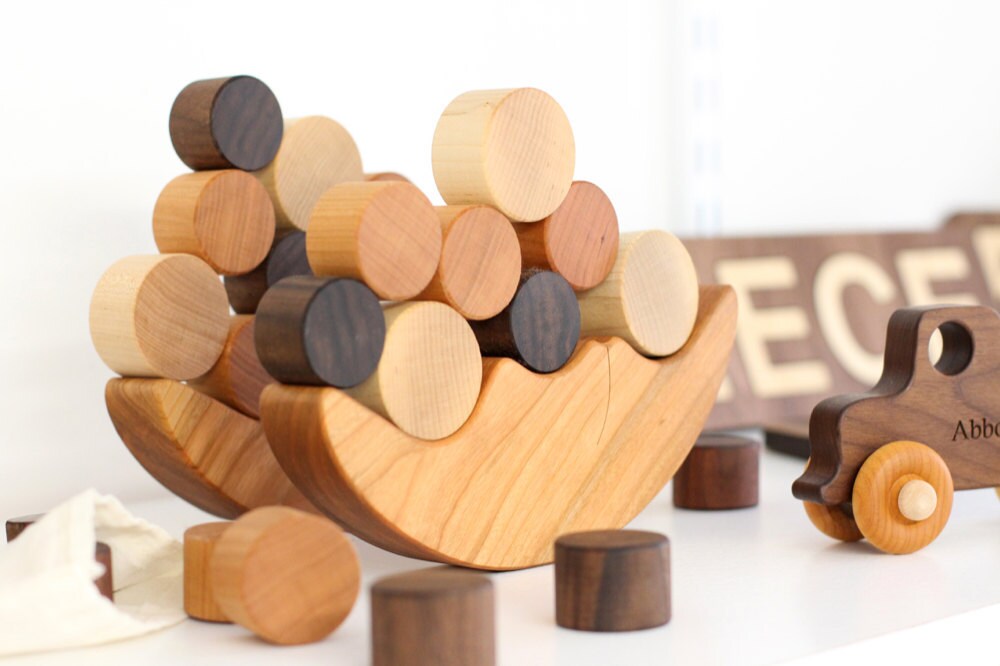 What was the first toy you designed?
We were kind of throwing around a lot of ideas at once when we started our shop and one of the first ones was the
old-school truck
 in walnut wood. That's a design that people just loved from the very beginning, and it is still one of our bestsellers. Also, our simple maple teethers and our smiling moon balancer, which was another one that came right at the beginning, have been a few mainstays that have stuck.
How do you source the wood?
We wanted to use only hardwoods that are American-grown and harvested; it was a way to ensure we were buying FSC-certified wood and be confident that it's been grown and harvested sustainably. That was really important to us, not importing exotic wood from across the globe. From there, we went with some of the hardest woods that are available, and ones that contrast nicely when you oil them; we have a lot of natural color going on without using any paints or stains or dyes. We ended up with three woods that we primarily use, which are maple, cherry, and walnut.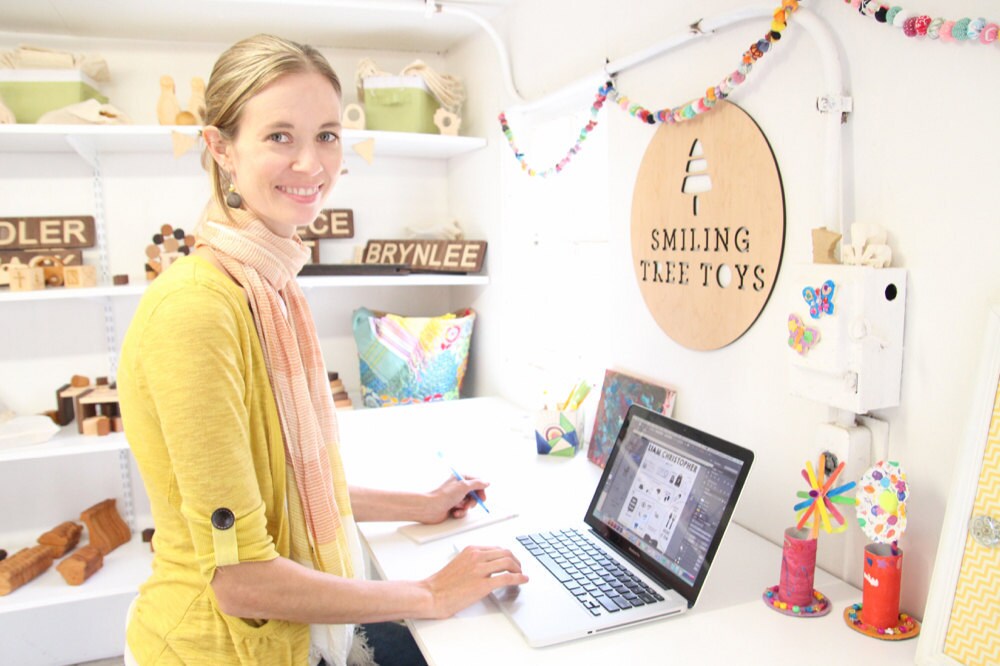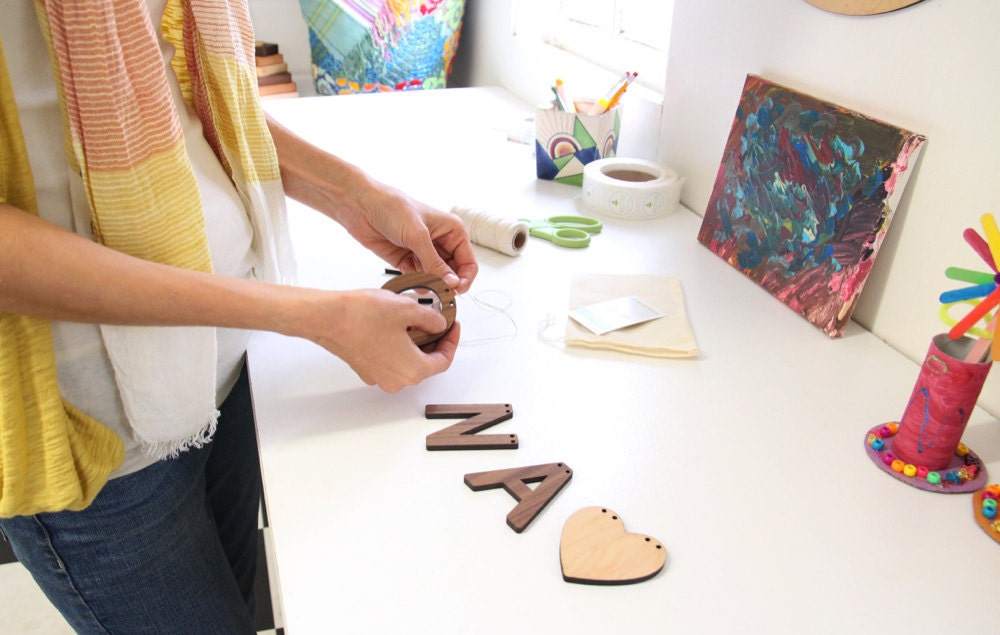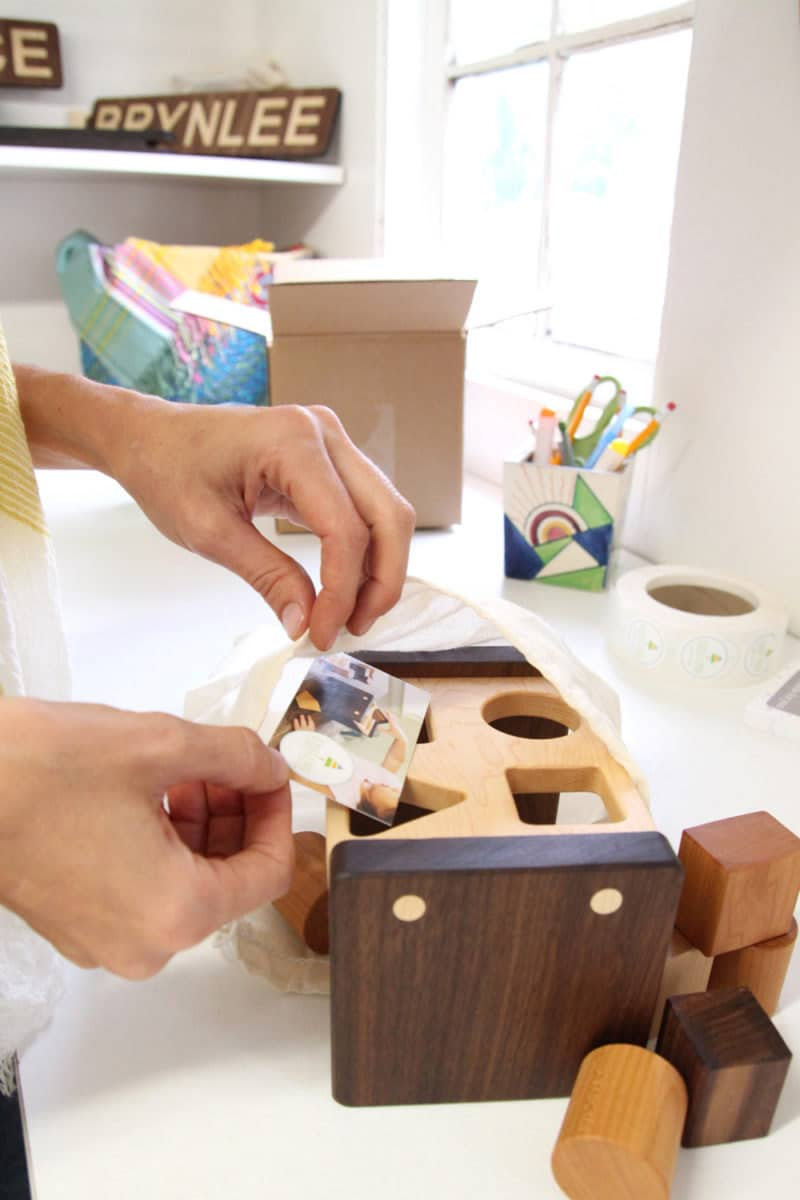 How far do you go with customization? If my kid loves bananas, could you make a banana?
We probably personalize 19 out of 20 things that go out the door. People love adding that personal touch onto something that already has that handmade feel; it's just so much more unique and meaningful when they can add some personal information to it. Unfortunately, we can't always do completely custom orders, because if we're mocking up one banana, by the time we design that banana for you and make it, it's going to get a little bit too costly. But whenever we can customize further, we do love to go above and beyond to add special meaning, whatever it might be, to that family and the child.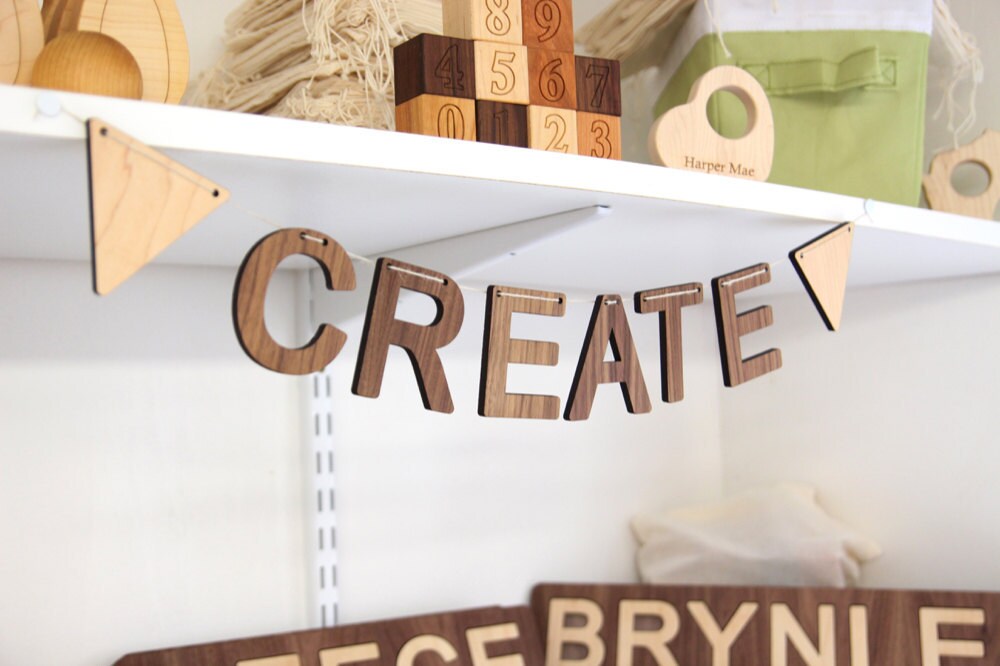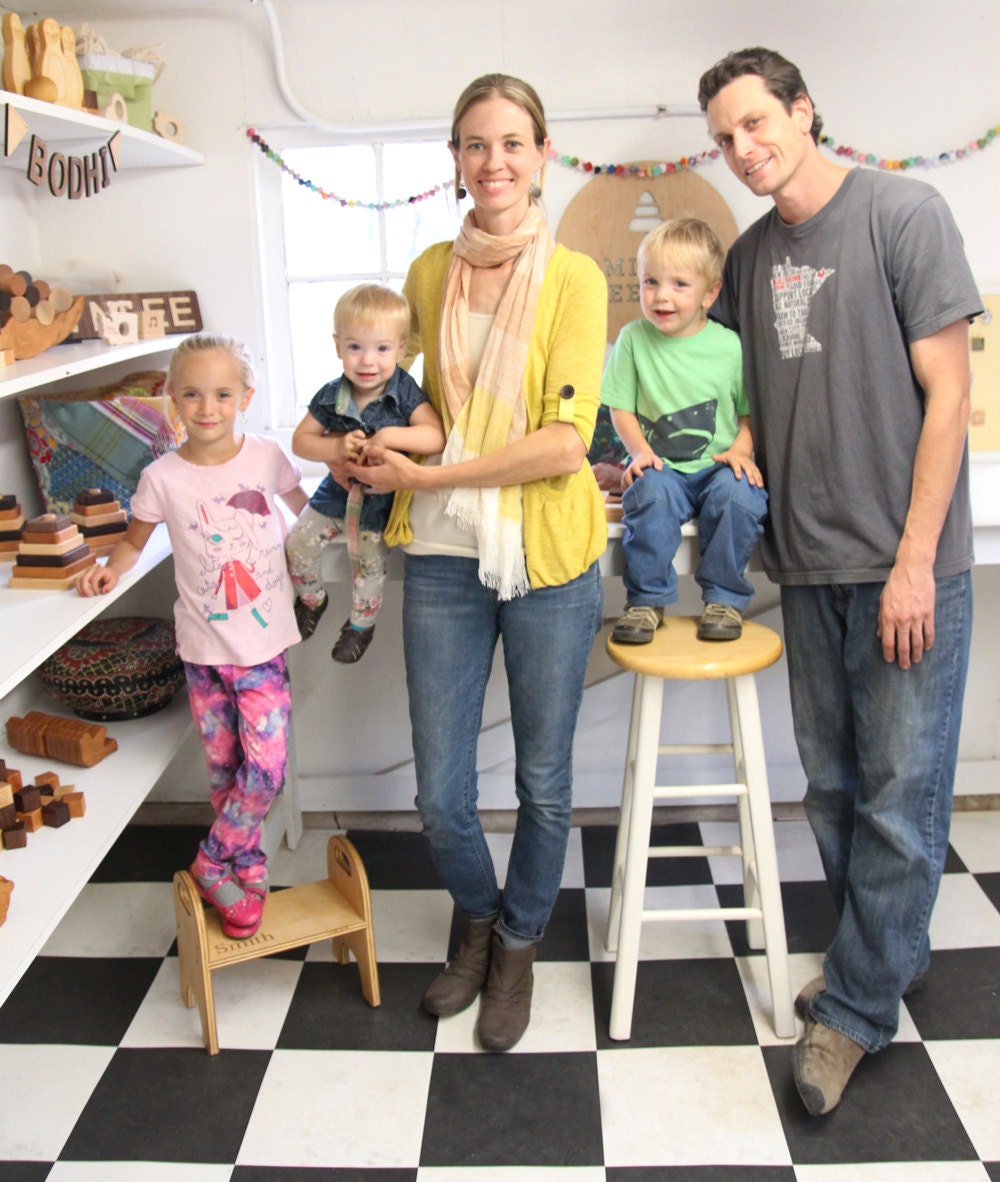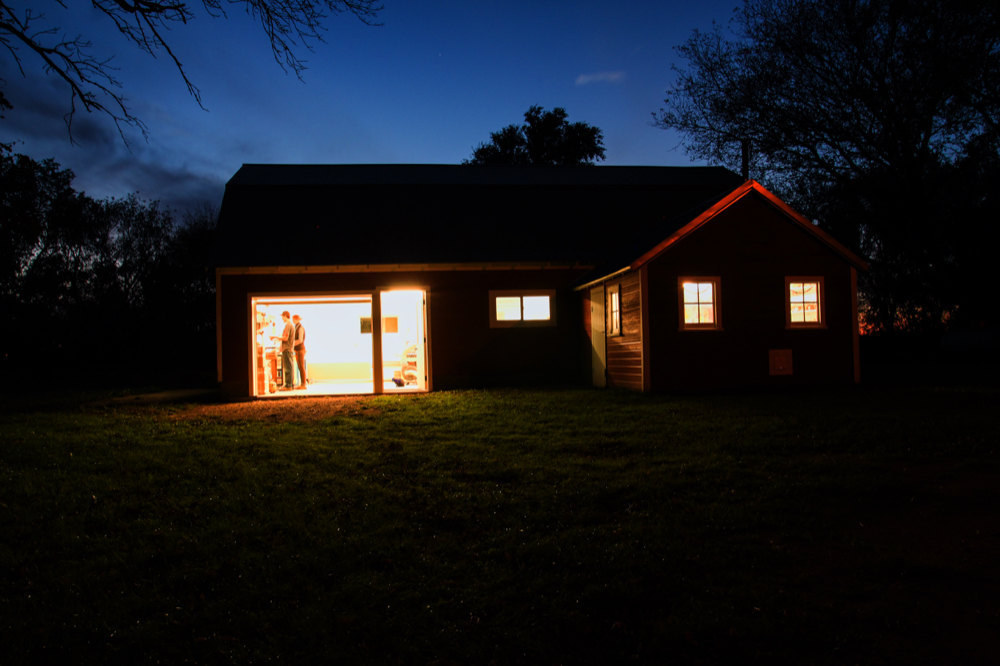 What inspires you two?
Justin and I were talking about this quite a bit last night, and one thing that really struck both of us was the motivation to leave a legacy that our children will be proud of, and something that they might want to be a part of someday. We also want to continue with being sustainable in terms of being gentle with Mother Earth and minimizing our eco footprint, but also with giving back. We make donations to the Peace Corps with
every toy
that we sell.
Do you ever think of expanding beyond children's toys?
We do have a second Etsy shop where we've played around with some home decor items, mostly cutting boards. We simply call it
Smiling Tree
. We've got still more plans, especially for children's decor items, in the works too.
Follow Smiling Tree Toys on Instagram, Twitter, Pinterest, and Facebook.
Photographs courtesy of Smiling Tree Toys.