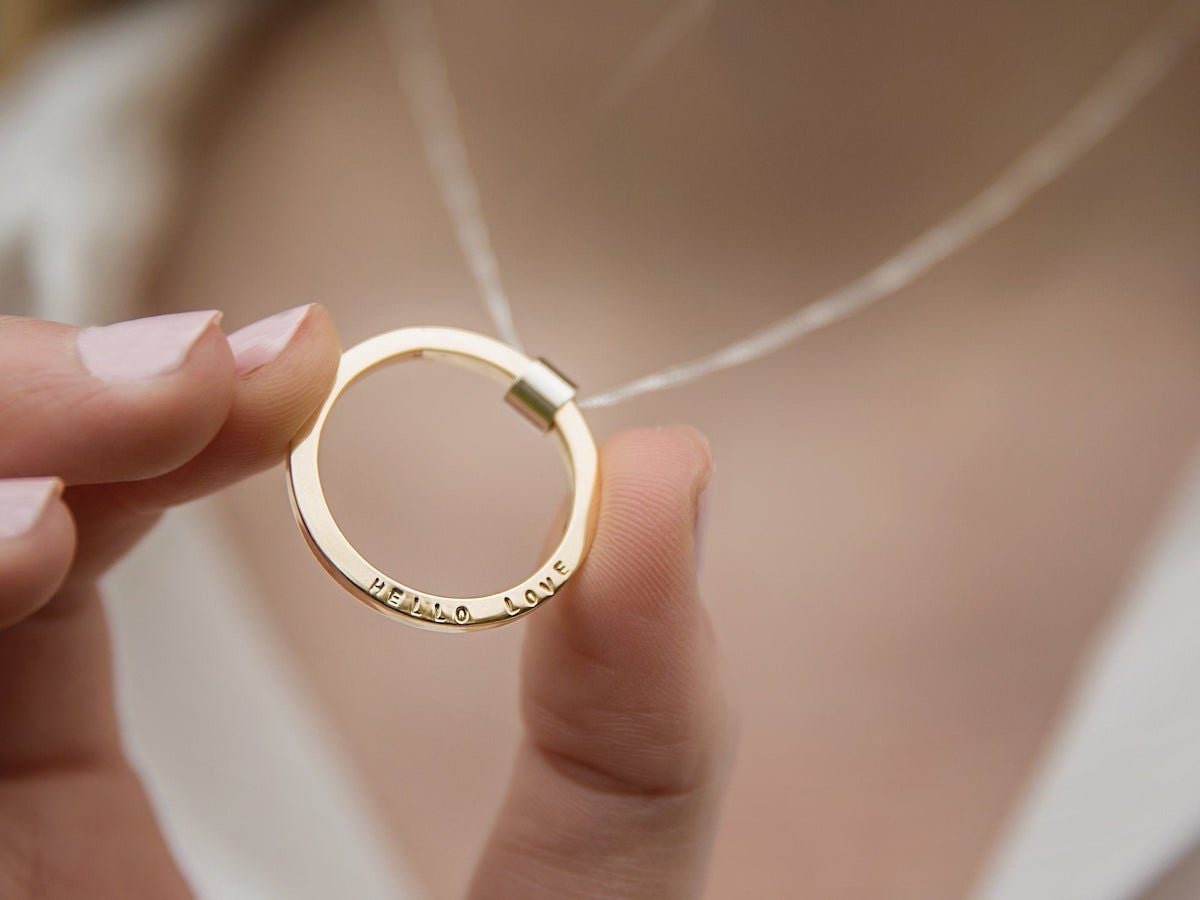 In our Featured Shop series, we shine a light on a standout shop from Etsy's talented seller community, offering readers a behind-the-scenes look at their process and story.
You might never suspect that hidden within one of Soremi Jewellery's sleek gold bands or spiraling silver scroll necklaces is a secret message—and that's exactly the point. "I make personalized jewelry for people who might not normally think they like personalized jewelry," says designer Ghazal Ghahri-Saremi, who is based in Leeds, UK. Her understated approach gives shoppers the opportunity to subtly customize pieces with the text of their choice, turning already beautiful necklaces, bracelets, earrings, and rings into something even more special. "Because it's personalized—because it means something—you love it all the more," she says. "It's not just a piece of jewelry. It's the lyrics to the first dance with your husband; the dates of your children's birthdays; the graduation gift your mother bought you."
Explore the Soremi Jewellery collection
Working exclusively with made-to-last materials like gold and sterling silver, Ghazal focuses on creating timeless designs that can be worn day in and day out for decades. "I don't tend to make fashion-inspired jewelry," she explains. "I try to make things that are still going to look lovely in 15 years' time." The dazzling result of her efforts? An heirloom-quality collection bursting with one-of-a-kind pieces you'll be dying to add to your holiday wish list or gift to an extra-lucky loved one.
Read on to discover some of the most creative ways Ghazal's customers have personalized her designs, then shop the Soremi Jewellery collection.
Why did you start making personalized jewelry?
When I had my daughters, I wanted to keep a little bit of them with me, but subtly so. Often, people give jewelry to mark a moment, a celebration, or an achievement, so it already has quite a lot of sentimental meaning attached. I wanted to marry that sentiment with actual words, so I started exploring how to use text on jewelry. My pieces became focused on family, celebrating milestones in life, and keeping words that mean something to you with you all the time. I've got a lot of pieces with hidden personalization, so only the wearer knows it's there.
Can you tell us about some of your signature collections?
My scroll collection is designed for a lot of text: words with meaning, lyrics, poetry, dates of birth, life mantras. Even though it's covered in text, it's super subtle; nobody is going to look at it from a distance and think, "Oh, you've got the line from your favorite Bruce Springsteen track on it." The scrolls also have a lovely sense of fluidity and motion. As you wear them, the scroll moves around.
Then there's my nuts and bolts collection—the most popular piece from that collection is the family nuts and bolts necklace. It's got a very slender bolt that's worn on the chain and three beautiful nuts, either in solid silver or rose and yellow gold. Each nut has room for dates, so most people go for their children's birthdays. The nuts all screw on and off, so it's really quirky and playful.
What inspired your mobius collection?
I was talking with a friend-of-a-friend, a mathematician who had fallen in love and was planning on proposing. As he was telling me the story of how they met, he said, "I really want to propose with a ring that's based on something mathematical. Have you ever heard of a mobius strip?" It was totally out of my comfort zone, but I agreed to make it. The mobius looks like a really solid donut shape—until it opens up and you see it's two halves that are totally separate, but intertwined. They open and close as you're wearing them, and the text is hidden inside. That wedding ring inspired my whole collection.
What are your most popular items?
My best-selling collection is my hoop collection—if you're looking for something timeless and classic, you're never going to go wrong with the hoop necklaces. Basically, you choose as few or as many little gold or silver hoops as you like, and personalize them with names and dates of birth. As your family expands, you can keep adding to it. I've got customers who come back and order more hoops every time there's a new child or grandchild. Their necklaces or bracelets fill up over the course of a lifetime.
What are some creative ways your customers have personalized your jewelry?
Occasionally I'll have customers who want to personalize their pieces without using text. For example, with one of the mobius rings I made, the couple didn't want words inside; instead, they wanted a black diamond. Since it's on the inside, nobody else is ever going to see it. There are loads of different ways to personalize, but I thought that was really classy. It was just about them knowing it was there.
What's your design process like?
Some collections come together really quickly—it starts with a seed of an idea, and I run with it. Other collections take quite a long time because they're trickier to make. The mobius collection, for example, took about eight or nine months to prototype. The majority of that time was spent getting the two halves to work properly. They're so precise that it only works if you've got the concept mathematically bang on. My nuts and bolts collection was complicated, too. It seems pretty ubiquitous—there's a thread, a nut, and a bolt, and they screw on. But making that work in silver or gold, and keeping it beautiful, is actually really tricky.
Do you have any designs in progress that you're excited about?
I'm currently working on a complex piece: It's a necklace with a working shackle. It opens and closes, and it's really versatile. You can wear it as a necklace or a bracelet, but the clasp is really the star of the piece. So that's going to be the next thing.
You offer a wide range of price points. Why is that important to you?
It's such a lovely feeling when somebody chooses my jewelry, so I don't want to make pieces that are so expensive that people can't wear them. If you can afford to buy one of the solid gold pieces or a piece with diamonds, that's wonderful. But I want to be able to create things for a smaller budget, too.
What inspires you most about what you do?
I love thinking about new ways to incorporate text into a piece of jewelry. I love hearing people's stories. I love the fact that my jewelry is an emotional purchase. It's more than a piece of metal. It's the sentiment that someone had when they bought that piece for you: "You've just done this. You're amazing. You keep me going, and this is a piece of jewelry to say thank you and to tell you I love you."
Follow Soremi Jewellery on Instagram and Facebook.
Photographs courtesy of Soremi Jewellery.