Preserve the memory of a beloved place with an intricate hand-cut map from this talented architect-turned-artist.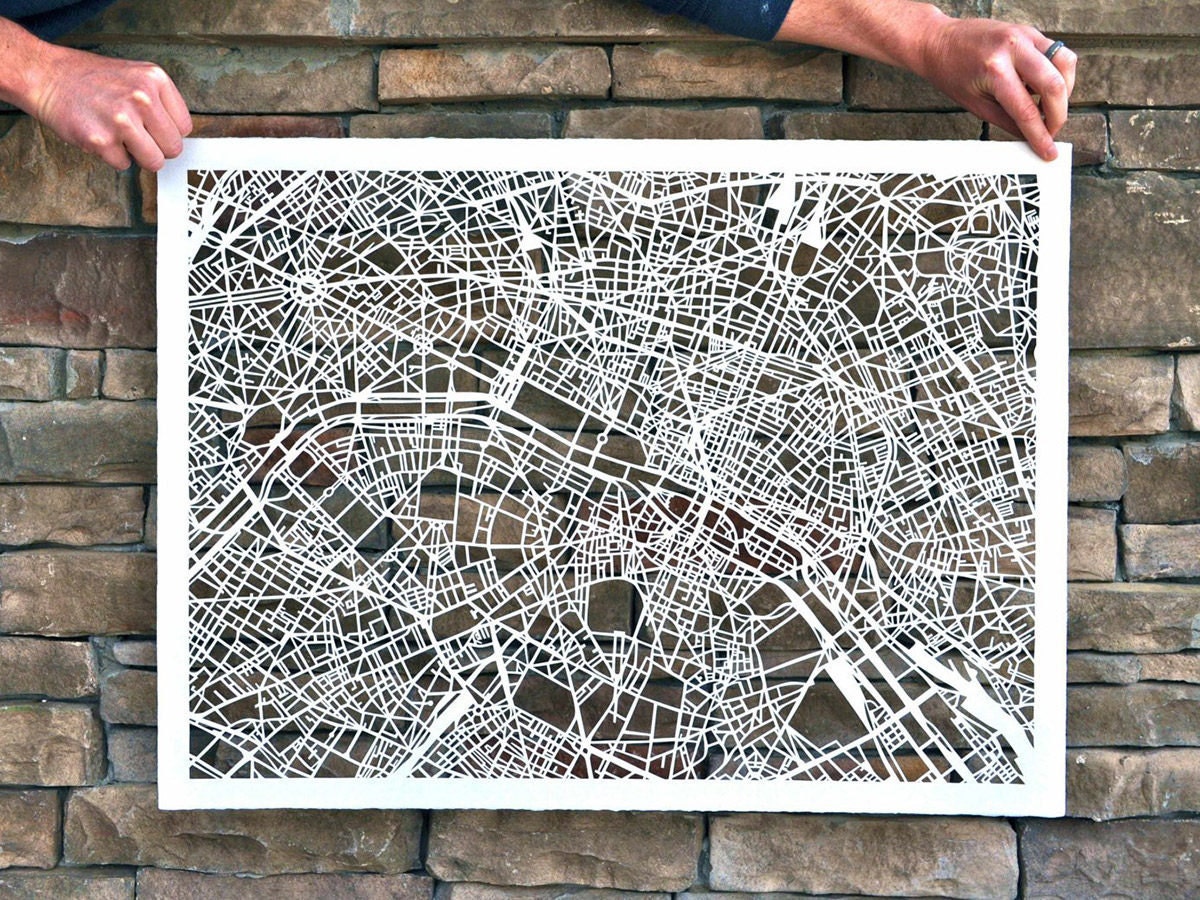 Editor's note, August 2020: In our Featured Shop series, we shine a light on a standout shop from Etsy's talented seller community, offering readers a behind-the-scenes look at their process and story. And as we spend more time at home these days, getting cozy and catching up on our reading lists, we're taking a moment to revisit some of our favorites—like the story behind this North Carolina-based papercut map artist from December of 2018.
Whenever people encounter one of architect-turned-artist Karen O'Leary's intricate—yet deliberately unmarked—hand-cut paper maps out in the wild, the same thing invariably occurs: They start talking. "Without words or text, a map becomes a conversation piece," Karen explains. "People will try to locate where they stayed when they went on vacation, where they live, where they work, where the parks are." It's easier than you might think to pick out a place if you know it fairly well, says Karen, who runs her line under the label Studio KMO. "You can identify cities by their elements—by the streets, the rivers, other bodies of water—and you can do it without any words at all when you're forced to."
Explore the Studio KMO collection
Beyond their interactive appeal, Karen's collection of painstakingly precise papercut maps, plus her more recent (and wallet-friendly) letterpressed and ink-drawn versions, invite people to celebrate the cities they love—and in some cases, the cities where they fell in love. "That's one thing I didn't realize would be associated with this work—there's so much nostalgia," Karen says. "When people purchase my maps, they'll get their favorite city or they'll commission a map that commemorates a milestone in their life, like the place they got married." Each one is a modern memento for an unforgettable piece of the past.
Read on to learn more about this Charlotte, North Carolina-based artist's creative process and most memorable custom orders, then shop the Studio KMO collection.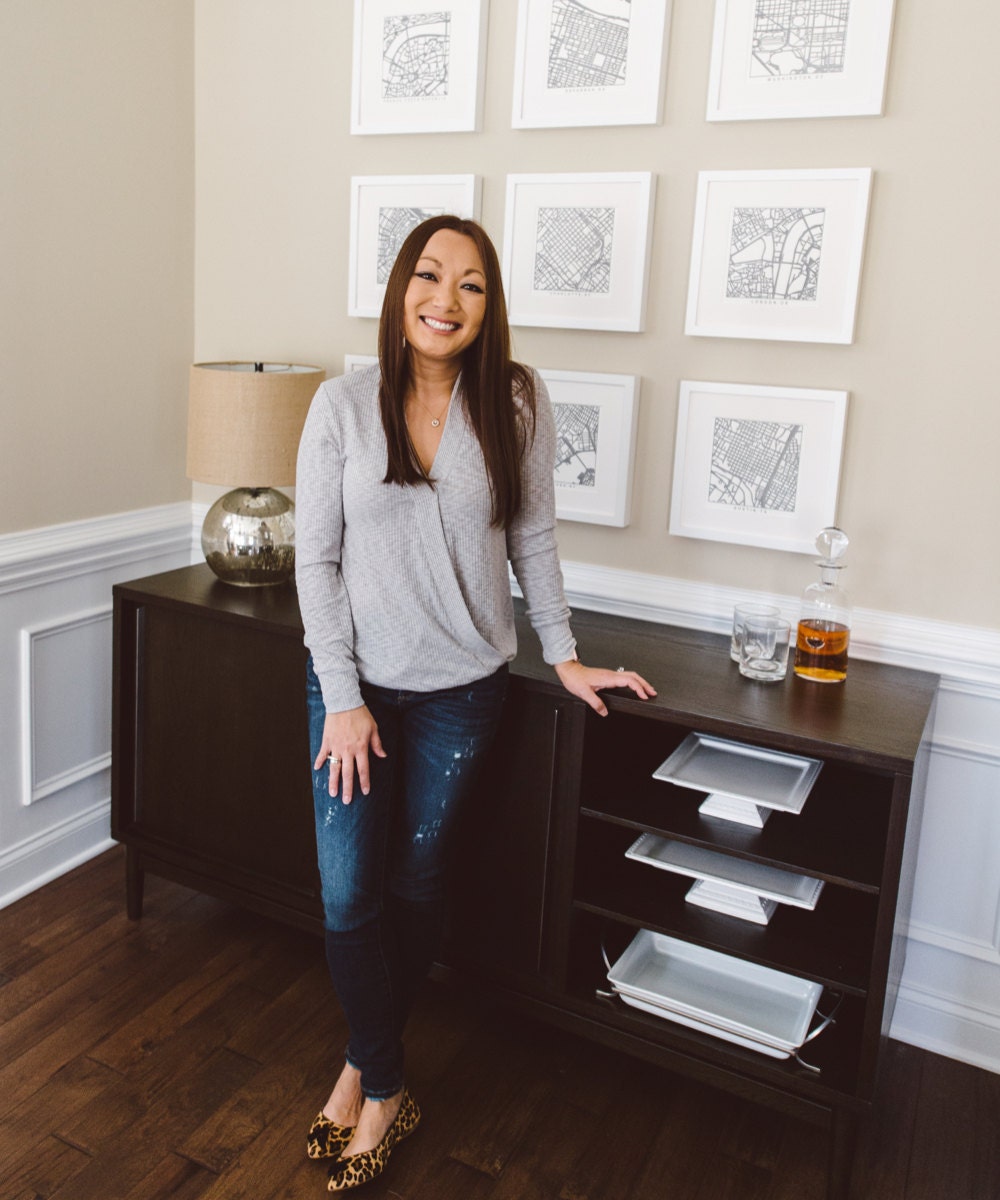 Tell me about your background in architecture. How did that lead to making maps?
It's funny, I knew I wanted to be an architect by the time I was eight. Growing up, I was always drawing floor plans and houses. I never really had art training; I just had an interest in thoughtfully designed objects and modern architecture. All of that is the foundation for my artwork.
I went to Virginia Tech for the five-year architecture program; while I was there, I created my first hand-cut map as part of my thesis. After I graduated, I was working for a firm in New York City and I decided to make another map for myself. This one was six feet by eight feet, and it took me about nine months to complete. I would cut a little bit here and there every night, and then once I finished, I didn't have a place to put it. I kept it around for a while but eventually decided to put it up on Etsy—and it sold. That piece was circulated on a lot of blogs and websites, and accidentally started my business.
At what point did Studio KMO become your full-time job?
When the first map sold, I got so many requests coming in for different cities. Luckily, it was a good moment for me to stop working for my firm, so I left my job and have been working on Studio KMO full-time ever since. It has kept me that busy for nine years! I can't believe I've been doing these maps that long, but it's really fun.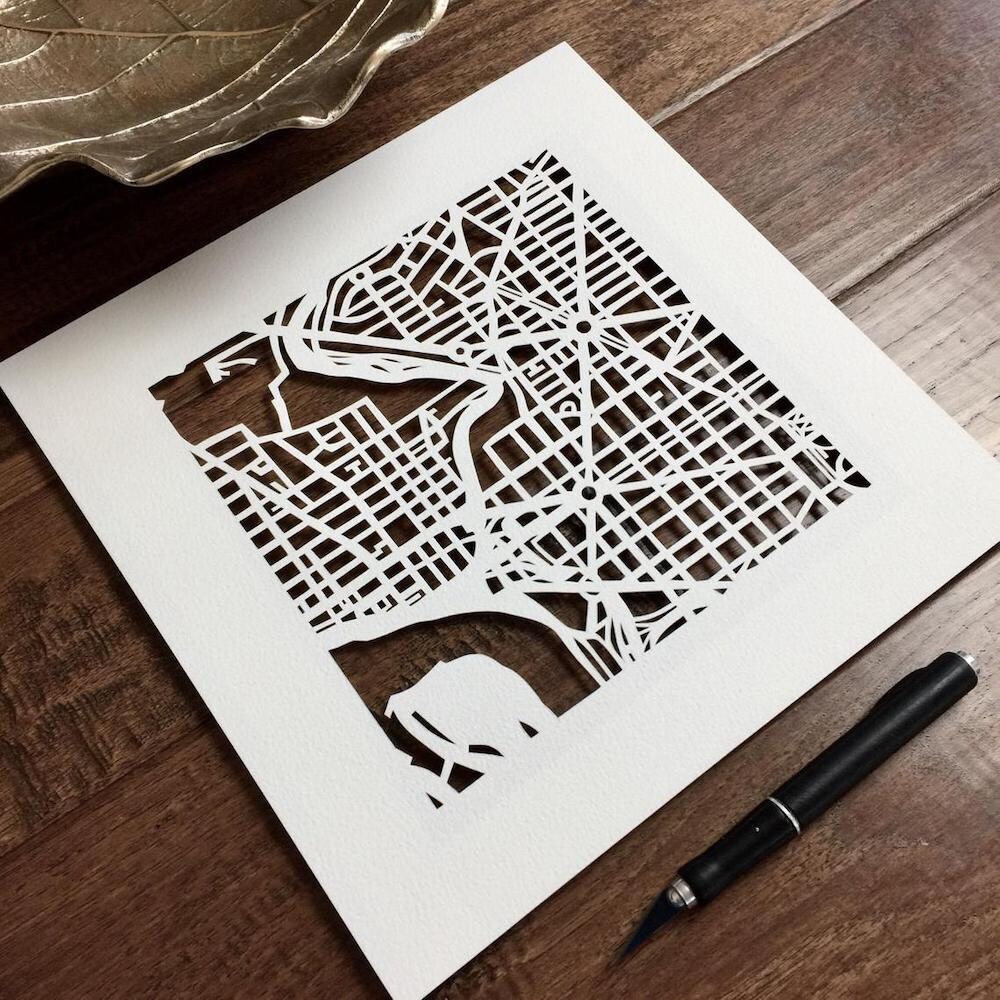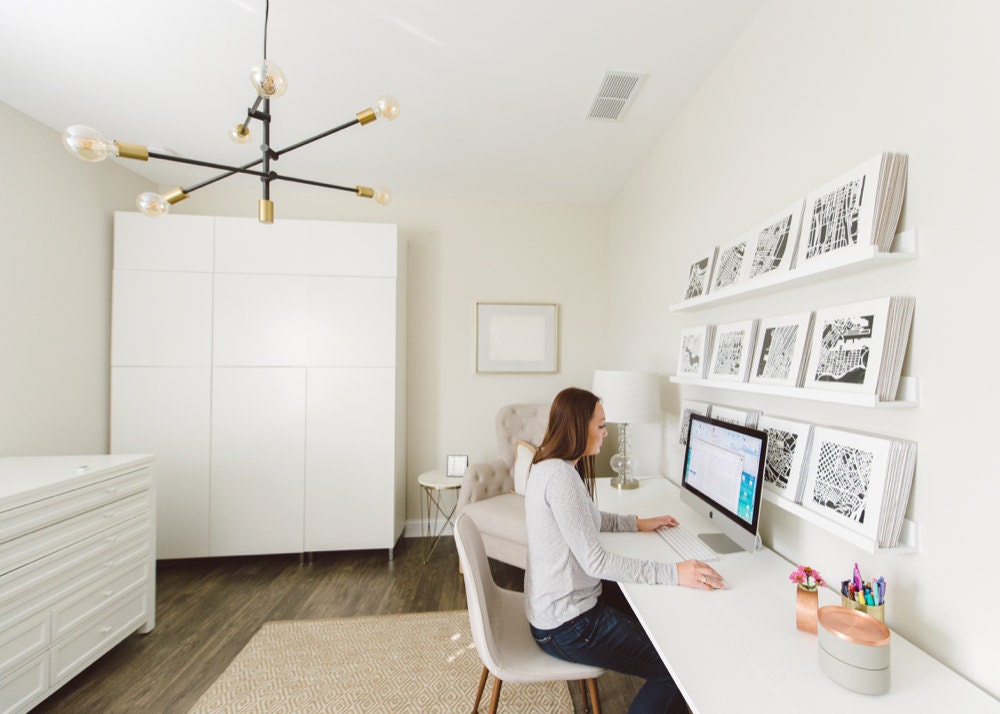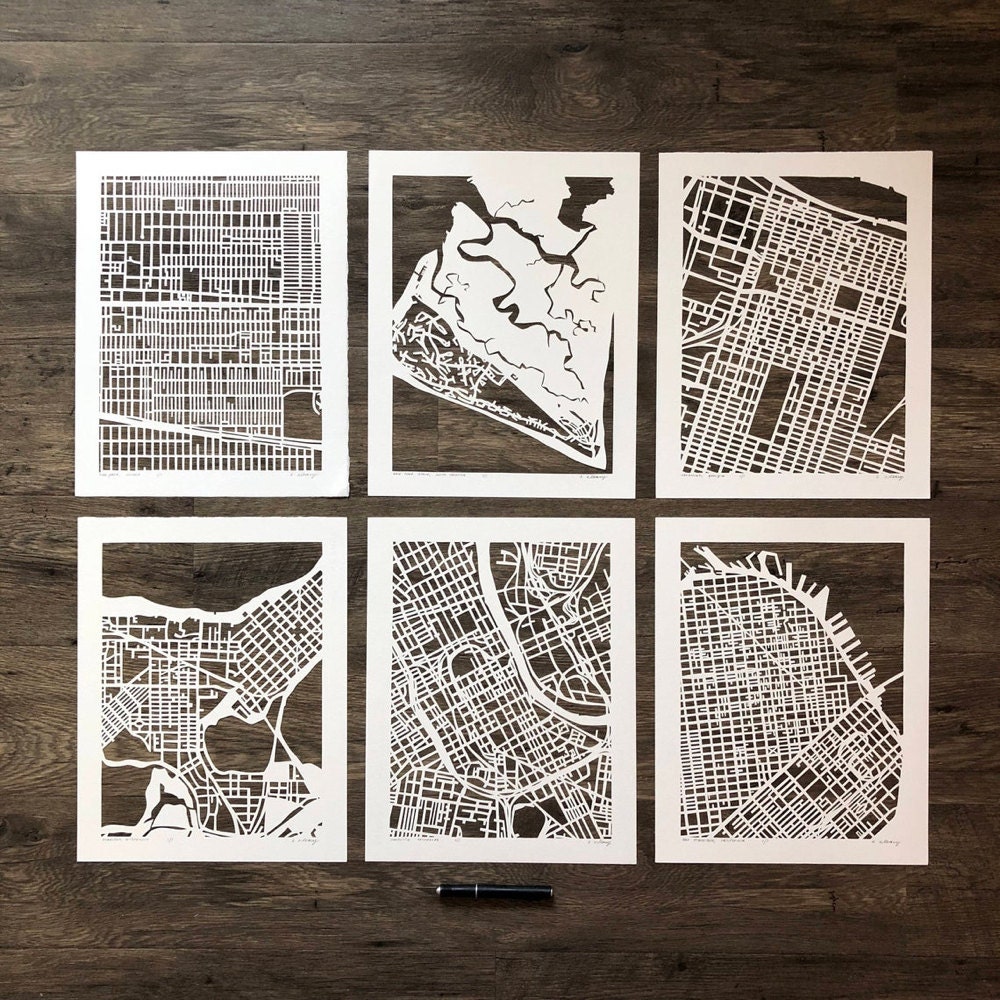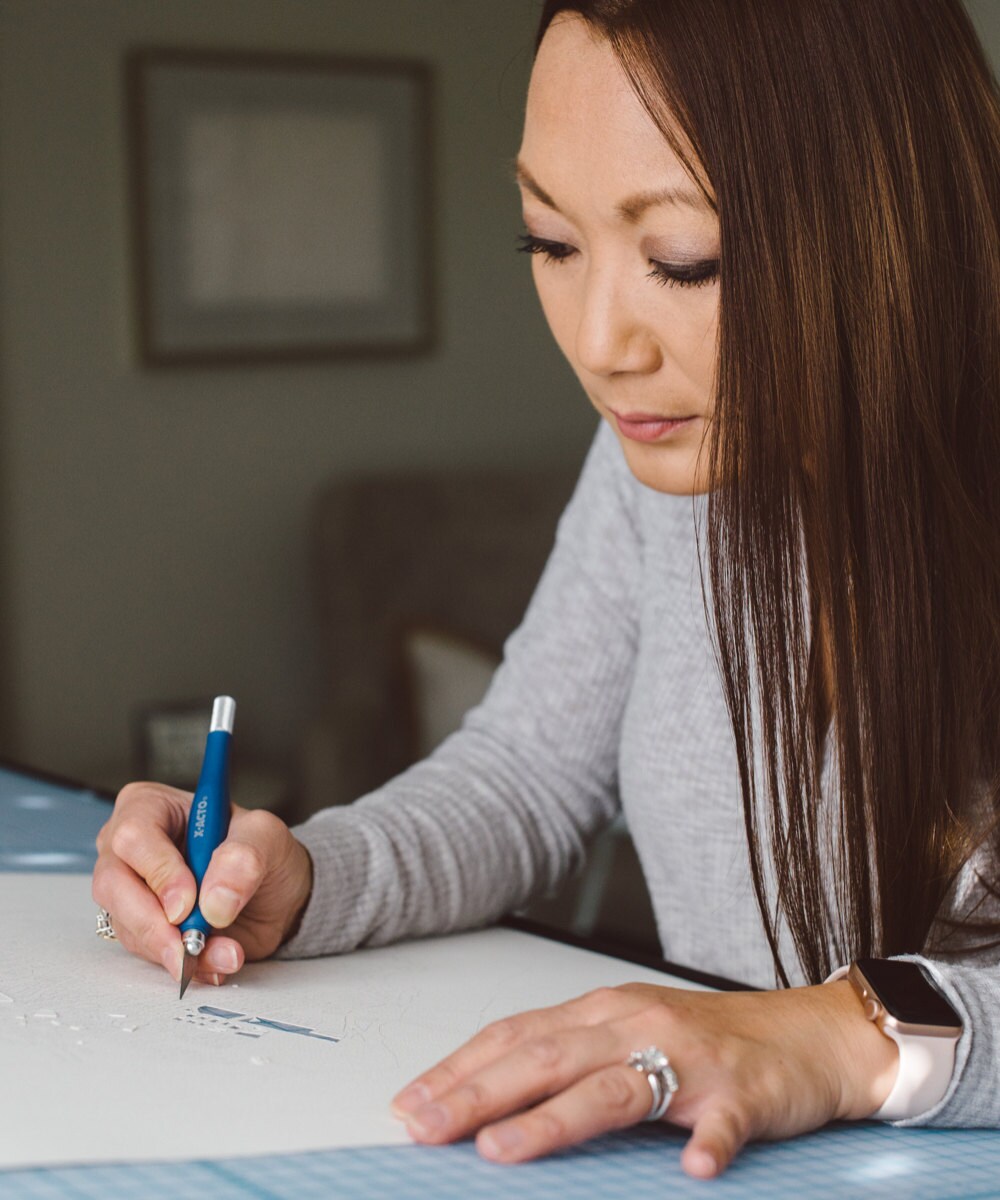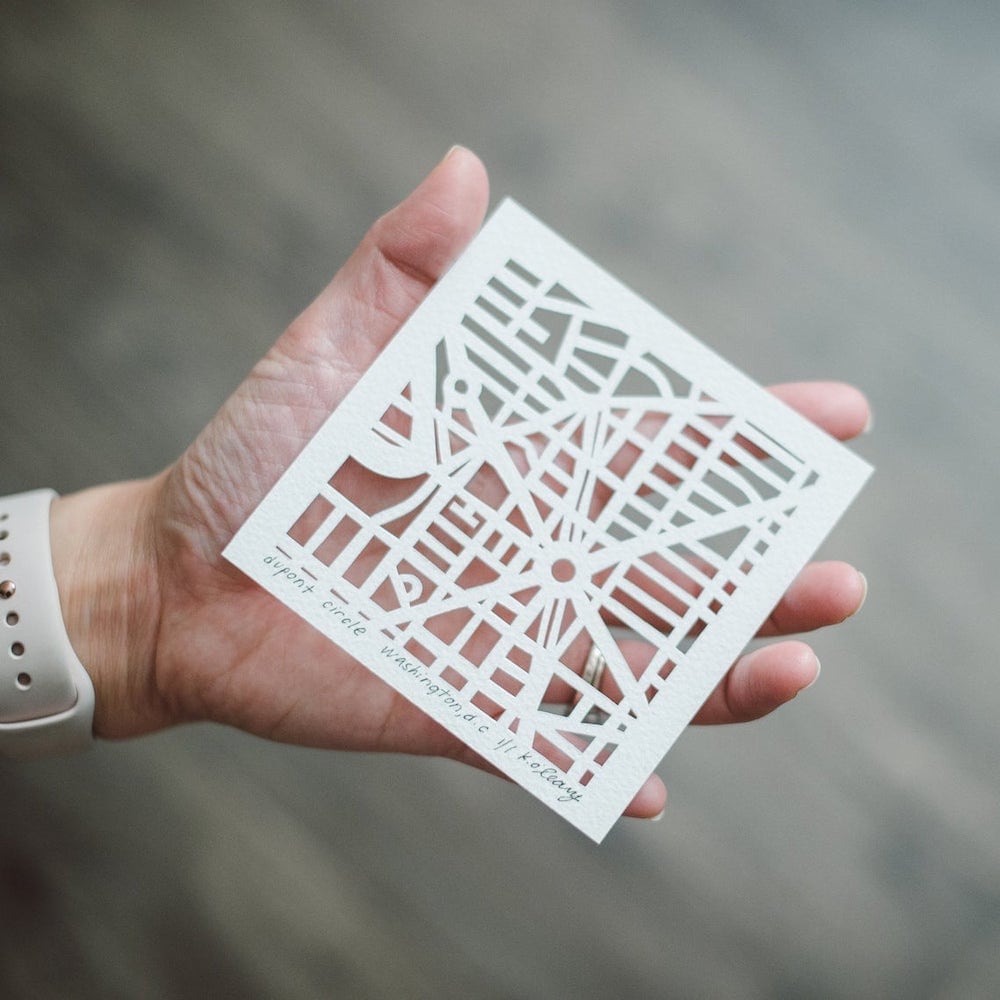 Tell me about your process.
All of my maps are completely handcrafted. I use published maps for reference, and I work with thick watercolor paper, so even when it's cut out it has a really good stability. Once I have the grid drawn in pencil, I'm able to go back through and hand cut it with just a small X-Acto blade. Slowly, the city takes shape. After a piece is complete, I go back through and spend several days erasing so that no pencil marks are left. I don't use computers or printers of any kind—it's just a pure sheet of paper transformed into a modern map.
That's incredible.
It's tedious, and the process is long, but the reward is in the outcome. I dedicate an incredible amount of time to everything I make, and each piece is skillfully cut, which I think is why my business has been successful.
Let's talk about your product line. How has it evolved over the years?
I have three collections today. The hand-cut originals came first—they're drawn and cut by hand. Next came a collection of ink drawings, which are modern maps made up of tiny little ink lines. In the last couple of years, I've added the pressed city prints, which are letterpressed maps of a richer quality print.
The hand-cut originals are the most customizable; they're available in the mini size, which is about the size of a business card, all the way up to 30 inches by 22 inches, so you can customize your city and the size of your art. The idea is that you can get artwork even if you have a smaller budget, or you can get the bigger ones if you have the space.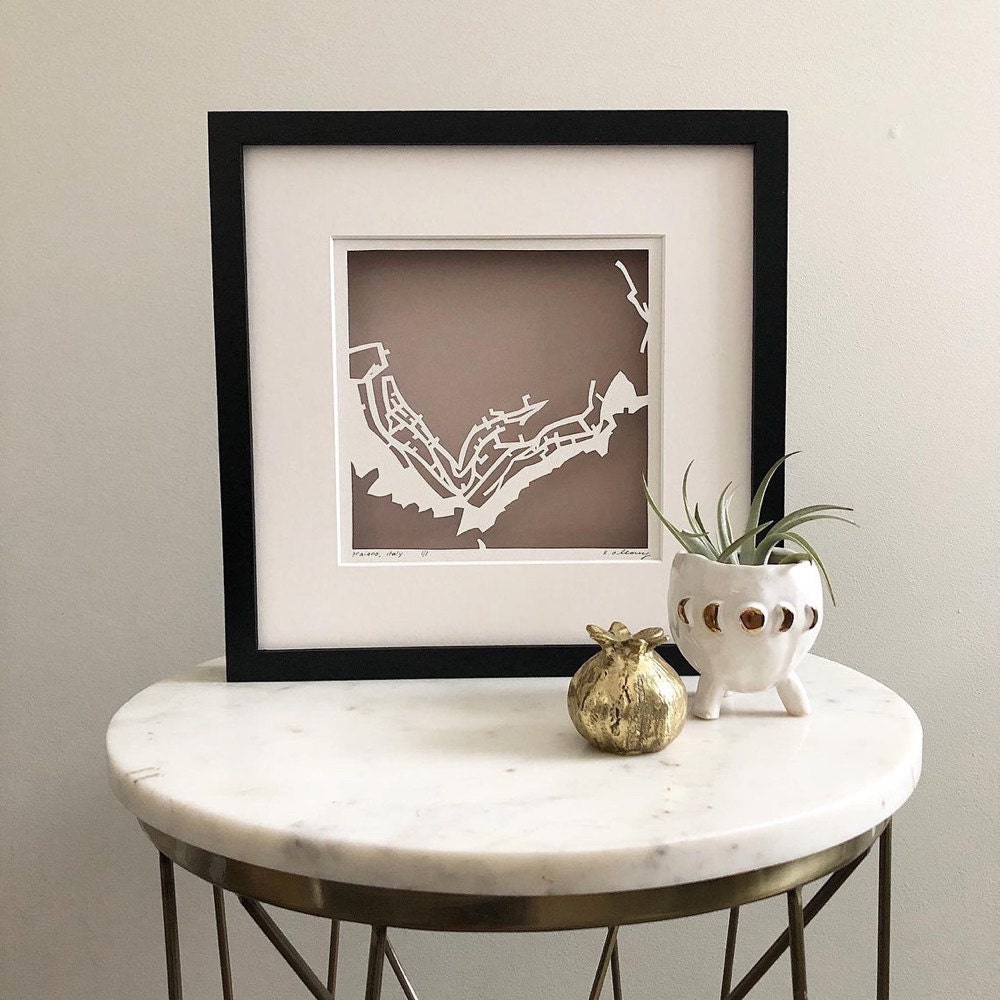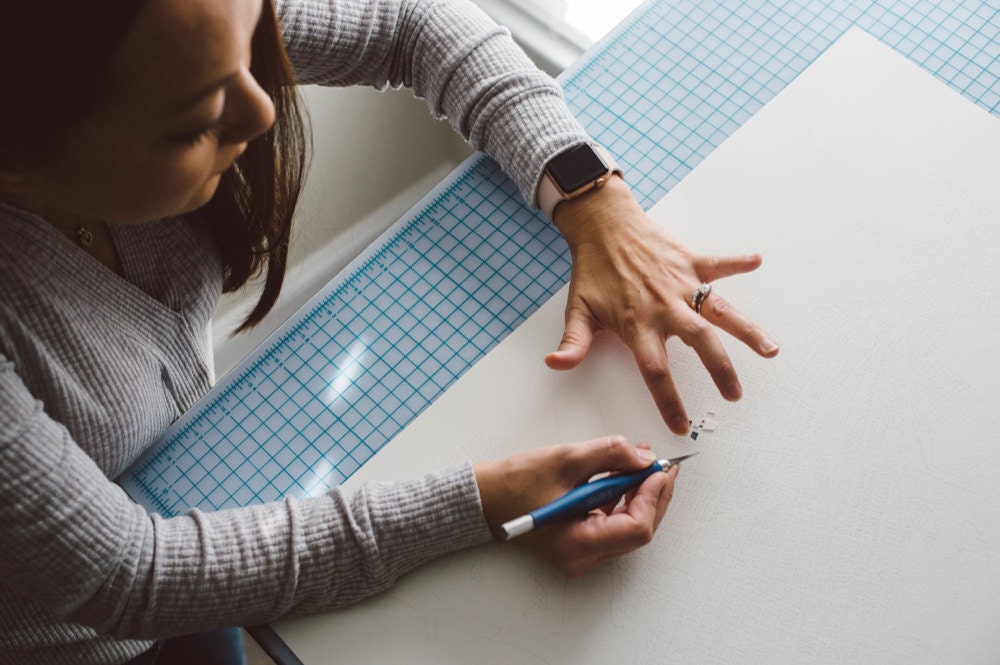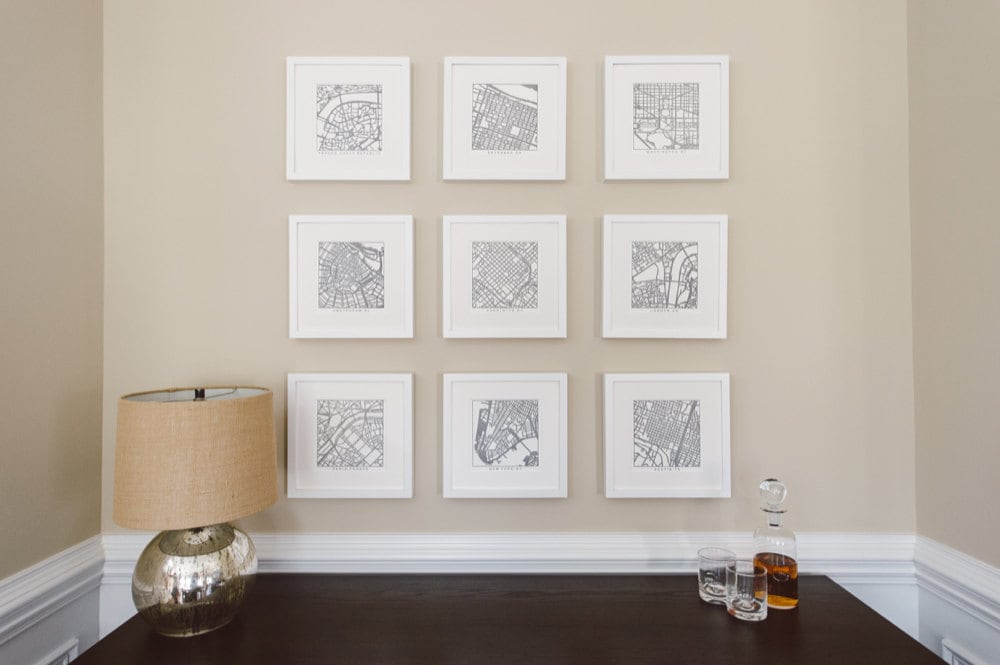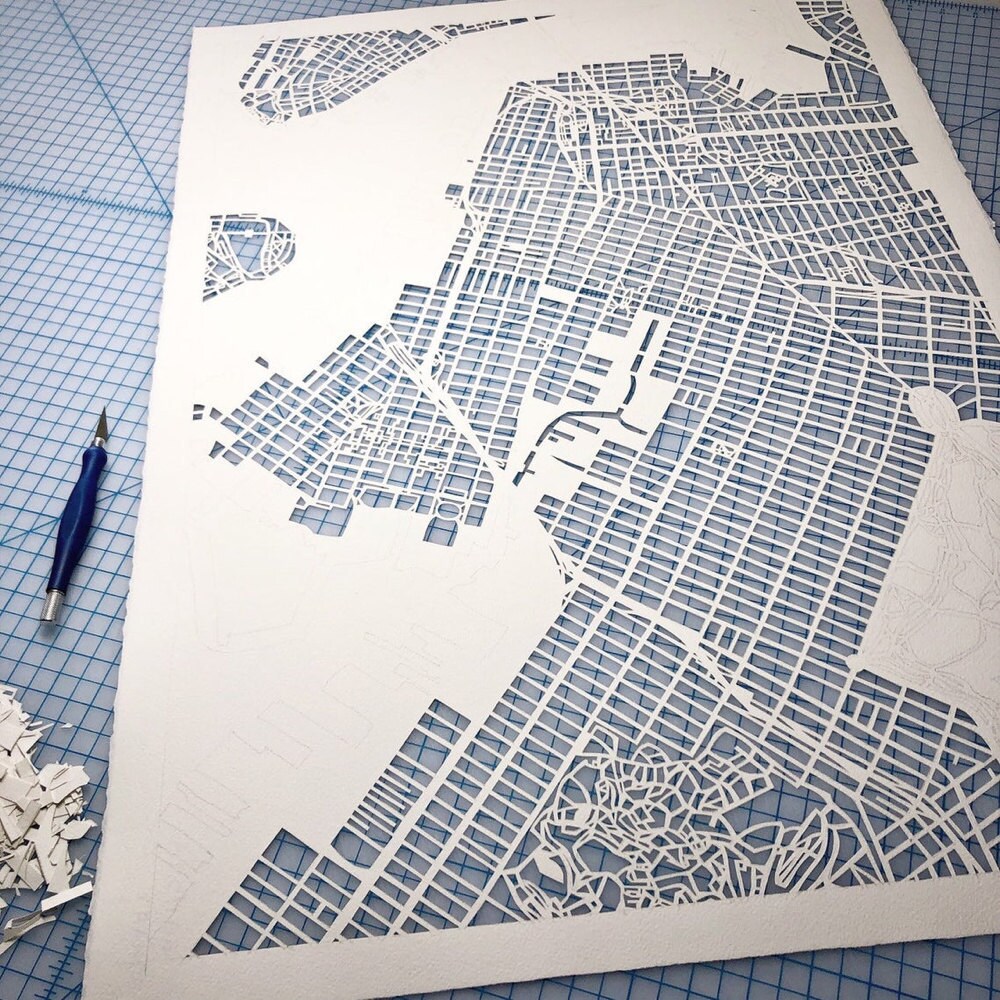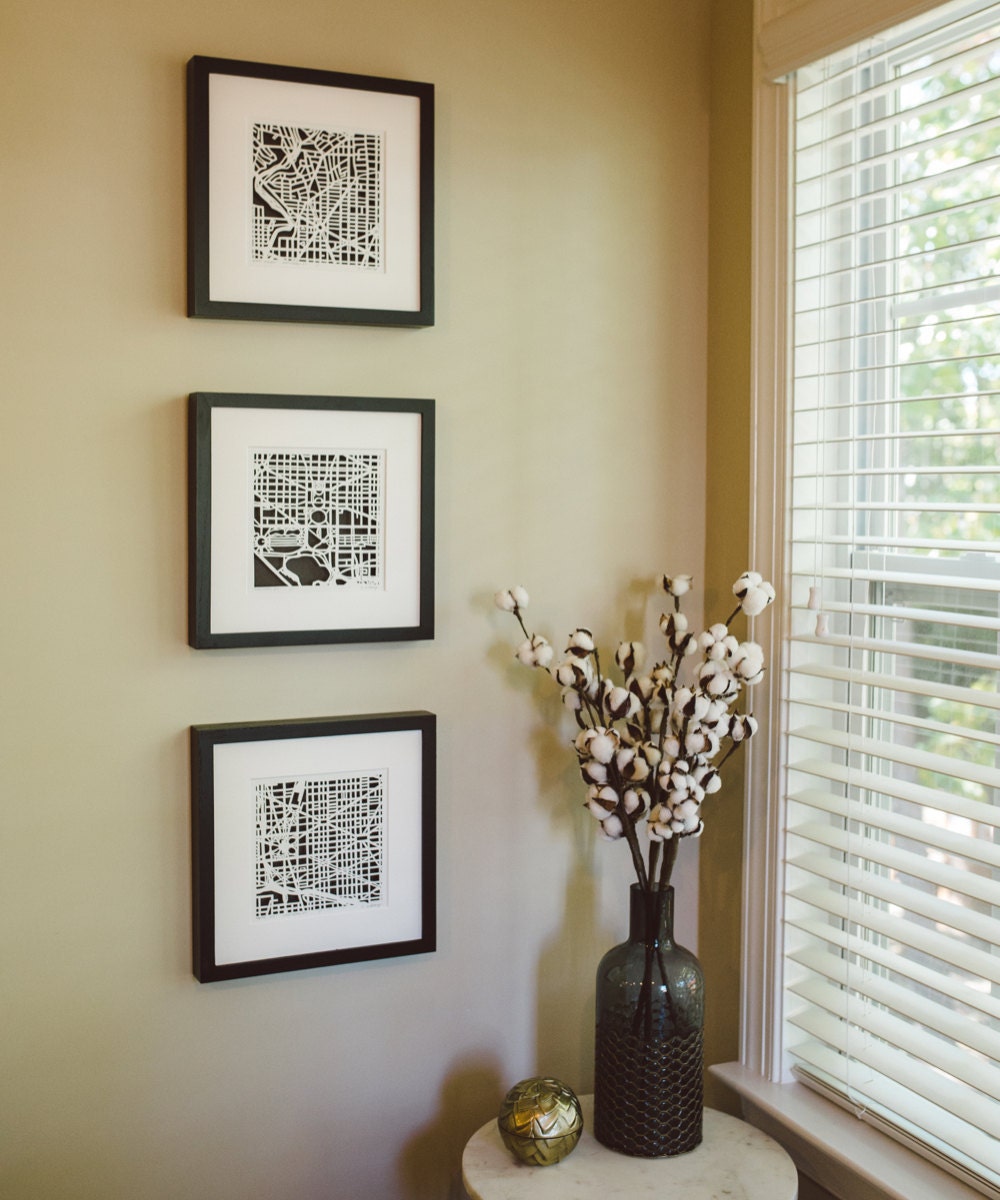 Are there any memorable buyer stories you'd like to share?
There are so many! One customer ordered her dream retirement location to hang in her husband's office as a reminder of why they work so hard. Then there are people who get their university, or a city where they spent time or made friends. Since paper is the traditional first anniversary gift, one of the my favorite things to see is when super sweet husbands get the city where they first met their spouse, or the city where they got married.
You must have a lot of X-Acto blades in your studio.
I have quite a few. I actually created an original piece for X-Acto—they have a very large Columbus, Ohio, map in their boardroom, and after I finished the project they sent me a couple thousand blades. It was the best gift ever.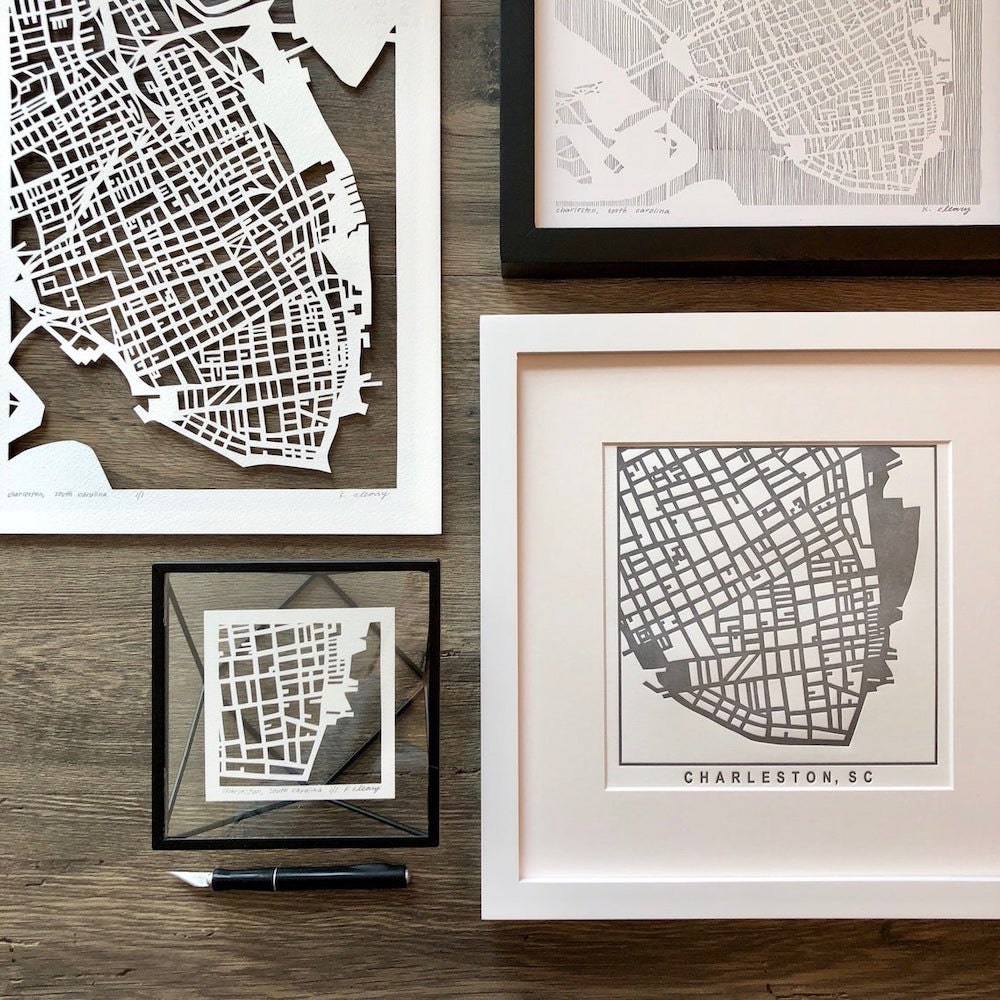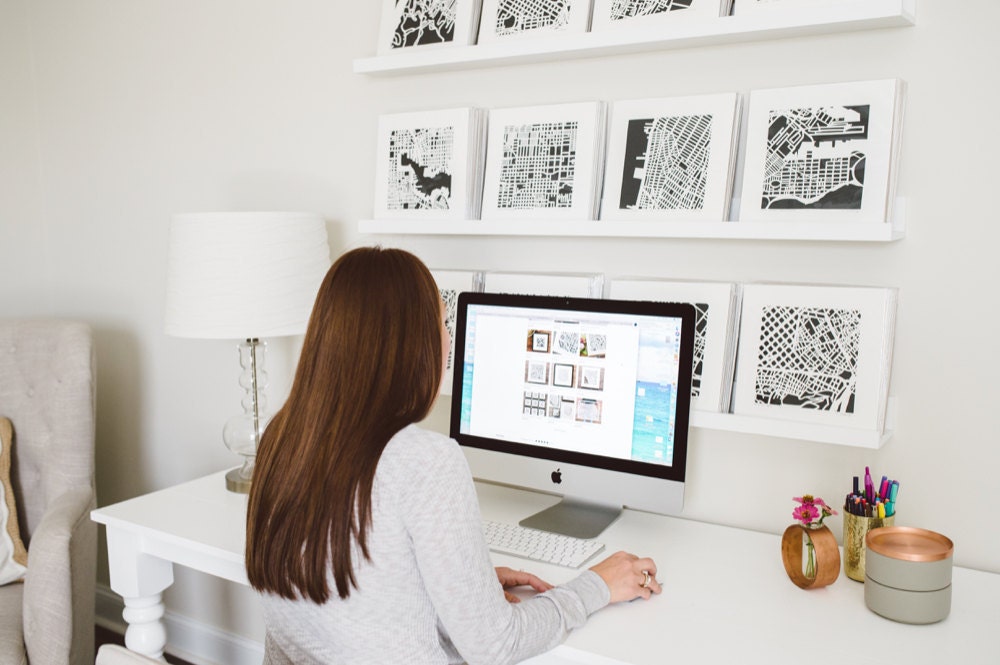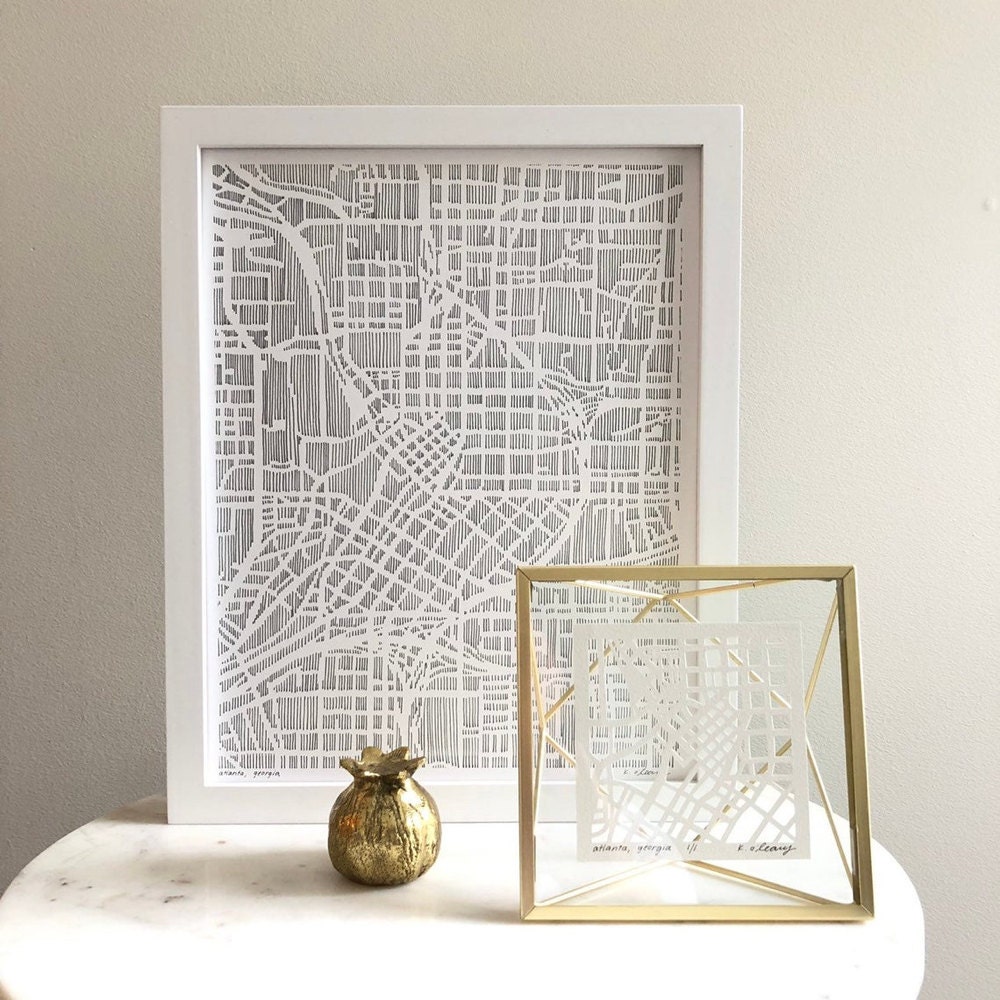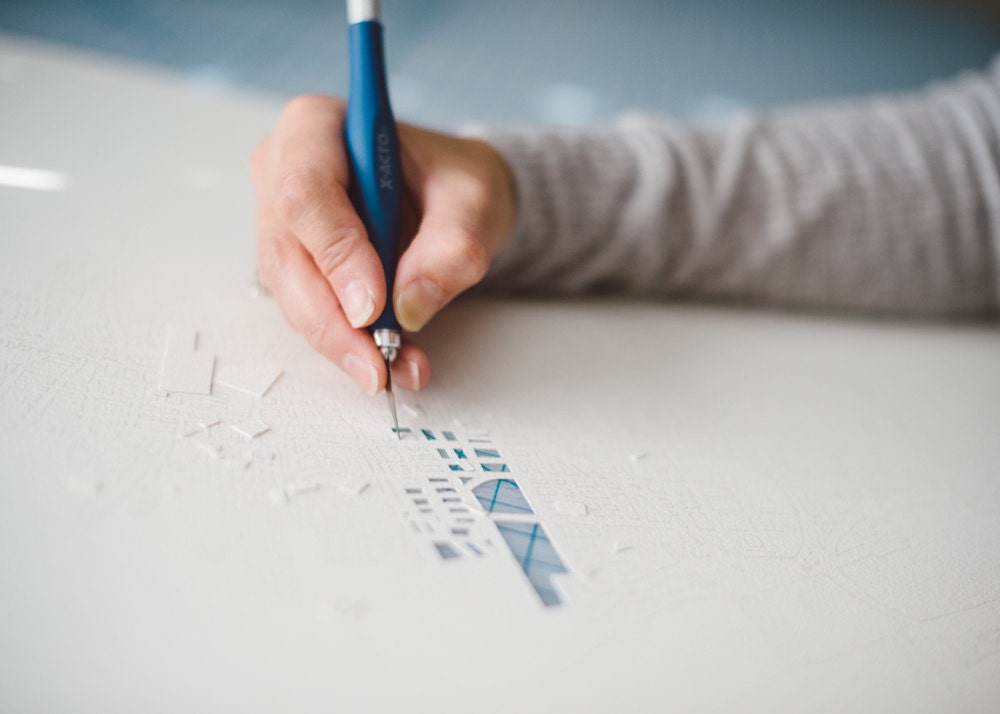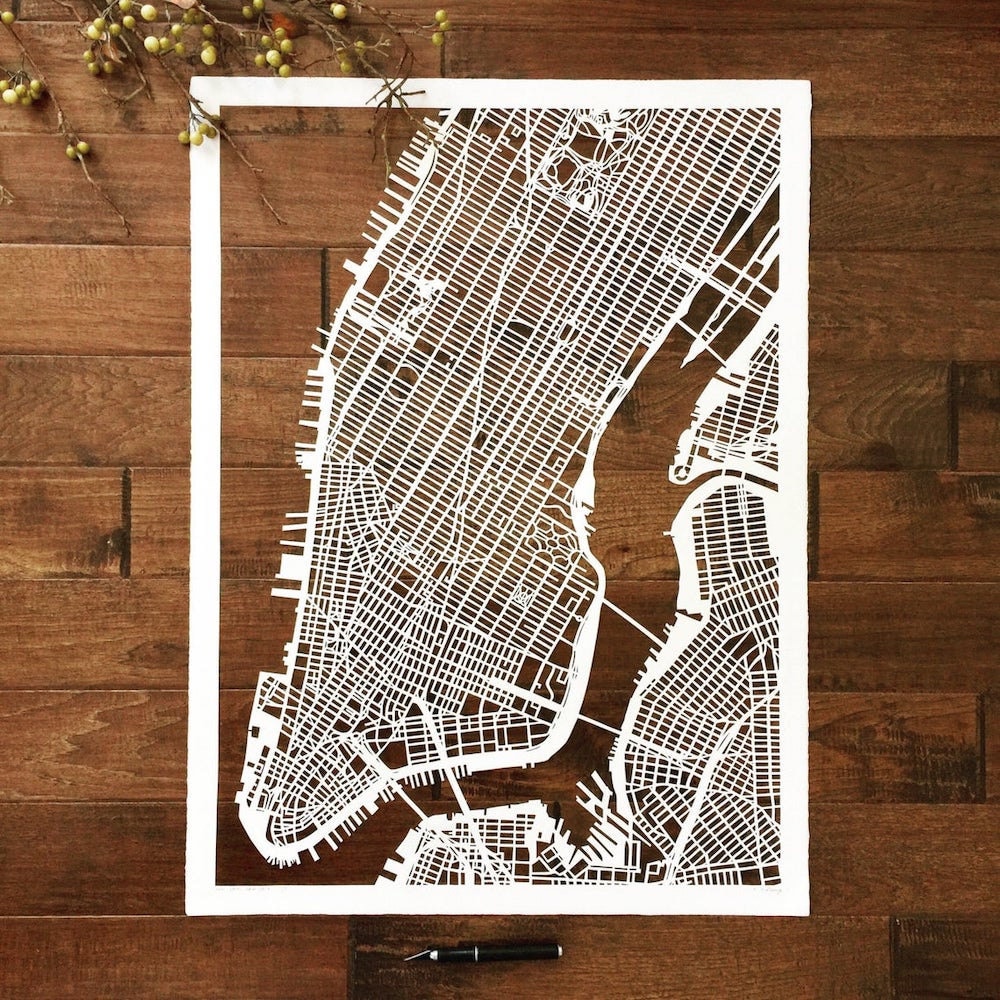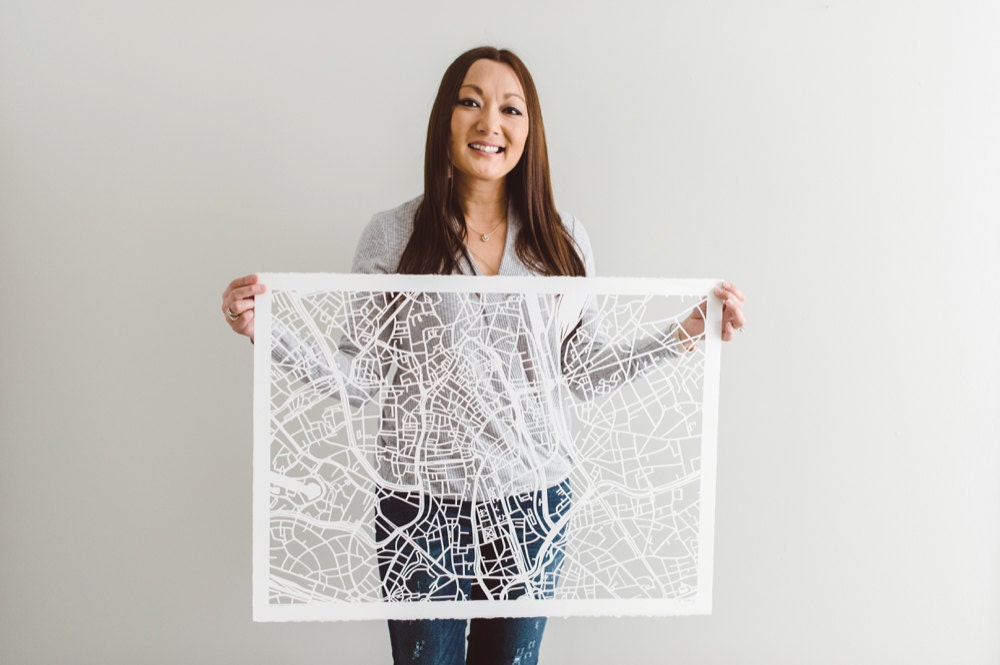 You've made almost 8,000 sales since you opened your shop, and your work has been featured across the web, in people's homes, and in retailers like Nike and West Elm. How does that feel?
It's kind of funny. I'm still just a one-person business. I don't really market at all; I don't promote myself. I do a few shows throughout the year, but not too many because I have two little girls. Somehow these projects and companies still find me, which is neat. I think it speaks to the power of Etsy, because when I put that first piece up, I never knew it was going to create all of this. I have this loyalty to Etsy because it has helped me get to all these other places.
What are some of your goals for the future?
I have artwork in several hotels and public spaces throughout the country, but I'd love the opportunity to focus more on large-scale installations and corporate branding in the future.
Follow Studio KMO on Instagram and Facebook.
Studio photographs by Allison Fowler; process video by Bad Aussie Films; all other photographs courtesy of Studio KMO.