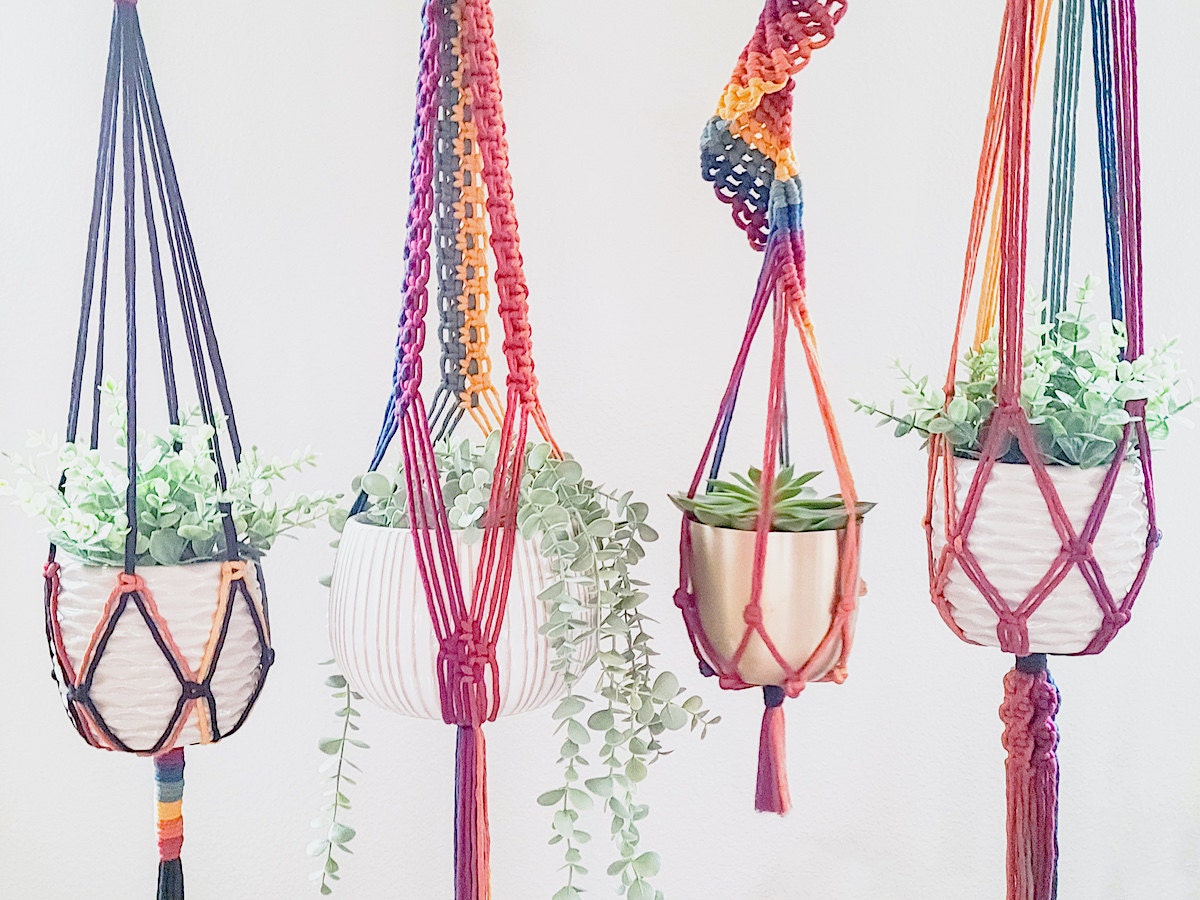 In our Featured Shop series, we shine a light on a standout shop from Etsy's talented seller community, offering readers a behind-the-scenes look at their process and story.
If there's one thing Washington state-based artist Casey Alberti has learned from her growing passion for macramé, it's that weaving some bold purples, sunny yellows, and radiant reds into your life can instantly lift the spirits. While she appreciates the bohemian look of neutrals as well, her favorite pieces to twist together are her intricately knotted hanging planters and wall hangings that boast every color of the rainbow. "For me, color really is everything," says the maker behind fiber homewares and accessories shop Sweet Home Alberti. "It's how we describe personalities and moods, and how we create the vibes of our living spaces."
Explore the Sweet Home Alberti collection
Casey started making macramé magic in early 2020, just in time to help us better outfit our homes for long-term indoor living. New plant parents and garden gurus alike found uplifting displays for their greenery in her recycled cotton plant hangers, while those seeking a simple room refresh brought depth and texture to their spaces with her spiral coasters and fringed wall art. Whether it's a mini home accent, a prismatic statement piece, or even just a cheerful pair of Zoom-friendly earrings, a one-of-a-kind creation from Sweet Home Alberti is guaranteed to brighten your everyday life.
Read on to learn how Casey's passion for craft, community, and custom orders has helped her find joy and meaning during difficult times, then shop the Sweet Home Alberti collection.
How did you learn to make macramé?
It was kind of an accident. A few years ago, I experienced a pregnancy loss and suffered from depression for the first time in my life. I was completely unsure of how I was going to pull myself out of that dark space. My friends are the best way for me to feel lifted, and this was before COVID so I hosted a girls' night. I'd always wanted to make a plant hanger, so I bought some cord, watched two YouTube tutorials, and I was hooked. I made a few and felt confident I could teach my friends.
After that, with every knot and every finished piece, a tiny part of my depression was healed. I opened my shop and my mental health did nothing but improve. It wasn't just the knotting that healed me, it was the sense of accomplishment, the joy for my customers, and the community that I found. Now, a year later, each knot isn't a distraction from my pain anymore but really a celebration of my success.
What kind of feeling do you hope your finished pieces will create in someone's home? 
I want them to add to whatever that person is going for, to their personal vibe. That's why I love getting custom orders. I'm totally down with using neutral tones, too, so I just really want it to be up to them. I hope it's a focal piece in their home, maybe even something that they show off. The privilege of being able to be a part of someone's home is amazing, really.
What are some of your best-selling items? 
Definitely my rainbow plant hangers, which is perfect because I love making them. I think it's because of the pop of color. There's a lot of macramé to choose from, but there aren't a lot that you can find that are really bright and vibrant the way that mine are.
What tips do you have for incorporating macramé into your everyday decor?
My biggest piece of advice is to ask for a custom order. I like looking at my customers' home decor and helping them decide how I can bring their space together. My favorite part is when they send me a photo, so I can see the colors that are in their space, their type and size of plant, and how they want their plant to grow into the plant hanger.
I ask them, "What are you going for? What's your budget? Do you need help with styling or where to place it? Or do you already know exactly what you want?" I would rather someone reach out first than just buy a piece and not know what to do with it. I know some people are a little hesitant because they think a custom order is going to be expensive, but it's not always that way. My pricing is just based on size and how intricate a piece is.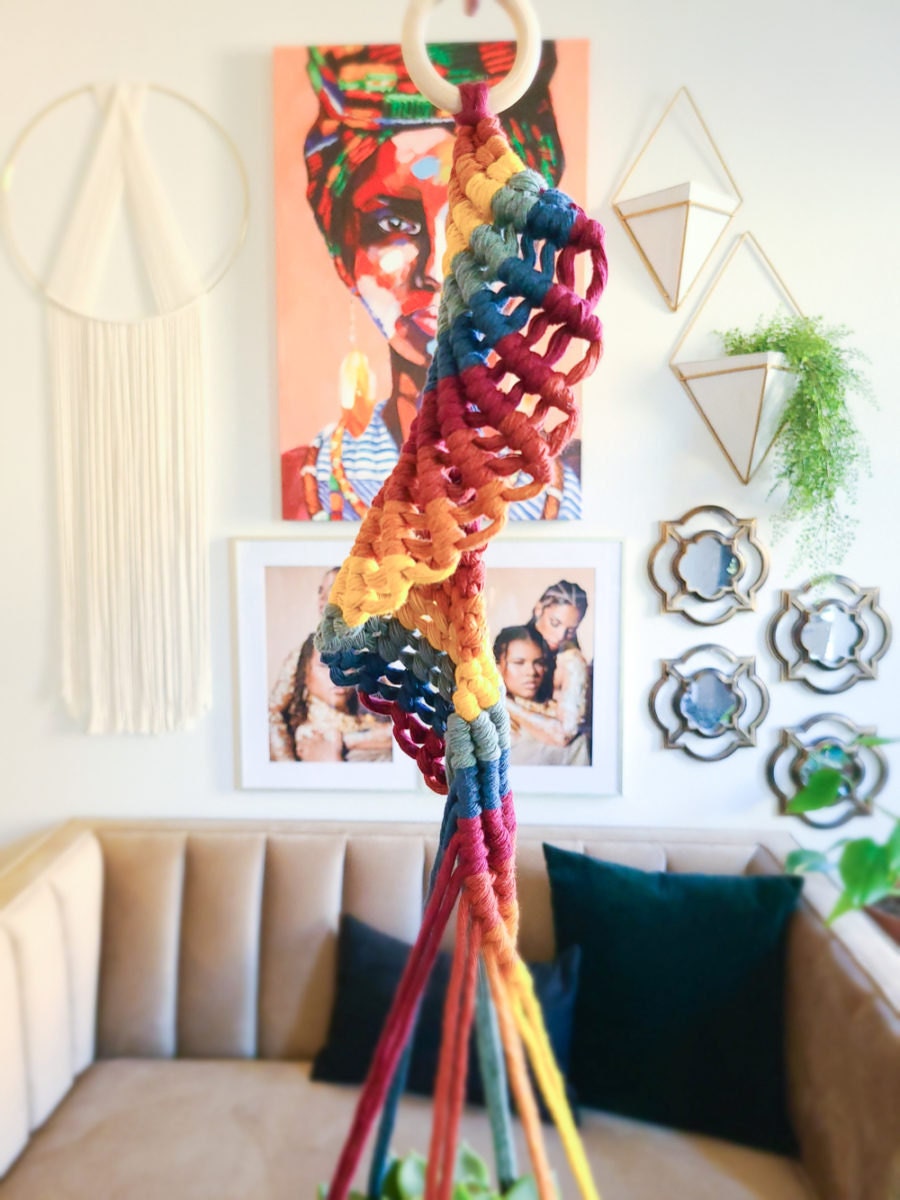 Which of your items make great gifts?
I made so many coasters last Mother's Day, so those are a popular gift for moms. They're also an easy, cute gift to give to someone for the holidays. I get birthday gift requests throughout the year, and people generally are buying for any kind of plant parent. My pieces are great for anyone with a green thumb, but also if someone just starting out, a plant hanger is the perfect gift to encourage them to go find a new plant.
What tips do you have for placing and caring for your macramé items?
Near a window is best for the plant hangers, maybe above a sitting chair or someplace where you might read. Get a hook with anchors if you're hanging it from the ceiling to ensure that your plant doesn't fall. My personal favorite type of plant to put in my plant hangers are any that hang and vine. For wall hangings, people often put them above their beds—which is my favorite spot for them—or in a nursery.
In terms of macramé care, it's pretty easy. Most pieces are made with recycled cotton, so that just means it shouldn't get wet. If you live somewhere where it rains, don't put your plant hanger outside.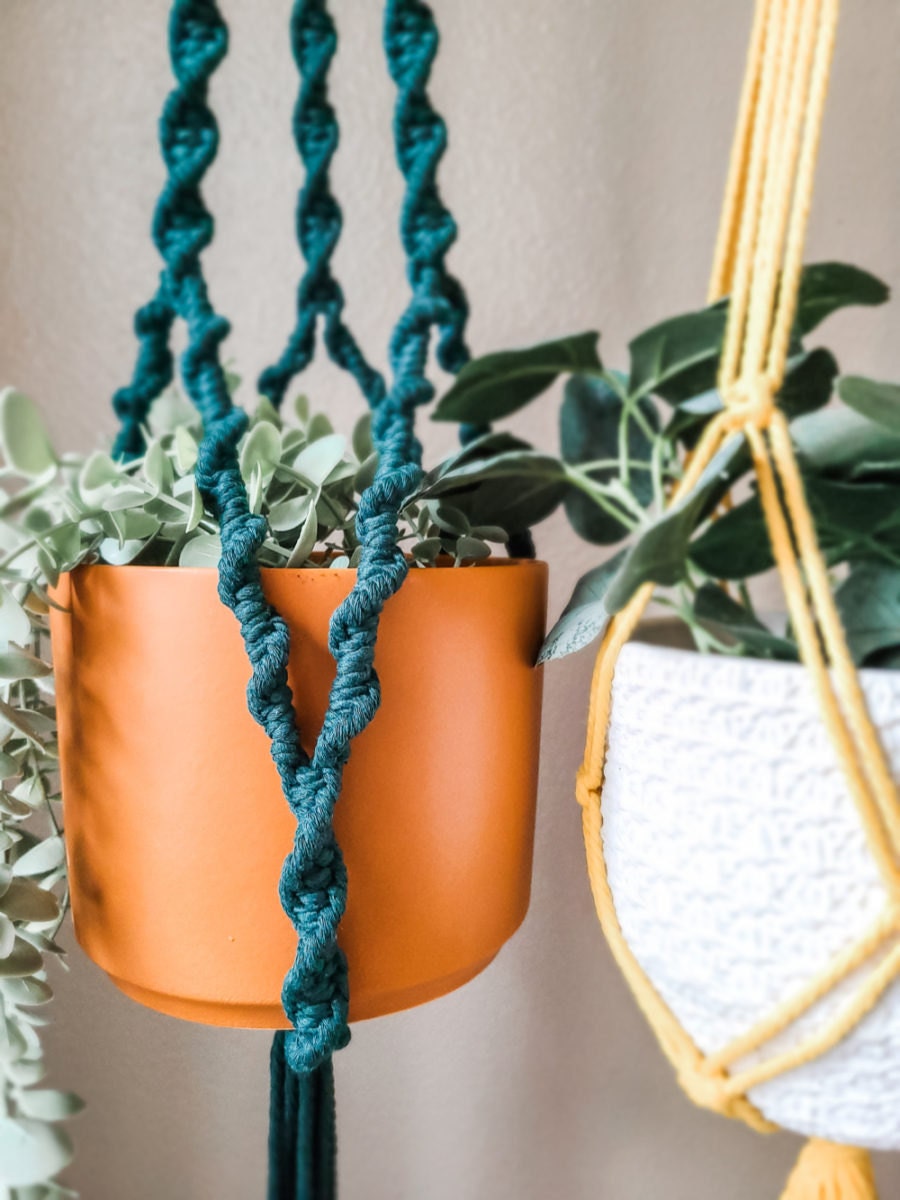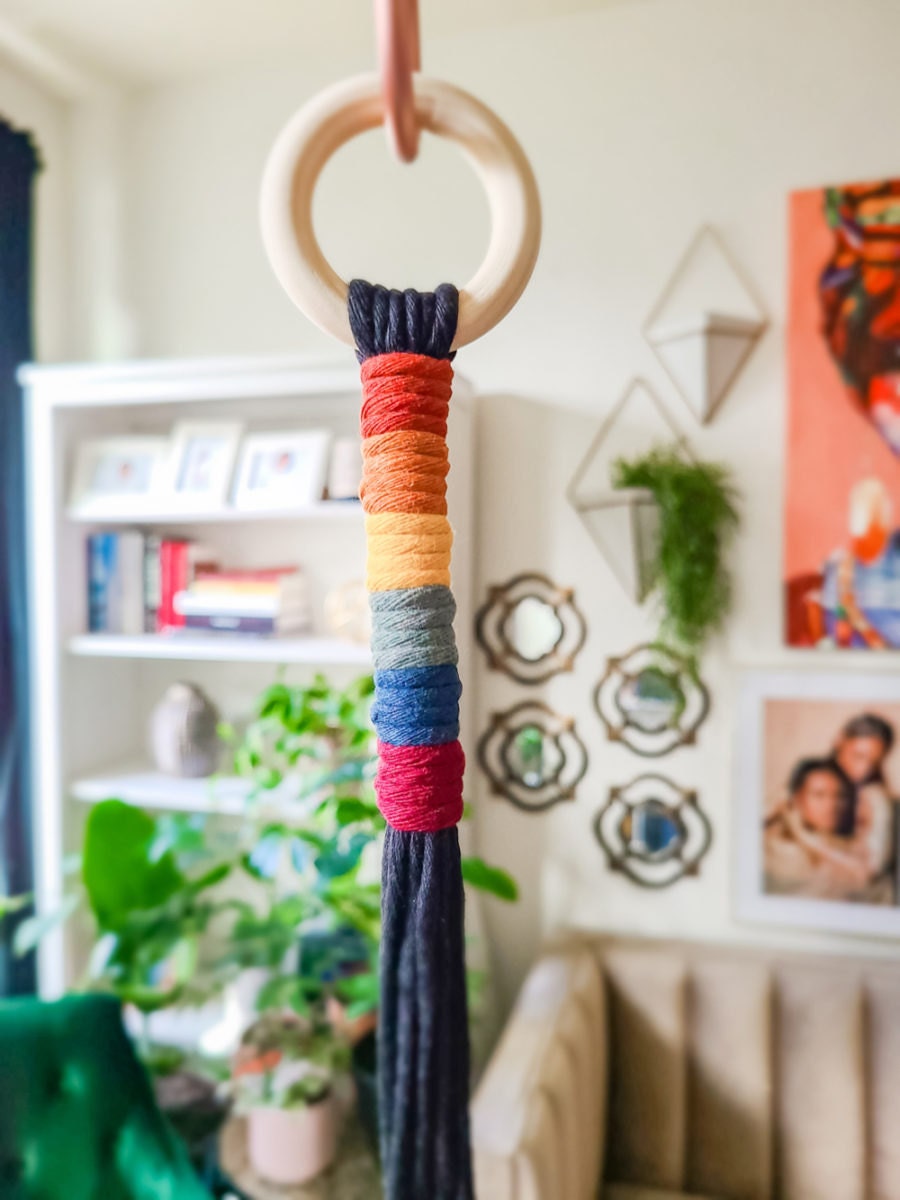 What has it been like to turn your art into a business?
It just really is inspiring. There aren't a lot of Black macramé artists which can feel really minimizing at times, but we've found each other and built a community that rallies behind each one of us. For us, it's community over competition. We remind each other to show our faces, that we have value and talent, and that we belong in this space.
It also means that my kids can see with their own eyes that you really can be anything. It's not just rich and beautiful celebrities to look up to—it's people in their own home. I think the entrepreneur is like the new superstar. Whether their goal is to stay home with their kids or get their PhD or both, they can own something. It's not something that Black boys and girls just have to dream about anymore.
Follow Sweet Home Alberti on Instagram.
Photographs courtesy of Sweet Home Alberti unless otherwise noted.