For illustrator and kit maker Tamar Nahir Yanai, introducing makers to embroidery is the ultimate joy.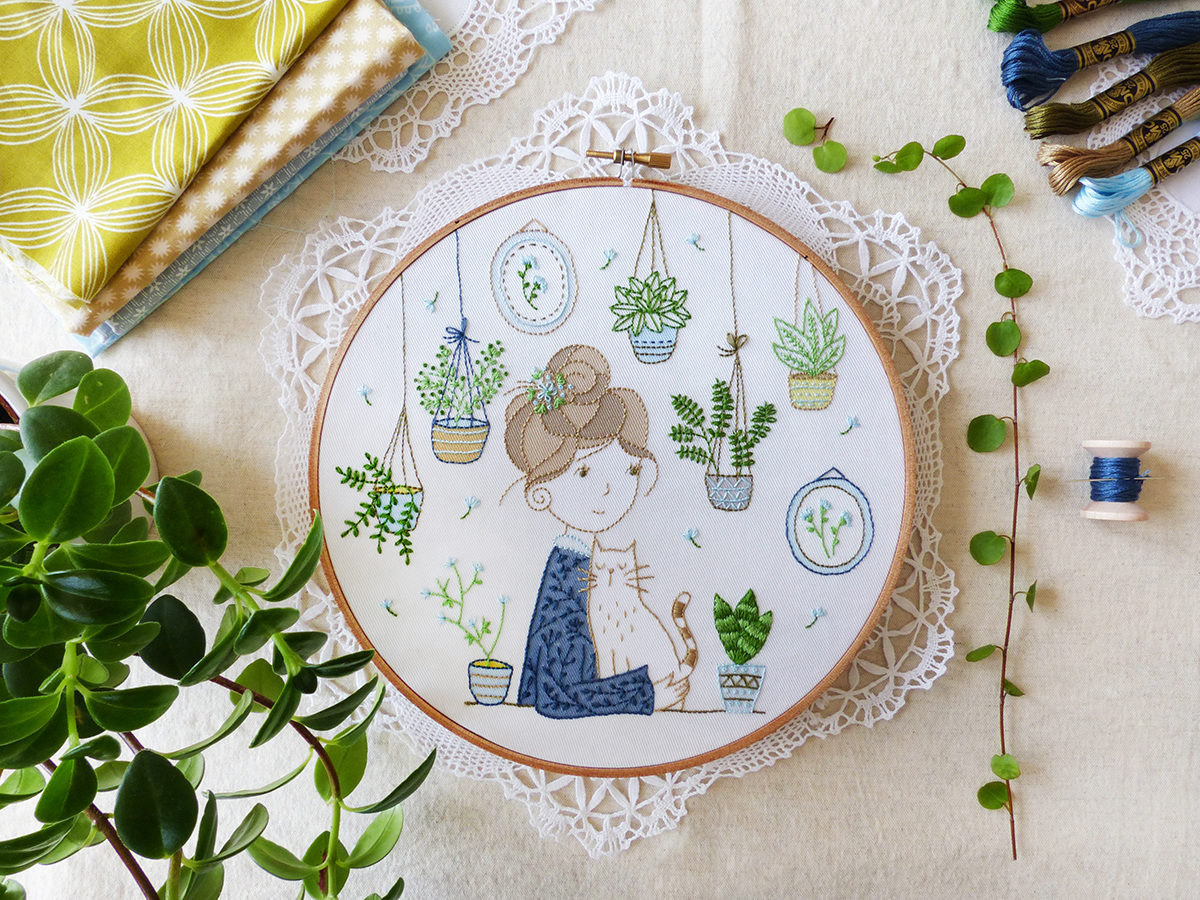 Sometimes, even the most creative careers can prove wanting. After six years as a graphic designer, Israeli illustrator and embroidery artist
Tamar Nahir Yanai
was itching for a change. Her dream? To illustrate children's books from the comfort of her home. Well, when there there's a will—not to mention heaps of raw talent—there's almost certainly a way; to date, Tamar has illustrated more than 20 books. And for this multi-talented artist, embracing her passion for illustration proved to be a gateway to new mediums and projects. As a recreational side project, Tamar began creating one-of-a-kind drawings for her two daughters, which slowly evolved into a bonafide product line. In 2011 she
opened shop on Etsy
to sell her whimsical postcards and prints. It wasn't until customers began requesting permission to create embroidered versions of her dreamy works that Tamar considered branching into the world of textile arts. "I was flattered, intrigued, and decided to try my hand at embroidery," she says. "While I'd dabbled in the art as a child, this renewed encounter made me fall in love all over again." Today, embroidery patterns and kits feature prominently in Tamar's line, and she's come to think of illustration and embroidery as highly complementary art forms. "Each new illustration immediately has me thinking about its manifestation in embroidery, and every time I embroider one of my works, it feels as though I'm reproducing it in thread," she says. "I love seeing my art come to life in embroidery, and take great joy in seeing other embroiderers take my illustrations and make them into something uniquely of their own."
Read on for more on Tamar's relationship with her customers and discover the pattern closest to her heart—then shop the collection.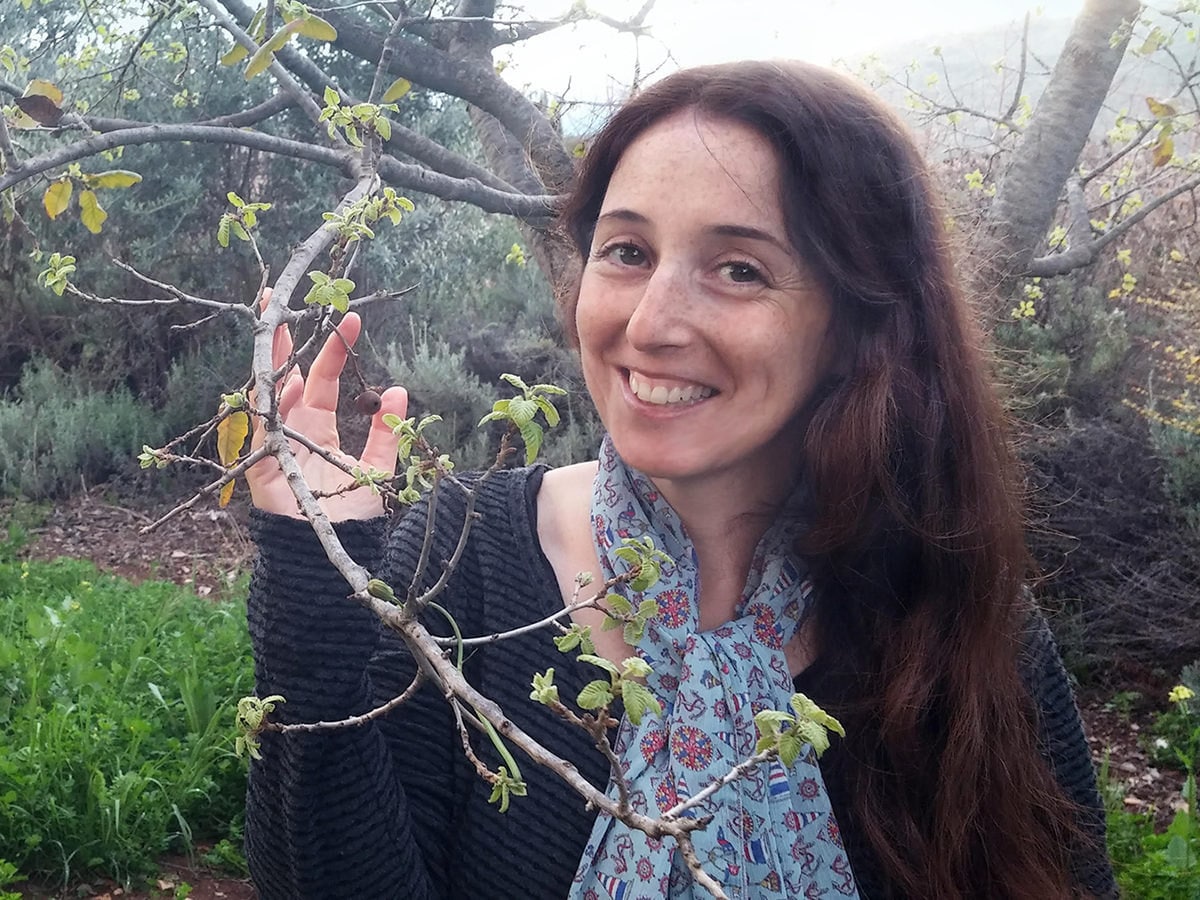 Why did you decide to sell embroidery kits and patterns? What is it about helping others create projects of their own that appeals to you?
My fascination with embroidery started as a response to client requests. I used to participate in fairs and would get lots of direct customer feedback—that's how I learned that people wanted a design that was already imprinted on fabric, and better yet, part of a full kit with instructions, needles, and thread, so they could dive right in. The contents of the kit and its eventual form took some trial and error. I think it's important that when a customer gets a kit, the mere sight of the packaging is enough to excite them. I love embroidery and am so happy to know that
my kits
provide that same sense of joy and comfort for people worldwide. They take my creation and make it their own.
Can you walk me through your design process?
Most of my
embroidery designs
are based on 
illustrations
, but they have to be simplified and adapted to accommodate a needle and thread. Some are too detailed to be embroidered, so I adapt the proportions. I always take the longest time figuring out the coloring—what to keep, what to take out, what to bring out with thread, and what to keep uncolored. It takes several tries to get everything right. After the design is ready, I print it on fabric and try it out myself. I usually have a general idea for the colors, but I often change them as I go, along with adding or removing details. Sometimes I'll start and then realize something doesn't quite work as I had planned. I have to admit that it's hard to part with a piece and declare it finished, but it's part of the process. I personally photograph all the
kits
for their packaging. I love sharing what I feel is the atmosphere embodied in each piece. Hopefully the photos inspire others as they work through it.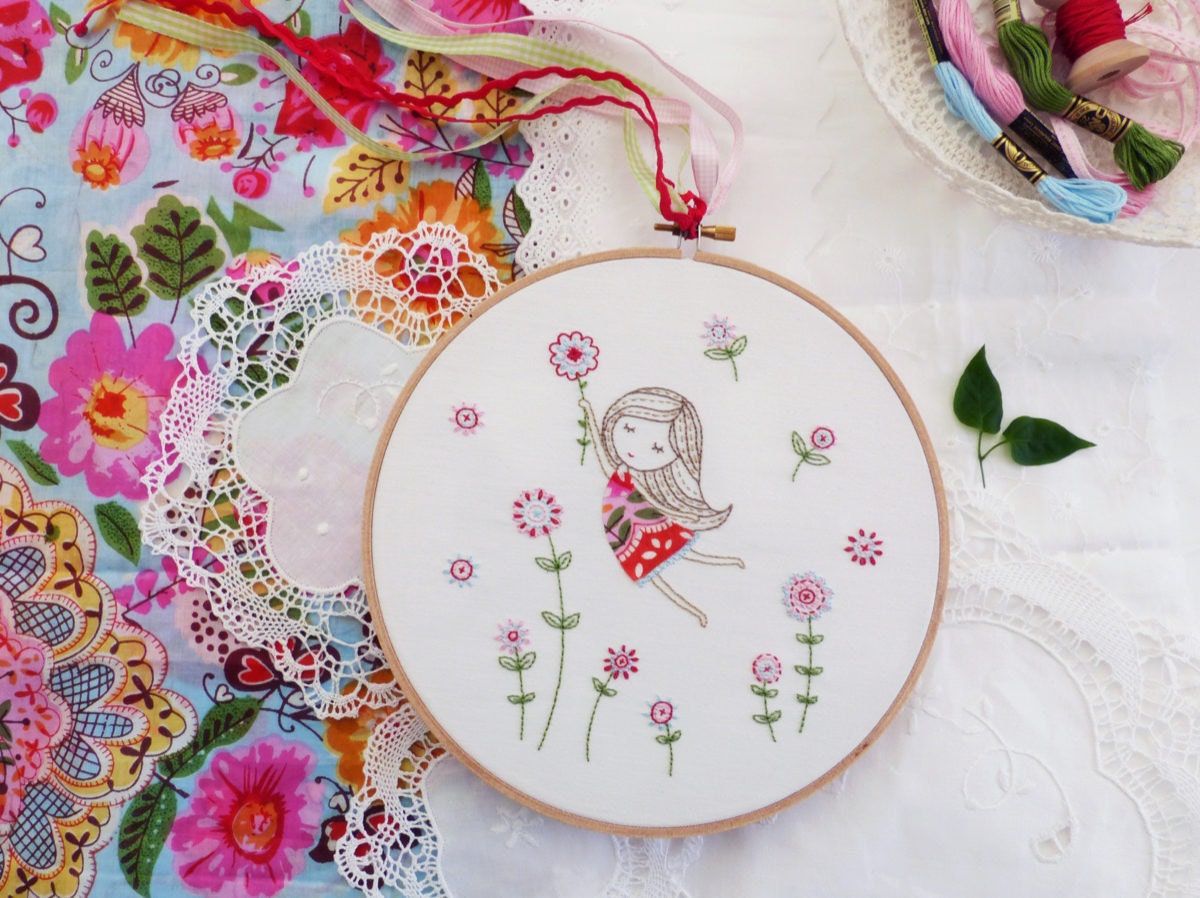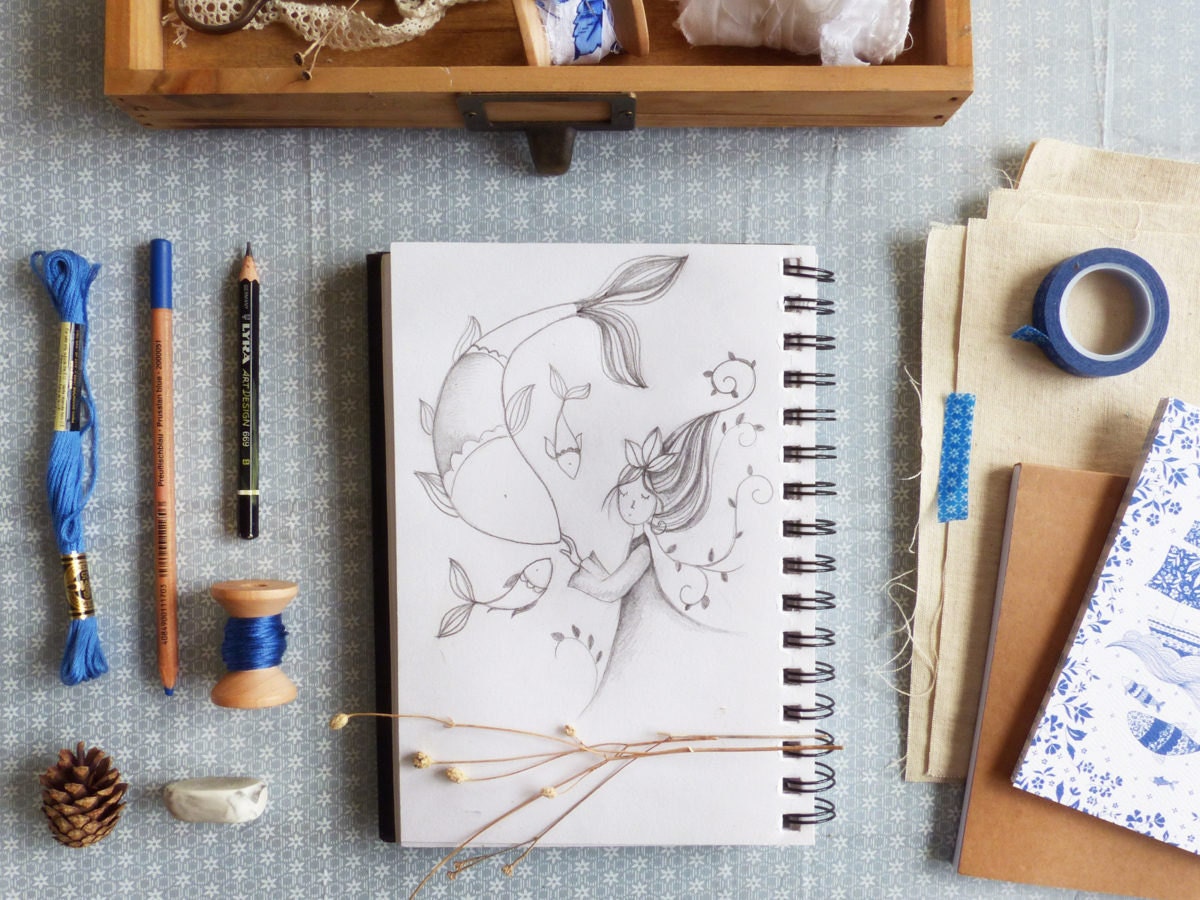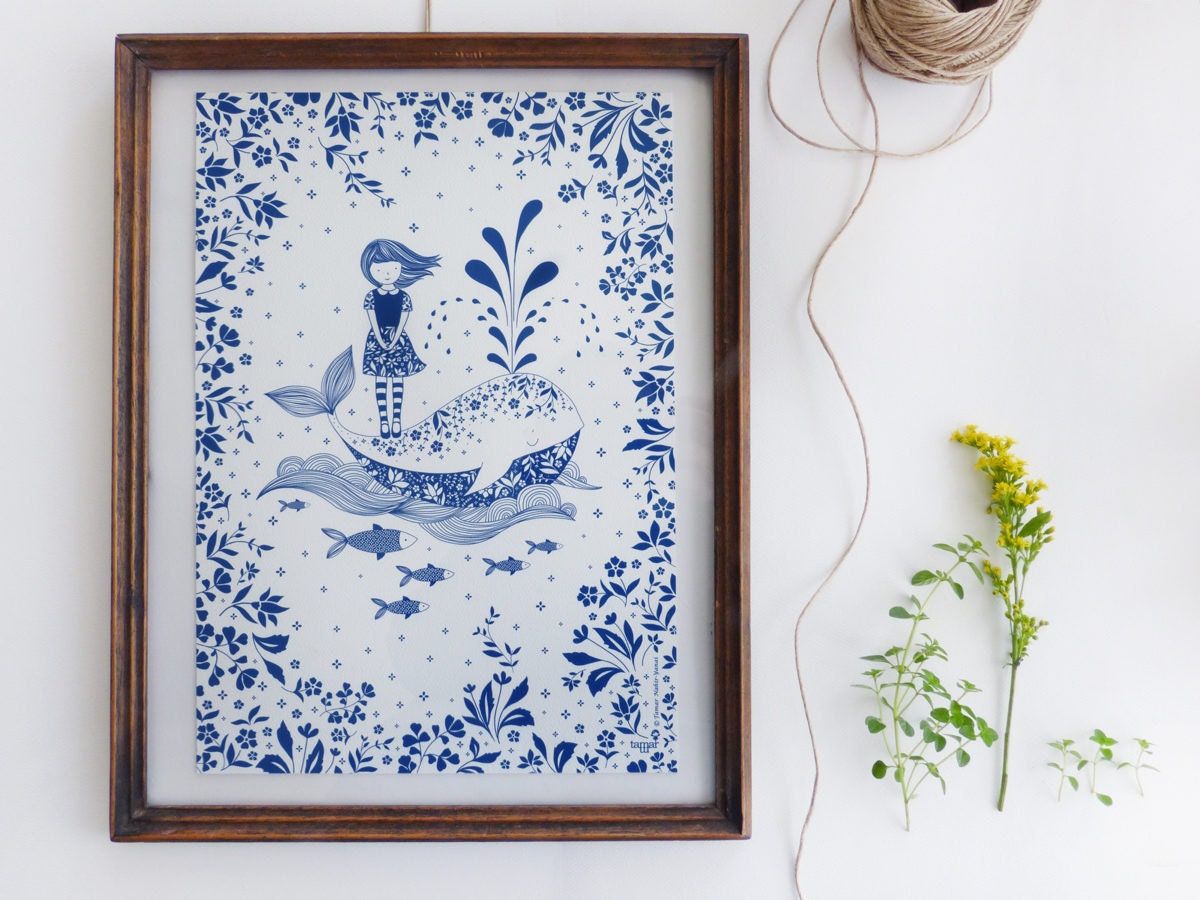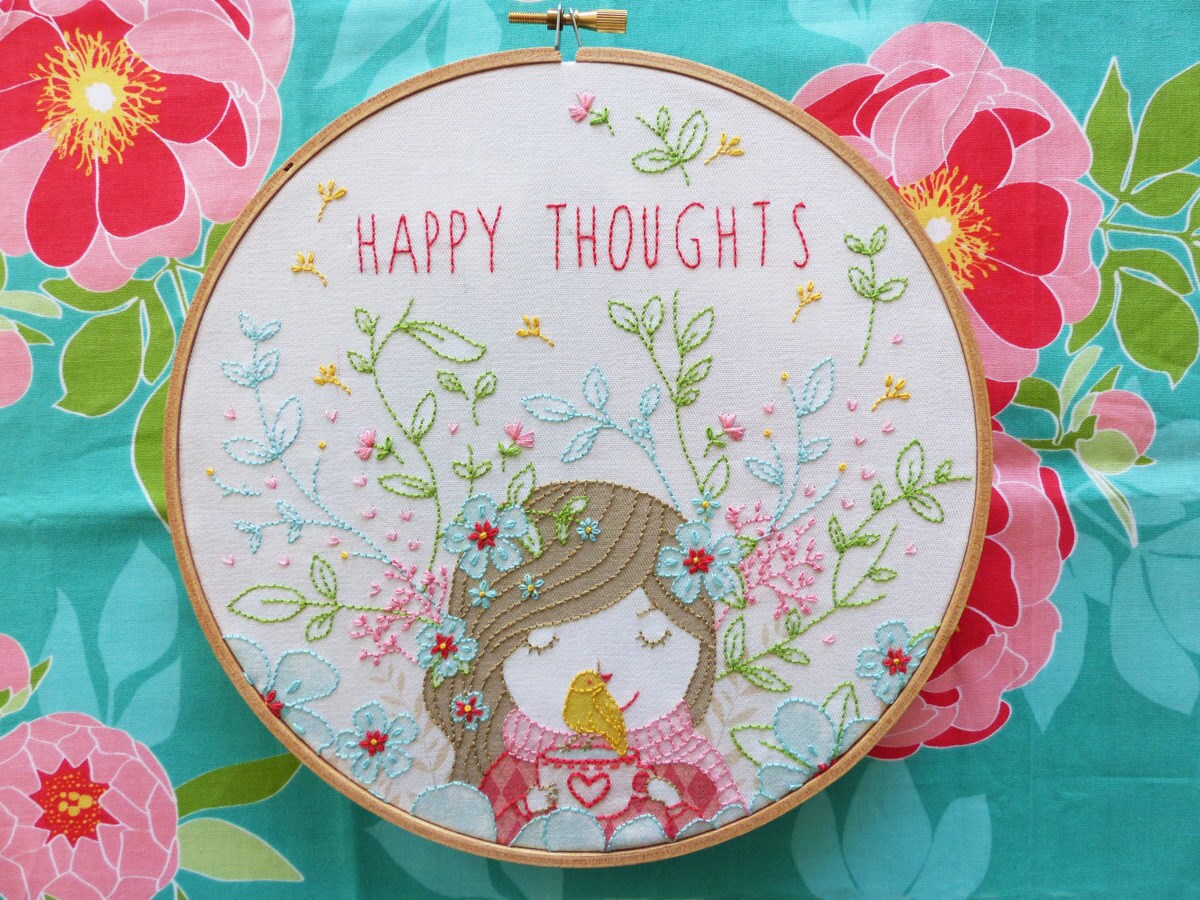 Do any of your designs have a special personal meaning for you?
I fall in love with each new piece, but there's one pattern that's very dear to me: the
Happy Thoughts
pattern. It always gets positive feedback; I've had buyers tell me how they've purchased it as a get well gift for a bedridden friend who could use a craft to give her a bit of optimism. Some people tell me how they've embroidered the kit and gifted it to a mother or a sick friend to cheer them up. There's something very heartwarming about an illustration or embroidery work that makes others happy.
What are your go-to sources of inspiration?
My inspiration comes from day-to-day experiences. I usually depict my daughters in both my
illustrations
and my
embroidery
work. As they grew up, so did my style of illustration. It has matured. When I'm working on a new project, I need to be in my own silent bubble, either late at night after everyone is asleep or early in the day when the house is empty. I love designing new products—illustration or embroidery, there's nothing like it. To start something from scratch from an idea that's been swirling in my head is a wonderful feeling.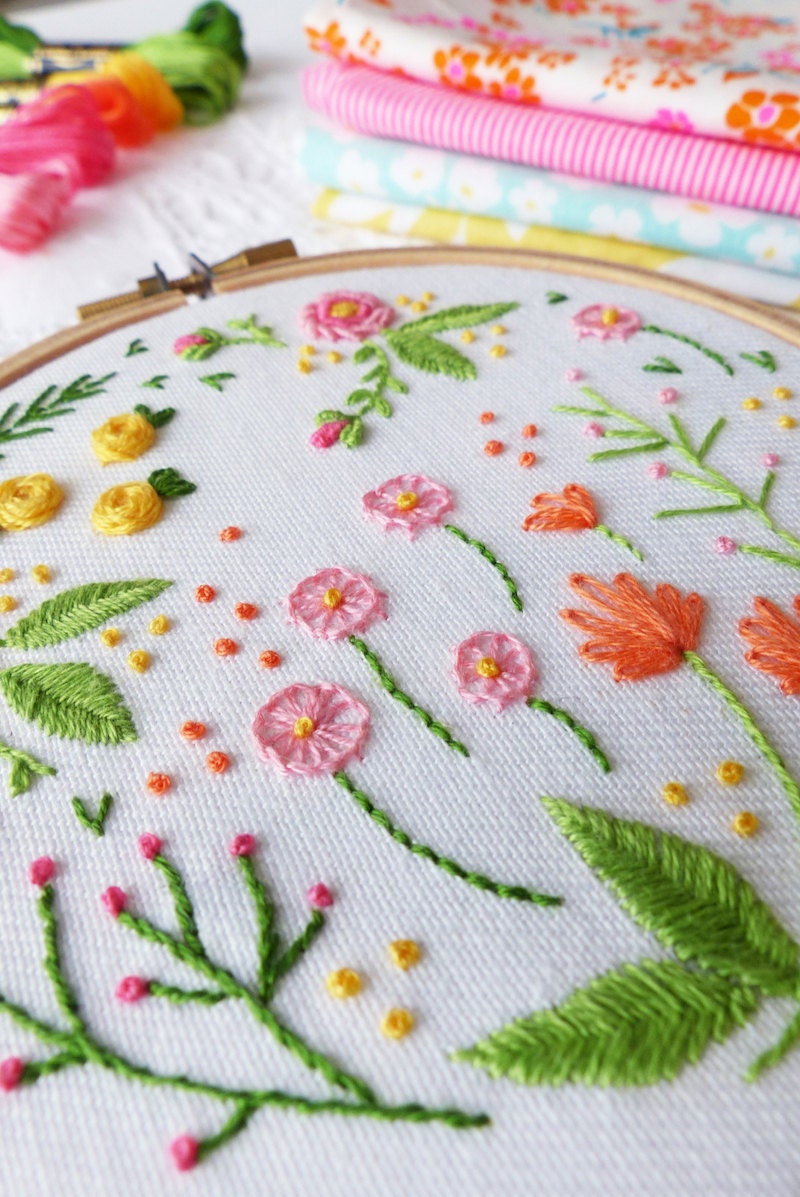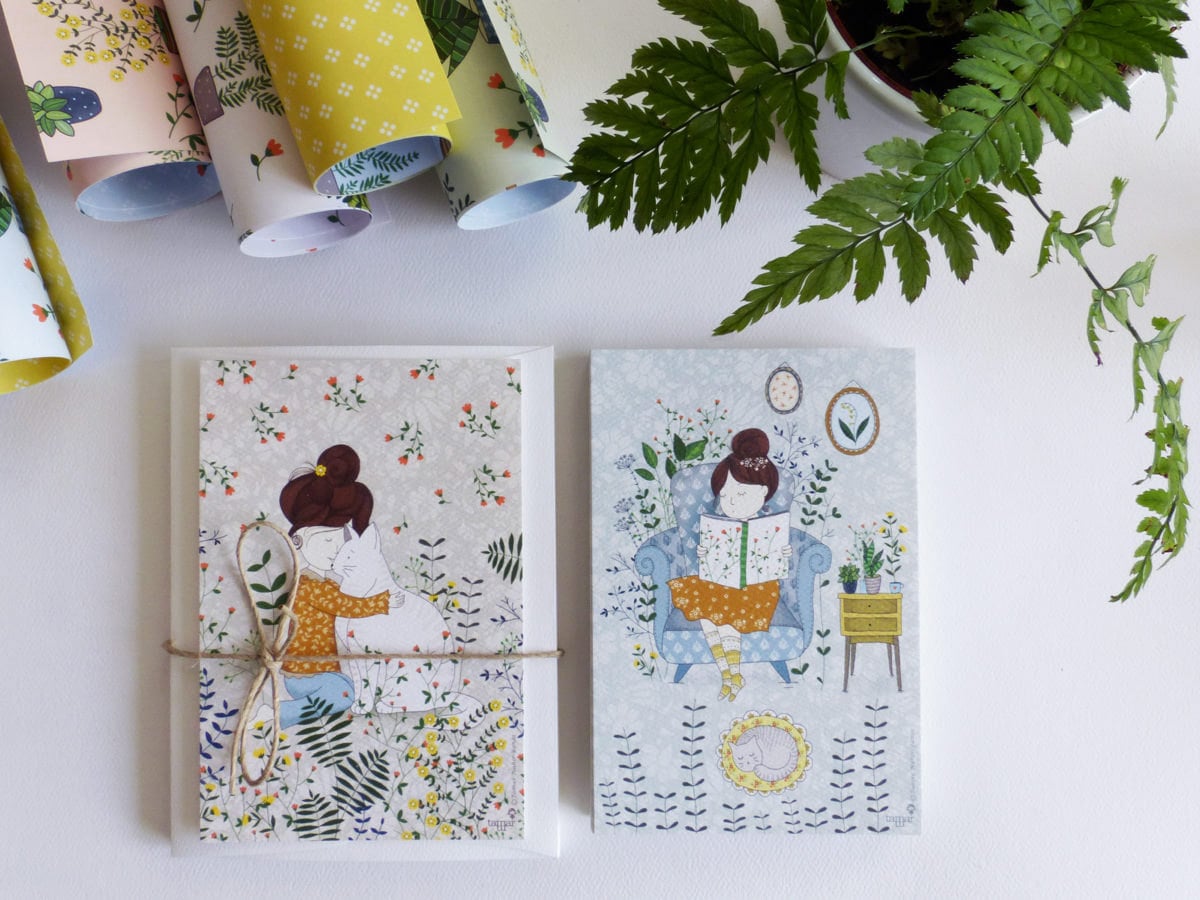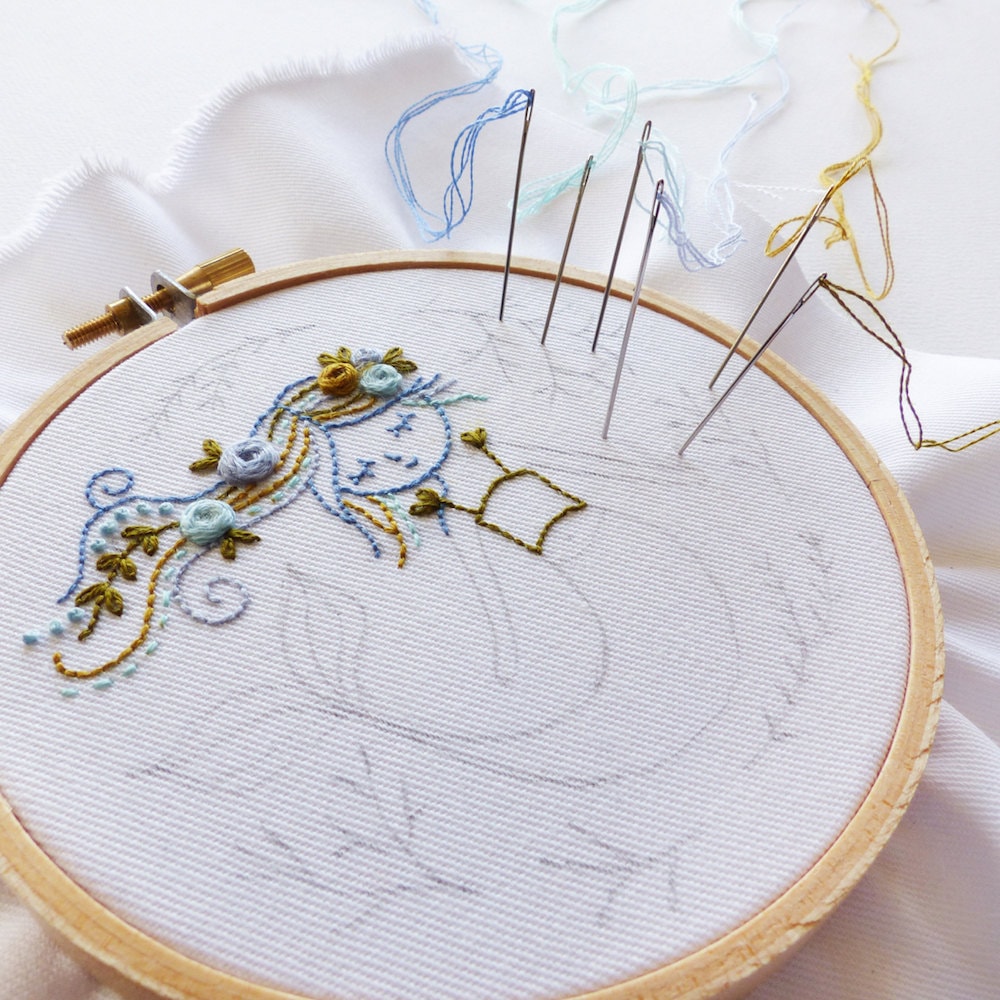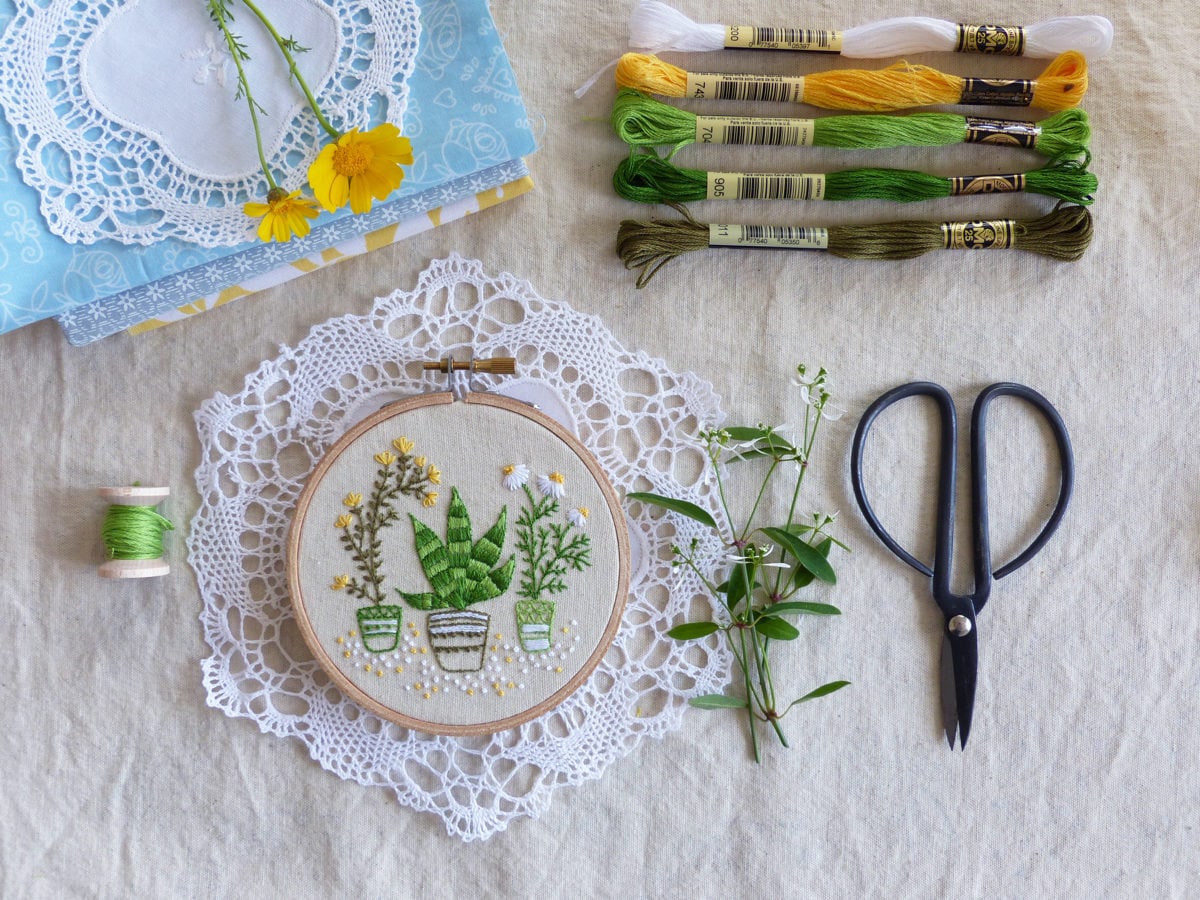 Your Instagram following is quite impressive! What role does the platform play in your business?
It took me a while to realize just how significant Instagram is. I use it for so many things, from advertising new
kits
to
sharing the creative process
. It thrills me when someone tags me in a photo of their finished work. It brings me absolute joy to virtually meet the hands behind the work.
Would you say you have a typical customer?
My embroidery workshops are attended by women of all ages, from 8 years old to 80. There are lot of young moms and career women. As my workshops around the country have gained popularity, women who have never embroidered are approaching me and asking to learn the craft. Customers have also reached out to tell me how my work has helped them get back into 
embroidery
after a long hiatus. I'm always touched and excited to share my passion and help them fall in love with the world of embroidery. All of my customers share a passion for craft and the calm it brings, but I can't say that there's one typecast. Maybe myself? I make what I love—whatever feels right and makes me happy. So if I'm able to make others happy in the process, that's incredible.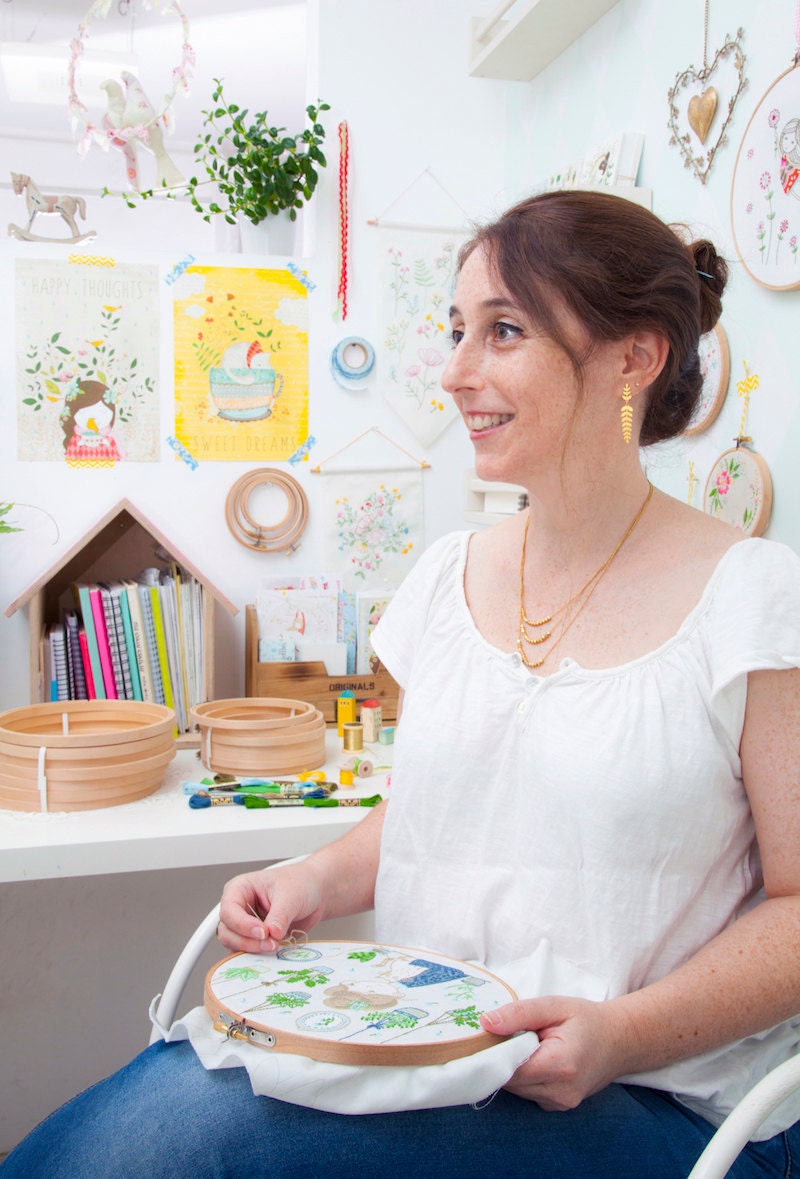 It sounds like you have a really great relationship with your buyers.
I think the relationship with my customers is what motivates me the most. I felt it when I did craft fairs early on, and today I see it in constant feedback on Etsy, Facebook, Instagram, and in embroidery workshops. There's something about embroidery that stirs you up inside. Many of my clients send me progress updates and pictures—it never ceases to amaze and thrill me. I also love seeing
my embroidery
interpreted by others, in different atmospheres and locations around the world. Whenever I pack a
kit
or a
print
for shipping, I make it a priority to personalize the parcel. I feel a connection with my buyers, and I want them to know how much I appreciate each and every one of them. I always sign a handwritten "thank you" and send them out with great love.
Follow Tamar Nahir Yanai on Instagram, Facebook, and Pinterest.
Photographs by Tamar Nahir Yanai.