Bring your personal style to life with these conversation-starting pieces that add an artful touch to any living space—or gift one to a lucky loved one.
In our Featured Shop series, we shine a light on a standout shop from Etsy's talented seller community, offering readers a behind-the-scenes look at their process and story.
Some people may dwell in a sanctuary of simplicity while others prefer a more maximalist vibe, but there's no two ways about it: Our home decor is as individual and category-defying as we are. Luckily, with their sleek, clean lines and thoughtful, color-blocked patterns, Tara Warrick's hand-painted concrete accessories are designed to hold their own in a wide range of spaces, from quietly understated country bedrooms to bright and bold urban entryways. "In my own home, I don't have a specific way that I decorate," explains the Philadelphia-based maker and owner behind Tara Jayne Designs. "My personal motto is: do what you feel."
When Tara first discovered concrete back in 2020, sparks flew, and it was love at first pour. She jumped in with both feet, churning out a modern collection of coasters, trays, and incense holders that are as satisfying to scatter around a room as they are to gift to others. "When someone visits my shop, I want them to find things that speak to them, or remind them of people they care about," Tara says. Because at the end of the day, it's all about following your intuition, letting your taste lead the way, and cultivating a space that feels like the best version of your one-of-a-kind self.
Read on to discover the inspiration behind Tara's designs and discover her picks for Father's Day gifts—then shop the Tara Jayne Designs collection.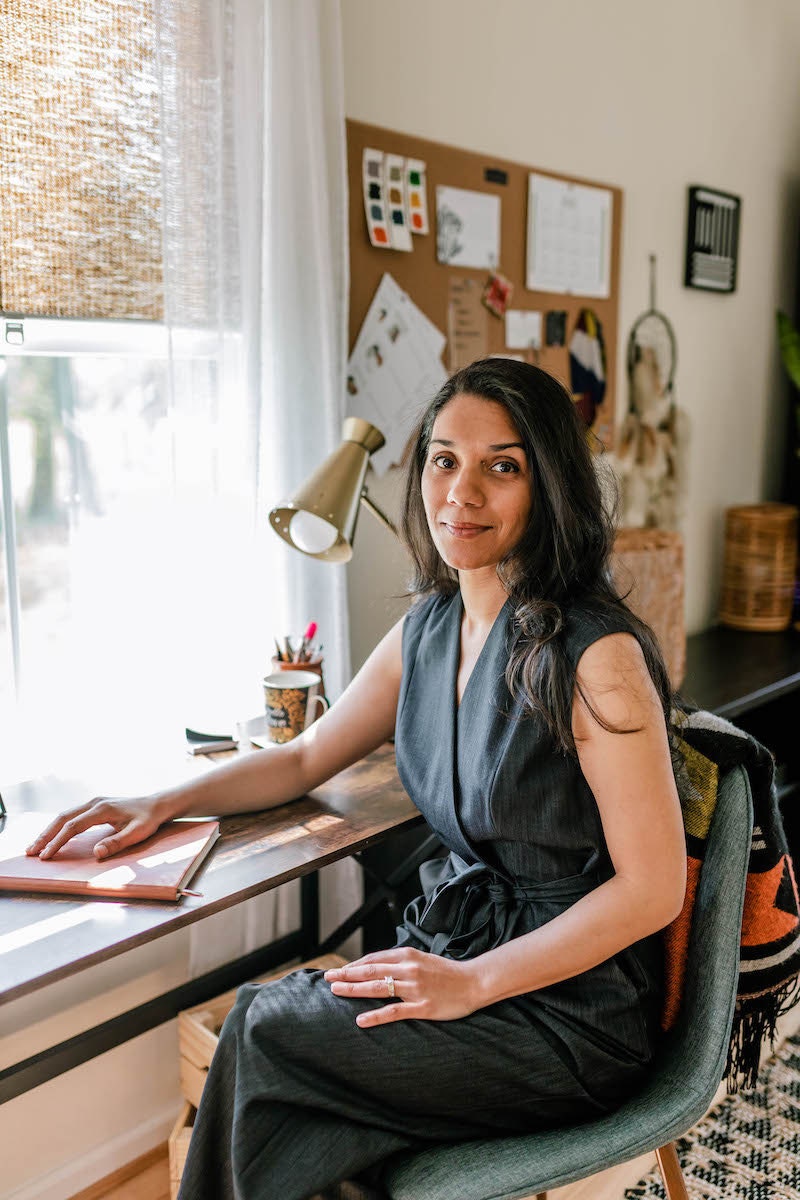 How did you get started designing home decor?
Before the pandemic, I worked in a people-facing position and I thrived on it. During quarantine, I wanted to continue to have that human connection—and in a situation where that wasn't possible in-person, I decided to start creating and sharing my work with others. My first thought was to make coasters, and I tested a couple of different mediums before I found a type of concrete that worked well for painting and sealing. When I figured out that concrete was what I wanted to work with, I ran with it. But I have no formal background in design and have never done anything like this before.
How would you describe your aesthetic?
My pieces are all about contrast, a mix of rough and smooth, sleek and strong, delicate and bold. I pair the rustic feel of the concrete with hand-painted designs, but I also like to use straight, clean lines. I had to quickly form a relationship with concrete because in the beginning, the perfectionist in me would see a divot and want to start over. But I realized that I had to accept however the concrete hardened, and see the beauty in that. At this point, I don't have a pour that I don't use. Every single imperfection just adds to the piece.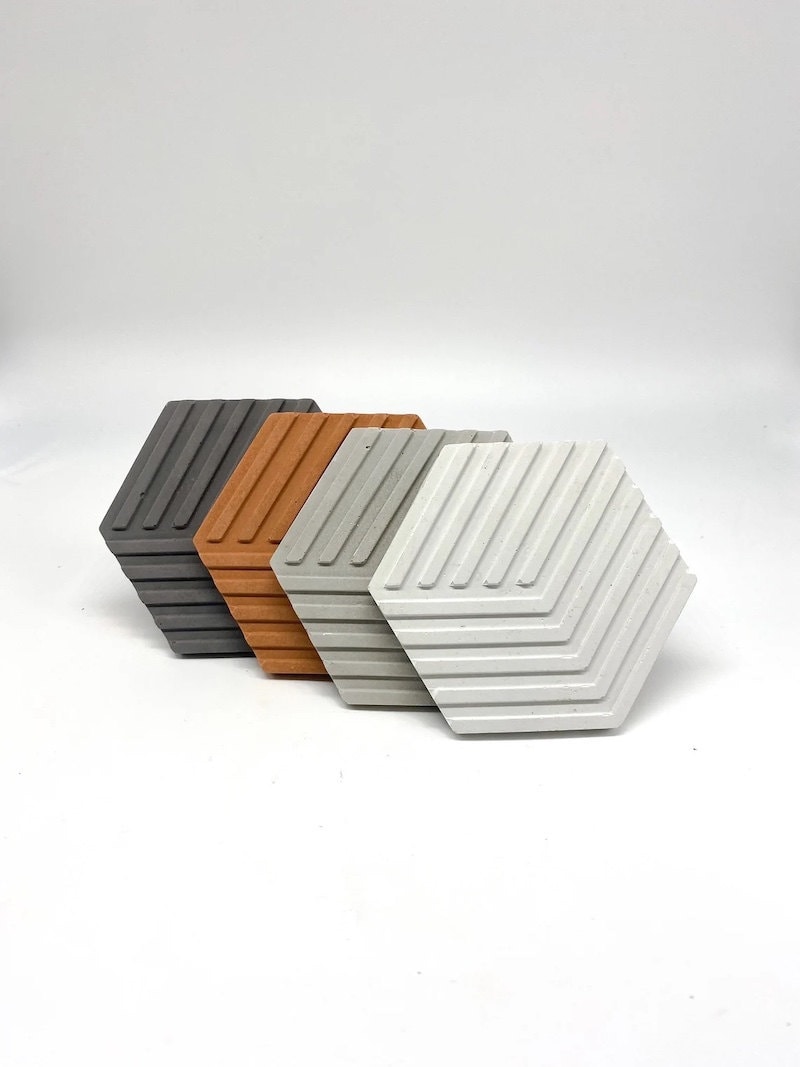 SHOP: Hexagon concrete coasters from Tara Jayne Designs, $20 for set of four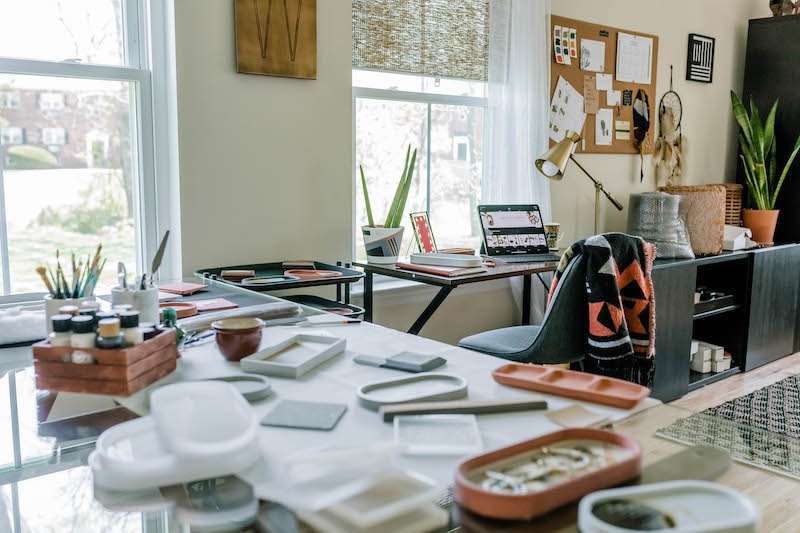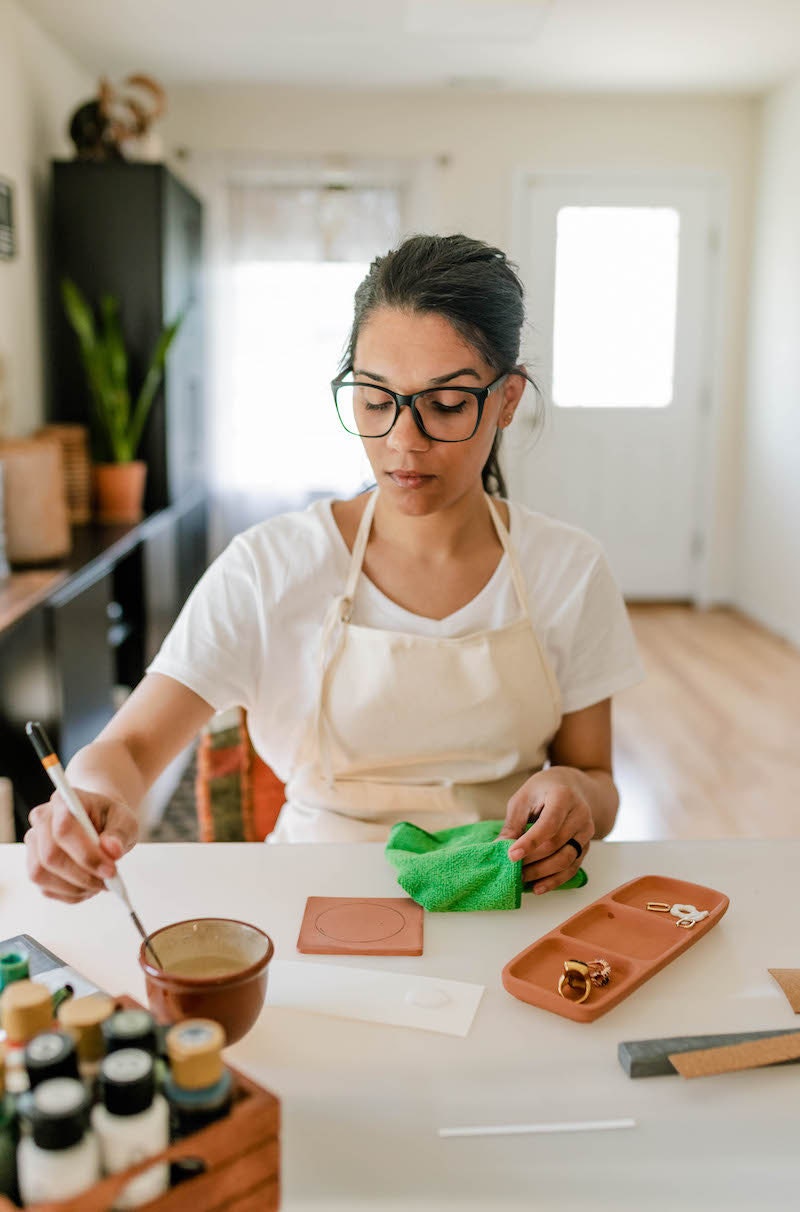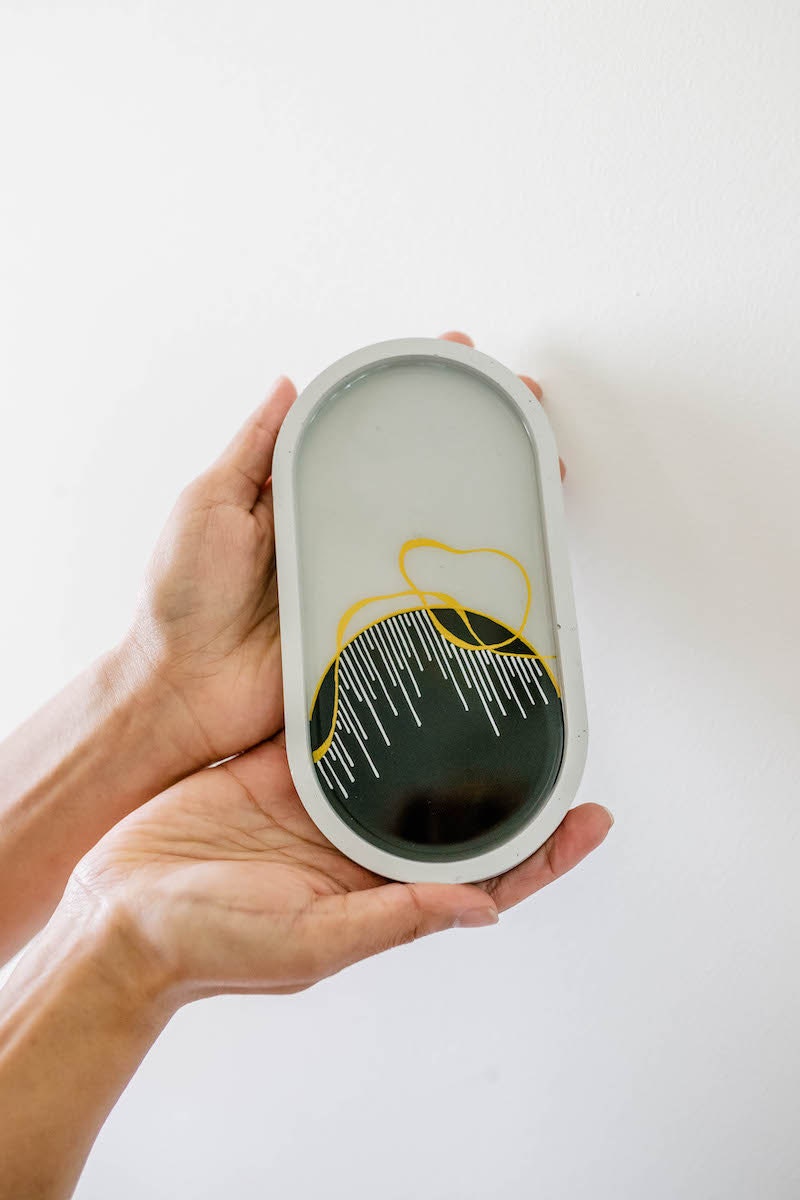 SHOP: Hand-painted concrete tray from Tara Jayne Designs, $28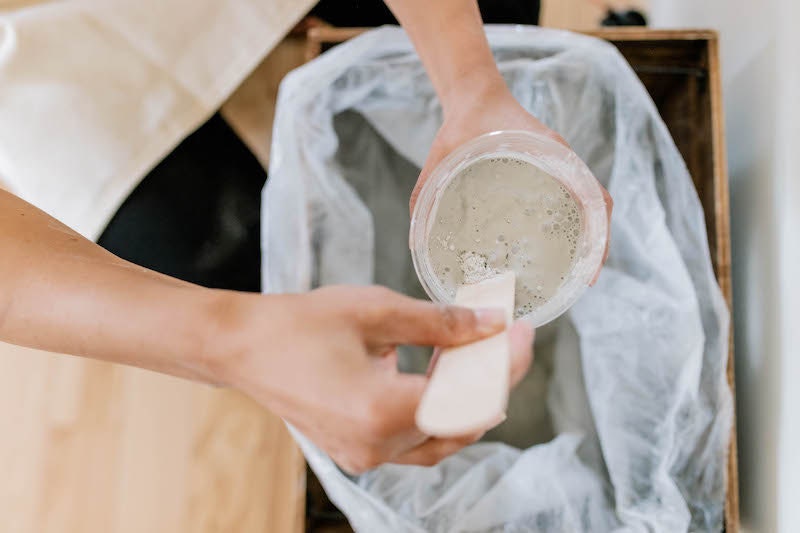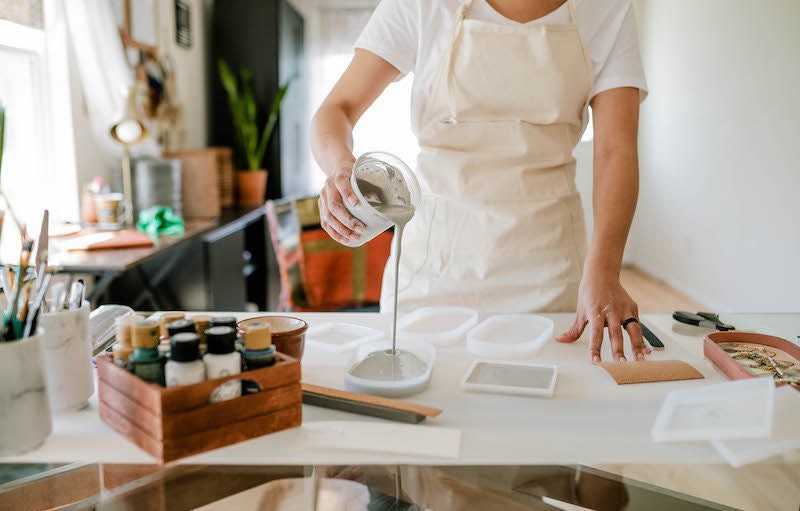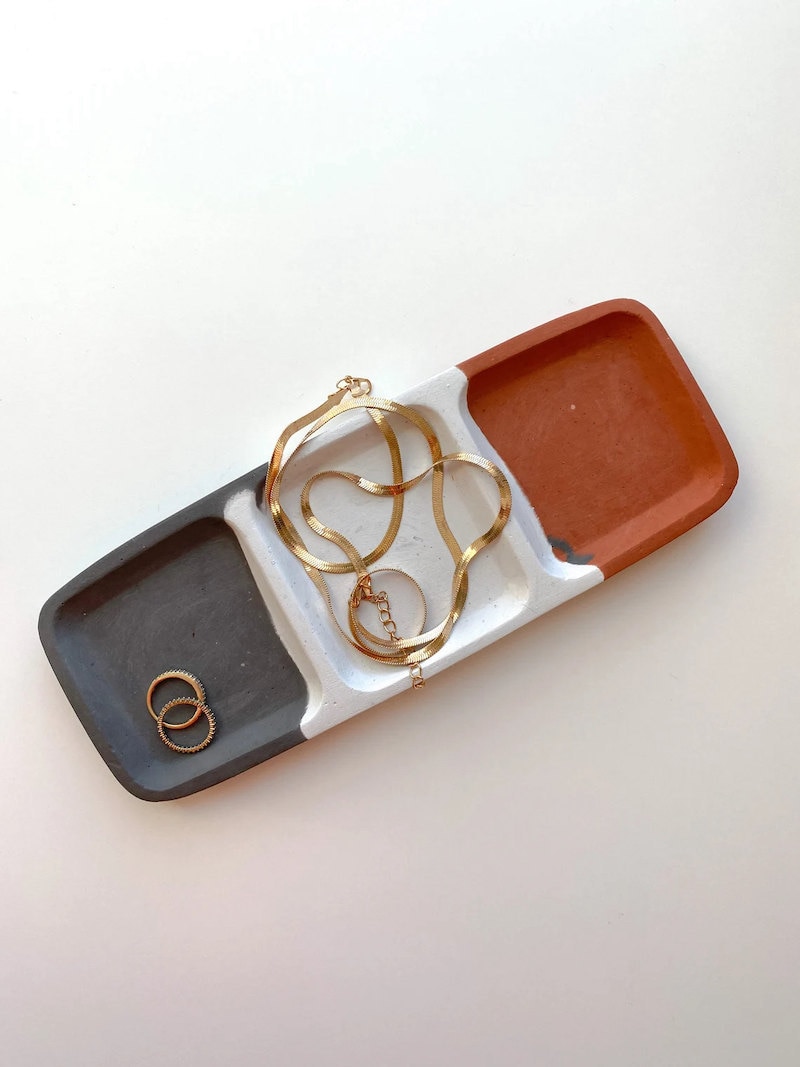 SHOP: Concrete catchall tray from Tara Jayne Designs, $21
What are some some of your most popular designs?
People want beauty in their homes, but they also want to be able to throw their rings on a dish or organize their mantel, so functionality is key. I have a terracotta tray with a large, cream semi-circle that's well-loved by my customers. I think that's because it's different and funky, with a good, neutral pop of color that people can visualize in their space. My slim incense holder is another best-seller, because it fits any space.
Can you share your favorite gift ideas for Father's Day?
People sleep on coasters, but every dad has a favorite mug that he sits on the table! I have some coaster sets with strong, bold colors, as well as functional concrete dishes and card holders that a dad would appreciate. But I don't think those designs have to be a Father's Day gift, necessarily. I would encourage anyone looking through my shop to keep an open mind about what a father might want. Because if you want a pastel color scheme on your work desk, Dad, you go ahead and embrace that! I think my pieces are for everyone.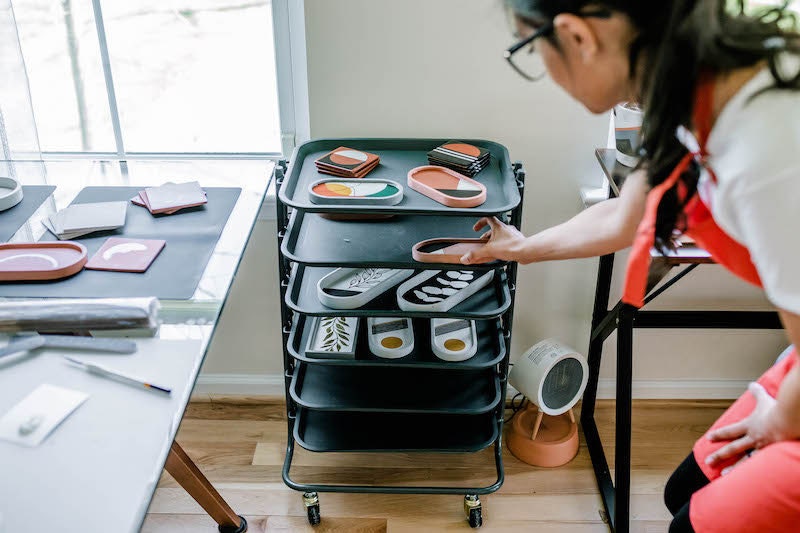 SHOP: Assorted hand-painted trays from Tara Jayne Designs, from $25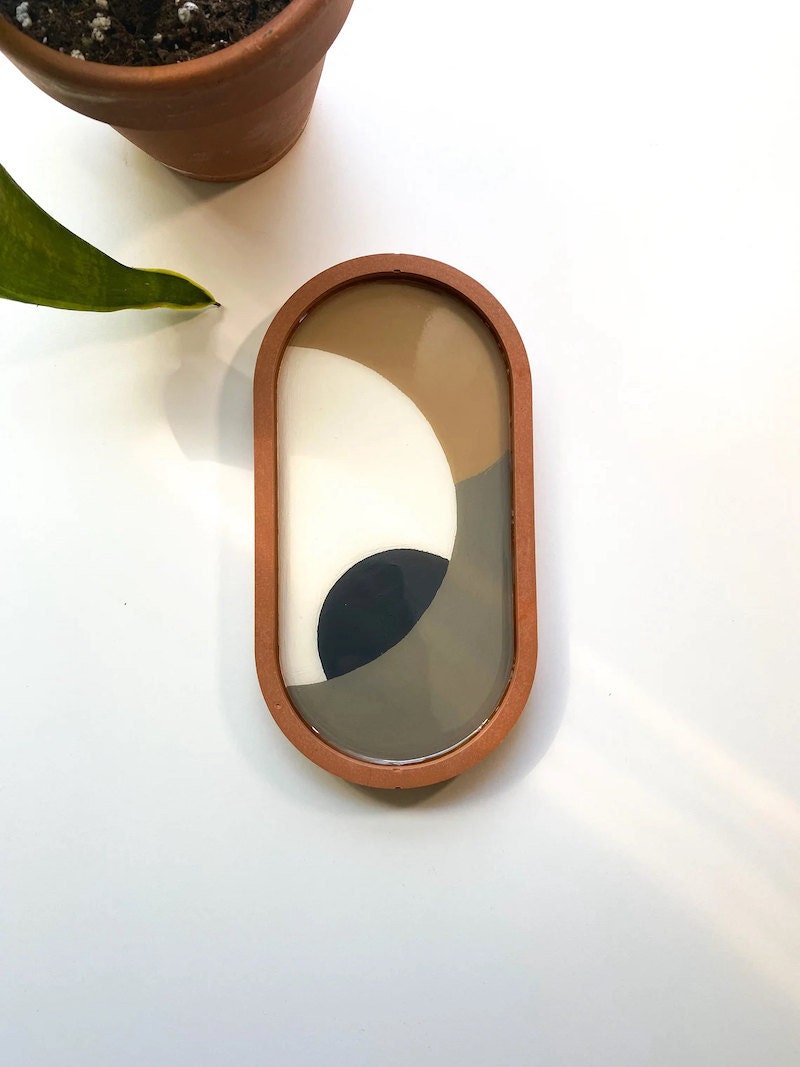 SHOP: Concrete catchall tray from Tara Jayne Designs, $28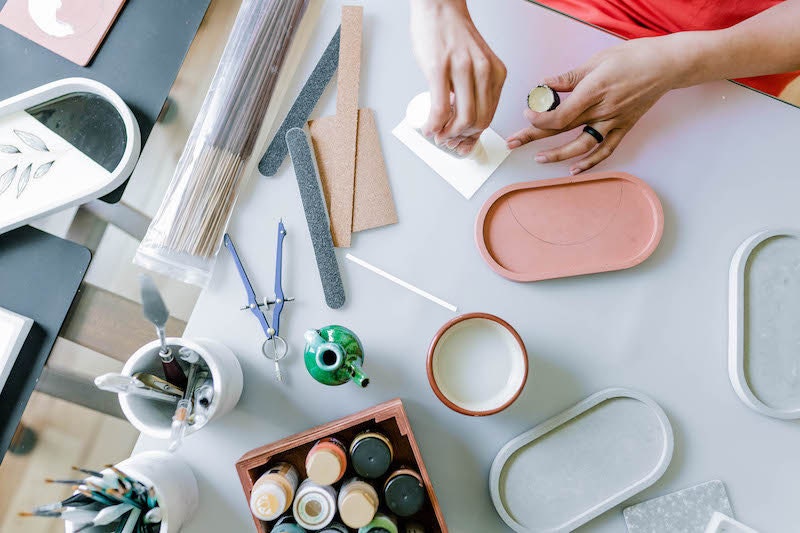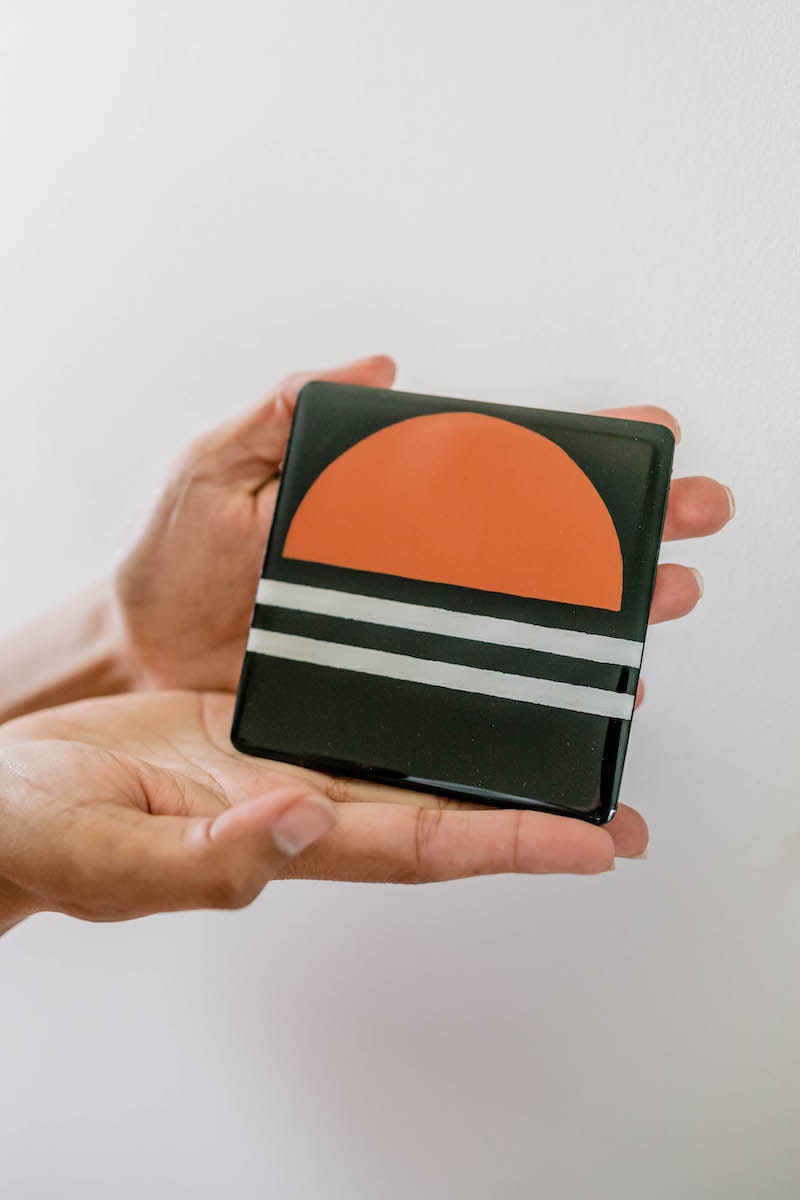 SHOP: Hand-painted concrete coasters from Tara Jayne Designs, $30 for set of four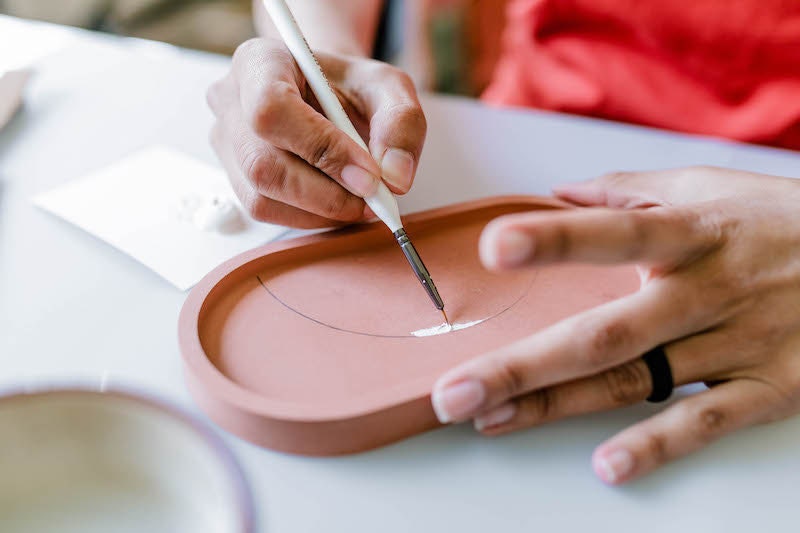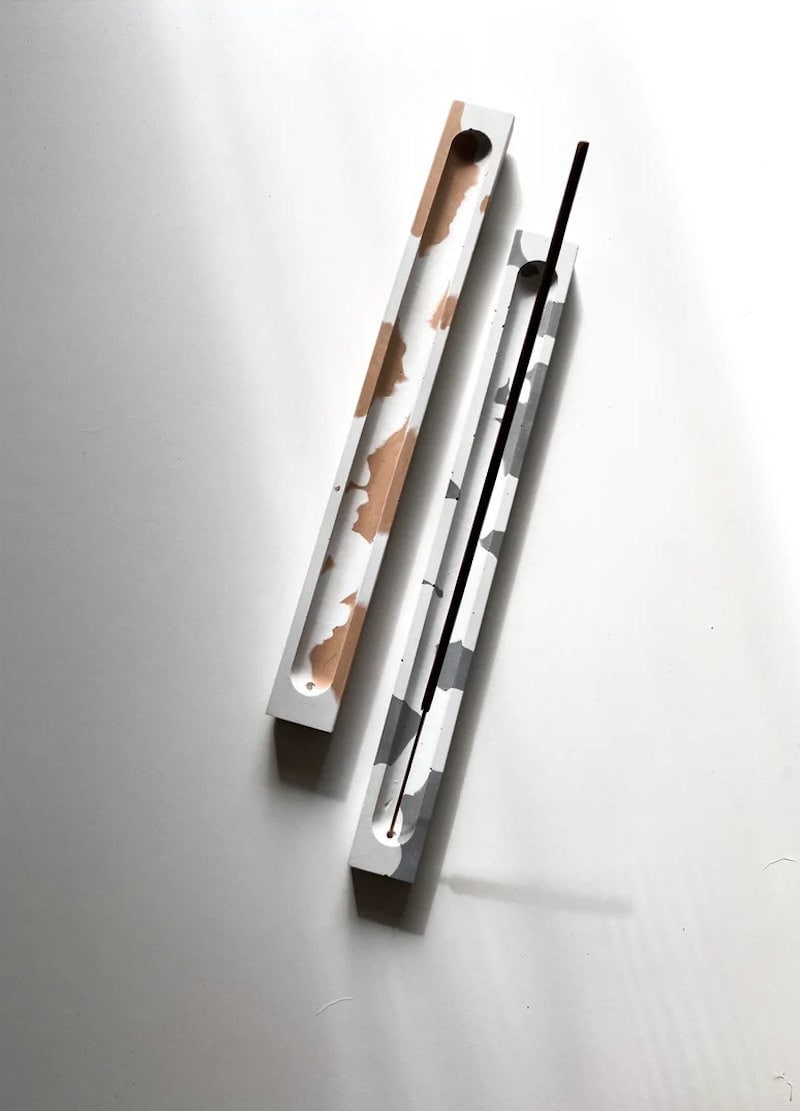 SHOP: Concrete incense holders from Tara Jayne Designs, $18 each
Can you share some of the styling tips you offer your customers?
If you think of the roughness and hardness of concrete, it goes very well against softness in a home. Whether it's an incense holder on your bedside table next to your quilt and pillows, or a small tray in your living room next to your overstuffed couch to hold your remotes, concrete is really good for balance.
I love that. Is there anything else you've seen work especially well in people's spaces?
If you have a minimalist home and you want a pop of color, a vibrant coaster set on the table can act like a piece of art that's also part of your decor. My catchall trays are a wonderful way to hold odds and ends in any space. My plain poured items complement my painted items as well. So if you like a terracotta tray with a painted design on it, for example, I also sell an incense holder to match.
Tell me about your creative process.
When I get an idea, I'll sit down, paint it out, paint over it, step back, and look at it until it's what I saw in my head before I sat down. It's a lot of trial and error. I love color-blocking, and experimenting with colors that don't seem like they'll go together but do. When I find a color scheme that's cool and different, I get really excited. Painting intricate designs, like my eucalyptus branch motif, is my biggest joy.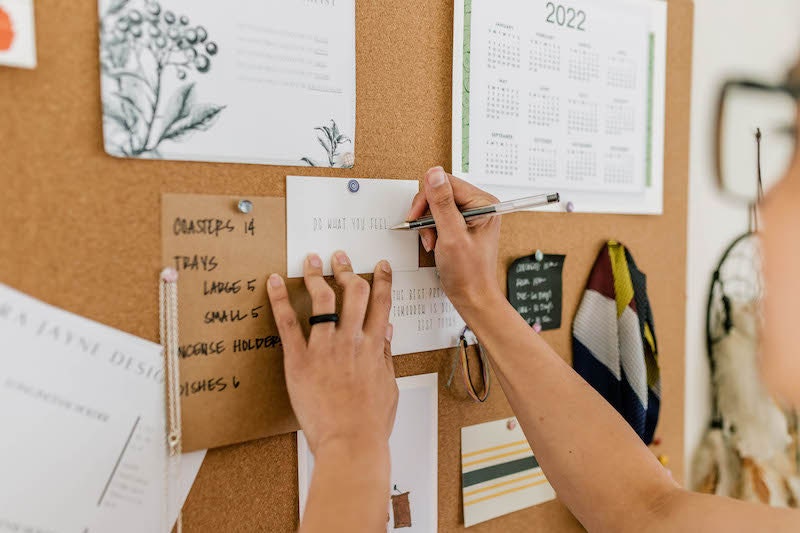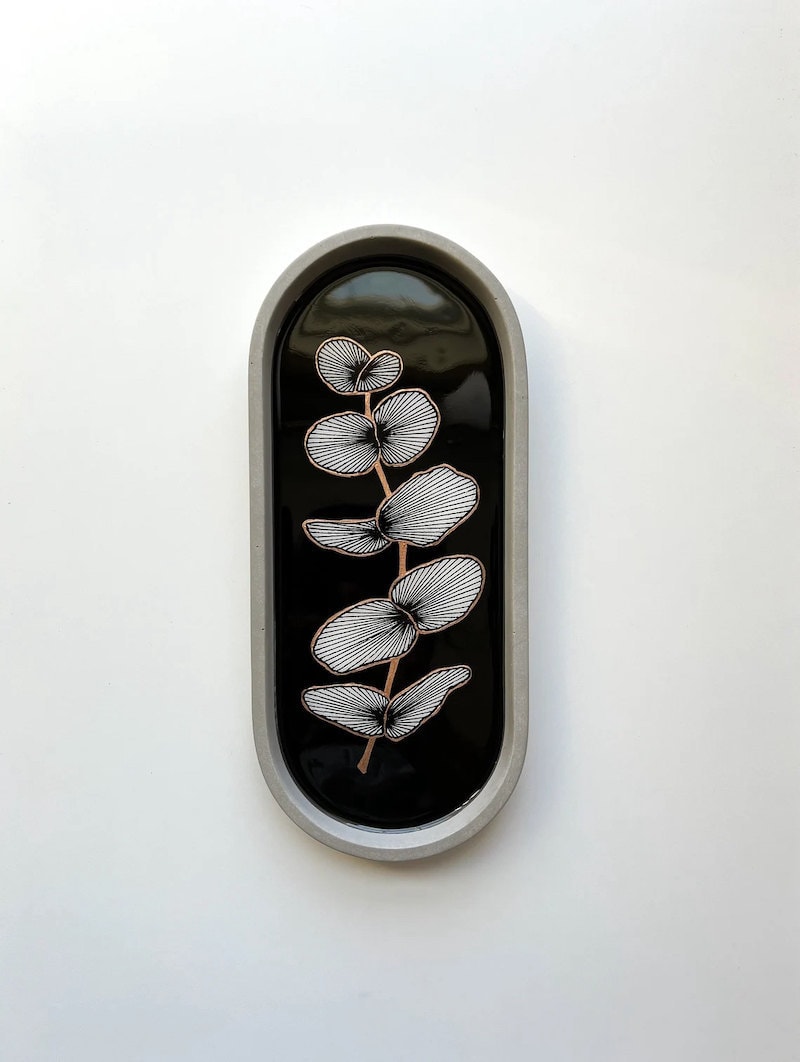 SHOP: Hand-painted catchall tray from Tara Jayne Designs, $28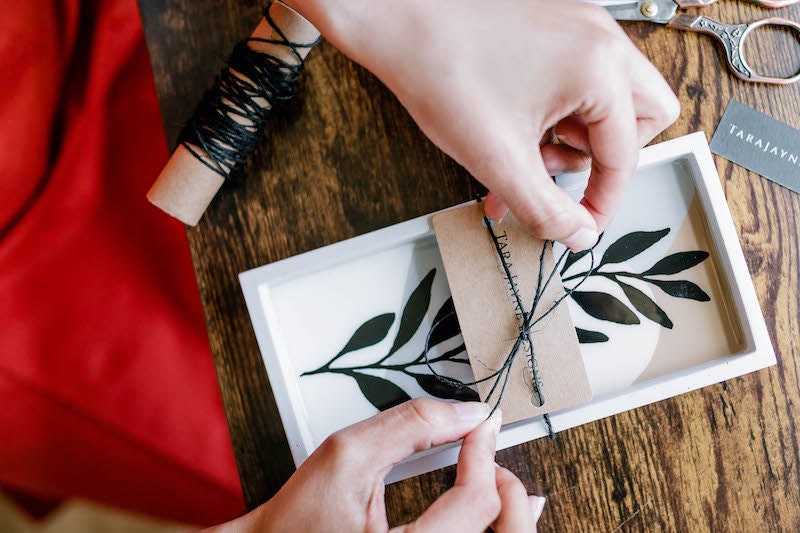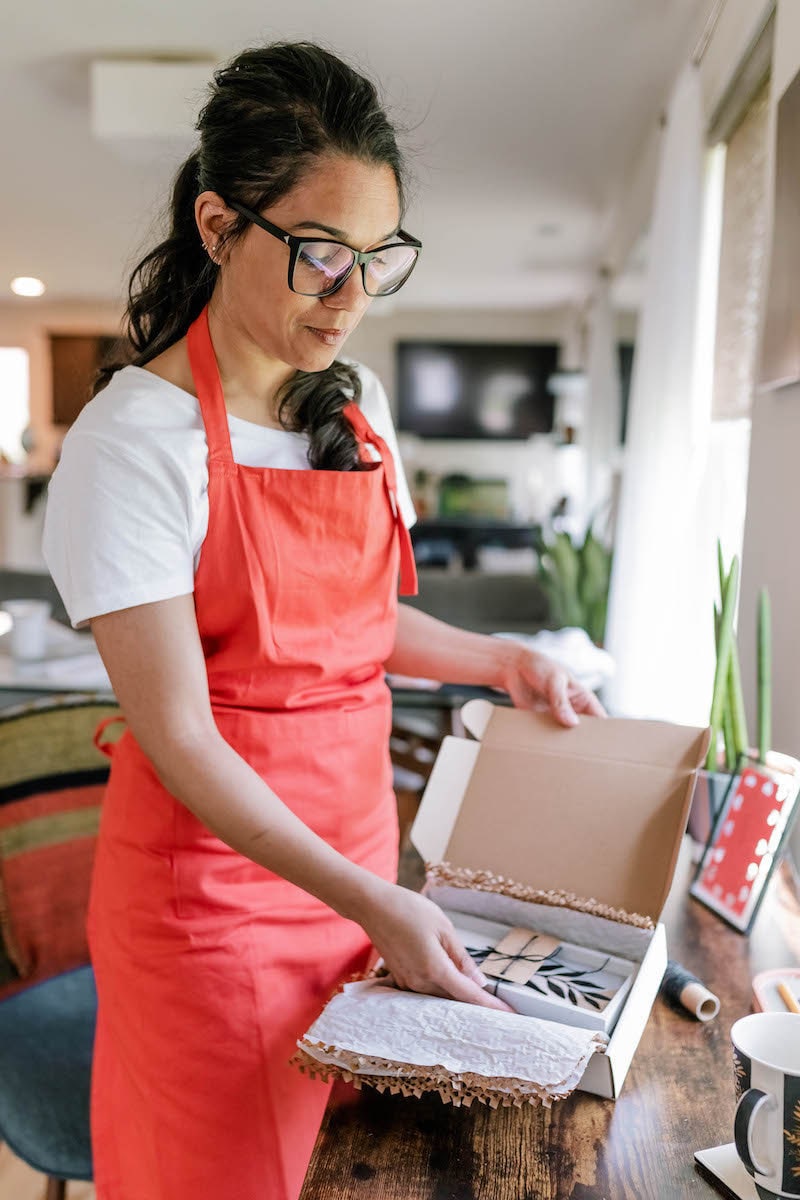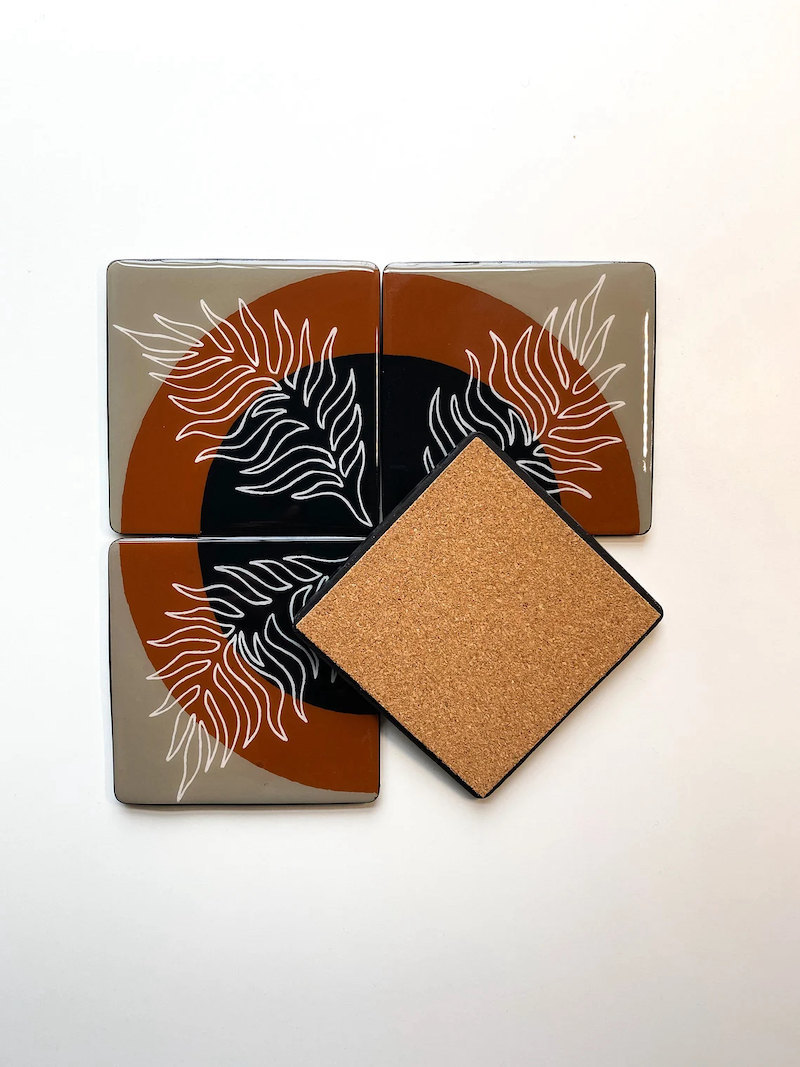 SHOP: Hand-painted leaf motif coasters from Tara Jayne Design, $30 for set of four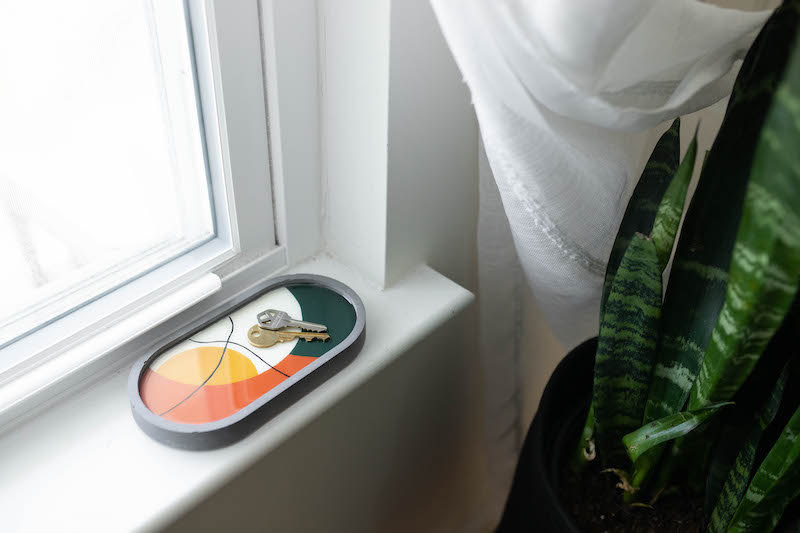 SHOP:Hand-painted catchall tray from Tara Jayne Designs, $28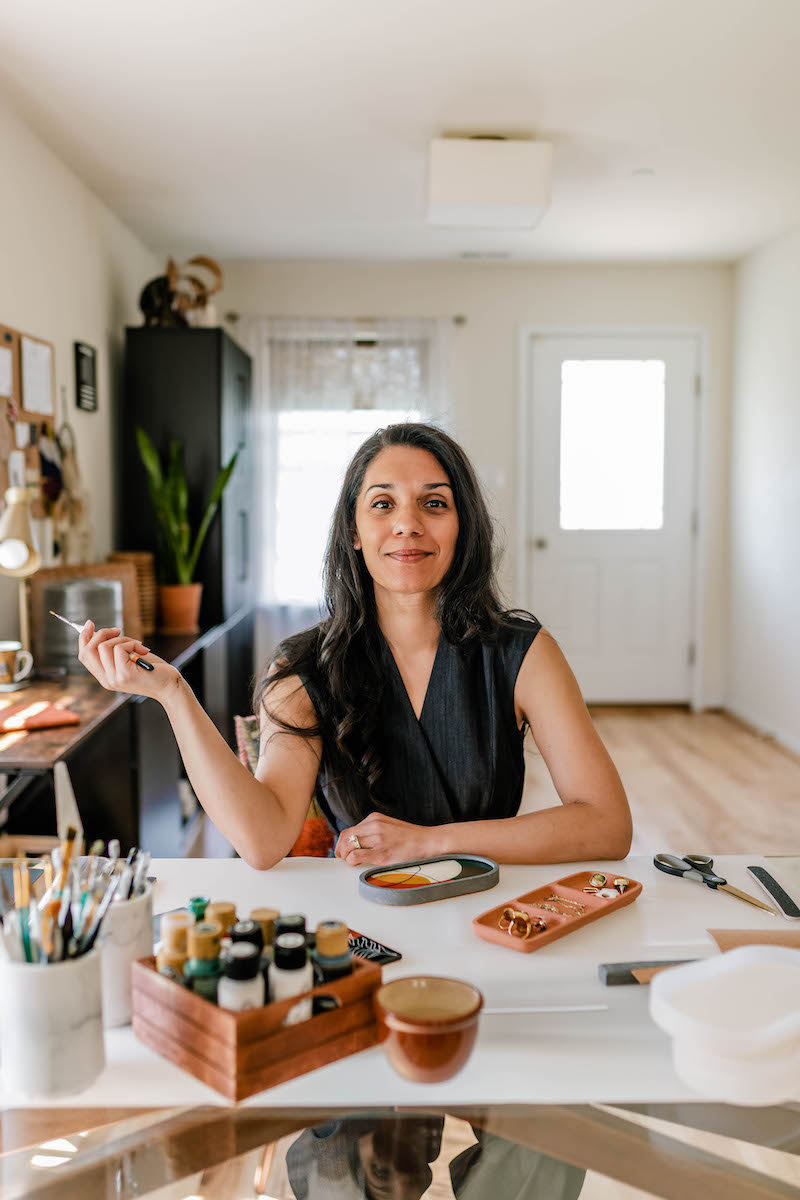 How do you hope your pieces will impact your customers' lives?
I believe that art isn't only for your walls. You have art in your home in the form of a tray or a coaster, and it allows you to express yourself. It's also a conversation starter, like, "Oh, my goodness, these are different!" Or, "This reminds me of a certain time in my life, or a certain person." I think it all goes back to that feeling of connection. Once a piece leaves my home and makes it out to a customer, I know that something I've created is helping build new connections. That's so important to me, because it's how my pieces live on.
So, what's next for Tara Jayne Designs?
This year, I'm going to focus more on detailed designs. I don't want to say exactly what they'll be, because I'm still trying to wrap my head around it. But I've really enjoyed my journey so far. It's allowed me to tap into something that's always been there, and finally given me the opportunity to do it. I'm stirring the concrete now, so we'll see what happens next!
Follow Tara Jayne Designs on Instagram.
Photography by Anh Thai.