The story of a woman, a dream, and a small herd of alpacas in the Tennessee hills.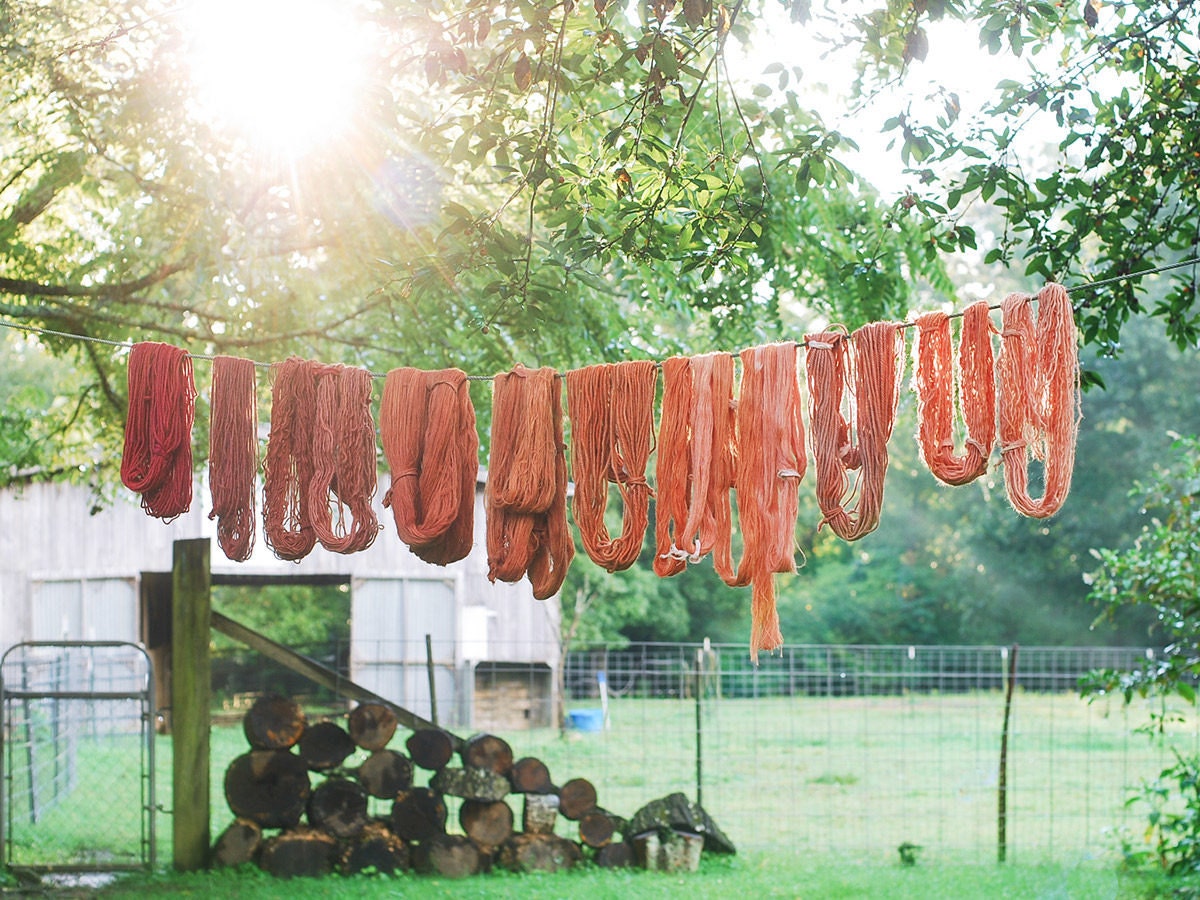 From the back porch of her Tennessee farmhouse, Kacie Lynn can pretty easily keep an eye on all the members of her small-scale sustainable textile operation,
Tennessee Fiber Farm
. There's Mrs. Brown, socializing near the front with some visitors; Clementine, casually taking (yet another) snack break; and dutiful Jude and Alice, keeping everyone in line. They're unconventional colleagues, to be sure, but this one-woman, eight-alpaca shop (with additional help from three sheep and two miniature donkeys) has found solid footing on Kacie's mist-shrouded, 3.5-acre plot in the hills outside Tracy City, Tennessee. "The best thing about having animals as my closest business collaborators is that they don't voice their opinion when I make mistakes," Kacie jokes. "They're a constant source of company without being overbearing. I can work in solitude, but I don't ever feel alone."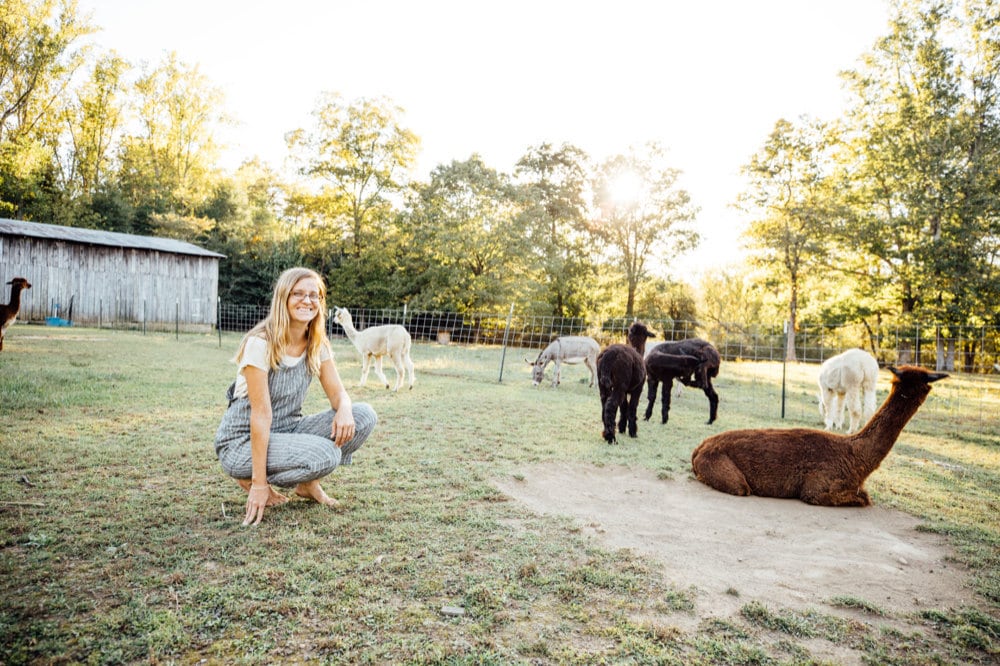 Photo by Grace Boto
Explore the Tennessee Fiber Farm collection
Like many small farms, Kacie's is a scrappy setup. Her income streams include the sales of her hand-spun, hand-dyed natural fibers (with raw materials sourced from the likes of Clementine and co.), fees from natural dyeing and weaving workshops she hosts on her property, and profits from the bunk bed-style on-site lodging she offers on Airbnb, often to those same workshop attendees. She also makes and sells original fiber-art pieces, wall hangings, clothing, and accessories, and even leads the occasional corporate-sponsored crafting workshop. The part she loves most of all? Sharing her consciously cultivated homestead and fiber-work facilities with others—whether they stand on two legs or four. "Having people come and experience a little slice of this life is really rewarding—from the kids on farm tours who put their phones down for a minute and are like, 'Hey, this is actually fun,' to the overworked woman with an art-school degree and no creative downtime who comes out here to breathe and relax," Kacie says. "It reminds me how blessed I am."
Read on to discover how Kacie learned the ropes of alpaca care and her passion for sustainable textile production, then shop the Tennessee Fiber Farm collection.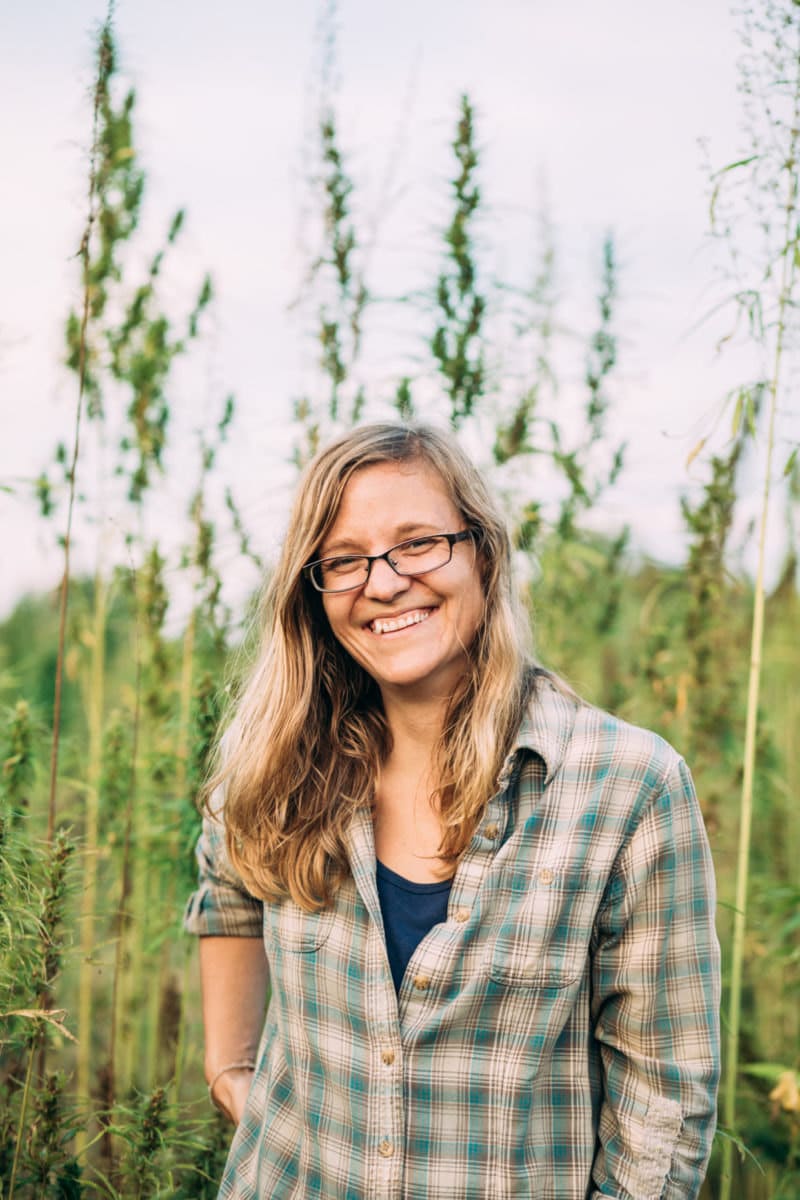 Photo by Grace Boto
First things first: How did you come to be an alpaca shepherdess?
My mom is a pretty crafty lady and my grandmother was a hand-sewer; growing up we were always doing family crafts together. That's kind of where it all began. In college I went to school for apparel design, but I got really turned off by how much we talked about outsourcing and quick turnaround times, and not about quality control or where all this raw material was coming from. So I shifted my focus from fashion to technical gear and did an internship with an outdoor apparel company in Seattle. That summer, I spent a weekend riding my bike around the San Juan Islands and visited an alpaca farm where I got to see the full textile production process firsthand. I was like, "Oh, this is incredible—I can do textiles, but I can do it in a sustainable, transparent way." A few years later, I moved back to Tennessee and happened to meet a woman who was selling her entire herd of 100 alpacas. I'd already been researching what I'd need for a small-scale textile business and had a bit of land with a small barn on the property. By the next week, I'd gone to her place and walked away with a foundational herd of five alpacas. I had no clue what I was doing in terms of processing fiber and making it into usable things, so I took a few spinning lessons from a local man who raised sheep and then just dove in and taught myself the rest. That's when I really got into the
natural dyes
too, and everything built from there.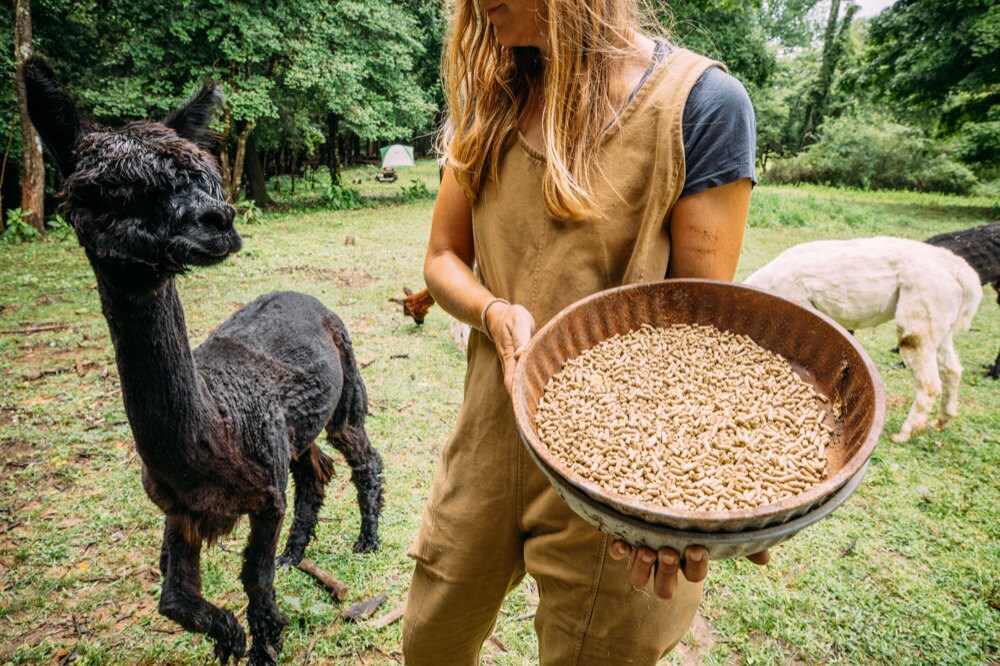 Photo by Grace Boto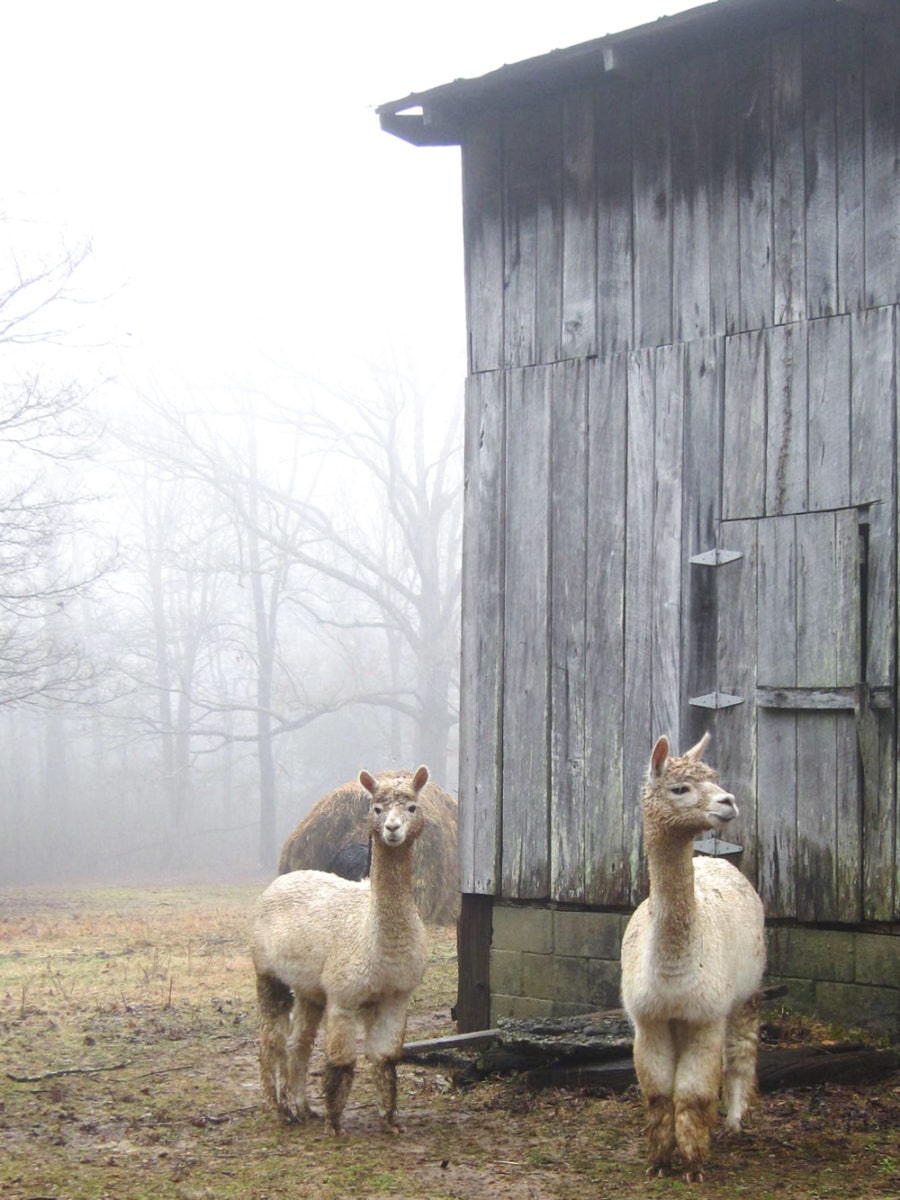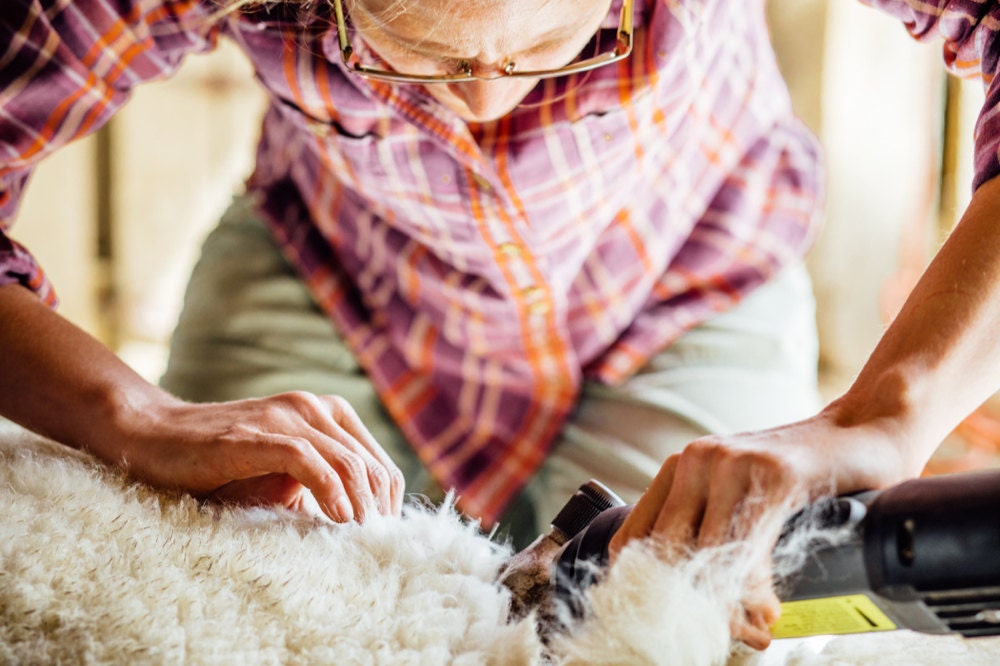 Photo by Grace Boto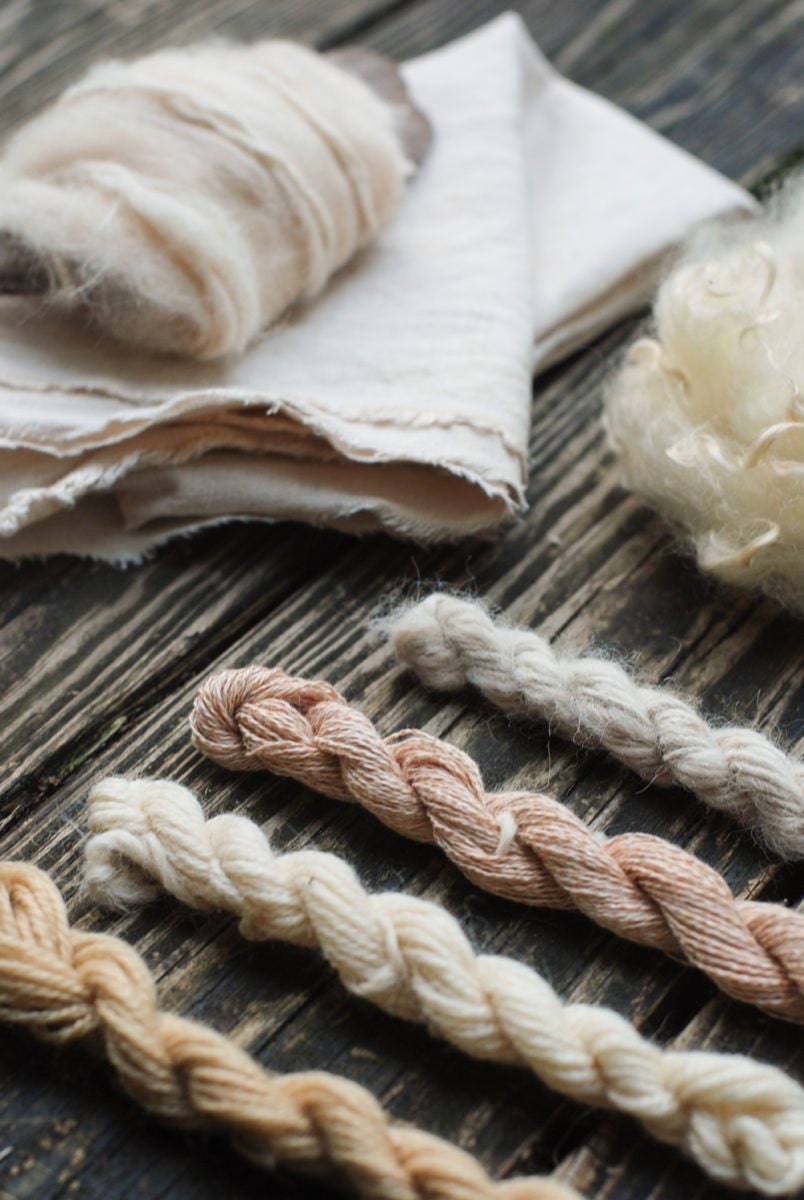 >
What drew you to alpacas, besides having a herd of them essentially fall into your lap?
When I started looking into the logistics and costs of raising these animals, the processing of the fiber really came into play for me. Alpacas don't have lanolin in their wool, which is an oily residue in sheep's wool that has to be washed out, so it made sense to me to go that route and have one less hurdle to cross. I can go straight from shearing the animal to carding and spinning
the wool
. Plus, with those funny-looking necks, it's like opening a Dr. Seuss book every time you look out the window.
Do all your alpacas have different personalities and behaviors?
Oh, yeah—there's definitely a wide range of personalities. We have the dramatic ones and the laid-back ones, the outgoing ones and the ones who just don't care about you at all. They're all really different and they show it quite a bit when I do farm tours. I have one alpaca, Mrs. Brown, that was bottle fed by her previous owner, thus making her much more social around humans. When we have visitors, and children in particular, she will sit down and let them give her unlimited attention. Then literally the moment the school bus pulls out of the driveway she goes back to her usual, much saltier self. It's pretty funny, but at least she's nice for the guests!
What was the first thing you made from alpaca fiber?
Oh, it was bad. The first
skein of yarn
I made, I was so proud of—but it wasn't combed properly and there was probably half a pasture's worth of grass in it. Then I made a hat from that yarn, and the hat was heavy enough to sink a small ship. I wore that thing with pride, but after five minutes with it on you're sweating because it's so thick. It's gotten better, though.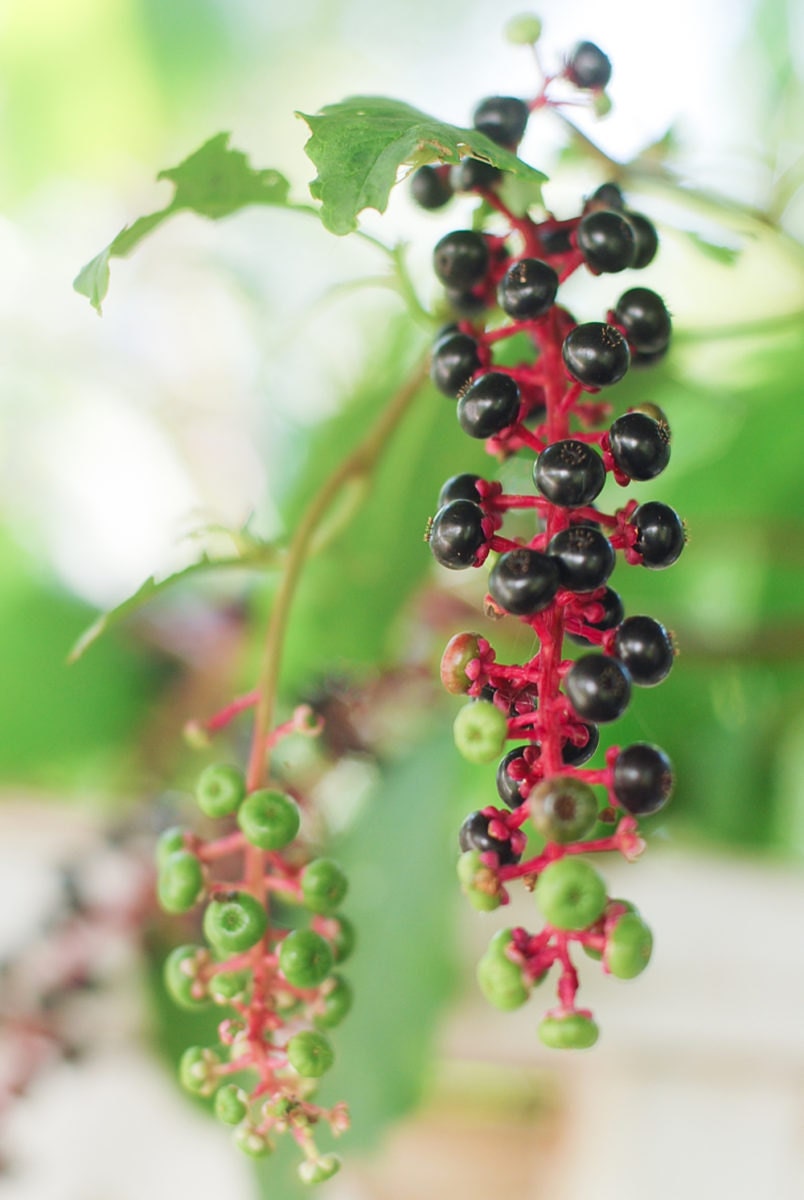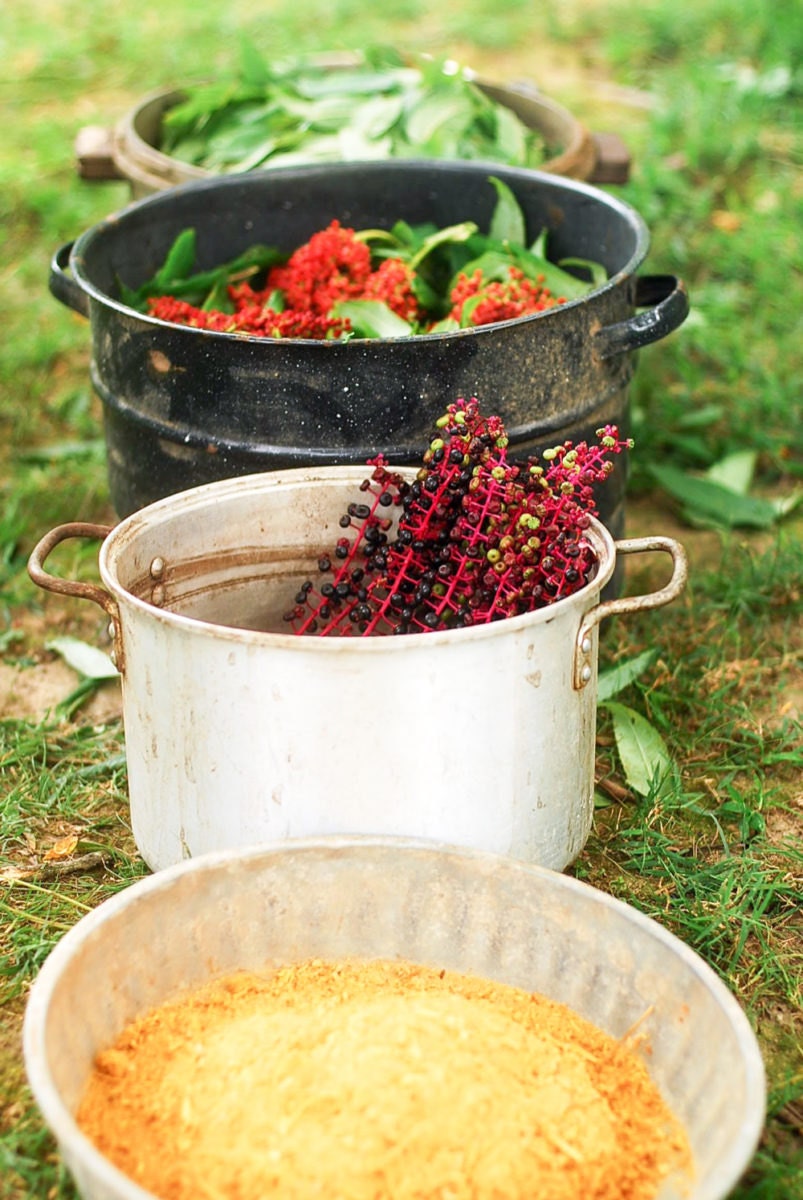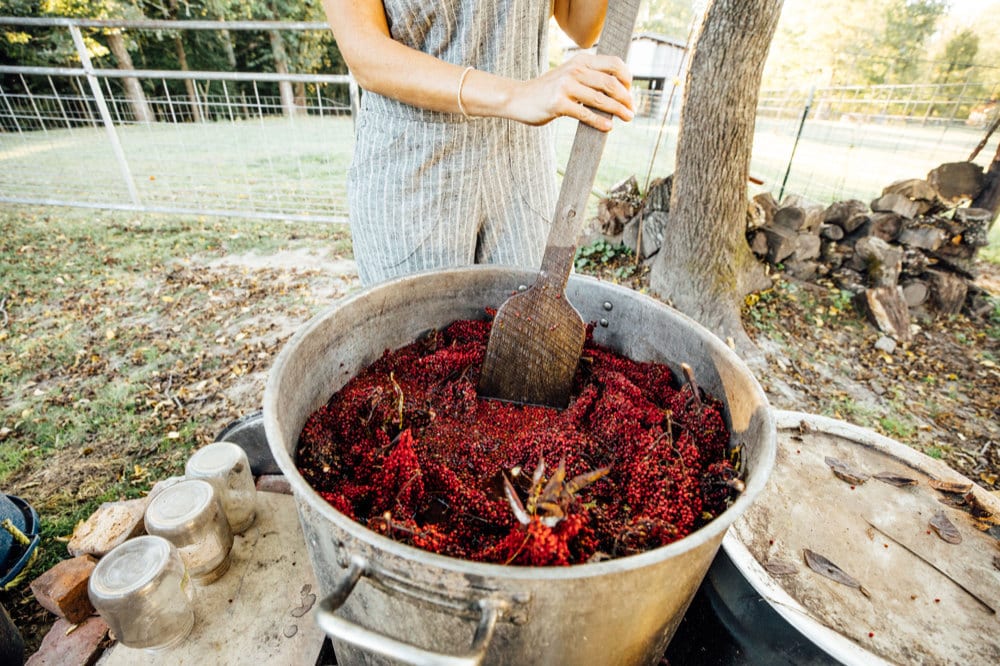 Photo by Grace Boto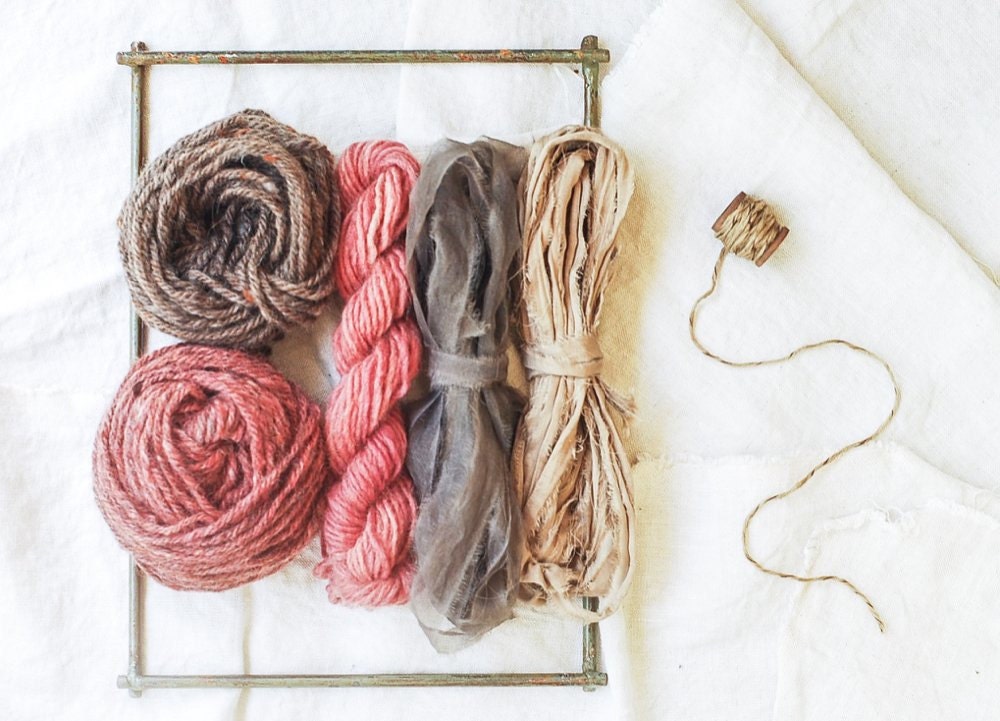 >
I bet. So how has your fiber work evolved since then, and what are some of the best-selling items in your Etsy shop today?
I've been doing my textiles since 2013, and have slowly added
weaving kits
and pieces of art to my Etsy shop over time. Having the shop has been a really good litmus test: I can learn what people all over the world are interested in, what they like and what they don't. These days, my weaving kits and natural dye supplies are my bestsellers, and around Christmas, when I list little art pieces, tote bags, and napkins, those do well too. But the kits are popular year round.
What's a typical day like for you?
No two days are ever the same, and everything runs on a seasonal cycle for me. The spring is all about preparing the animals to shear, then shearing them, rotating pastures, and keeping up with the lawn and the vegetable garden. Summer is my favorite season, and it's the most laid-back one for me. Since the days are longest then, I can wake up and do 2-hour bursts of work and take breaks in between. I try to do as many workshops in the summer as I can when the weather's nice. That's also when I try to get my fiber processing done; I shear and hand-process everything myself, and I aim to get it all skirted and carded before things start cooling down. In the fall and winter, I start spinning and weaving and working on my product design for the Christmas push. Basically I hustle as hard as I can from October through December 31, and then when January comes I'm a couch potato: watching Netflix and eating ice cream. I'm not worrying about the business or marketing or any of that; it's really a time to hit the reset button. It's taken a while—I'm seven years into this and it was probably year five before I realized it's okay to take a month off if you've hustled the rest of the year. And you're still not
really
taking a month off; I'm always feeding the animals and cleaning the barn and doing chores, plus I heat my house with a wood stove most of the time, so it's never a true vacation. But the business takes a vacation.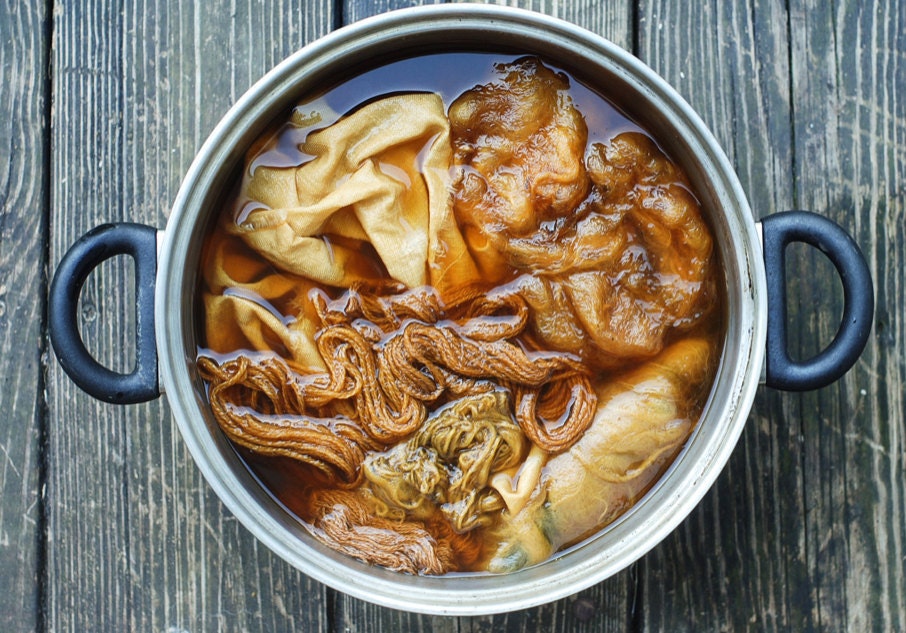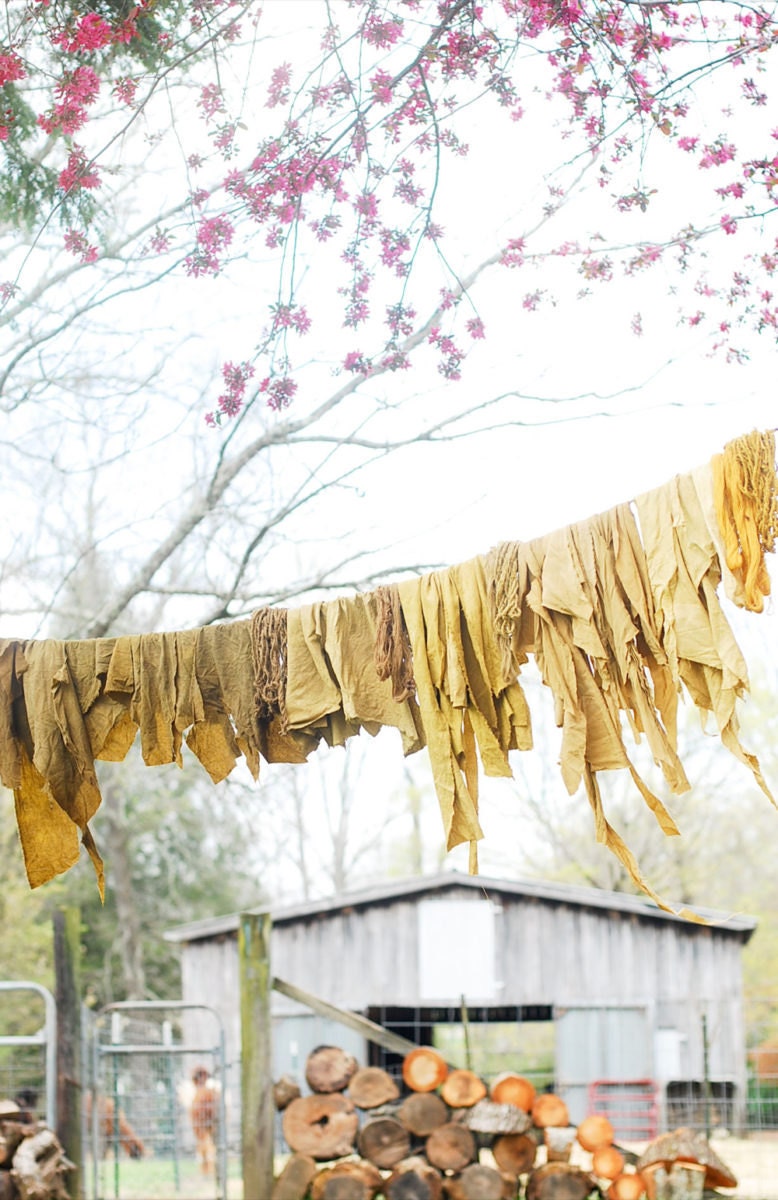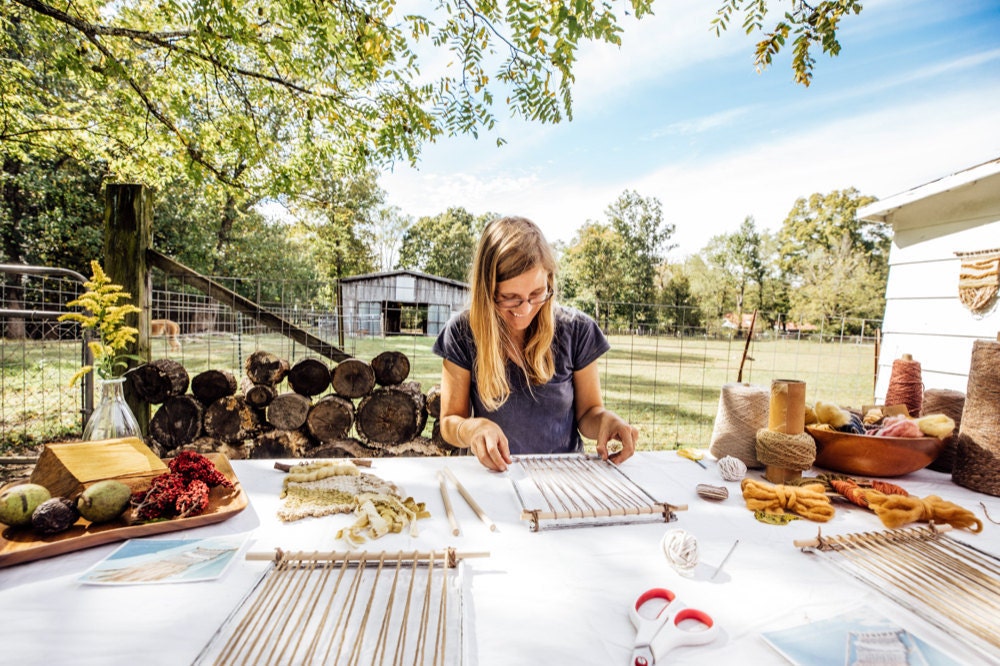 Photo by Grace Boto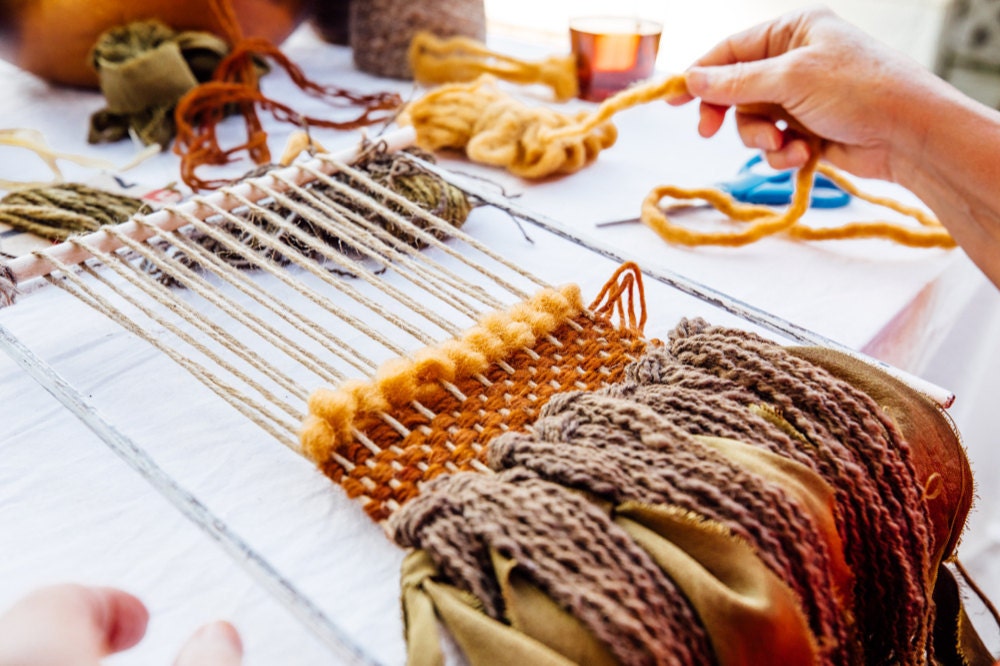 Photo by Grace Boto
What are some of the biggest challenges you face in your work?
My biggest challenge is veterinary care.
Camelids
are not necessarily the first things people go to veterinary school to learn about, and there aren't a lot of FDA-approved studies or drugs for them. Often you're getting a cow or horse veterinarian trying to figure things out for you. But that challenge is also kind of a blessing, because I've been able to meet a lot of awesome alpaca farmers along the way. I've cold-called people I've found on alpaca websites and been like, "Hey, my name's Kacie, I just bought an alpaca farm and my alpaca's doing this weird thing; can you call me back if you get a minute?" And they do! Everyone's so open—I've been really surprised by how willing people are to help and to be a part of the journey.
Speaking of community, it seems like many of the materials you use in your work—that you're not making yourself—are sourced through personal, local connections. Can you tell me a little bit about that?
When I was studying fashion, I was always frustrated that even though the textile industry is one of the largest contributors to landfill waste, we weren't talking about the connections between our resources and our materials. So I just set limitations for myself, like: If I don't know where it's coming from, I don't want it. Certain things, like buttons and thread, I might order from outside my immediate area. But I've learned, through raising these fiber animals myself in the middle of nowhere, not knowing what the heck I was doing and calling on local farmers for help, that there are a lot of resources that are available right here. I started making friends with local designers and going and getting cutoffs from their scraps, really nice silks and linens and hemp blends that I wash and dye and use in my
weaving kits
. Or I'll use them as liners for bags, or cut up sample swatches to use in my dyeing workshops so my students can see what something looks like on linen, and what it looks like on cotton or silk. I also use them for my own experiments—if I want to try dyeing with a weird plant that I saw blooming on the side of the road, I can do that with a bunch of those samples before I invest a lot of time in gathering a whole pot full.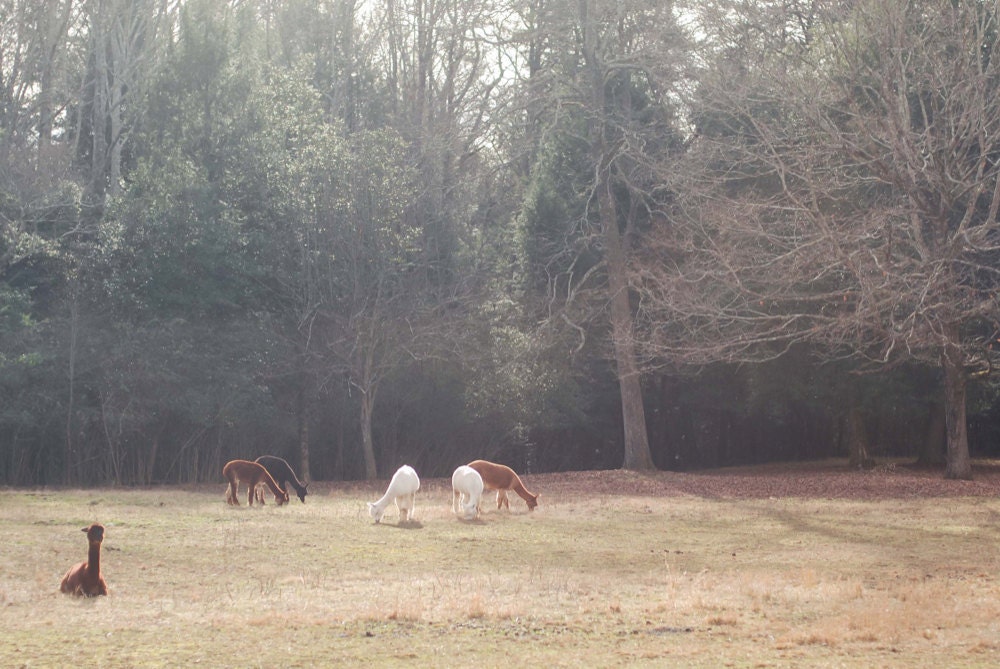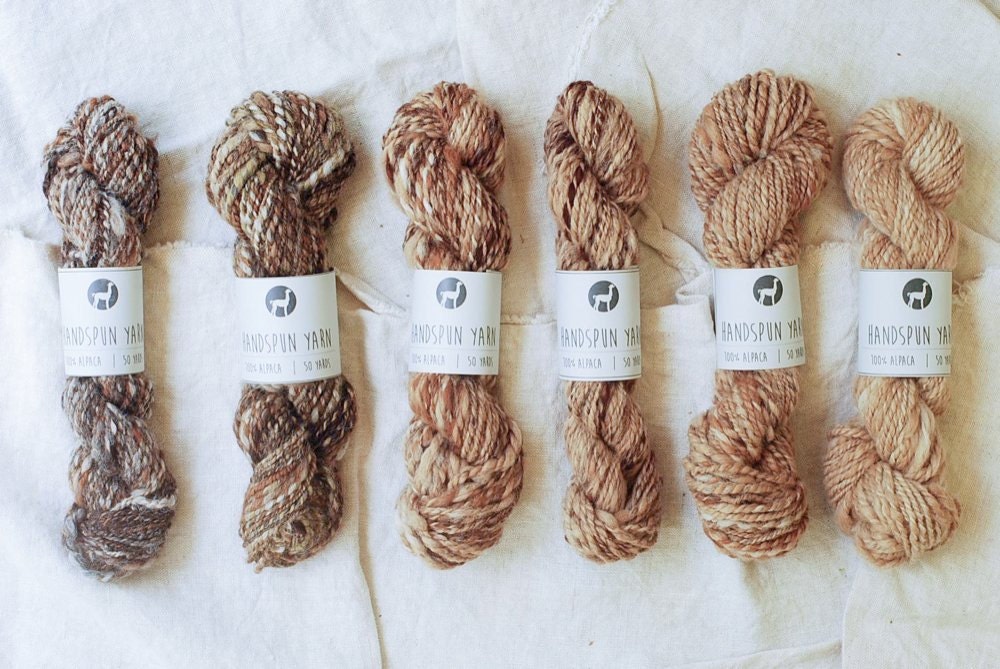 >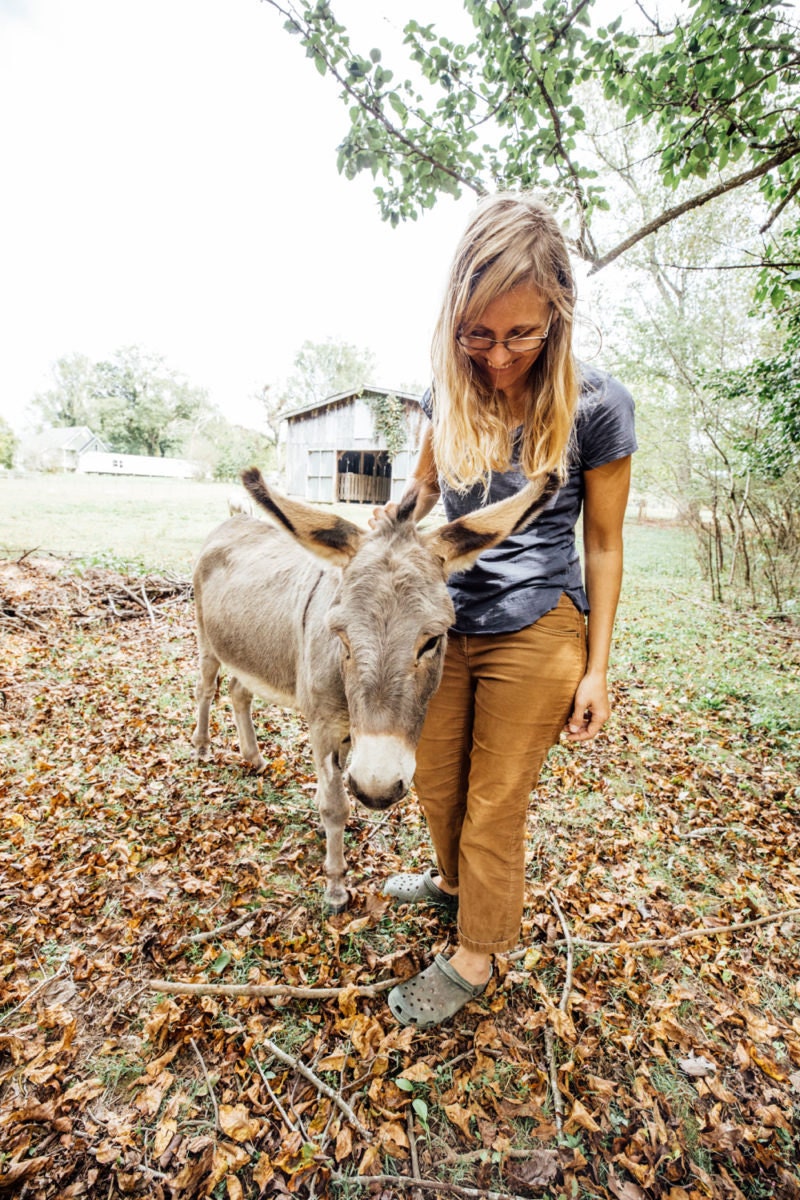 Photo by Grace Boto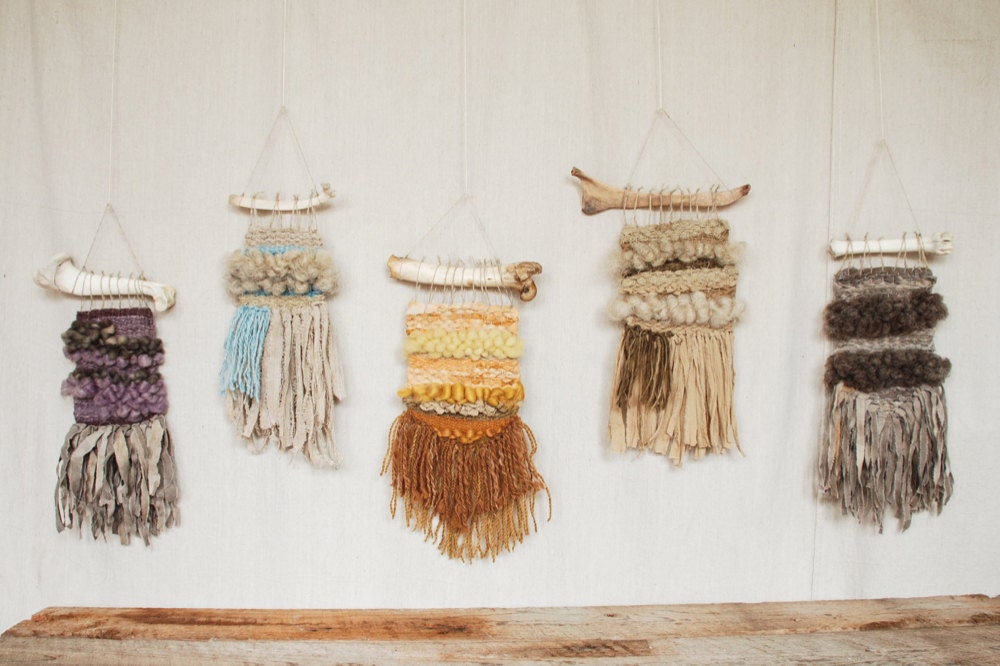 When did you start incorporating workshops and farm tours into your routine?
From the start I always wanted to do farm tours, because I remembered going to visit farms on field trips as a kid and how it was this great interactive thing, like getting recess and an educational activity all at once. Going to museums is nice, but when you have to sit at a desk in a classroom all day, it's a little stifling to have to be quiet and walk in a line and not get to holler. And for adults, my workshops are more about just getting out of the city and hanging out outdoors with a bunch of like-minded people and some animals. Both have grown really organically.
What are your goals for the future of your farm?
My goal is to continue to nourish a relaxed educational atmosphere for everybody here, and to keep up the conversation about how things are made and where they come from. And not just about
textiles,
but everything—to spark an inquisitive nature, to help people think twice about everything we consume, that would be the ultimate impact I hope my work has.
Follow Tennessee Fiber Farm on Facebook and Instagram.
Photographs courtesy of Tennessee Fiber Farm unless otherwise noted.