by Aleksa Brown
For Virginia Kemp, the challenge of decorating her family's home on a budget led to uncovering a newfound passion for antique prints.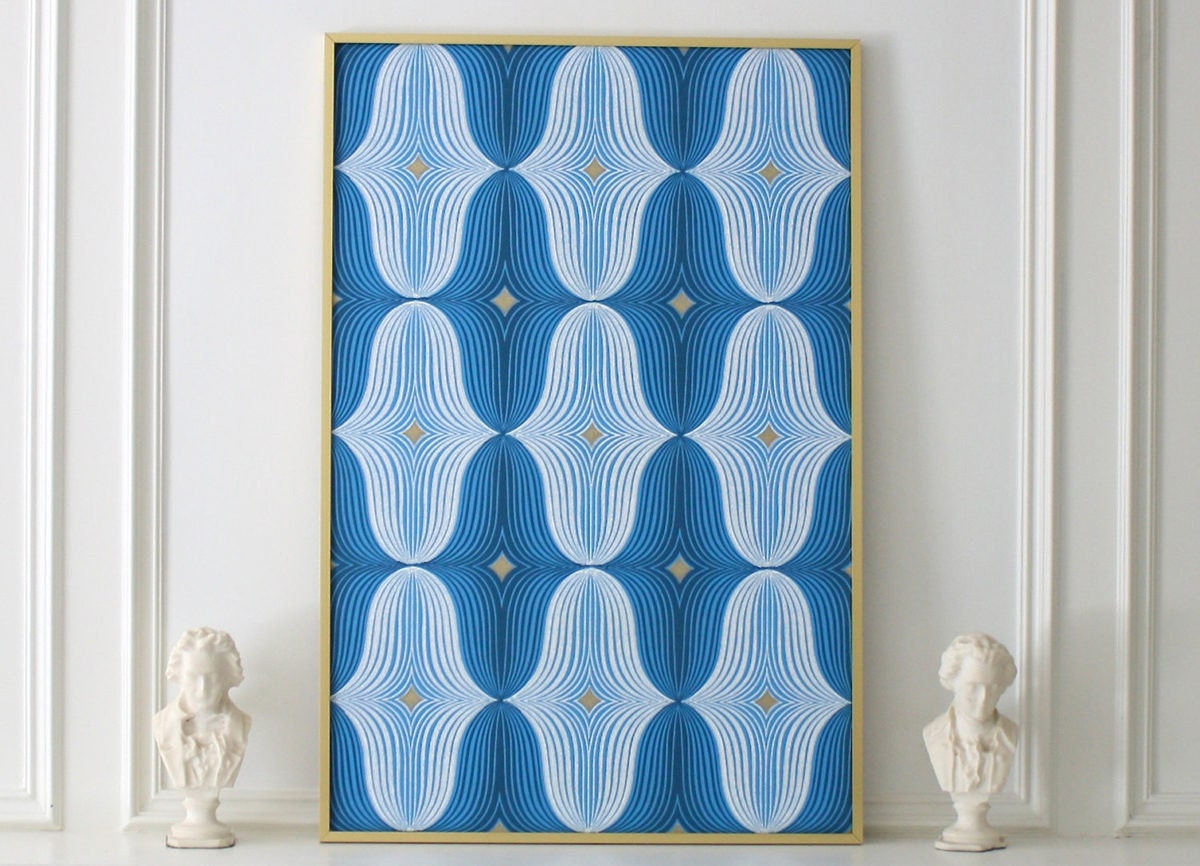 Virginia Kemp grew up surrounded by entrepreneurs: Both her grandfather and father built their own businesses from scratch. "I have very specific memories of them at different points of my life telling me, 'Find something that you love to do professionally, and then success will come,'" she says. "Because of them, I'd always been secretly intrigued by the idea of starting my own business. I didn't know what that would be, but I had a feeling that one day something would present itself." Flash forward to 2010, when Virginia and her husband purchased their first home, a fixer-upper in West Hartford, Connecticut. With most of their budget going to repairs, there wasn't much left for buying art and decor, so Virginia got creative,
scouring New England's flea markets, estate sales, and antique shows looking for things to hang on the wall
. "I found all these fantastic pieces for the house," she says. "Even after our walls were covered, I couldn't stop myself from searching and buying more and learning more about prints: the history behind them, different printmaking processes, how you tell whether something's an original or a reproduction. I was fascinated with the whole quirky subculture of
antique prints
, and then it dawned on me: This was the business idea."
The Blue Twig, Virginia's curated assortment of antique prints for the home, was the result of that realization. We got in touch to learn more.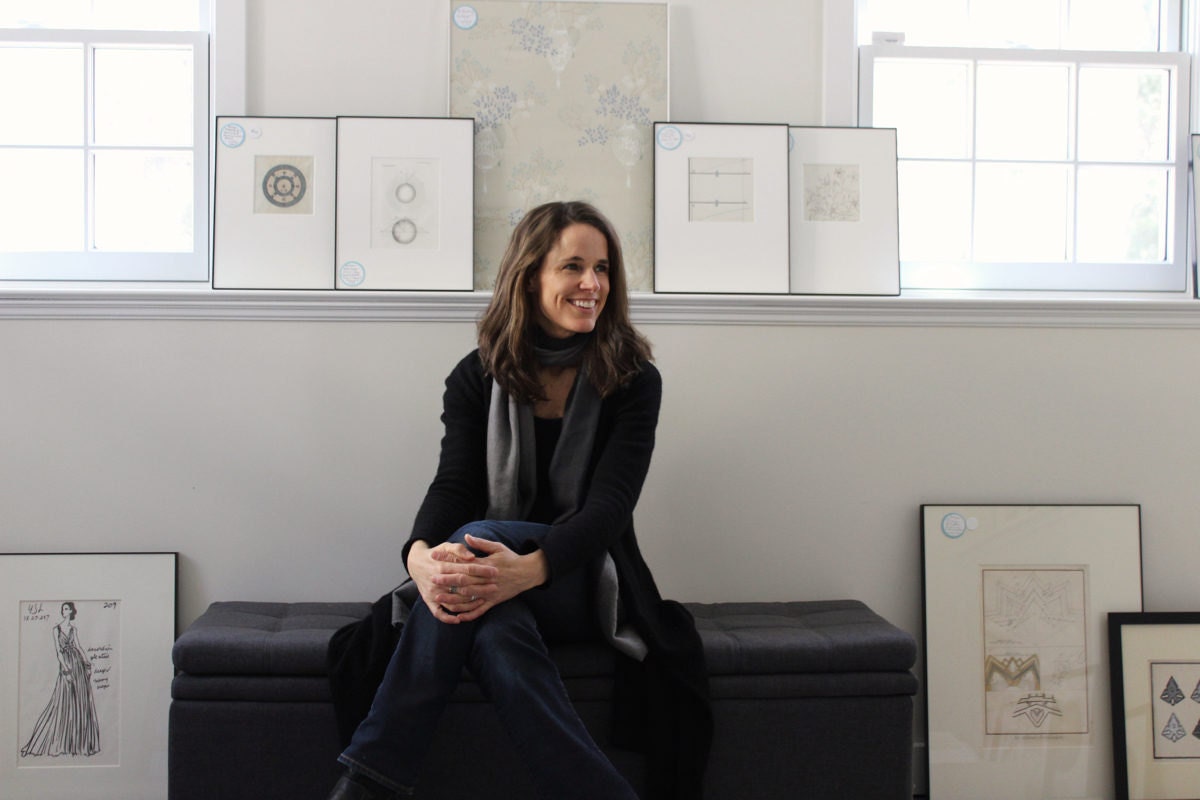 Can you tell us more about how you got started collecting and selling antique prints?
As I was searching for art for my house, I knew I wanted something really special. Through that process, I sort of stumbled upon all these resources: antique paper shows, flea markets, and other quirky little places to find old prints and art. Over the last few years, I've built up a network of sources around the world – people I really trust, who know what they're talking about and have a good eye. One of them, a guy who was a government contractor back in the day and lived in Europe after World War II, tells these stories of going into old print shops in London where the print dealer would literally charge him based on how tall the stack of paper was. Isn't that amazing? I mean, this is obviously pre-internet, but imagine how much paper these guys had – and they couldn't get rid of it! I sort of wish I could time travel back to when it was that readily available. Anyway, you can just tell when they share these stories, how excited they are about the paper.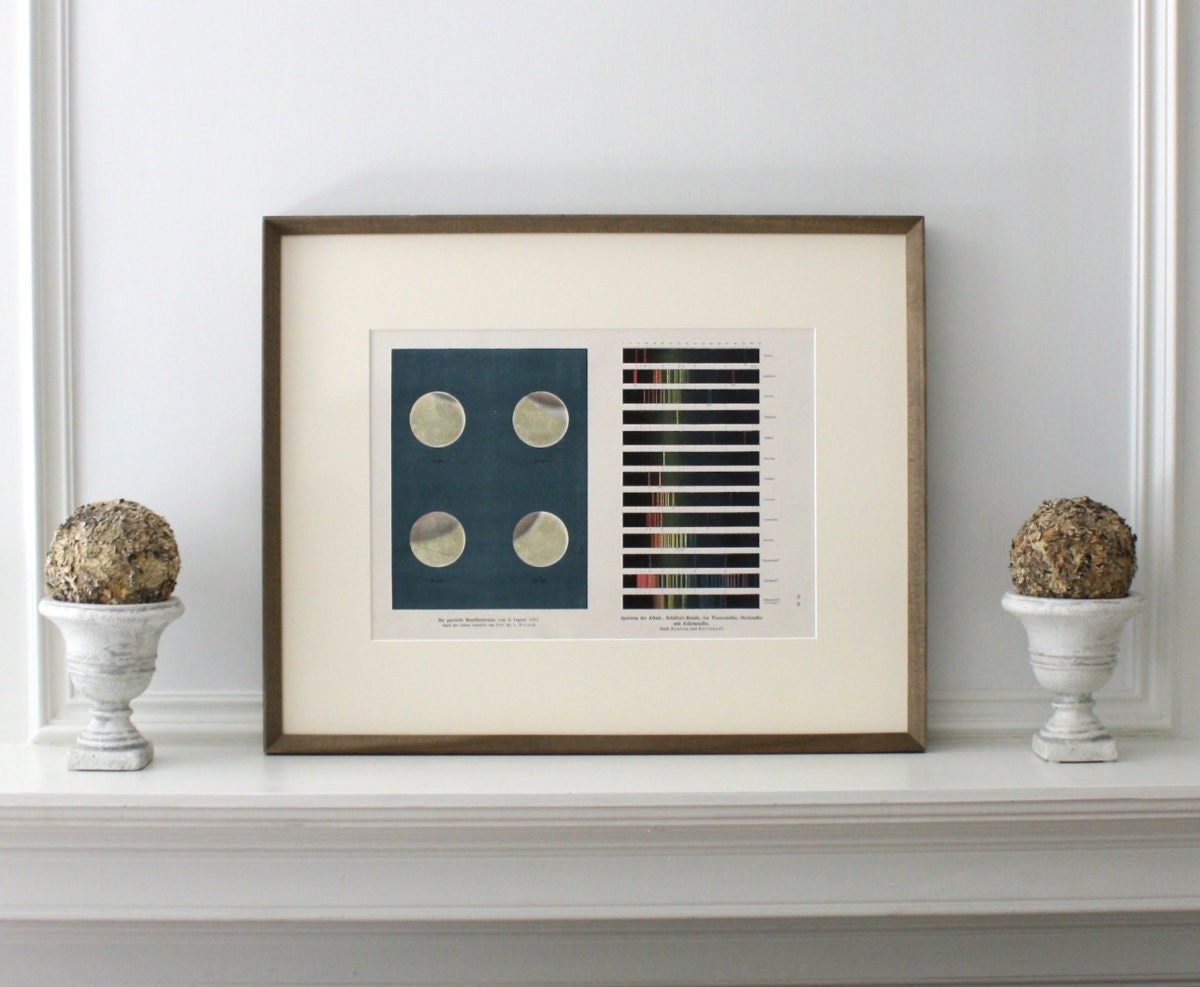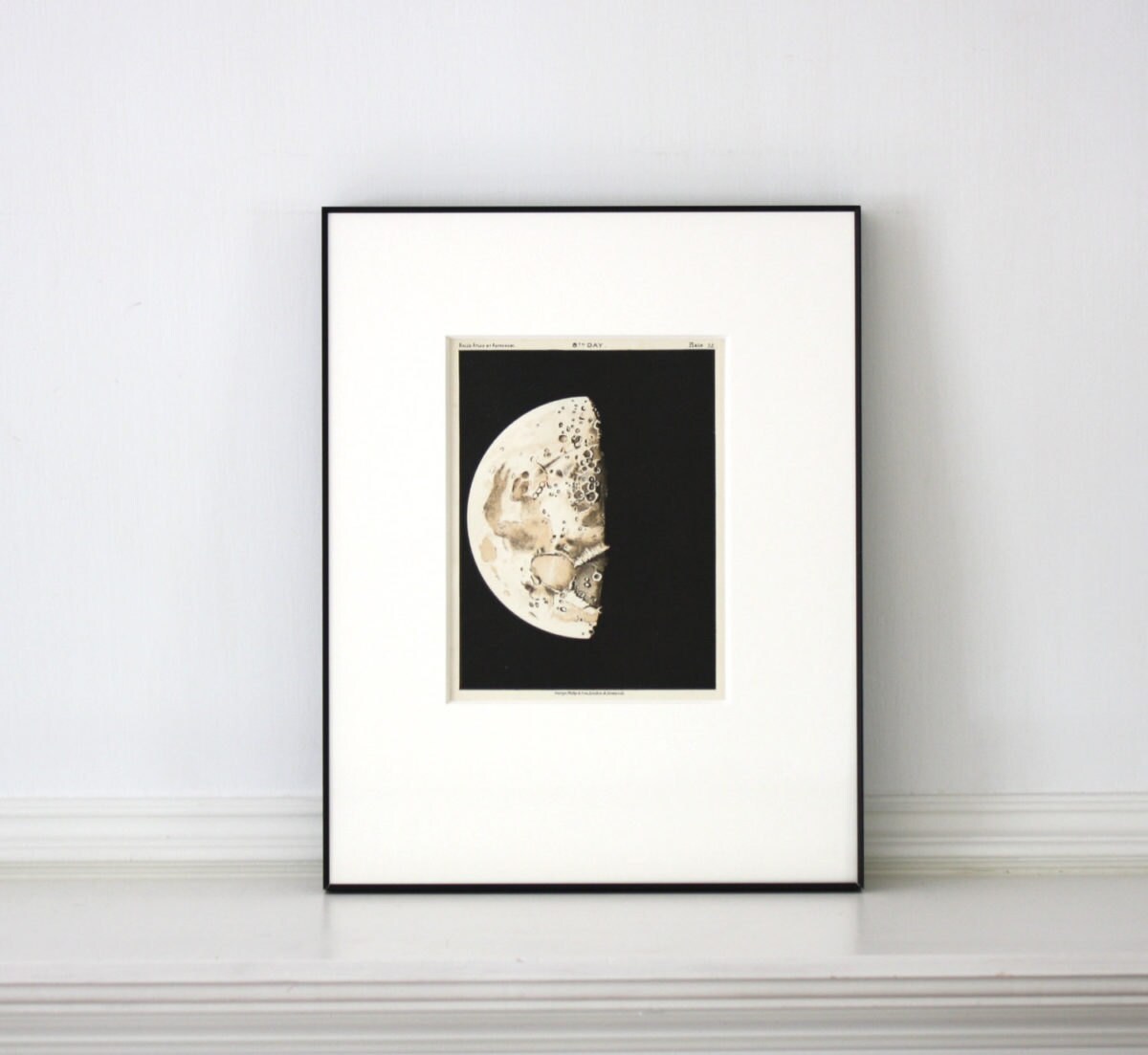 What excites you about working with antique paper?
I've always been very interested in genealogy and my own family history. That passion has sort of spilled over into paper and researching where it came from – it's so interesting to me. One of my favorite things about what I do is the hunt for prints. When I'm sifting through paper, sometimes I'll come across something that's super beautiful or interesting that's been stuffed in a book or a portfolio for 100 or 200 years – and now, all of a sudden, we can frame it and put it on someone's wall. Just think what that piece of paper has been through, you know? It's been sitting in this house through different eras and wars and everything that it's witnessed. That fascinates me.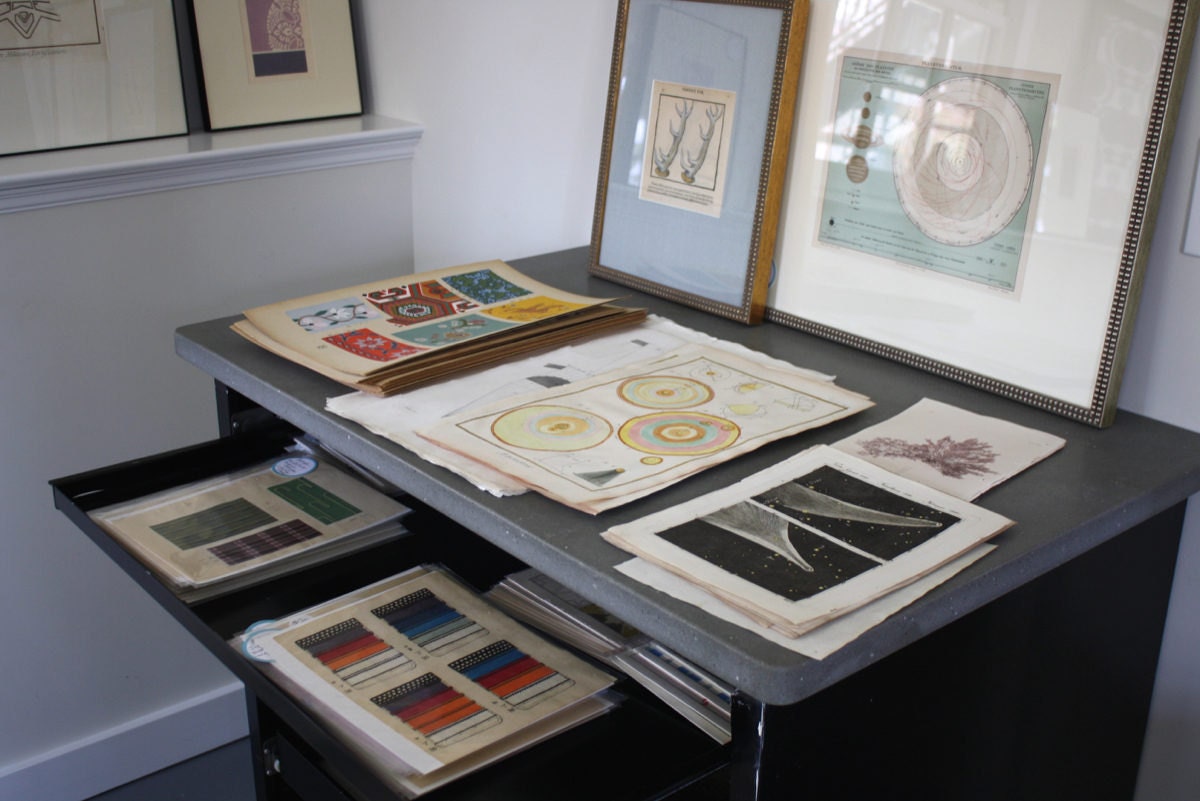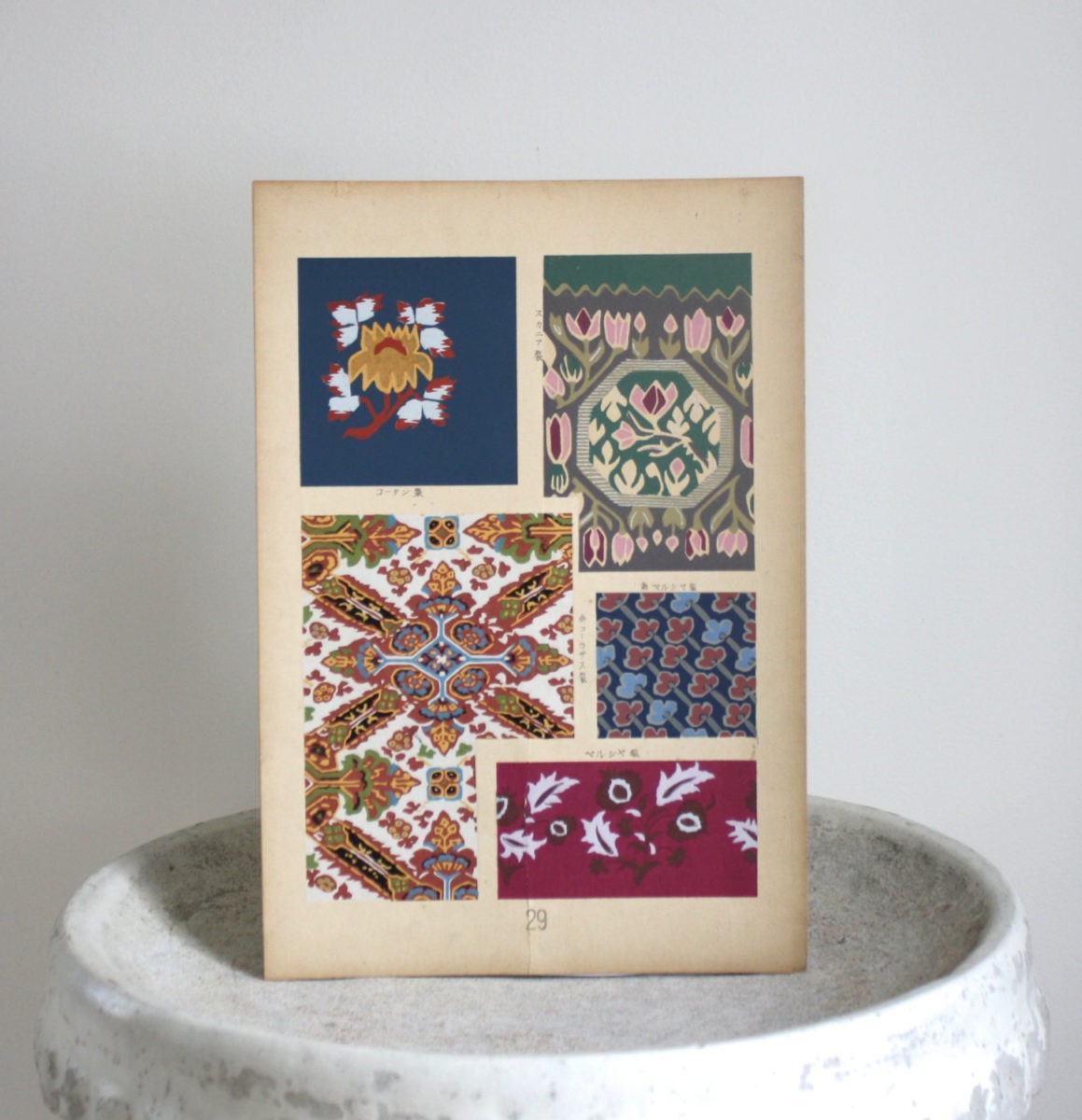 Speaking of the hunt: How do you know when you've found something good?
When I started
The Blue Twig
, I tried to be everything to everyone. I'd be shopping and think,
This is sort of cool
. I wouldn't really love it, but I would justify buying it by saying,
I bet someone would like this
. Now I really try to trust my instincts when I find a print. I try to grab only the pieces that I love – the ones that really make my heart skip a beat. Eighty percent of that is in the beauty of the print, but it's also things like, How rare is the print? What sort of story lies behind it? How old is it? All of those variables add up.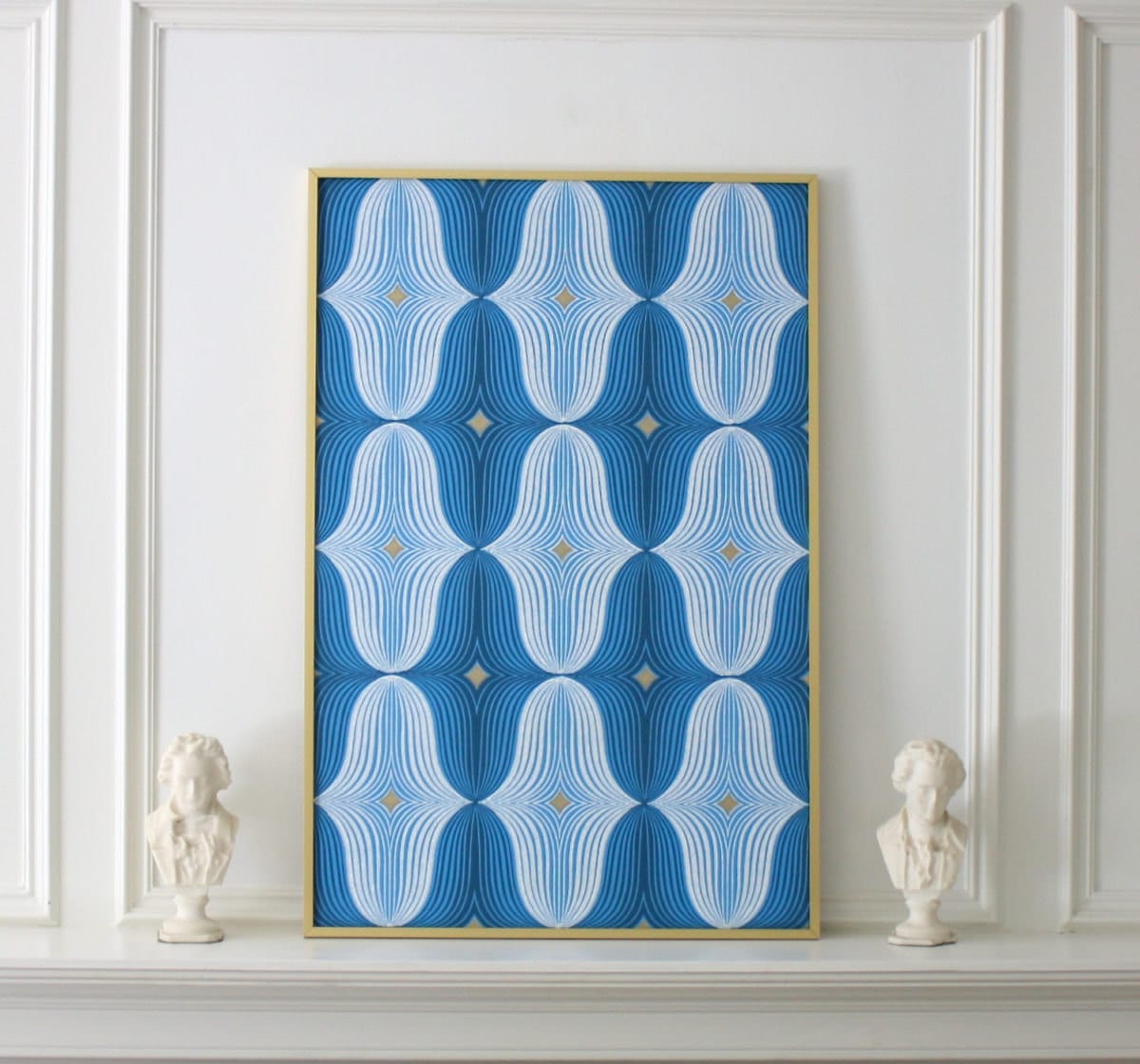 Framed Mid Century Mod Wallpaper from The Blue Twig, $430
What makes your heart skip a beat? How would you describe your aesthetic?
I'm drawn to a lot of different kinds of prints: I love
woodblock pattern designs
, textile designs in bold color, and anything
geometric
or
astronomy
-related. I'm also really into
mid-century fashion sketches
and old fragments of antique wallpaper. I've even explored areas outside of paper, where I'll take an old metal finding, like some cool mid-century clock faces, and mount them and mat them in a way that gives them a more understated, modern feel. I also love
industrial drawings
. I think overall, I'm more drawn to pattern designs than human subjects and landscapes and that sort of thing.
How do you know if something is an original or a reproduction?
People always ask me that! I definitely do not claim to be an expert in this area, but learning how to figure that out has been a really fun journey for me. There are a lot of variables, like the condition of the paper, what type of paper it is, and what type of paper was usually used during a certain century. Also, if it's an engraving, often times there will be a plate mark that would surround the image, left behind from the metal plate. So when I look at the print through a magnifying glass, I'm looking for whether that's there; if I'm seeing a lot of little dots on the image, it's probably a reproduction. There are a lot of ways that I research the content and the history of the prints to authenticate what I have. I hear a lot of stories from the people I buy them from, but I also do a lot of research myself.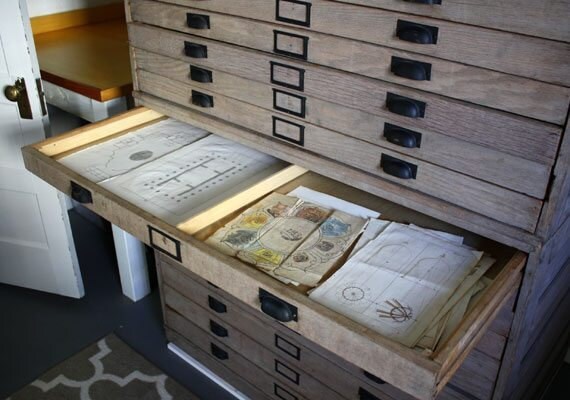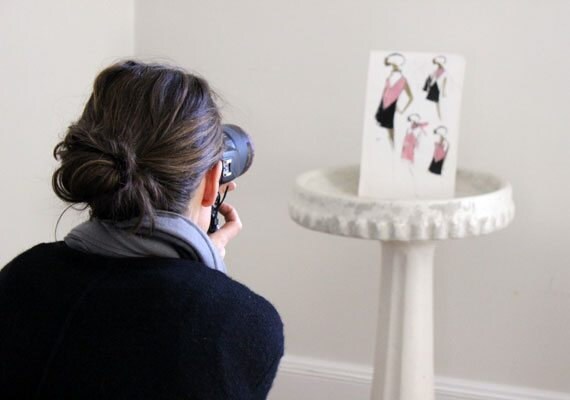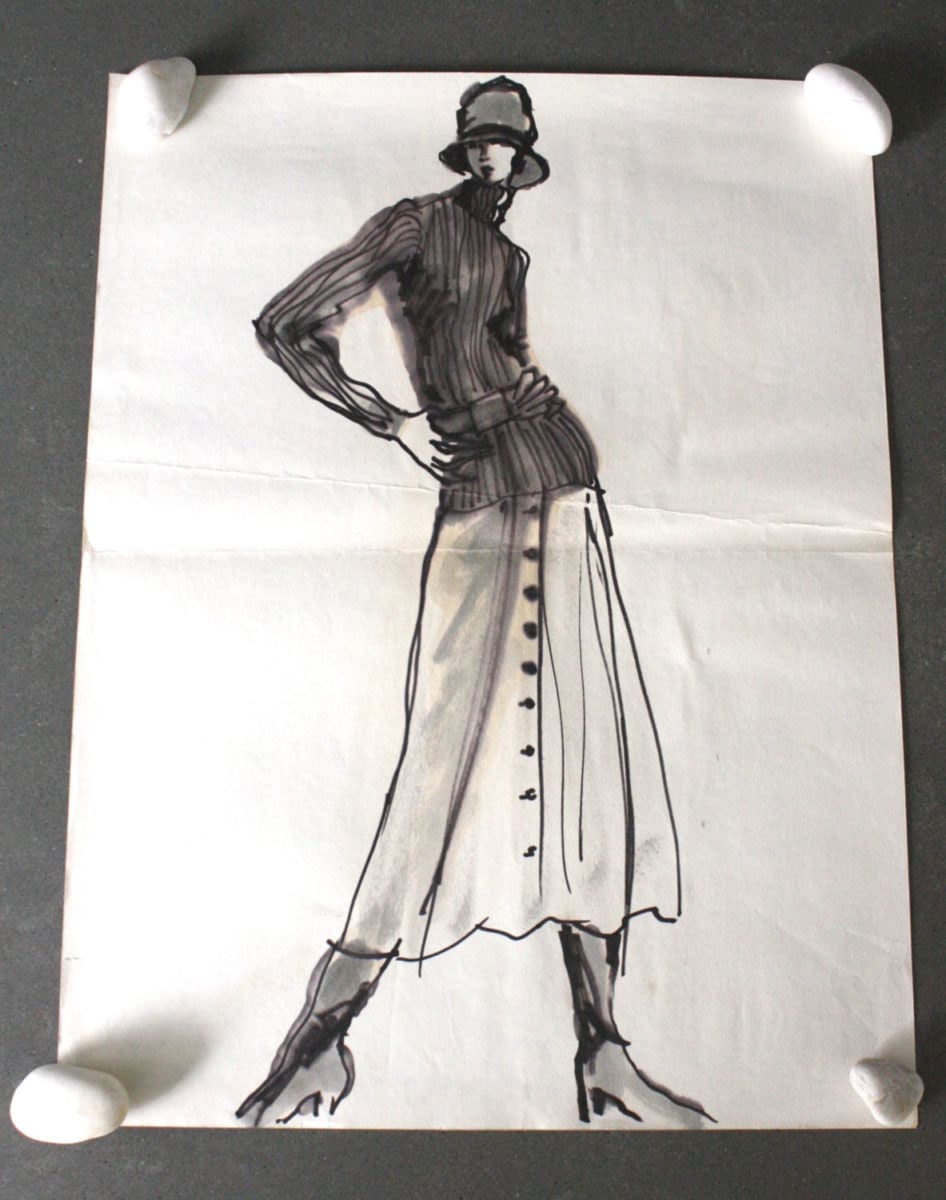 1960s Vintage Hand-Colored Fashion Drawing from The Blue Twig, $240
What pieces are you drawn to for your own home, and how do you display them? Do you have a lot of gallery walls?
I have gallery walls, yes, but I have to admit that I'm a symmetry person. I'm so jealous of people who can tolerate asymmetry – who can slap up a gallery wall and have it be sort of hodge-podgey. Of the gallery walls I have, one is a grouping of four
Japanese woodblock textile designs
. I was really drawn to them from the minute I got them – they're in beautiful shades of taupe and blue and grey, which are all colors that I love. I also have a pair of industrial diagrams from the 1930s that are displayed in my home. Those were produced in Norway; a lot of my ancestors are from Norway, so I thought that was kind of cool. Beyond that, I have a lot of stuff on my walls that's really personal to me. One of my greatest inspirations is my dad's business card. I have it framed in my studio, and I draw a lot of strength from it when I'm having self-doubt about the business or feeling overwhelmed. I also have this iconic photo of my mother-in-law from the '60s, when she had this brief stint in modeling. Oh, and then another thing that I have framed is a set of old botanical sketches that my great-grandma drew in 1902. So I have a lot of random stuff, but the common thread is that every piece is something I really love – either because it came from my family, or it's really interesting visually.
Have you always been drawn to interior decorating?
No! I was a clinical social worker before I opened
The Blue Twig
. I took some time off after having kids, and then I landed here. It's funny – one of my sisters sometimes says, "What happened to you? You were this social worker living in San Francisco, and now you're a New Englander who's obsessed with antique paper?" I've always been a homebody and I've always really valued creating a space that feels comfortable and cozy and meaningful, but I've not always been interested in interior design. It's something that's caught my attention in the last several years, especially after we bought our first house. That's when I finally had some space to play around.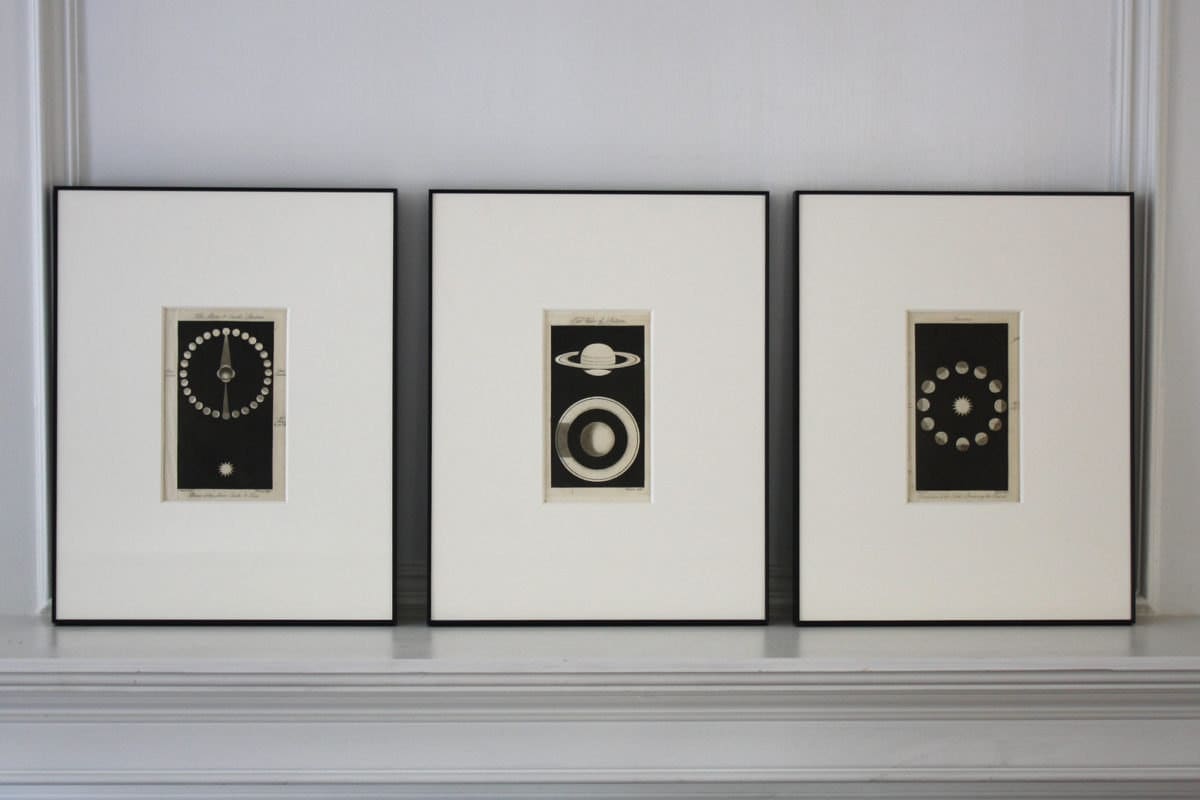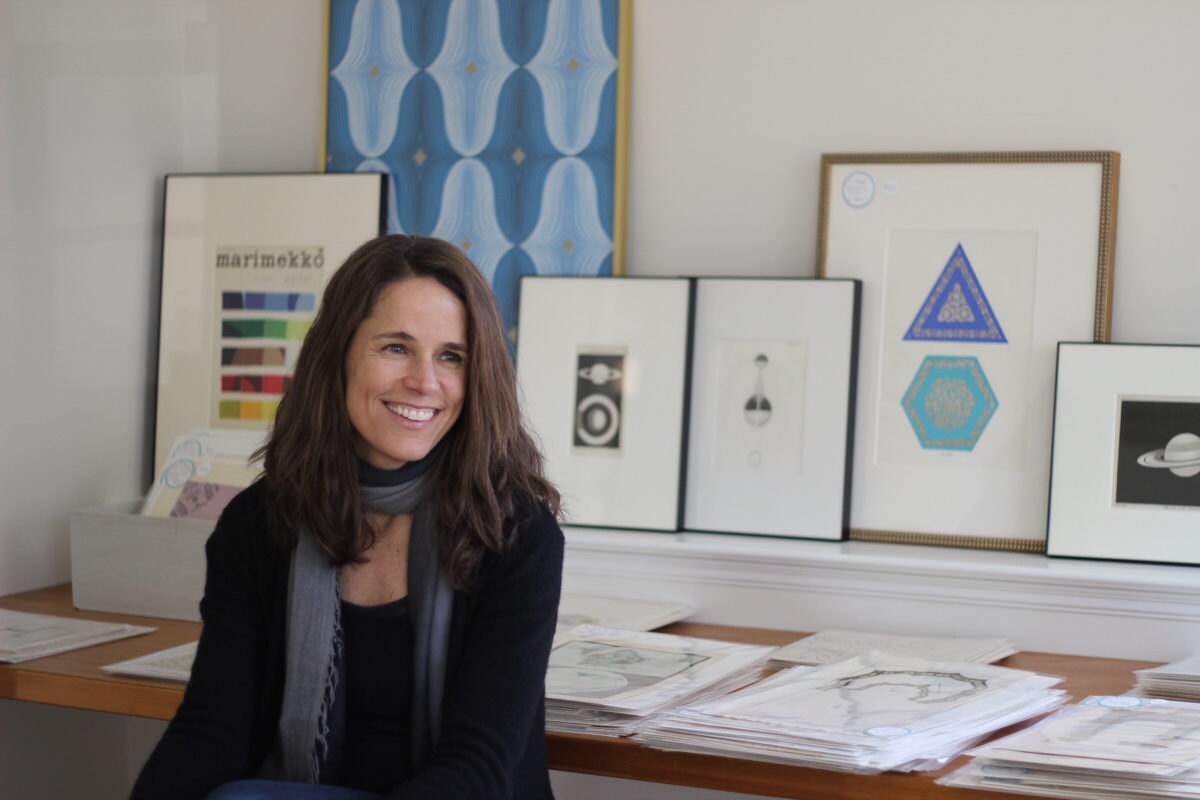 It sounds like you've really found your calling.
I loved social work for a lot of reasons, but this definitely feels different. I'm known for being a morning person: I get up at 4 a.m., and I'm excited when I wake up. Of course, there are some days when I feel discouraged, especially in the evening when I get tired, but I remind myself:
In the morning, I'm going to be excited again
. Starting your own business takes a ton of grit and energy. You have to love it to make it work
What has been the proudest moment of having your own business thus far?
Once, I was doing a show, and my father-in-law showed up to see what I had. He was sitting there watching me chat with people about prints, and afterwards he said, "You can just tell that you love what you do." That was such a compliment to me – especially coming from him, because I so respected him. It was such a gift that he put that observation out there. It's the small things like that that make me proud.
Do you have any goals for the future that you'd like to share?
I'm really thinking of 2016 as a time for reflection. Now that
The Blue Twig
has been up and running for three years, I feel like I've learned a lot. When I look at my Etsy stats, it's really exciting; from day to day, it's sort of hard to picture how you're growing, but over time, my sales have been moving in the right direction. I'm trying to force myself to lean into the parts of the business that I don't enjoy, like the more administrative parts of it, and getting my ducks in a row there. Moving forward, I'd like to do more with the Hartford ephemera that I've collected – framing those pieces in a unique, interesting way, and coming up with a more local line.
Follow The Blue Twig on Facebook, Pinterest, and Instagram.
Maker and studio photography by Mary Scripko; product photography by The Blue Twig.