by Sharon Steel
This Atlanta-based maker draws on her fine arts background and love of printmaking to delight customers with her cheerful custom stamps.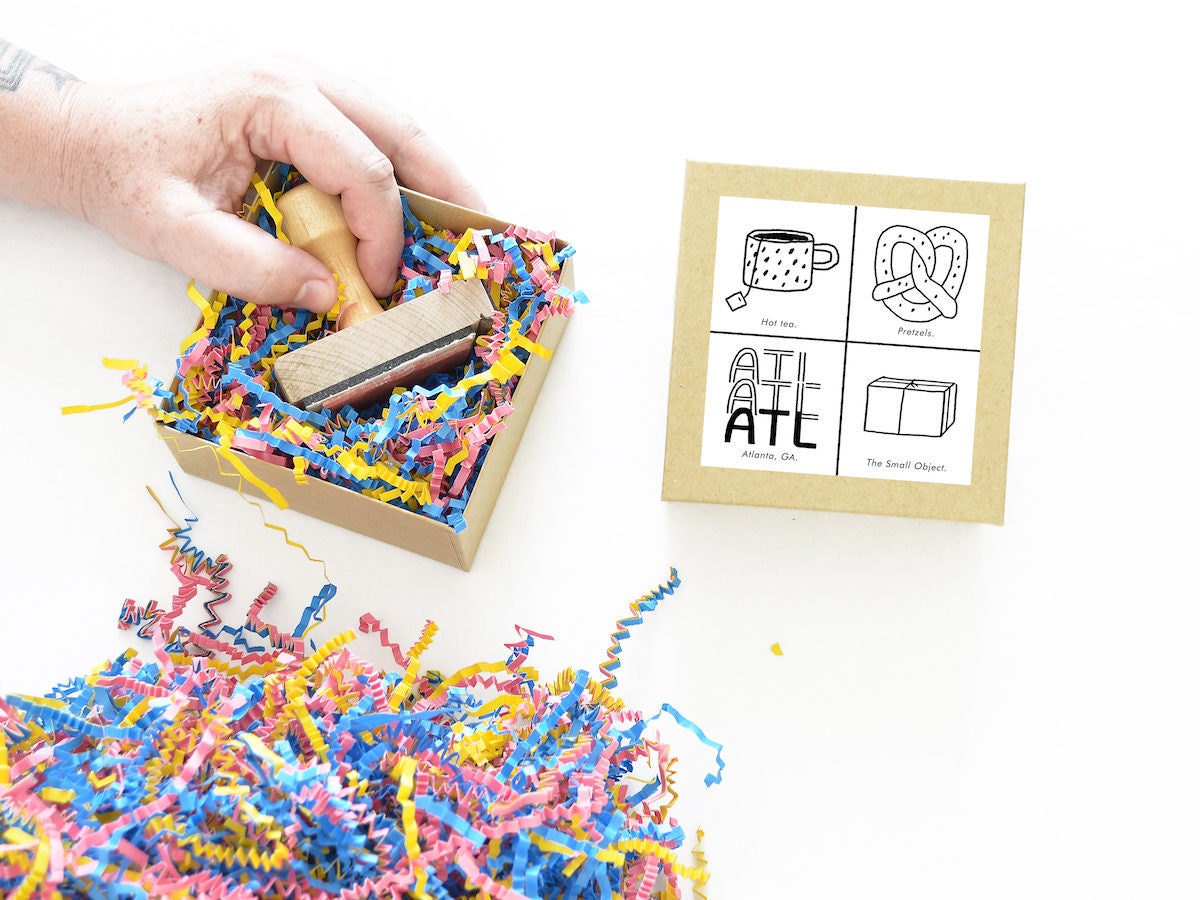 Sarah Neuburger remembers the almost-unthinkable days when artists were just figuring out how establish a presence on the internet, and shoppers were still getting used to the idea of online shopping. It was 2006, and after graduating from the
School of Visual Arts
in New York, Sarah moved to South Carolina with the aim of launching an online store to sell her creations. An early adopter of Etsy, she named her shop
The Small Object
 as a nod to her petite product line—everything she made fit neatly in the palm of a hand. When she began selling a series of cheerful rubber stamps based on her original illustrations, customers responded quickly and with enthusiasm—and they've been a mainstay of her shop ever since.
Twelve years later, Sarah's shop boasts a growing selection of joyful and highly-customizable stamp designs, all destined to be emblazoned with her customer's
names
,
states of residence
, and even
drawings of their homes
, in her signature aesthetic—"minimal, youthful, direct, and playful," in Sarah's words. Today, she runs The Small Object full time from her bright home studio in Decatur, Georgia, and relishes the opportunity to continue connecting with her customers on and off the internet, whether they're fellow small business owners or just people in search of the
perfect gift
.
Read on to discover how Sarah creates her popular custom return address stamps and what she does if she's stuck on a project, then shop The Small Object collection.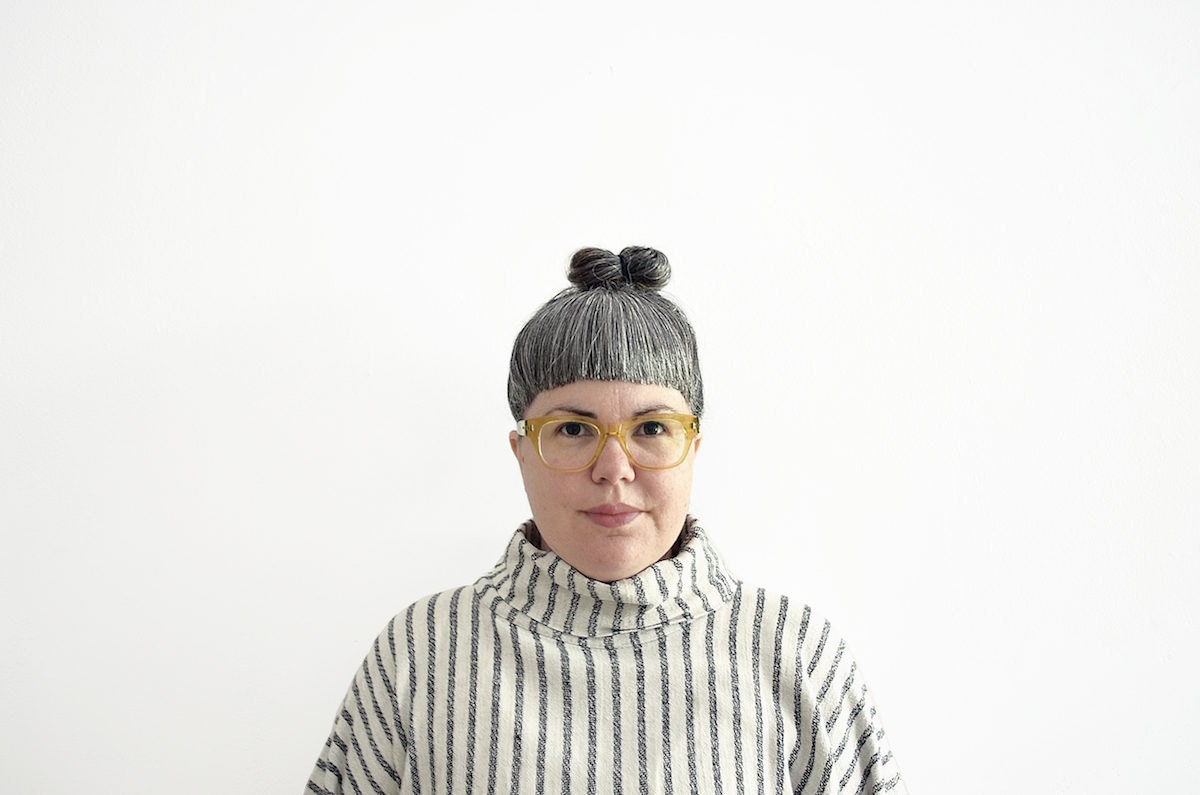 What is it about making stamps that intrigues you?
I was drawn to stamps because they're such an accessible type of printmaking. It ties directly into art for me—stamps are a great way of bridging my fine art background with the craft world. When I launched my first stamp sets six years ago, they were a really unique product that set me apart. At the time, my stamps were made from large sheets of engraved rubber, but now I use a manufacturing partner because so many of my designs are personalized. I love being able to focus on the illustrations.
Tell me more about the connection between your production partner and your focus on custom stamps.
Two years ago, I got a fairly large wholesale order. As an individual maker, it seemed silly for me to be manufacturing the stamps myself, and since I'd been doing the sets for a while, I was ready to try something different. I had also been focusing more on my illustration work, so it was a good way to continue coming up with new designs.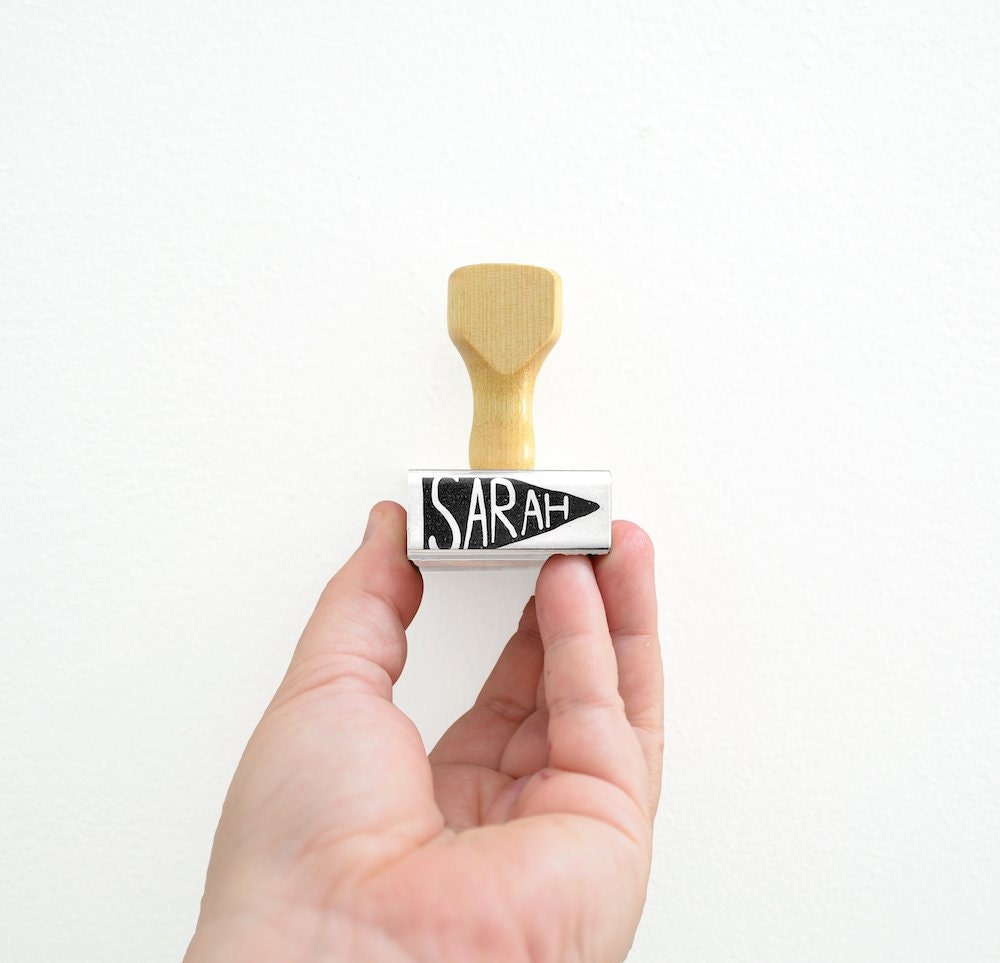 >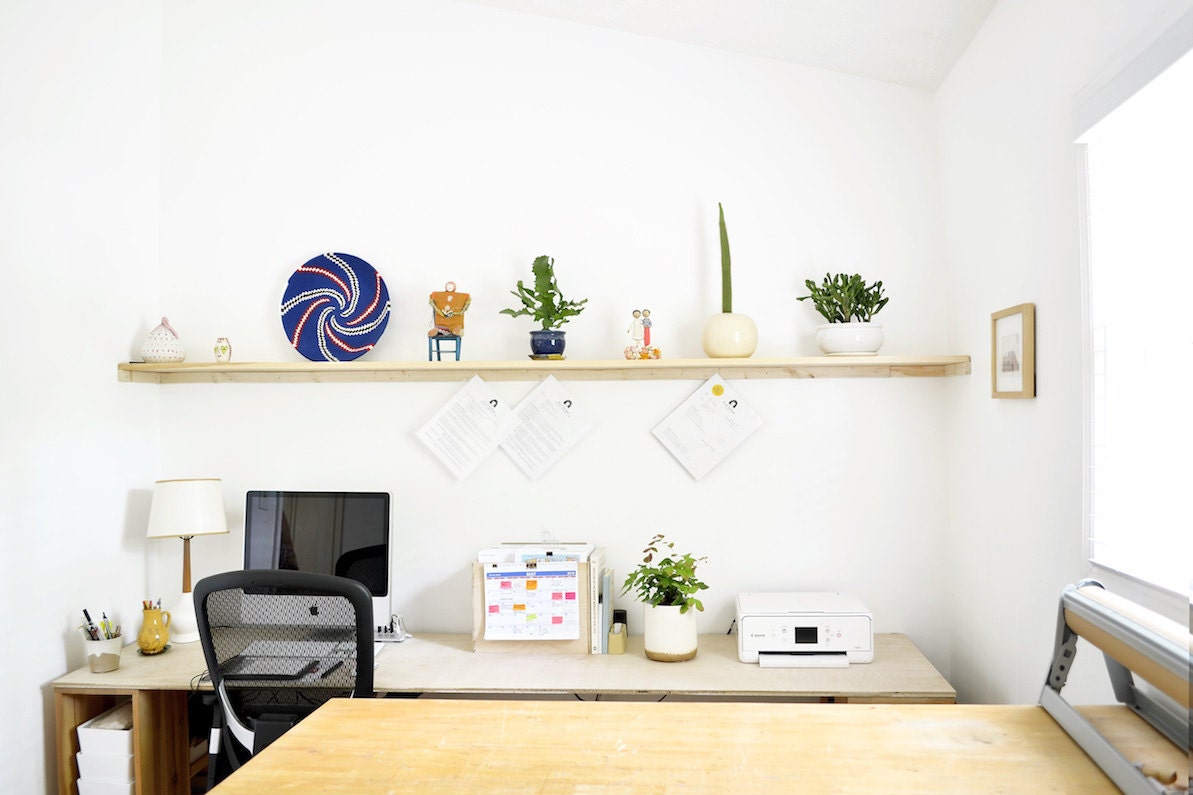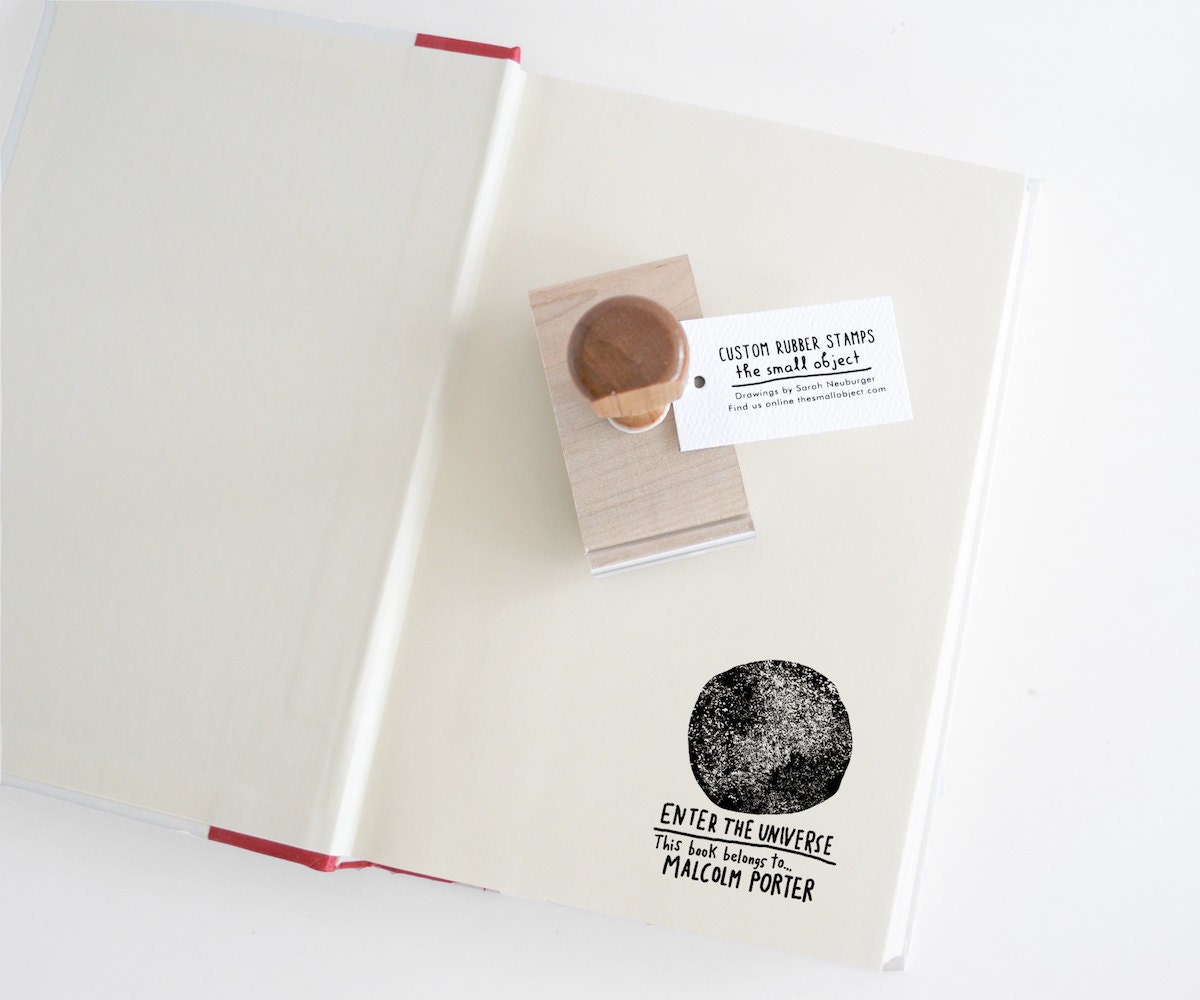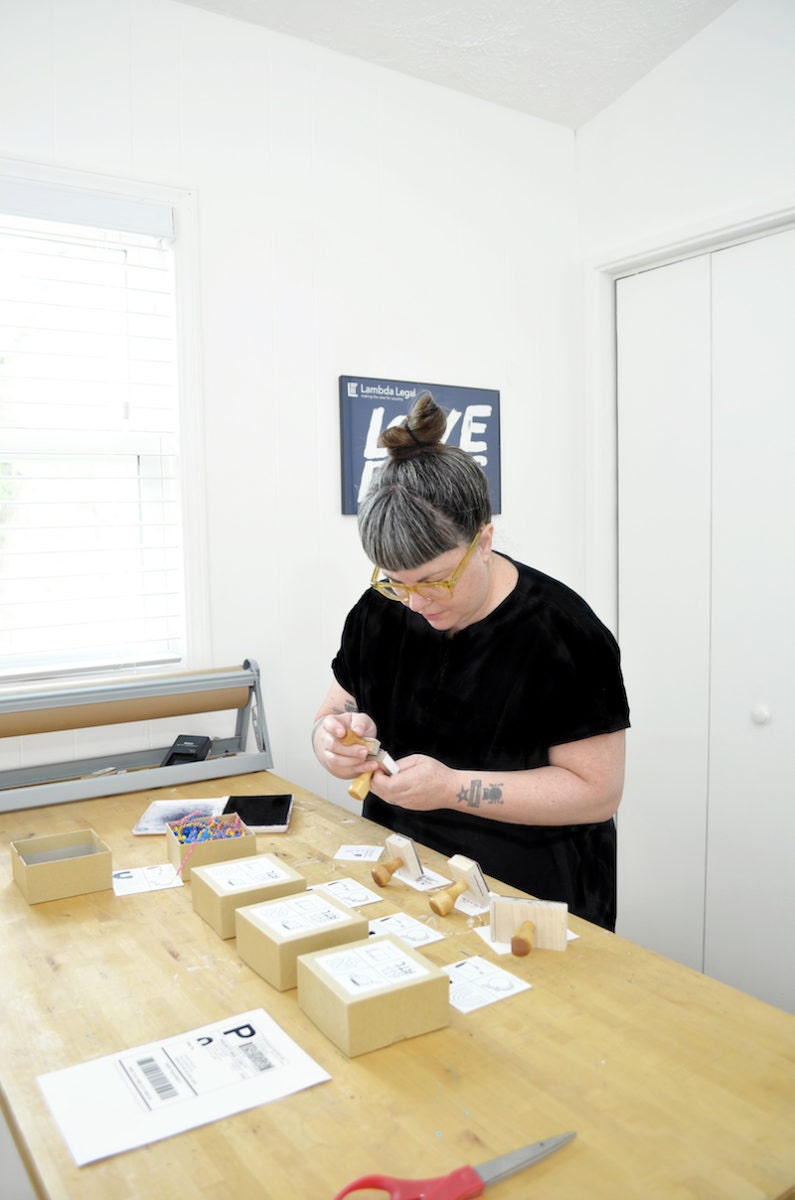 Where do you turn for design inspiration?
I think about what I would personally like to use for my business, or a gift I'd like to give. Sometimes an idea comes from a customer who wants something I don't have available yet. For example, when I first started out on Etsy, I had a small stamp that said "Handmade." People were buying it and pairing it with standard alphabet stamps to create their own "Handmade by" labels. Now that I've shifted towards one-of-a-kind work, I can let customers
personalize the stamp with their names
—there was obviously a need for that!
What's the most popular item in your shop, and how did that design come into being?
My
custom return address stamps
are one of my best sellers. They actually grew out of a request from my mother, who wanted a drawing of her house. But my interest in buildings has been there for a long time. My father studied architecture, and my uncle is equally passionate about it. We used to go on trips where we looked at buildings together, and they both have this uncanny ability to remember all these little details. Growing up, we moved to a new house every three years because my father enjoyed the process of looking at blueprints and working with architects. Then there's my mom—she used to make cross-stitches of our houses.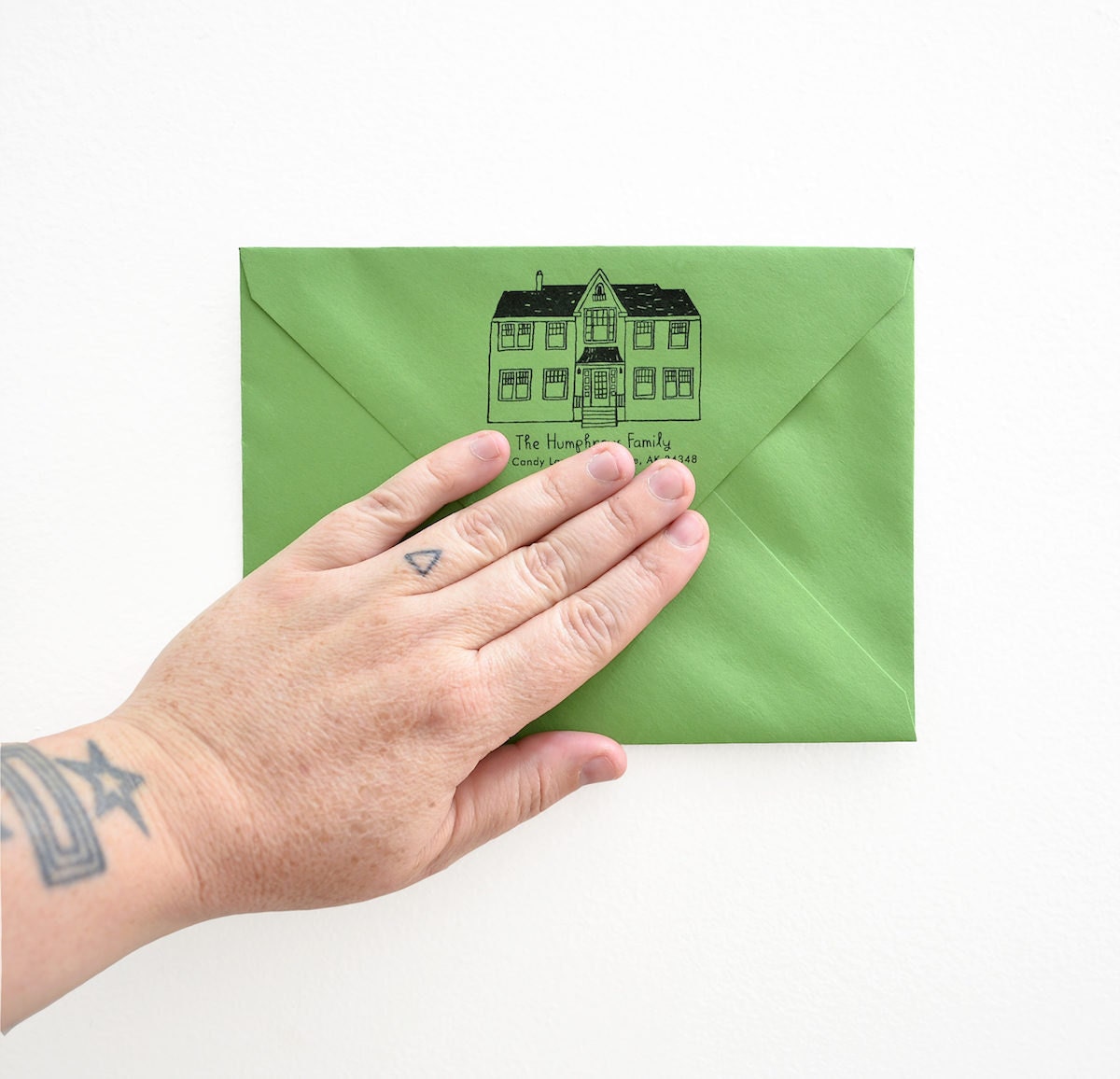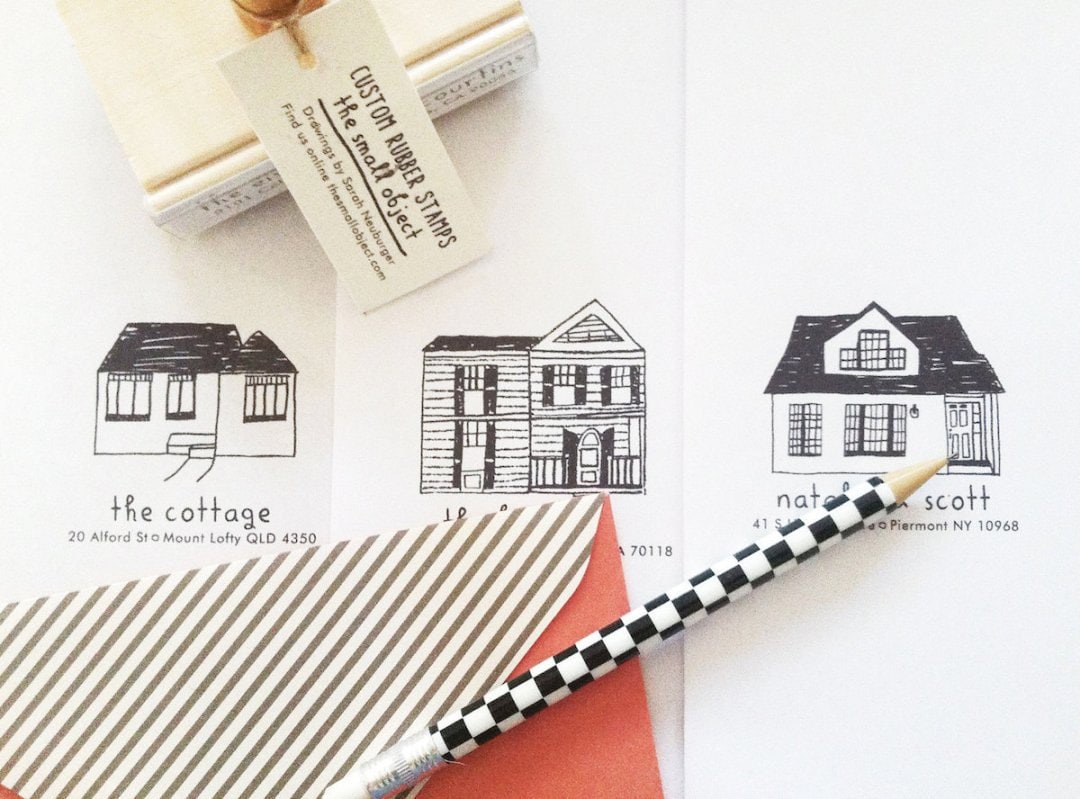 >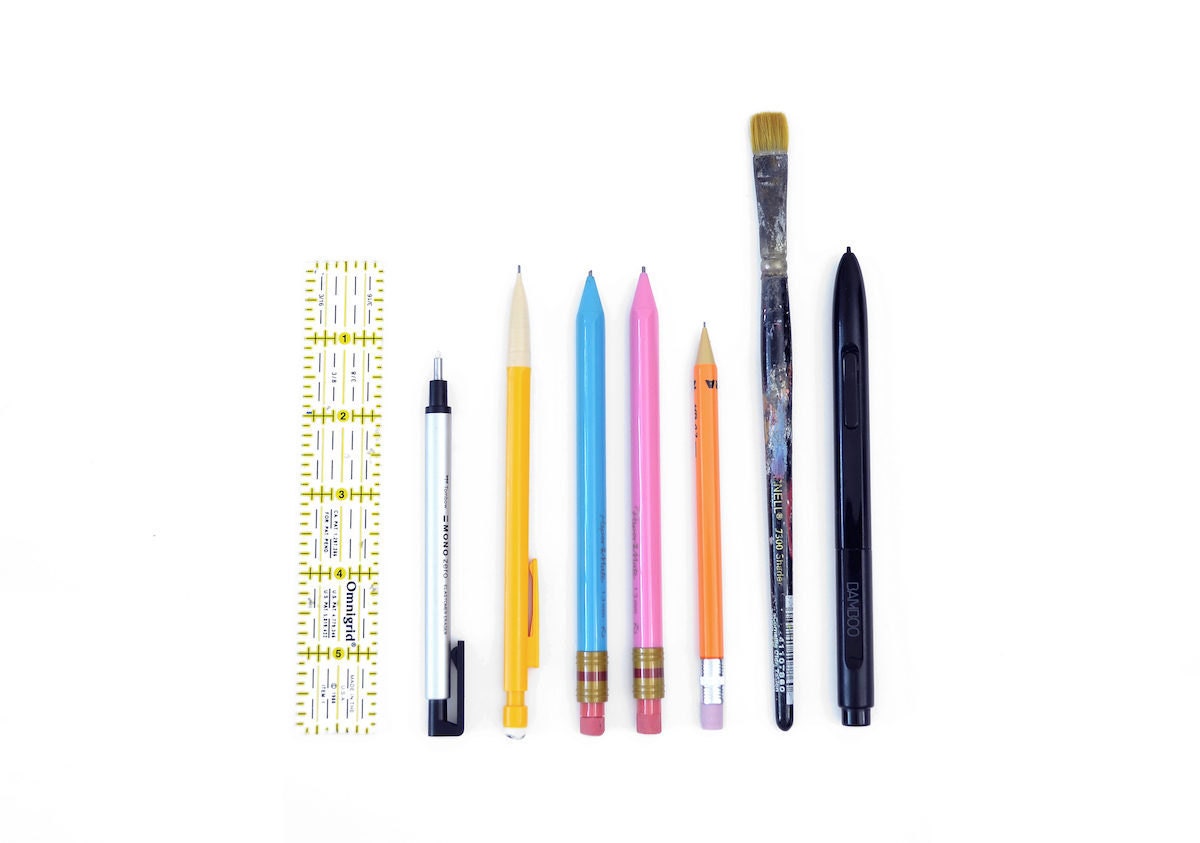 Can you walk us through your process for making one of your custom return address stamps?
It all starts with the front-facing photo the customer sends me of their home. I scale the photo, and draw pencil to paper, looking at the image. Then I scan in the drawing and clean up the lines digitally. When you're drawing with a pencil—but without a ruler—sometimes the lines are a little bit wavy. I like a look that reminds you that it was hand-drawn, but it should have enough straight lines so that the wonkiness isn't distracting. The stamp functions at a much smaller scale, and it needs to produce a clean, crisp image—I don't want to include so much detail that when you stamp it, it turns into a big, black blob! Part of the balance, which is really fun, is figuring out what I can and can't include to capture the spirit of the house.
Have you ever had a custom order that was especially meaningful for you?
A customer recently ordered a custom return address stamp for her parents, whose house had just been caught up in one of the wildfires in California. She was using the stamp as a way to memorialize their house, and it was bittersweet but very touching to be able to create that for them.
What's a typical day like for you?
I have the luxury of working from a home studio, so I get up, feed my dogs and take them out, feed myself, and then I work. I love to work. In addition to running
The Small Object
, I also have freelance illustration clients, which means I'm pretty much working straight through the day, until six or seven at night. My wife is in graduate school, and after we eat dinner, we both go back and work again for a bit.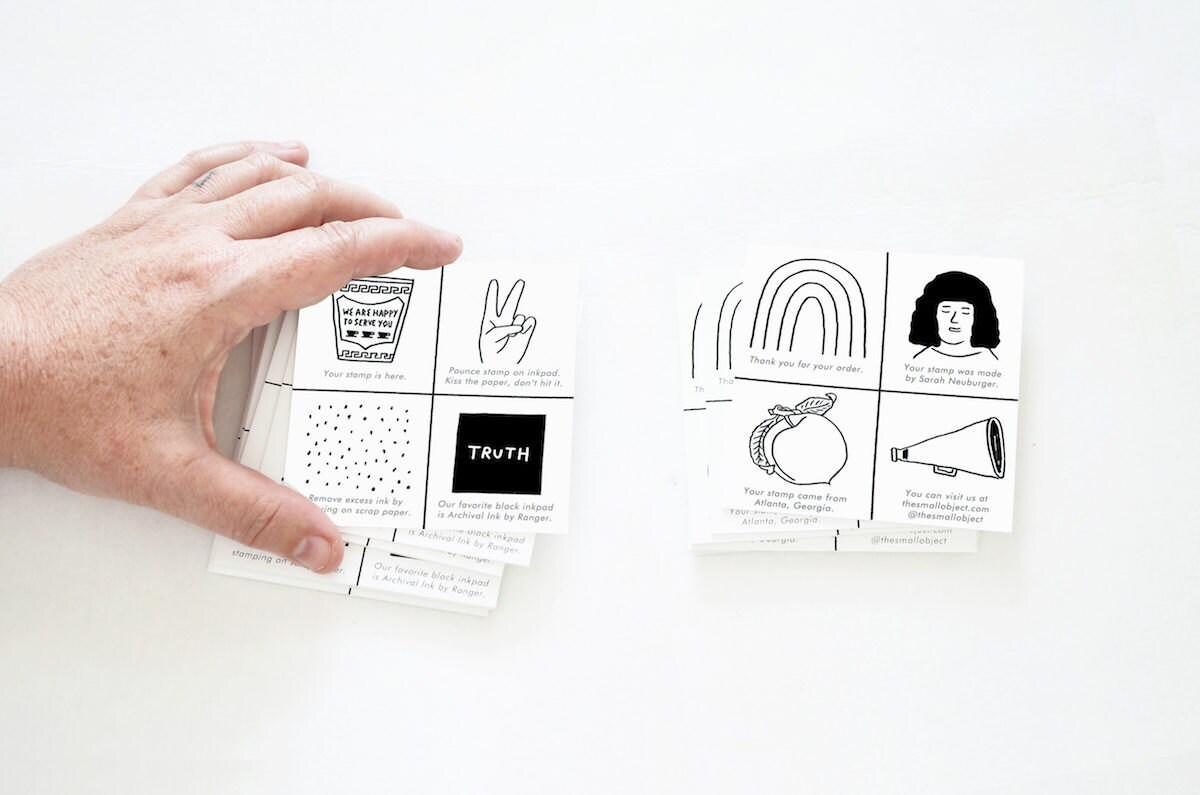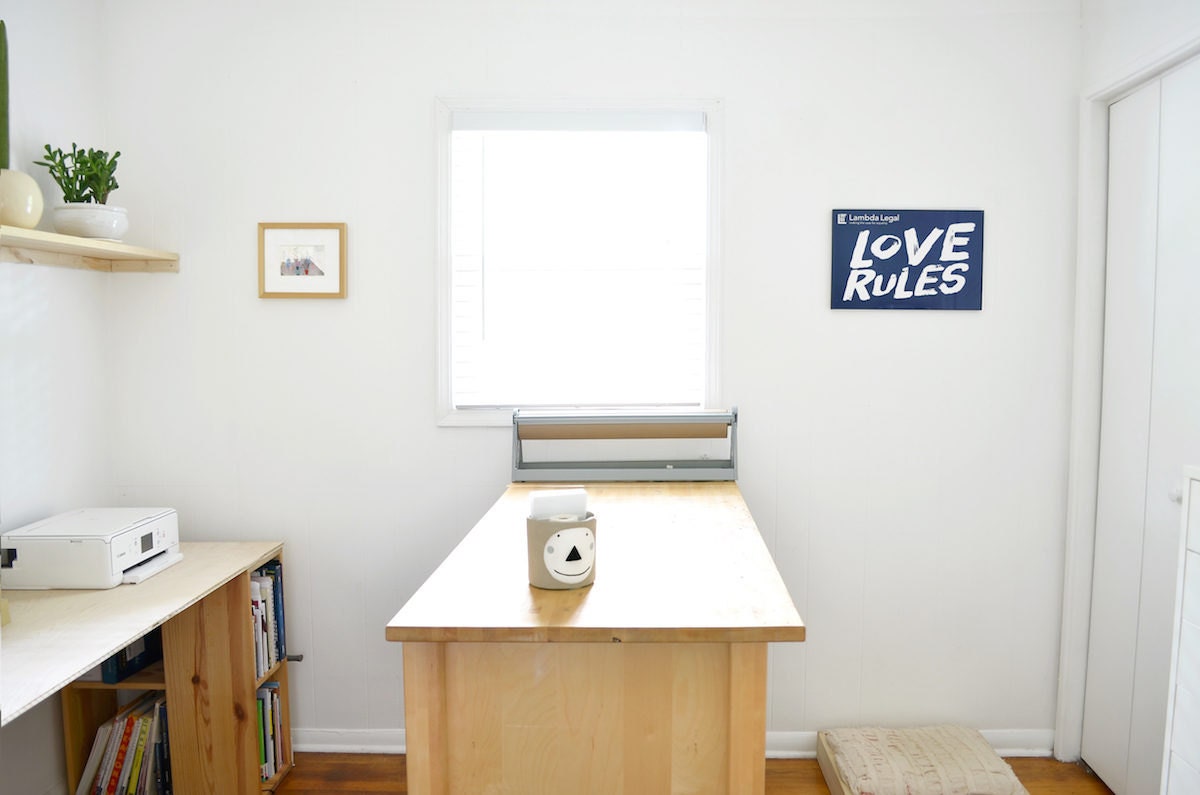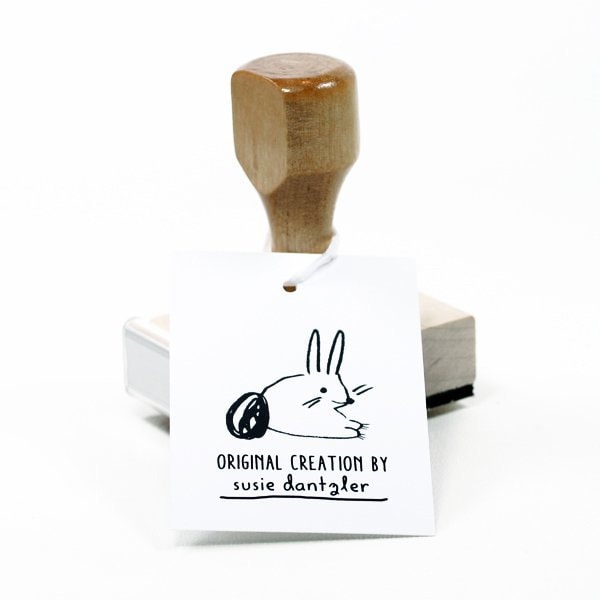 >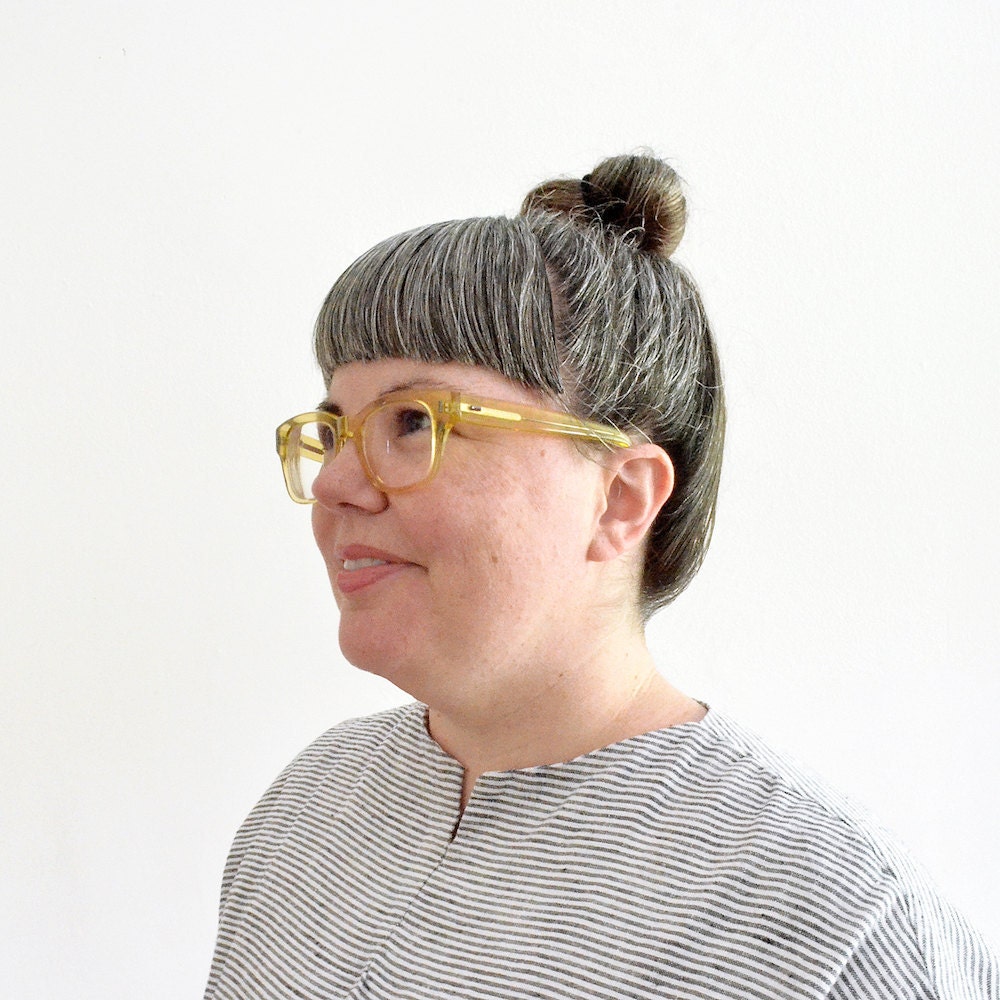 What do you do when you're stuck on something creatively?
One carryover from art school is taking a break from a project, walking away, and coming back to look at it with fresh eyes. I'll go outside and garden, because that's one of the benefits to living in Atlanta! I like that it's a purposeful activity, but I don't have to think about anything. I know what's supposed to be growing and what isn't. I can pull out weeds, or I can look for aphids on a tomato plant. When I come back to the studio, my mind has been thinking about whatever it is that I've been stuck on, and I hopefully know what to do next.
When do you feel most inspired?
When I'm working—working a lot. Inspiration doesn't always come when I'm working on client or customer work, but it's there as long as I make time to draw or create for myself. That's usually where the next idea comes from, because it's the kind of play where you don't have to worry about a deadline or even what it looks like in the end. You're seeing what happens, and just making for the sake of making.
Follow The Small Object on Instagram.
Photographs by The Small Object.