Get to know Simona Ullo's line of charming—and sustainably produced—fashion essentials you can feel good about.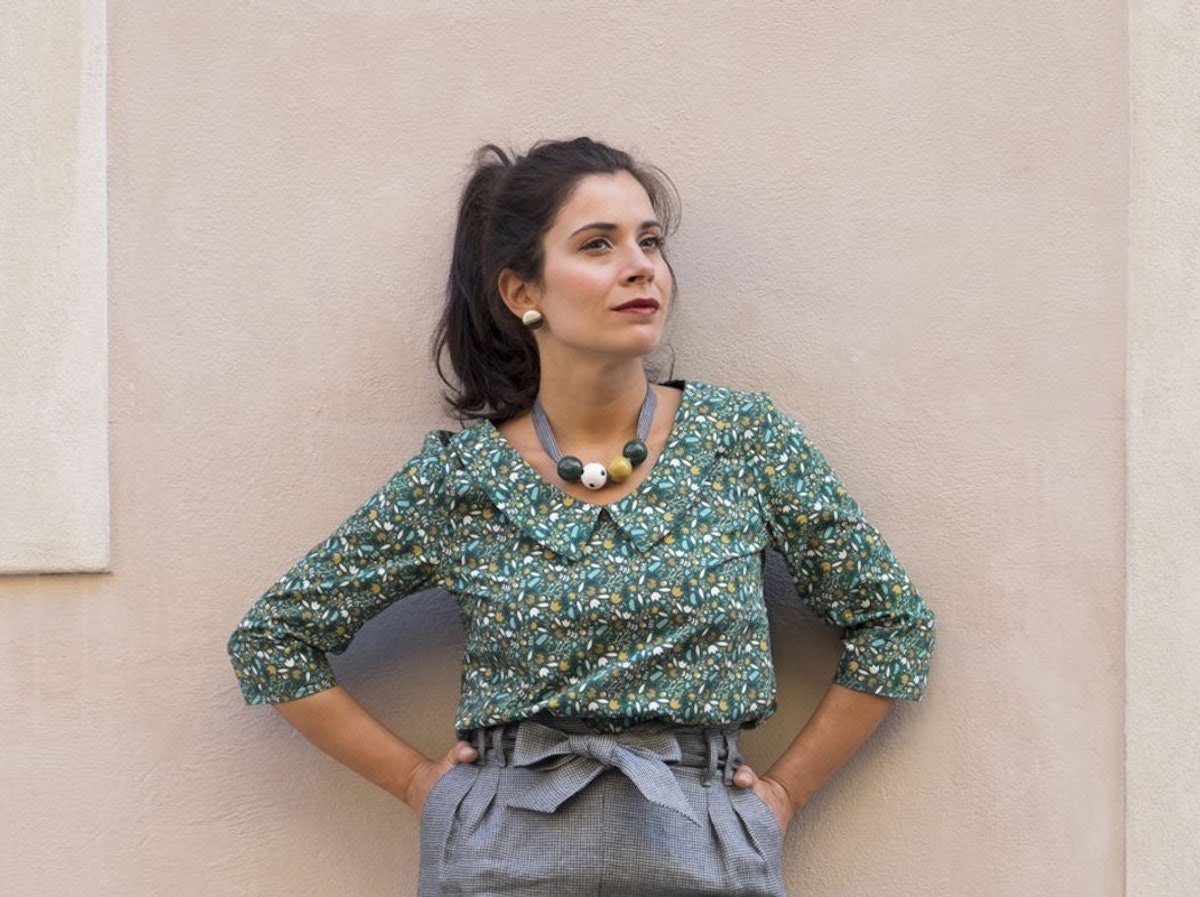 In our weekly
Featured Shop series
, we shine a light on a standout shop from Etsy's talented seller community, offering readers a behind-the-scenes look at their process and story. "She's a positive person who gets excited about the small things life has to offer. She loves nature, she's curious, and makes happiness her number one priority every day. She loves to add a retro touch to her outfits, and believes in a more sustainable way of building up her wardrobe." It's easy to picture
the Yellow Peg
customer, as described here by the sustainable slow-fashion line's creator, Simona Ullo, as the heroine of a whimsical indie film, scootering around the streets of Verona, Italy (where Simona's business is based), visiting flower markets and art galleries, and staging tiny adventures for herself—all while impeccably dressed in the Yellow Peg's carefully constructed dresses and separates.
Explore the Yellow Peg collection
If this is a scene in which you'd like to envision yourself, may we suggest making The Yellow Peg your unofficial wardrobe department? In her bright and tidy studio-slash-retail shop, former computer scientist and self-taught seamstress Simona stitches up each timeless and tailored Yellow Peg dress, blouse, and headband herself using only natural fabrics, some of which are printed with her own original motifs. "I think people are becoming more and more sensitive to quality, both in the way clothes are made and in the materials they're made of," Simona explains. "I try to make that my number one priority, and to let my customers know I value them." All in all, it's an endeavor any positive, curious, nature-loving person can get behind—and with a new Yellow Peg collection launching every fall and spring season, there are plenty of outfit options for living out your very own cinematic sequels year after year.
Read on to learn more about Simona's process and shop the Yellow Peg collection.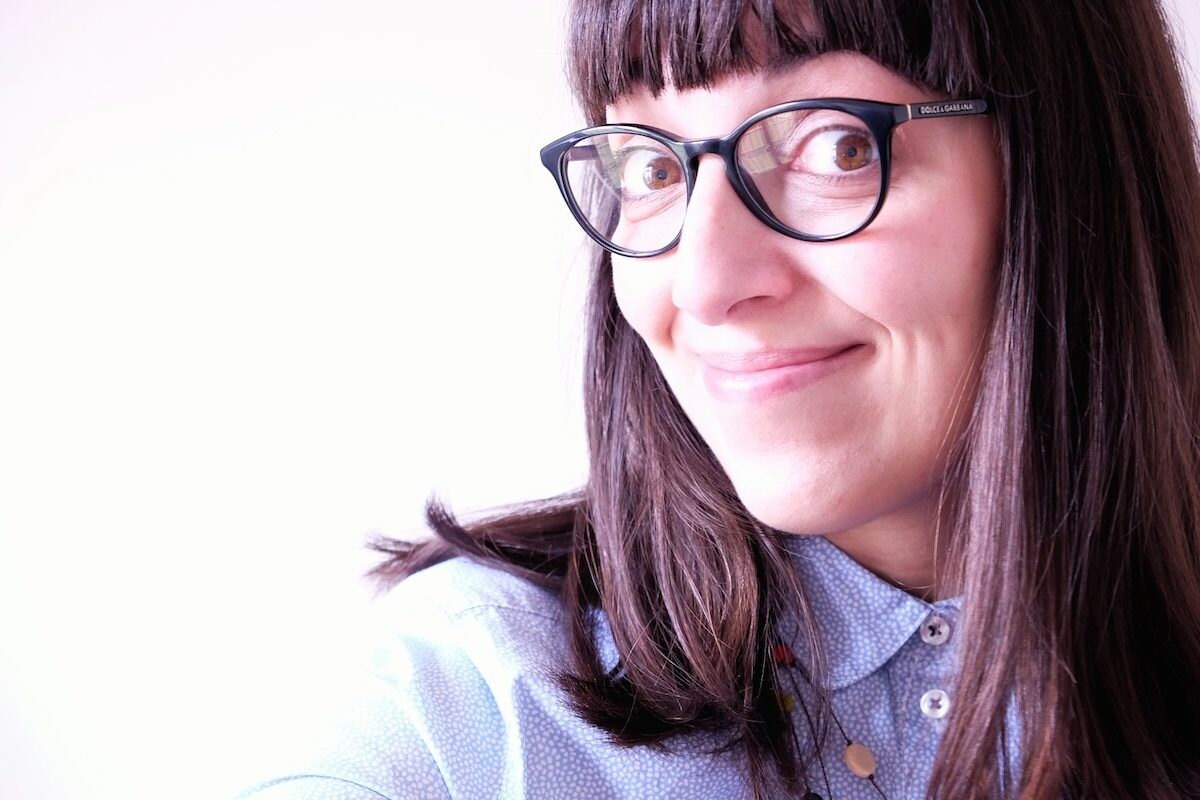 How did you find your style as a designer, and what is it that appeals to you about a retro-inspired aesthetic?
Everything is a journey. In the past three years I've experimented quite a bit with styles and designs, and I've learned a lot from my customers' feedback, too. However, the
vintage inspiration
has always been there, and I dare say it always will be! I love retro looks—especially from the '50s and '60s—and I think they're a core part of
my brand
. I love that representation of a woman's figure, always delicate, chic, and with no ostentation. That's why my mission is to reinterpret that aesthetic into something modern and wearable for everyday life.
How do you go from a design idea to a finished garment? 
I generally put out new designs when I launch my S/S collection in March and my A/W collection in October. When I'm working on a new collection, I usually do a bit of research into what the next season's trends are, but I also believe in making fashion your own personal statement, so I tend to combine the latest trends with my own ideas and inspiration to come up with something distinct. Next, I make sketches of the new styles with an idea of the materials I'd like to use; recently I started designing my own fabrics, so I can offer products that are even more unique. Once the designs are all laid out, I get started with the pattern-making process, and continue until my prototypes are just the way I want them. Then they either become a new sewing pattern or part of my 
clothing and accessory collection
. Of course, there's also the photography and the marketing part: Being a one-woman show means taking care of everything!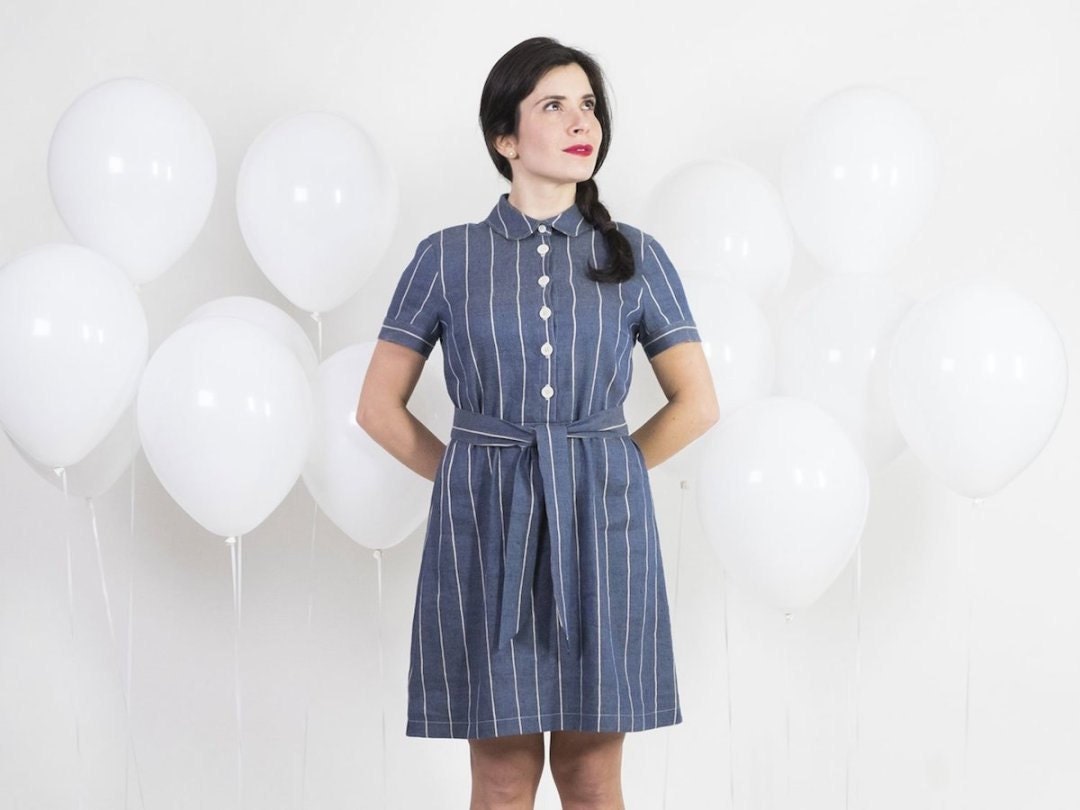 >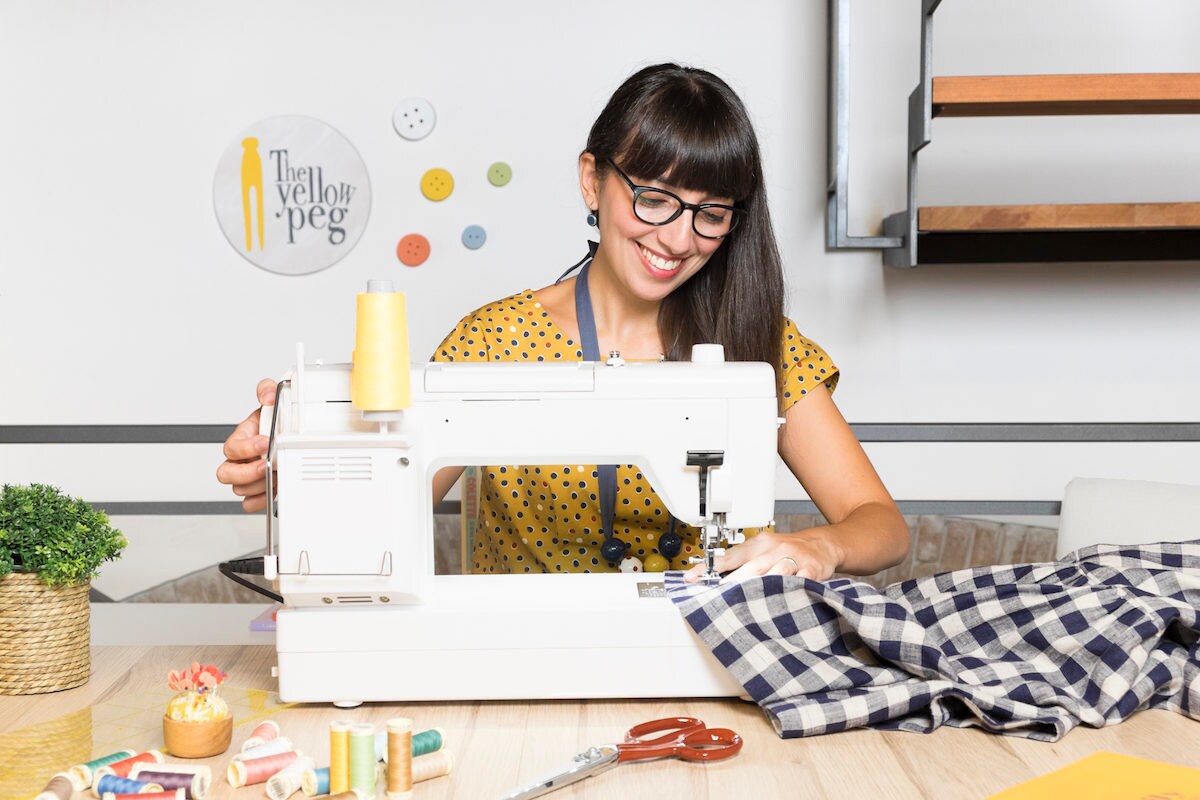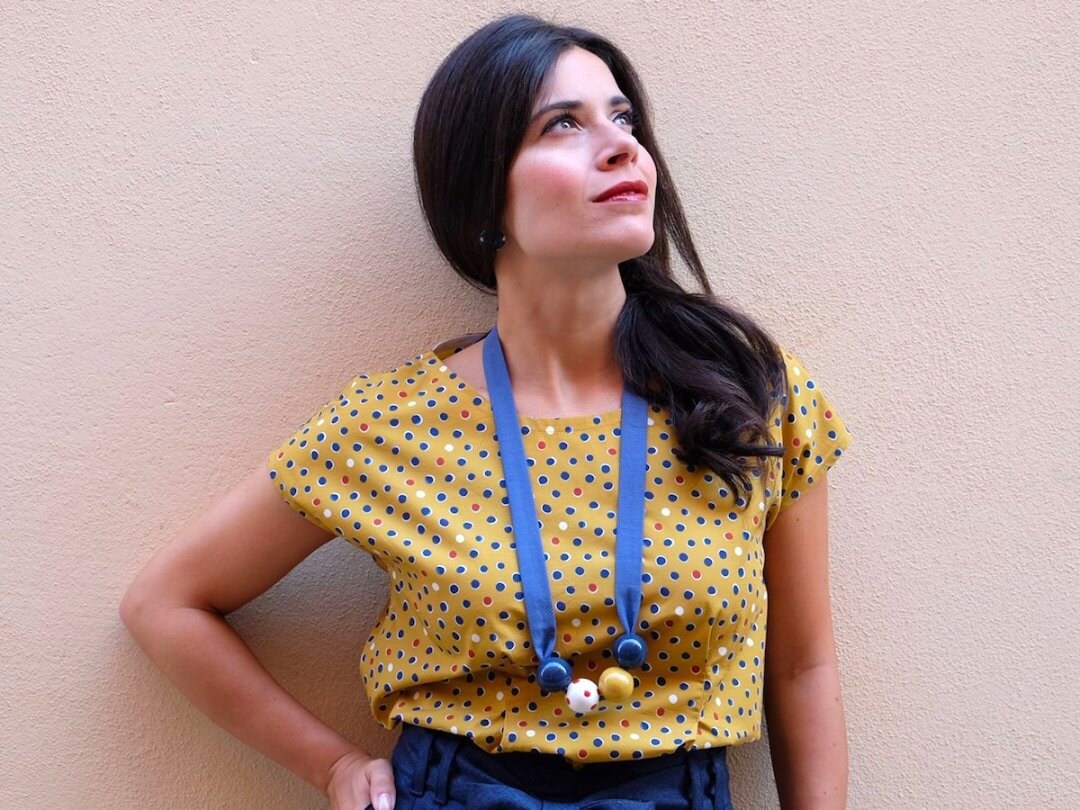 >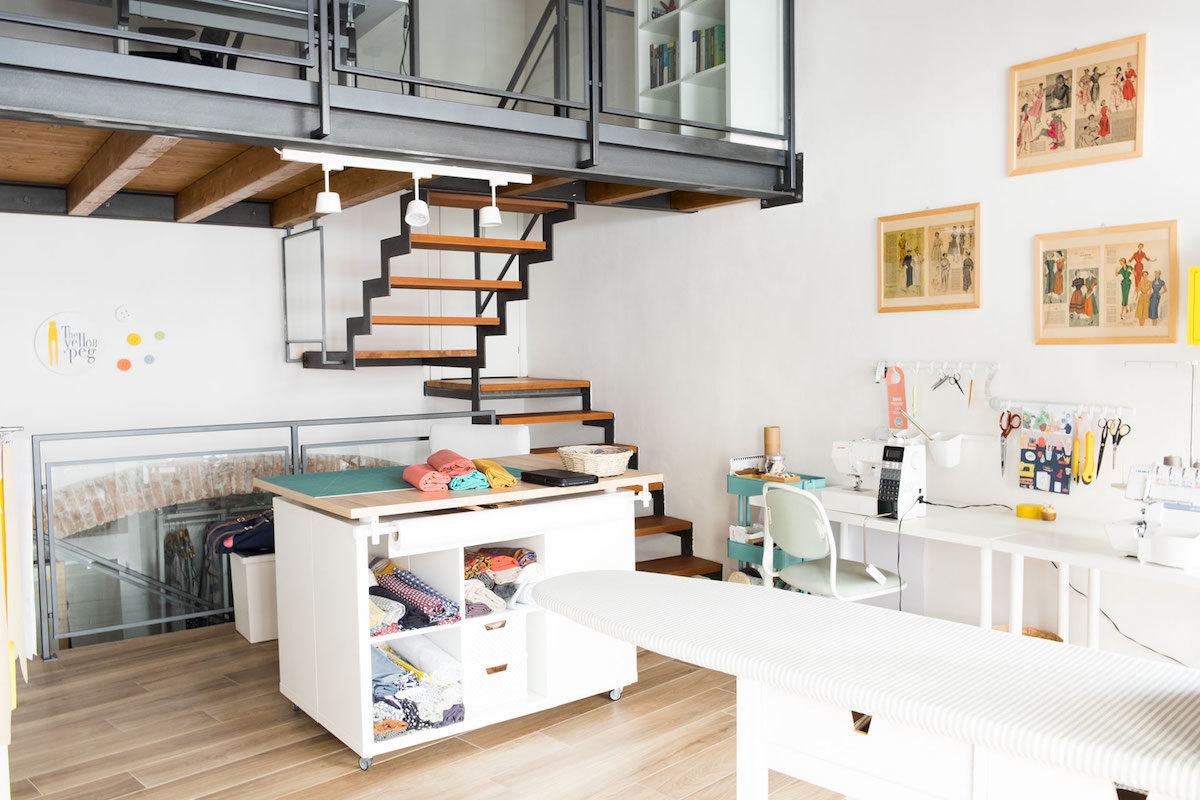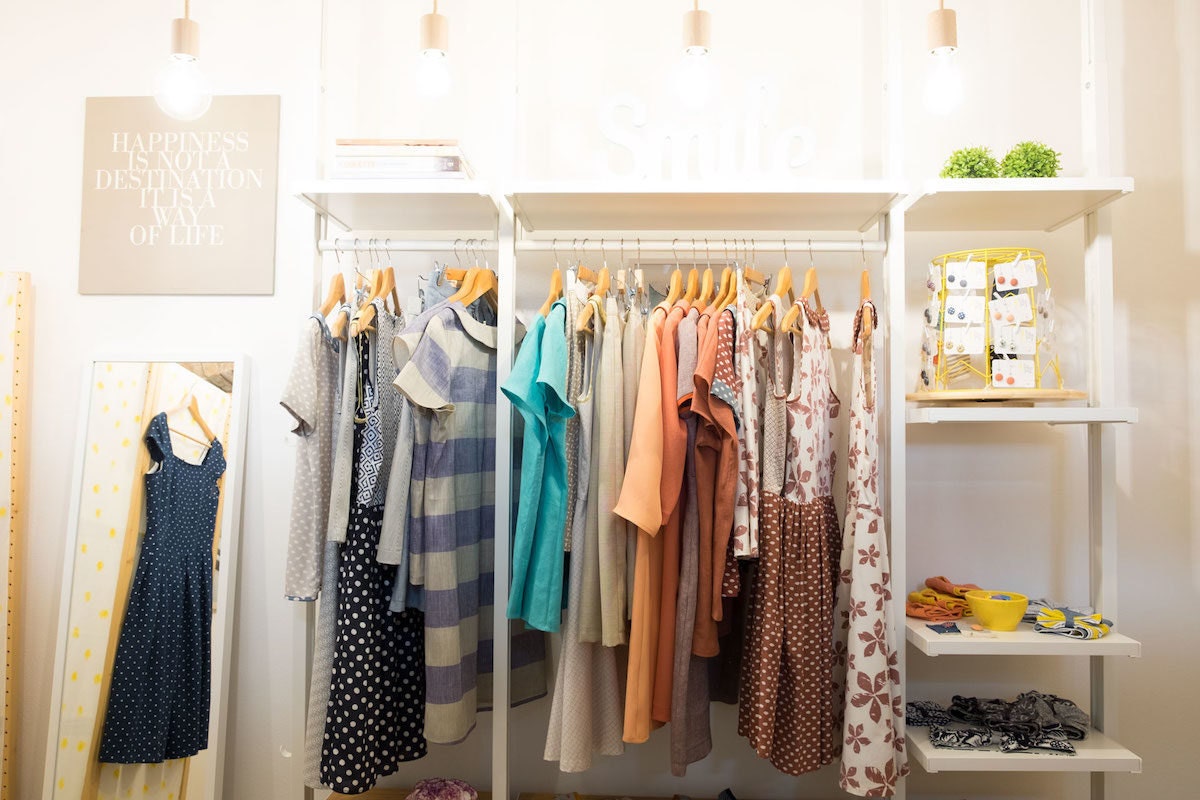 Tell us about your workspace: Where do you design and produce The Yellow Peg?
I moved from a small home office to my current studio in 2017. I wanted the new space to be as cozy and creative as possible—I love working in a nice and well-organized workplace. I built my own cutting table and have all my sewing tools hanging on the wall so they're easy to find and use. And because vintage is the number one inspiration for my designs, I decorated the walls with fashion prints from the '50s. I feel really inspired whenever I'm in my studio, and people who stop by always comment on the atmosphere as well.
What role does sustainability play in your design and production process? Why does that matter to you?
Sustainability plays a key role. I believe that we have the power to change our shopping habits, to go toward a more sustainable and conscious way of buying clothes. With all that's going on with fast fashion, I think we can no longer disregard this matter: Our planet deserves better and we deserve better. However, I also know that converting to slow fashion is not easy and it can't be sudden. It's a path made of everyday choices. That's why all my products are entirely handmade in my studio using only good-quality natural fabrics. Quality definitely wins over quantity. Plus, with my
easy-to-use sewing patterns
, people can learn how to sew their own clothes, bringing sustainability to the next level.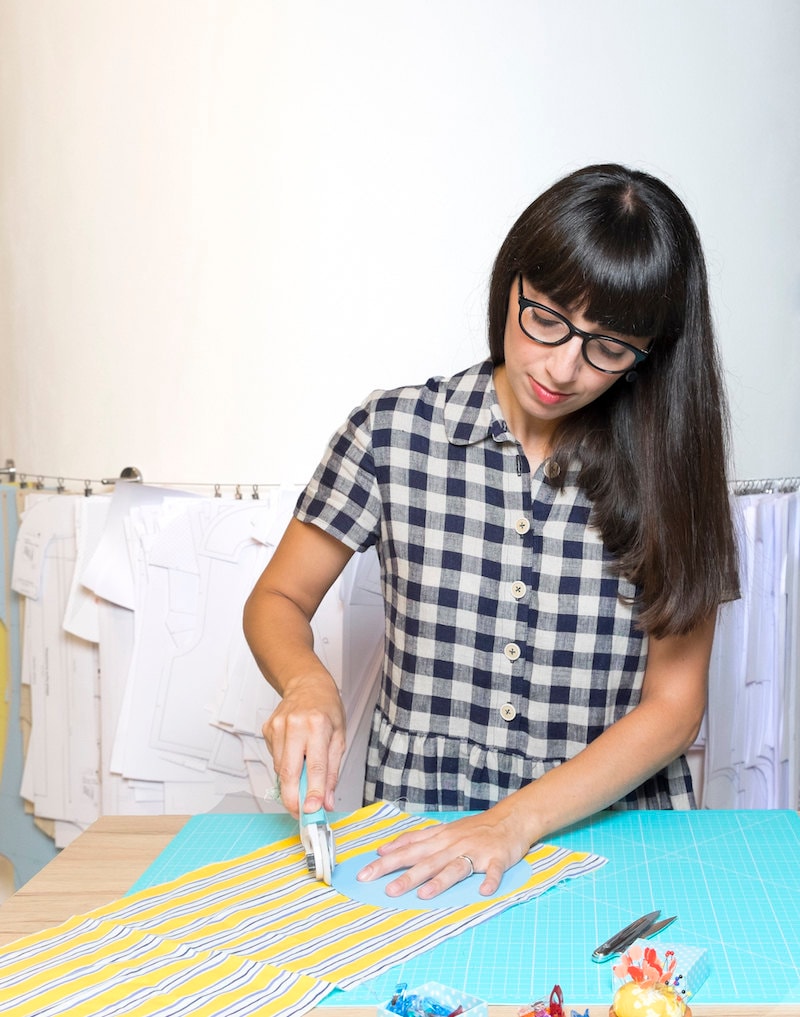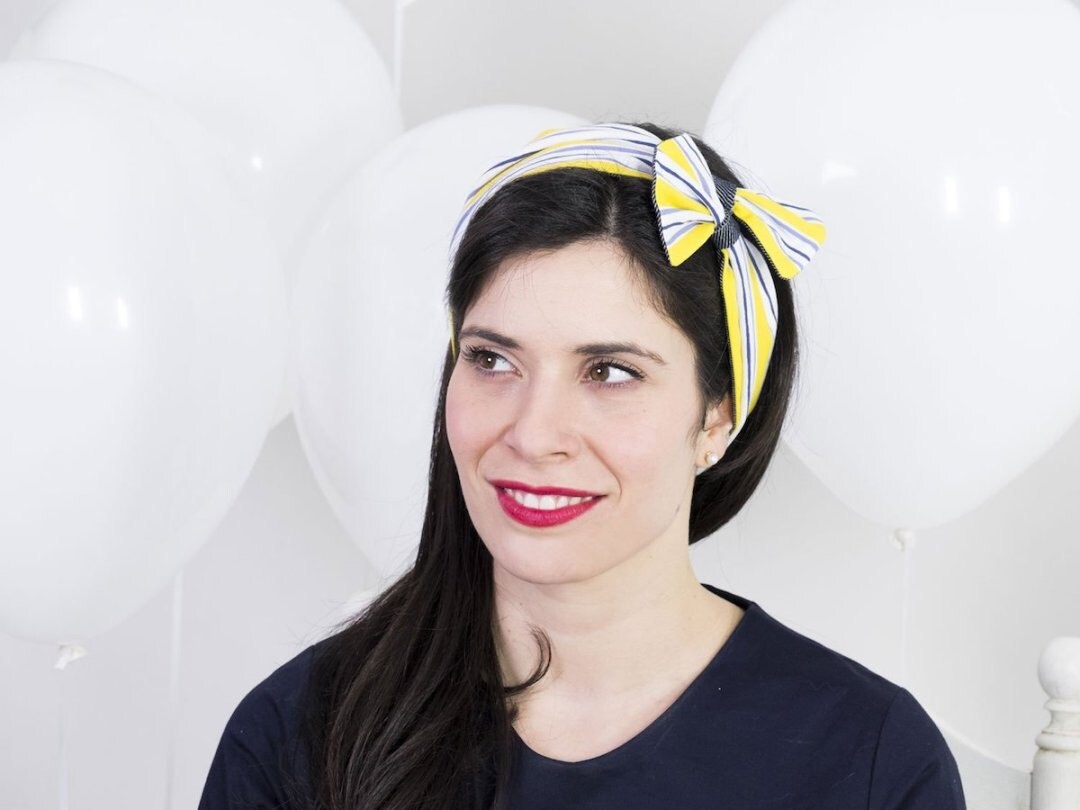 >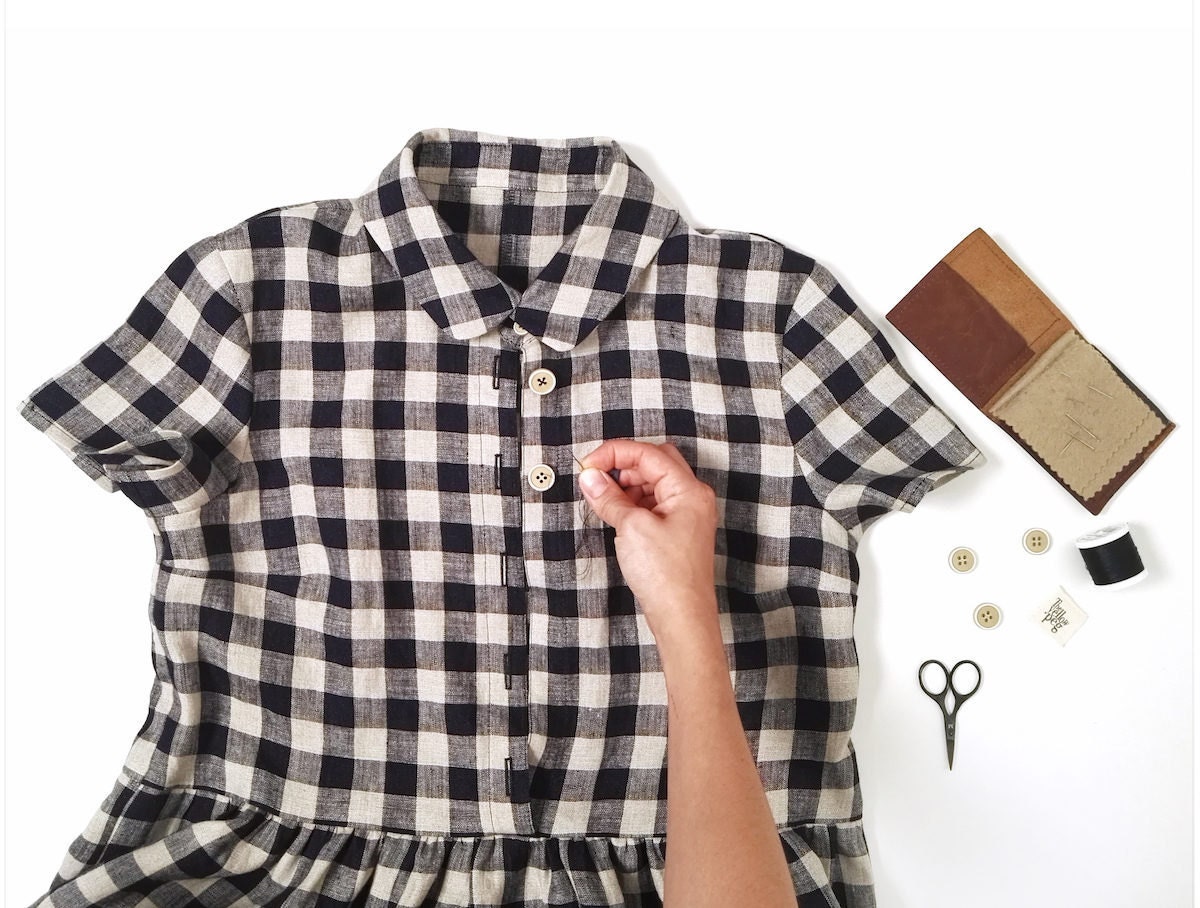 dav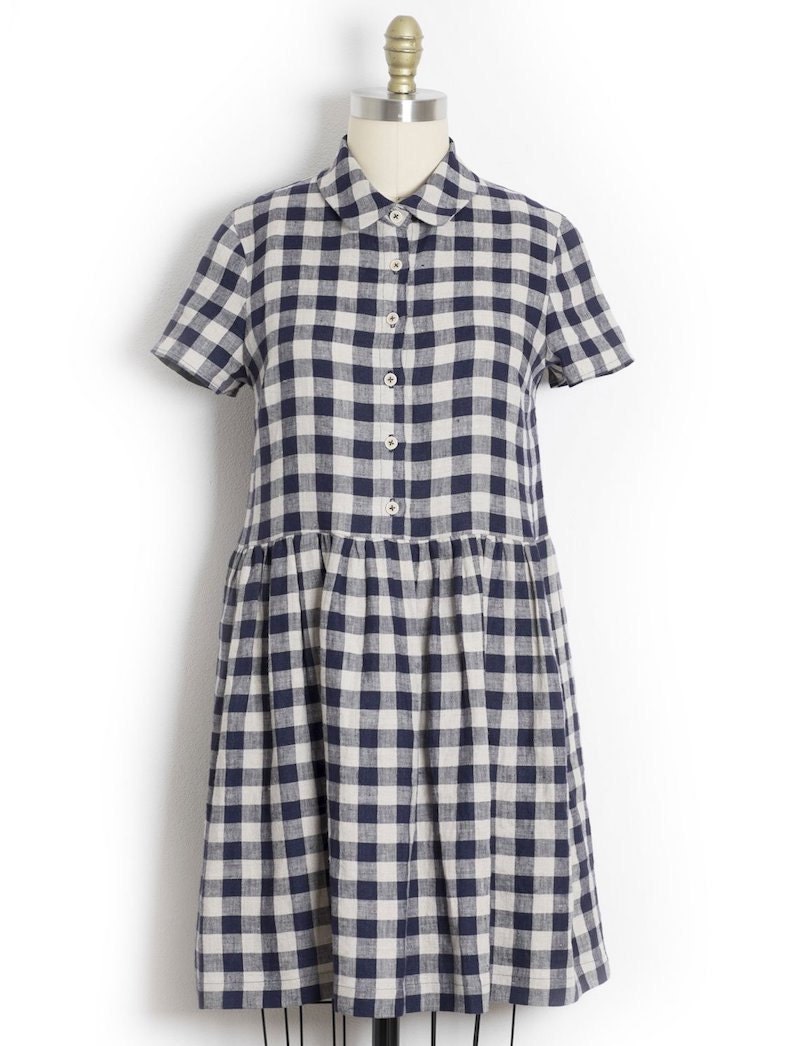 >
Do you ever work with customers to create designs just for them?
My motto is
wear your dreams
, so of course customization is an important part of my business. For most of my products, I offer more than one fabric option so that my customers can play mix and match with styles and colors. Sometimes I get fully custom requests, and those are really special for me. Creating something unique that will make someone else happy is so rewarding! I once made a bolero jacket for a beautiful bride who was dreaming of a country
wedding
. Knowing that one of my products was part of such an important memory is really wonderful.
What's the most popular item in your shop?
My headbands
are definitely the most popular of my products. I wanted to create something inspired by the pinup headbands back in the '50s, but with an easy-on design. Tying the perfect bow can be difficult and time-consuming, so I thought to add a pre-made bow and a snap closure. That way they're super easy to wear and so versatile; in winter, you can use the woolen ones as ear warmers, and in summer you can have fun with the cotton prints.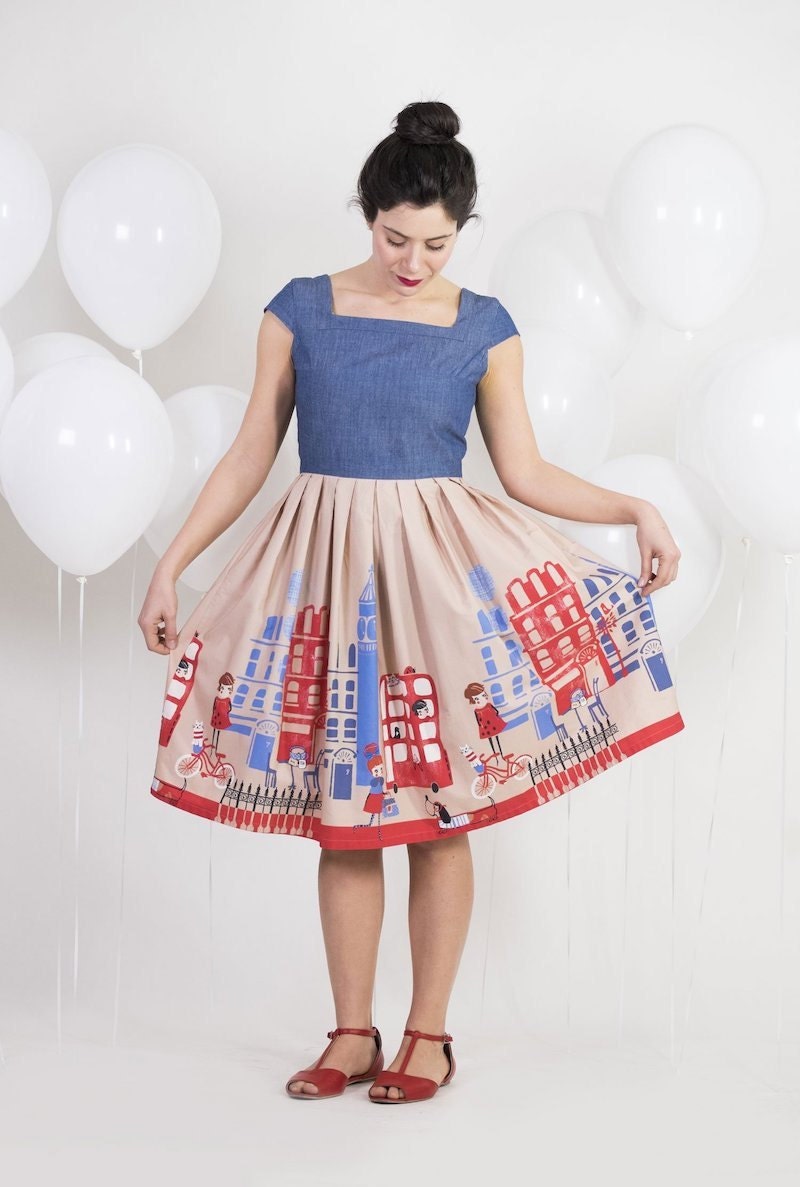 >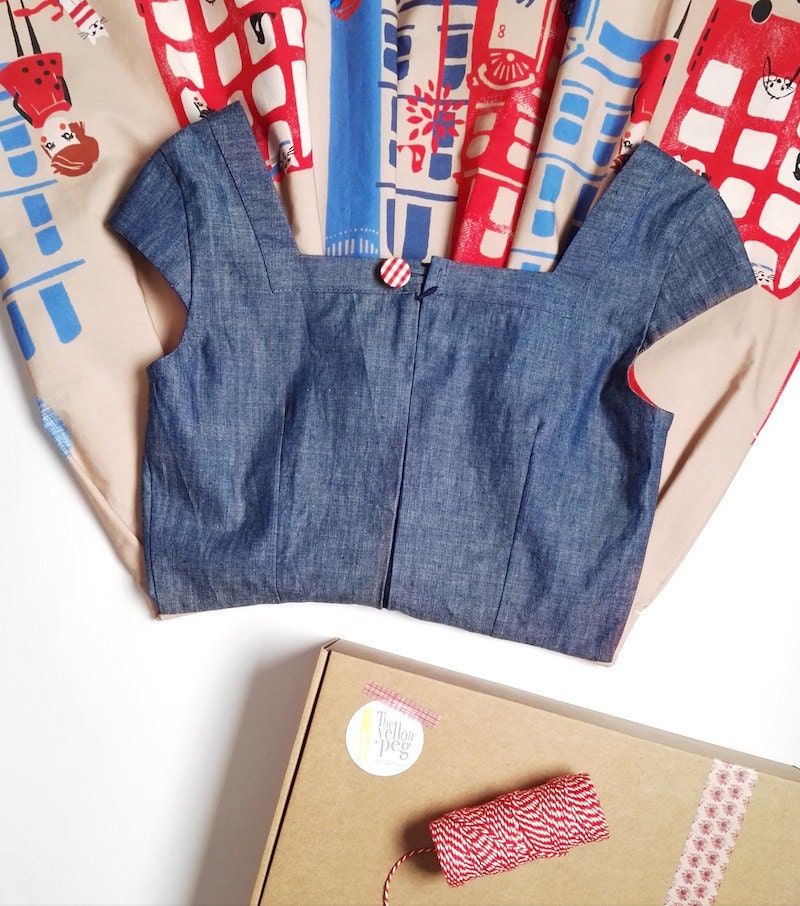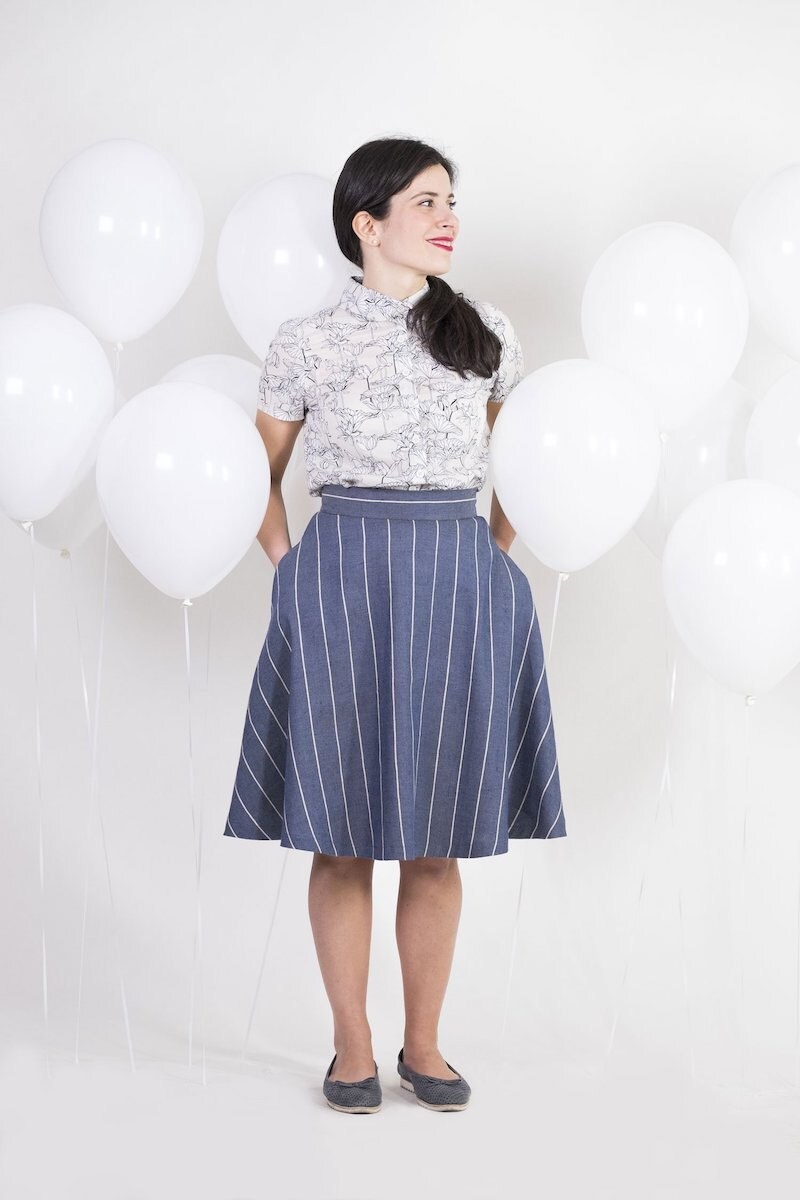 >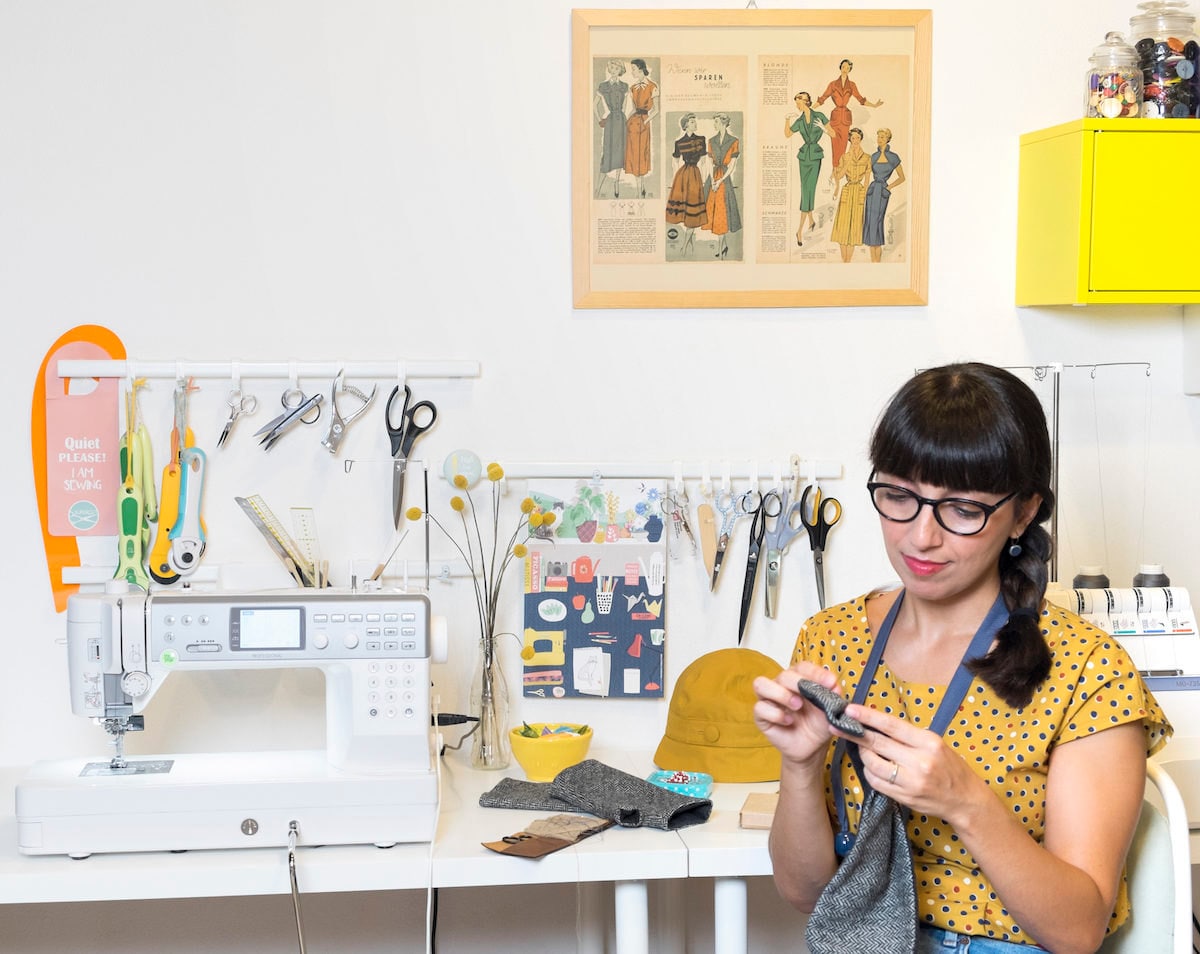 What's next for The Yellow Peg?
In 2019, I'll be investing more energy in my
sewing pattern line, TYP Patterns
, so there will be many new designs by the end of the year. That's something that makes me so excited—and I can't wait to see what my customers make.
Follow The Yellow Peg on Facebook, Instagram, Pinterest, and Twitter.
Photographs courtesy of The Yellow Peg.