Insatiable wanderlust and a thirst for detail drive this Berlin illustrator to create her hand-drawn maps of faraway places.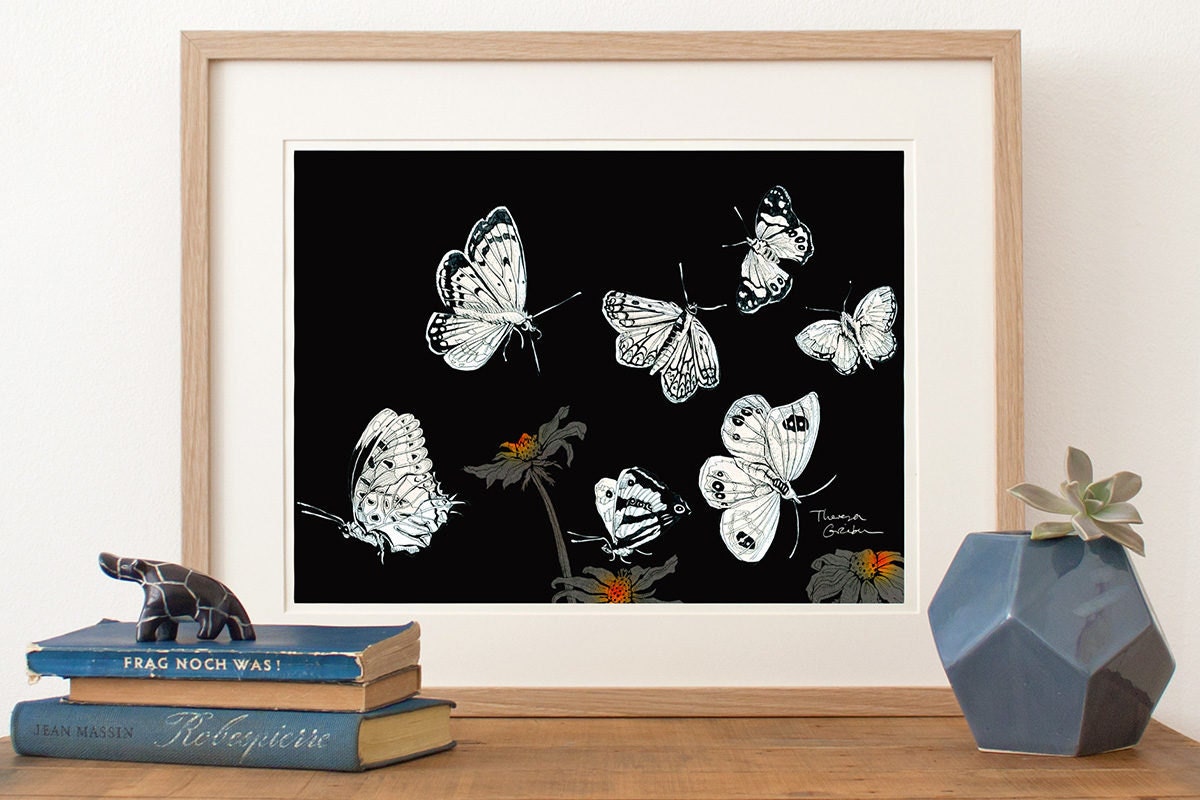 It's hard to imagine a better job for a die-hard traveler with loads of artistic talent than to be an illustrator of quirky, personal, hand-lettered (and sometimes custom) maps. Just ask 
Theresa Grieben
, the Berlin artist who sells unique, whimsical maps and panorama drawings (in art print and postcard form) in her eponymous Etsy shop. "It may be a cliché, but to be able to do what I love and more or less make a living from it is a big achievement," she says. Working in a style that's more about perception than perfection — "It's more like telling a feeling than being super-realistic" — Theresa brings to life highly detailed scenes inspired by her travels, the chaotic energy of global cities, and the beauty of the natural world. Having documented street scenes and living spaces from Hungary to New Zealand, as well as the beaches of the Philippines and a forest outside Berlin, her wanderlust knows no bounds. "If I weren't an artist, I think I'd be a foreign language translator or a journalist — maybe a foreign correspondent somewhere. I want to see the world, so I'd definitely try to find another way to incorporate that into my work." From what we've seen so far, we don't think Theresa will have to make the choice anytime soon. Read on to learn more of her story, and 
shop the collection here.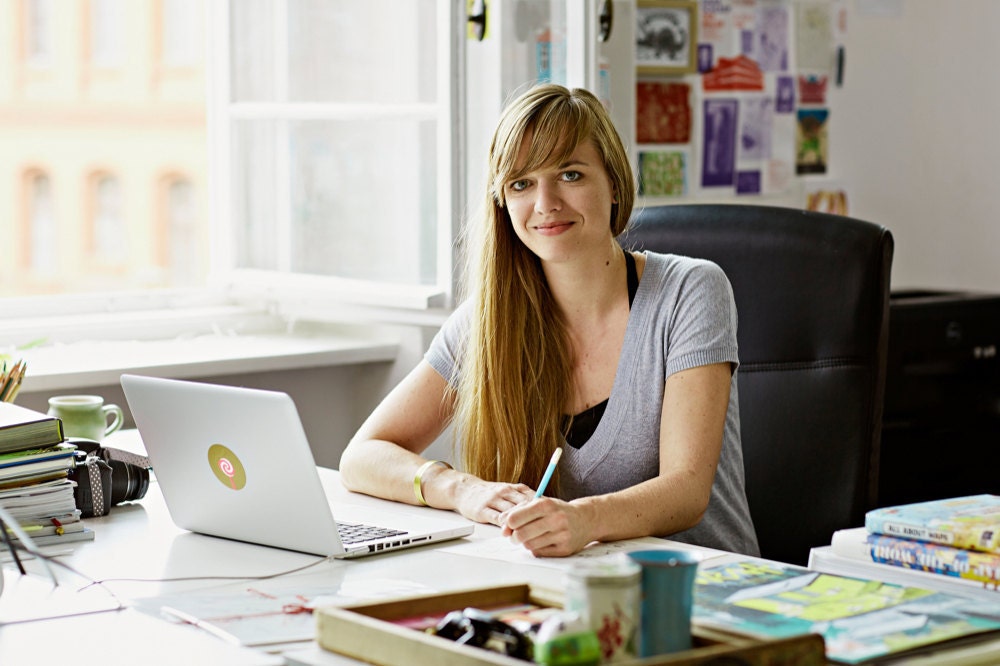 Photo by Zoë Noble
Tell us about your creative background. When did you know you wanted to become an illustrator and how did you get to where you are today?
I think I decided to become an illustrator fairly early — in elementary school, maybe. I knew I was going to be an artist somehow. During school, I took the major classes in the arts, and they were really easy for me. When I was close to finishing my A-levels, I started looking at universities of art in Germany where I could study illustration; in Germany, pretty much the only thing you can do is study communication design, which then has a major for illustration if you choose. Even though it might not be considered a promising career or a way to make lots of money, I was like, "I've got to do that." And I never doubted it, I was just sure. I went to the University of Art in Halle, which is in a former castle two hours away from Berlin. That's where I began to develop the style you can see now in my Etsy shop. It was at the university where I did my
forest drawings
, as a semester project; I just started to draw in that style and it stuck. In my last years at university, I began to travel a lot. First I went for an exchange semester to Budapest, Hungary, and after that, I was hooked on traveling; next I did a masters program in New Zealand. While I was there, I started to do my illustrated maps, and my masters project was a graphic novel — an illustrated story of my stay in New Zealand. That's how my style came to be: It's all about traveling somewhere, discovering things, and doing what I love. It happened very naturally.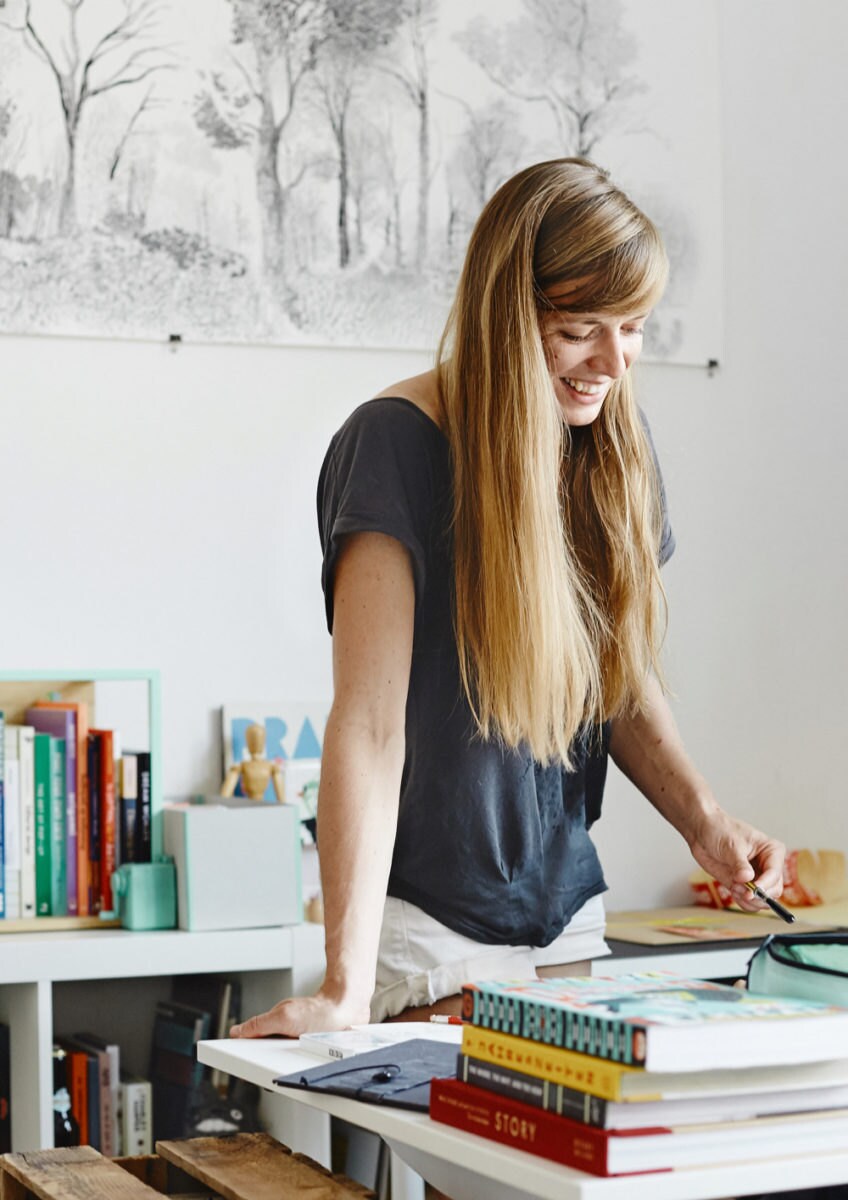 Photo by Zoë Noble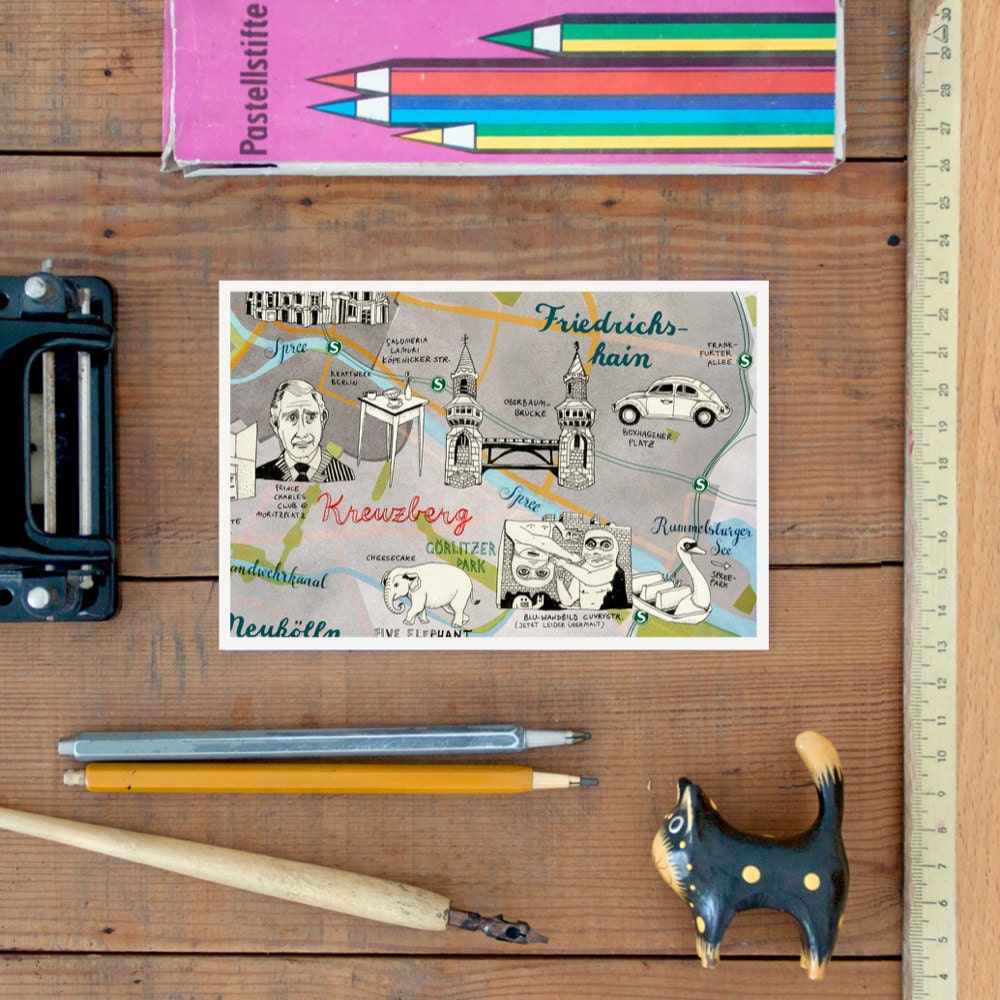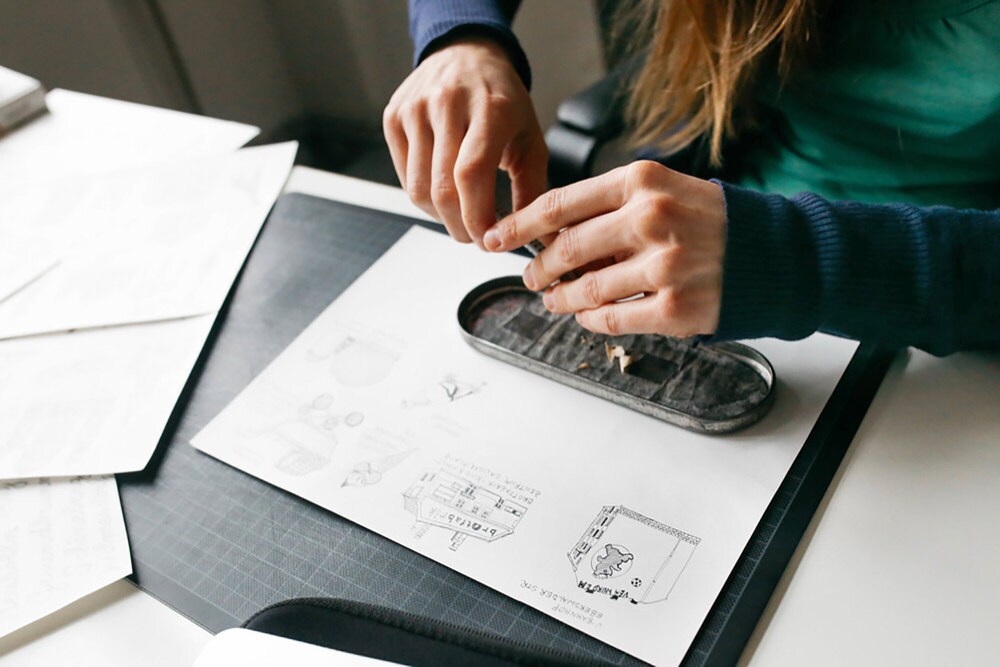 Photo by Herz und Blut
When did Etsy enter the picture for you?
After I completed my masters degree, I returned to Berlin and decided I wanted to work as a freelance illustrator — not to get a job as a graphic designer or something, but actually to work as an illustrator. I saw some friends who were doing that, and I also had some contacts and was starting to get some clients; I realized it was possible, at least in Berlin, to make it work. One of my very good friends,
Carolina Buzio
, whom I met in Budapest, had also moved to Berlin in the meantime. We were talking a lot about how we could become more well-known as artists and open ourselves up to the global market — not just be hidden away in our little corner. She had already opened an Etsy shop of her own, and she loved it; she inspired me to open
my Etsy shop
in 2014, right before Christmas, and since then it's just grown. I've been at events, I've participated in markets, and I've even organized a pop-up shop.
What impact did selling on Etsy have on your work or your creative process?
Really, opening my Etsy shop showed me that a lot of people are interested in my work and that there is demand for it. It gave me a confidence boost, and it made me realize,
Yeah, this is an actual product, and I am the brand behind the product. 
It made me feel more professional, like I'm not just someone drawing in a corner. I think that's the right attitude — you have to believe in yourself first, and then everybody else will. It also forced me to learn to take product photos, which I hadn't done before. Carolina gave me a one-on-one product photography workshop, and then it just clicked. Next was Photoshop, of course, and then I learned all the steps that I didn't know before; it gives you a totally new range of possibilities to showcase your brand if you are able to take nice photos and you don't have to pay a super-expensive photographer.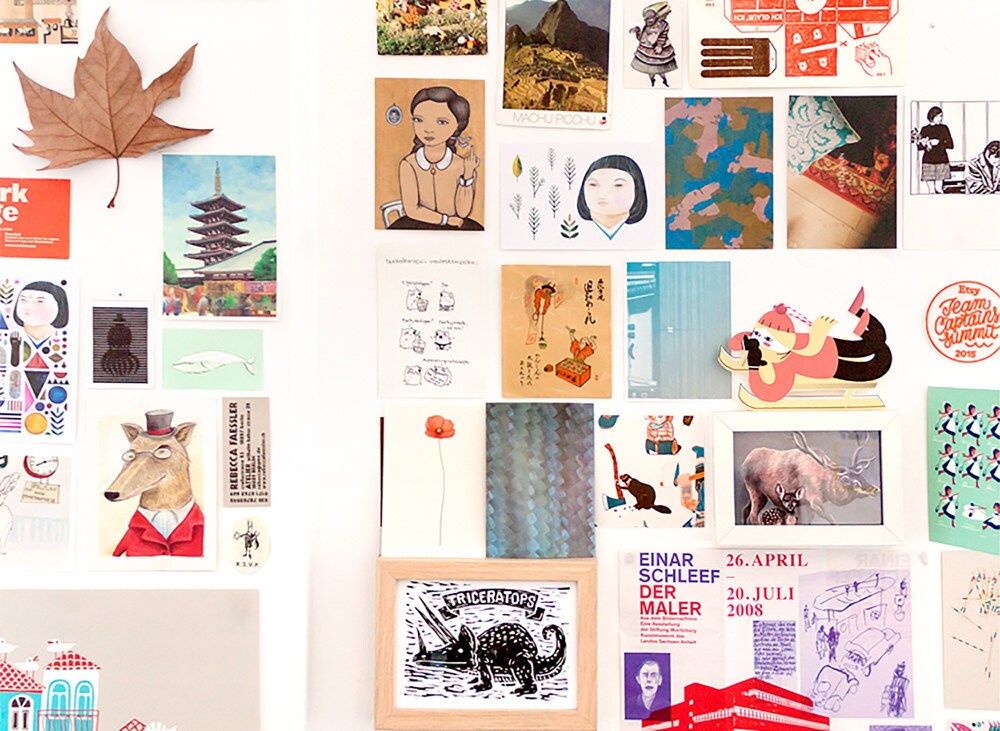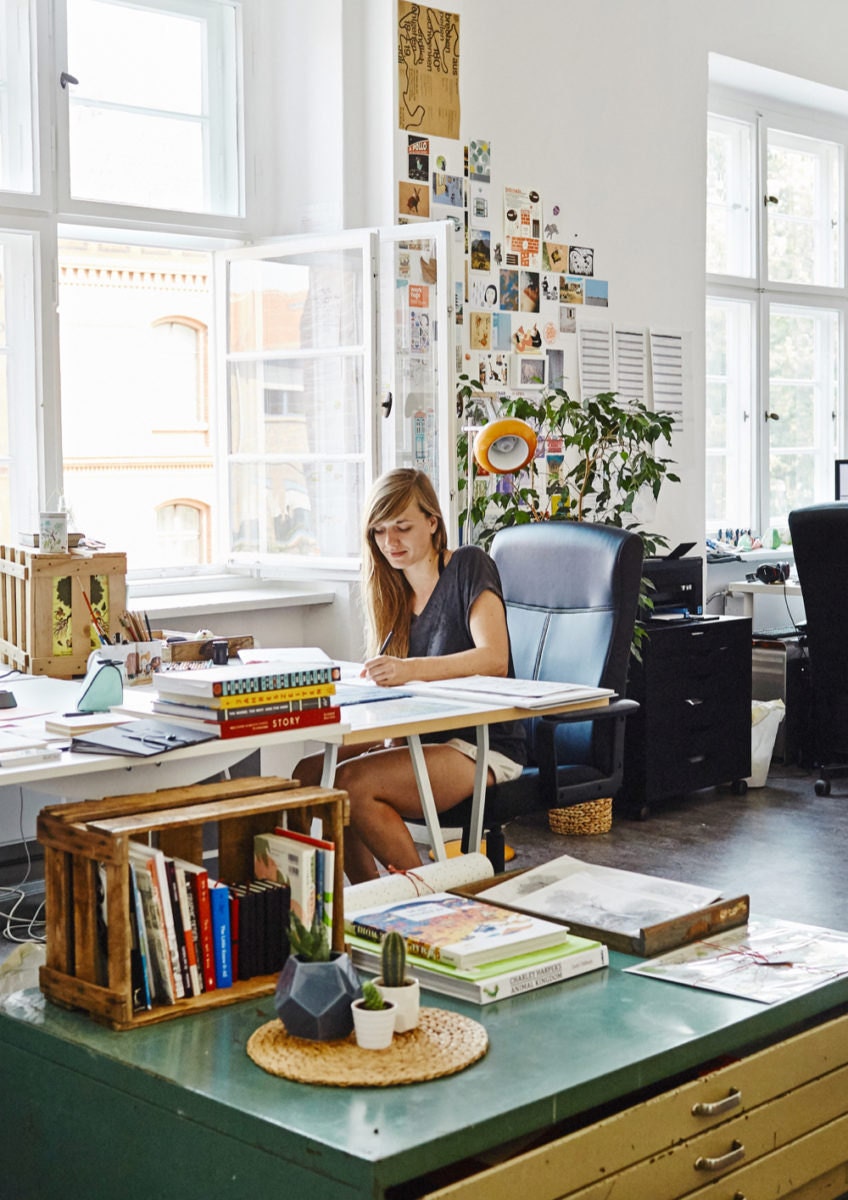 Photo by Zoë Noble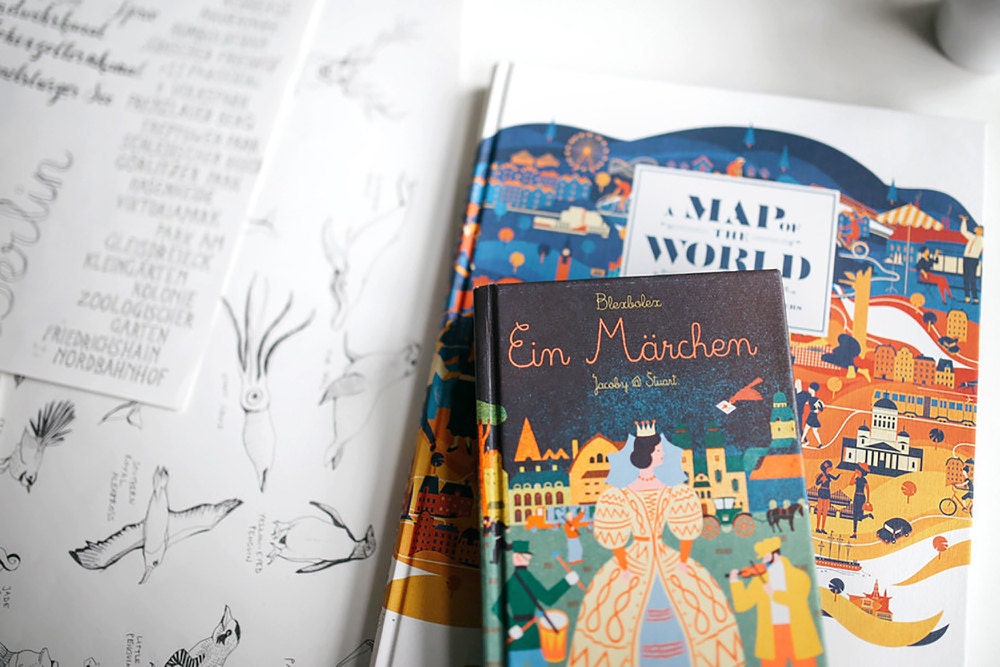 Photo by Herz und Blut
You have an incredible workspace. Will you tell us about it?
It's an office space in a former church building in Berlin's Friedrichshain, which is near the central district; there are quite a few artists, a lot of culture, and lots of clubs and parties in the area. I actually moved in because of Carolina, who was working as a freelance illustrator at an animation company that was based there; they offered to let me rent a desk there as well. It's pretty much perfect: It's a beautiful old building on a quiet street, and we have a rooftop terrace, which is really nice in the summer.
What's it like sharing a workspace with other creative people?
It's really cool — and it's definitely something that I need. In New Zealand, I was given a studio space by the university, which I shared with other students doing photography, landscape architecture, and design. I enjoyed it so much and got so used to it — talking to people, exchanging ideas — that I was really looking for something like that when I came back to Berlin. I think it has a lot of advantages, whether it's networking or support or giving each other feedback — or just not feeling alone. I don't think I would be where I am now if I didn't share this workspace.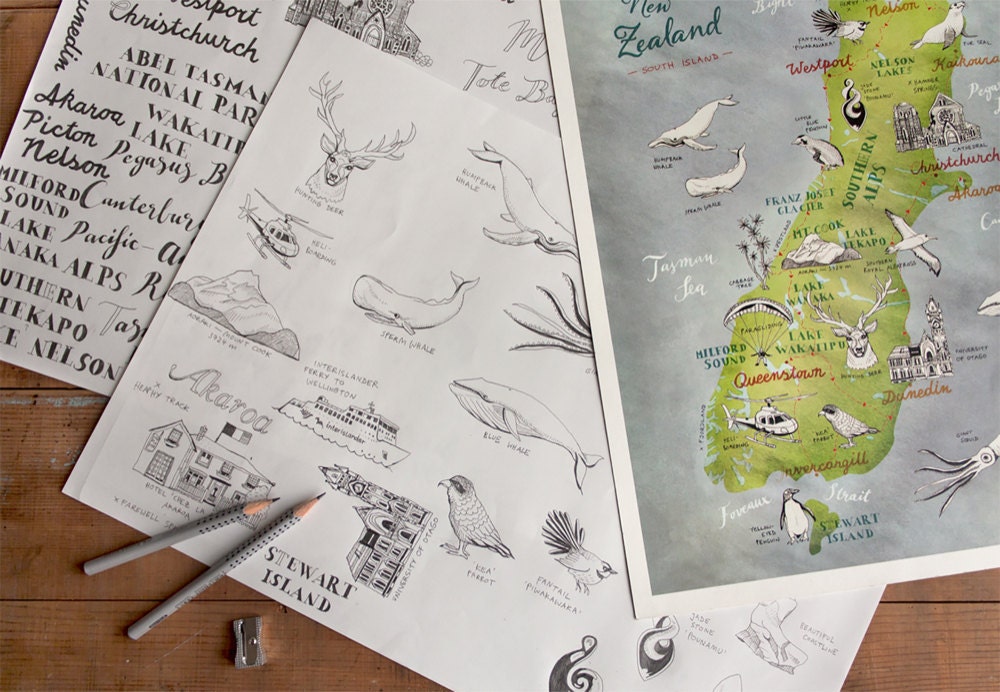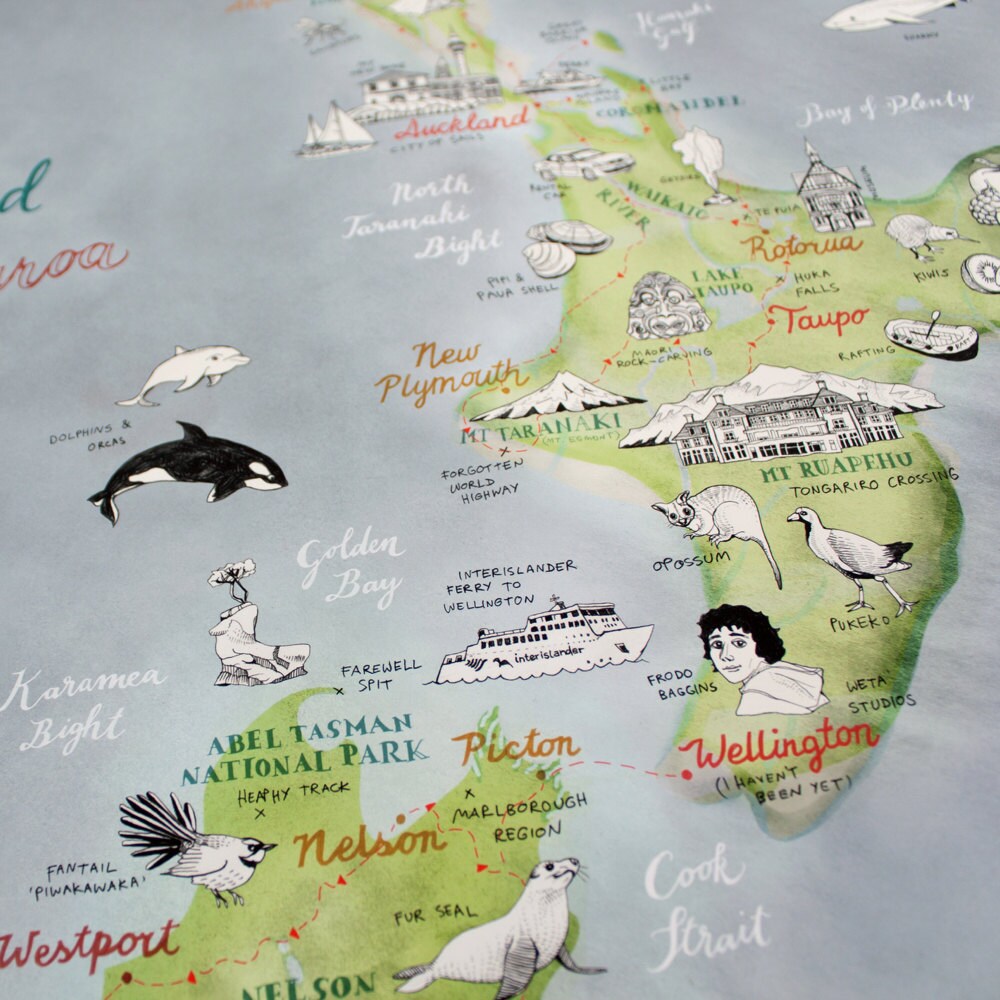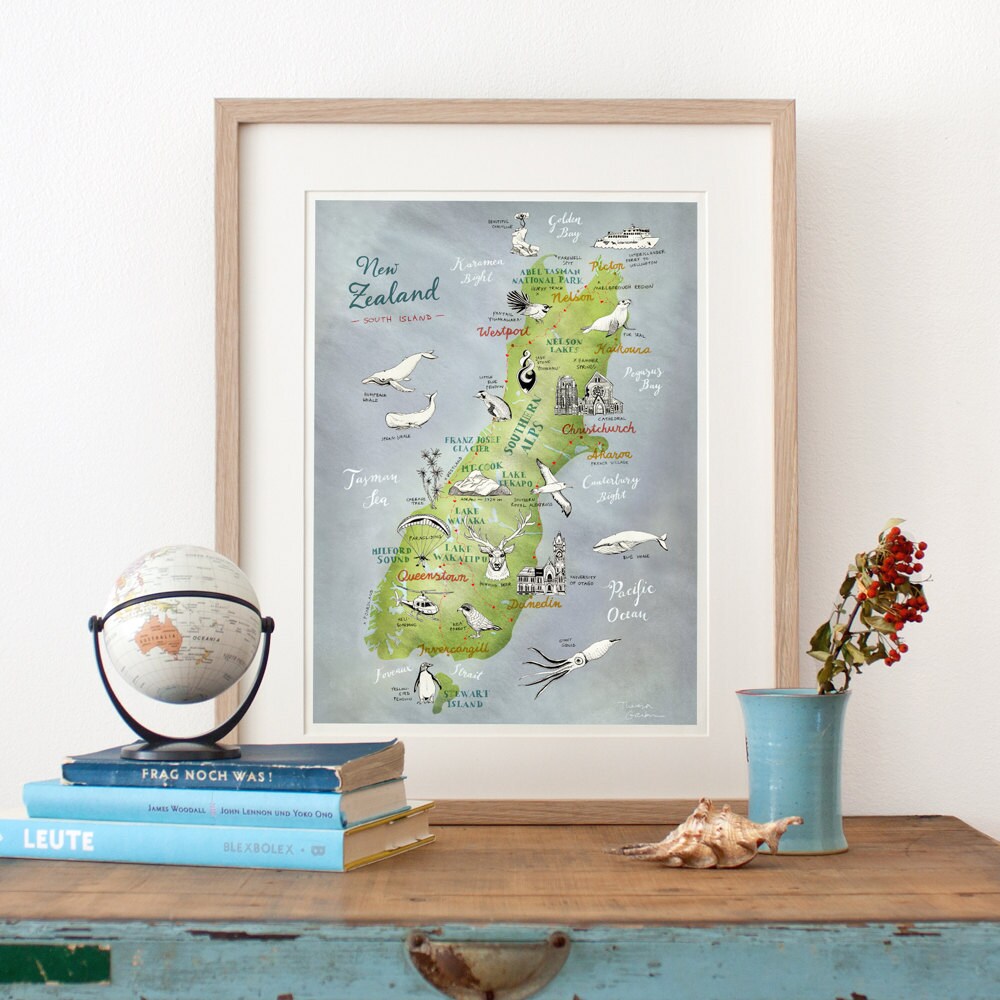 How do you go about developing a new print for your shop?
Usually the new pieces I do for my shop are
inspired by my travels
, but I also have client work where I do maps for other people of places I have not been myself. For those, I do research on the place and its shape, and then I open up a Pinterest board and search for images of famous places or quirky little monuments or people — anything that I would like to see on a map. It's not necessarily what everybody else likes to see, or what tourist maps would have — it's much more personal than that. First I draw the background, the sea and the land; then comes my favorite part, drawing the icons of things like little trees and little sheep. I really like to do that — it's like having a whole little world drawn on paper. I also hand-draw all the typography for the names of the places. I love doing calligraphy now, although at university I sucked at it because I'm left handed, and you have to be right handed to do it the traditional way, with a nib quill. I actually started to draw the type with a pencil — not writing it, but actually drawing it — as a way around that. I color it in and put it all together, and then I have a map.
Tell us about your panoramic pieces. How did you get started doing those?
I first started doing panoramas at university, when I began a four-month drawing project with the topic: 
forest
. I thought, "Why don't I just go into a forest, like the one close to my parents' home, and draw the whole thing — every little detail?" I developed the idea a bit further, trying to make it into something a bit more personal, and not so realistic. If you look closely at the trees, they don't look like real trees — they're more stylized, more graphic. And I loved it. Sometimes, I feel like the world is so big, and there are so many things, and I want to gather everything that I take in as impressions and put it all into a piece of artwork. I also love details, so to work with a lot of little things that form a big image is something I enjoy very much. Then when I went to New Zealand, I did a panoramic drawing of Karangahape Road, which is a major road in Auckland; it's really interesting to look at, and I decided,
Okay, I'm just going to draw the road
. This was not nature, it was very urban, which was important for me because I always lived in cities. I felt like seeing it and then putting it on paper was a way of digesting it, somehow. Not just consuming and forgetting. I've had a plan for ages to do a similar drawing of Berlin, but even larger, with more stuff to see and more interesting places. I've been here since my childhood, more or less, so I want to put it into a work of art.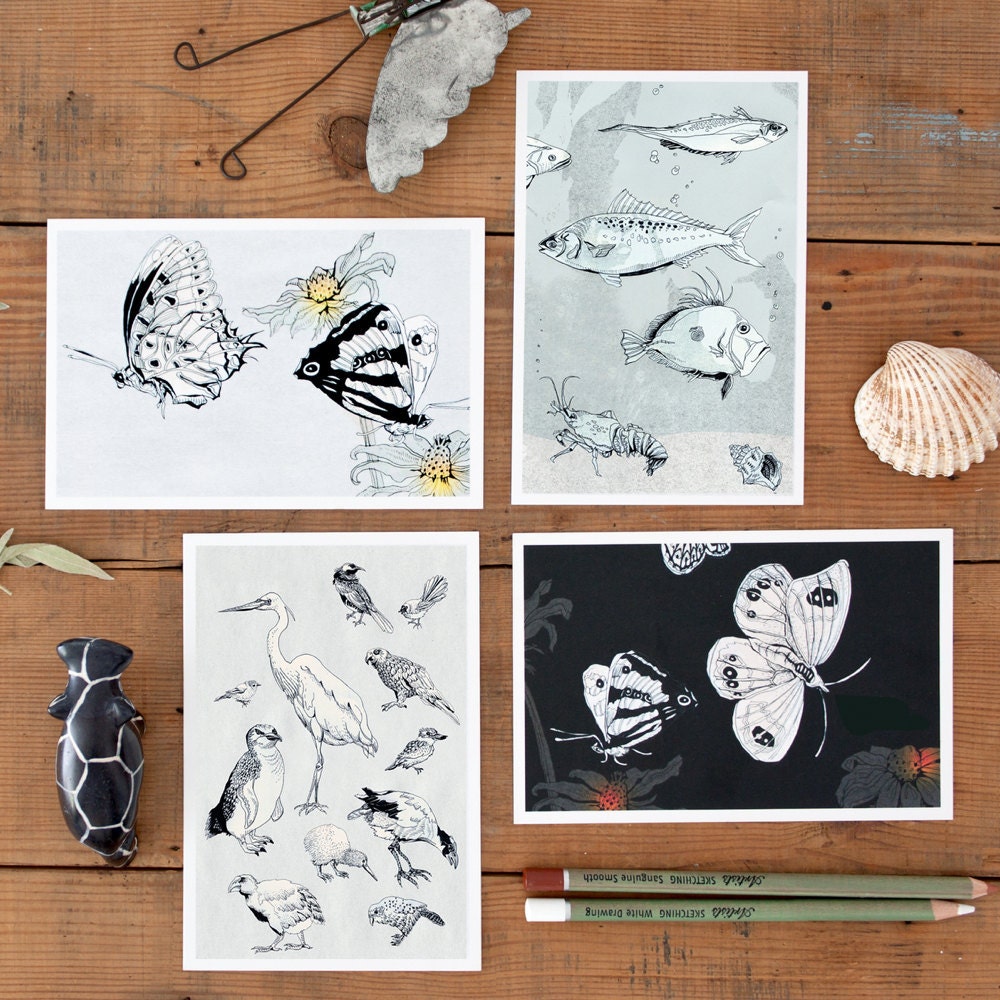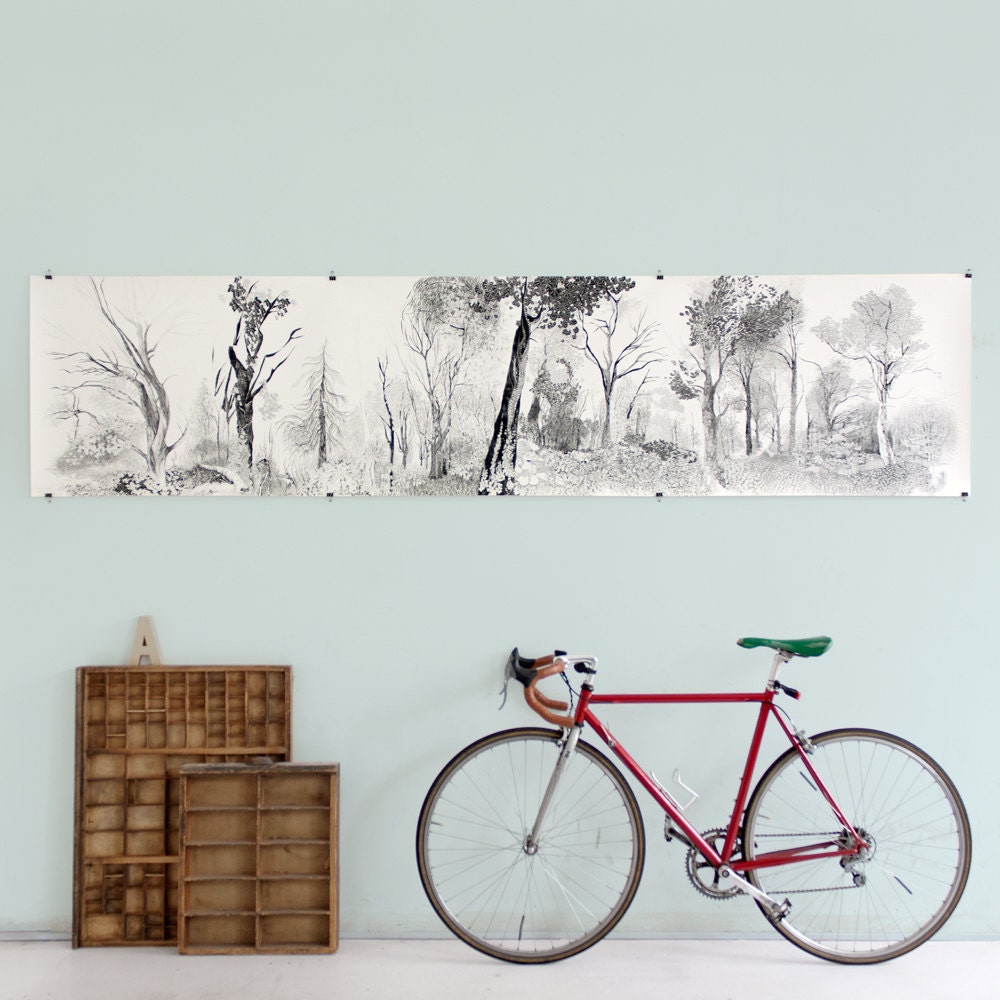 In addition to travel, what are some other sources of inspiration for your work?
The nature around me; even though I'm pretty urban, I also love nature because I grew up in the suburbs of Berlin, which are very green. Where Berlin stops, it's countryside and then there's almost nothing, just forests. I like the sea, I like the ocean, I like animals — at least I like to look at them and draw them. And I like to read — that gives me inspiration. My grandma used to be an English teacher and she left me quite a huge library that I'm slowly working my way through. I also get inspired riding my bicycle — I cruise around wherever I am and look at places. It soothes me and gives me room to think. I like architecture as well; I like to look at buildings, especially historic ones, houses that tell a story or that have a bit of patina, that maybe look a bit rundown and have lots of details. It adds so much atmosphere to a city and gives you a different feeling of life if you live in one of those really historic buildings and not a block of concrete.
What's next on the horizon for your work?
In November I'm opening a gallery space with Carolina and another friend in Neukölln, which is a super popular area of Berlin; we want to showcase
our art
there and also have some sort of permanent shop or a room where we can sell our products. That's a huge project; I see myself as an artist and I want to exhibit my work, but the space I'm in now is not set up for that.
Exciting! Have you already picked out the space?
Yeah — in fact, I just got the keys yesterday!
Follow Theresa Grieben on Instagram, Facebook, and Pinterest.
Photographs by Zoë Noble and Herz und Blut as noted; all others courtesy Theresa Grieben.