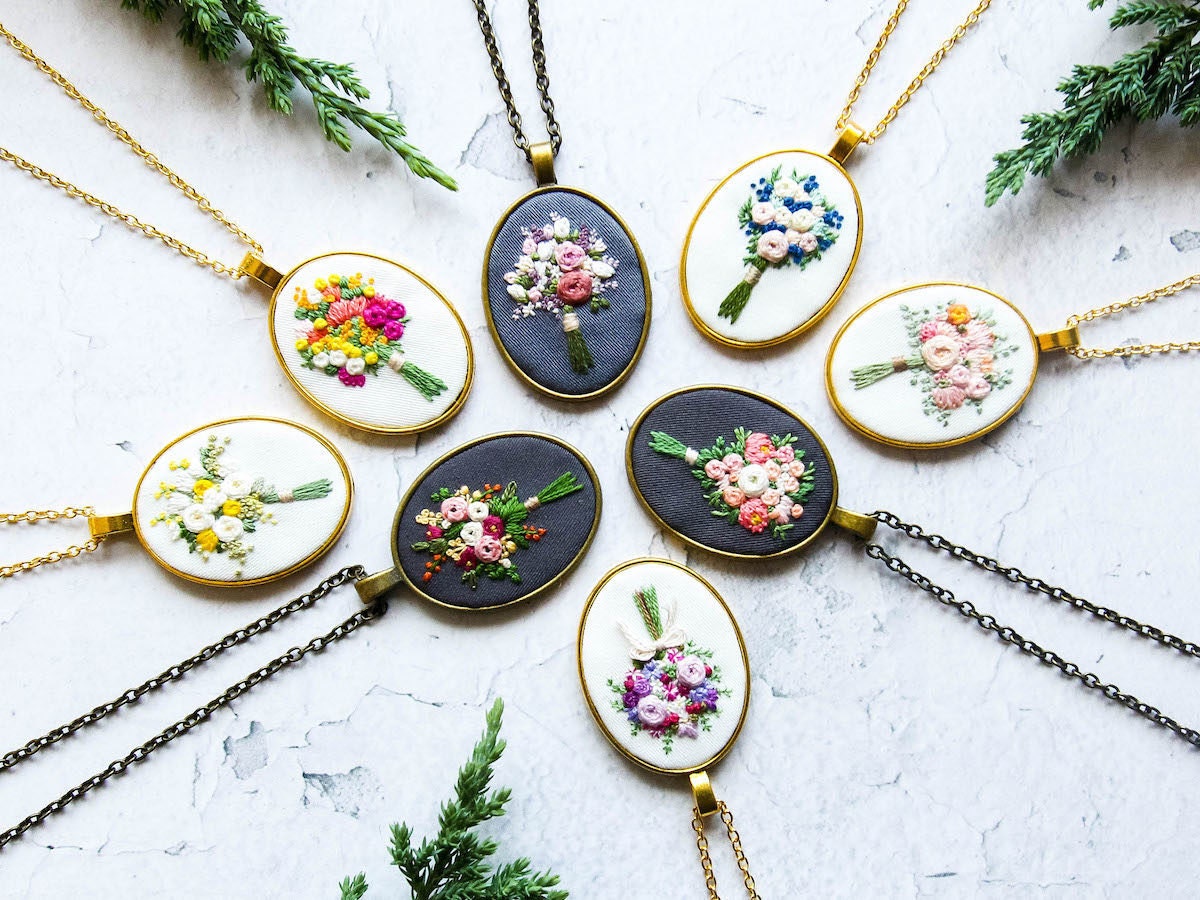 In our weekly Featured Shop series, we shine a light on a standout shop from Etsy's talented seller community, offering readers a behind-the-scenes look at their process and story.
The elegance of a star-shaped sampaguita blossom. The spectacle of a burnt-orange sky. For Philippines-based artist Ruby Thursday More, each intricate piece in her hand-embroidered line of floral necklaces and abstract earrings is inspired by a mood, a color, or a memory from island life. The jeweler and owner of Thursday Craft Love first took up crafting her exquisitely detailed embroidered pendants in part as a means of capturing the beauty and history of her home country. "I created a collection based off Philippine flowers and traditions that I remember from my childhood," Ruby explains. For many Filipino expats, these pieces would become touching reminders of their roots and the families they've left behind. "I feel so happy knowing that my necklaces allow them to feel connected with where they came from," Ruby says.
Explore the Thursday Craft Love collection
Today, Ruby's charmingly lifelike bouquet designs and playful geometric pieces attract a global following that has grown to include statement jewelry lovers, anniversary shoppers, and gift-buying brides alike. But regardless of what they've come searching for, the nostalgic appeal of Ruby's keepsake jewelry has remained much the same: Each customizable piece is wearable way to honor those special people, places, and moments that have made a lasting impact on our lives. What will you choose to celebrate?
Read on to learn how life in the Philippines has influenced Ruby's embroidery designs, and shop the Thursday Craft Love collection.
How did you get started creating embroidered jewelry?
I used to work as a freelance photojournalist, but when I got pregnant, my husband and I decided that I'd stay at home for a while and take care of our daughter. About a year after she was born, I started to feel like I wanted to do something creative again. I started making an inventory of my skills and what I'd like to do, and I decided I'd really enjoy working with fabric and drawing and colors. I had a few threads, so I tried embroidering, and it's cliché, but it was love at first sight.
Where does your inspiration for your designs come from?
Color is a huge inspiration for me. If there's a particular color or color palette that I like, I take a picture of it or save it on my computer so I can reference it later. If you look at the Sinag and the Isla earrings, they're influenced by my recent obsession with burnt orange, which I think is also on trend right now. And then mood, memory, and imagination are also sources of inspiration for me. For example, the Aria necklace was sparked by imaginary afternoons out in the fields gathering wildflowers with golden sunsets.
Your life in the Philippines also shines through in a number of your pieces. Can you tell us about that work and how it resonates with your customers?
I have my floral collection that's inspired by Philippine flowers, and then my Rosa necklace which was originally done in ecru fabric with an ecru thread. I modeled that white-work embroidery after the Barong Tagalog, which is the national costume of the men here in the Philippines, usually worn during weddings or special occasions.
I've had customers who are half-Filipino or Filipinas who migrated to the United States, and they often order the Rosa necklace because it reminds them of home. One customer bought it as a gift for his half-Filipina friend in 2015 or 2016, and then early this year, I received a message from her inquiring if I still have that design because she lost the necklace, and she wanted to replace it. I felt honored that she liked it so much and that the necklace reminded her of her roots.
Do you ever work with your customers on personalized designs?
I do. I have lots of brides who've just gotten married and they want to make a hand-embroidered replica of their bouquet and wear it as a necklace. Not everyone is able to preserve their bouquets after the wedding, so the necklace is a cute alternative and a conversation piece as well. 
It sounds like you work with a lot of brides. Have you always designed embroideries with weddings in mind?
At first I was really just creating for myself, or someone like me who loves flowers and appreciates the beauty of a handmade item. But now I also have in mind brides who want to give jewelry as gifts to their bridal party. And for the geometric earrings, I'm thinking bachelorette parties because of the bright colors. I also had a mom reach out to me because one of my bouquet pieces looked similar to the arrangement that her daughter was carrying for her upcoming wedding, so she ordered one for her daughter to tie onto her flowers. 
Are there any other occasions when someone might consider gifting your necklaces and earrings? 
I think one that stands out is anniversaries. I can imagine a husband commissioning me to do a custom hand embroidery of his wife's wedding bouquet, and then gifting it to her for their cotton anniversary. And Christmas! The necklaces make great holiday gifts for coworkers and friends, or moms or sisters. 
Can you tell us a little bit about your creative process ? 
For my floral designs, I just choose the colors I want to use and start stitching. I like to think of it as drawing with thread. If I'm happy with the results I write down the thread colors and the number of strands I use in a sketchbook alongside a photo of the finished piece. That will become my guide when I have to make additional orders of that same necklace. The overall look will be the same, but no two pieces will be exactly alike.
For my geometric designs, I start with rough sketches and then make patterns of those shapes on my computer that I can trace onto the fabric. Then I'll sketch out where the threads go by hand.
How does embroidery complement your daily life?
I try to stitch every day, even just for an hour. I like the portability, the fact that I can take it with me wherever I go. It doesn't require electricity. It doesn't require the internet. With hand embroidery, you're just in the moment. Also, I'm really grateful that I have Etsy as a platform to sell because it allows me to stay home and be with my daughter, and my time is more flexible. Sometimes when I work she'll be at the other table, playing with her toys, or drawing, and talking and talking while I stitch. I tried teaching her, but she's not that interested yet. Hopefully one day. 
What's your favorite part of the work you do?
Hand embroidery is an art form. I'm a very detail-oriented person, so I think it's a perfect craft for me. My years of practice have really helped me hone my skills, and I really appreciate when people appreciate the work I do. It's like the universe conspired for me to get into this craft—that's the overall feeling.
Follow Thursday Craft Love on Instagram, Facebook, and Pinterest.
Studio and process photography by Keith Bacongco. Product photography courtesy of Thursday Craft Love.