Smooth, cut-out shapes and soft, earthy hues define this California designer's gift-worthy line of polymer clay jewelry and trinket dishes.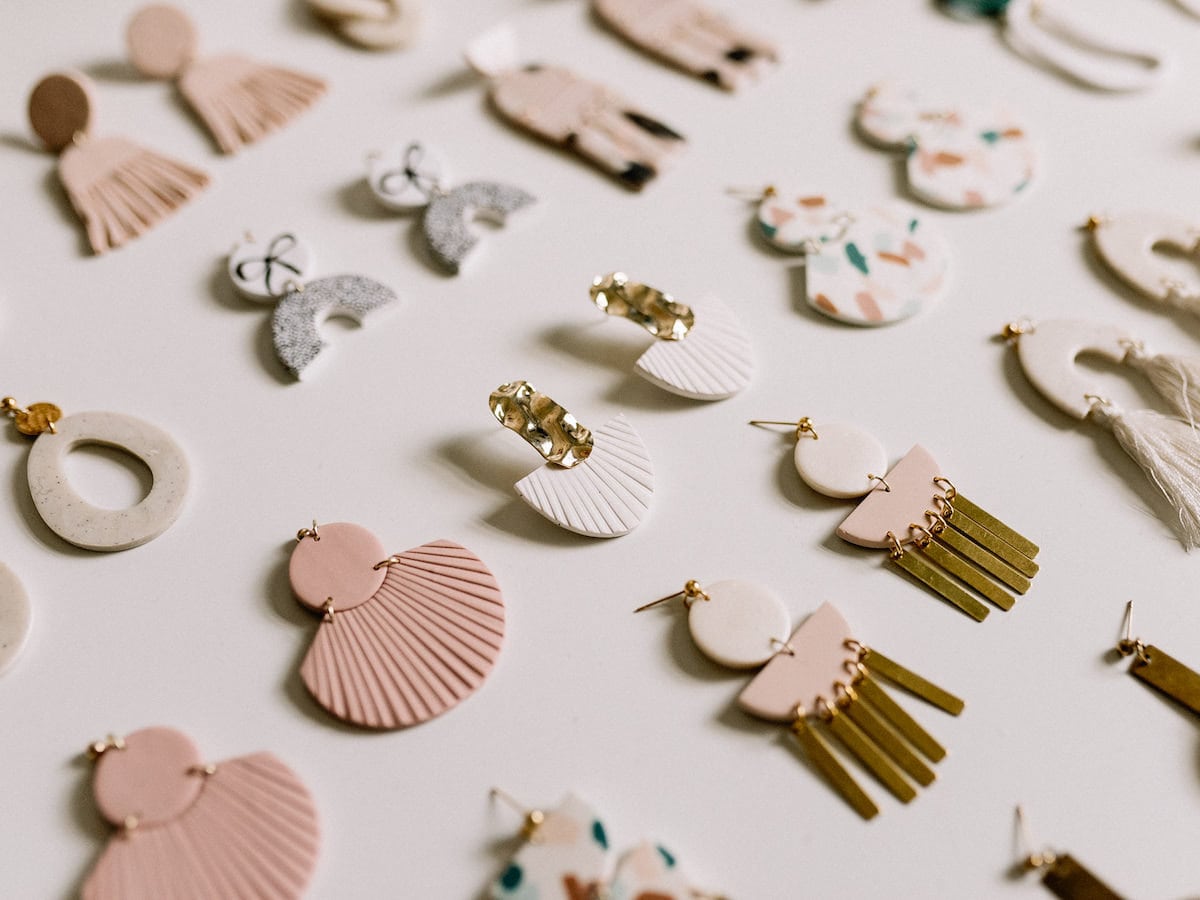 In our weekly Featured Shop series, we shine a light on a standout shop from Etsy's talented seller community, offering readers a behind-the-scenes look at their process and story.
If you ask jewelry designer and unabashed accessories enthusiast Elyse Tolles, there's no occasion too ordinary for throwing on something a little extra polished and pretty. "My friends and family know me for being perpetually overdressed," says the creator of California-based shop Tidy Clutterings—home to a dreamy collection of chic statement earrings and equally elegant trinket dishes. "It's important to me to be put together, so I wanted to make something that reflected that same sensibility."
Explore the Tidy Clutterings collection
For Elyse, that meant opening her mind to the grown-up possibilities of a surprising material: polymer clay. "Before if someone had said 'polymer clay,' I might've thought of kiddie summer camp crafts," Elyse says. "Now one of my missions is to lift the medium out of that reputation. I love it because it's super versatile, but it's also deceptively difficult to create things that look very quality and high end." Today, Elyse has achieved that aesthetic by expertly blurring the line between sophisticated minimalism and soft femininity in her work. Using her signature combination of mixed media, organic shapes, and an earthy pastel palette, Elyse fashions statement pieces designed to instantly elevate your everyday look—no matter where you like to wear it.
Read on for Elyse's jewelry styling tips and to discover why her pieces make great gifts, then shop the Tidy Clutterings collection.
Can you tell us about your creative background, and how you discovered your love for polymer clay?

I'm a classical flutist, and I have two and three quarters degrees in music performance. It was Thanksgiving break in the second year of my master's, and I was really burned out with school and needed to do something else. I'd played with polymer clay as a child, but I'd never thought of it as a material that could be used to create really cool, classy-looking, functional objects. I started with the trinket dishes, and once I started playing with the clay, I was totally hooked. Eventually I began experimenting with jewelry making as well, and that's when I really felt like I was able to express my personal sense of style and creativity. Now I've put my doctorate on hold to work full time on Tidy Clutterings.

What unique qualities are your customers looking for in a piece of jewelry?

The comments that I get most often from people are about the elegance. I use the word sophisticated, and I think that's very unique to the type of jewelry that I'm making. Because pretty much all of the polymer clay jewelry out there when I first started was super bright and playful with lots of loud colors and patterns, and on the opposite end of the spectrum, it was really ultra boho. And I was like okay, I love what they're doing, but I want to do it in a way that works for me and what I would actually wear. My own personal style is very feminine, and I wanted to bring that into the brand as much as possible, but in a way that's fresh and contemporary. I also wanted everything to feel elevated and not look overly sweet. Now I get lots of people saying, "I've never seen any polymer clay earrings with this sort of minimalist vibe."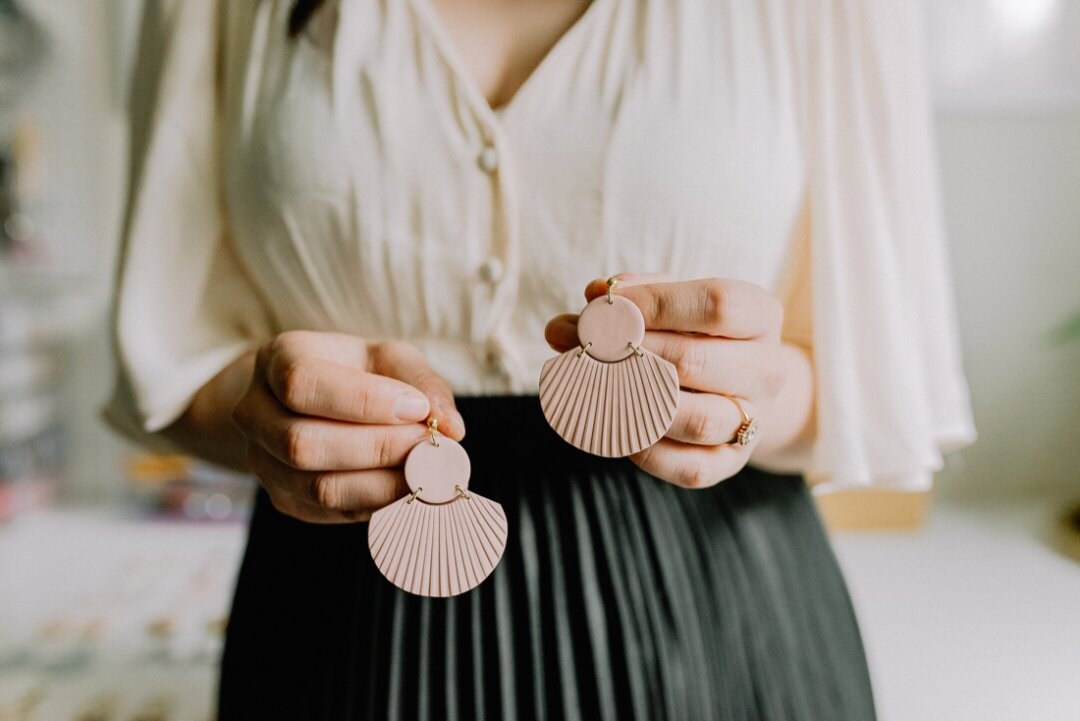 >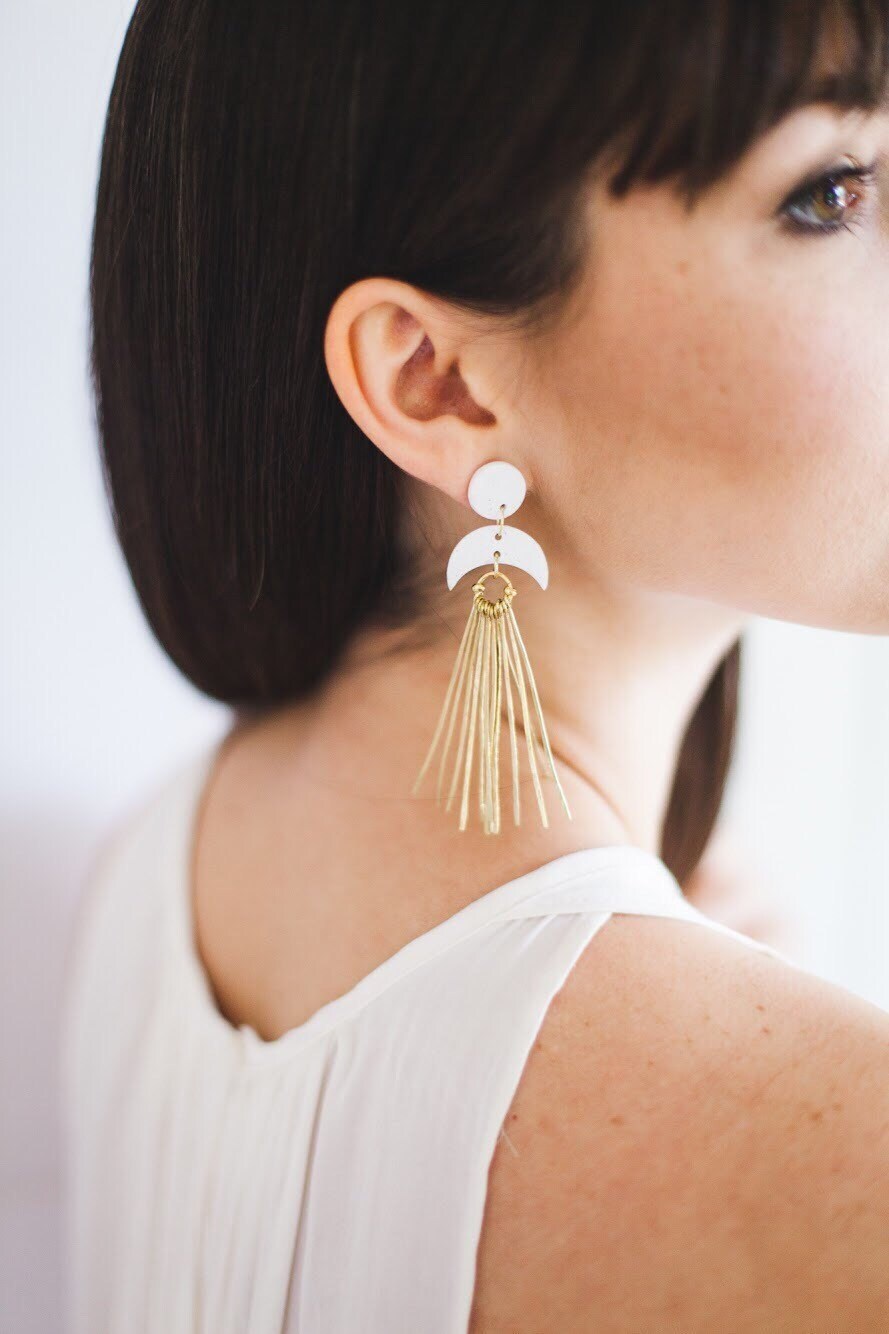 >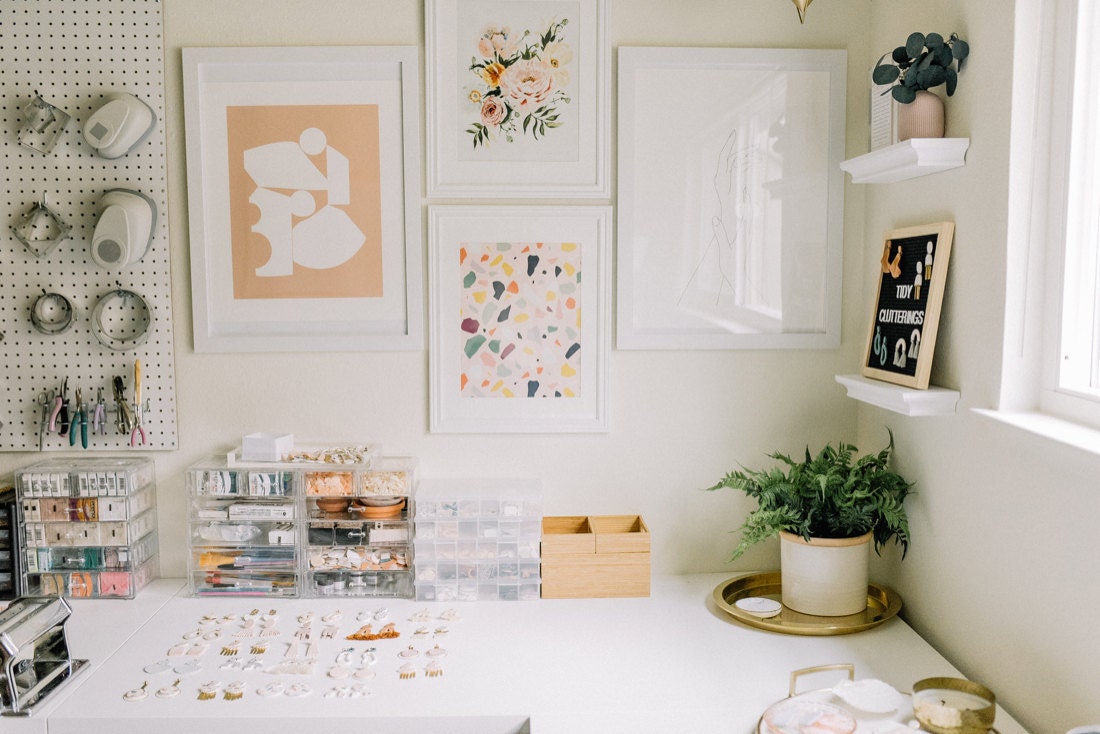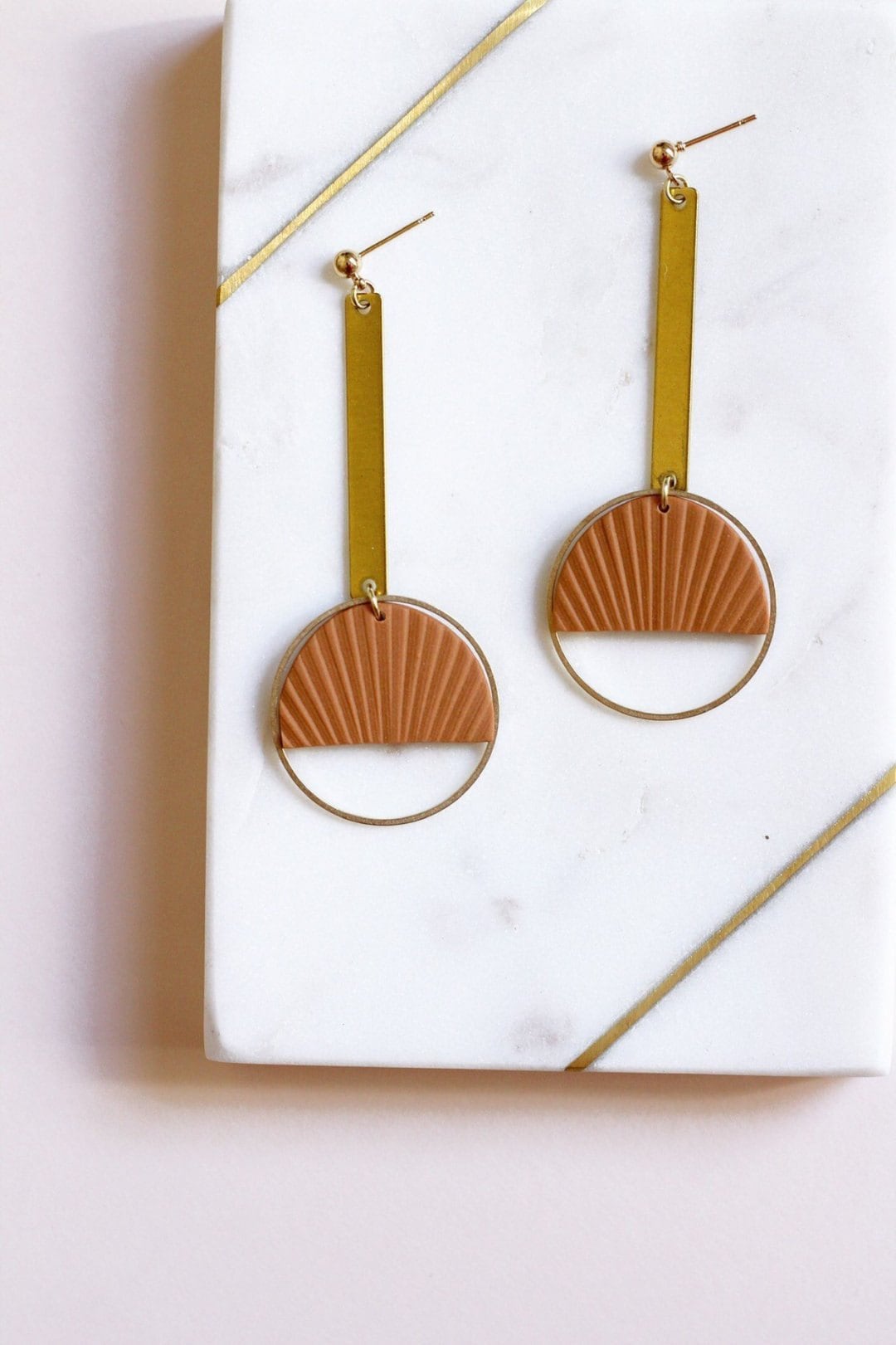 >
How do you come up with new designs?

I'm not much of a planner by nature, and I've found that my process tends to be very fluid and intuitive. It usually starts off with a vague idea or a mood inspired by a picture or a specific shape. I don't really do any sketching: The idea is already in my mind, so I suppose it feels redundant.
From there, I make general decisions about shapes, colors, and patterns, then I cut out all the pieces and bake the clay. Once the clay shapes are baked, I'll lay them all out on the table and put them where I think they should go, arranging the different components in different ways. It's almost like a puzzle and I'm trying to fit the pieces how I think they look best together.

Designing is a very tactile process for me as well. I have to physically put something together with my hands to see if it's going to work. A lot of my favorite designs have come from just experimenting while I'm working.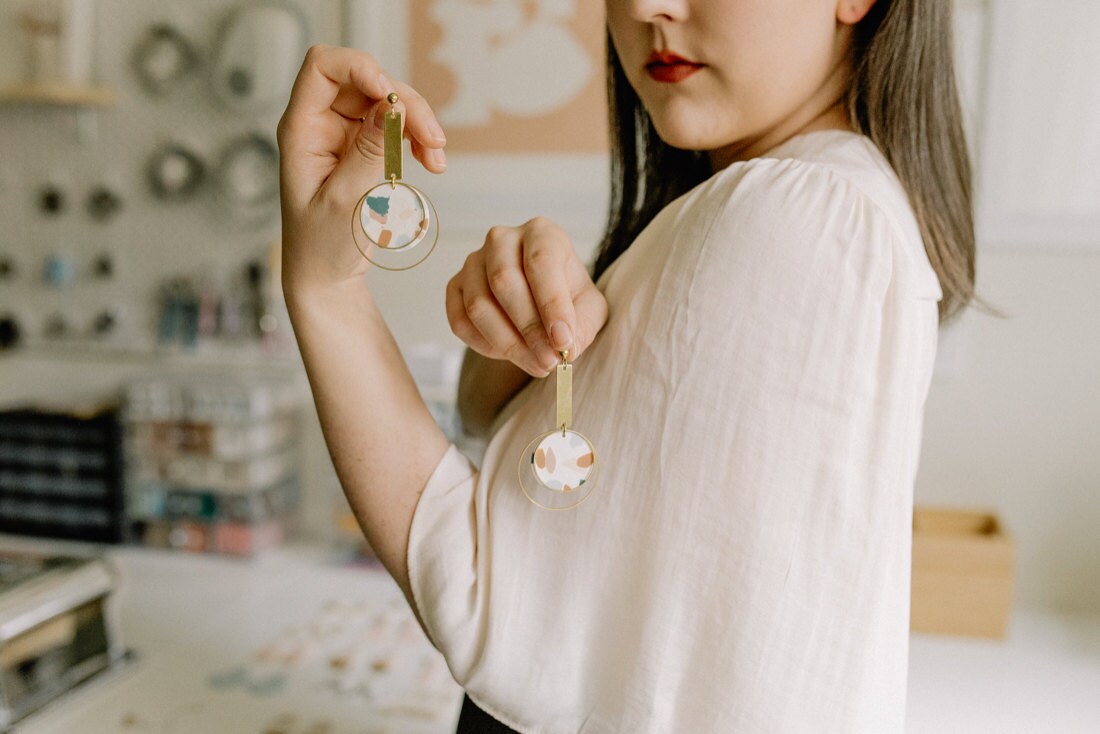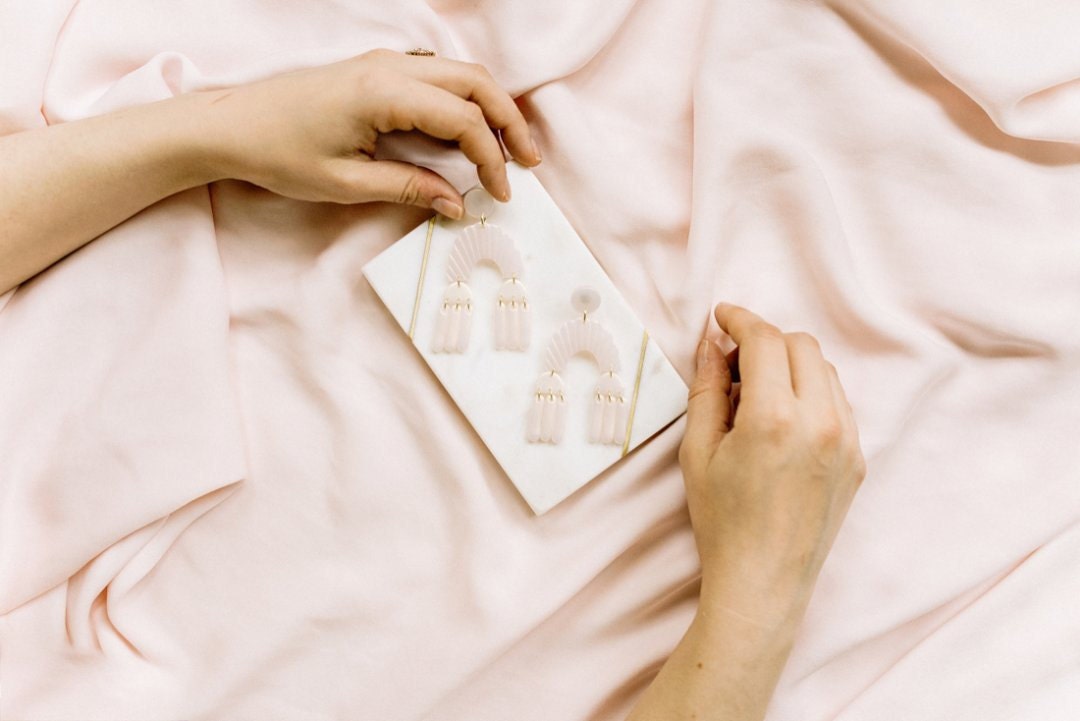 >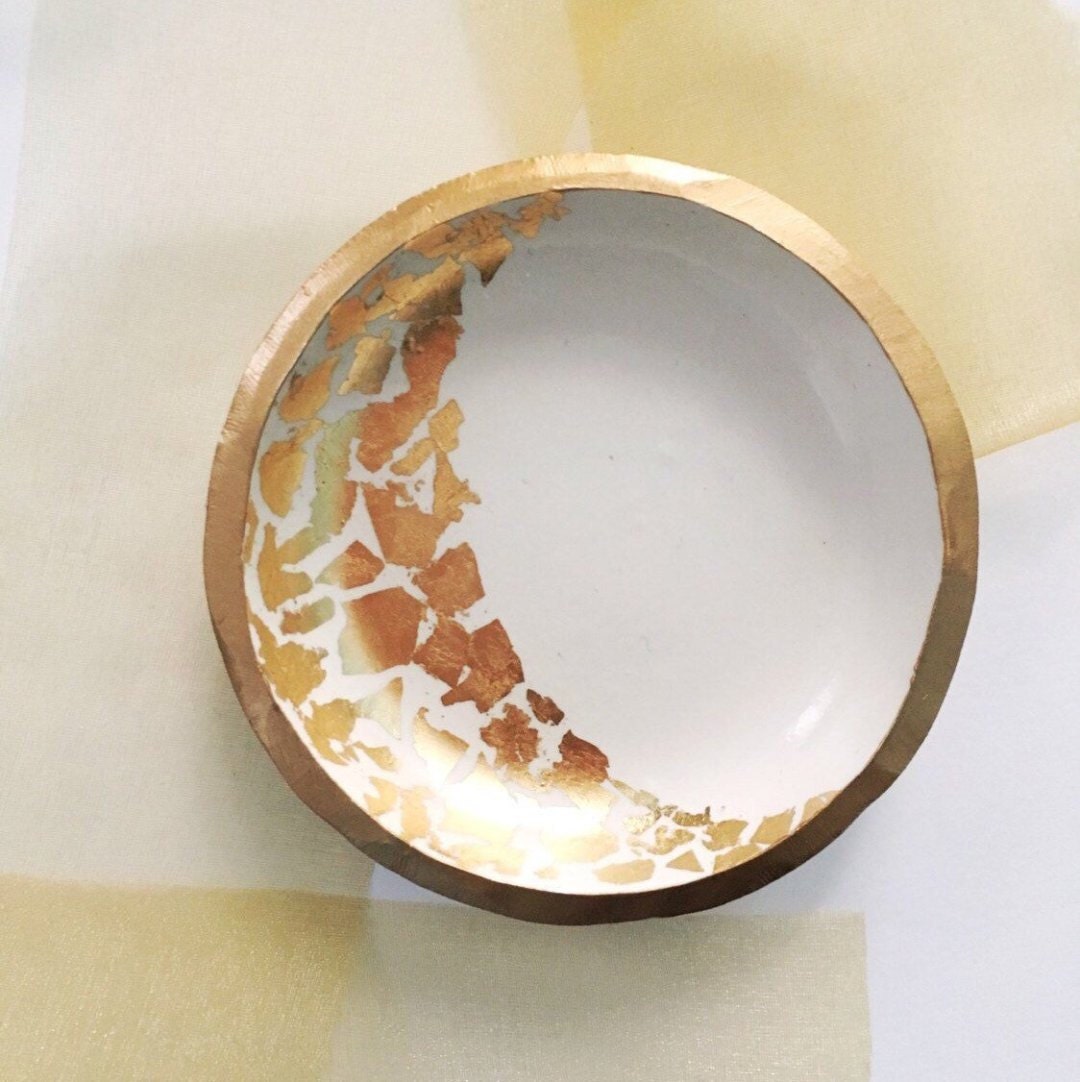 >
Where do you find inspiration for your work?

I've been really into Art Deco lately. I've also been looking at a lot of contemporary objects in furniture design, sculpture and architecture, even clothing. I like to see how I can take inspiration from other things—their geometric shapes and lines—and integrate that into my designs somehow. I've also been really into seashells, which you can see in a lot of my newer earrings.

Say someone has never worn statement earrings before, but they're thinking about trying it out. What would be your advice?

Just rock them, because you'll be getting compliments on them all day. That's one of my favorite things about wearing fun earrings: Whenever I go out, people are like "Oh, those are so interesting." It's a conversation piece. Plus, all my designs are super lightweight, which is great for people who are not typically wearers of large earrings; you're already stepping outside your comfort zone by trying a new style, so you're going to want something you can feel comfortable in.
In terms of styling, I like the combination of structured and unstructured: pairing a flowy dress made of a silky material or a long, pleated skirt with a more structured top or jacket. All the earrings I make work really well with that sort of combination, I think.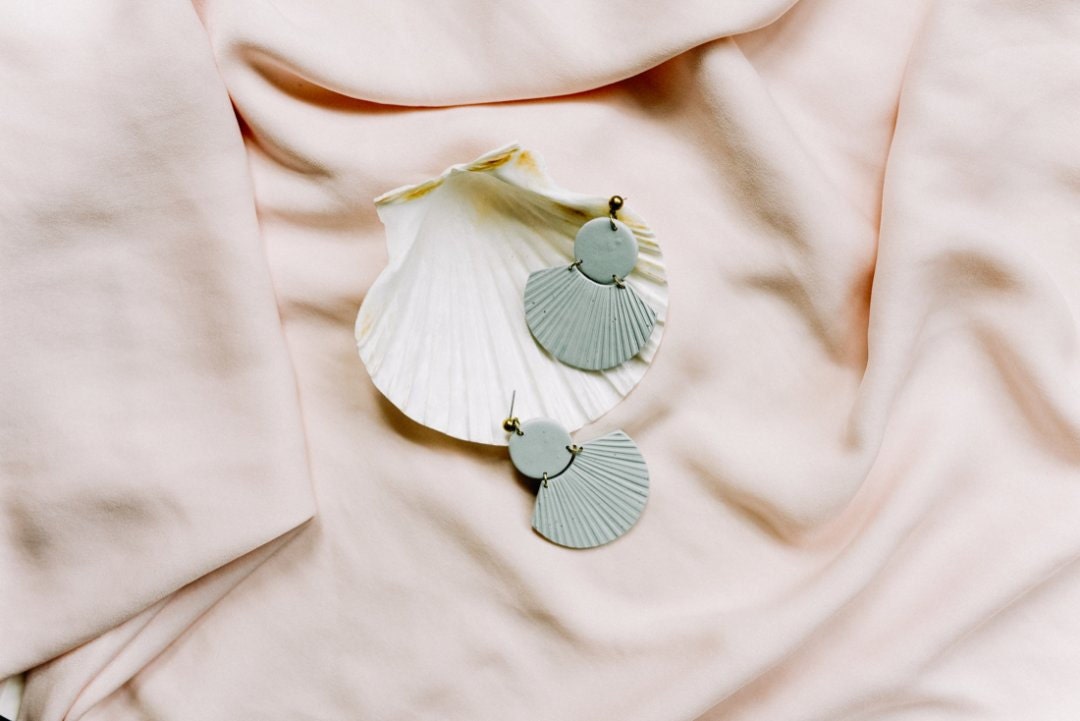 >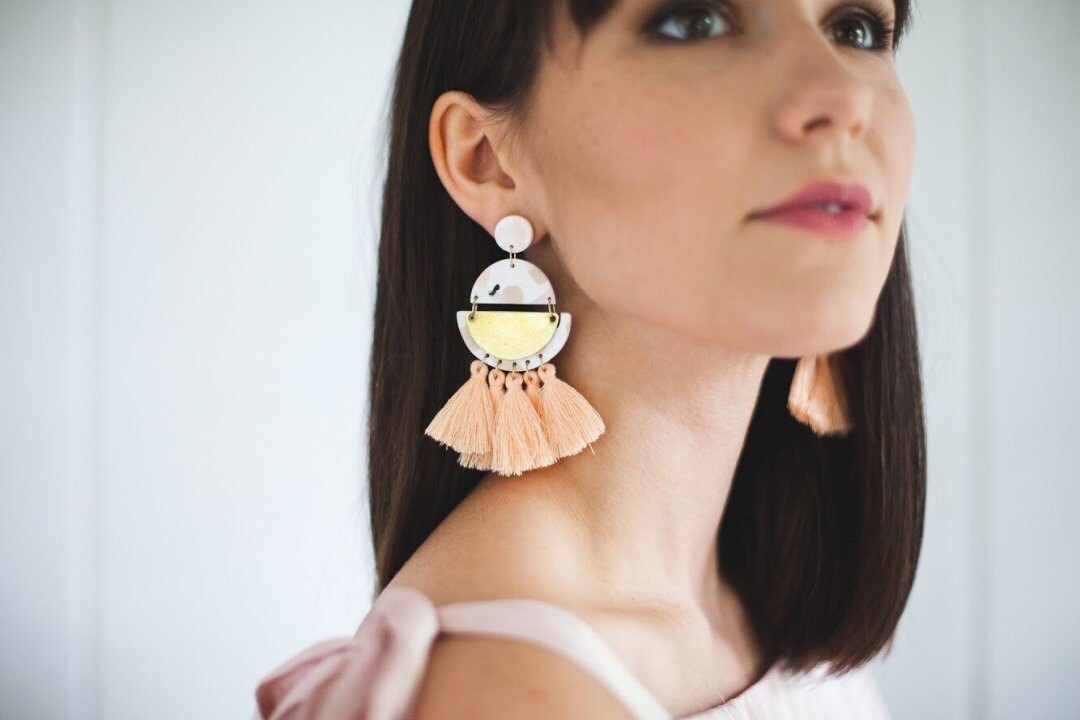 >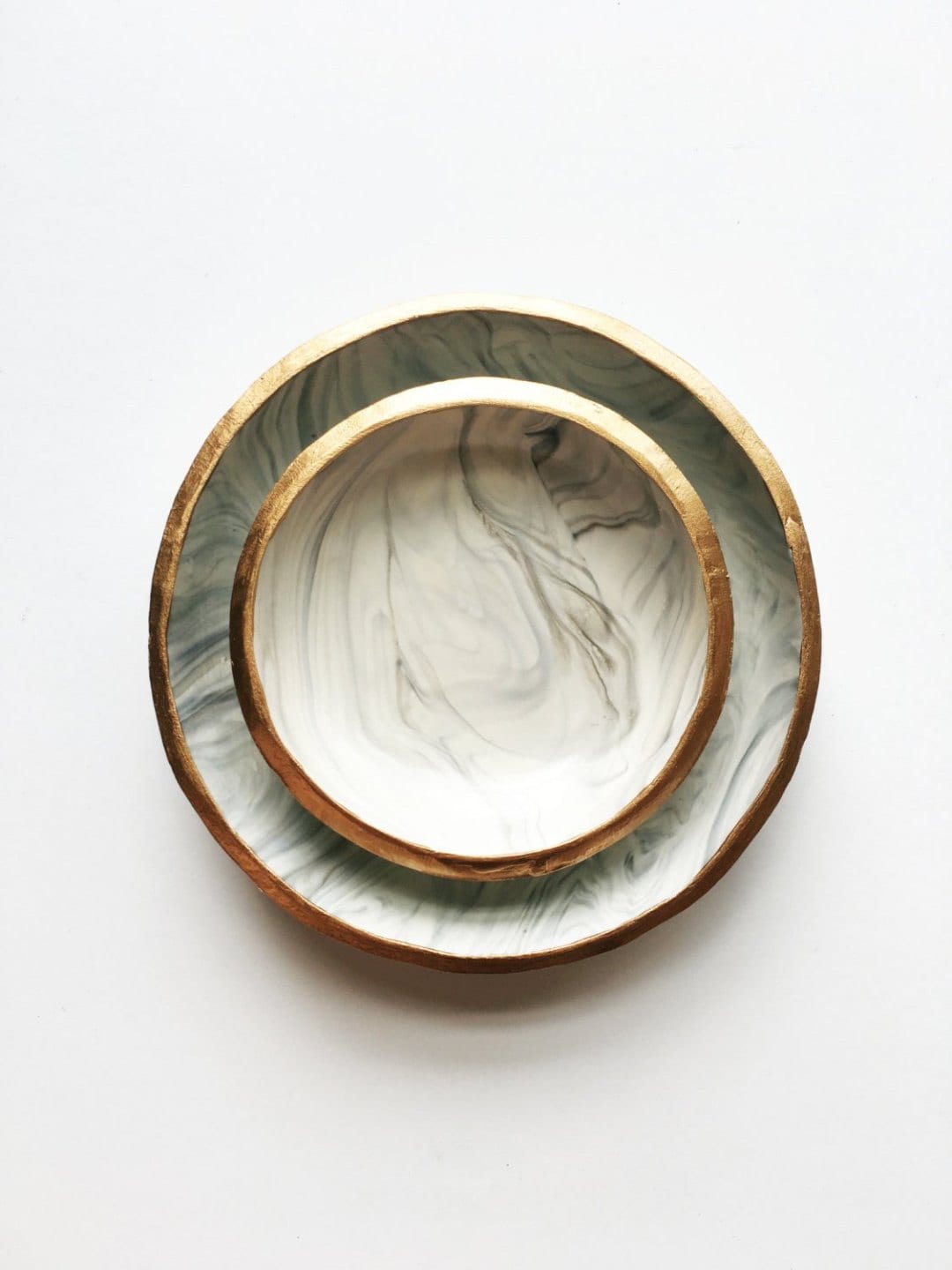 >
With Mother's Day coming up, we're wondering: What from your shop do you think makes a great gift?

I think anything that's meticulously designed and handmade will always make a great gift, especially if it's personalized. You can tell when something has had a lot of love and time put into it—it's almost like handmade items just have this unique, positive energy that you can feel. When I'm making, I really focus on putting that energy into every single dish or pair of earrings.

One really popular gift is my customized trinket dishes. I can put anything you find meaningful onto a dish—Bible verses, inside jokes, nicknames, children's initials. I get a lot of orders for moms with cute messages. One that was very sweet said, "My mom, my best friend."
I've also done a handful of custom earring designs as gifts for bridal parties. Some of them have sent me one specific design that they really like and just asked for a matching set for all their bridesmaids. For others, they'll message me and say, "I like this shape, and I like this shape, and these are my wedding colors. I trust you to make something that will work." I like doing that sort of job because I get to be creative, but within parameters.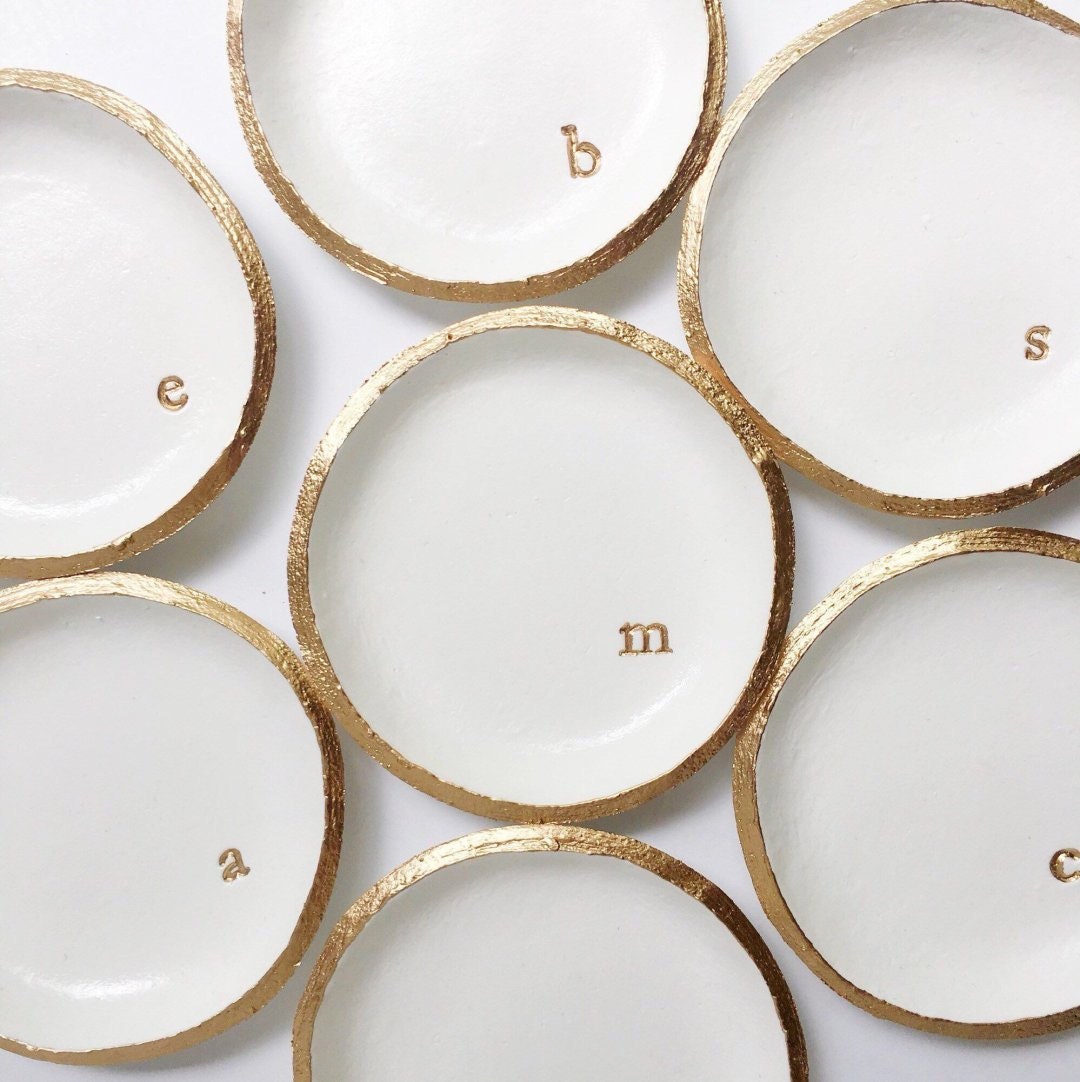 >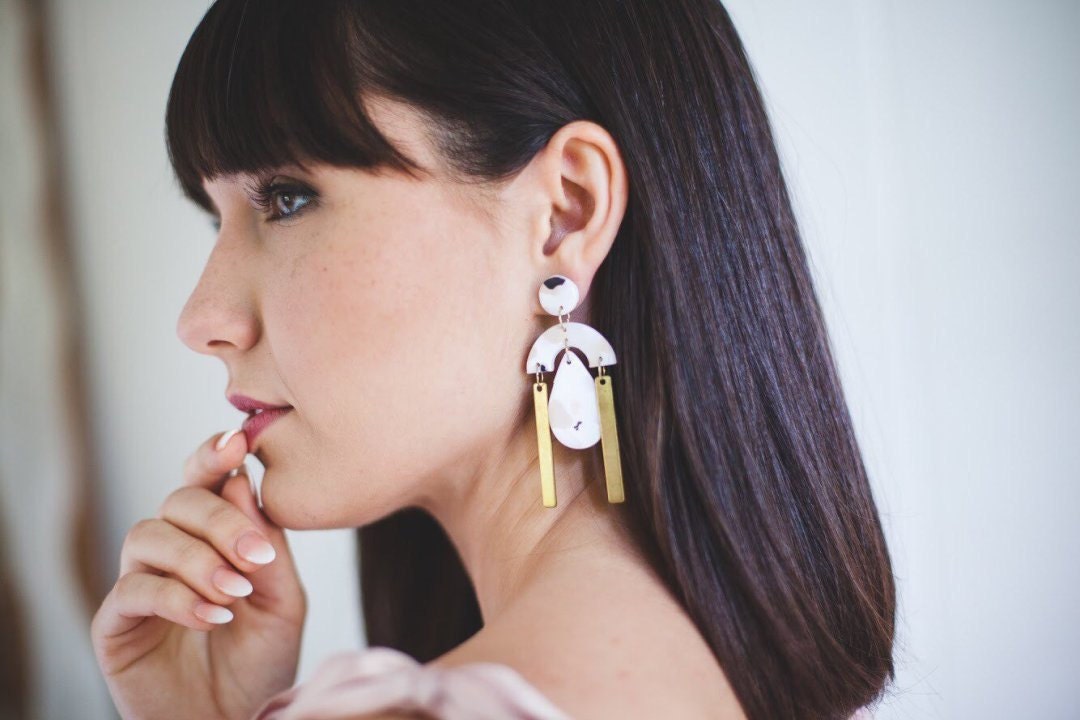 >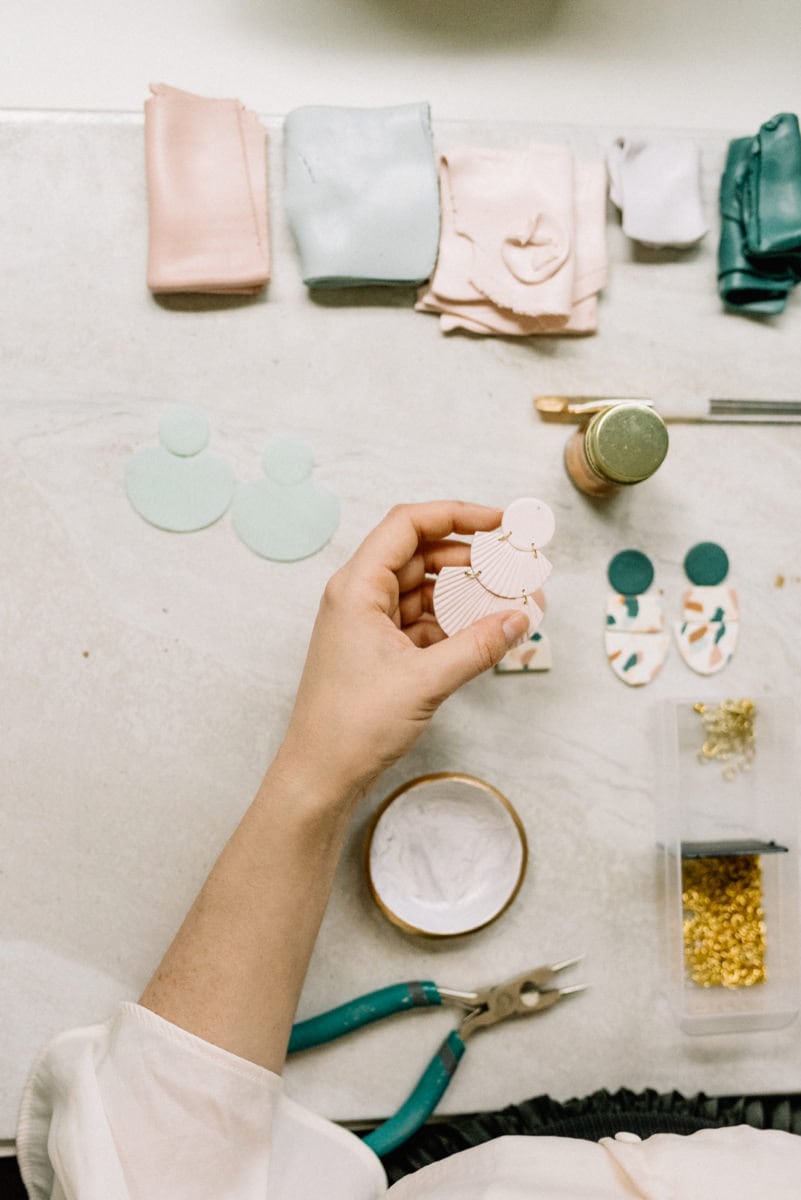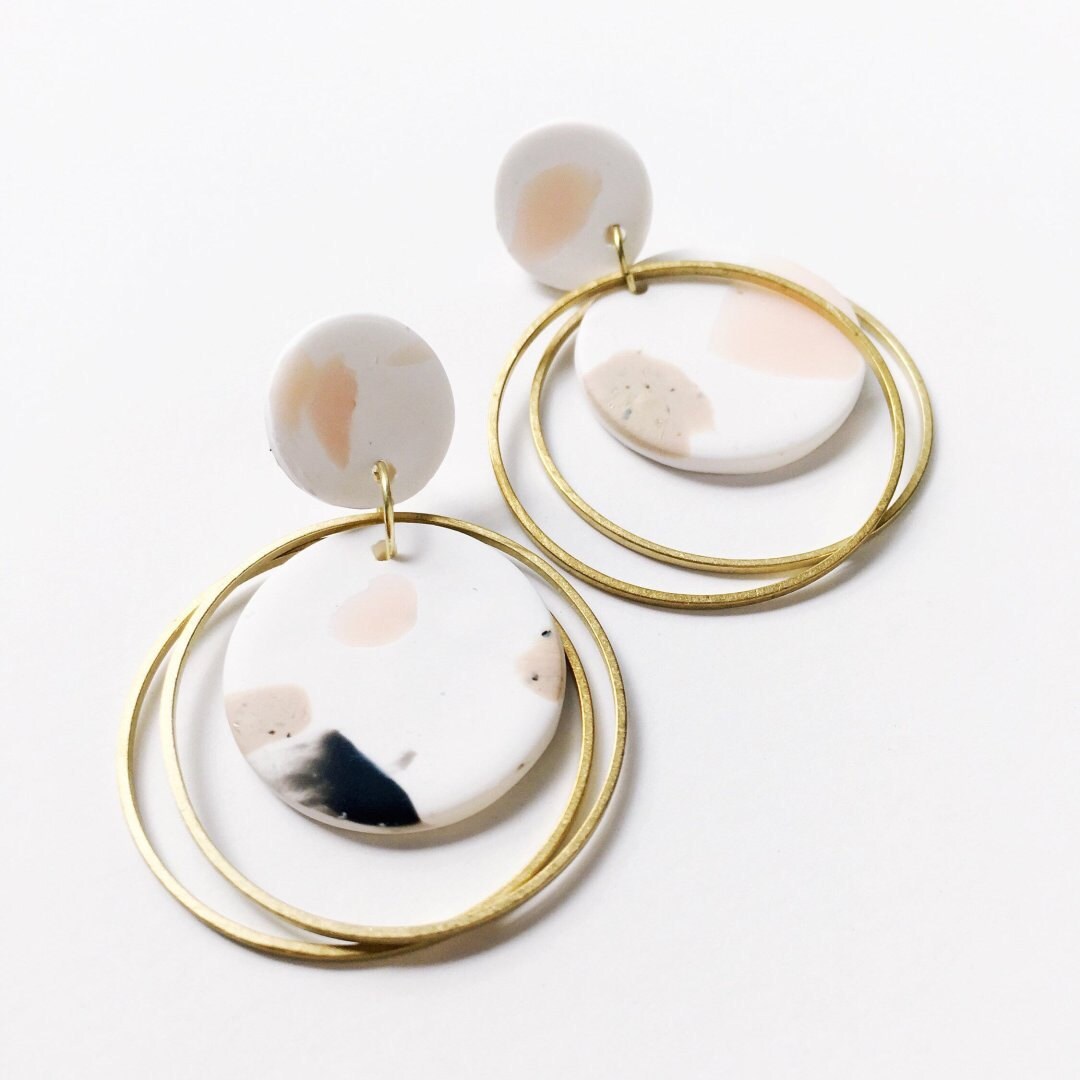 >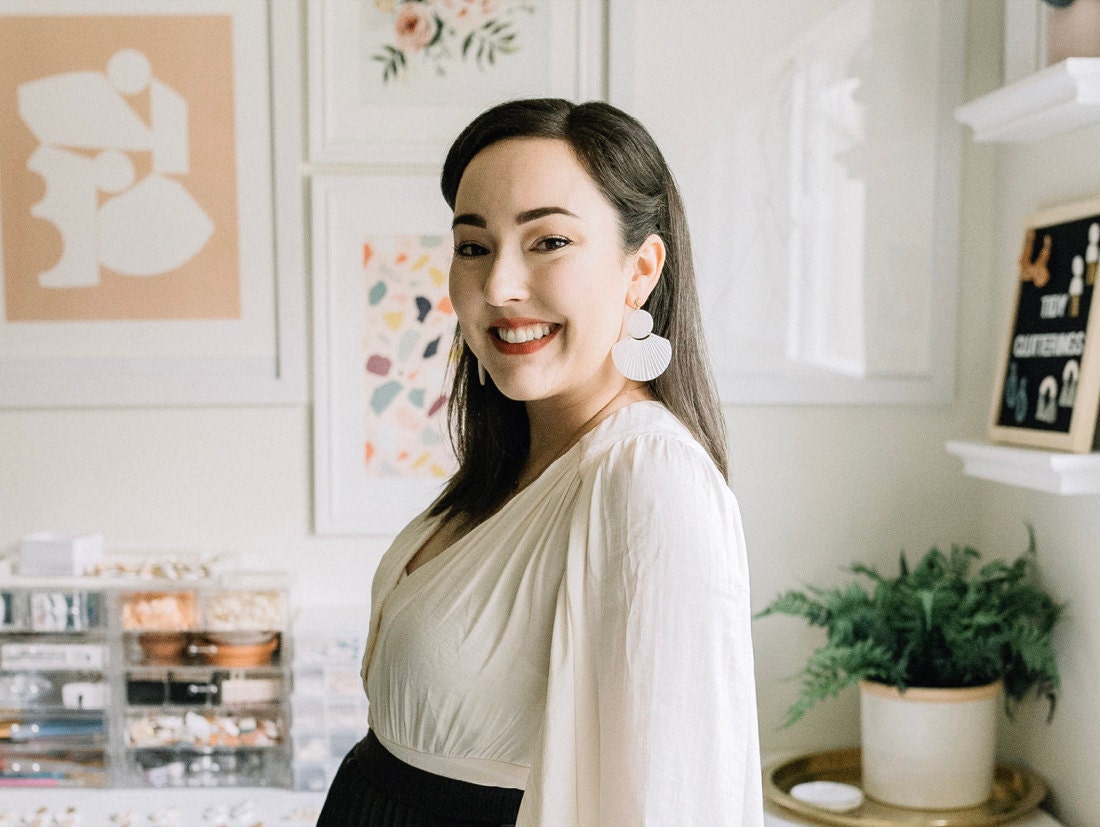 What's next for Tidy Clutterings?

One of my biggest goals is to work toward getting a studio space. I've been working from home, and I'm an extrovert, so it's a challenge to be by myself all day. My other big goal is to start doing more in-person events and big craft shows. I live in the Sacramento area, and there are so many small businesses and makers and artists—just this huge community of really awesome creative people—and I'd like to become more of a part of that.

Follow Tidy Clutterings on Instagram and Facebook.
Studio photography by Juliana Aragon. Model photography by Hannah Ours.