Treat yourself (or your loved ones) to joy in a jar with these fragrant candles inspired by personal memories.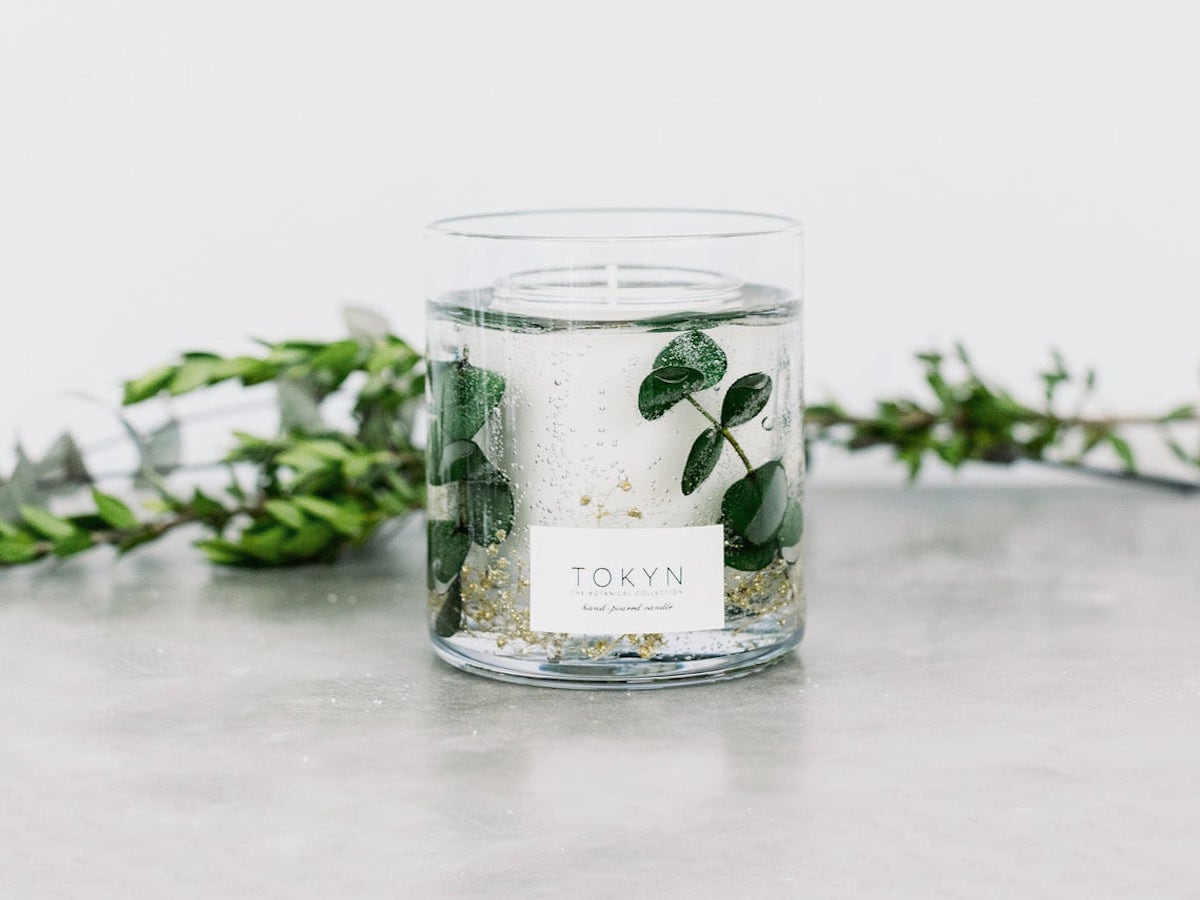 Editor's note, September 2020: In our Featured Shop series, we shine a light on a standout shop from Etsy's talented seller community, offering readers a behind-the-scenes look at their process and story. And as we spend more time at home these days, getting cozy and catching up on our reading lists, we're taking a moment to revisit some of our favorites—like the story behind this New York-based candlemaker from February of 2018.
Everyone knows that déjà vu feeling that comes when a whiff of a familiar scent instantly zaps you to another place or time. Whether it's a crisp woodsy smell that brings you straight back to summer camp or a hint of perfume that transports you from your morning commute to your mother's dressing table decades in the past, scents have a unique power to evoke vivid memories. For Brooklyn-based maker Rino Minami, this olfactory phenomenon triggered more than mere nostalgia: It was the inspiration for Tokyn Candles, her line of hand-poured, scented soy candles.
Explore the Tokyn Candles collection
"I've always been really into scents and scent memory," explains Rino. Which is why many of Rino's candles—Anjōu Fig Tree and Ginza Rose Japonica, to name two—channel the sights and smells of her native Japan. In addition to bottling up the specific (or symbolic) aromas of the places and people she holds most dear, Rino's candles also integrate the Japanese art of musubi, a form of knotting that represents unity and togetherness. By tying an intricate knot around each candle from her signature collection, Rino imparts a bit of herself and her history to her creations—leaving her own subtle stamp on the memories she so carefully preserves.
Read on to learn more about Rino's process and inspiration—then shop the Tokyn Candles collection.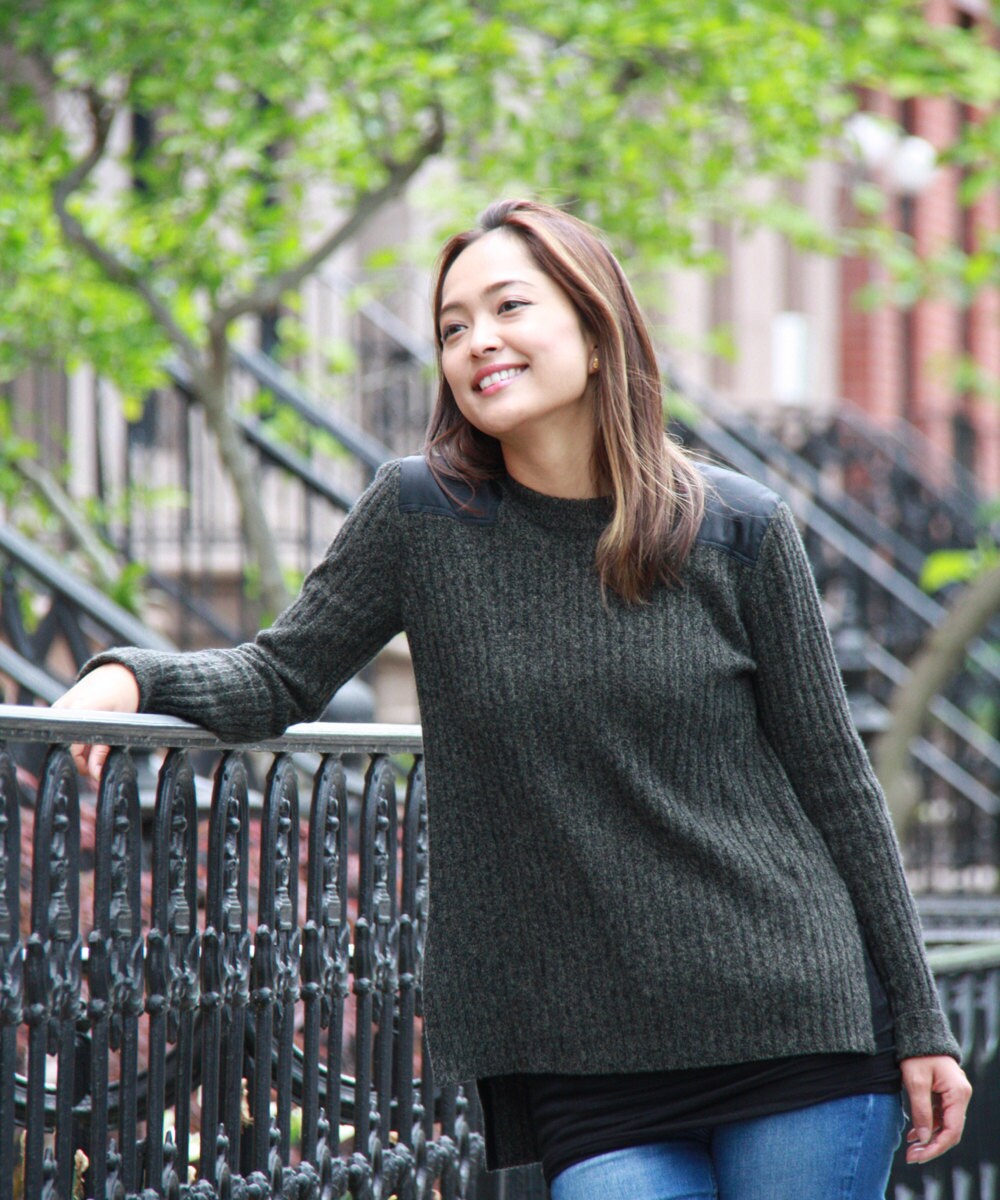 What prompted you to start making candles in honor of specific places? And how do you use scent to capture their essence?
In 2011, I started getting homesick. I'd spent the previous 10 years in Japan, and I wanted to create a candle for each city that meant something to me. First, I set out to make a candle based on the city where my dad's from, Toyama, which is known for its mountains. I experimented with mixing different oils until I found something that best symbolized the area: The forest mist candle uses evergreen and sandalwood to create the fragrance. The same goes for the sea salt candle, called Shiogama, which is where my grandmother is from. It's right by the ocean and they're known for their salt.
Why were you drawn to candles originally?
I've always been a candle fanatic—my husband would often complain that I spent way too much money on them. I just really love that time when you're at home in your own space with your dog on the couch and a candle lit. That's always been my happy place, so I thought, "If I'm spending this much on a candle, I might as well try making them."
How did you hone your craft?
My sister-in-law is also obsessed with candles, and we love making things together, so at the beginning, we literally sat up every night for a month mixing oils trying to figure out which scents we liked best. We created so many questionably scented candles at the start. We also had to learn how to make sure the candles hardened and burned properly, which involved experimenting with different temperatures and techniques. You really have to play scientist.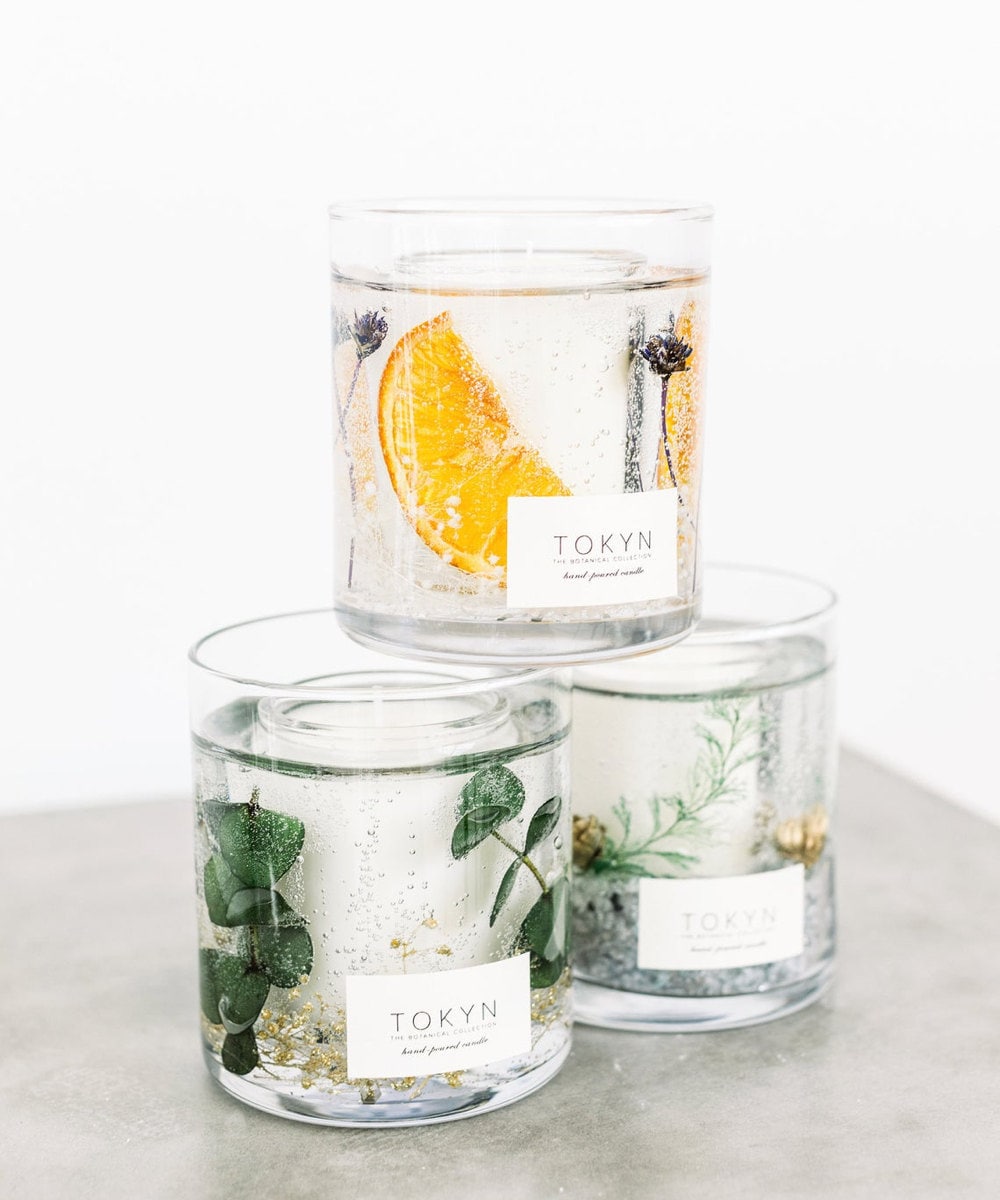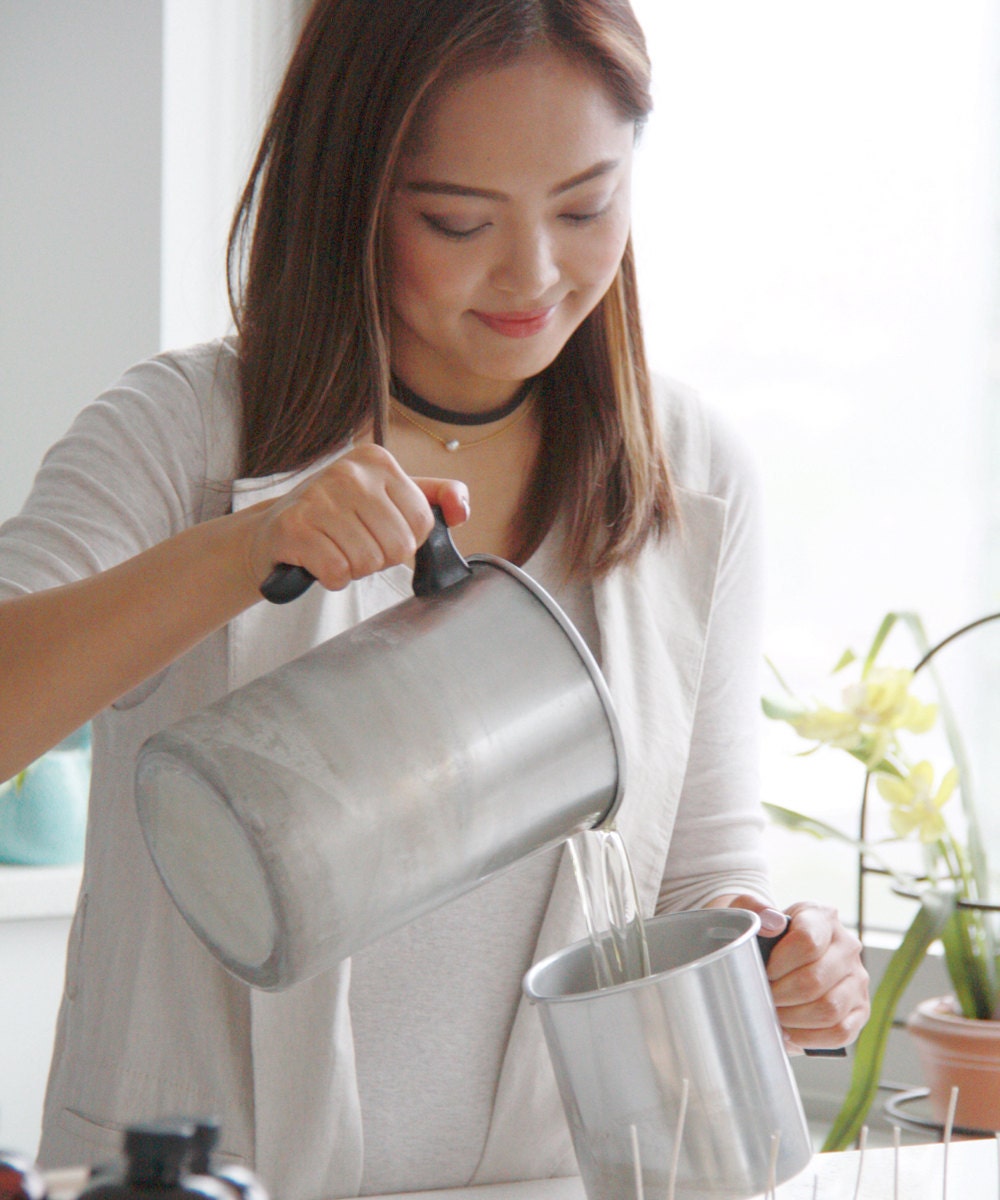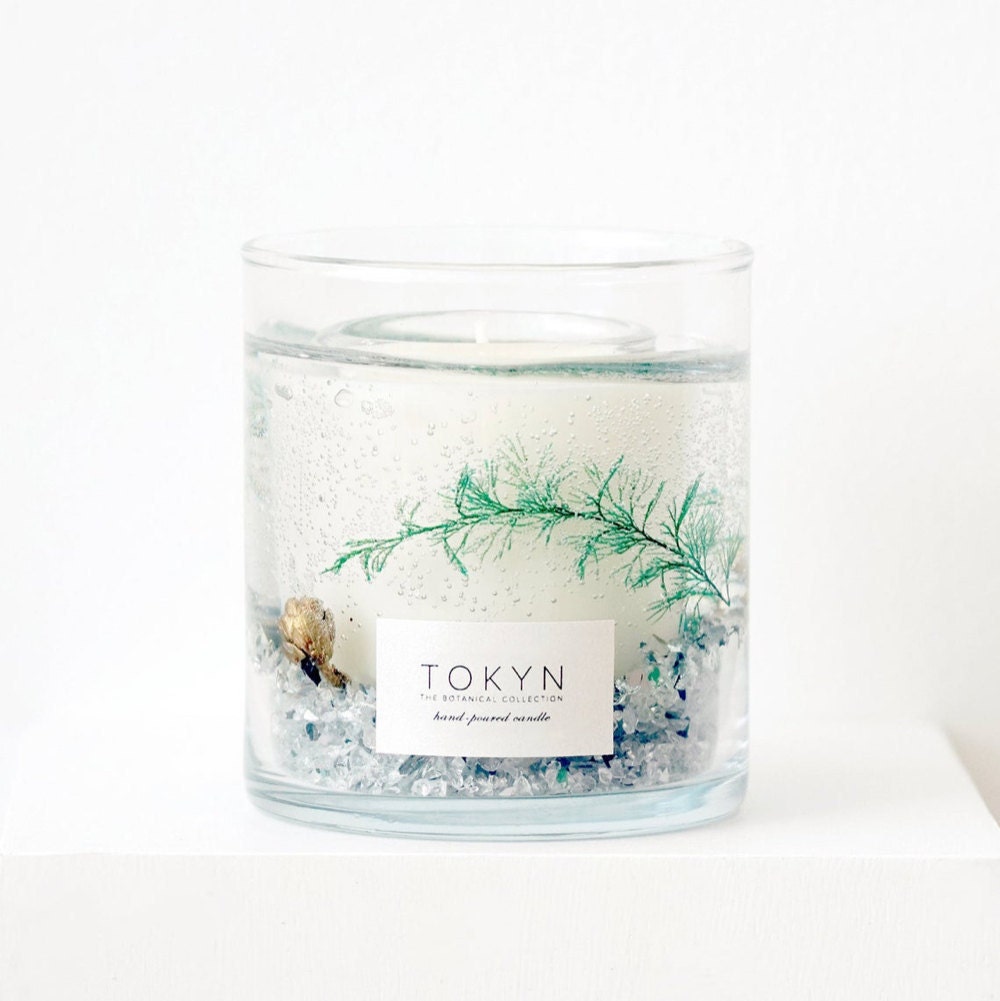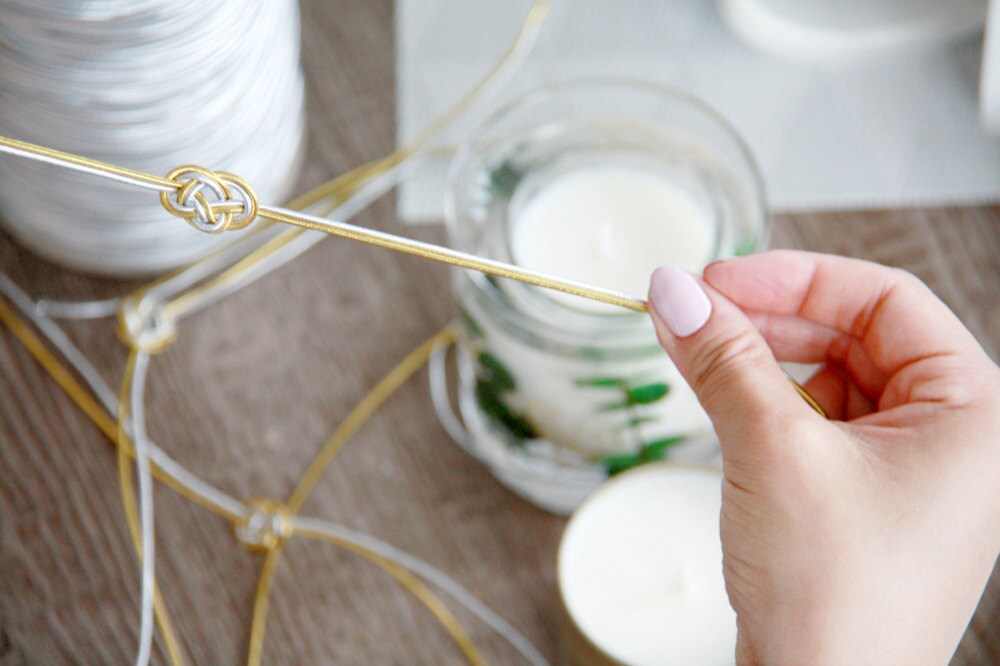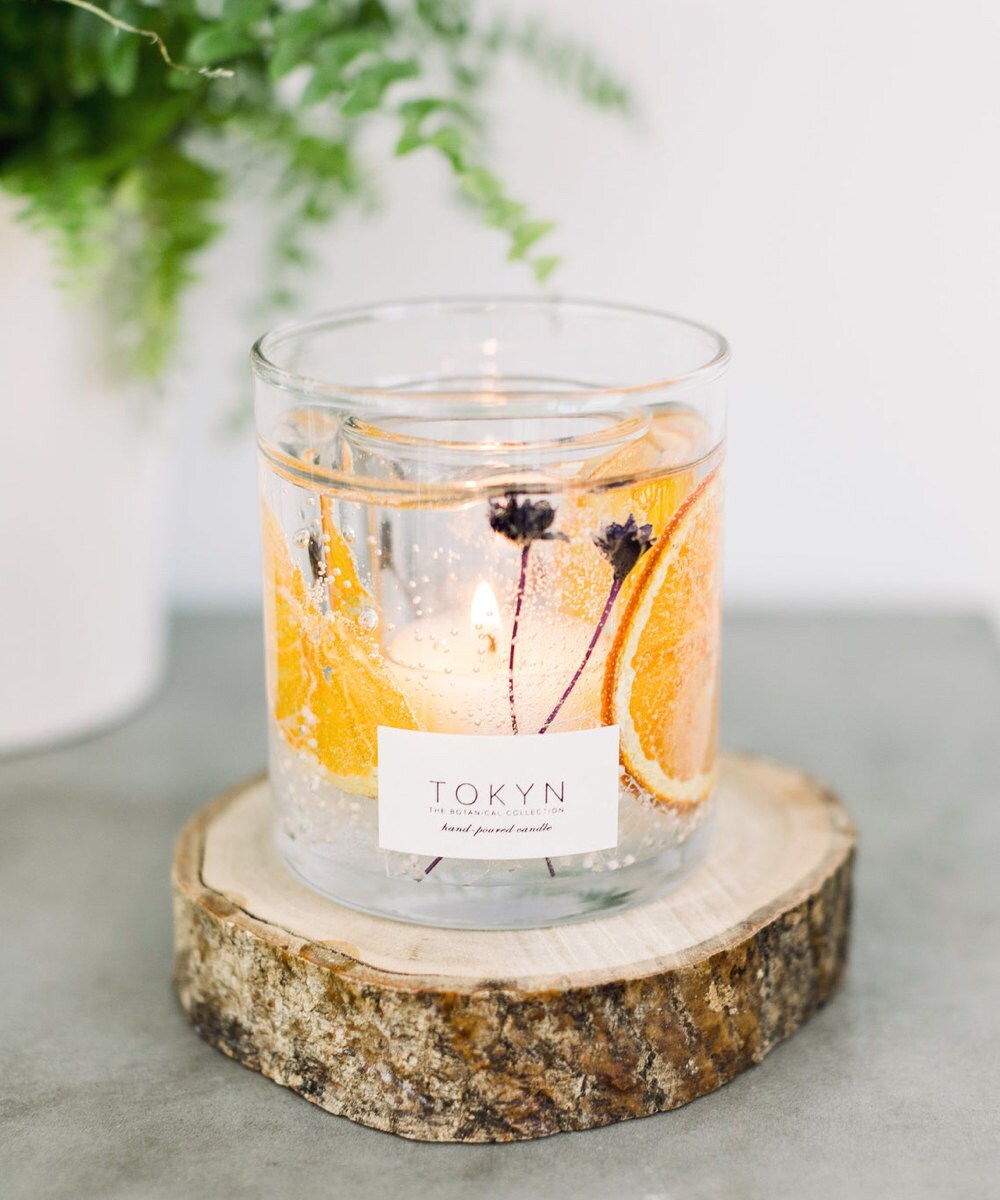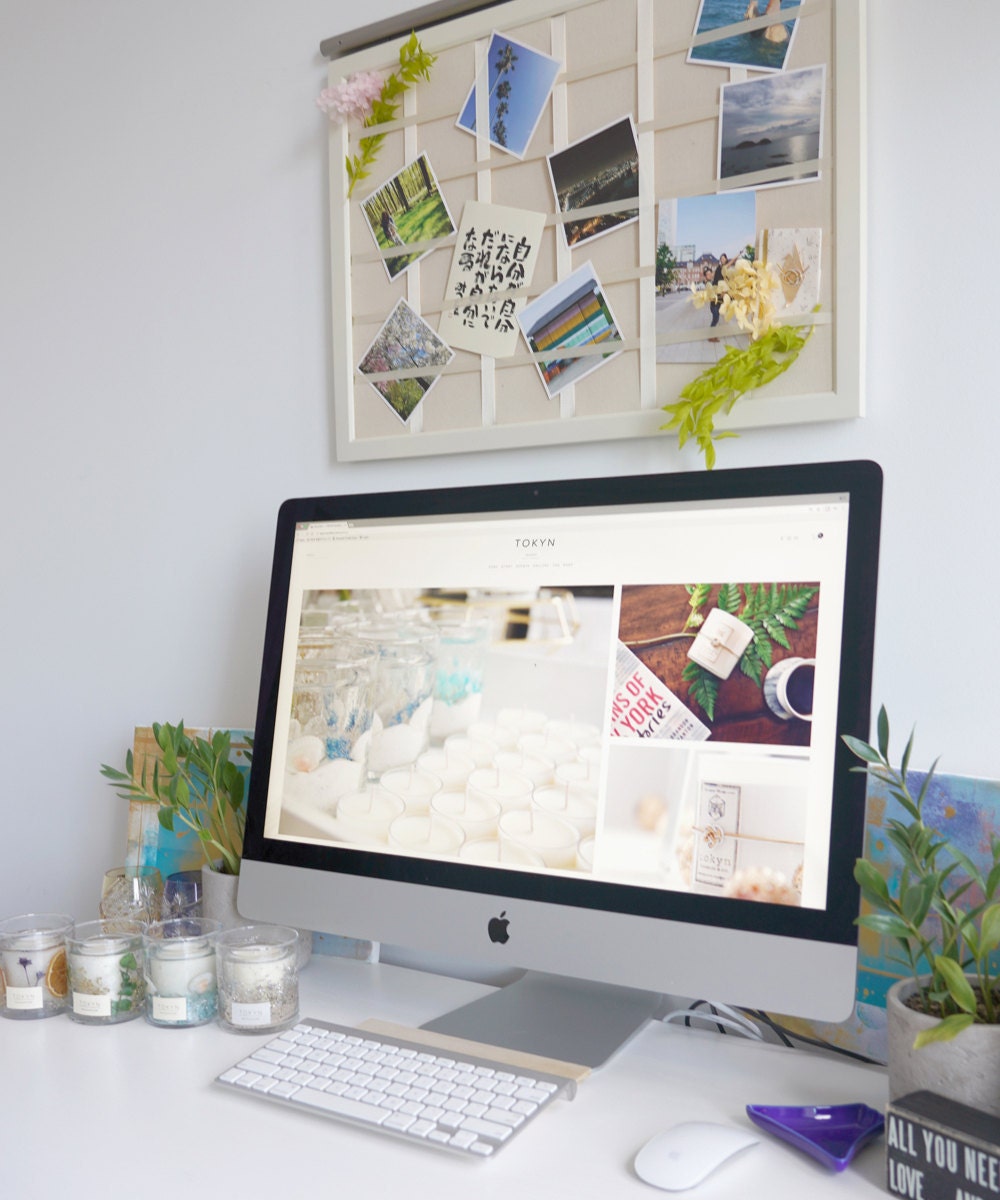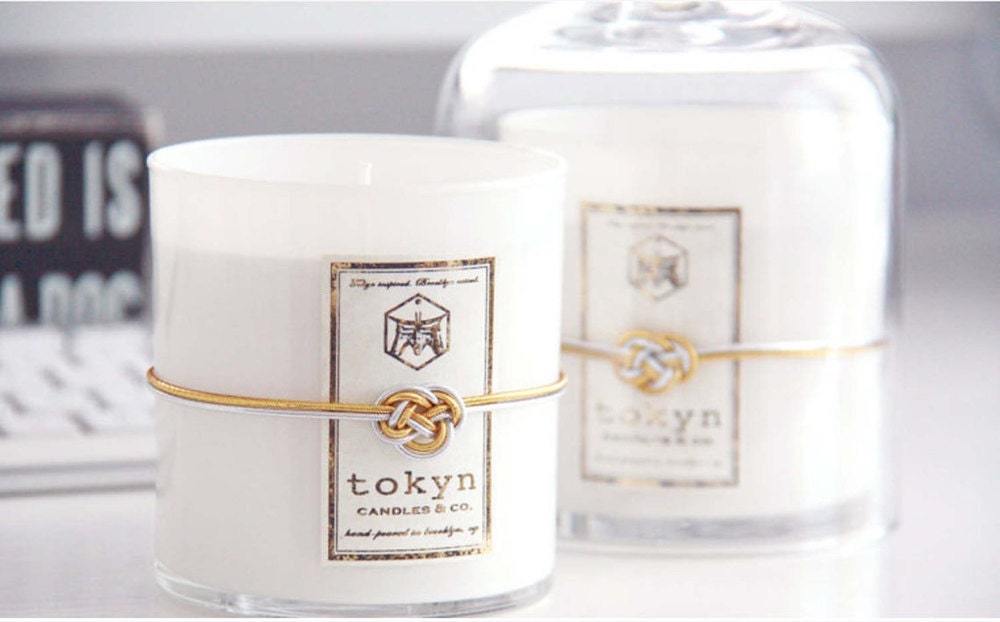 What's your favorite part of the candle making process?
The whole process is very therapeutic. You start out by melting soy wax over a burner, and it turns this beautiful golden color. I really enjoy putting on my favorite music, setting up all the jars and glassware, watching the melting wax, and just getting into the groove. I also love arranging the botanicals for my botanical collection. Each one is different because I hand position everything, which gives me the freedom to use different kinds of natural items. It's like composing a flower bouquet—you get to play with colors and textures.
Tell me more about the botanical collection. How did it come about?
The idea first started when my mom gave me some framed preserved flowers from my wedding bouquet as a gift. They were so beautiful, and I wanted to come up with a way to create another kind of floral arrangement that wouldn't wilt, and fuse it with my fragrances. So I went to the flower district in New York to see their dried flowers, and I decided to encase them in a gel, with a soy candle in the center.
The botanical line allows me to showcase scents through visuals, with different floral layouts for each scent. For instance, I use greenery like eucalyptus and baby's breath for the Toyama forest-scented candle, and for the fig tree scent I chose iridescent stones and pink moss for a slightly more feminine look.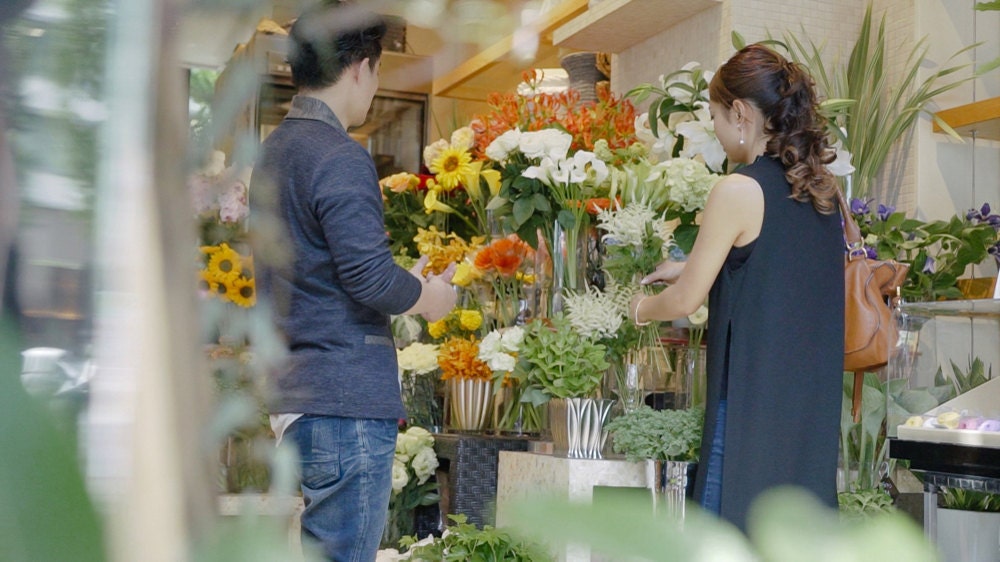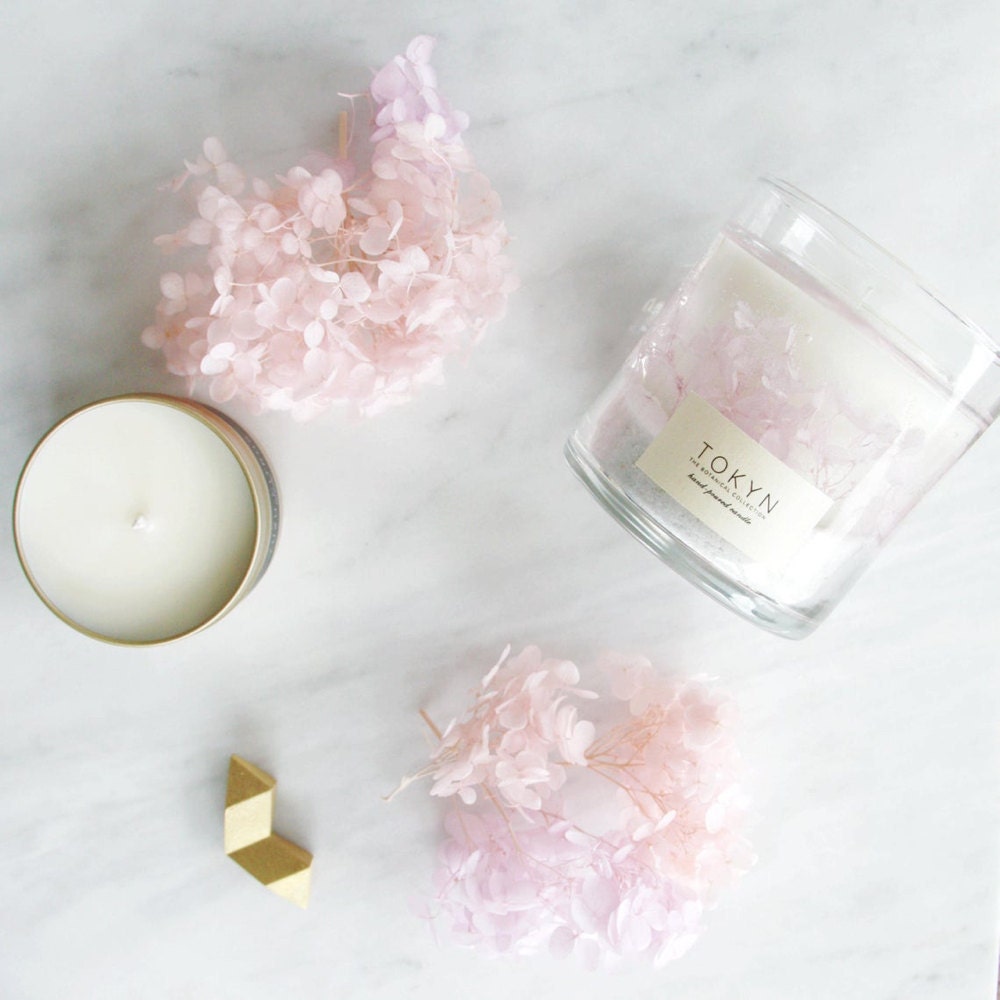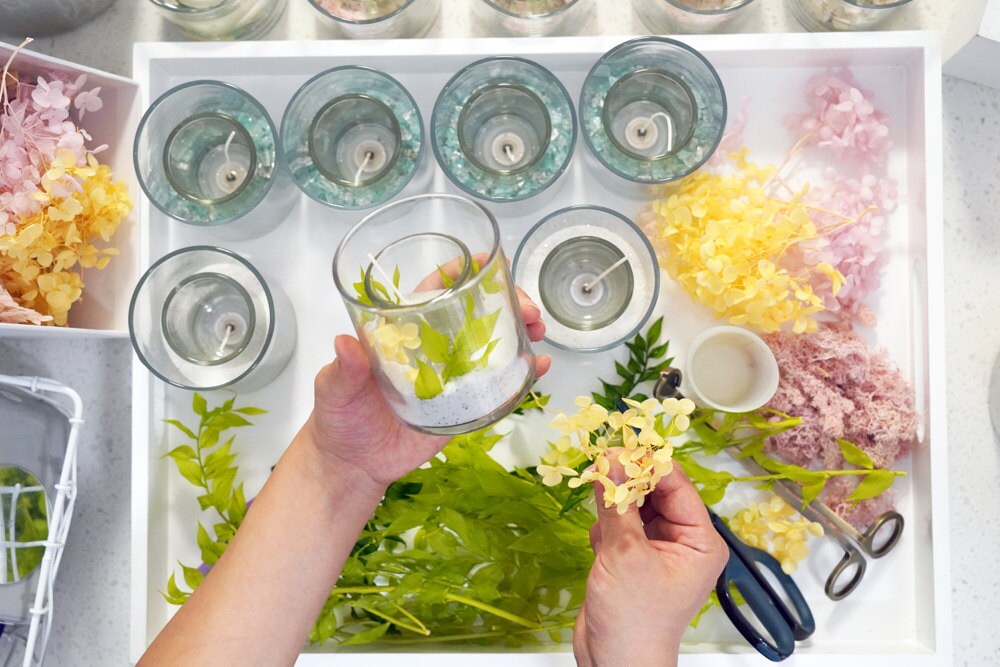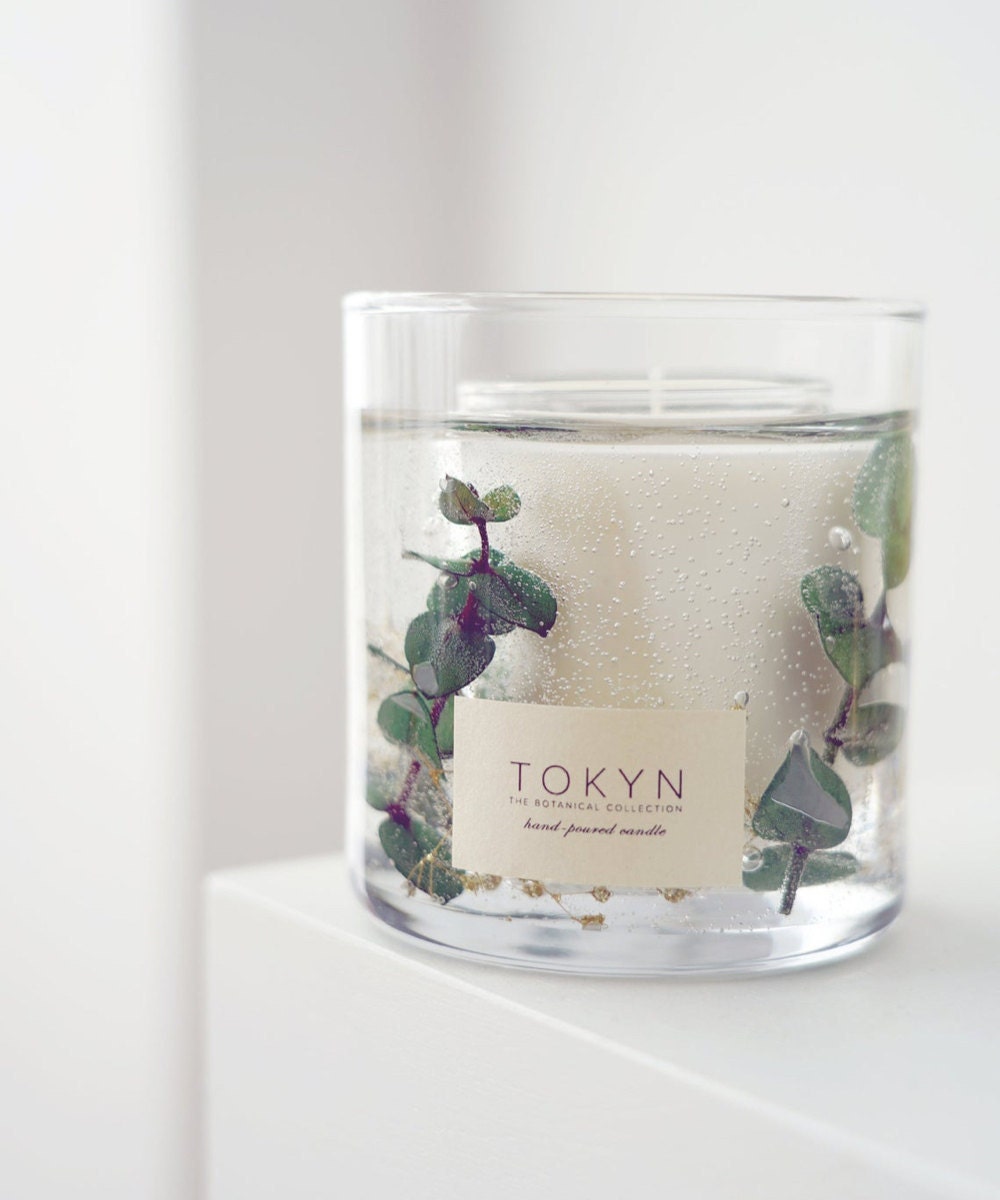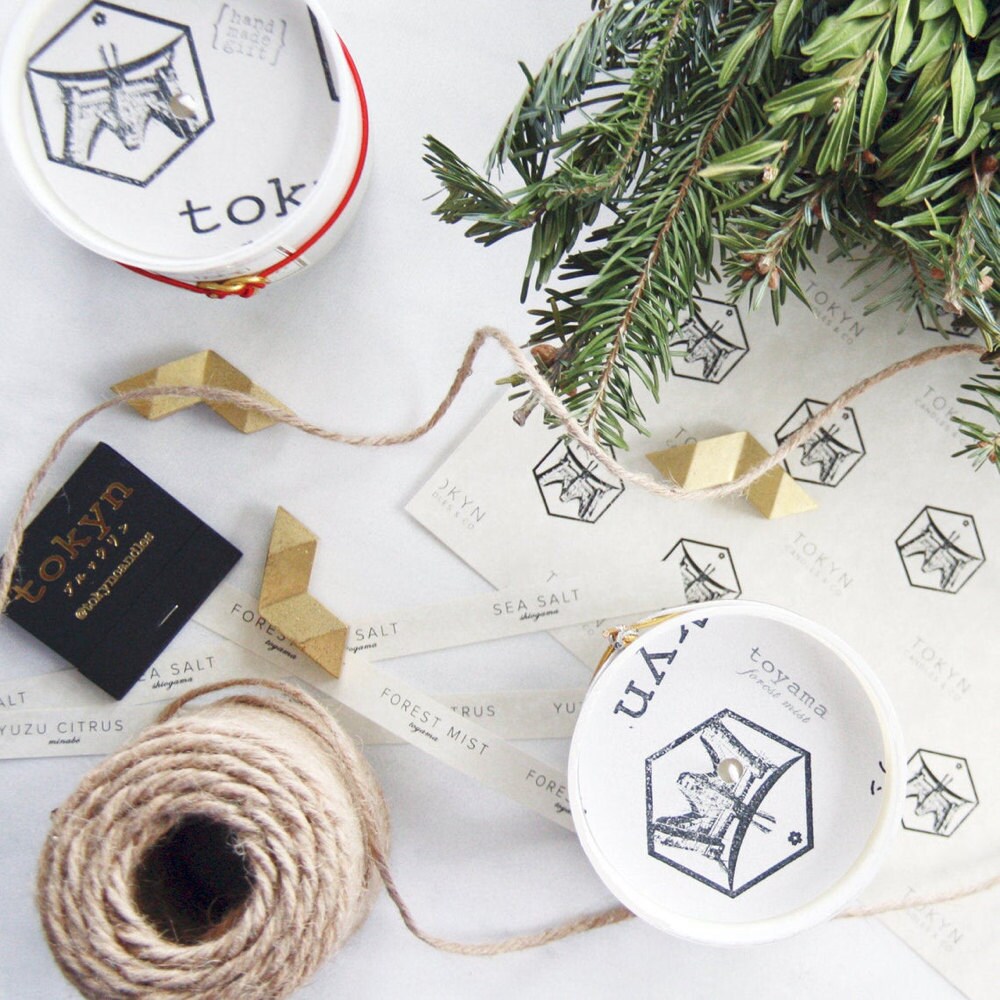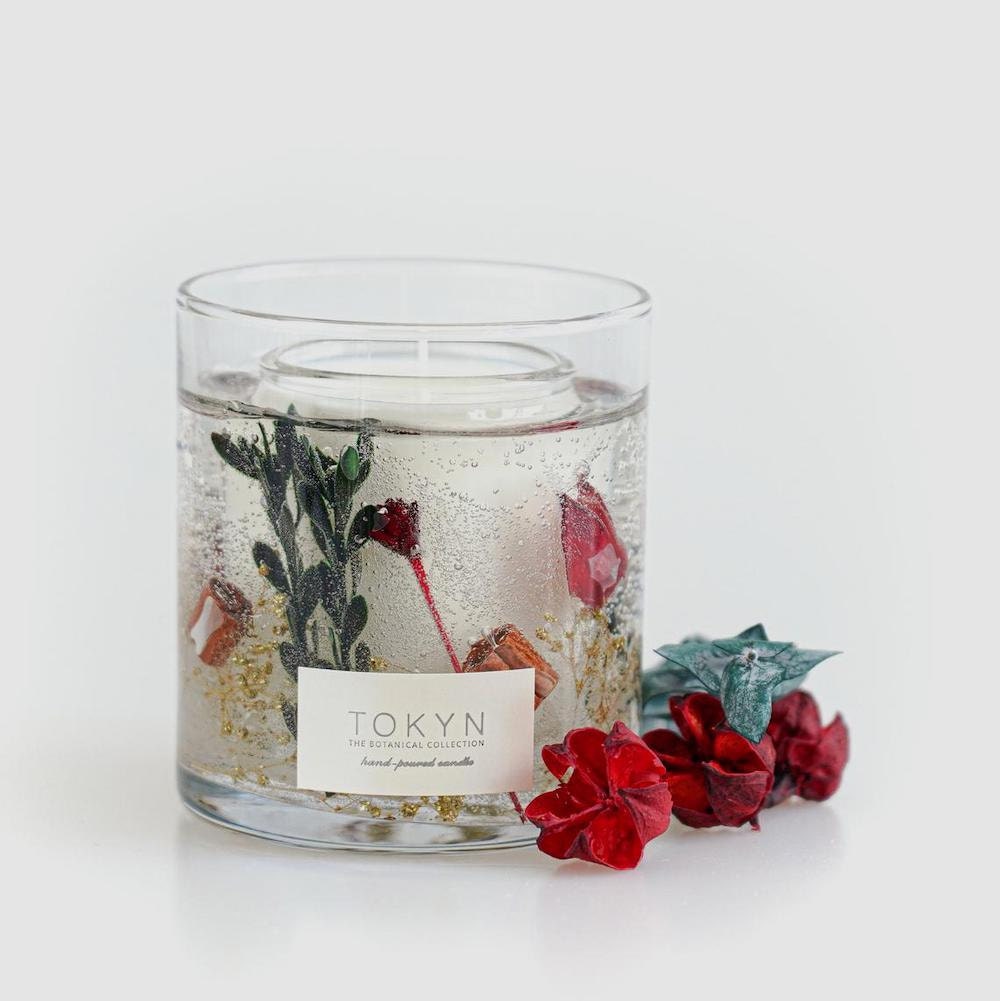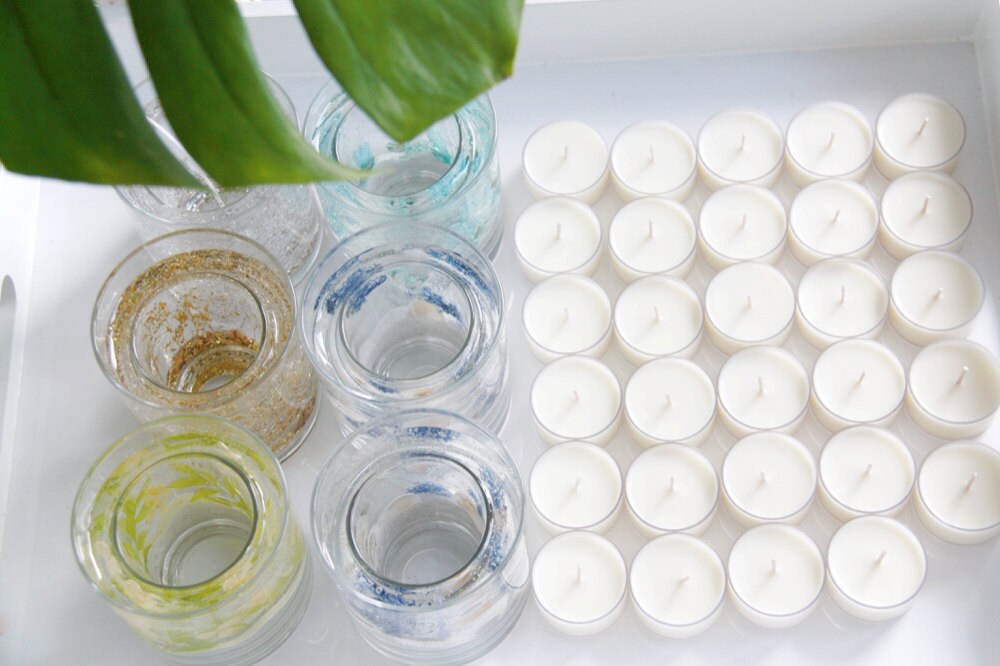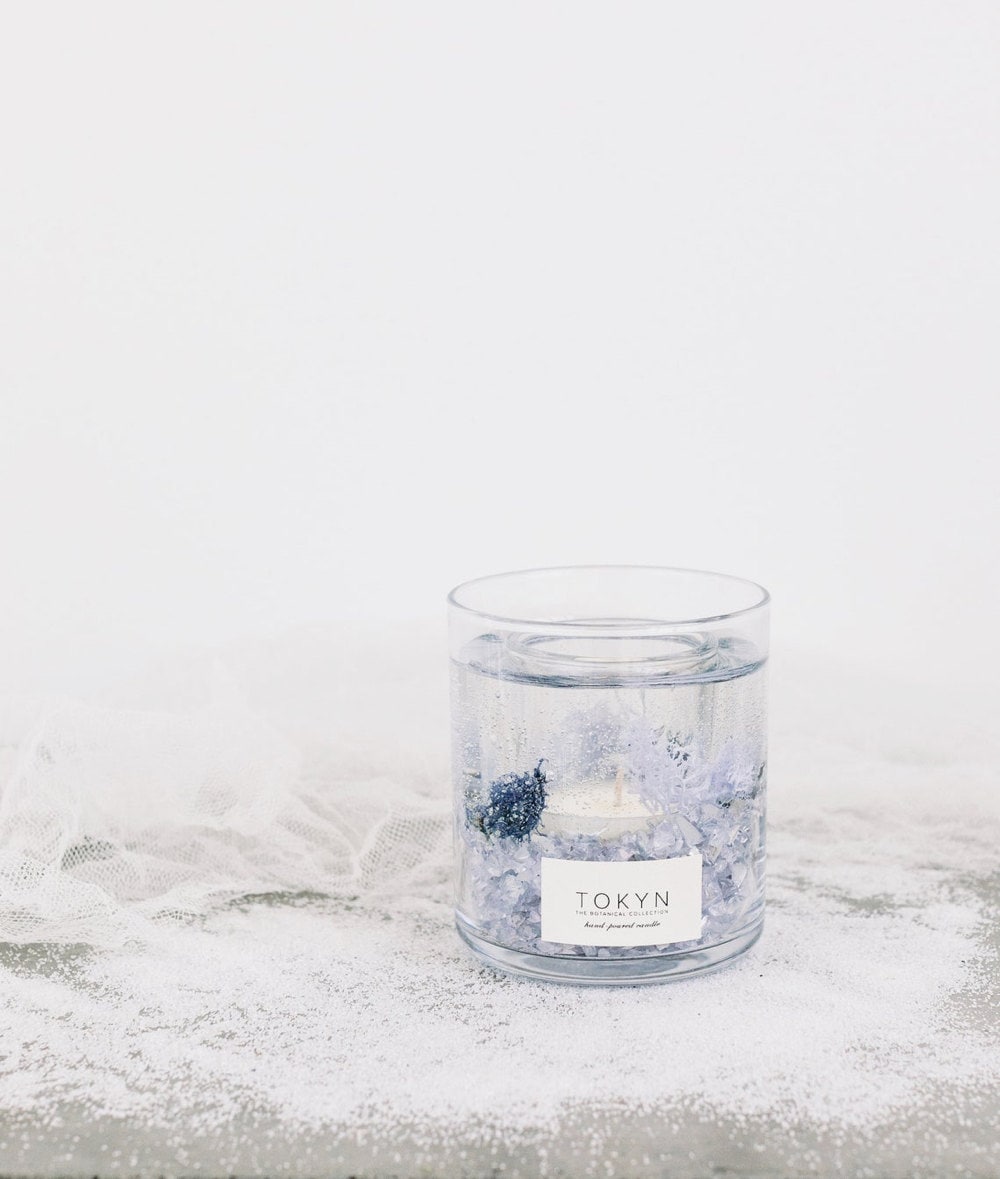 How did you learn about musubi, and how does it fit into your process?
I first learned about musubi when my grandmother passed away and I went back to Japan for the funeral. It was a very emotional time, and my uncle gave a moving speech about how we're the string that holds everyone together, the string that my grandmother left behind. With musubi, there's a unique knot for every life event, and I started learning how to tie the different ones. The knot that I have around our current candles is called the awaji knot, which is usually used for celebratory events like weddings, or simply to give thanks for a strong bond between family and friends.
Speaking of bonds, what's your relationship like with your customers?
My customers are so willing to listen, ask questions, engage with my work, and really share their candid reactions. It's so refreshing to get that feedback because I'm usually all by myself creating scents and designing candles. And I've realized that everybody has such different reactions to scents—people pick up a candle and it transports them to totally different places. The opportunity to hear those stories from buyers was an unexpected gift.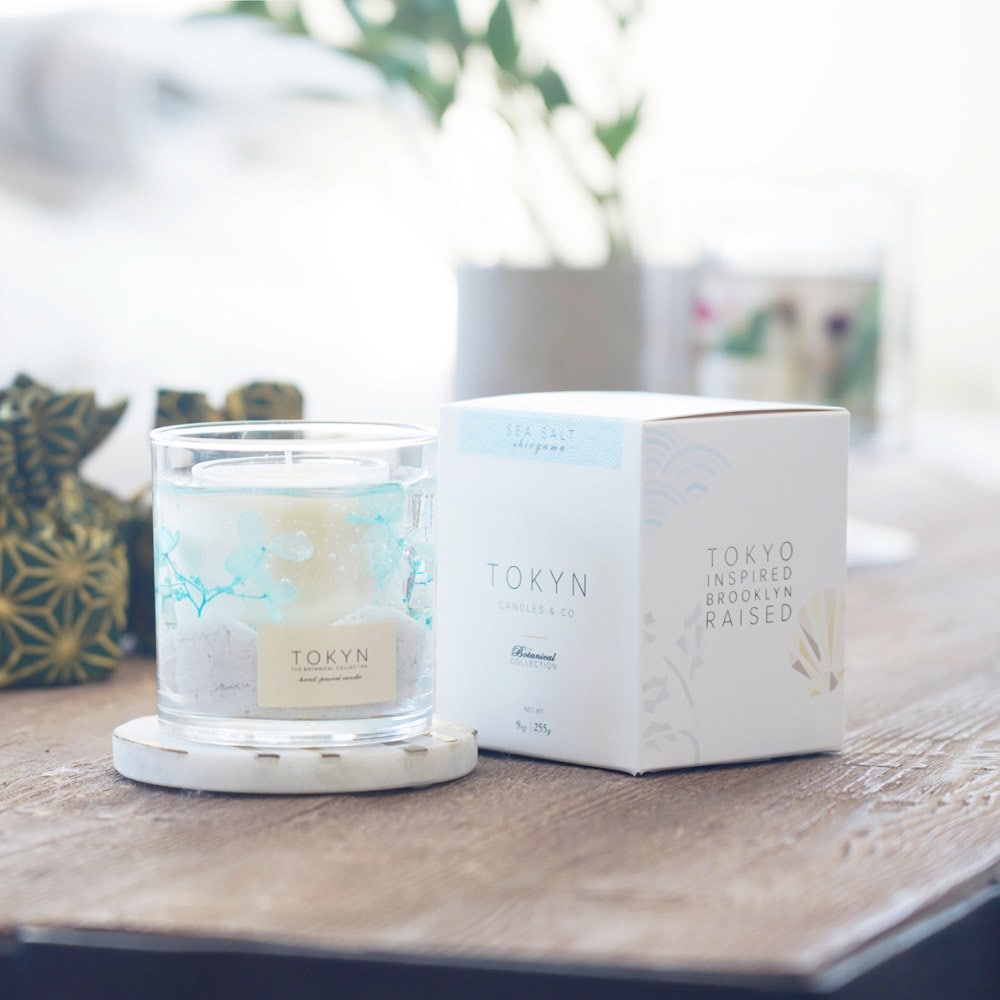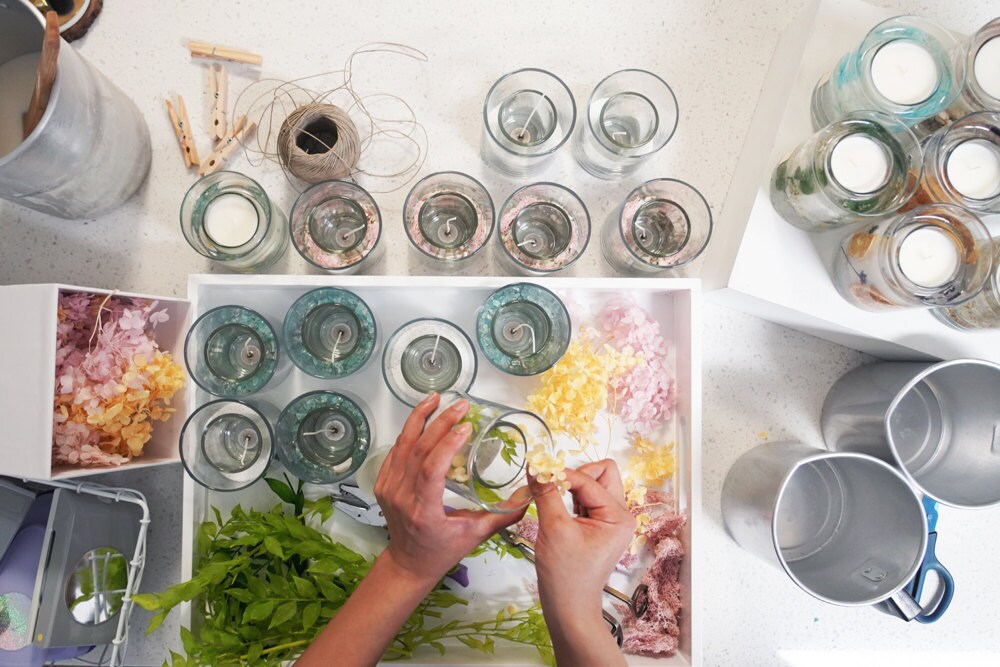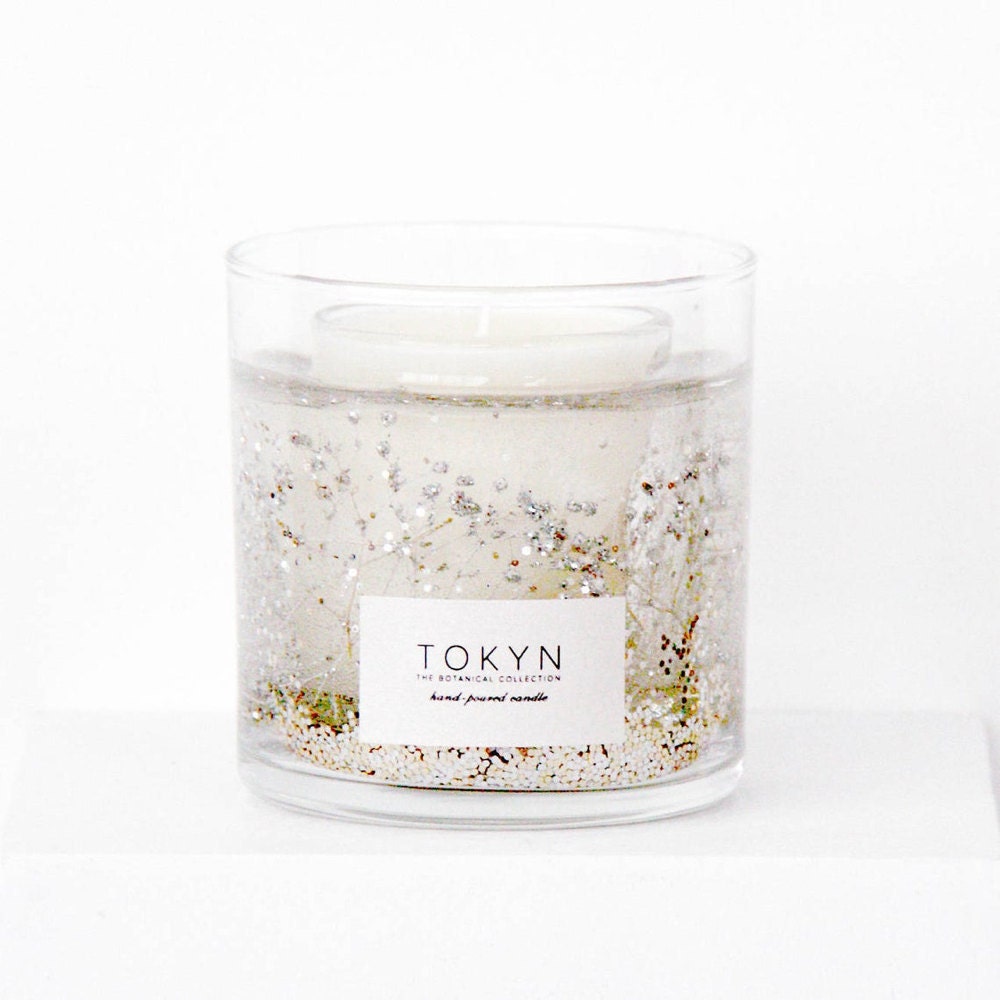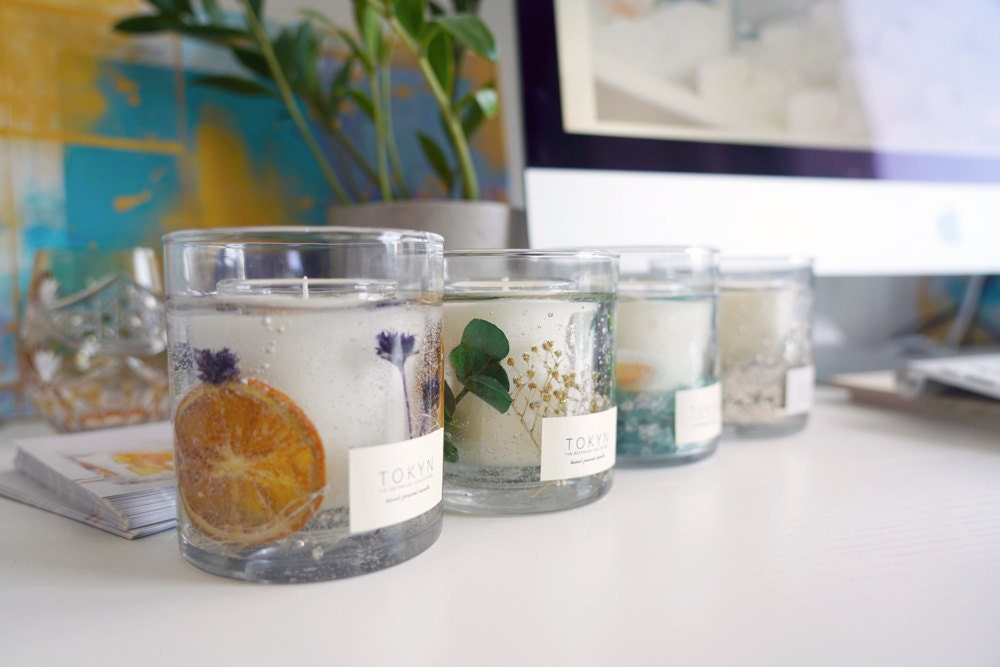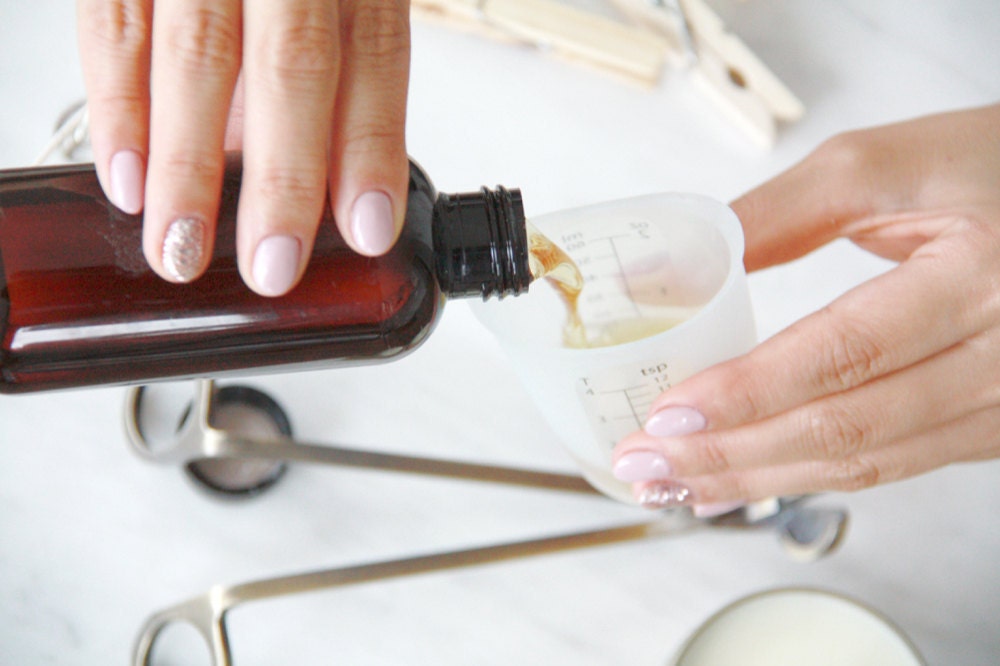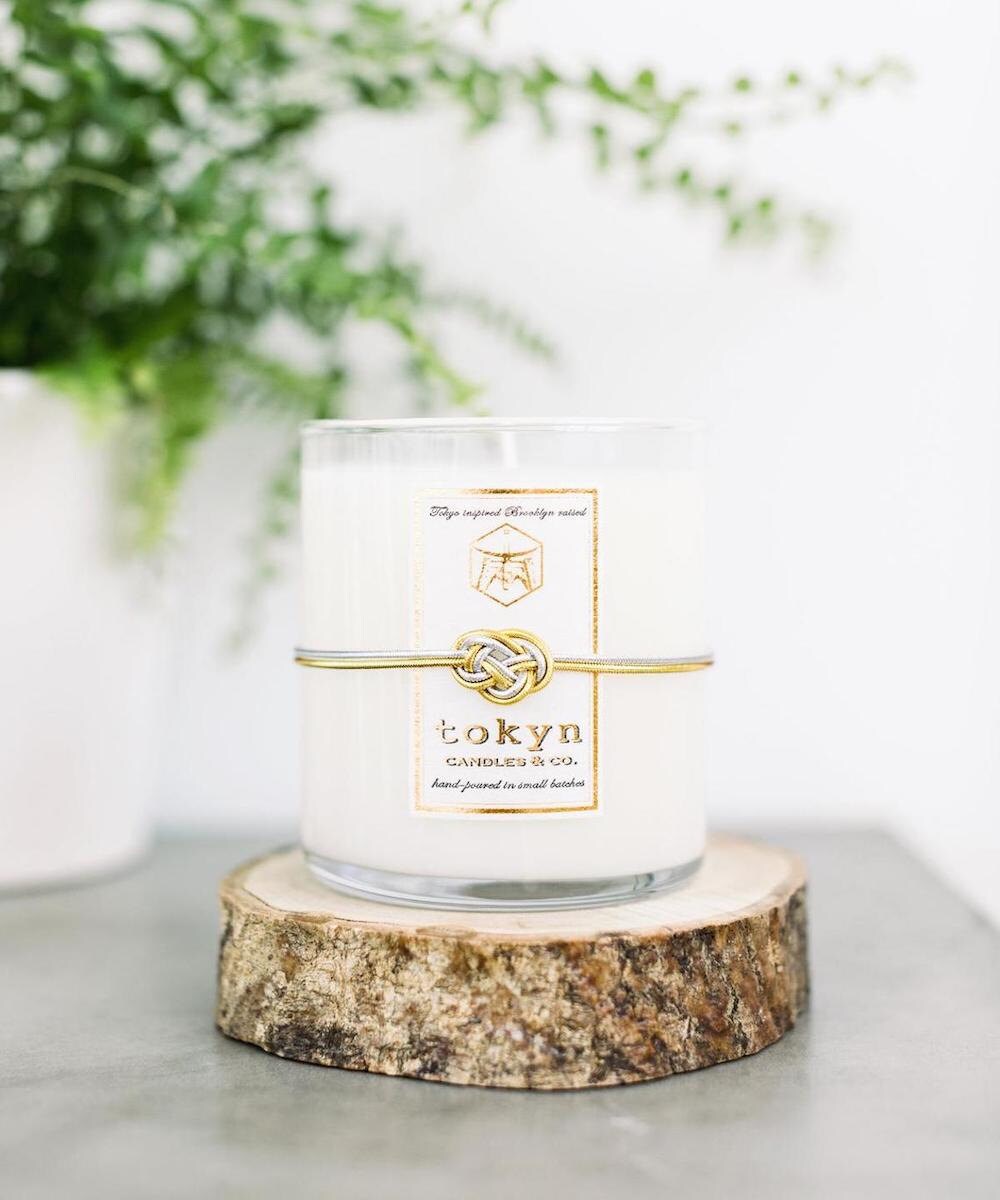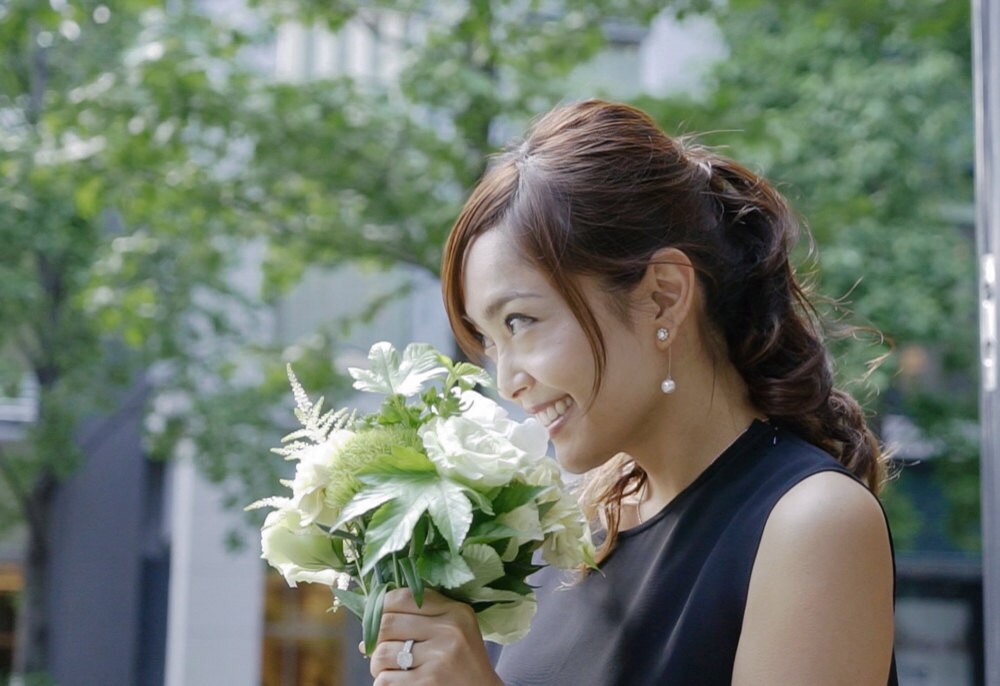 Where do you turn for inspiration?
One of the great things about traveling back and forth between cities is being able to see things with fresh eyes, from the design of the buildings to the way people dress. When I go back to Japan, I notice the difference in the culture and the fashion—I'm constantly fascinated by everyone's creativity. My candles are my outlet for that.
What's your favorite part of the job?
I enjoy the process of candle making so much, and connecting with the people who purchase my items. The fact that customers enjoy something I've concocted from beginning to end—that's what really keeps me going.
Follow Tokyn Candles on Instagram and Facebook.
Photographs courtesy of Tokyn Candles.