See how the artful cutting boards, candleholders, and cake displays from this talented woodworker set a new standard for setting the table.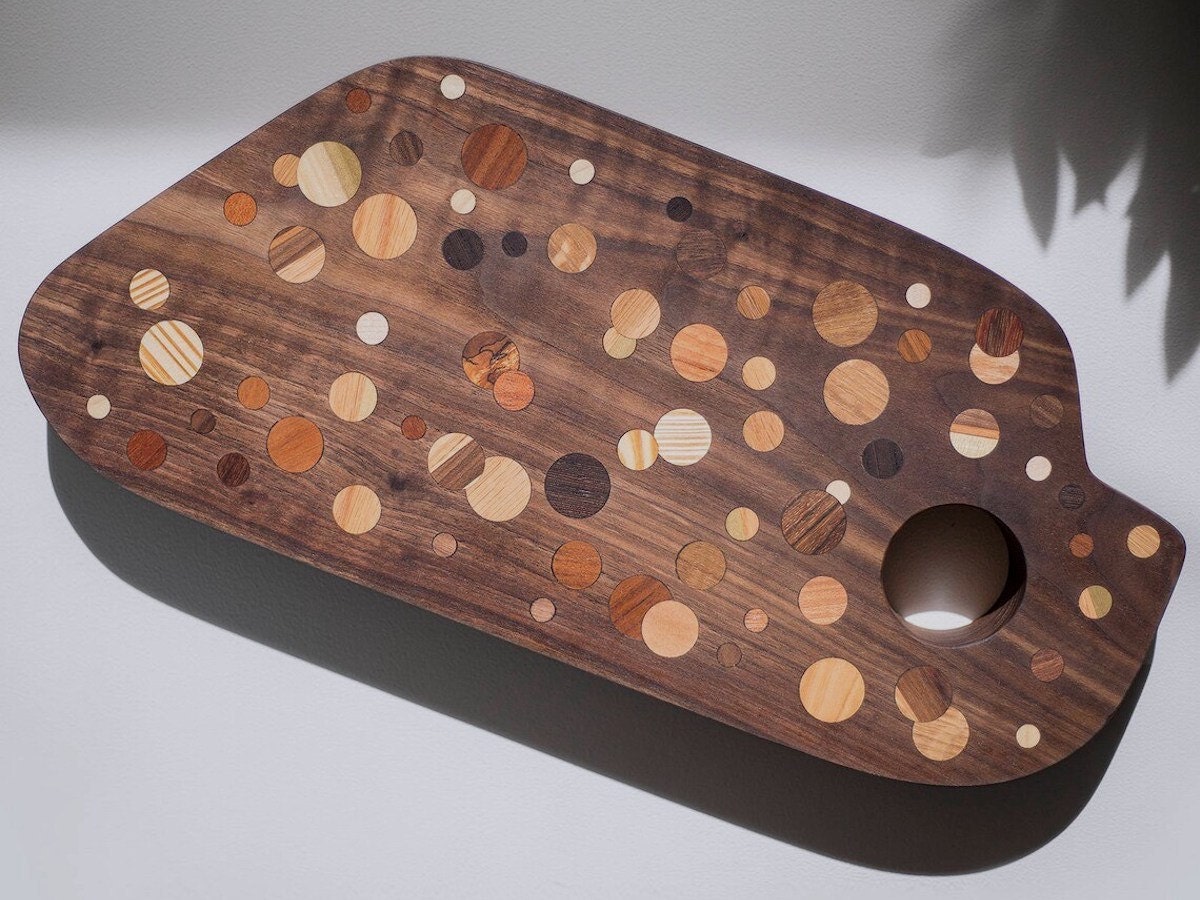 In our Featured Shop series, we shine a light on a standout shop from Etsy's talented seller community, offering readers a behind-the-scenes look at their process and story.
Picture it: The places are set, the candles lit, the cheeseboard arranged just so. When you're hoping to host an unforgettable evening, it all starts with setting the table. And that's where the wonderfully unique wooden wares from Untitled Co come in—to take your tablescape to the next level. From sturdy sculptural candlestick holders to mesmerizingly designed cutting boards, shop owner Cody Hughes has handcrafted a collection of heirloom home goods that make every meal a masterpiece, whether you're whipping up a solo Sunday snack plate or prepping for a festive celebration.
And while modern art serves as a major source of inspiration for the Philadelphia-based woodworker and
2022 Etsy Design Award finalist
—today he's interested in making pieces that can not only be collected and appreciated, but also used and loved. "For me, it's about blurring the lines between art and design," he says. "I want people to have that beautiful thing and bring it into their world. I want them to create memories, and pass that object down to family members, and have it become this special little footnote in their lives."
Read on to learn about Cody's process, which includes repurposing wood scraps from local shops, and to get his tips for styling, gifting, and caring for wood. Then shop the full Untitled Co collection.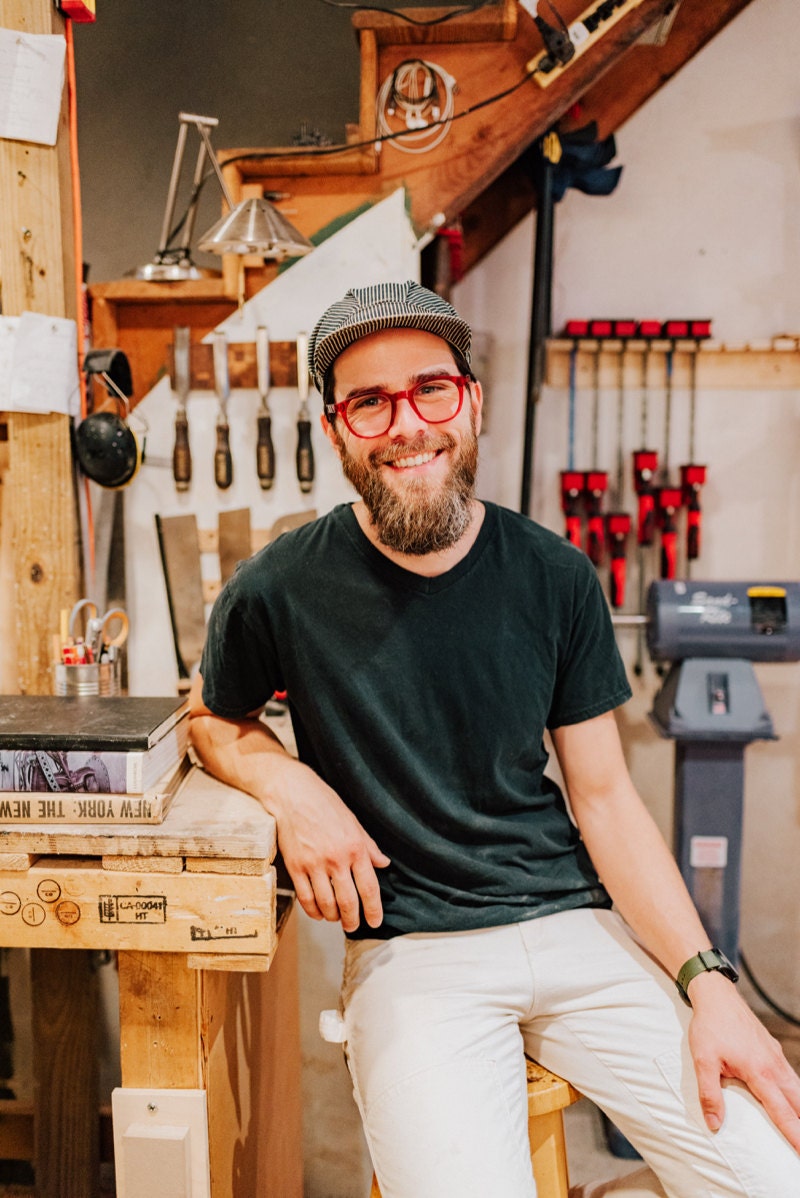 How did Untitled Co start?
It happened organically. I studied sculpture at Pratt Institute in Brooklyn and was in New York for several years afterwards. I was basically trying to become an artist and continue my sculpture degree in the real world, and it was tough. My art practice at the time involved a lot of reclaimed material I would salvage and repurpose. I'd let the material do its thing, and it would turn into a cutting board or a serving board or a little geometric air plant holder.
At one point, I went to a maker's market and felt really inspired, so I signed up and brought all my stuff there for the weekend. That's when it kind of clicked in my brain that I had stumbled upon my product line. And it checked all the boxes, and gave me the satisfaction I wanted from creating artwork and bringing it to other people.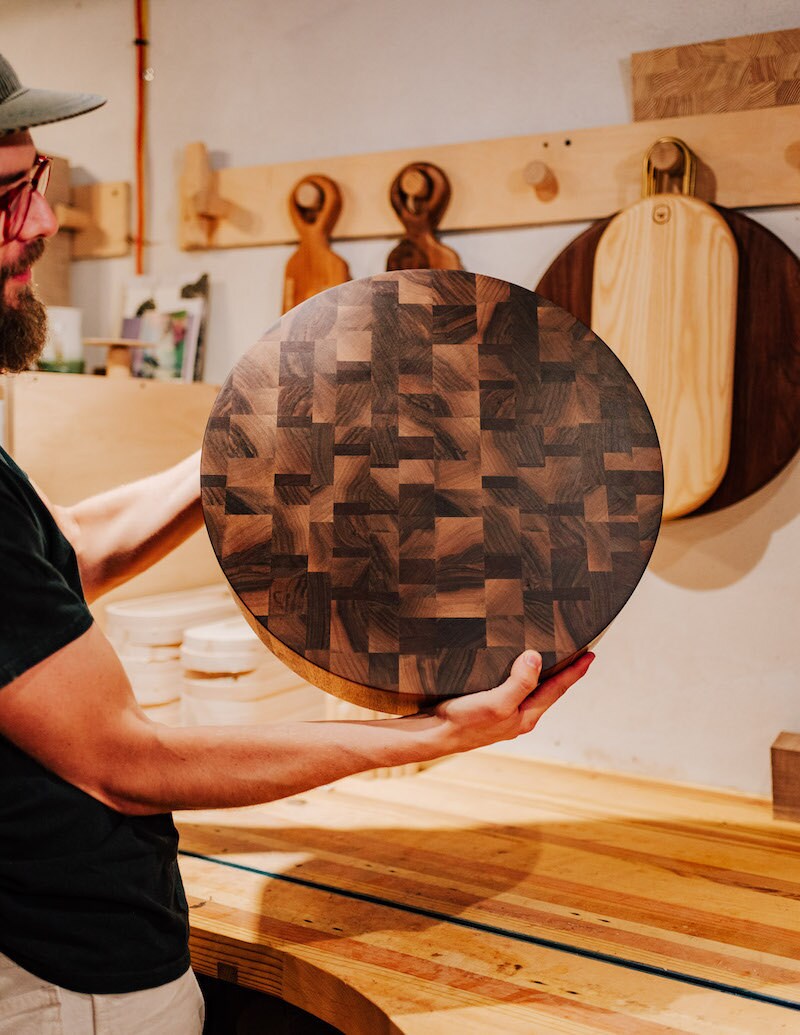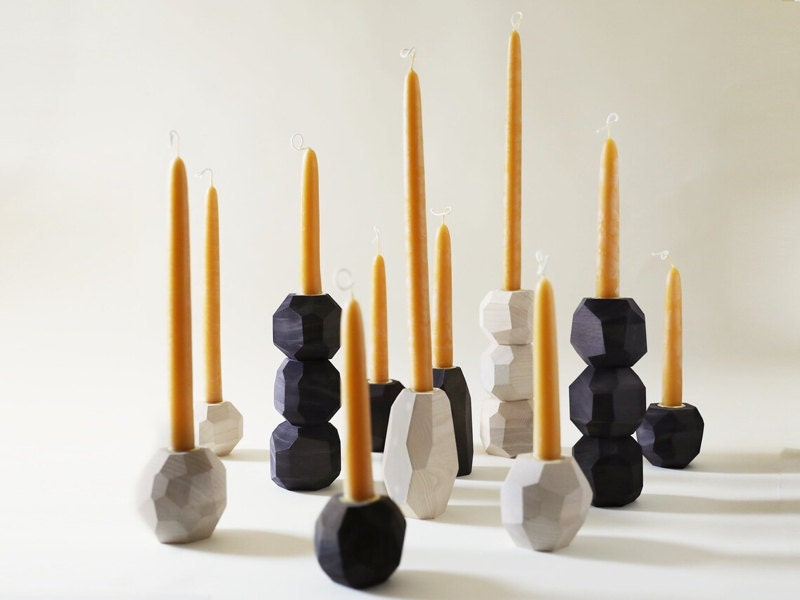 SHOP: Geometric wooden candleholders from Untitled Co, from $25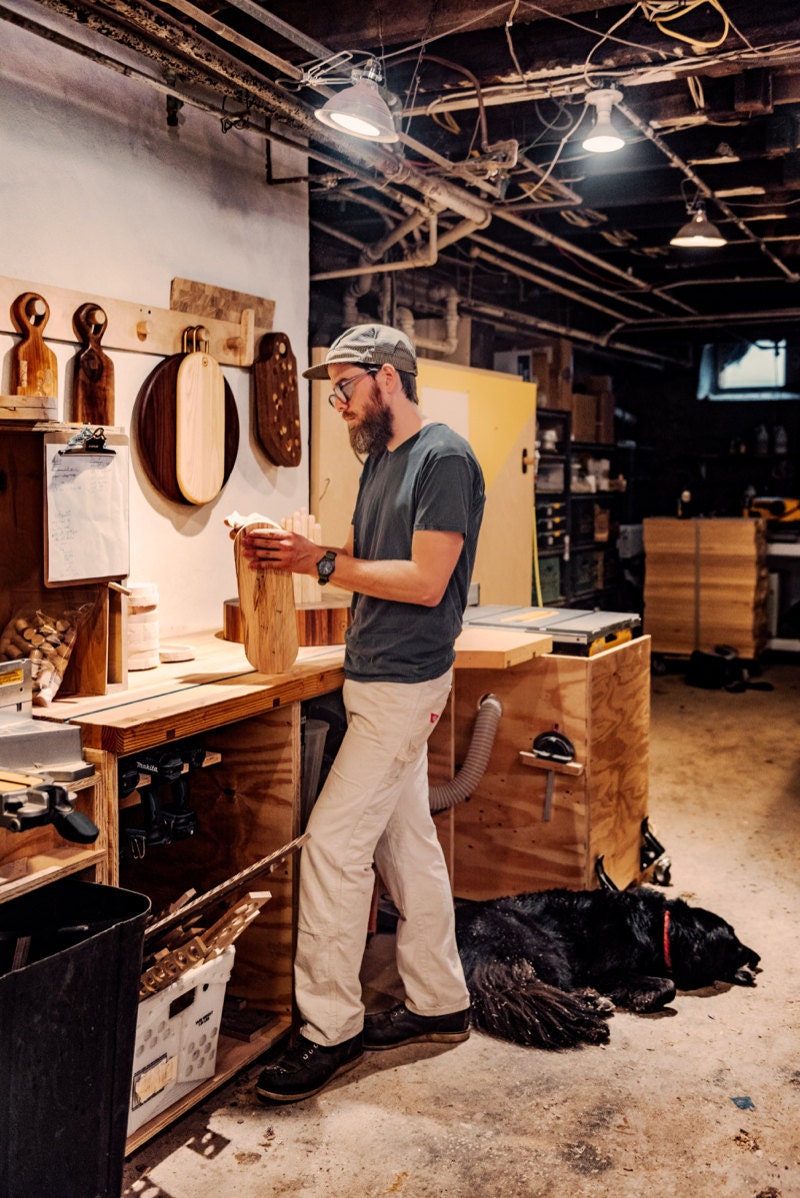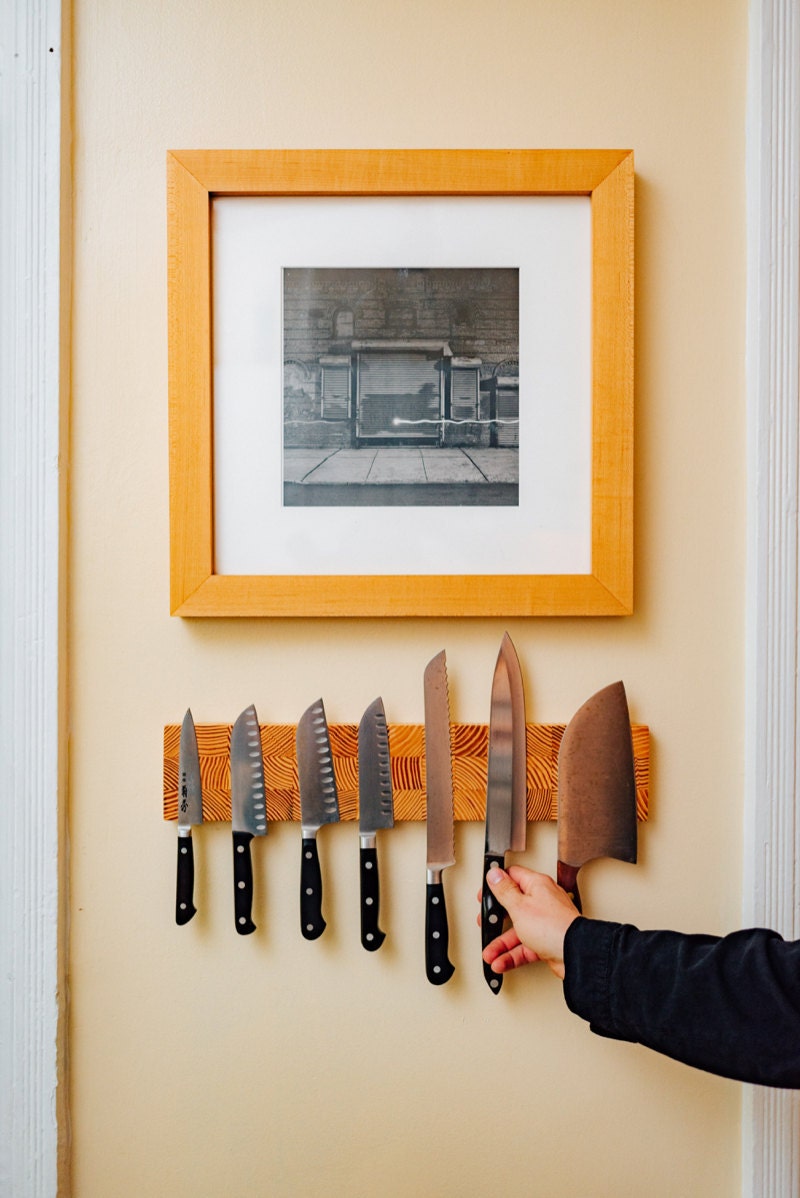 SHOP: Wall-mounted magnetic knife holder from Untitled Co, $220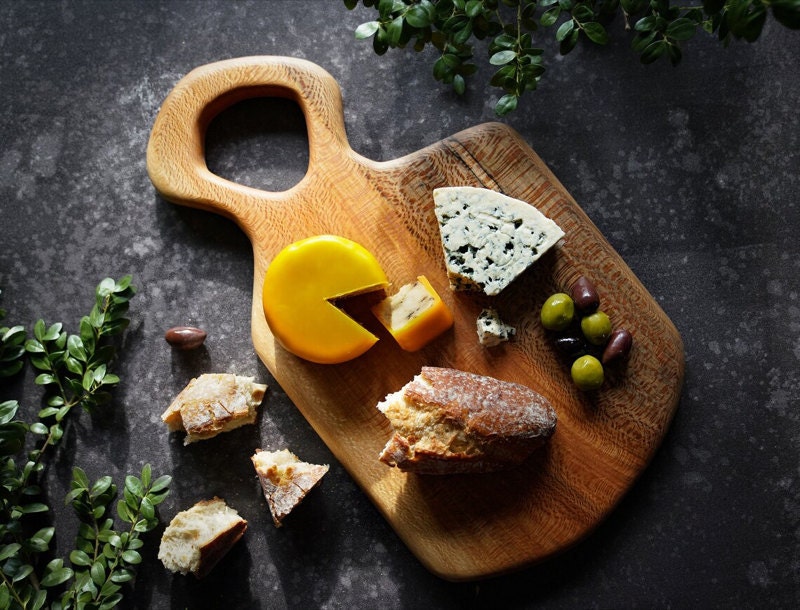 SHOP: Organic-shaped serving board from Untitled Co, $115
Can you share more about the meaning behind your shop name?
Untitled Co is a nod to the artists of the '60s who were making profound works of art, but then not associating a name or a title to the thing. And then beyond that, all of the products I make are inspired by the specific artwork or a body of work from those artists. So we're tying those two concepts together and bringing it back to where it all started.
What are some of your bestselling items?
The air plant holders are a big seller. We make them in a lot of different types of woods. I think people really gravitate toward being able to mix and match them, and get different air plants that work well with the different wood shades. The Jasper cutting board and the Yayoi cutting board are also big sellers. I think those are just unique, special items that people don't really see elsewhere.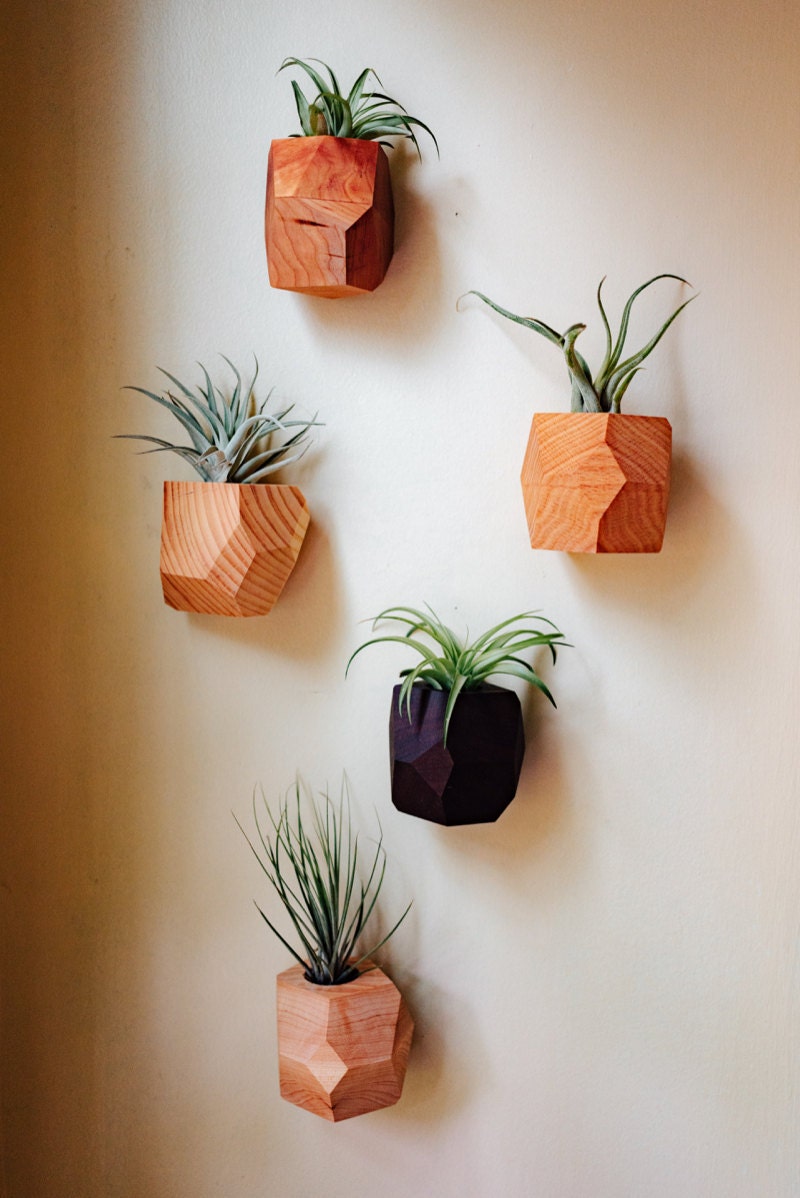 SHOP: Geometric wooden plant holders from Untitled Co, from $24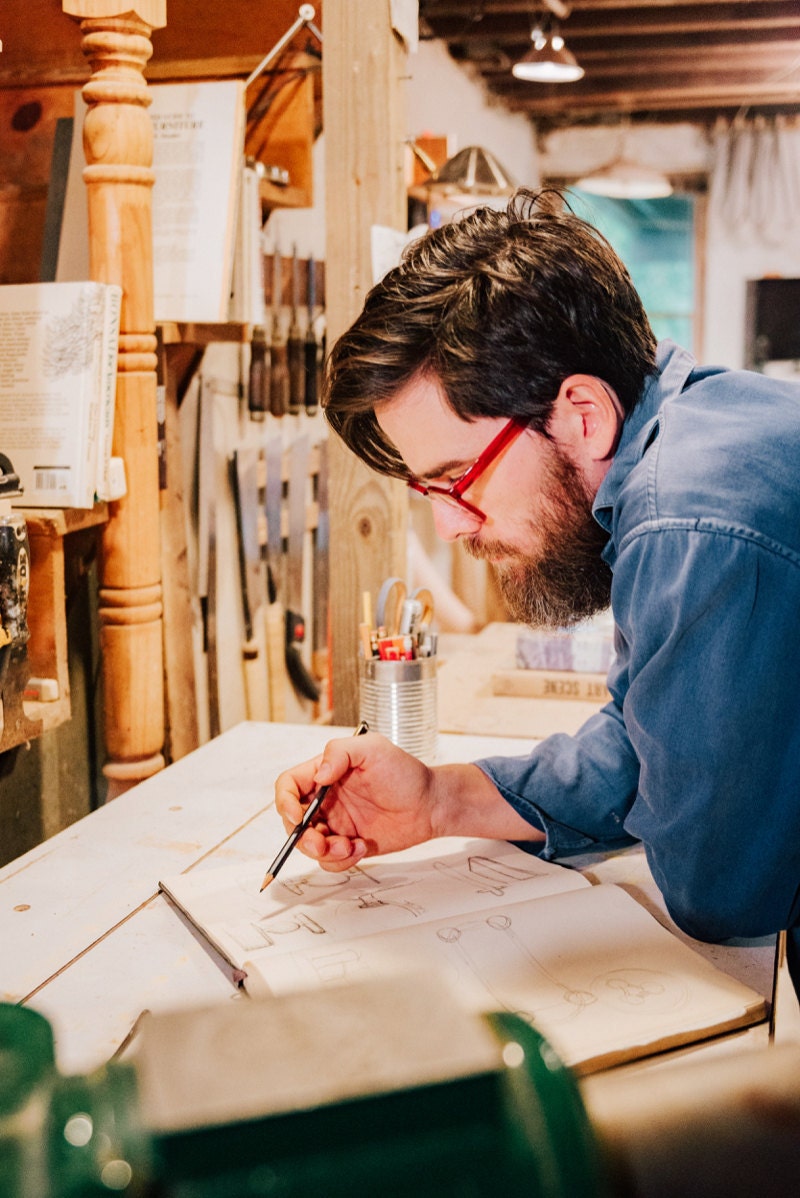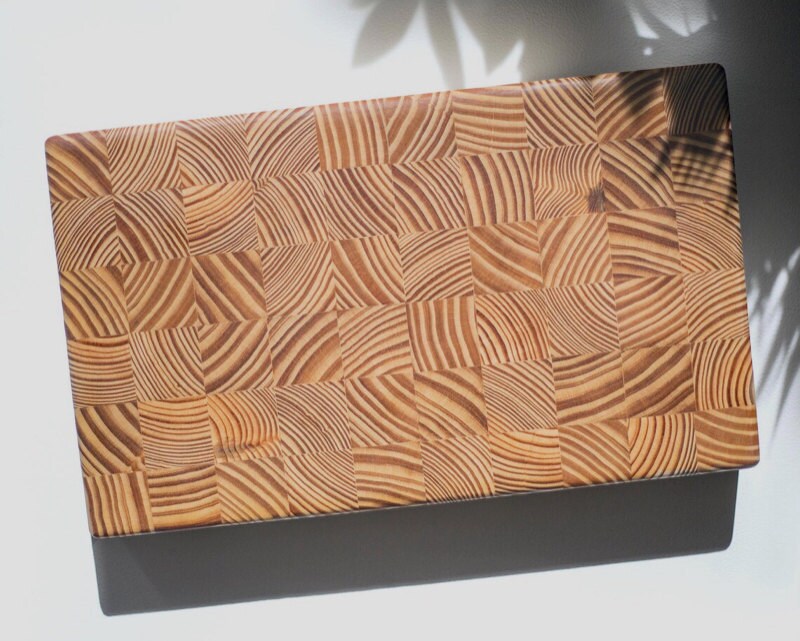 SHOP: Yellow pine cutting board from Untitled Co, from $143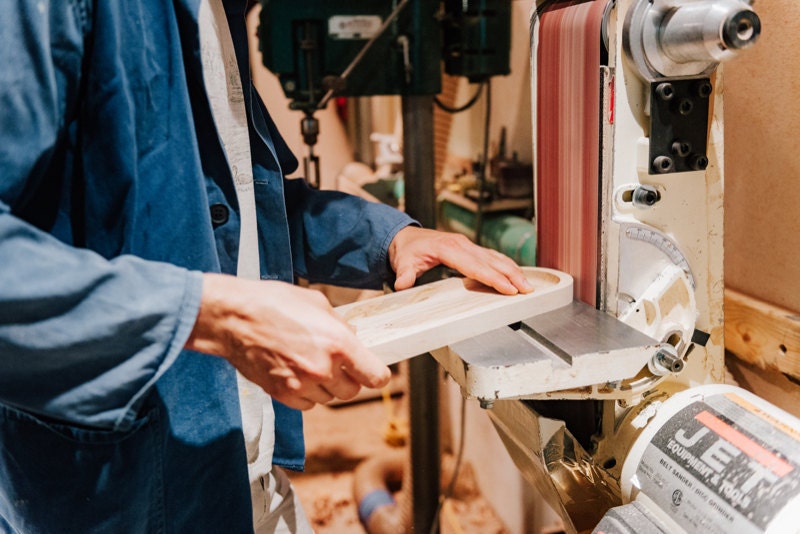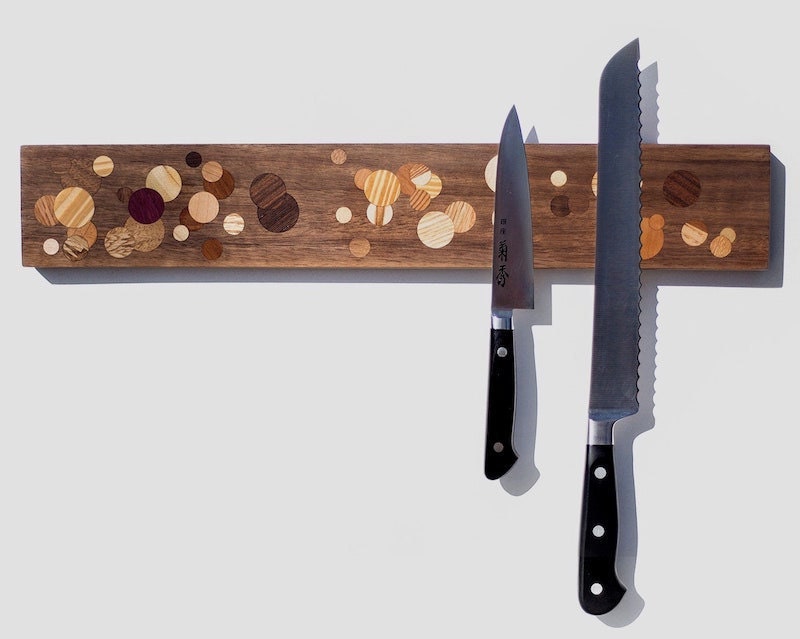 SHOP: Polka-dot inlay magnetic knife holder from Untitled Co, $220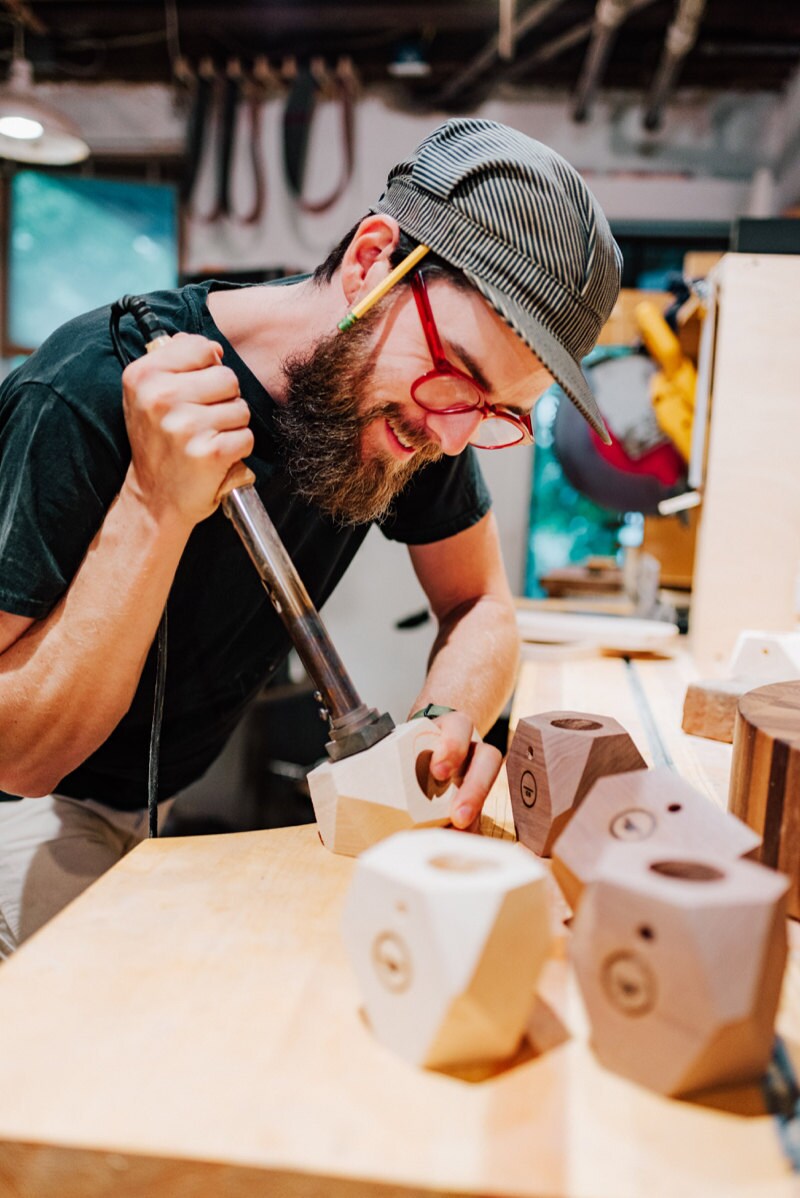 Any tips for styling your items or using them for holiday entertaining?
Whenever the holidays come around, I always think about the candlestick holders. Those are just so nice, whether you use one or two, or 10 and have them in all one color, or a mixture. The more special cutting boards are also really fun conversation pieces to get people talking about supporting local businesses, and the serving boards are great for charcuterie spreads. They're also really perfect gifts. We sell a lot of them as wedding gifts and around the holidays.
Any other gift recommendations?
The rolling pin is a great gift. It's not a traditional rolling pin—it doesn't have handles and a wheel that rolls—it's just a simple cylinder that's slightly tapered on either side. It's a really versatile tool. In my kitchen, I use it for rolling out pastry dough, cookies, pizza dough and pie crust, but also you can use it to muddle fruit for cocktails or crush spices for a pasta dish.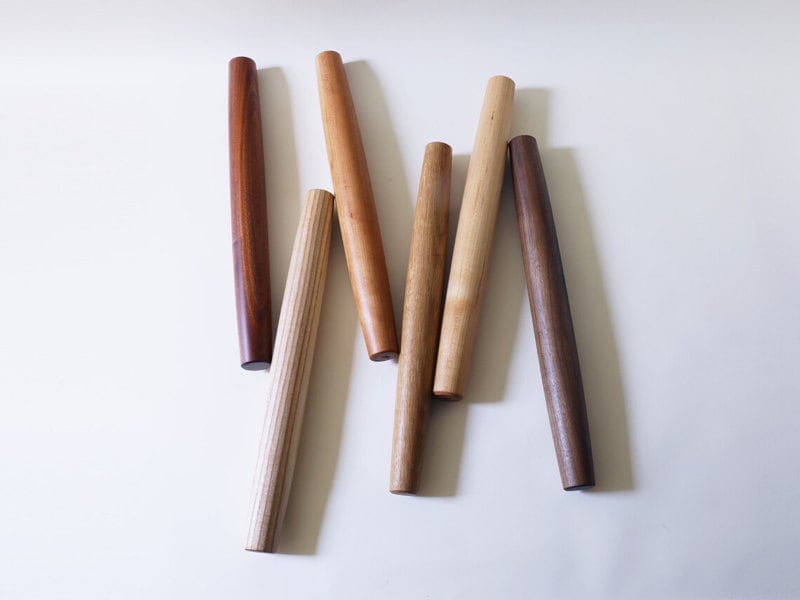 SHOP: French-style rolling pins from Untitled Co, $40 each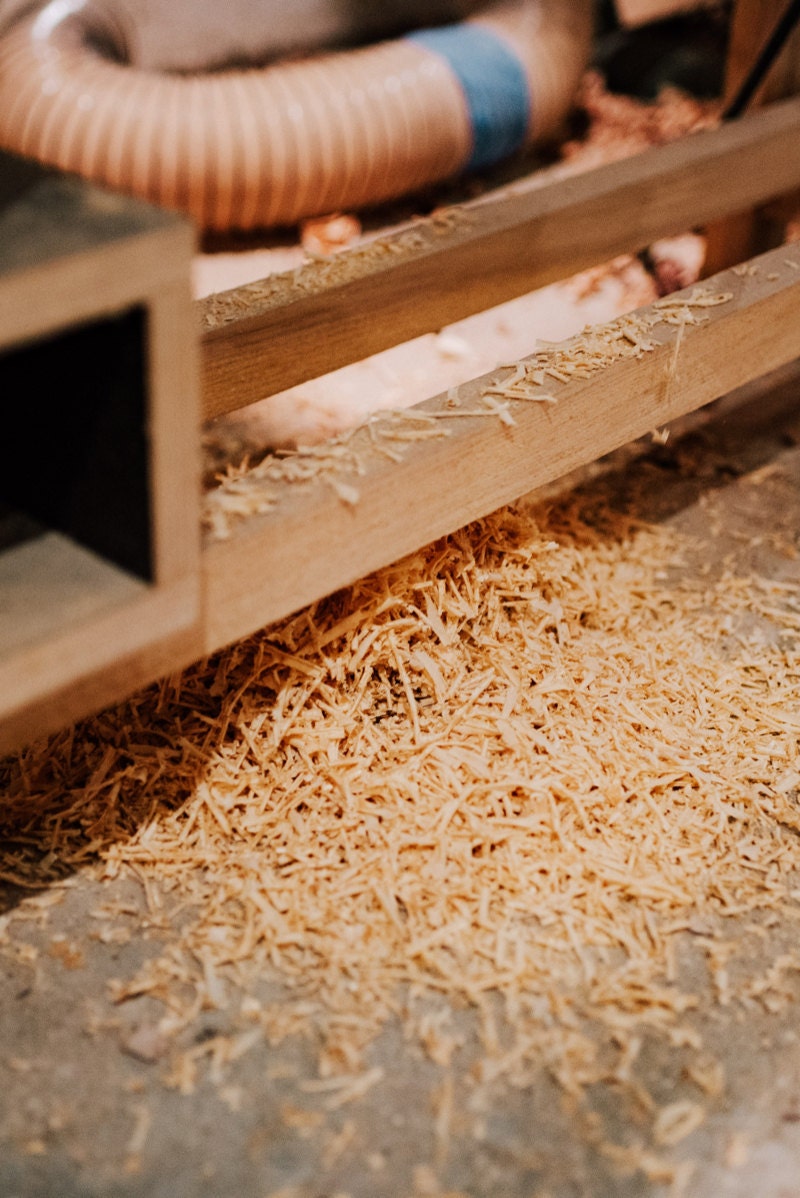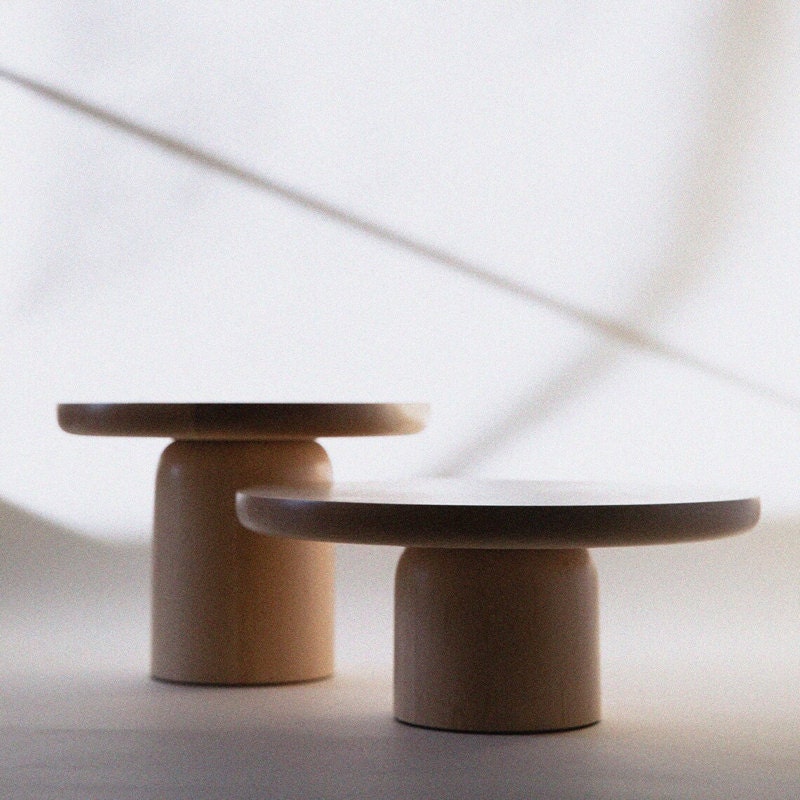 SHOP: Modern wooden cake stand from Untitled Co, from $186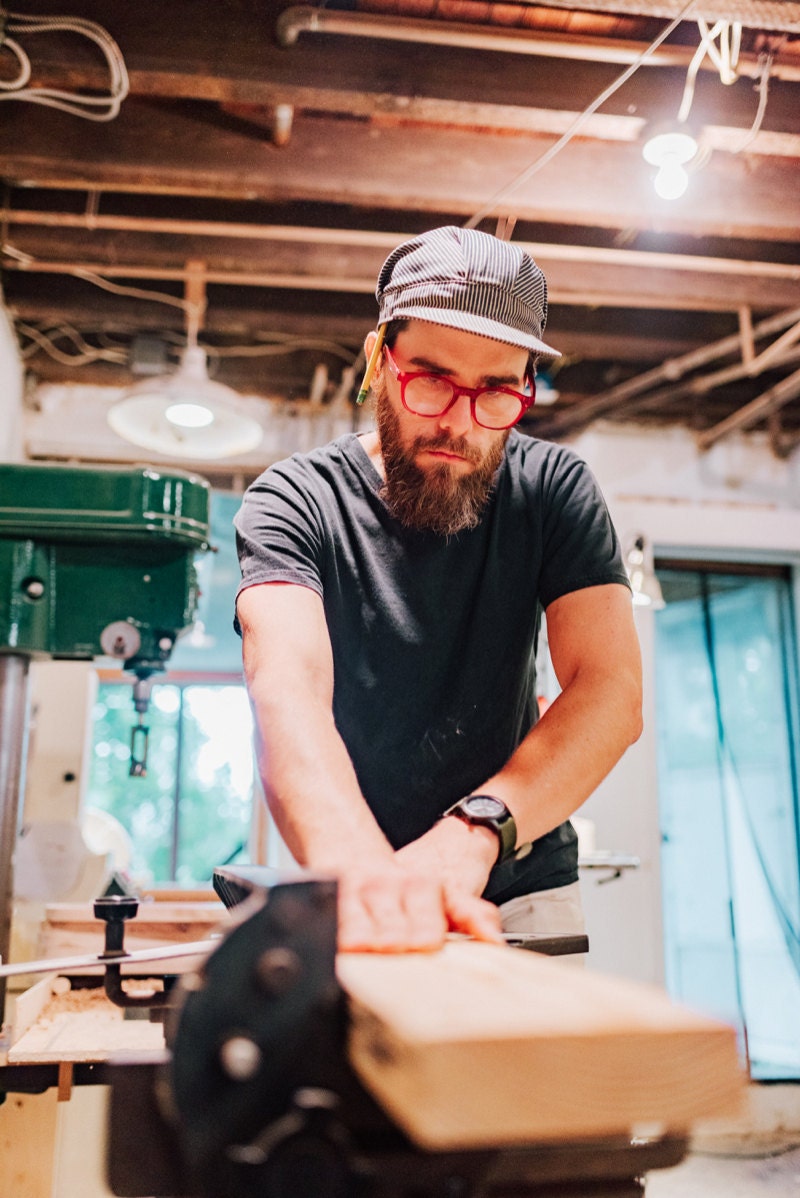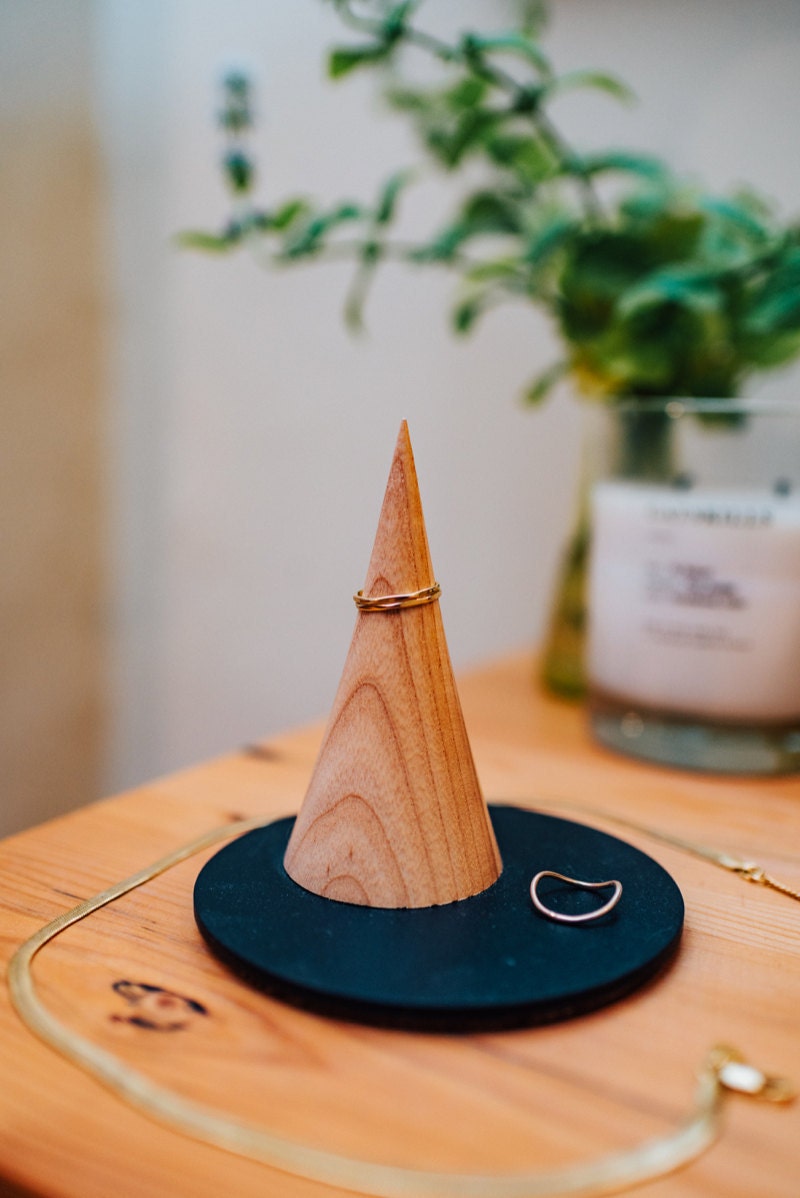 SHOP: Modern wooden ring stand from Untitled Co, $44
Can you share more about the materials you work with? Why wood?
I love nature. It's such a magical thing that trees exist—I don't want to make something that's not worthy of a tree being cut down. Salvaging material is really important to me. Early on, I was dumpster diving and riding my bike through New York; over the years, with our growth and selling more wholesale and just trying to keep up with demand, the idea of reclaimed material has sort of taken on a different meaning. Now instead of dumpster diving, I'm working directly with sawmills and sawyers to get things so that we're not wasteful.
What inspires your design aesthetic, and how would you describe it?
When it comes to my aesthetic and my design sensibility, I like the idea that I'm using reclaimed materials, but it doesn't have that rough rustic look to it. I really love modern design. I like really simple lines. I think really good design is just, less is more. I try not to have things be blocky and heavy. Wood can be such a soft and luxurious material. There's a lot of curvature and radiuses and circles and just soft moments that are really beautiful in wood.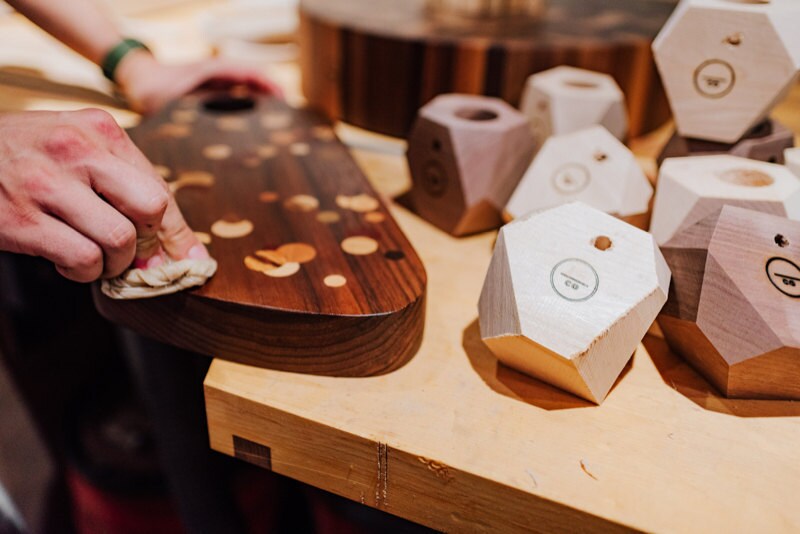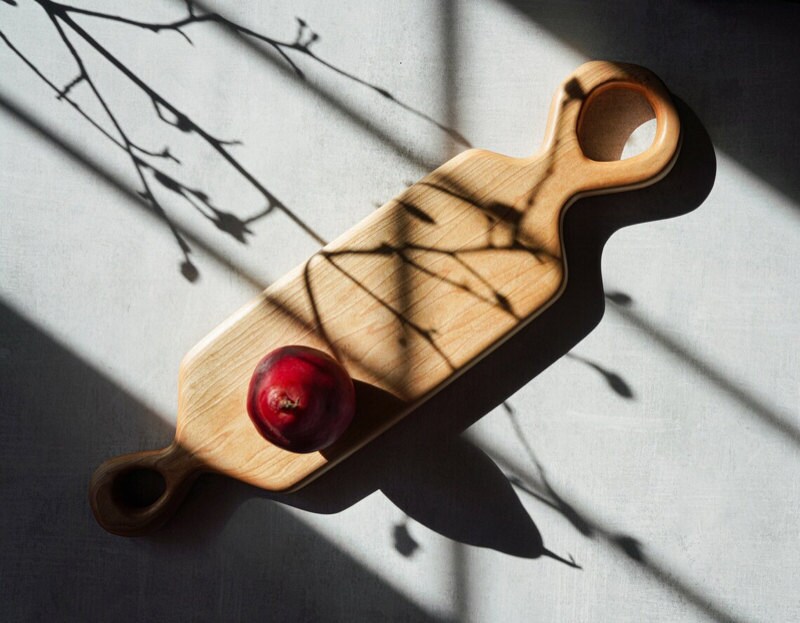 SHOP: Organic-shaped wooden serving board from Untitled Co, $100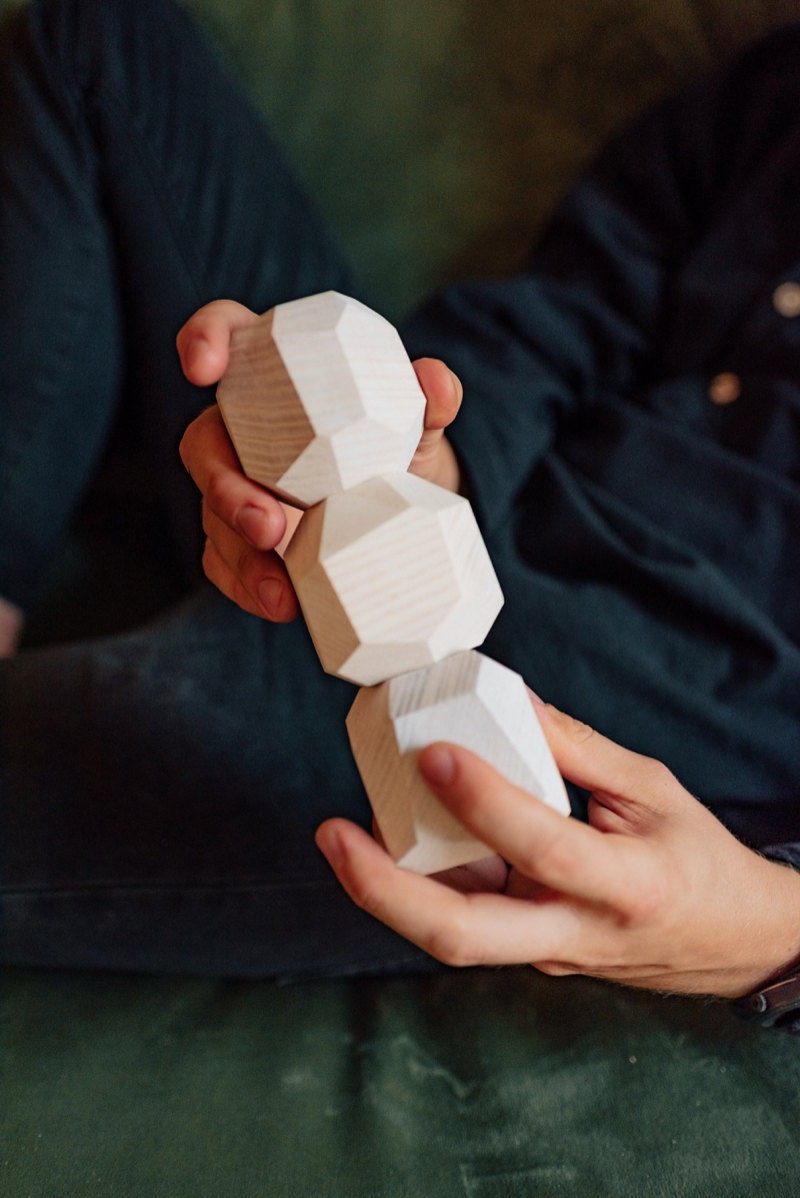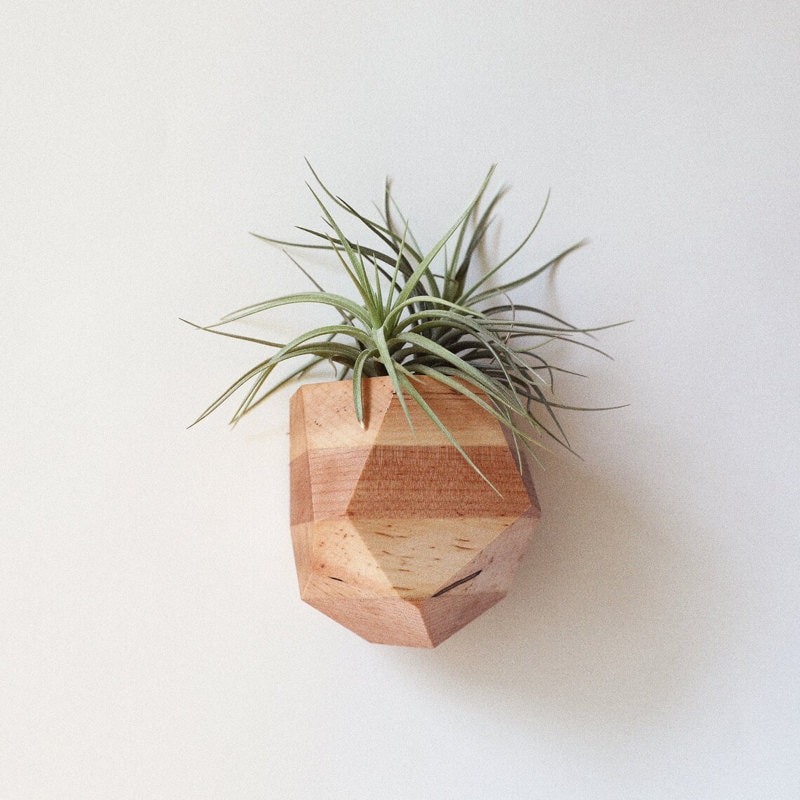 SHOP: Maple geometric air plant holder from Untitled Co, $28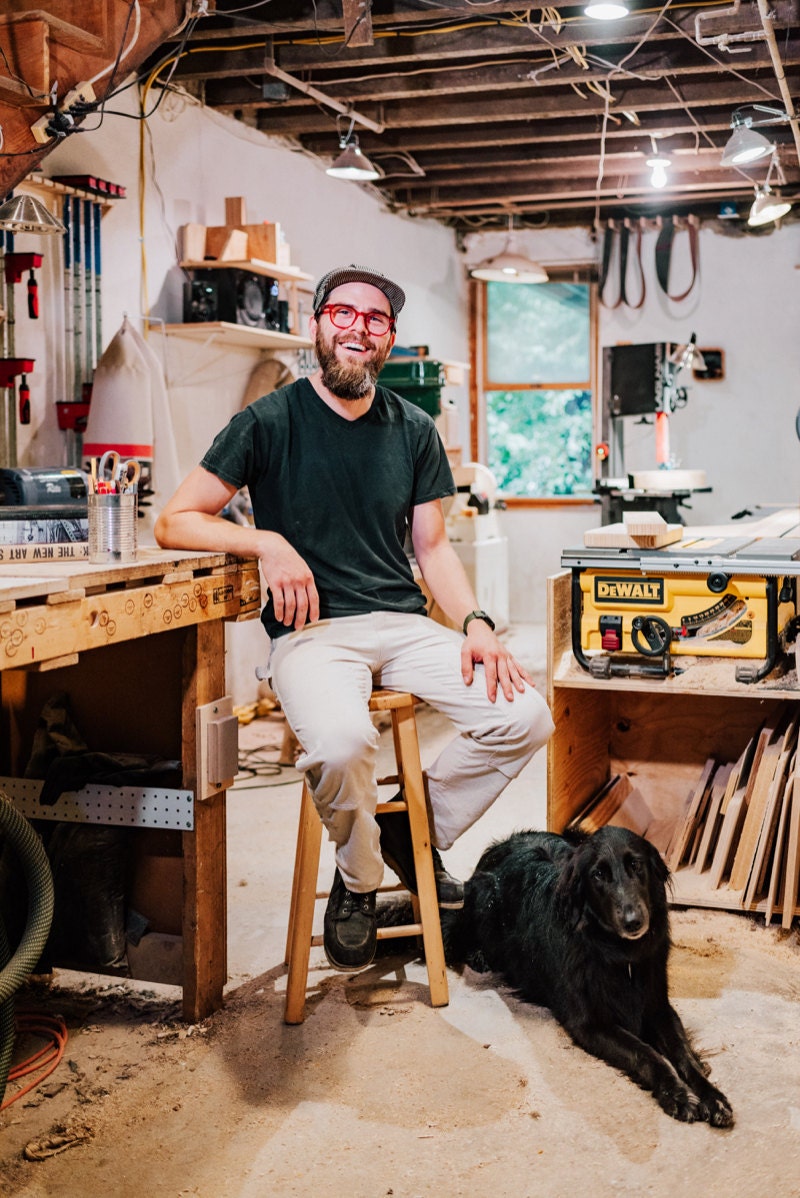 Do you have any favorite pieces?
The Jasper cutting board is one of my favorites. I've made so many of them, and it's probably the one product that requires the most sanding. If you talk to any woodworker, they'll tell you how much they despise sanding. I'm no different—I despise sanding—but it never gets old, staring at a board, sanding it, taking my time, listening to a good album and just getting totally hypnotized by what the wood is doing.
How should people care for your items to make sure they last a long time?
So, you want to get a natural wood oil, a food-grade oil, and apply it whenever you use your wood items. Something I always tell people is you can never over-oil a cutting board (or rolling pin or a serving board), but if the wood dries out and it cracks, you can't feed it oil to get rid of the crack. Another tip is to oil new pieces as much as possible: once a day for the first week, every other day for the next two weeks, and once a month after that. Get yourself into a little routine where you care for your object, because if you care for it and you're good to it, it'll be good to you and survive for years and years to come.
Follow Untitled Co on Instagram, Facebook, and Pinterest.
Studio photography by Joy Masi. Product photography courtesy of Untitled Co.