by Valerie Rains
Raised in a family of house painters, Lue never expected to follow in her dad's footsteps; fans of her homemade chalk paints are surely glad she did.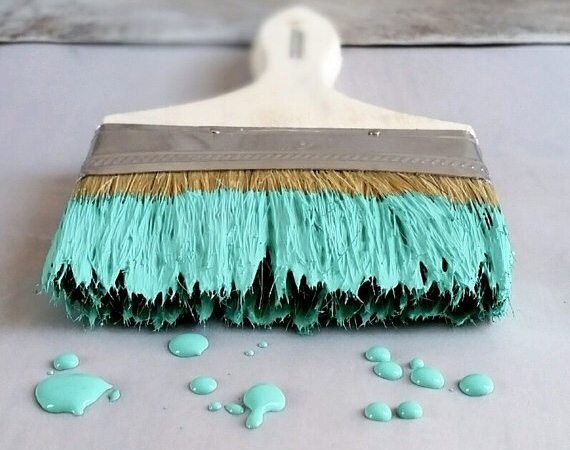 In her middle school and teenage years, rolling out of bed early on Saturday mornings to paint houses with her dad was not exactly Lue Patterson's idea of heaven. "My dad and my brother were running the paint gun, and I was painting baseboards and cutting the ceilings," Lue says. "I was a 12-year-old house painter. It wasn't my favorite thing at the time." Little did Lue know, though, she was actually building, brush stroke by brush stroke, the foundation for her future freedom as a satisfied small business owner. Cut to 2011 — many more weekend mornings (and a full six-year program studying dentistry) later — when Lue found herself disenchanted with her impending dental career and looking for a change. Her answer? Returning to that old, familiar family niche, to become the founder and proprietor of the paint and home accessories shop 
Urban Oasis Decor
. Today, Lue divides her time between interior and exterior paint jobs in Arizona, where she lives, and mixing up custom batches of chalkboard and
chalk-finish paints
at her dining room table to send to customers all over the world. And she couldn't be happier about it.
To learn how Lue transitioned from reluctant junior painter to proud "paint brewer," read on.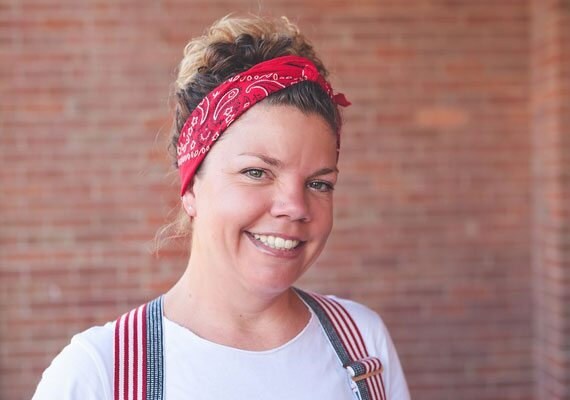 You've been painting practically forever, but when did you decide to start making your own paints? 
It was at a craft show here in Scottsdale, Arizona, where I was first introduced to 
chalk paint
. When I saw that a quart of it was selling for $34, the light bulb went on. I was like, I can make this, and I can make the packaging cuter. I already had an Etsy shop where I was tinkering around with selling vintage home wares, so it was natural for me to start out on this platform.
How did you know that you were going to be able to make your own paint? Did your dad do that, too? Was there much of a learning curve for you?
My dad did not make paint, and I had never made paint before, either. It was just one of those things — I thought, if it can be done, I can figure out how to do it. That evening, I started Googling chalk paint: What makes it chalky? Is it a water base? Then I started mixing stuff. The beginnings were horrible — super lumpy. I was using the wrong product and I wasn't using a blender yet, so I was mixing the paint with my hands. Looking back on it, it's hysterical. But I evolved my process, came up with my secret powder blend, and my recipe was born.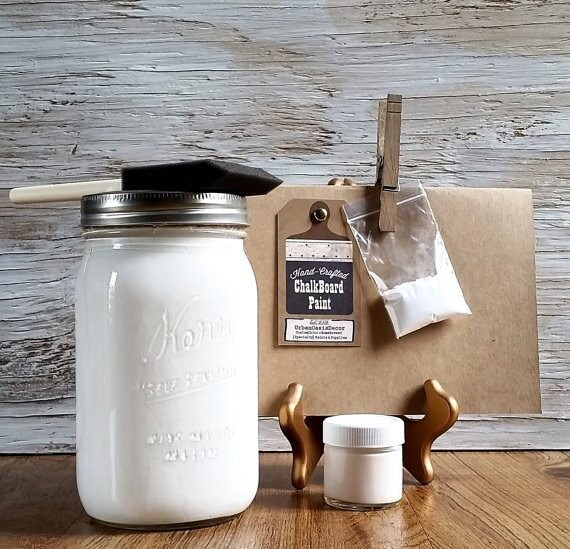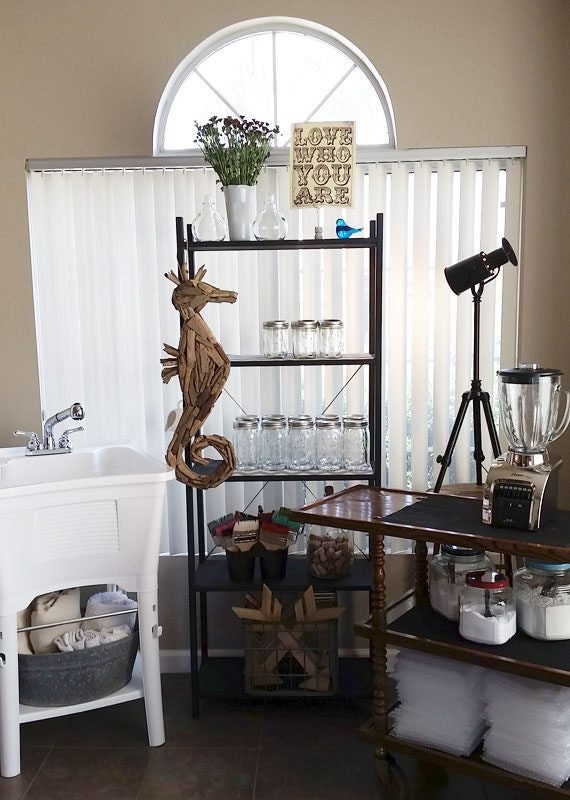 Why chalk finish and chalkboard paints, specifically? 
I was drawn to the distressed look of furniture that chalk paint gives you. Not so much the shabby chic look, but I love vintage surf, and the advertisement styles of the '20s through the '50s — especially alcohol ads. I've also always had an interest in beer making, so I basically melded my lifelong interest in beer making with my painting know-how to become the owner and head paint brewer of Urban Oasis Decor.
Where do you do your paint brewing? What's the most important tool in your workshop?
All I really need to work are a sink and an electrical outlet — and my blenders, of course. Most of my work, I do in what used to be our formal dining room: It's pretty much been changed into a paint brewery. That's where I blend the paint, jar it, label it, bubble wrap it, package it, and finish the hand-written letters that I include with every order. Depending on order sizes, it typically takes a minimum of three hours to brew and package a few sales; all my paint is fresh brewed, so it's not made until the order comes in. But most of my time, in the end, is spent cleaning — blenders, brushes, the sink. So much of painting itself is cleaning, too — cleaning and prep work.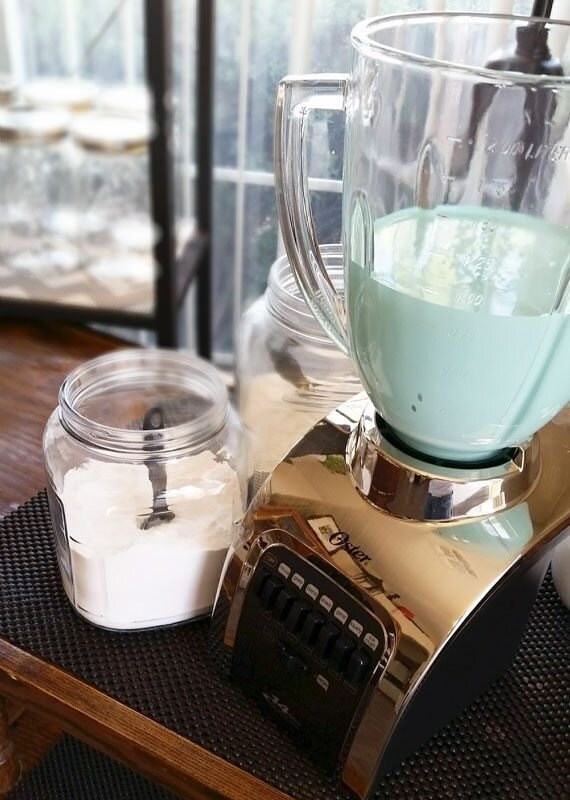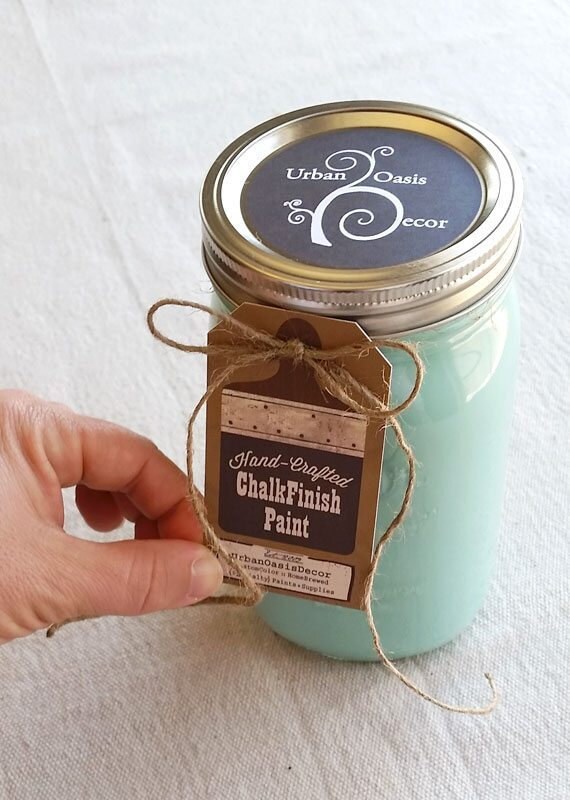 What inspires your color choices, and how often do you release a new shade?
When I was creating the color palette that you see in 
my shop
today, I wanted to stay along the lines of primary colors — so I have a red, an orange, a yellow, a green — but they are all more on the bold side. Then you also have to have white, black and brown. I rarely add new colors, but I do offer custom coloring — otherwise I would have 50 million cans of paint, and that is overwhelming for shoppers. So I keep it simple, and if someone wants some crazy color, I can do it.
Is there one color that's a perennial best-seller?
Definitely my Turquoise Stone. Of course, black, white and gray are always numero uno, but as far as colors go, it's the turquoise. Turquoise takes the cake.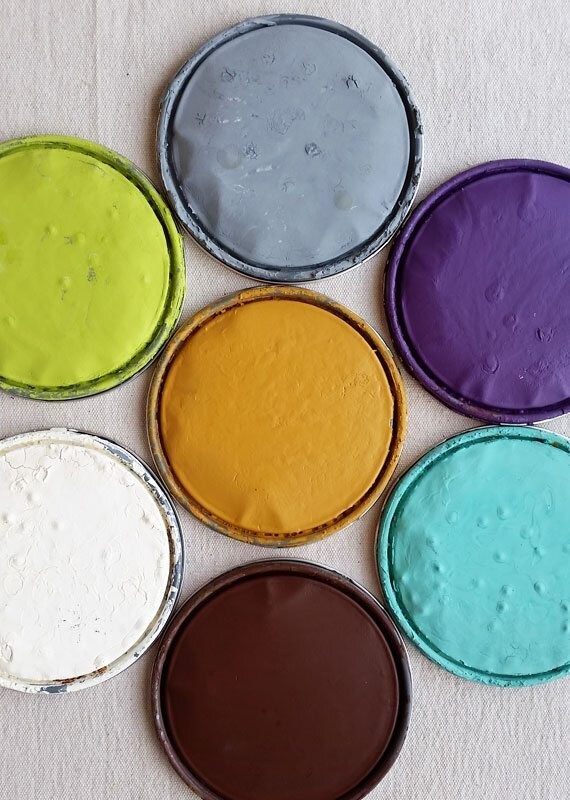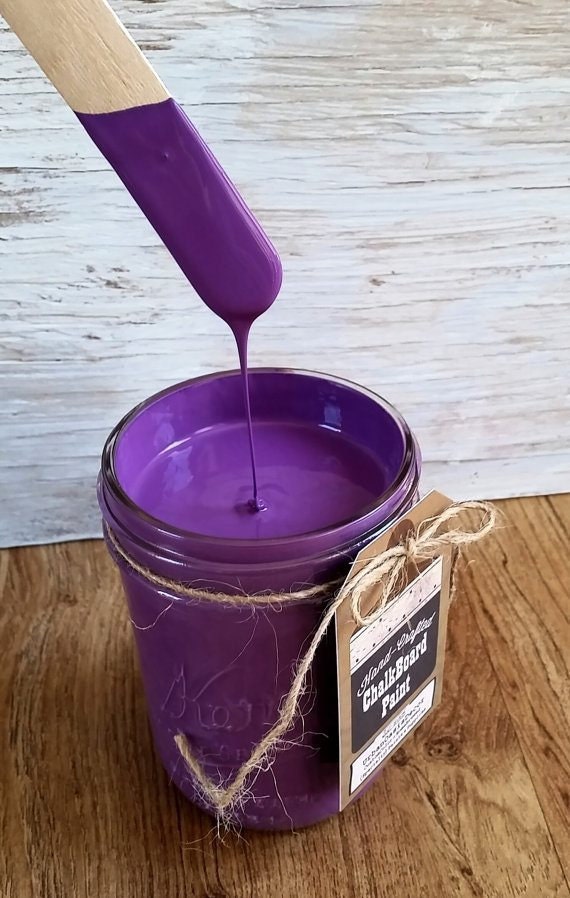 Your packaging and photographs are so beautiful. How did you land on the look your shop has now? 
My Januaries have always been rather slow; last year in January, I decided I was ready to have a cohesive look for the shop and I started searching for ideas. When I saw a magazine ad for coffee that was just a spoon filled with coffee grounds, shot from the front, I was like, "Bingo!" That's what inspired my paintbrush shot. I spent damn near all of January taking pictures of every single color. I think it ended up being just short of 300 pictures taken, edited and posted.
Now that you've nailed your aesthetic, do you have any other big projects in the works? Anything coming up that you're especially excited about?
Yes, I do. Selling paint can be a small market, so I'm working now to broaden my shop's horizons. I really want Urban Oasis Decor to become a wall decor resource for business owners, coffee shops, bars, restaurants, boutiques — and even to branch into the home staging industry. Soon I'll be adding chalkboard painted signs and large-scale, hand-stained and painted wood planks to hang on the wall. And I already have a few new pieces in the shop now, like my hand-painted turquoise 
serving tray
.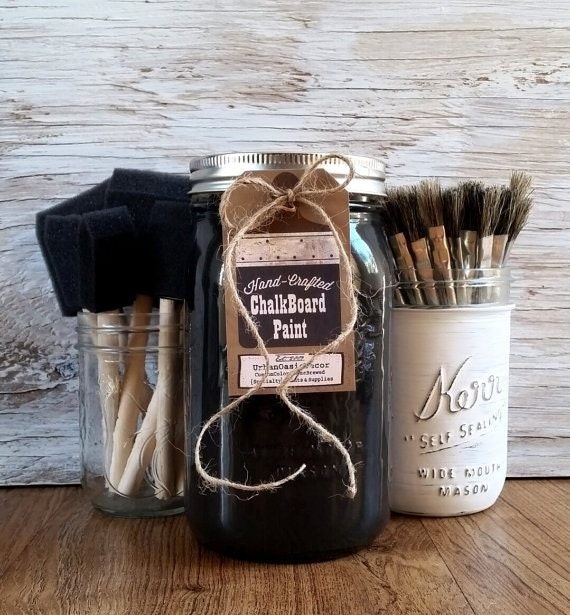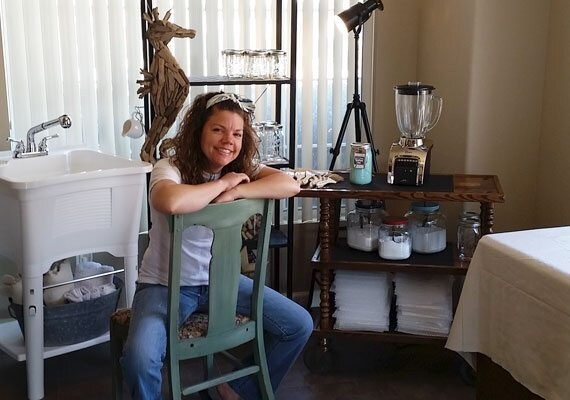 Last one: What's your best tip for painting a perfectly straight line? 
Let your angled brush do the work. A three-inch, all-purpose bristle brush with a wood handle should do the trick.
Keep up with the latest from Urban Oasis Decor on Instagram and Pinterest.  
Portrait by Coleen Hodges; studio and product photos by Lue and Fuzz Patterson.