For this husband-and-wife ceramicist team, inspiration for their produce-shaped pottery is only as far away as the closest farmers market.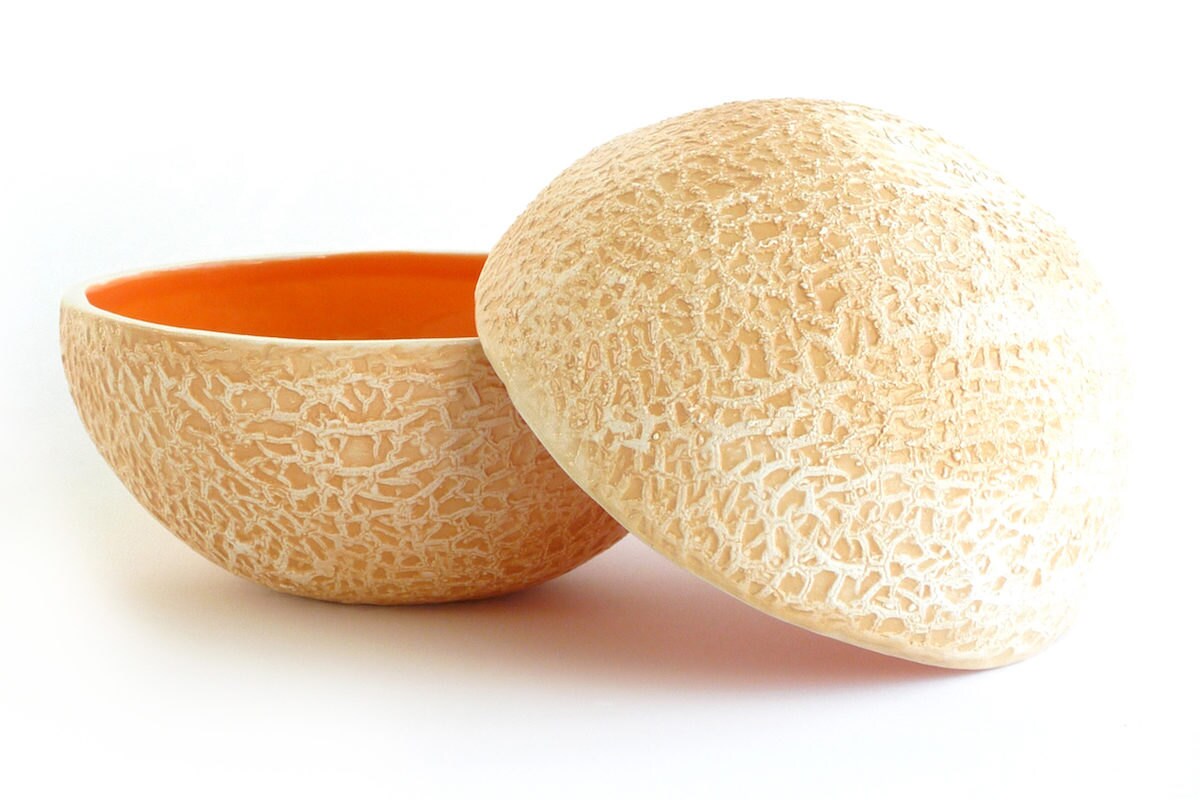 Fresh seasonal produce, friendly local farmhands, free samples—there's plenty for anyone to love about farmers markets. But for Buffalo, NY-based ceramicist Melanie Mckenney, a trip to her neighborhood farmers market is about more than casual grocery shopping or community mingling. As one half of the team behind
Vegetabowls
, a drool-worthy line of functional pottery molded from real fruits and vegetables, Melanie is constantly on the hunt for unique edible finds to bring back to the studio, slather in plaster, and add to the colorful collection she's developed alongside her husband and business partner, Justin. "I get a lot of weird looks at the farmers market because I stand there for a really long time," admits Melanie. "But it's my favorite place to be inspired and get my creative gears going." In addition to digging through bins to find the largest specimens available ("Clay shrinks, so I look for things that are bigger than what people are used to,") Melanie loves getting to know the growers behind the goods. "The farmers at the market are selling the things that
they've
made," she explains. "Being able to connect with the person who made a fruit or vegetable, and then taking it home and making something new from it—it just extends the creative process."
Read on for more from Melanie on all things pottery and produce—and shop the Vegetabowls collection.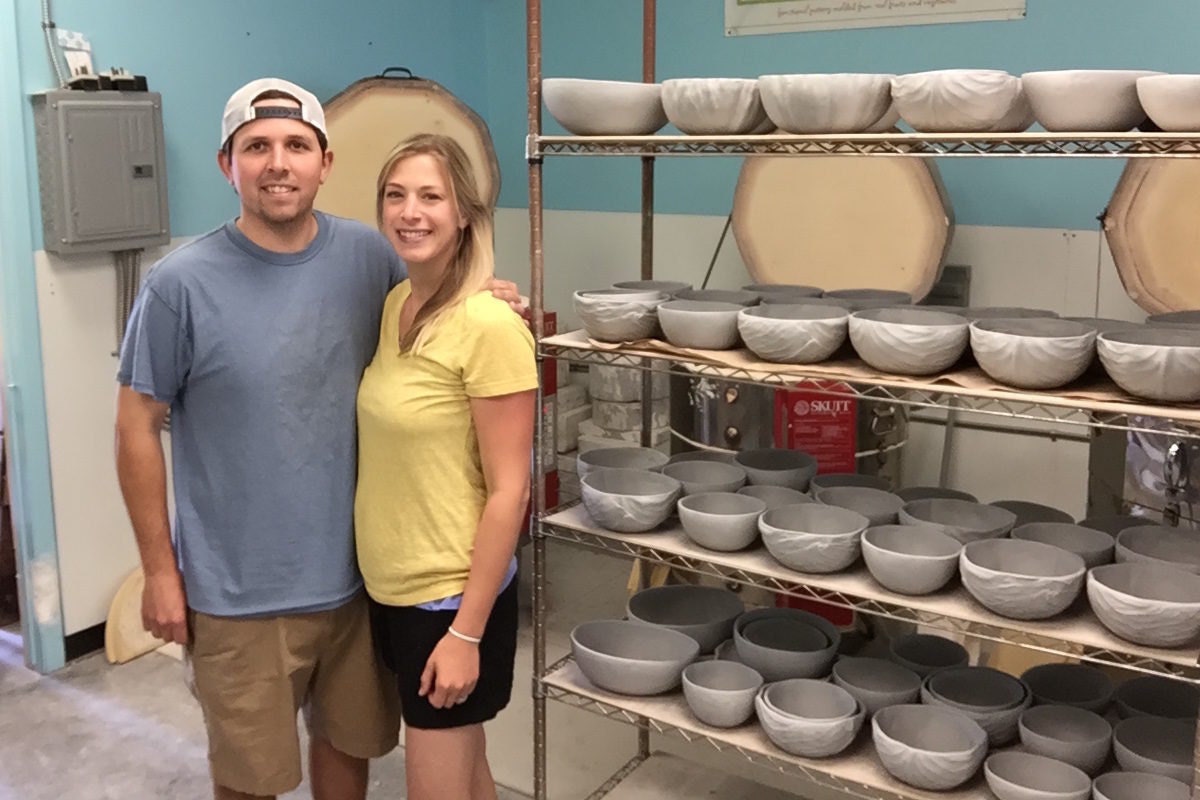 Your pieces are so fun and unusual. Where did the idea for Vegetabowls come from?
Five years ago, I was teaching ceramics in Boston. For one of my lessons, I wanted to show the students plaster mold making and slip casting. I was at the grocery store before class trying to find something I could make a mold of, and I just picked up a
cantaloupe
. It was there, and it had this great texture, and I thought, "This will be perfect for my lesson." I used it for the demonstration and my class loved it. When it came out of kiln, I decided I had to glaze it like a cantaloupe. When I brought it home, Justin was like, "Oh my god, that thing is awesome! You have to make other fruits and vegetables—we'll call them Vegetabowls!" It just came out of his mouth and I thought, "That's the silliest thing I've ever heard." But then I got back to the studio and I was like, "Actually a
cabbage
would be a lot of fun…" So I did a cabbage next, and after that I couldn't stop. Now every time I go to the grocery store I'm supposed to be buying food for my family, but I'm always looking for things to make molds of. We're constantly coming up with new designs.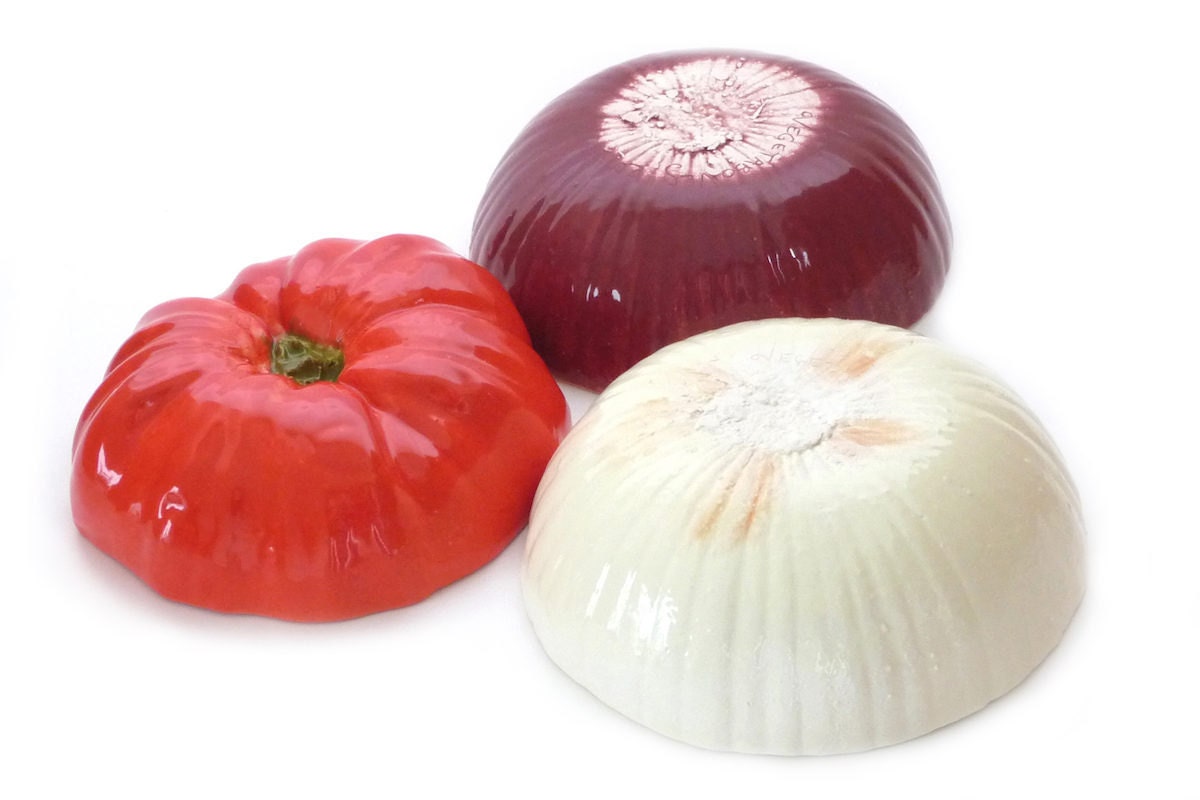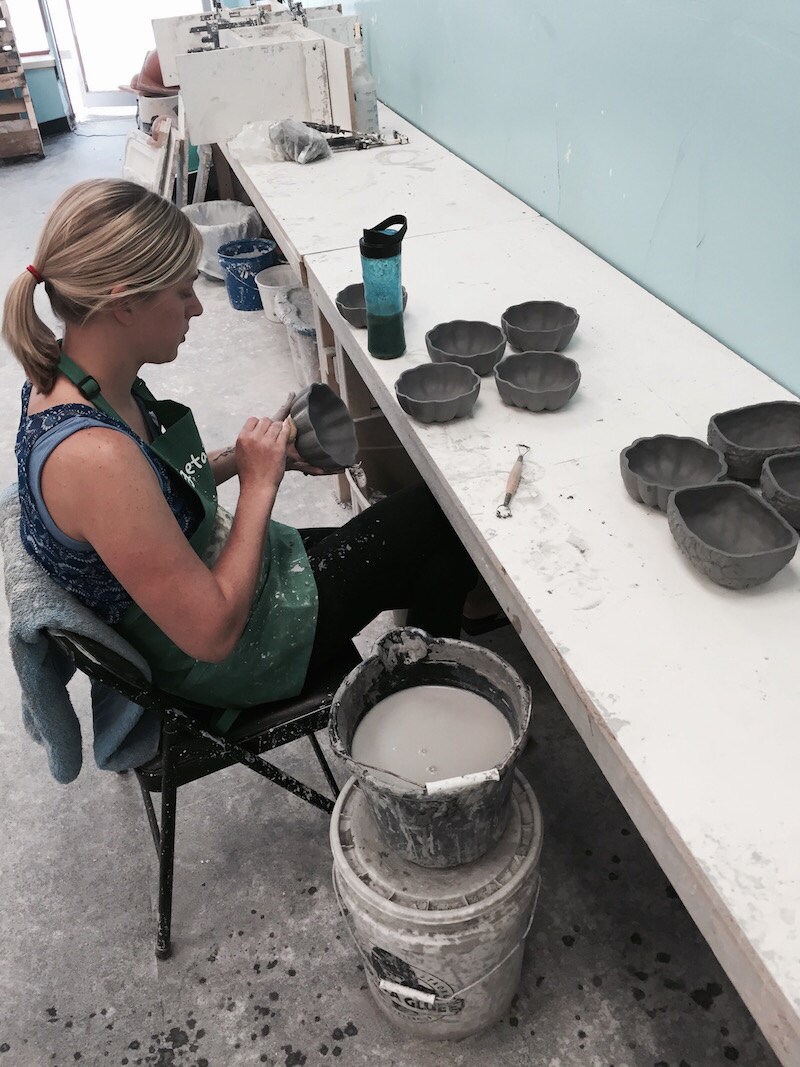 When did you begin selling?
After I started making
Vegetabowls
in Boston, we got married, and Justin got a full ride to grad school in southern Illinois. It was in the middle of nowhere, and I literally couldn't find a job, so I started making more Vegetabowls in our garage and selling them at the local farmers market. I had a great response, so that's when I launched the
Etsy shop
. It was very small at first and then just kind of grew slowly. In 2011 we had our daughter and decided to move back home with my family in Buffalo. The Vegetabowls feedback had been so great that we knew that we had something cool to bring to market. So Justin decided to leave graduate school to pursue Vegetabowls with me—we've been full time ever since.
Tell me about your workspace.
For the first five and a half years we were working out of our basement and our garage—the basement wasn't enough space, and the garage wasn't enough space, so we had to do both. We had all the clay in basement and all the glazing and firing in the garage, so we would bring trays of
bowls
up from the basement and walk them through our kitchen and out into the garage. We managed the best we could, but we grew too big for that situation, so we decided to get a space just up the street from us in a retail store setting. It's a 2,000-square-foot space; we use half of it for production, but we had some extra storefront space we weren't sure what to do with, so we decided to open a paint-your-own-pottery studio. We make plates and bowls and stuff like that, and people come and paint it and then we fire it for them. We call it the
Clay Cafe
. We keep the store open when we're here making
Vegetabowls
, so it doesn't take that much time away from the business. It's pretty help-yourself—there's a woman here with her little baby making something right now.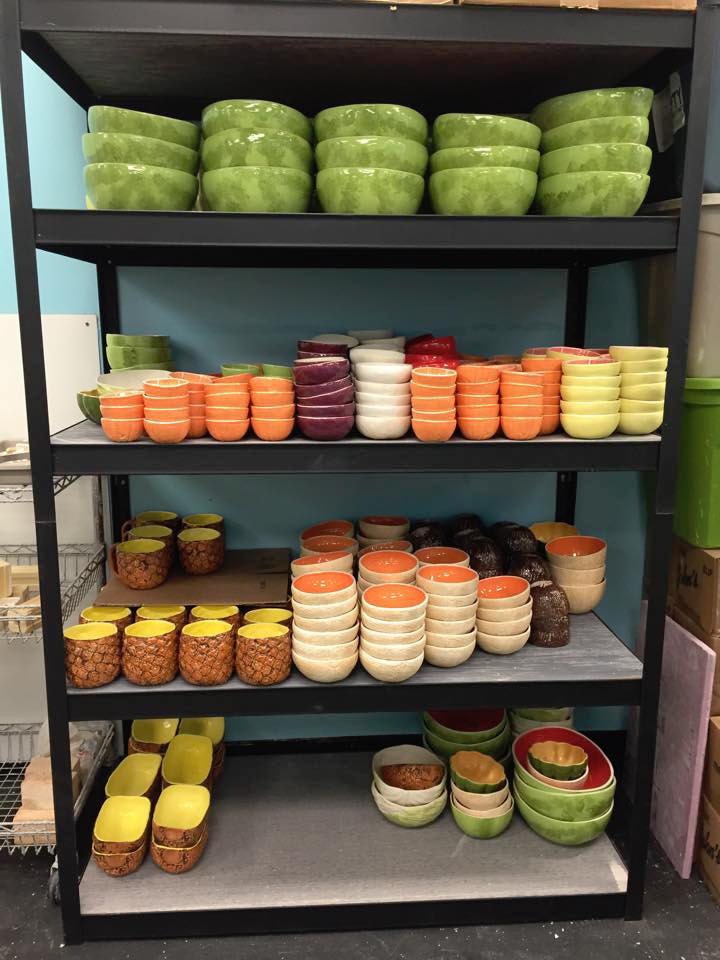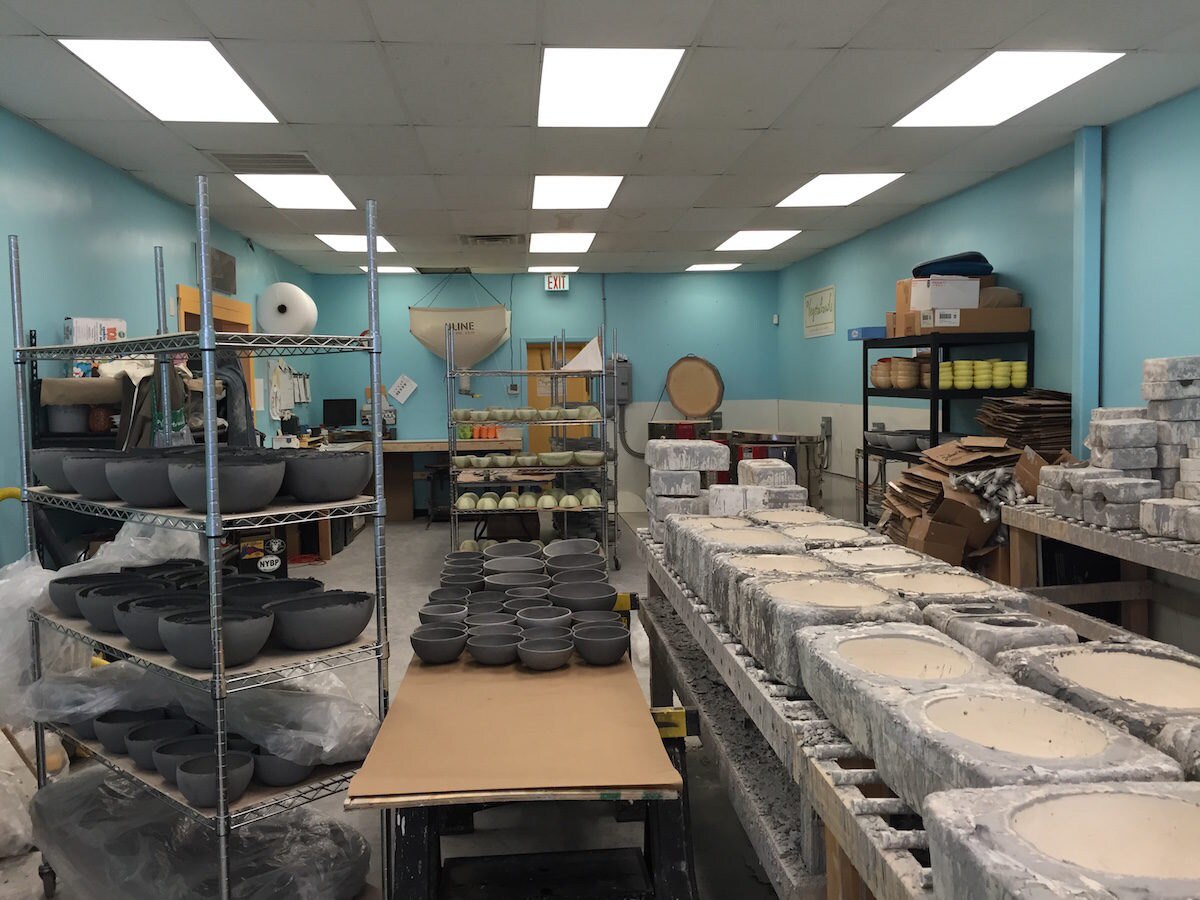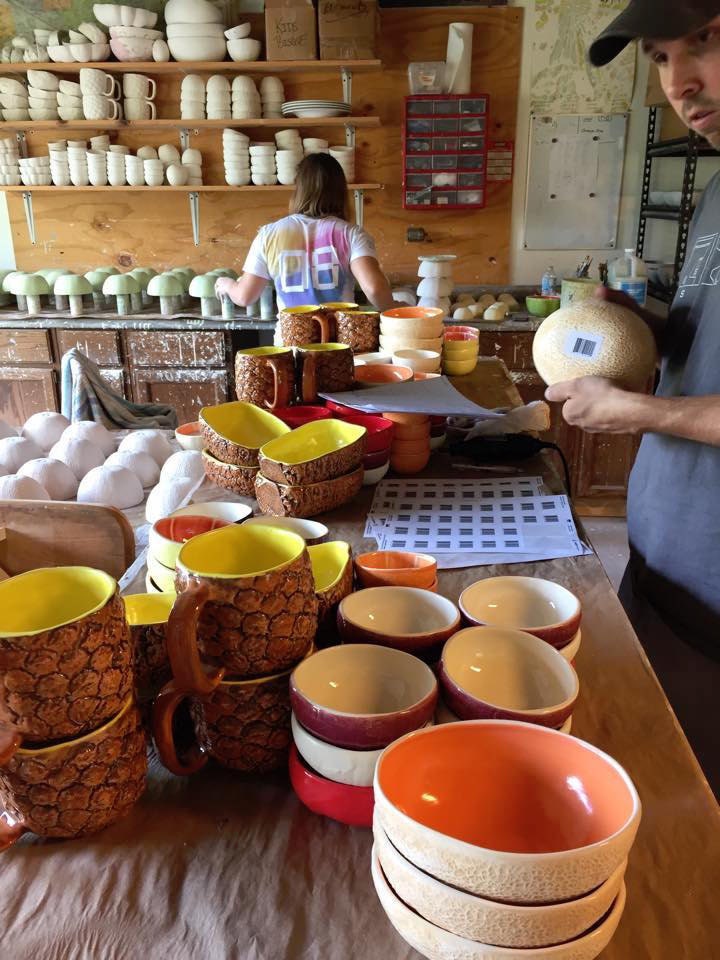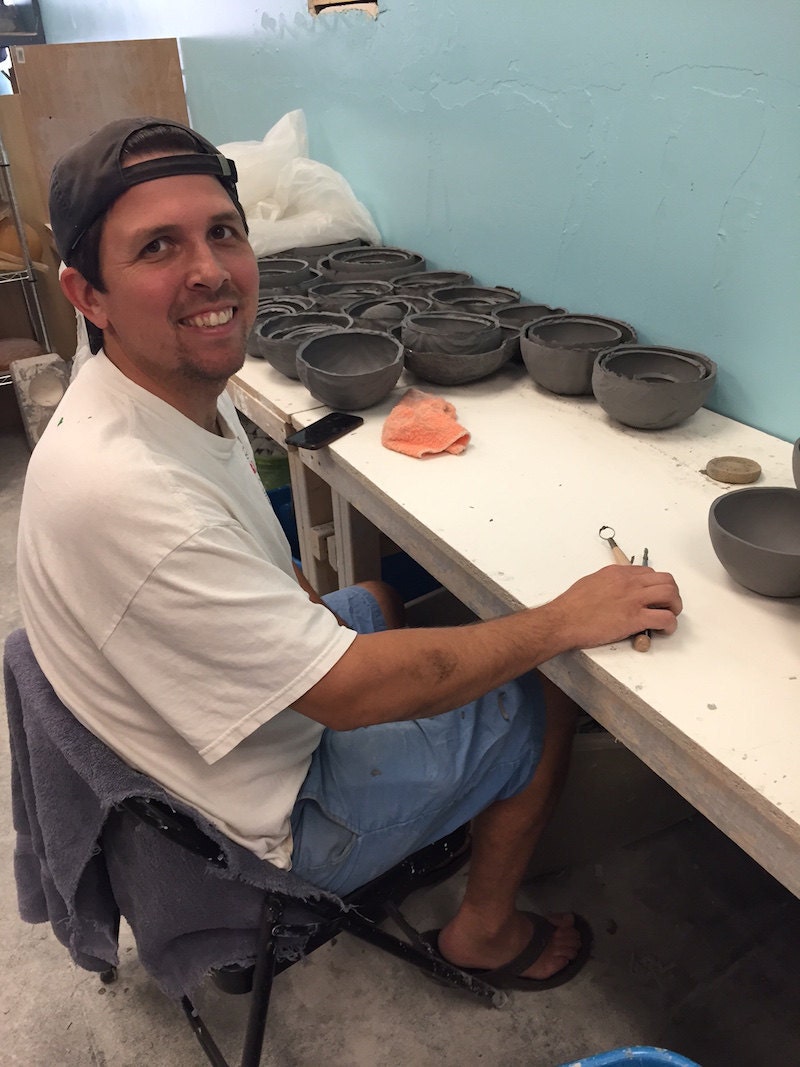 What's your favorite part of running a creative business?
My favorite part is making a new design: picking out the fruit or vegetable, making the plaster mold, and seeing how the very first one comes out. But sometimes I think something is going to be amazing and then when it comes out it's totally ridiculous. Once, for example, I found this giant carrot at an amazing farmers market in Sarasota, Florida. I couldn't wait to bring it home, but when it came out of the mold I was like, "I don't even want to glaze that. It's hideous!" So not every one works out, but I think that's the fun of it.
What's the opposite of the carrot? Tell me about the last thing you made that turned out even better than you'd imagined.
The latest thing I've made that I really, really like is the
savoy cabbage
. It's a weird vegetable because they come in so many different shapes and sizes, so they don't really have a distinctive look. But they have an intense amount of texture, so when I found one that was kind of an odd shape but I knew would make a great bowl, I got really excited. My mom actually grew it in her garden. I wasn't sure how it would come out of the mold with all its texture, but it came out nicely and when I cast it and glazed it for the first time it just made this really interesting bowl. In person, it sells immediately.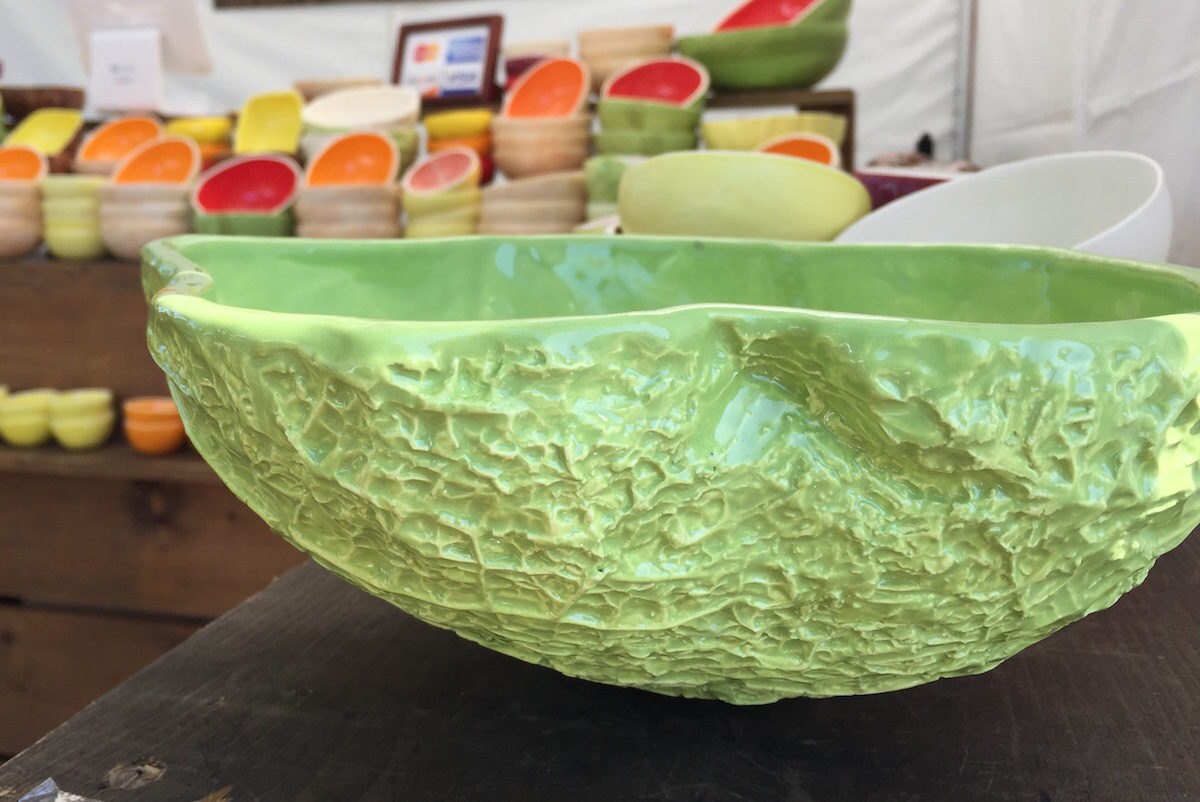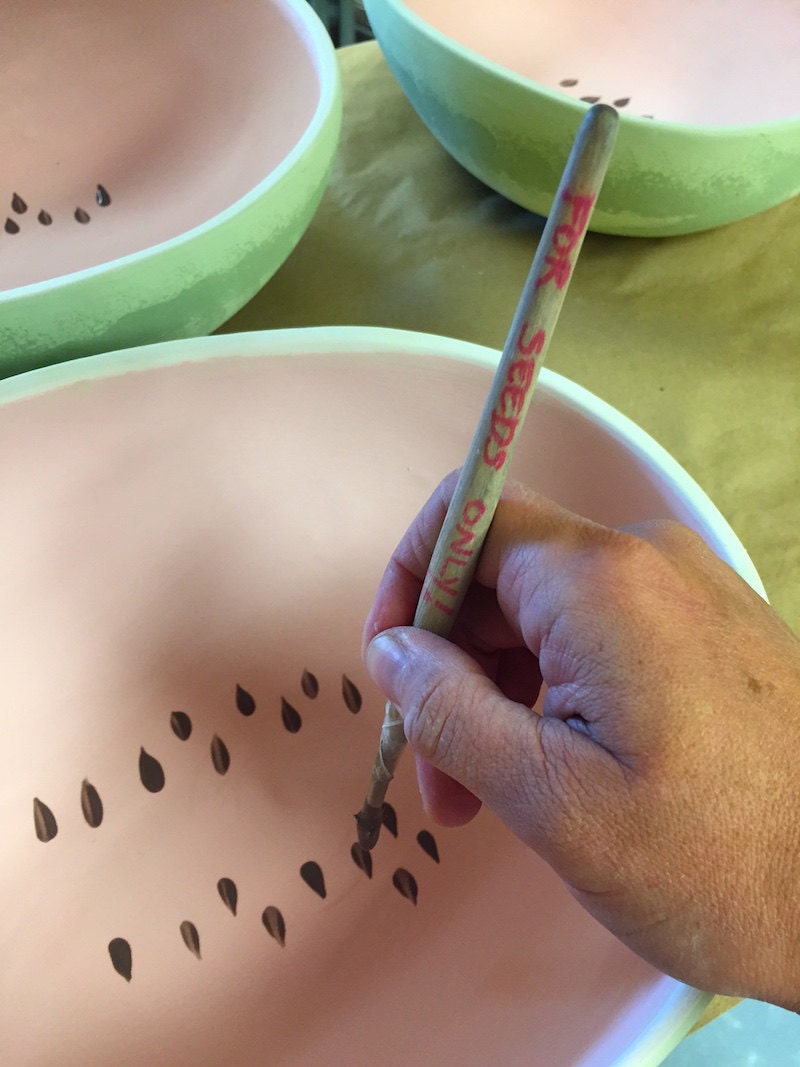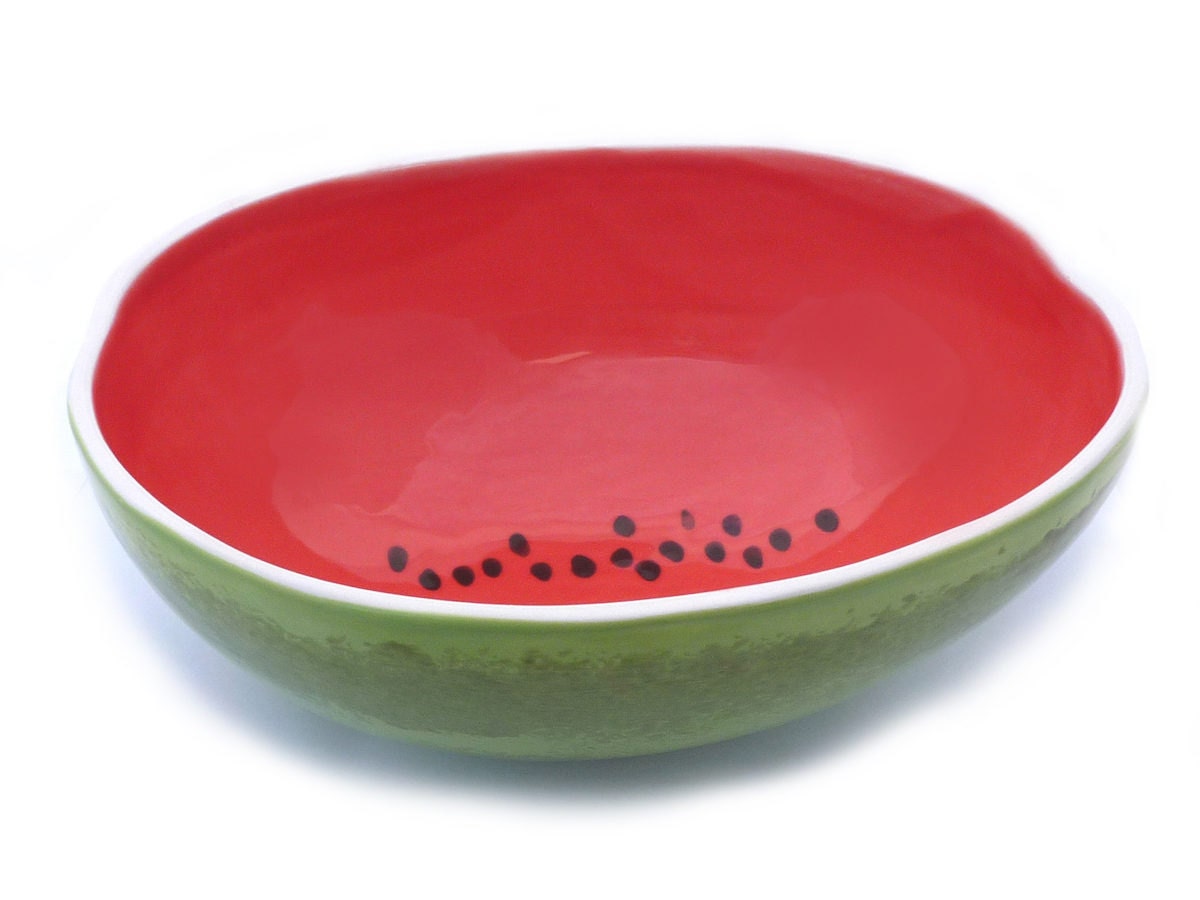 Speaking of selling immediately, what are some of your other top sellers?
It's probably a tie between the
cantaloupe
and the
watermelon
. The cantaloupe has such great texture, and it has that bright orange inside. It's a great size and shape for lots of different dishes and it's a good price point, too. It's really hard not to sell the cantaloupe to somebody. But the watermelon serving bowl is also a really good seller because it's our biggest bowl, and it has that bright red on the inside with the seeds, and this really nice green on the outside. Plus, it's such a big size for serving—it's so functional.
In your shop's About section, you talk about continuing to grow while "sticking to what you believe in." What does that kind of growth look like?
Our number one thing is that we're makers and we love to create. But in the ceramics world, it's really easy to get production overseas, so there's a huge temptation to go big. The biggest time-consuming setback keeping us from selling a million bowls a year is that we make each one by hand. Obviously if we had them made overseas we'd be selling a lot more than we do now, but that's not why we do it. We don't want to just sell. We believe that it's important for people to have a deeper connection with the items they use every day, and we really connect with people who are interested in knowing where their stuff comes from. We've always been makers, and we want to continue making.
Follow Vegetabowls on Instagram and Facebook.
Photographs by Vegetabowls.