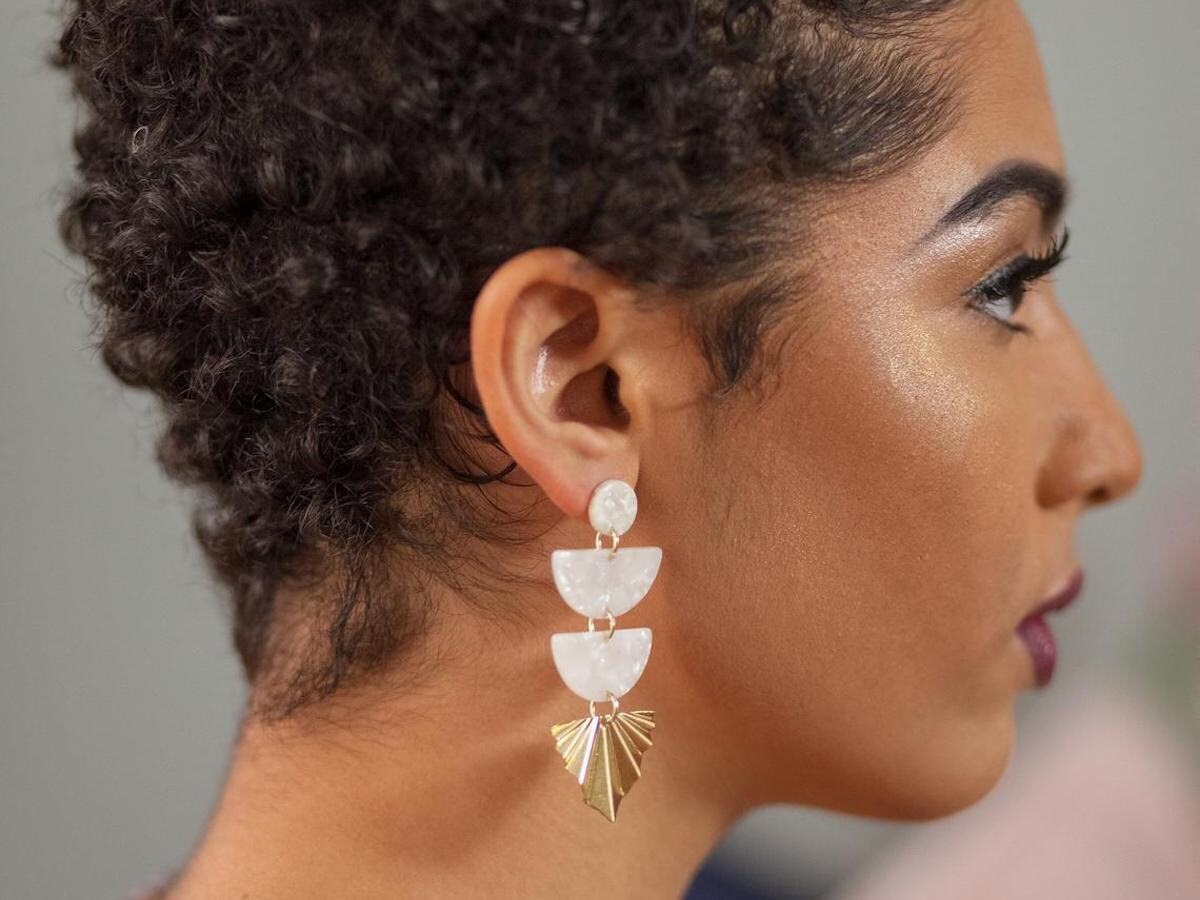 In our Featured Shop series, we shine a light on a standout shop from Etsy's talented seller community, offering readers a behind-the-scenes look at their process and story.
The sun is shining a little brighter these days, and whether you're swinging by the local lemonade stand or taking a summer bike ride with a friend, the simple joy of making plans again is reason enough to debut some new face-framing jewels. Just ask Vintage Royalty founder and designer Meena Osei-Kuffour, whose bold, notice-me earrings make stepping out in style feel like a celebration—and have earned a dedicated fan base for transforming everyday outfits into unforgettable looks. "My customers tell me that people stop them on the street to ask what they're wearing," Meena says of her conversation-sparking pieces, which range from colorful acrylic drop earrings to Art Deco pearl danglers that evoke Old Hollywood glamour. "That's what I think about when I'm creating: I want to make every piece special, so that people will go out of their way to point out your earrings and compliment them." 
Explore the Vintage Royalty collection
Since launching her shop 13 years ago, Meena has evolved Vintage Royalty into an adventurous accessories destination featuring geometric shapes, playful patterns and textures, and surprising color combinations perfect for understated minimalists, more-is-more maximalists, and everyone in between. Inspired by her passion for retro fashion and pop culture, the Chicago-based maker experiments with a mix of materials (think delicate feathers, brass findings, iridescent acrylics—even parts sourced from her local hardware store) to create each of her decades-spanning designs. "I treat each earring like a work of art," Meena says. "I think my customers appreciate that, because they never know what I'm going to come out with. It's never expected—and that gets people excited."
Read on to find out more about how Meena pulls inspiration from pop culture, discover her favorite summer styling tips, and shop the Vintage Royalty collection.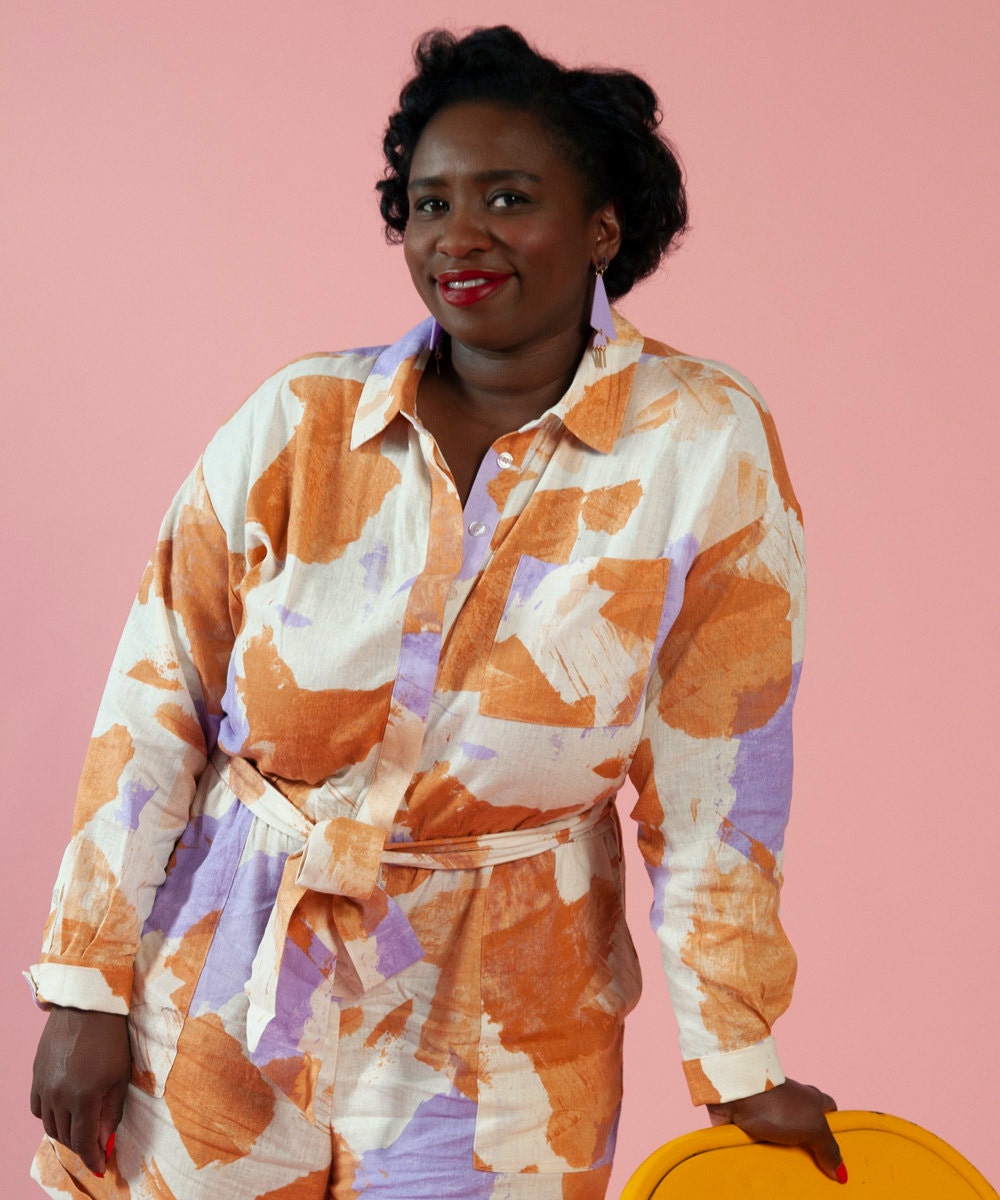 How did you get started designing jewelry? 
In college, I made earrings for my friends for fun and when I graduated, I started Vintage Royalty because I needed a creative outlet. At the time, I was making earrings out of paper. Those first few years were a trial-and-error period for me, and I was really interested in the feedback I would get from my customers. Over the years, I continued to make little tweaks until I got to the product I have today. Now, it's fun to look back and see the evolution. 
How would you describe your aesthetic?
I've always gravitated toward vintage clothing and bold, '80s jewelry. I'm still really in tune with that era. I think it's great when people tell me, "This looks like something I had 20 years ago!" or say it reminds them of something they saw their mother or grandmother wear. But I make it a point to have something for everyone. I want everyone who visits my shop to be able to find something they love.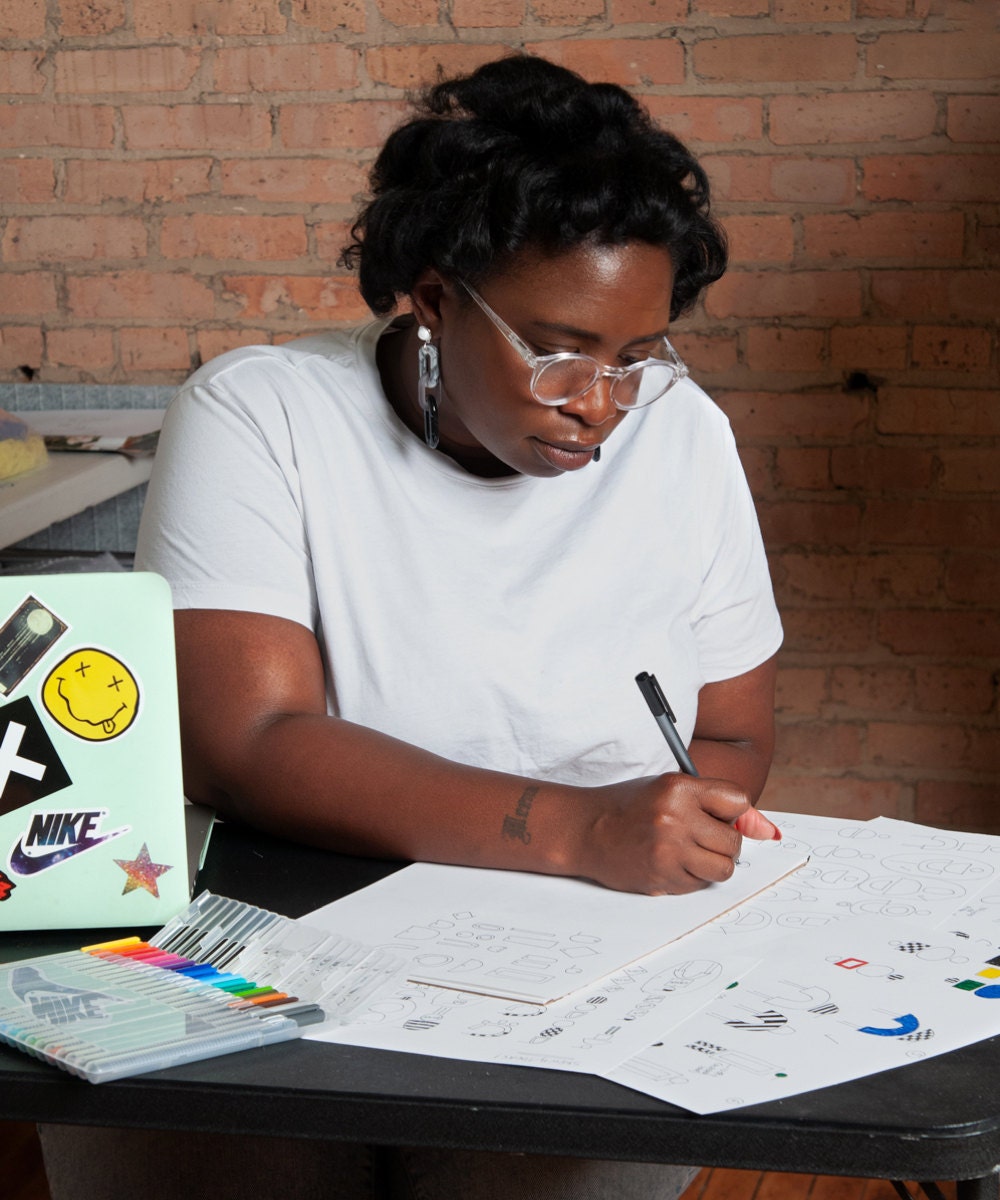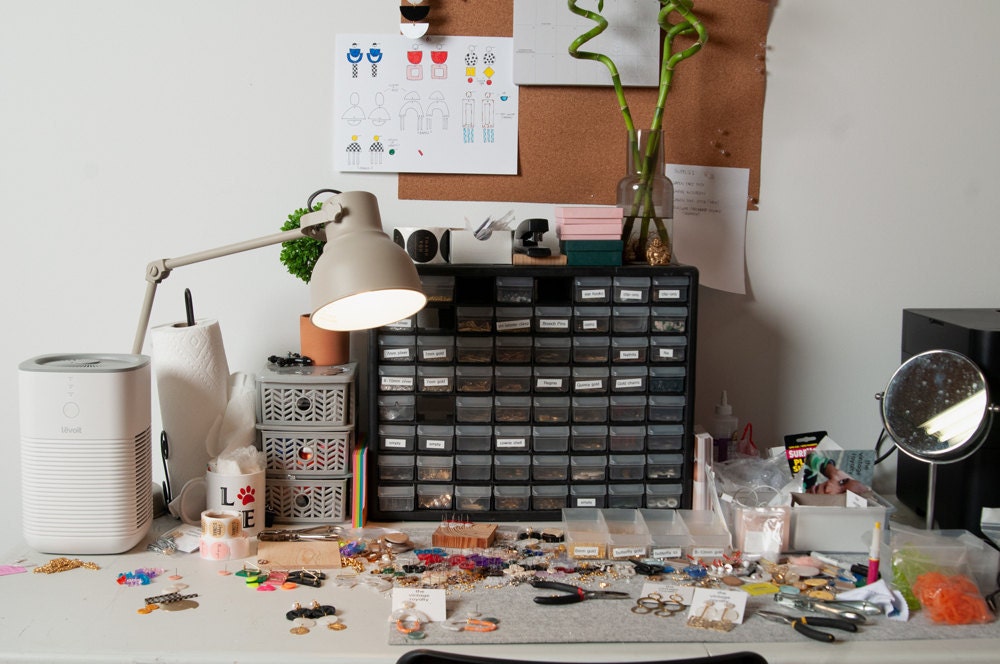 What are some of your best-selling designs? 
The Gina and the Melissa earrings have both been around since 2019, and they're shapes I repeat in many different colors. The two that are selling well right now are my hoops and the Kiki Link. I make a lot of bold, statement earrings, and I think these do especially well because they're simple, but still fun. 
Can you share some of the styling tips you offer your customers?
I always tell people that you don't need a special outfit to wear with my earrings. But if someone is trying a bold statement earring out for the first time, I suggest sticking with neutrals or colors you wear all the time, and going from there. If blue is your favorite color, buy blue earrings! That's a good way to ease into it. I don't wear that much color, so neon earrings are always my go-to. This summer, I'm excited to wear a mirrored green and gold pair called the Siren's Neon. When the sun catches them, it's wild!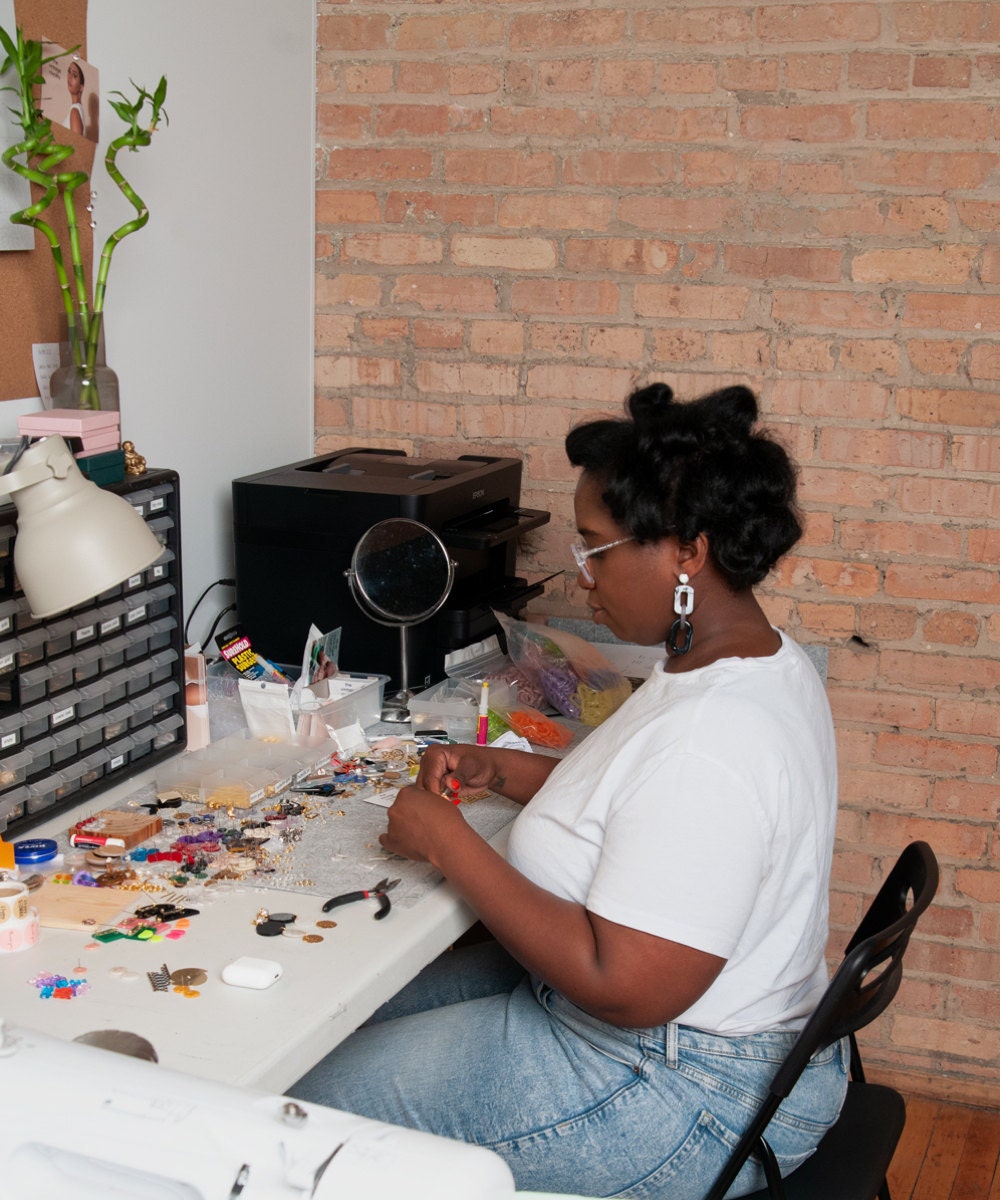 What's your creative process like? 
When I come up with the inspiration for a collection, I'll buy books and watch movies that put my mind in that frame of reference. After that, I sketch out what I want everything to look like. Then I scour the internet to find the acrylic pieces that work. I want my earrings to feel special, and it's important for me to stand out. I like to go to unconventional places, like hardware or fabric stories, to find unique components for my designs. If I feel like I can push myself, I push it more.
Where do you find your inspiration?
When I design earrings, I give each piece a personality. That stems from my background as a stylist. For example, growing up, my sisters and I were obsessed with The Baby-Sitter's Club. In one episode of the original show, Claudia is making polymer clay earrings. I created these pink iridescent earrings in homage to her character. That's what my '90s collection was all about—reliving your teenage years. I wanted everyone to be like, "Oh, I remember that!" To have it be a conversation.
Why is showcasing your jewelry on models important to you?
People have to be able to see themselves in their jewelry. If you see a piece of clothing on a model, it looks different than when it's on a hanger. It's the same for jewelry. In the beginning, I used my friends as models, but over time I decided to invest more in the listing photography: I hired a makeup artist, a hair stylist, and found a model agency. When I spend time on that part of the process, my ideas feel complete. This way, the whole collection looks like a gallery show.
What do you love about what you do?
I love the whole process: having an idea, the storytelling that goes into each piece, and seeing the end result. A customer recently told me that she gave a pair of my earrings to her fashionable brother, and he loved them. So I love how universal they can be. I also love how people get excited when they see their name on something. I've had people say they bought my earrings because their name is the same name I gave to a piece. Another customer told me that I had two pieces in my shop with the same name as two of her family members who passed away. She bought them because of that. It's really interesting to see how my work affects people.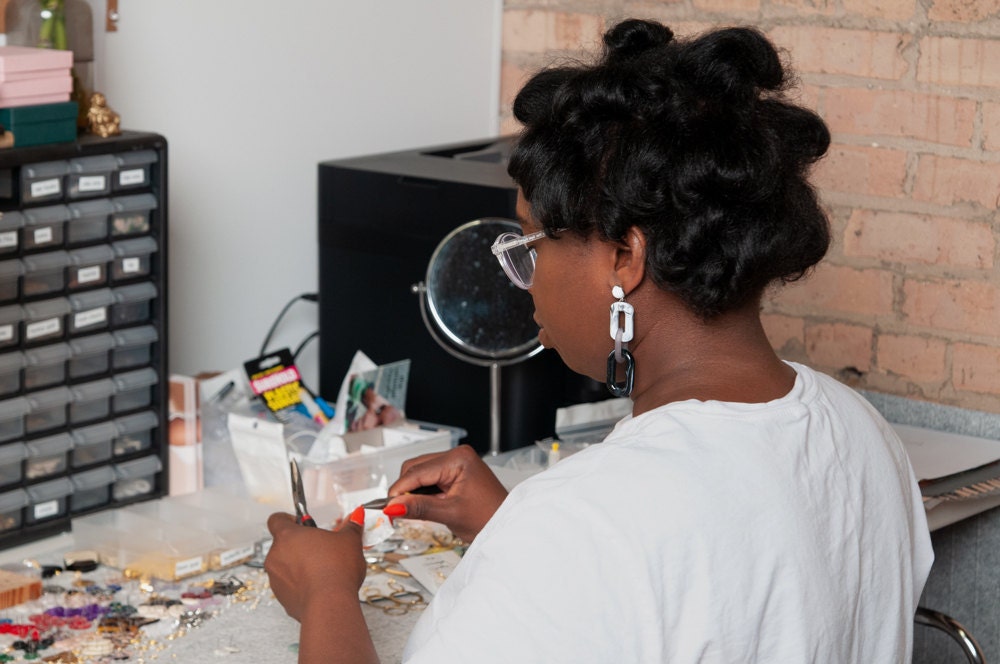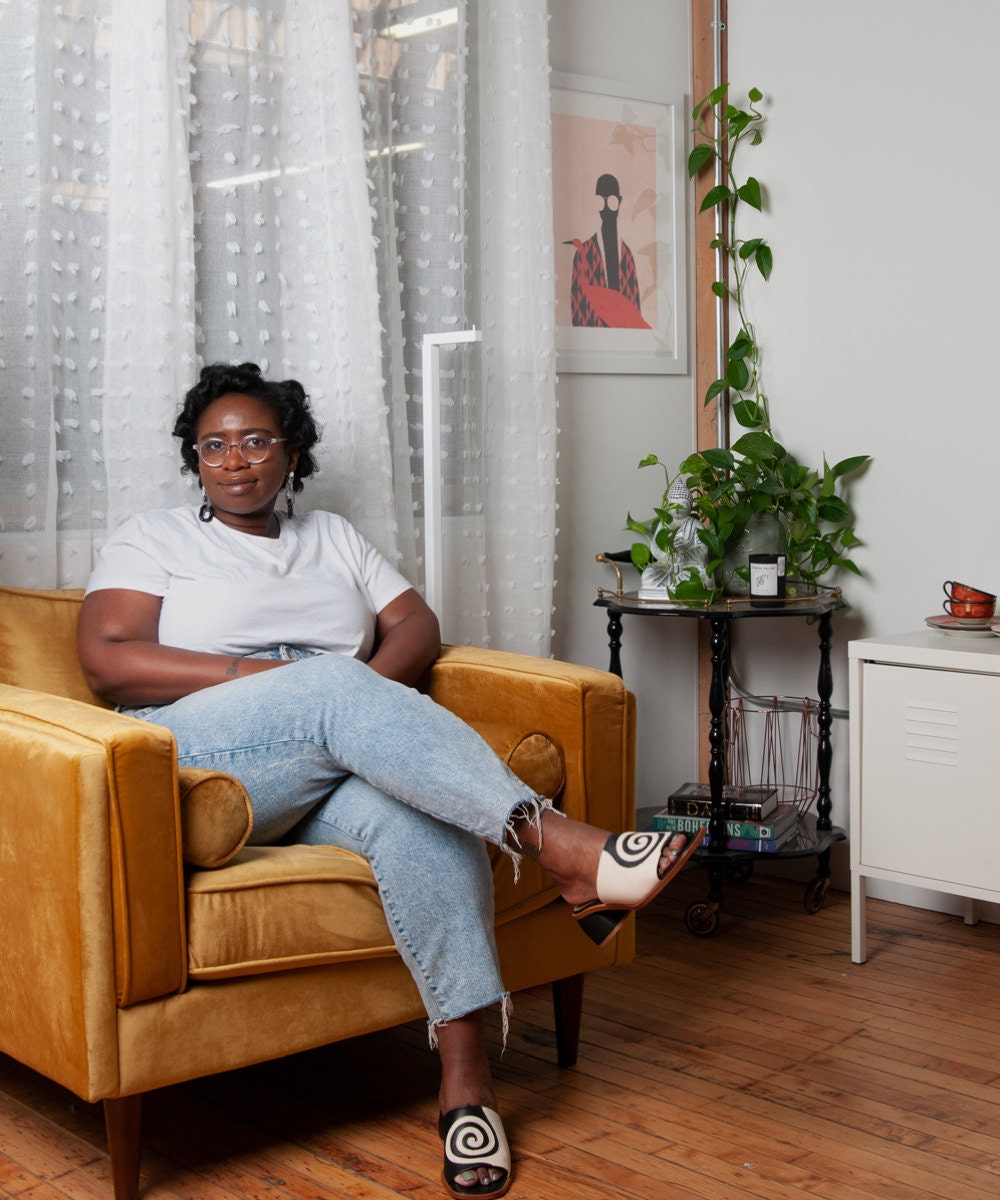 So, what's next for Vintage Royalty? 
I'm starting to think of Vintage Royalty as a vintage-inspired lifestyle brand that's focused on jewelry. I have some fun collaborations coming up that will incorporate artwork into my aesthetic. I'm also going to bring more home decor and clothing into the mix. Hopefully in the future, I'll have more time to learn new things and explore other avenues. That's always in the back of my mind: "What else can I do? How else can I expand this?"
Follow Vintage Royalty on Instagram.
Product photography courtesy of Vintage Royalty. Studio and model photography by Ashleigh Dye unless otherwise noted.