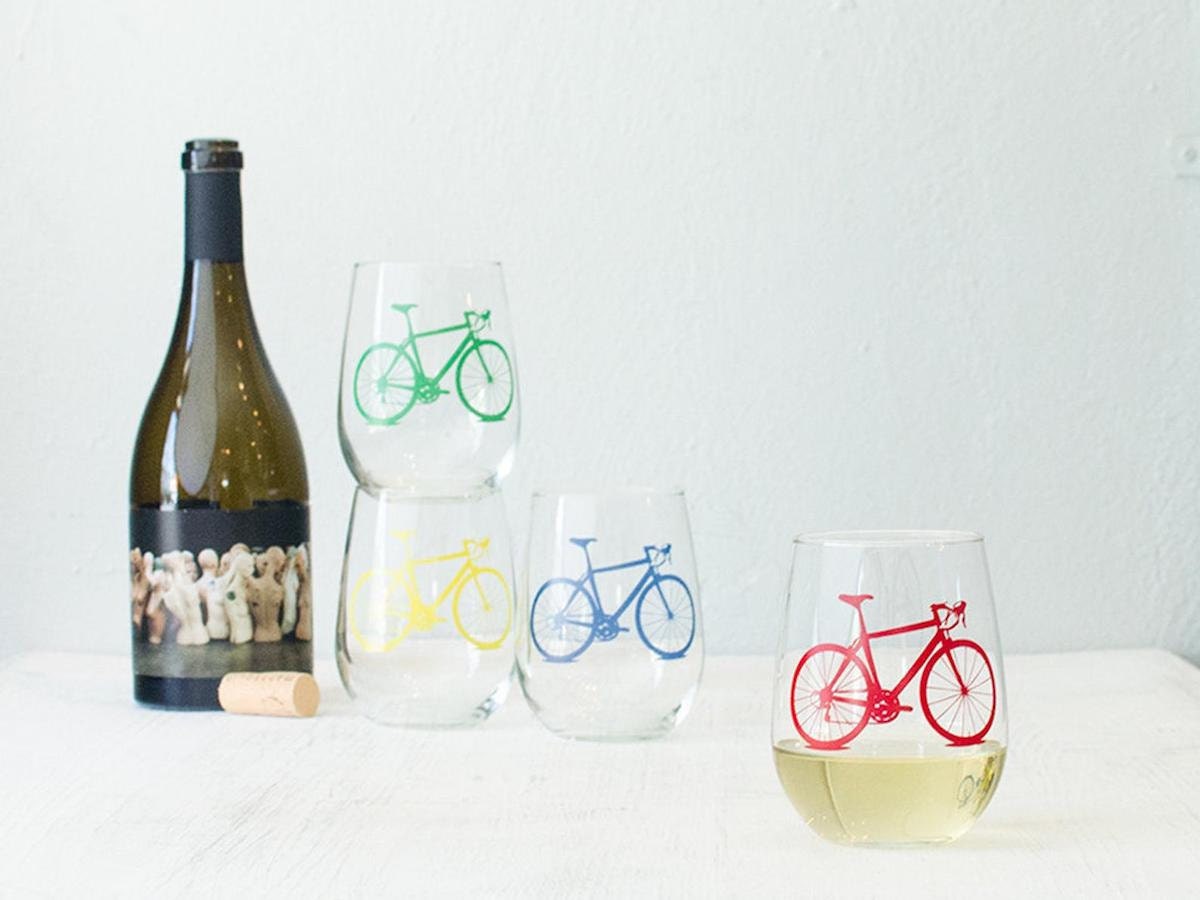 In our Featured Shop series, we shine a light on a standout shop from Etsy's talented seller community, offering readers a behind-the-scenes look at their process and story.
If you ask designer Crystal Hanks Childs, the best things in life blend function and fun, with a touch of special significance. To give life to this idea, in 2007, she and her husband, Brett Childs, launched Vital Industries, a vibrant line of graphic homewares and apparel celebrating our hobbies and our happy places—and a one-stop destination for the perfect present. "We're firm believers that the products we use every day should bring us joy, and remind us of the things we're most passionate about," Crystal says. 
Explore the Vital Industries collection
Driven by a shared love of creative exploration, Crystal and Brett set up a Wisconsin-based studio where they could master a medley of hands-on techniques, from screen-printing and embroidery to scented candle-making. The result of all that tinkering? A collection of modern staples that balances the universal appeal of classic design with a playful range of customizable colors and styles, monograms and motifs. Whether it's a sturdy tote bag printed with the silhouette of someone's home state, a soft cotton tee featuring their beloved fixed-gear bicycle, or a pint glass to commemorate a recent adventure, a gift from Vital Industries is designed to be used—and loved—every day. "We want to make sure the products we sell are well-made, and could become someone's favorite sweatshirt, or their favorite glass or mug," says Crystal.
Read on to learn more about Crystal and Brett's recommended ready-to-ship gifts, discover their creative process, and shop the Vital Industries collection.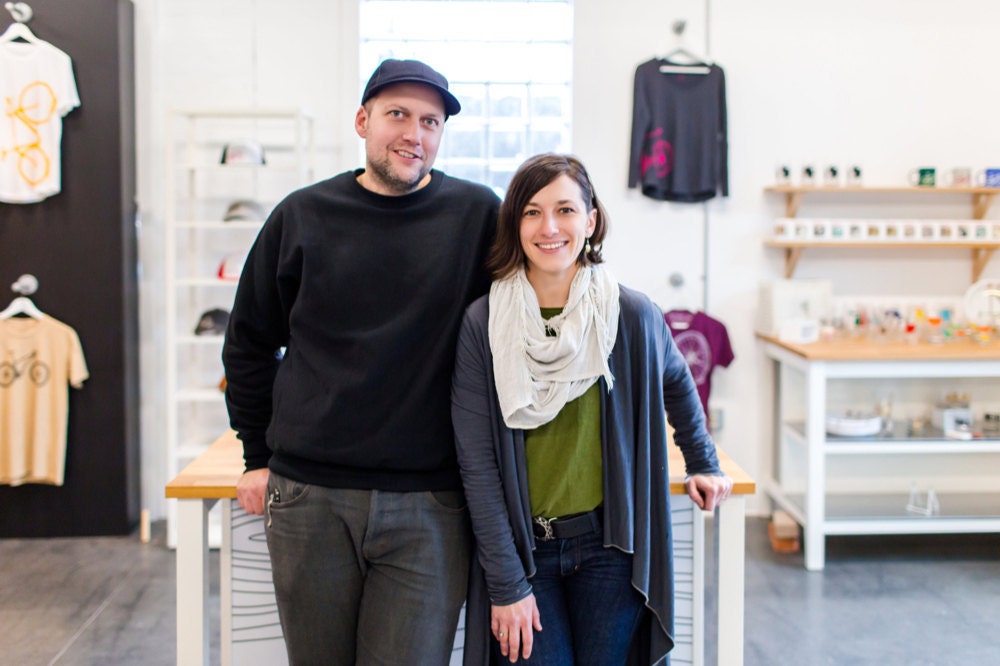 How did you get your start as makers? 
We've both always been makers! It's our passion to create and to learn new processes. I was an interior designer, and Brett was working in restaurants when Etsy was just getting started. There was a screen-printing class in our community studio, and I signed us up. We were really empowered by the ability to print anything we wanted on a T-shirt and wear it around. 
How has Vital Industries evolved since you began? 
Nearly all of our designs are based on something that relates to our lives or interests. Back when we first started screen-printing, Brett had just gotten a new bike. He really liked the form of it, so he created some artwork based on the silhouette which we placed vertically on a T-shirt, and it's been an iconic design ever since. Now, we print bikes in a range of colors, sizes, and forms, including glasses, plates, hats, and towels.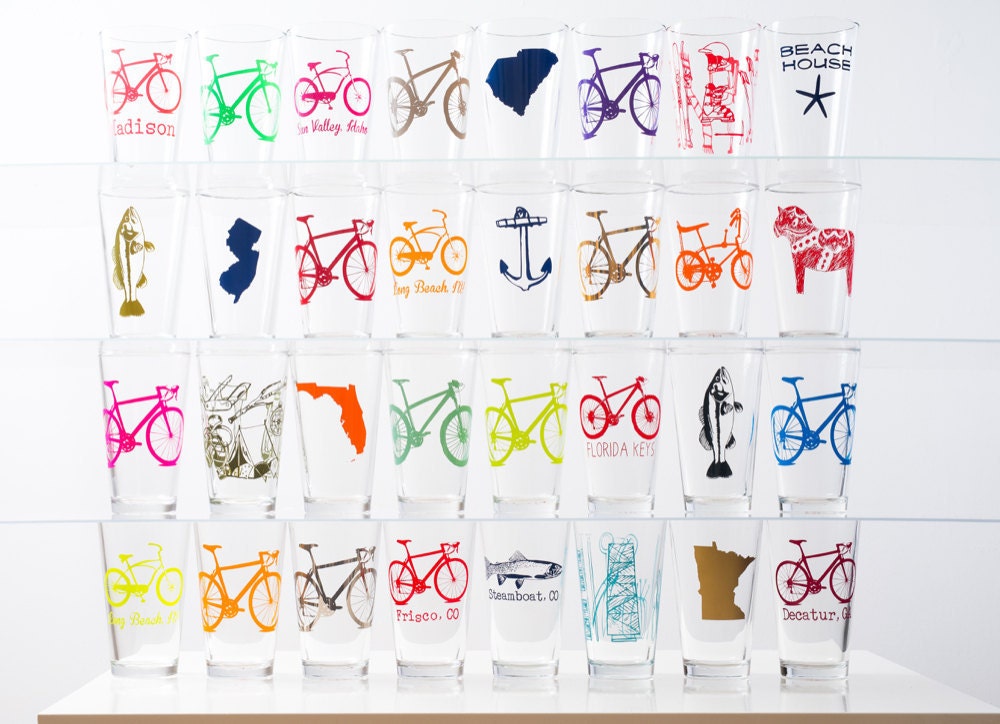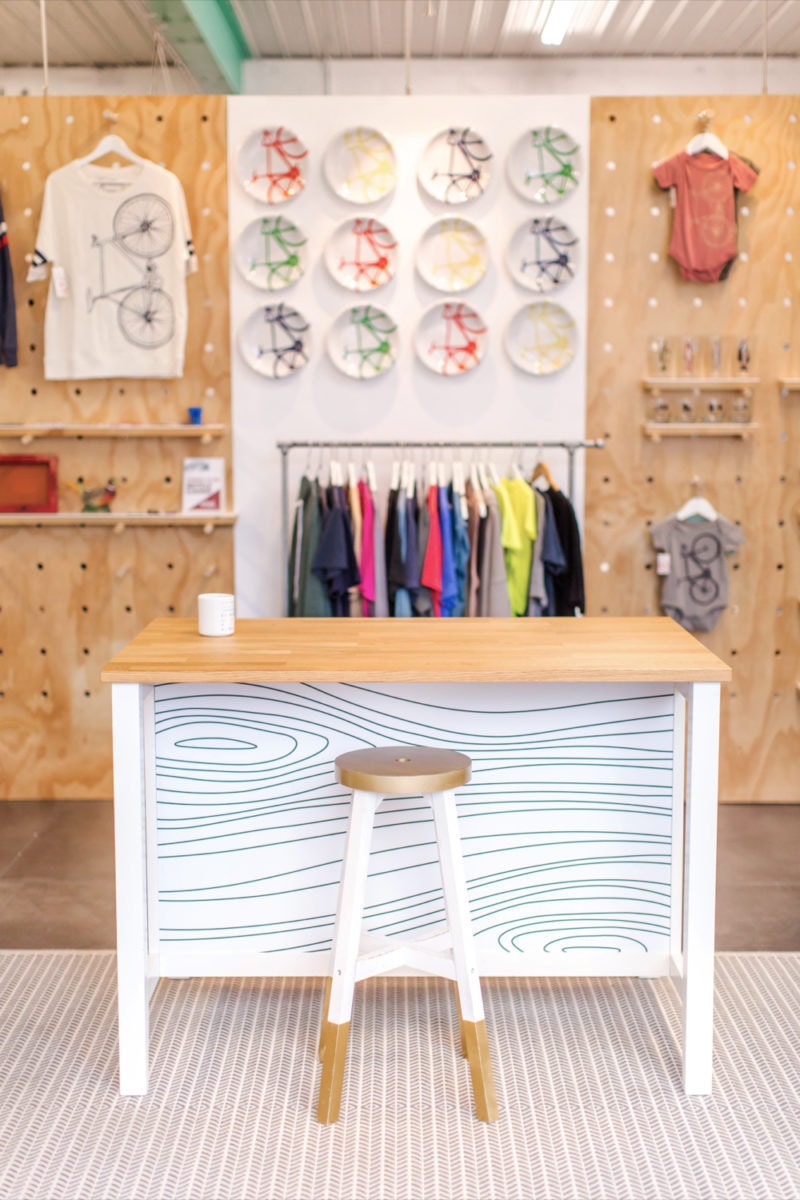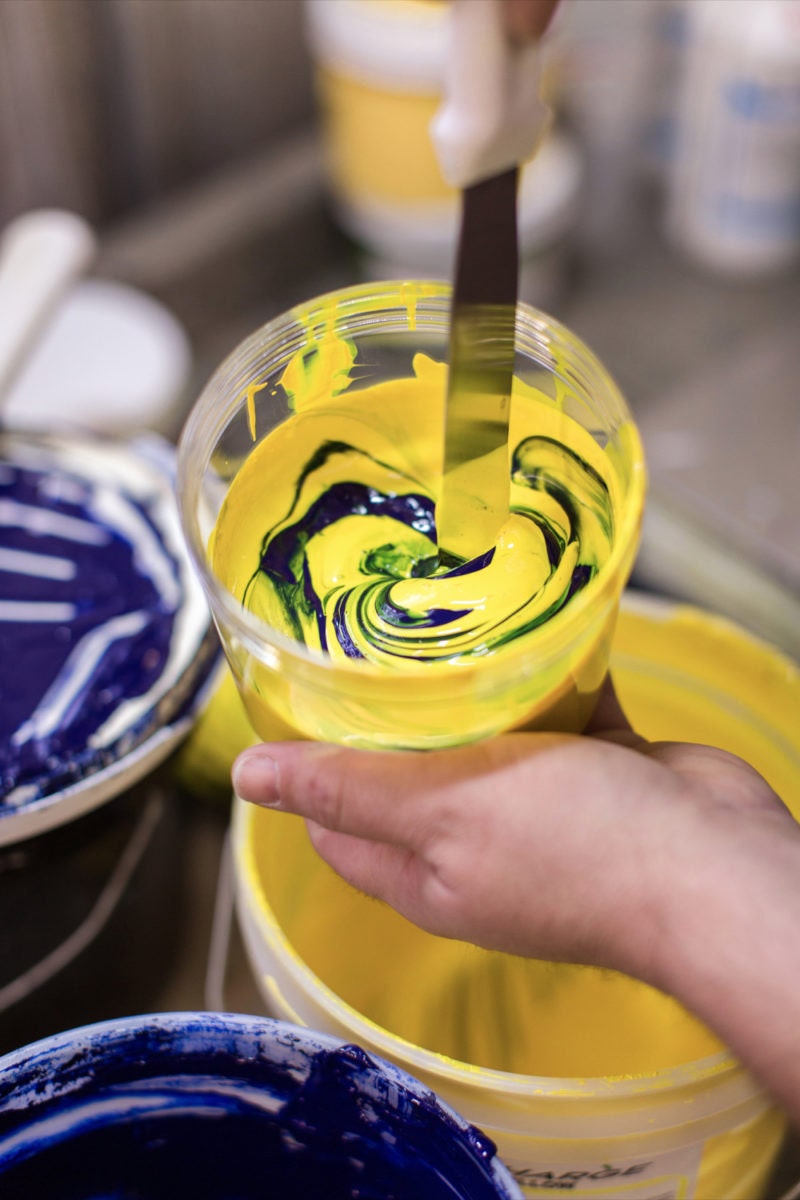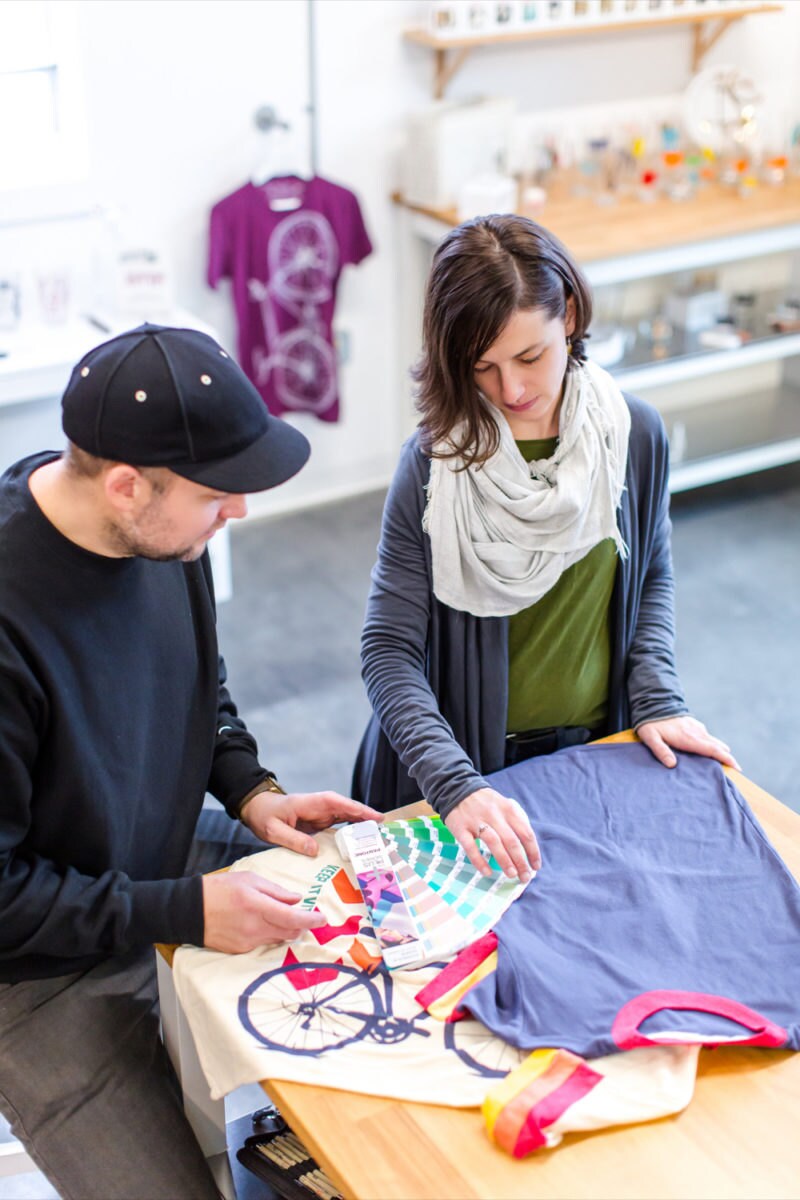 Tell us about some of your most popular items.
At the moment, our fishing and fly-fishing glasses are selling well for us. States are another design that have been really popular, and bikes are also a perennial best-seller for us. Our products are colorful, fun, and giftable, and it's easy to find something that fits the person you're thinking of.
Can you share some of your tips for gifting this season?
Our Science Tool pint glasses and mugs are great teacher gifts—they're a little nerdy and education-geared, and a great way to celebrate someone's love of learning. The Gone Fishin' pint glasses are totally Dad-approved, and for Mom, we recommend a set of elegant, geometric cocktail glasses. A far-away friend might appreciate a pair of state pint glasses. And anyone with a bike would enjoy our rocks glasses, featuring the Vital Bicycle. Pro tip: Pick colors to match the recipient's bike.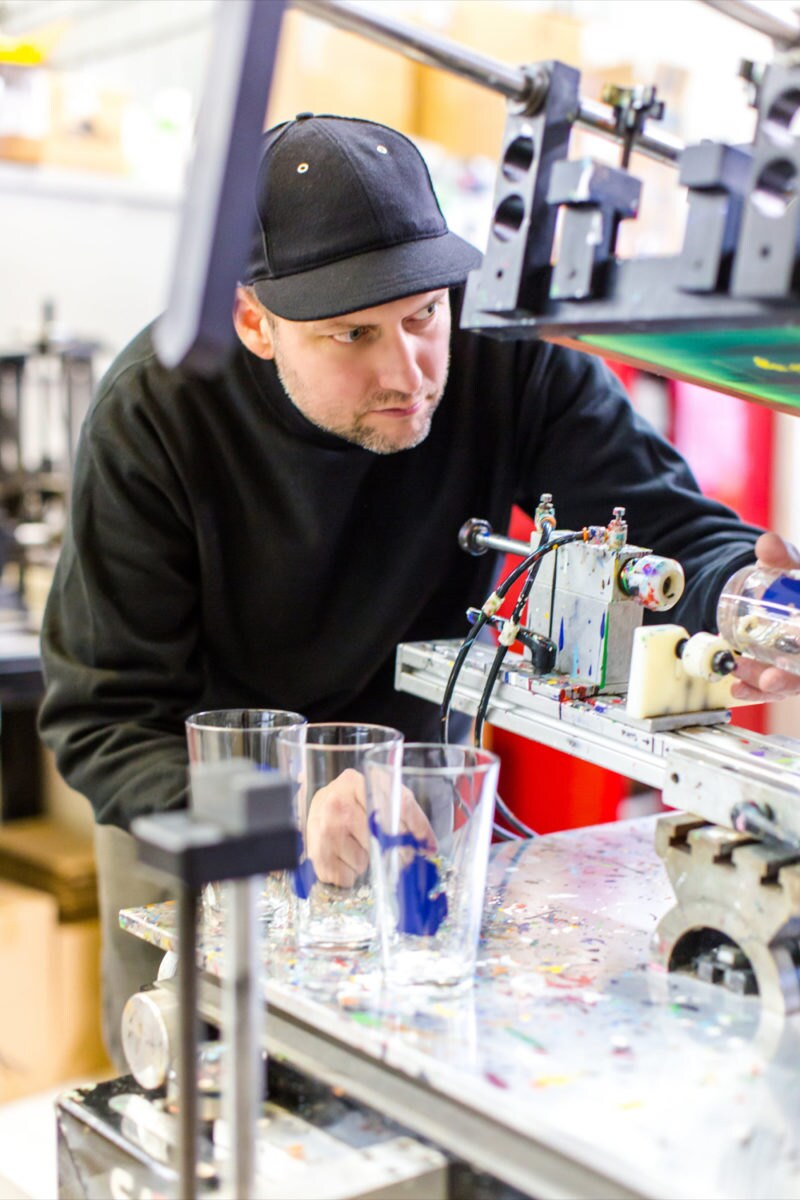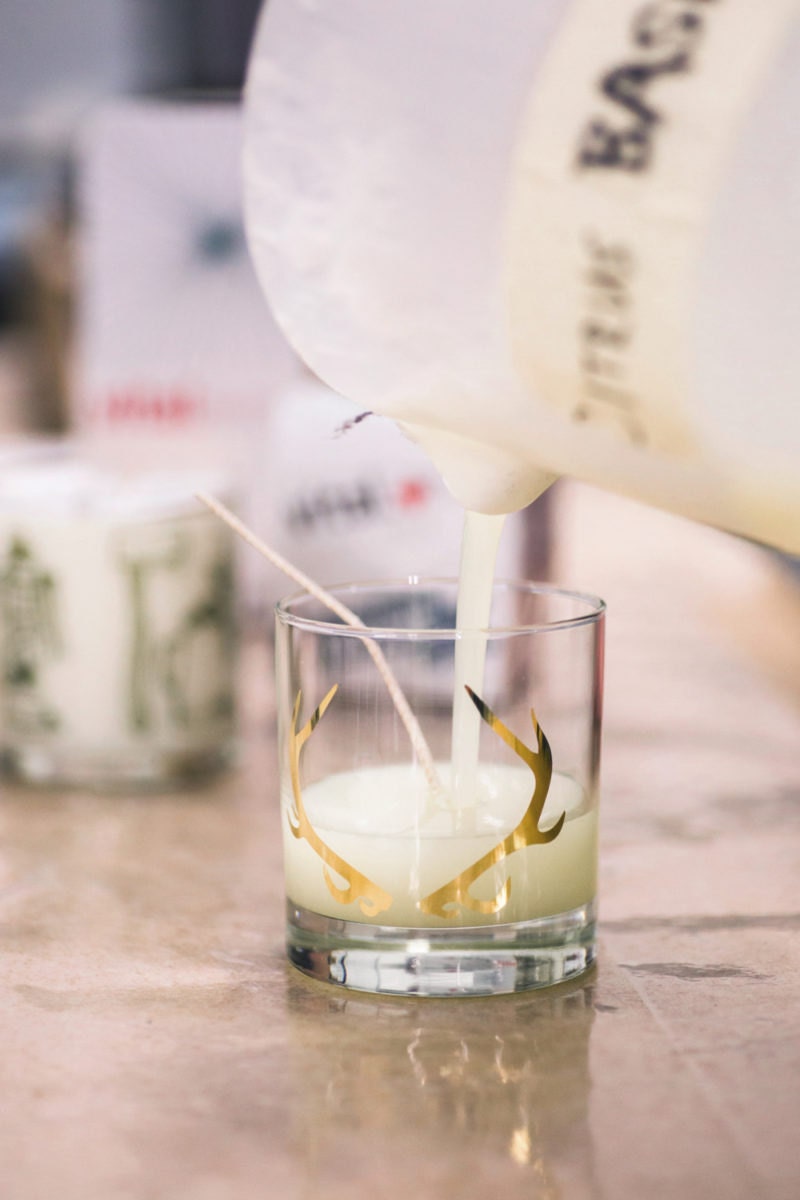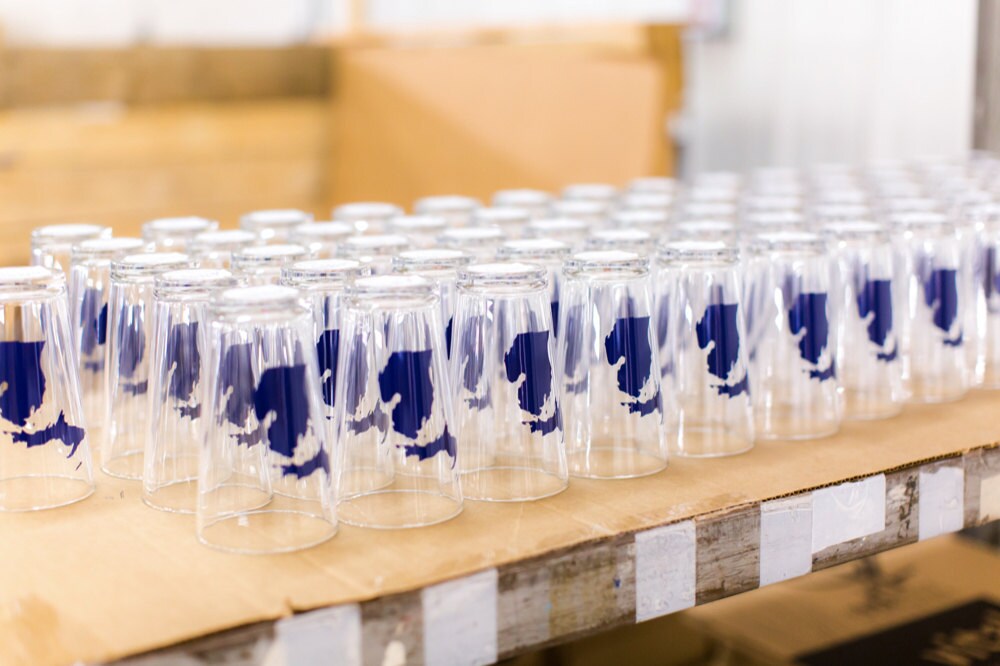 What's your creative process like? 
We're process-driven, and that's what makes our work exciting. One of the reasons we have so many different products is that we're willing to endure a learning curve over and over. We started screen-printing on T-shirts, towels, and tote bags. Then we bought a glassware press so we could print on glasses, branched out into mugs, and later got into embroidery. We liked the idea of combining our glassware with a sustainable candle, so Brett learned to make candles.
How do custom orders work?
We get a lot of special printing requests, and we always figure out how to accommodate customers. Most of the time, it's something like, "Can you print this design you already do on this other thing?" That fuels how we may eventually branch into other products. Our monogram custom glassware line is one that's been driven by requests. Once you do one, people want different styles.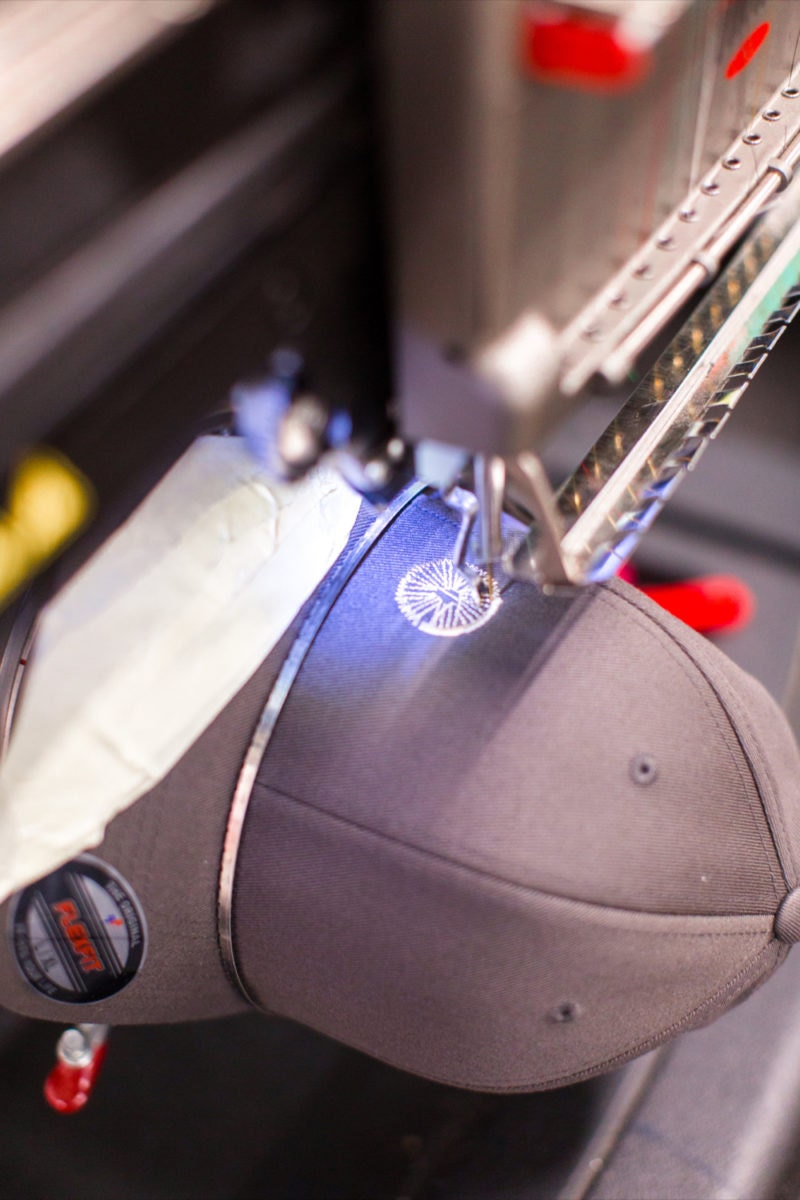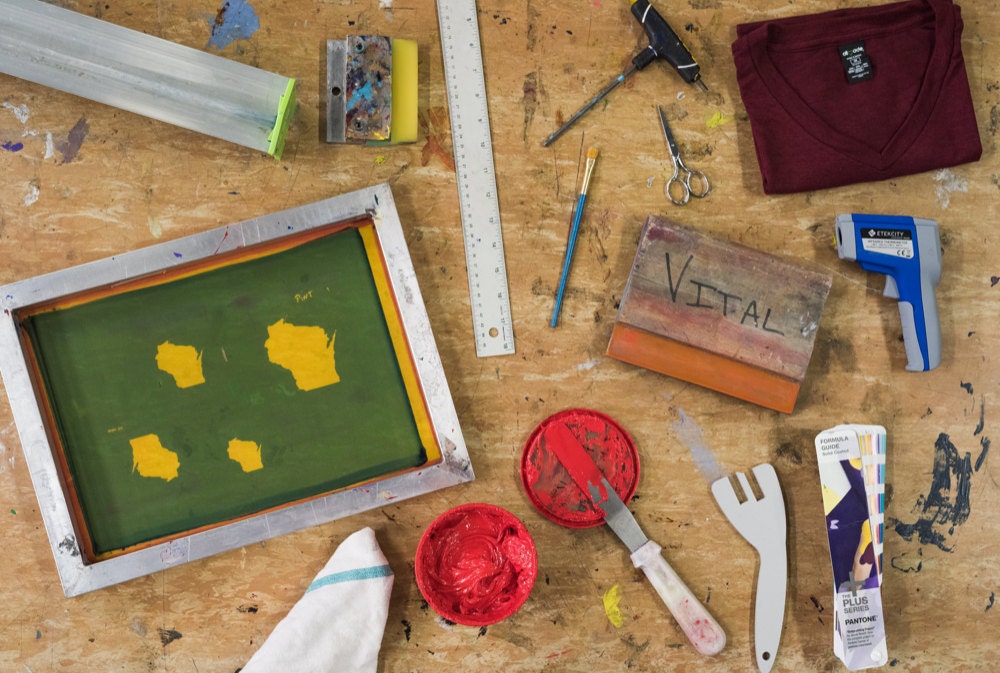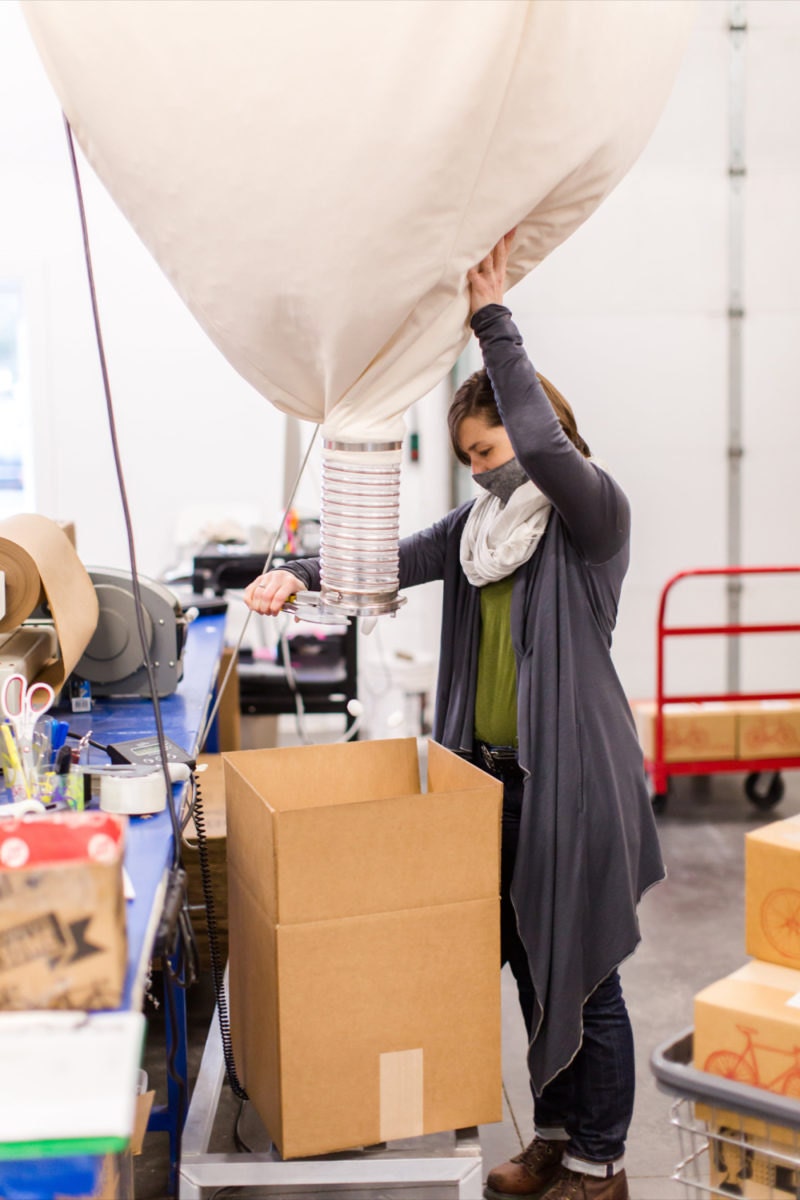 Do you have any customer stories that you want to share?
There are so many! After we printed wedding totes for a customer, we took a trip to Minneapolis. We were walking through the lobby of our hotel when we ran into a wedding party carrying our totes—the wedding was happening where we were staying. We were like, "We just printed those bags and shipped them out!" That was such a cool experience.
What's your approach to customer service?
We pride ourselves on our service and fast turnaround, and having stock on hand meshes really well with our personal beliefs on how to run a business. We want to be fast and awesome!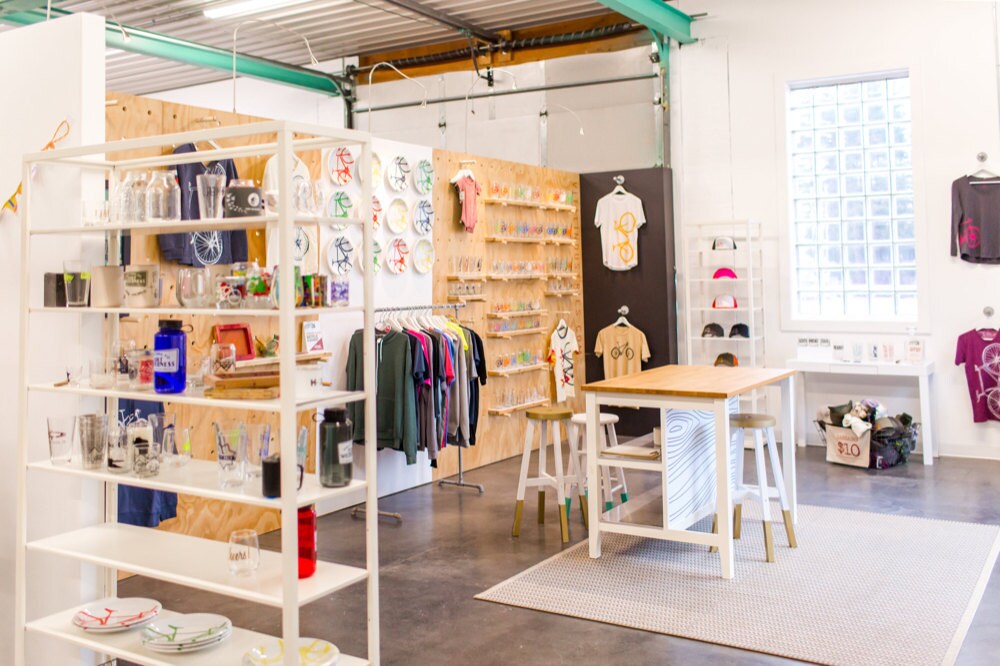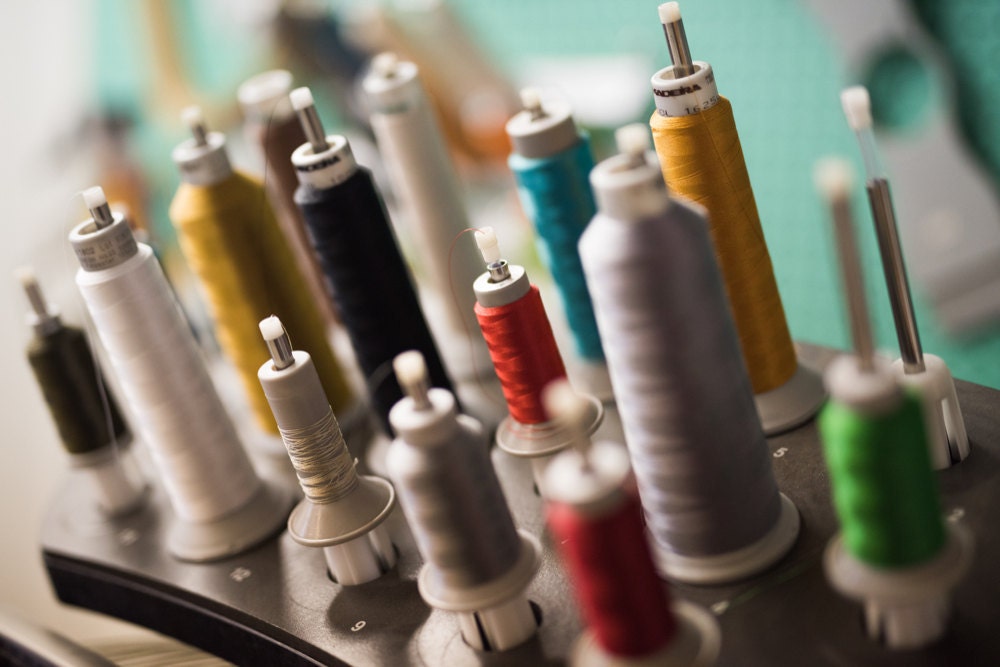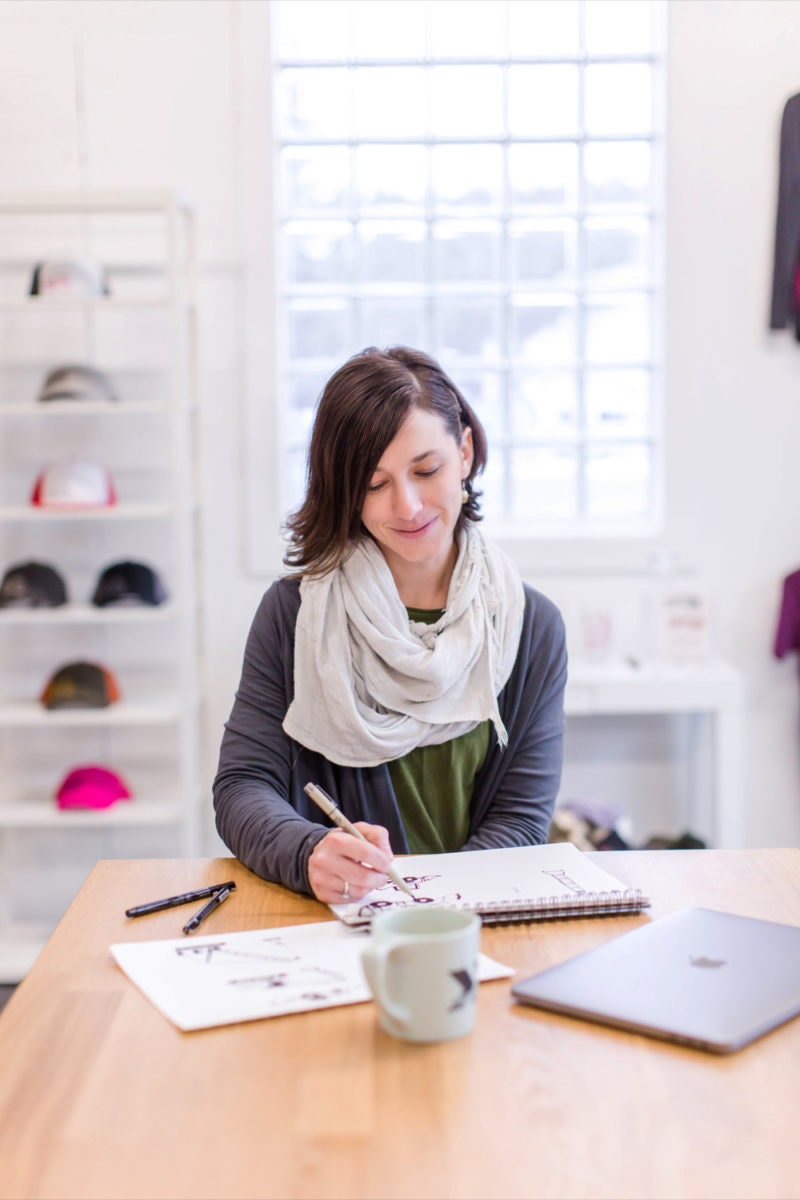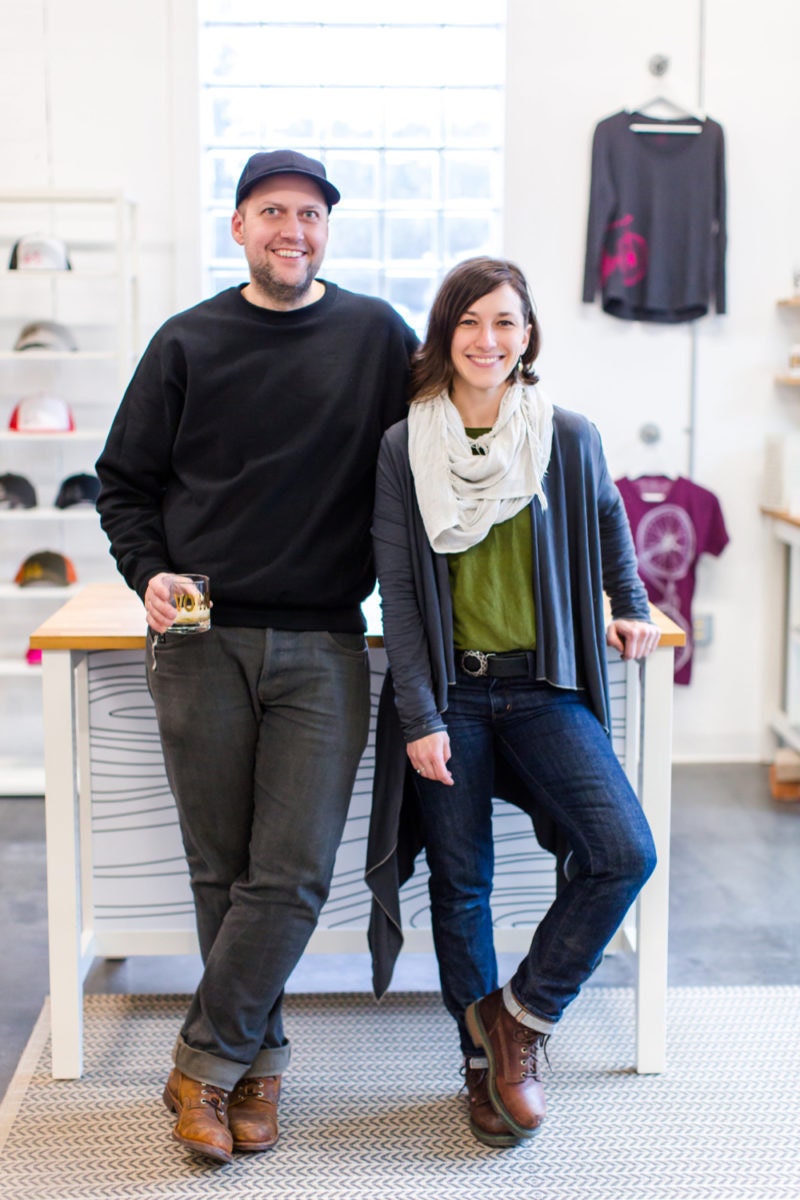 What does the idea of handmade mean to you?
Handmade means that people are intimately involved with the process from start to finish, whether it's coming up with an idea or shipping out an order. When you buy handmade, you're seeing a product of someone's effort. Our business has grown over the years, but Etsy has always been core to who we are, and it's wonderful to be a part of the community. We're so grateful that people find our little shop and choose to buy from us. 
So, what's next for Vital Industries?
We're going to revitalize our clothing line next year with new styles and colorways. We just love making stuff. And it's great getting to the point where we go from "I'm learning about something" to "I'm getting really good at this." 
Follow Vital Industries on Instagram, Facebook, Twitter, and Pinterest.
Photographs courtesy of Vital Industries.