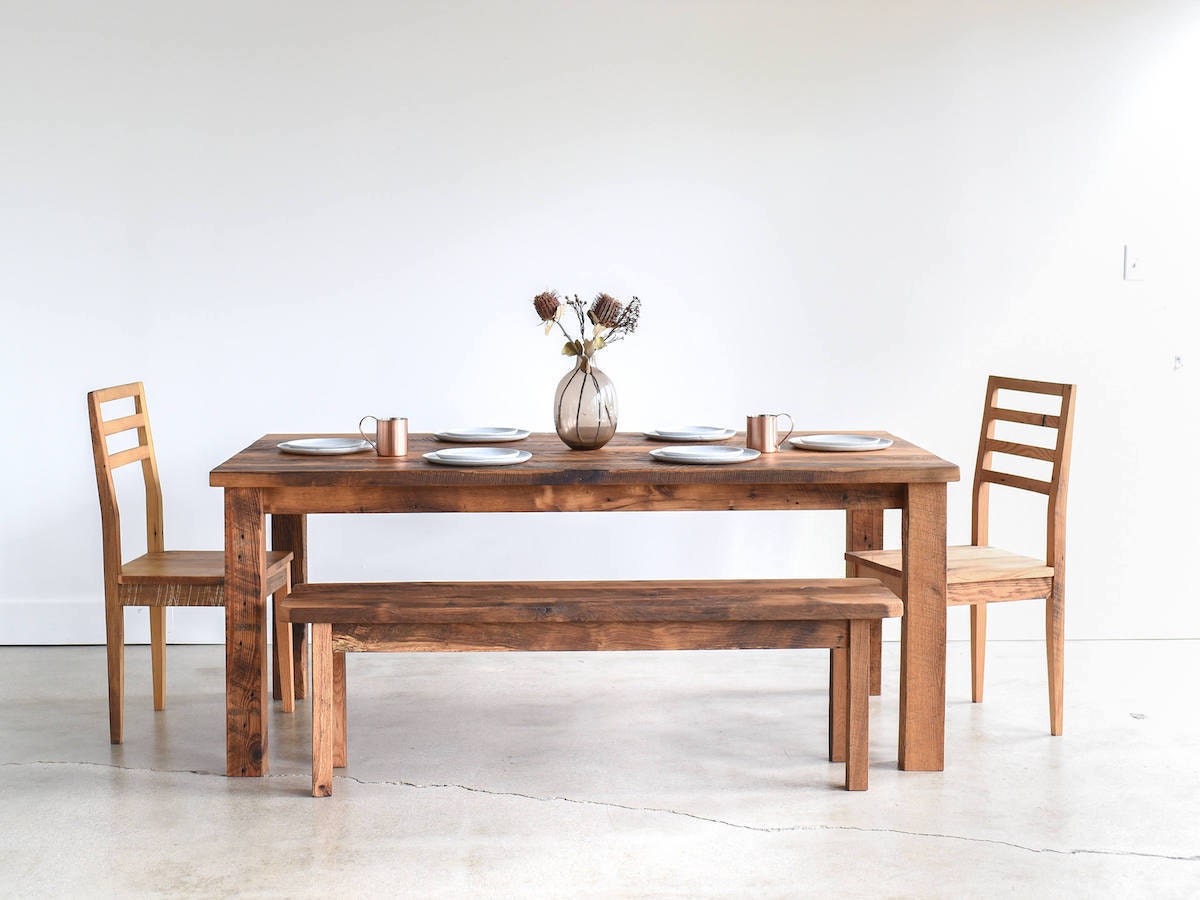 In our Featured Shop series, we shine a light on a standout shop from Etsy's talented seller community, offering readers a behind-the-scenes look at their process and story.
From the sturdy farmhouse table we gather around to sip our morning coffee to the live-edge oak bench where we sit to remove our shoes each night, the furniture that frames our daily life can—and should—be as beautiful and thoughtful as it is practical. And thanks to family-run Chicago workshop What WE Make, finding intentionally designed pieces with enduring style has never been easier. "People have an aha moment when they find us because they're looking for something to help organize their day-to-day existence," says Dan Quinn, who co-founded the company with his brother, George. "And our furniture helps them create a more visually-appealing atmosphere."
Explore the What WE Make collection
Crafted by hand in their signature natural-industrial aesthetic, each made-to-order coffee table, media console, and bathroom vanity from the What WE Make collection is forged from gorgeously textured reclaimed and sustainably sourced wood and finished with welded metal and concrete accents. Versatile enough to blend in with any decor scheme, these built-to-last staples put a sophisticated spin on traditional wood furniture. "Our focus is on doing a more refined version of reclaimed," Dan explains. "We're making pieces that families will have in their homes and gather around for years to come." 
Read on to find out how Dan and his family transform weather-beaten wood into exquisite, customizable furniture, and shop the What WE Make collection.
How did you develop the What WE Make aesthetic? 
In 2013, my wife and I were looking for reclaimed wood furniture for our first apartment. We gravitated toward a clean, modern look that was organic and natural, and we liked the idea of using recycled materials, but we couldn't find anything reclaimed that wasn't rough-looking. My brother George had been making furniture for friends and family for 15 years at that point, so we asked him to design some pieces for us. 
What inspired the name, What WE Make?
We wanted to build furniture that we truly believed in on every level. "What we make makes us" is the full saying. We believe that what we're making has to be an extension of who we are. Our focus is on doing things the right way.
What sets your furniture apart?
Craftsmanship, first and foremost. For example, we don't just make tables. We also make cabinetry, bedroom furniture, and vanities. There's a different level of craftsmanship required to make cabinetry—and having those skills really sets us apart. That and the quality of our materials. We use a really nice plant-based finish made with flaxseed oil. It's non-toxic and VOC-free, meaning there are no chemicals off-gassing into your home. We don't cut corners with any of the materials that we use.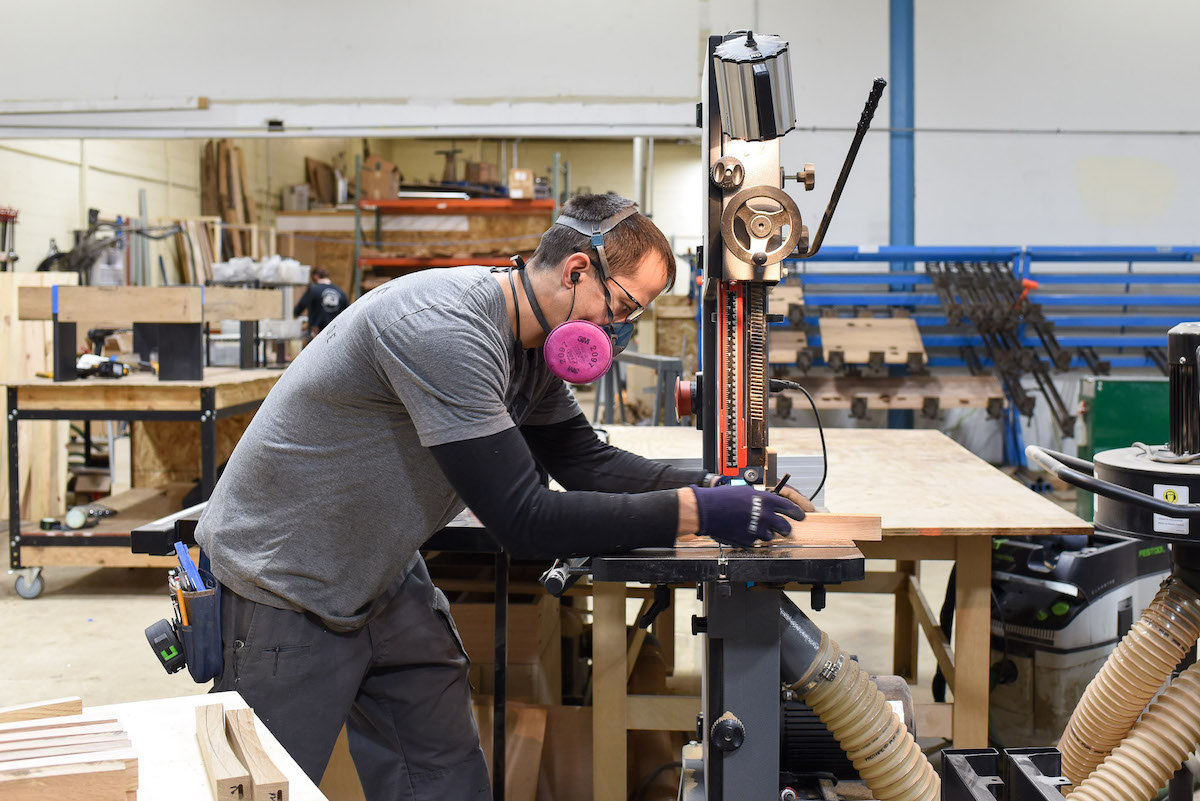 What are some of your bestsellers?
Dining tables and coffee tables are our most popular pieces. Ever since we started, those have been the two mainstays, but the vanities and cabinetry portion of our business has really grown in the past few years. People are just in love with the vanities and concrete tops that we make.
Tell me about your options for customization.
Since our whole collection is made-to-order, we can easily accept custom requests. If you need a dining table that's 64 inches long versus the standard 60 or 72, that's easy for us to accommodate since we make everything ourselves. We've done pretty much everything at this point, including a lot of commercial orders for breweries and things like that. We do a lot of church furnishings, too.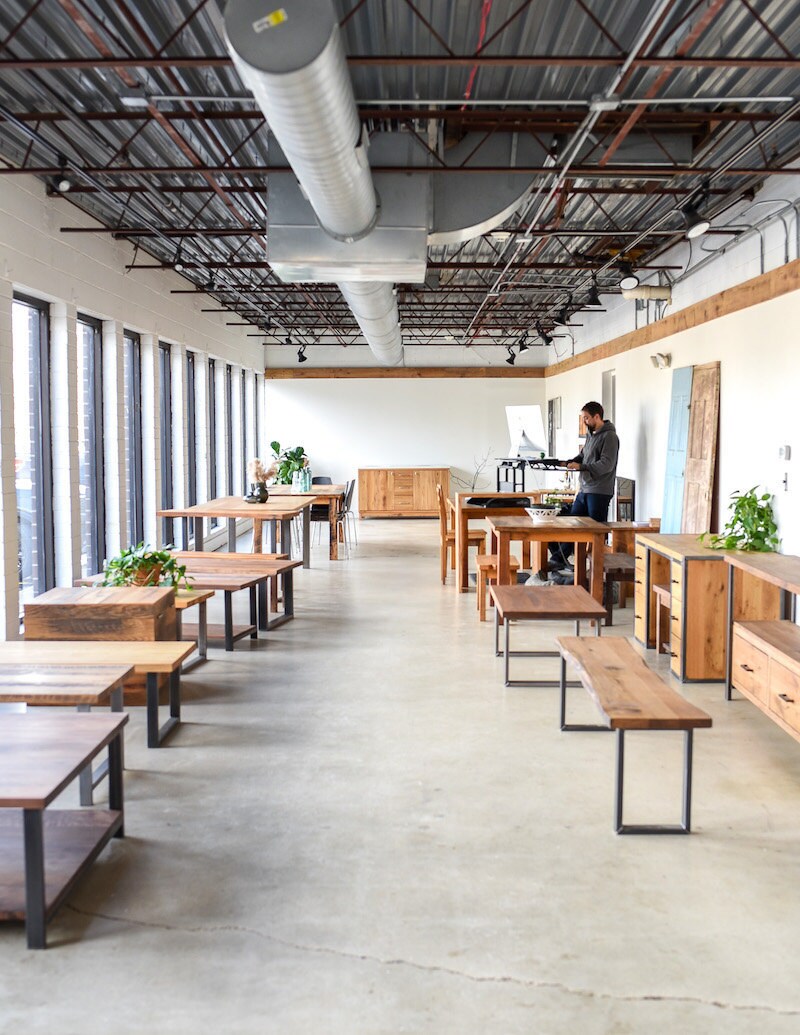 Where do you source your reclaimed wood? 
Each month a semi-truck of wood arrives from our suppliers, who take down barns in Tennessee and Kentucky. Barnwood has immense value because you can't recreate the beauty of it. Every piece is completely unique and it's great to work with. Our suppliers clean the wood for us, but it's still rough and raw-looking when it arrives. We go through our own processes to finish the wood to be more refined—not the rough texture you might expect with this type of material. 
Why did you decide to start offering sustainable hardwood pieces as well?
We didn't intend to use non-reclaimed woods initially, but people kept asking if we could make our designs in walnut or white oak. Eventually, we started searching for sustainably-sourced hardwoods suppliers in the Midwest. Since we're focused on recycled materials, as we branched off into working with hardwoods, we wanted to make sure that we weren't supporting any companies that were involved in any sort of deforestation. We ensure that the harvesting process is done in a sustainable way. 
How does your sustainability mission extend beyond the materials you use?
We try to minimize putting anything in a dumpster—reclaiming material and then throwing it away doesn't make a whole lot of sense. Making tables, there's always going to be cut-off material, but we give those cutoffs away. Local hobbyists take them to make stuff out of, and others use it as firewood to heat their homes. We also give local farms our sawdust to use for beds for their horses. It's a win-win.
How do you support shoppers on their journey to find foundational pieces for their homes?
We work hard to make sure that we're making really nice products and taking care of our customers on every level. Our prices on Etsy include shipping, so there are no surprises, and we also sell samples if people want to feel the materials in-person prior to purchase. We communicate with customers from the very beginning of the process through regular status updates, and once a piece is finished, we send pictures for approval. We don't ship anything until they're 100% happy. We really go the extra mile.
What's it like working with family?
The nice thing about working with family is that at the end of the day everybody cares about the business in a way that goes beyond just punching the clock. My father was a contractor by trade. My brothers and I worked for his business during high school, and because of that it was less of a leap of faith for us to start a business too. I handle the business side of things. My wife does all our photo editing and visuals. My brother builds the furniture and manages production with our team of eight full-time makers. My dad does all the finishing work. My brother's wife manages the online shop. It's a true family business. 
Follow What WE Make on Instagram, Facebook, and Pinterest.
Photographs courtesy of What WE Make.