by Aleksa Brown
Learn what inspires designer and screen printer Noelle Burke – and how she goes about creating original pieces for her popular line, Xenotees.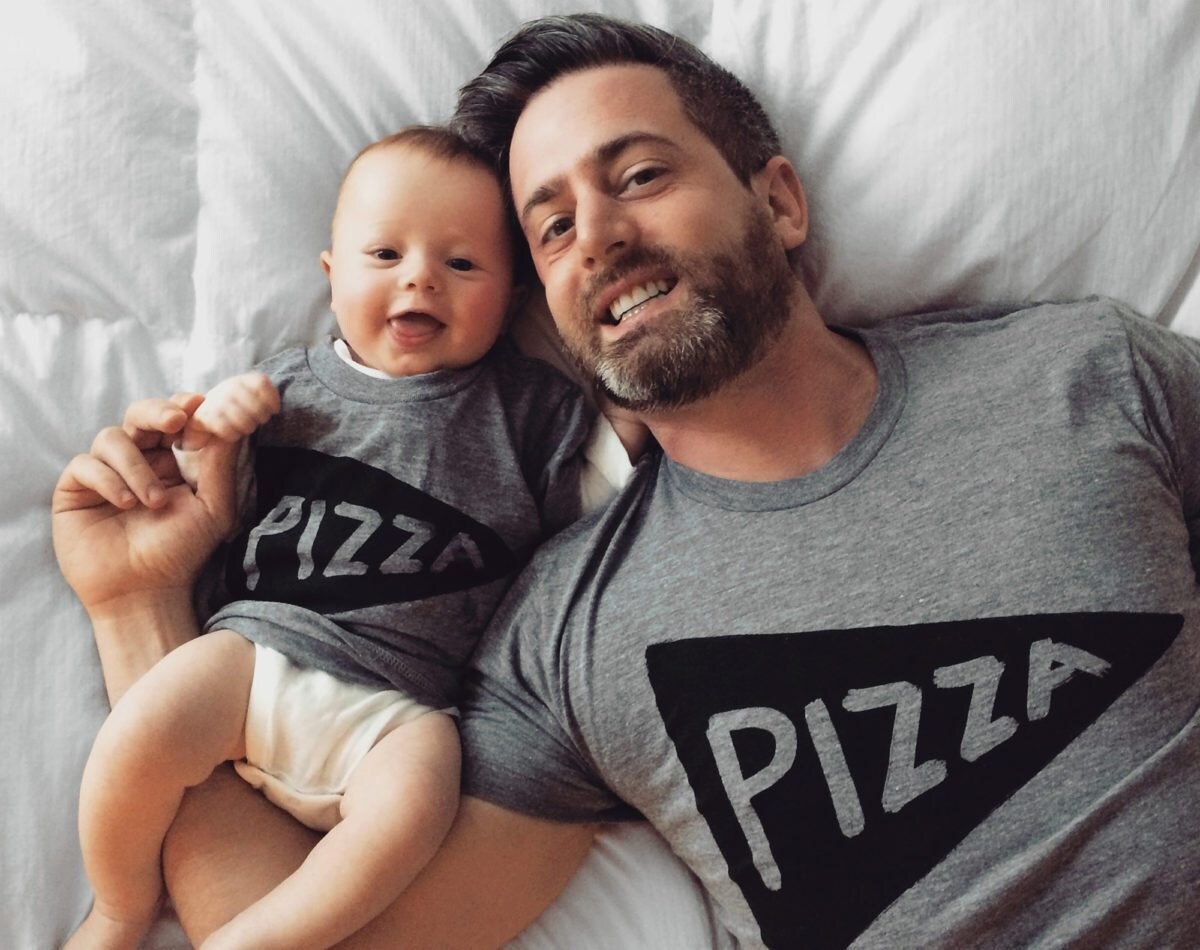 With more than 18,000 sales and an impressive collection of screen-printed goods – ranging from home decor items such as pillowcases, tea towels, and posters to T-shirts, scarves and tote bags – it's safe to say that Noëlle Burke has hit her stride making items that resonate with customers around the world. The origins of Noëlle's business,
Xenotees
, lie in the early 2000s, when she and her husband were running their own contract screen printing business in Providence: "One day, I just decided to start trying some of my own stuff, but I didn't really know what to do with it," Noëlle explains. "I would wear it and kind of give it away to my family. But then my husband, who is also an artist, had a show at a gallery in Brooklyn, and they said they'd be interested in selling my stuff. So I dropped some stuff off there, and it sold!" From there, Noëlle and her husband moved to Philadelphia, where they still reside, and someone told Noëlle about Etsy. "I thought,
Oh, I'll try that out,"
she says. "It's been going well ever since."
Read on to learn more about Noëlle's journey as a designer and small business owner.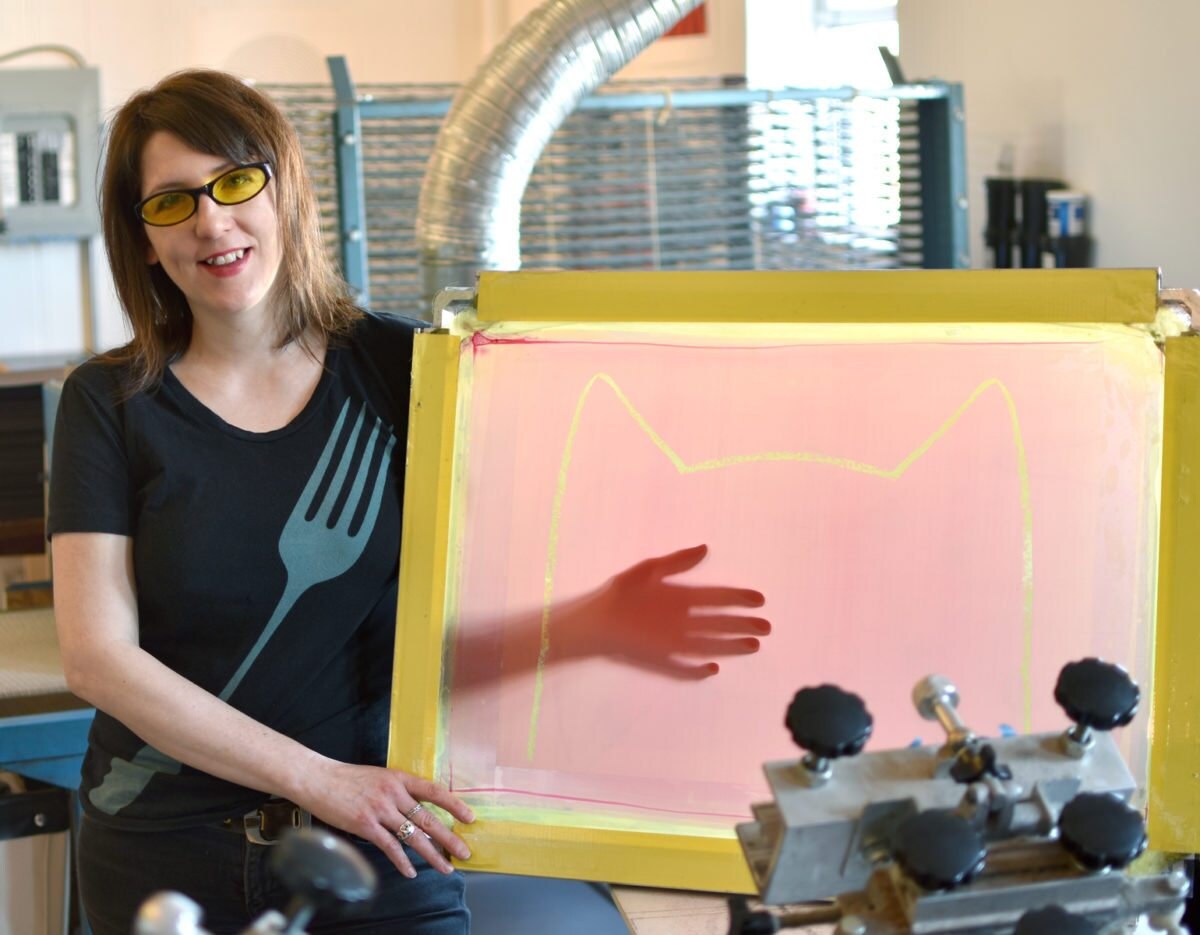 Will you tell us a little bit more about your background as an artist? How did you learn your craft? I was lucky enough to go to a high school that taught college-level courses in photography, life drawing and sculpture. After that, I went to school in Boston for a year and then I took a year off. I had to pay for my own education, so it was difficult for me; there was a lot of time off and working in between, but I kept sketching throughout that time. I took a couple of classes in Richmond that were influential: a screen printing class, as well as typography and other design courses. Then when we moved to Providence, that's when we were able to start screen printing for a living. My husband and I have been learning all the different aspects of screen printing together over the years. Walk us through your creative process: How do your designs go from sketchbook to pillowcase? I have notebooks all over my house, in my purse, everywhere. I'm always recording thoughts and ideas, and I do a lot of renditions before I finally settle on something. From there, I'll scan the design into the computer and mess with it until I'm happy. That can take a while – I've had designs take as long as a year. Once I finalize the design, I make it into film, put it on the press, and start printing.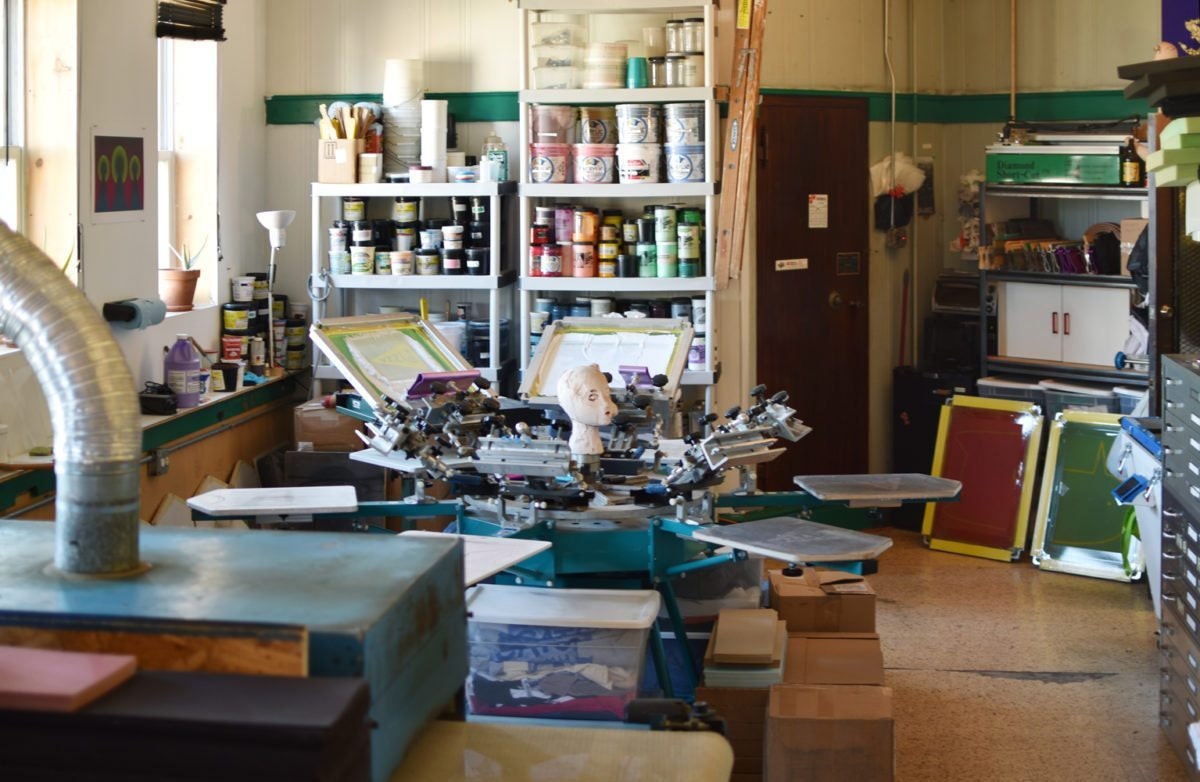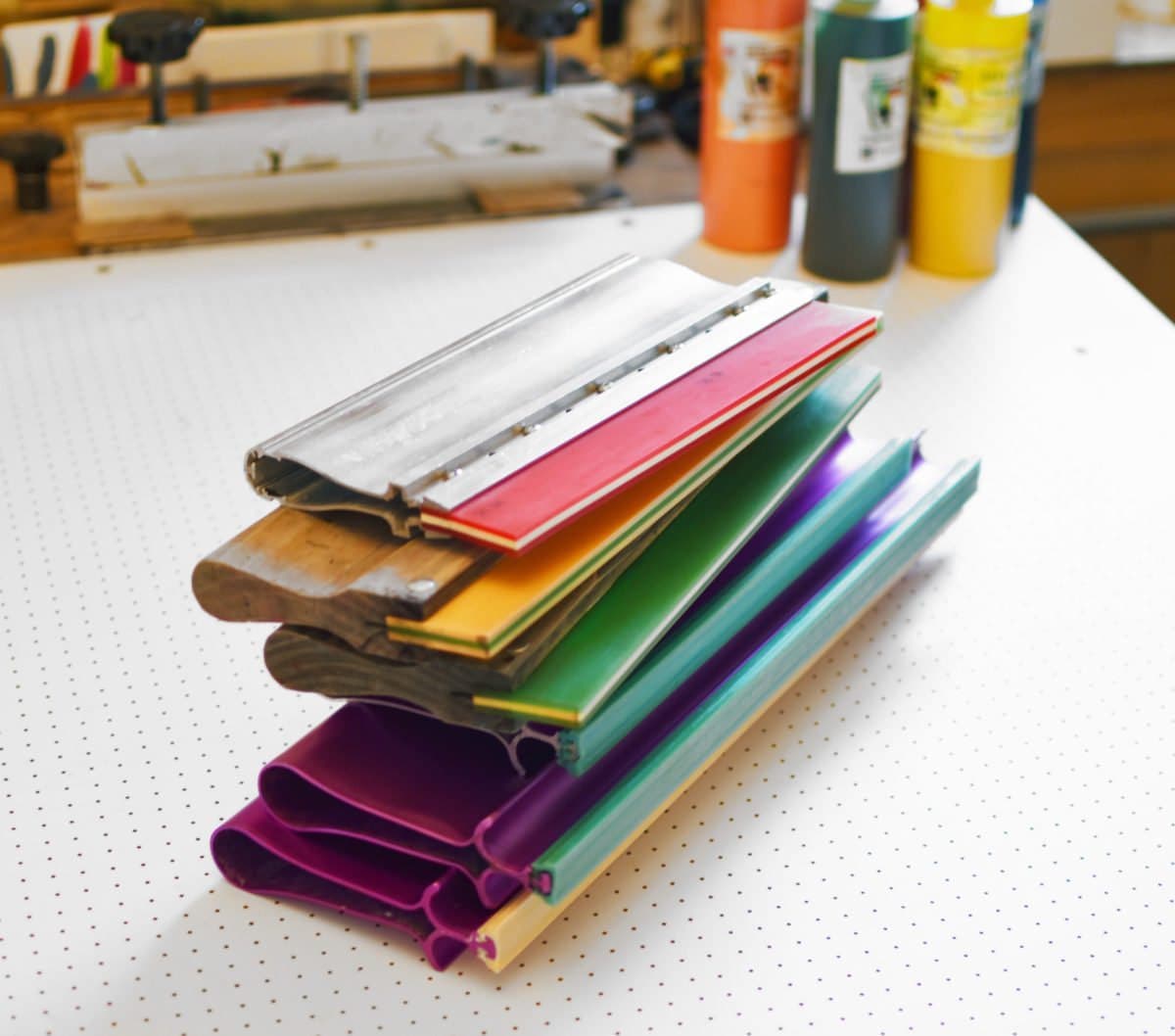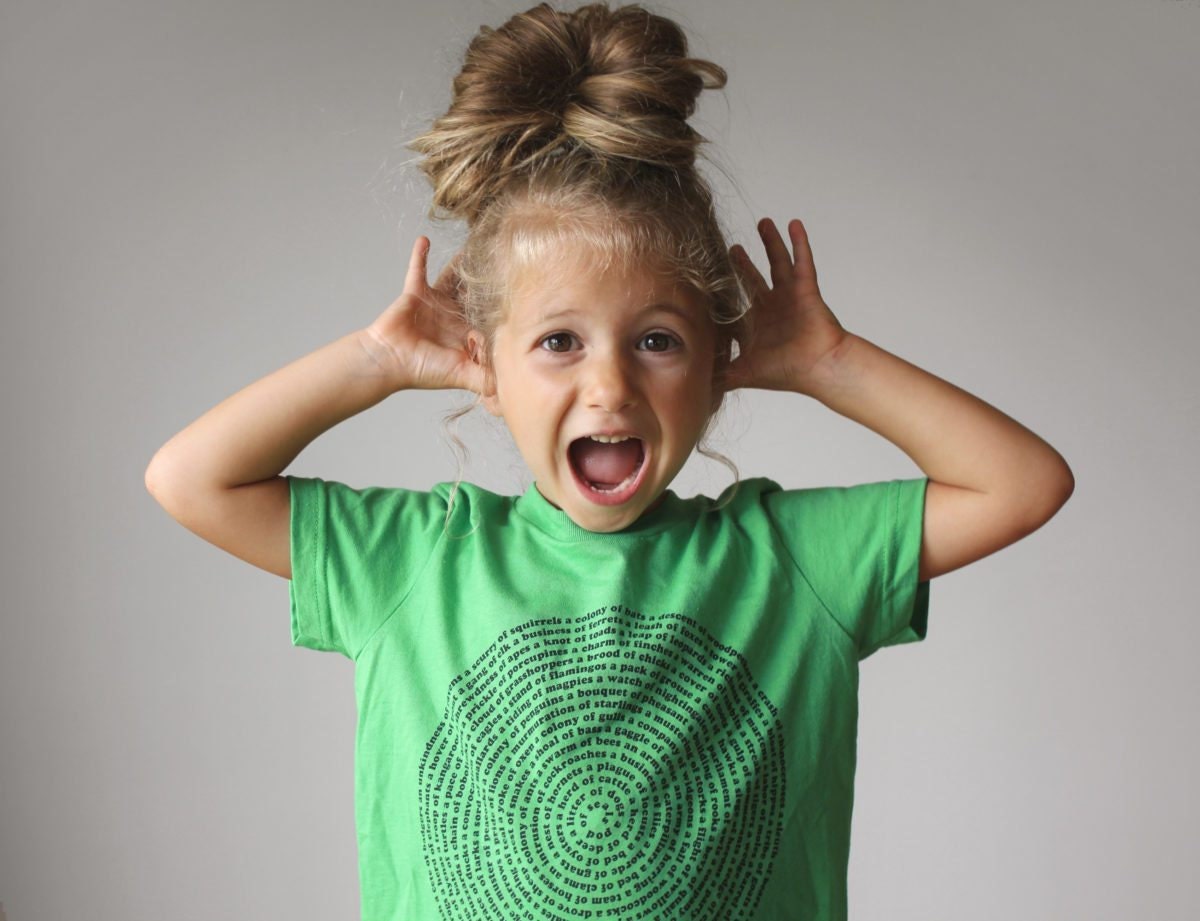 What are some of your inspirations? Animals, science, nature, food – those are the subjects I keep going back to. My designs are often about the things in life that I love, or the things that strike me as interesting. With the chromosomes, I thought, I really like
Claes Oldenburg
, the sculptor, and he makes things on a large scale. I've always liked things like that – and miniatures, too. So I thought about making something small, like a chromosome, but blown up. I've never seen that before, and I thought it would be interesting to try out. When I come up with something, I look all over the internet and all over Etsy to make sure that what I'm doing is original. That's important to me, to be original.
What inspired your popular T-shirt sets?
I'm not really sure what inspired those, exactly – I think maybe some customers asked if I could make the pizza design for kids. I didn't have many kids' designs at the time; I didn't even know if they were going to do well, but the
father-son set
is one of my top sellers now. I think part of it was about the photo that I used in the listing – that was actually sent to me by
a customer
.
Wow, really?
Yes, she sent it to me, and I asked her permission to use it, and she was like, "Oh, yes, totally!" So that was really lucky. I think a lot of things have to do with luck. After that, I started collaborating with another Etsy seller, Katrina from
Salvage House
, on photography. So that
"Mommy and Me" picture
– that's her and her daughter. They're really funny; they send me a lot of photos. I really like working with other Etsy sellers.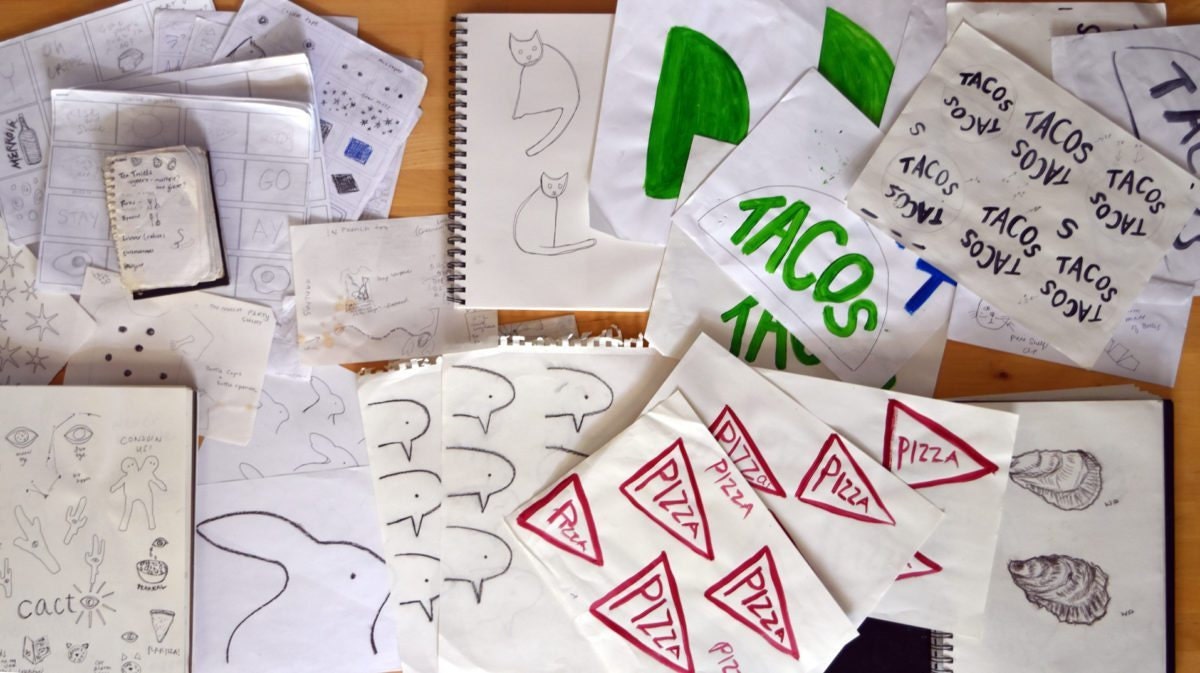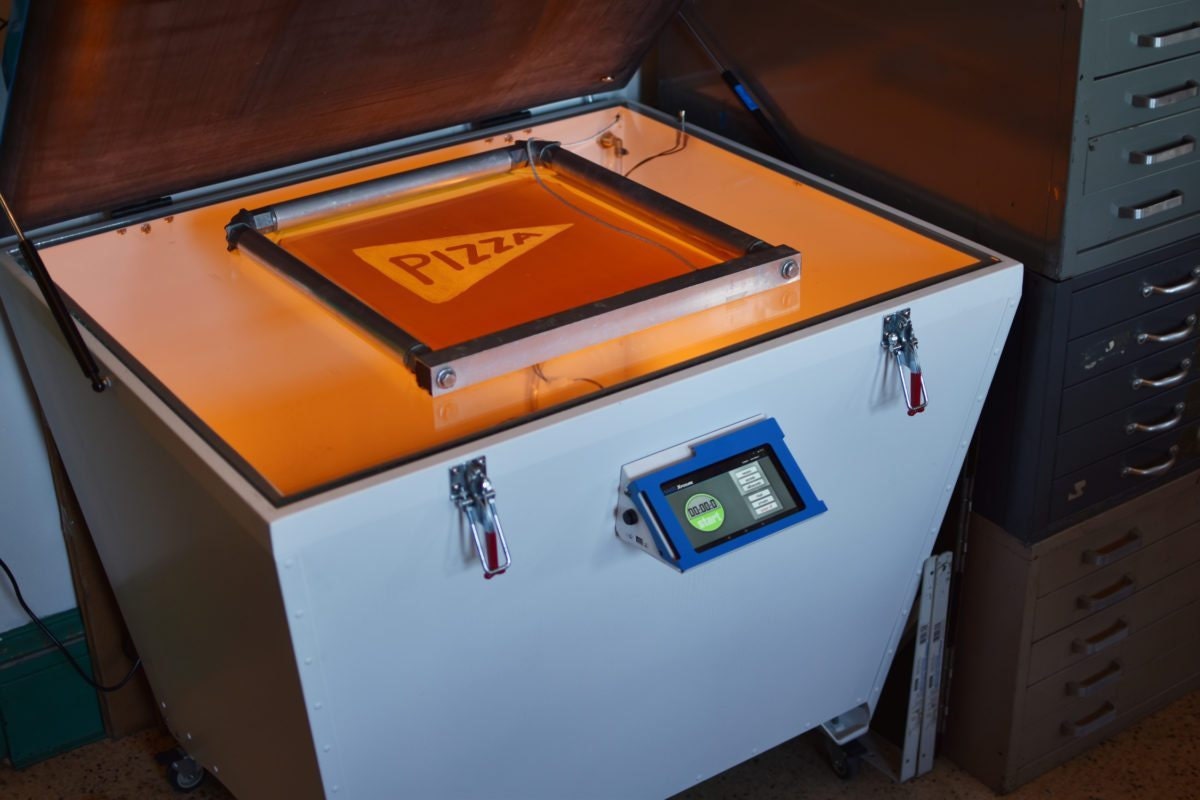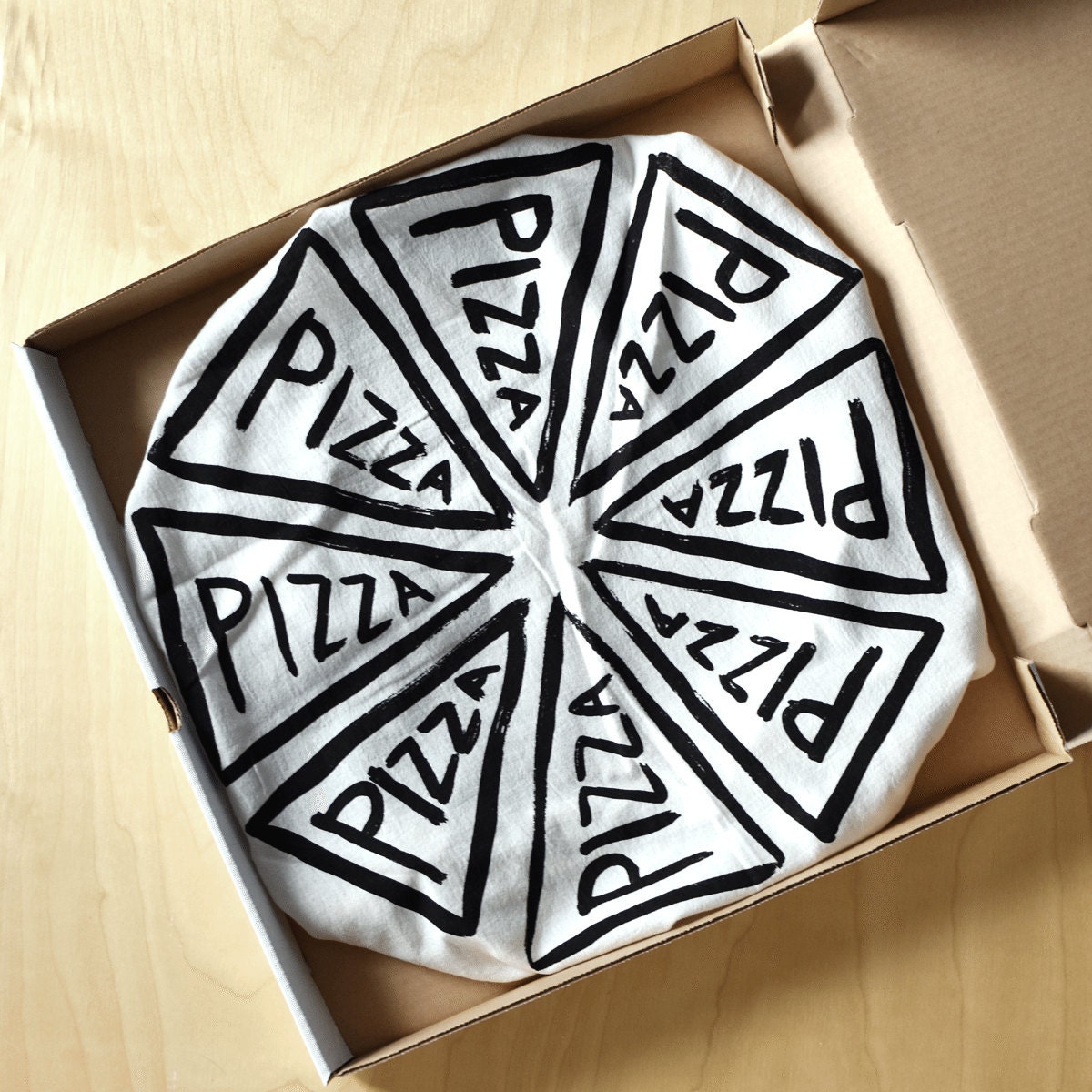 Have you always had this collaborative spirit where you just reach out and strike up a relationship with other artists? I think so. I can be kind of shy about things, but obviously it's easier online when you're just writing to someone and whatnot. I come from a big family – 10 kids – and my twin and I are the oldest, so I think that's where my collaborative spirit comes from.
How do you manage your workload for printing and production? Do you have a team that you work with, or is this a one-woman show?
Oh, no. It's just me, though my husband will jump in if I really need him, especially for technical things. I work all the time; I don't take a lot of time off. I just plug away. It's hard work, but I love the freedom: I can take a day off and go hiking, or go to a museum or go on a road trip. It's a lot of work, but I love it. I really love it.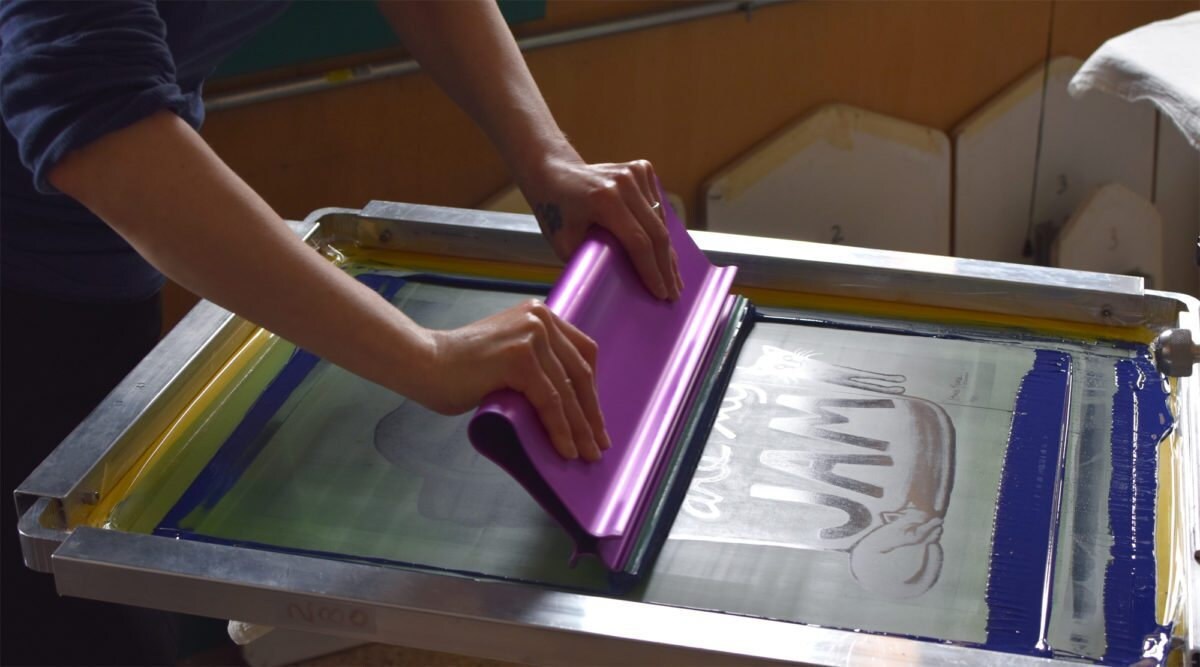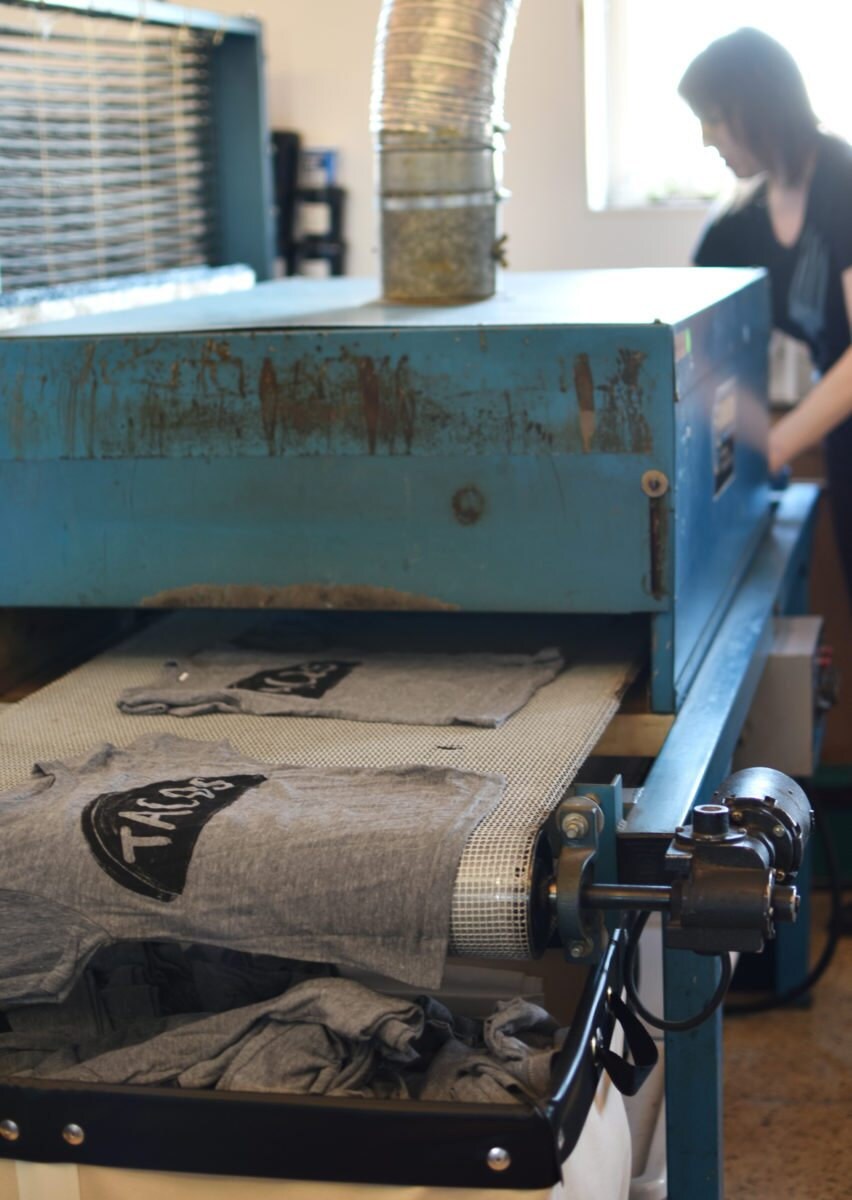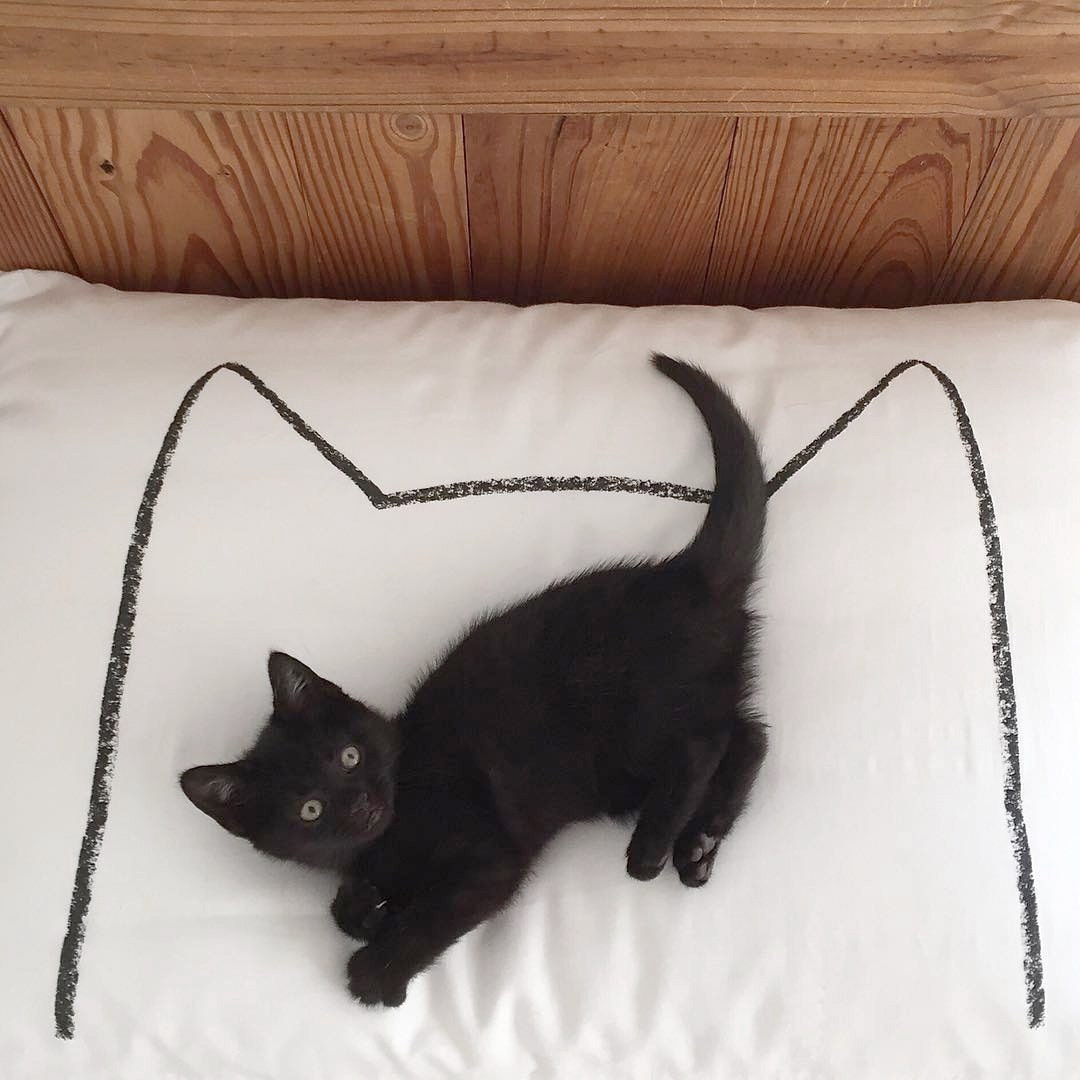 What is your favorite part of the creative process? When I have a new design and I print it for the first time, that's really fun. That makes me really happy. Aside from designing and screen printing, do you have any other creative outlets? I garden. That's really fun this time of year – we live in a row house with a small backyard, so we have a container garden out there. I like to grow hot peppers and herbs; I have a couple blueberry plants as well.
What's next for Xenotees?
Thinking about the future, I'd like to eventually get back into making cards. (When I was a kid, I made cards for everyone in my family. That was my thing, I was the card maker.) I'm also thinking about making wallpaper, printing on fabric and making throw pillows.
Follow Xenotees on Facebook, Twitter, and Instagram.
Maker and process photography by Xenotees; product photos by Katrina Dunlap (child's tee), Xenotees (pizza towel), and Serena Boleto (pillow); lead image by Emily Dubrovsky.
  Save