Discover how the sister-brother team behind this greeting card line creates holiday magic with animals and heartfelt sentiments.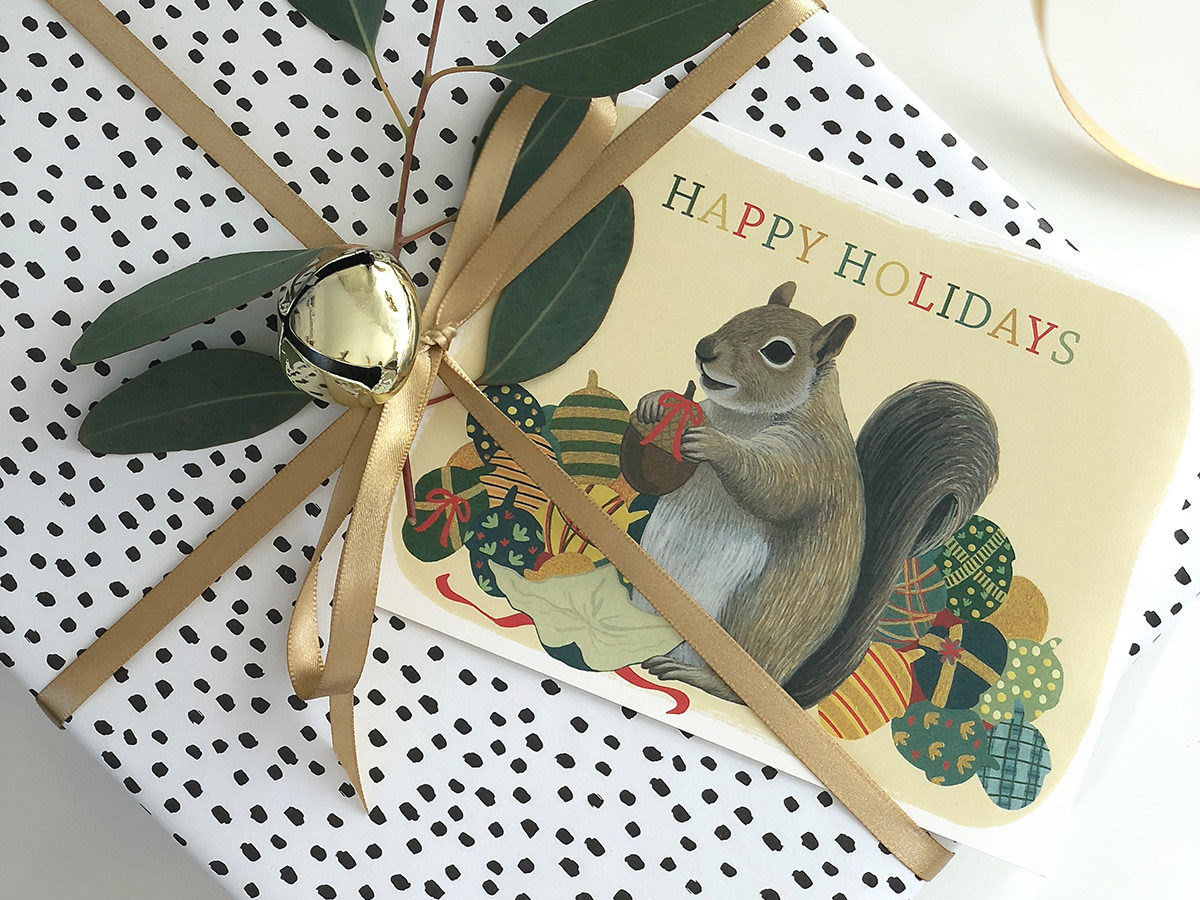 In our weekly
Featured Shop series
, we shine a light on a standout shop from Etsy's talented seller community, offering readers a behind-the-scenes look at their process and story.
The cozy, stuffed, slightly sleepy feeling that follows a big Thanksgiving dinner doesn't
always
lead to a brilliant business proposal. But that's exactly what happened five years ago, when Jennifer Lee Gregoire announced to her family that she was leaving her job as an interior designer to launch
Yeppie Paper
, a line of greeting cards based on her hand-painted illustrations. Her brother, Jim Lee, loved the concept, and the two began spitballing ideas. The siblings had always been close, and the timing was just right: Before the dishes were done, the Los Angeles-based duo decided to team up on a new creative adventure, with Jen leading design and Jim handling the business side.
Explore the Yeppie Paper collection
As for the unconventional business name? "Our father is from South Korea. Growing up, he's always called me by the nickname Yeppie, which means sweetie or cutie," explains Jen. Jim thought the term of endearment aligned perfectly with the charming style and warm spirit of their cards, which express straight-from-the-heart seasonal sentiments through quirky scenes featuring
squirrels bearing acorn gifts
,
yetis wearing Christmas sweaters
, and
frogs under mistletoe
. "The holidays are such a special time of the year, and I think people make it a priority to find the
perfect gift
. Along with that, they want to give that perfect card," says Jen. "I think everybody has a Yeppie in their lives."
Read on to discover how the animal kingdom inspires Jen's designs, learn her thoughts on why people love exchanging printed cards, and shop the Yeppie Paper collection.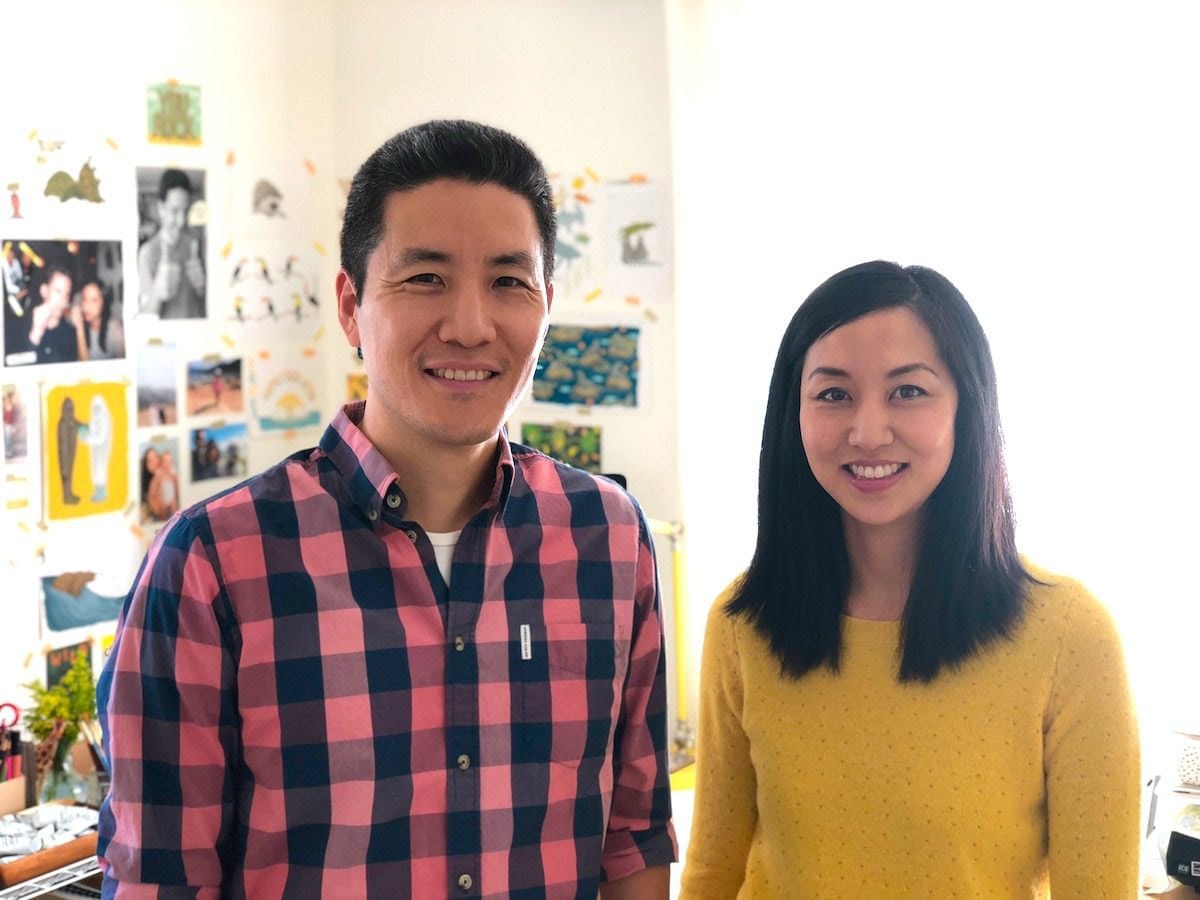 When did you first start painting and drawing?
I've been making art my entire life and for college I went to UCLA and got my BFA. After that, I tried a few different things. My first job was painting leather belts for a designer! Then I did admin work for a backdrop painting company, interned for a textile design company, and worked for a letterpress company. When I stumbled upon interior design, it seemed like a lucky break. But after six years, I missed painting and drawing, so I began experimenting with gouache paint in my spare time.
I've always been a lover of
paper goods and stationary
, and I started to see these really cool greeting cards out there. That's what inspired me to try to come up with my own designs. Our
baby raccoon card
was the first one I showed my family, and Jim said, "I think you've got something here!" That's the one that started it all.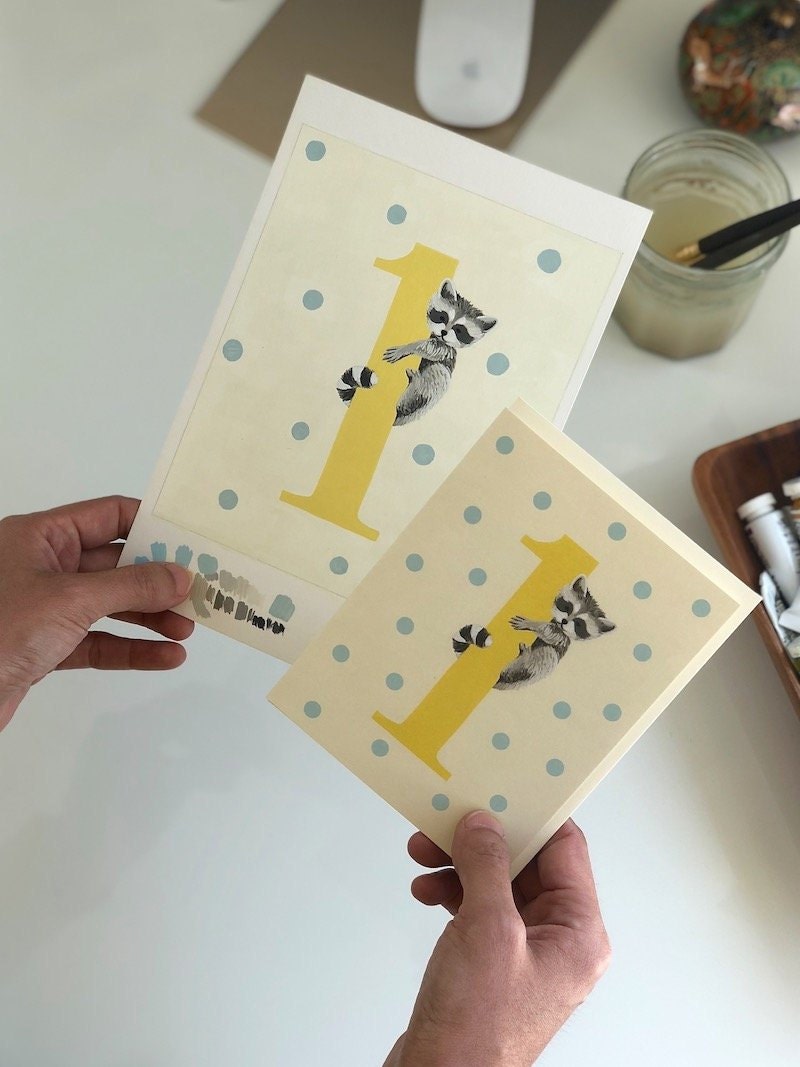 >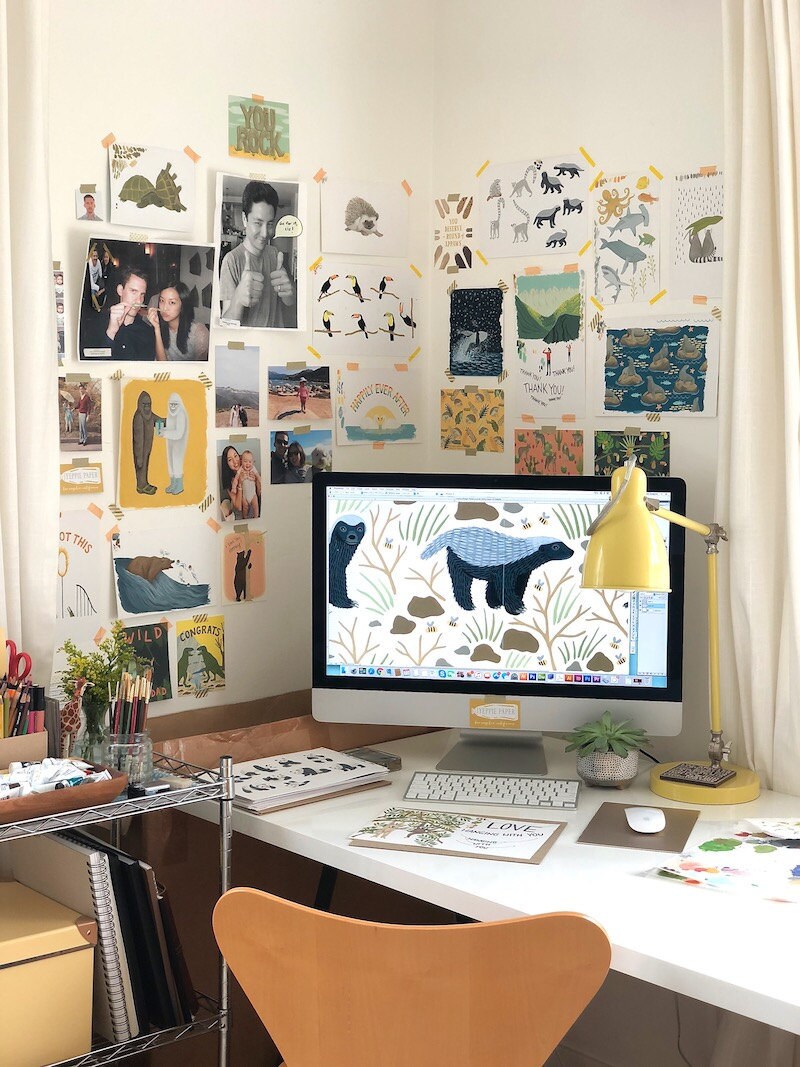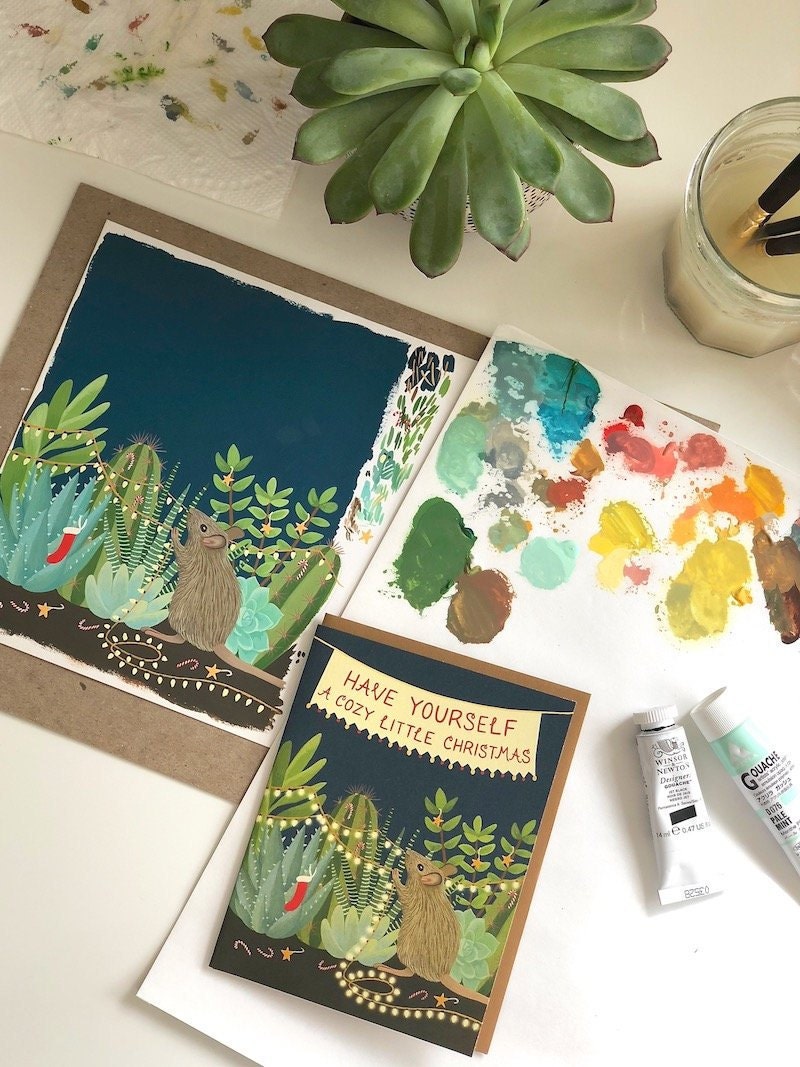 >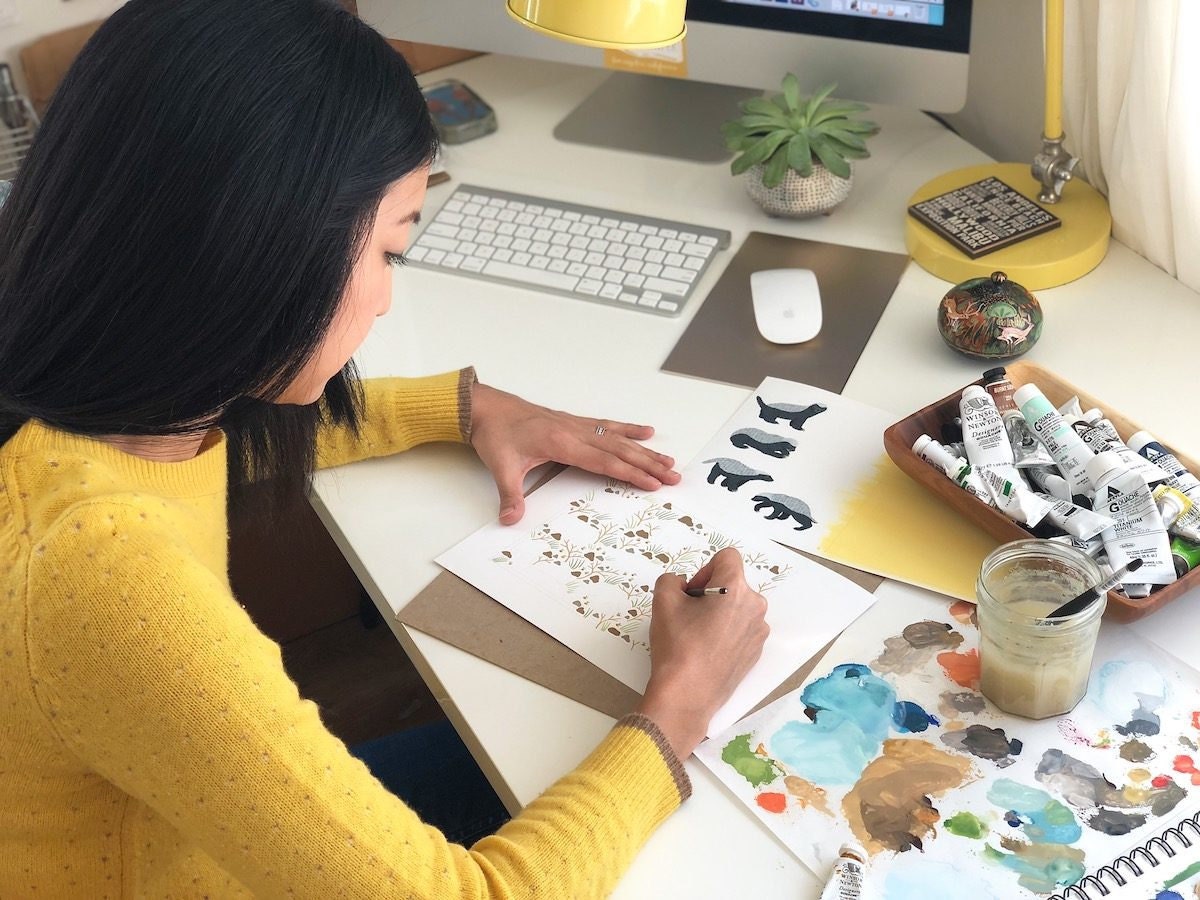 What do you love about making cards? What does your process look like?
I love cards that tell a little story. I hope our illustrations help people say what they want to say, but we intentionally leave the insides blank so they can write whatever they want. In terms of production, I'm very old school. I work with paint, and then I scan the illustrations. The only things I do on a computer are clean up the image and color correct a bit. My favorite part of the whole process is painting. That's who I am at my core; that's my happy place.
When you sit down to design the cards for a new collection, where do you start?
We first think about what categories need to be included in each release. For example, in May, we're working on fall and winter holidays like
Christmas
,
Thanksgiving
, and
Halloween
. Even though I'm the one painting and designing, Jim and I collaborate on the concepts behind each card. He's a super creative person with a great sense of humor. Together, we try to come up with as many ideas as we can and pitch them to each other.
Once we narrow things down, I think about how to visually convey the idea. I start sketching and painting, and I keep sending Jim text messages of my progress to see if he has constructive criticism. Once we finalize the designs, I use Photoshop and Illustrator to get the files ready to go to our printer, which is right here in L.A. They cut and fold all the cards and deliver them to my house.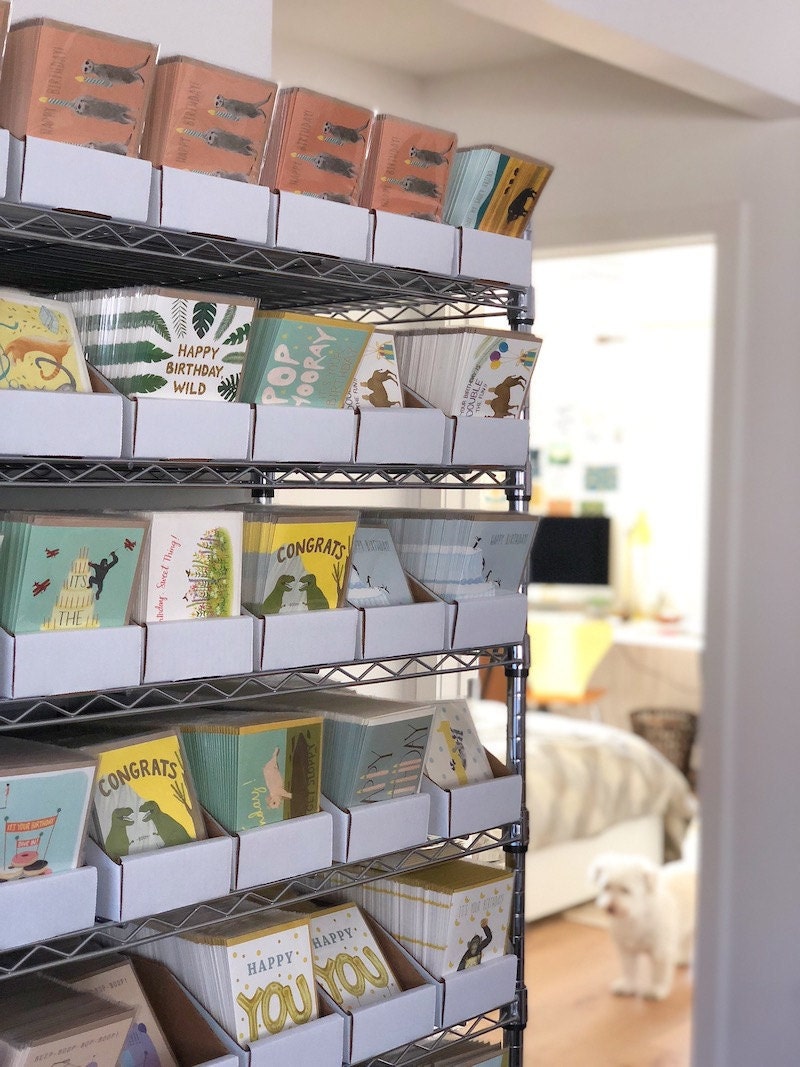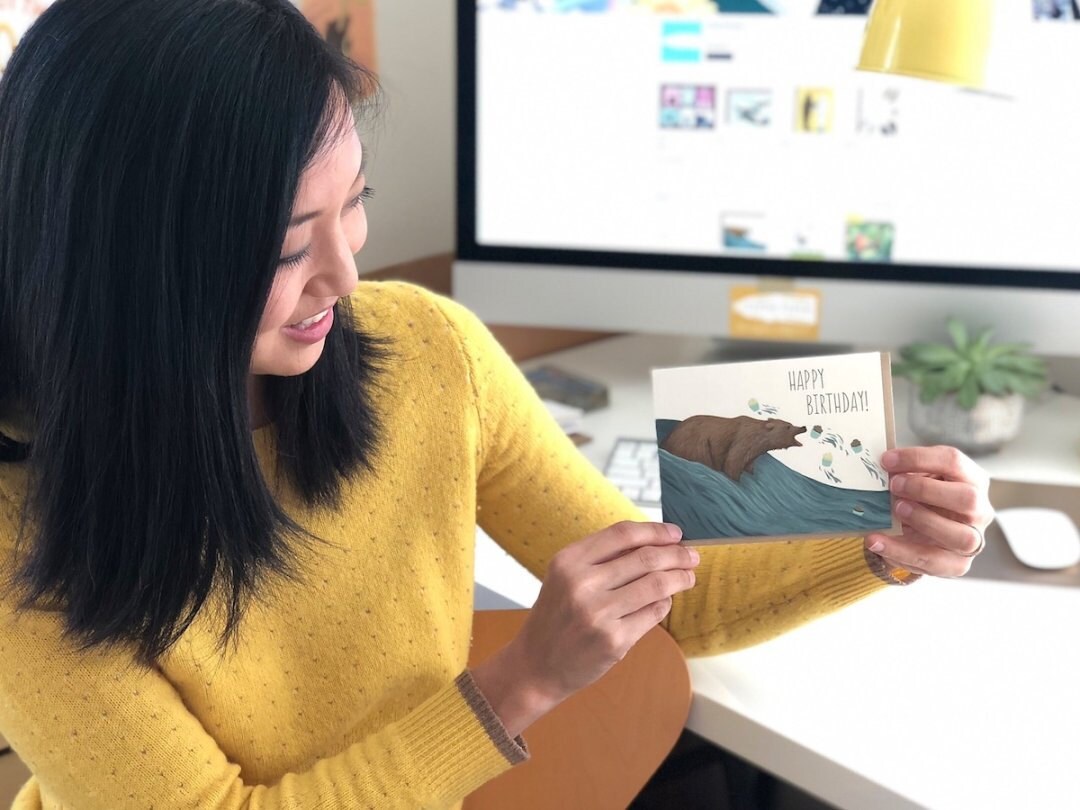 >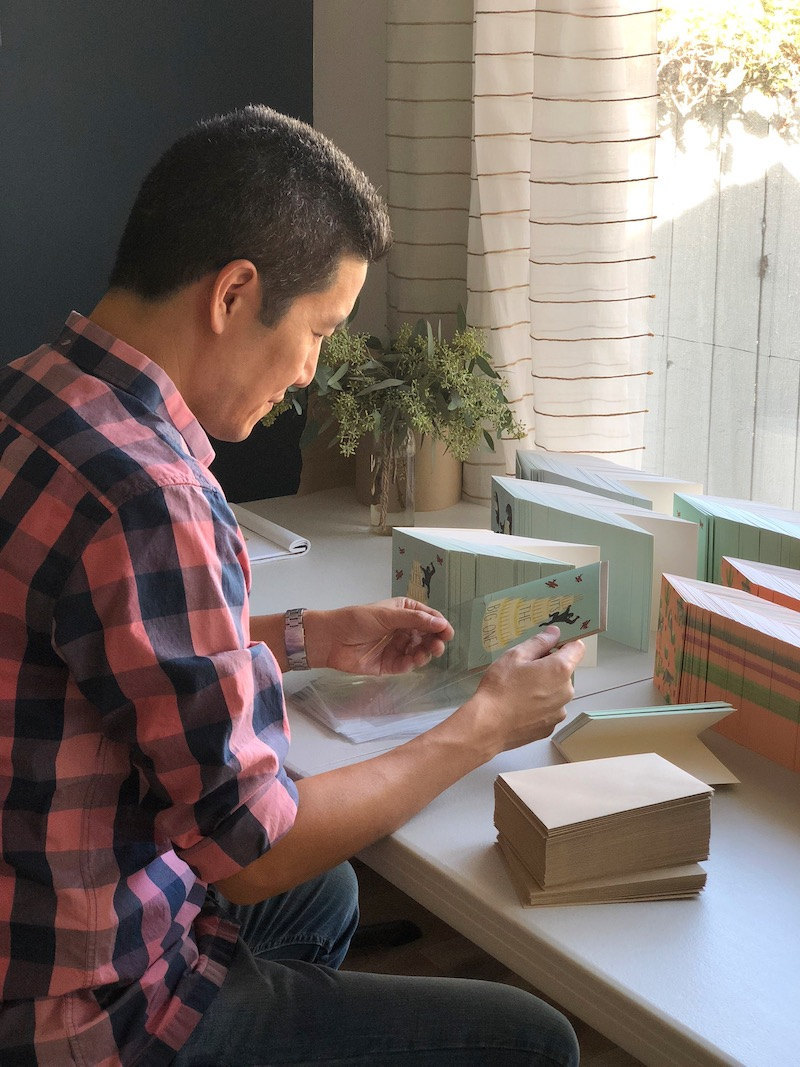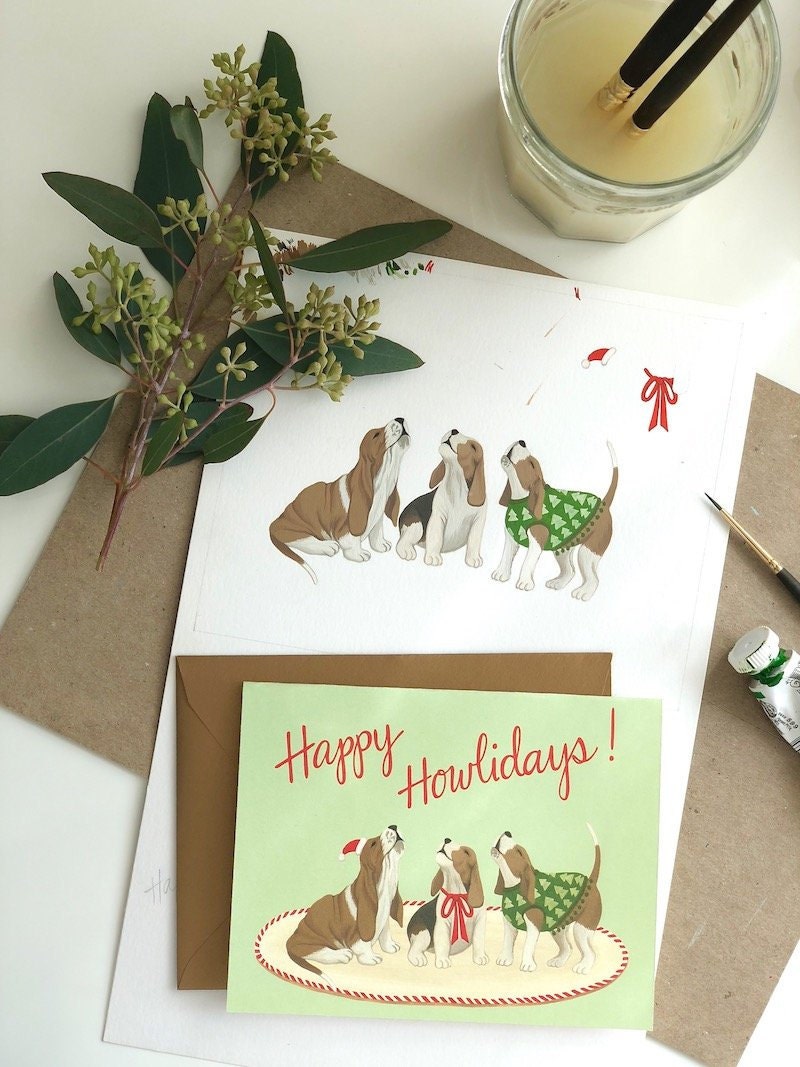 >
Where do you turn for inspiration?
I have always been a huge animal lover, whether they're domestic, wild, or ocean creatures. I just totally geek out on them! A few years ago, I went to South Africa with my parents on safari, and it was a trip I'll never forget. I love painting animals, and giving them a little bit of an expression, like a cheeky smile. Our dad got me a subscription to
National Geographic
, and now I can study the animal kingdom for personality traits that I can apply to human holidays. For example, one of our newest cards features a little
mouse decorating her space
. Two of our other best sellers this year are our
howling hound dogs
, and
Santa's little cat and dog helpers
. There's such warmth to them!
In the age of email and text messages, what role do paper cards play? 
Greeting cards could have gone totally digital years ago, but people love giving and receiving handmade, printed cards. It's about expressing a connection to friends, family, and community, and it truly means the world to us when a customer chooses one of our cards out of the millions that are out there, and sends it out in the spirit of love, appreciation, and friendship. In some of our shop reviews, customers will take the time to describe the feeling they got from a card, and why they're excited to give it to a person in their life. We read every single review that comes in, and they put such huge smiles on our faces.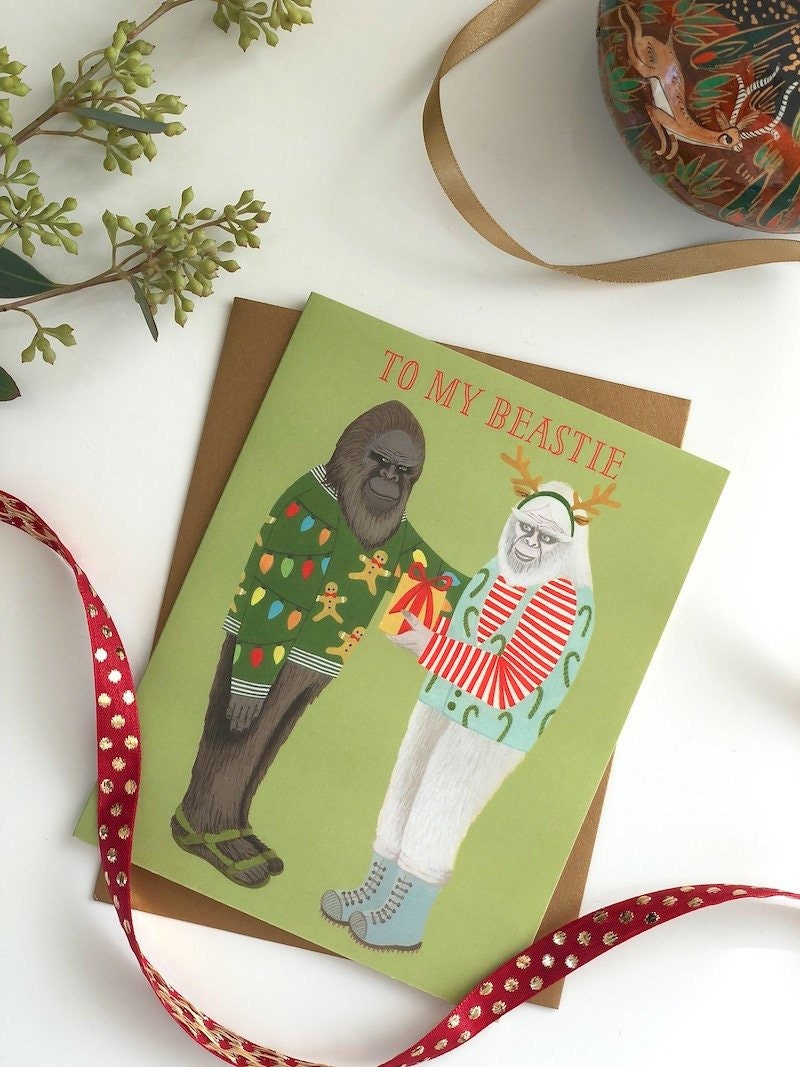 >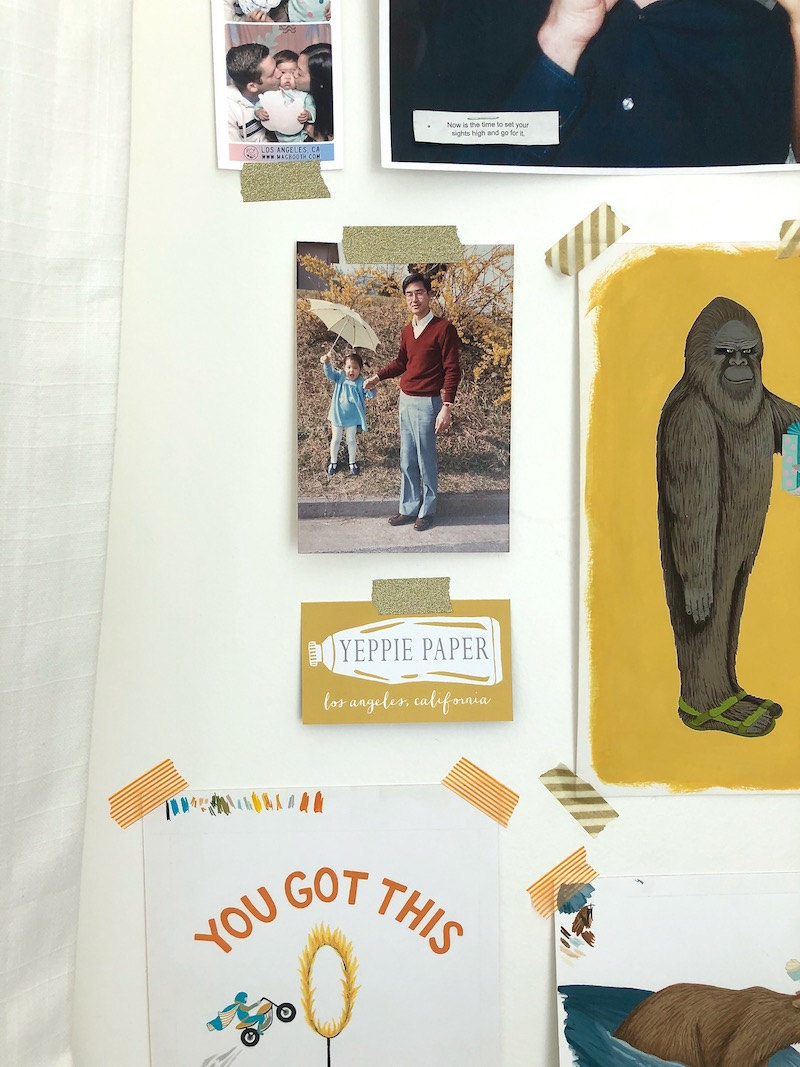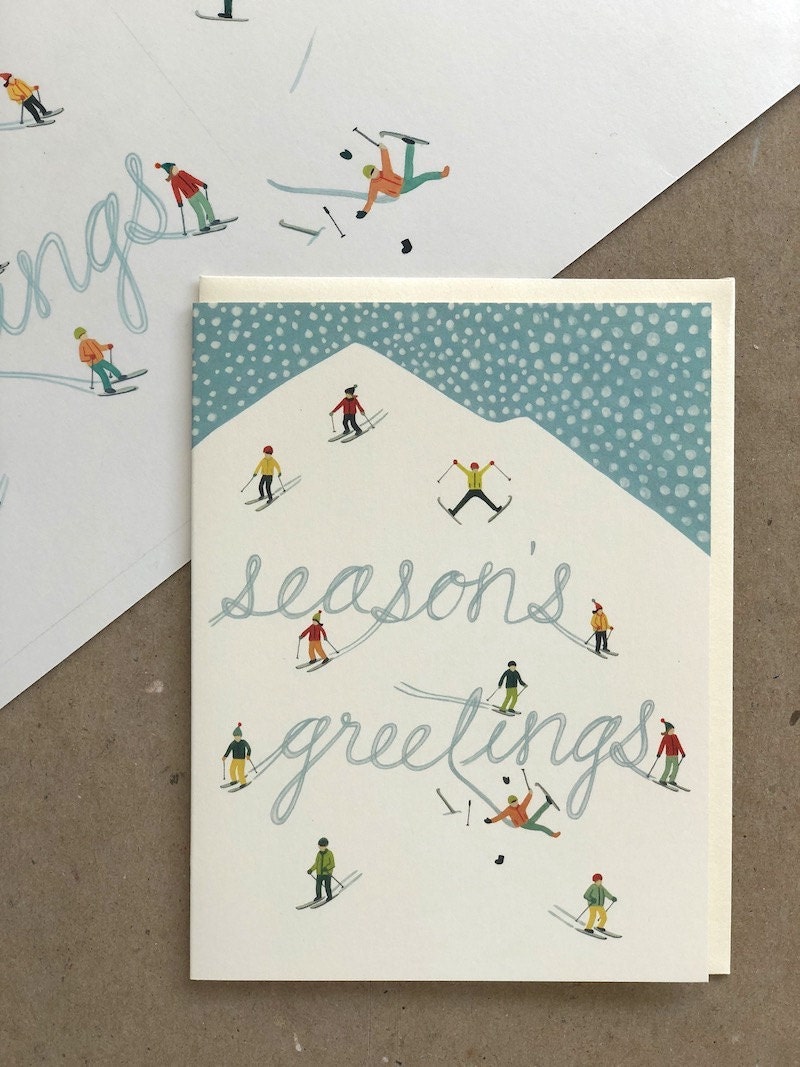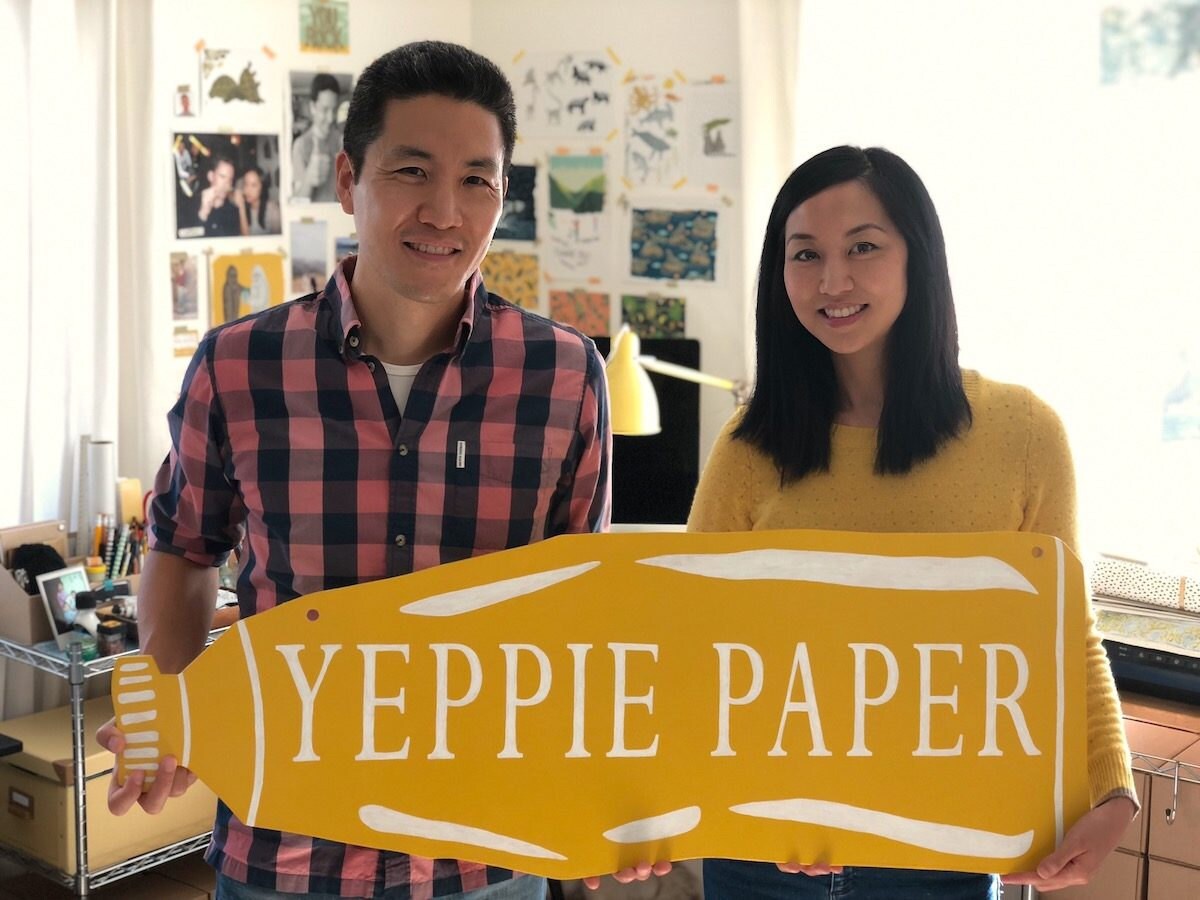 So, what's next for Yeppie Paper?
Right now, we're actively working on our January release. In the meantime, we're interested in exploring licensing opportunities. Of course we're going to keep making
greeting cards
, because that's what we love, but we want to expand into other products and textiles that people will enjoy. Yeppie Paper is still a two-person operation, but it keeps growing every year. We'd love to meet more people and make new things together—if anyone wants to get together to create a little magic, that's something we look forward to!
Follow Yeppie Paper on Instagram.
Photographs courtesy of Yeppie Paper.