by Alison Feldmann
This knitwear dynamo creates unique patterned goods inspired by architecture and her travels.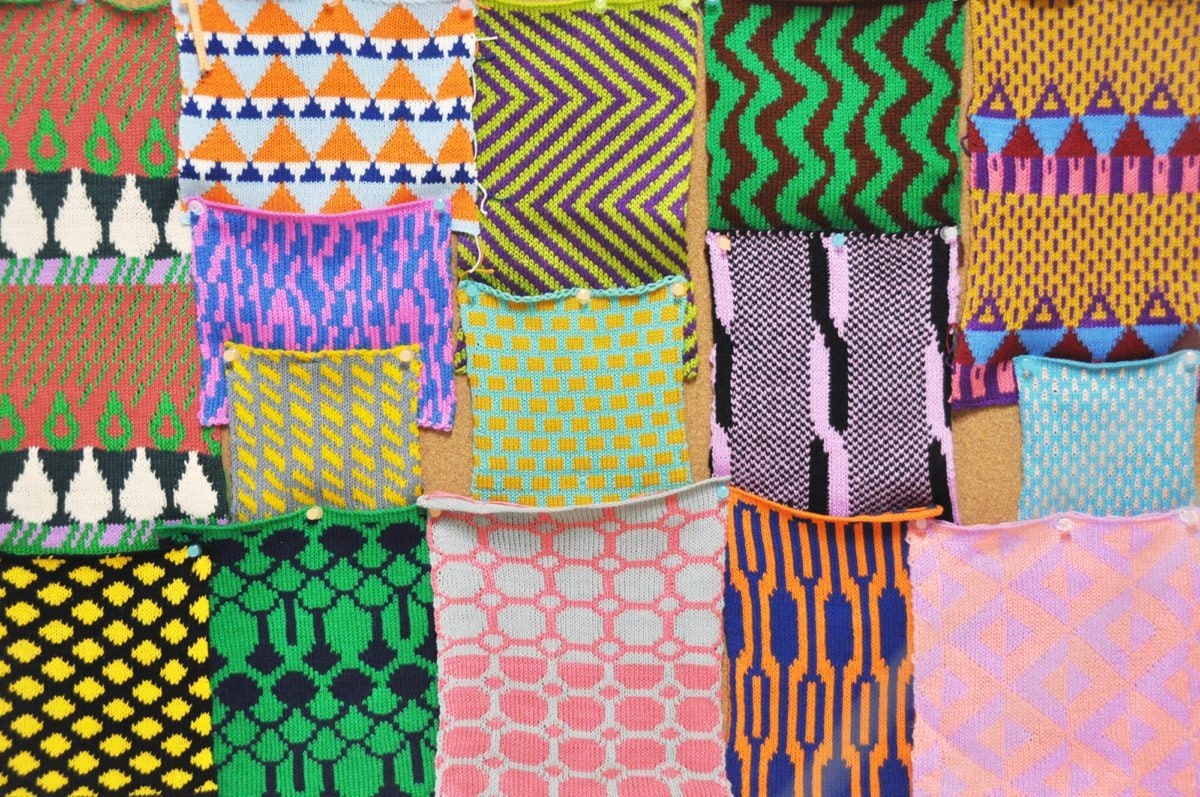 They say that wearing a pair of fanciful socks can set a joyful tone for your day. But for Ringo Yu, the humble accessories are far more than mere mood boosters: Along with the graphic patterned sweaters, hats, and dresses in her knitwear line
Yu Square
, designing kicky socks delivered the hands-on creative outlet that saved Ringo from burnout at her fast-paced fashion job. As she mused, "Today, I can do what I love the most: knitting. Yes, I love knitting
that
much — I'm the happiest when sitting in front of a knitting table playing with techniques or patterns."
We chatted with Ringo about her trusty knitting machine, her love of Cornwall, and how she successfully integrated manufactured goods into her handmade product line — without becoming a "design robot."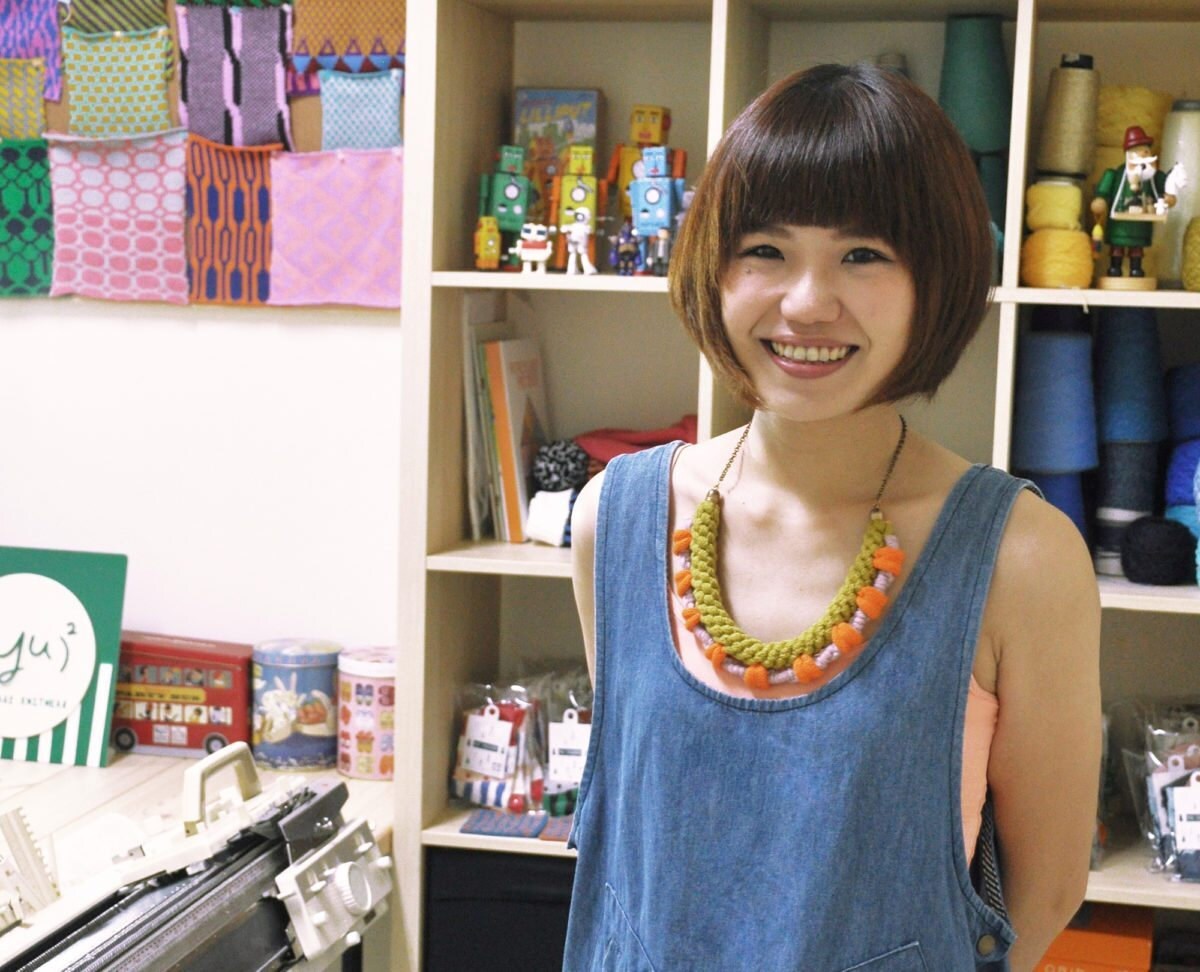 How did you get started designing knitwear?
I've loved to draw and make things since I was little, so I always wanted to study fashion or graphic design. During my first year at uni, I realized that I didn't like making garments and that fabrics were a lot more appealing to me. I soon entered Central Saint Martins to study textile design. That's where I learned printing and knitting; I loved both, but I soon focused on knitting, as it seemed more interesting to me — a single thread or different combinations of threads can create endless possibilities of
patterns and designs
. Nothing trumps the sense of achievement I feel when I knit.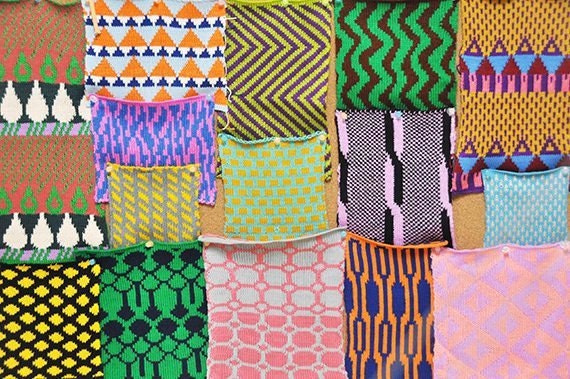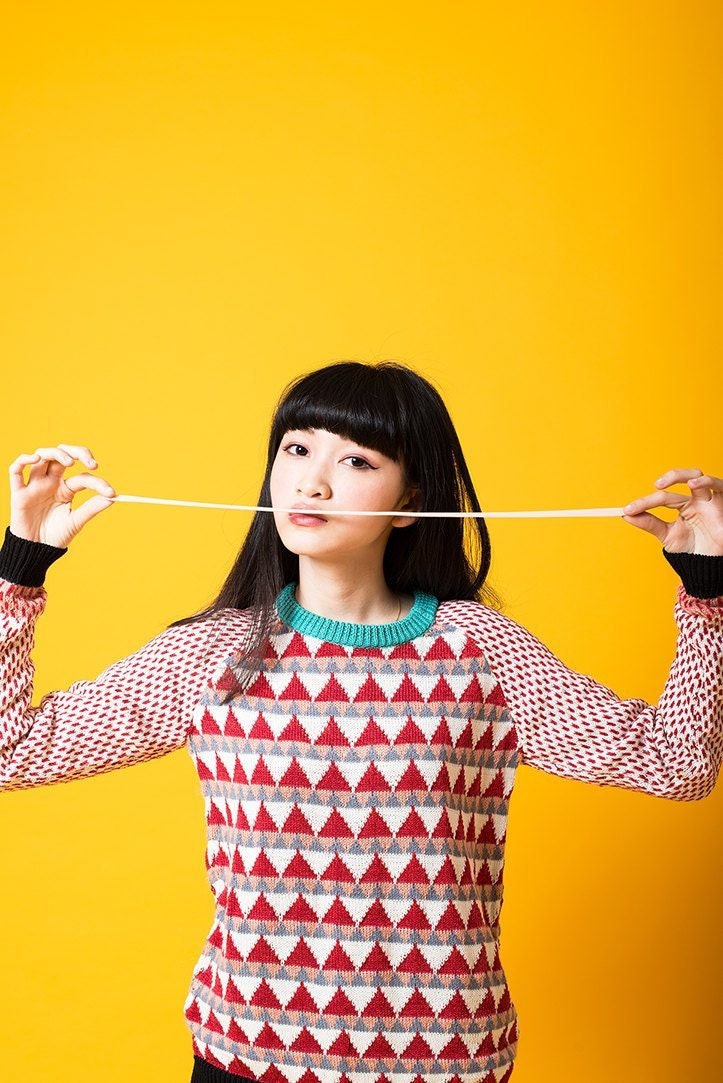 That's so cool. When did Etsy enter the picture for you? 
After graduation I briefly worked for two fashion houses. The fast-paced lifestyle left me stressed out and uninspired, and I found myself kind of lost. I almost forgot the joy of designing and making things. I started to design and knit some sweaters in my free time in order to remind myself who I really was. As it turned out, my friends loved those designs, and one of them was a heavy Etsy user. She suggested that I try selling them, which is how it began. You could say that I actually started from Etsy. I slowly added
new products to the shop
, and about six months later an admin from the Etsy UK office approached me about participating in the 
Etsy Marketplace at Tom Dixon's The Dock during London Design Festival
. Only six UK Etsy sellers were offered this opportunity, so I was thrilled! It was a great event and I met other amazing designers there, but most important, it felt awesome to be seen. The event strengthened my confidence, and I learned that as long as your work has a distinctive style, there are always opportunities. For this, I couldn't appreciate Etsy more.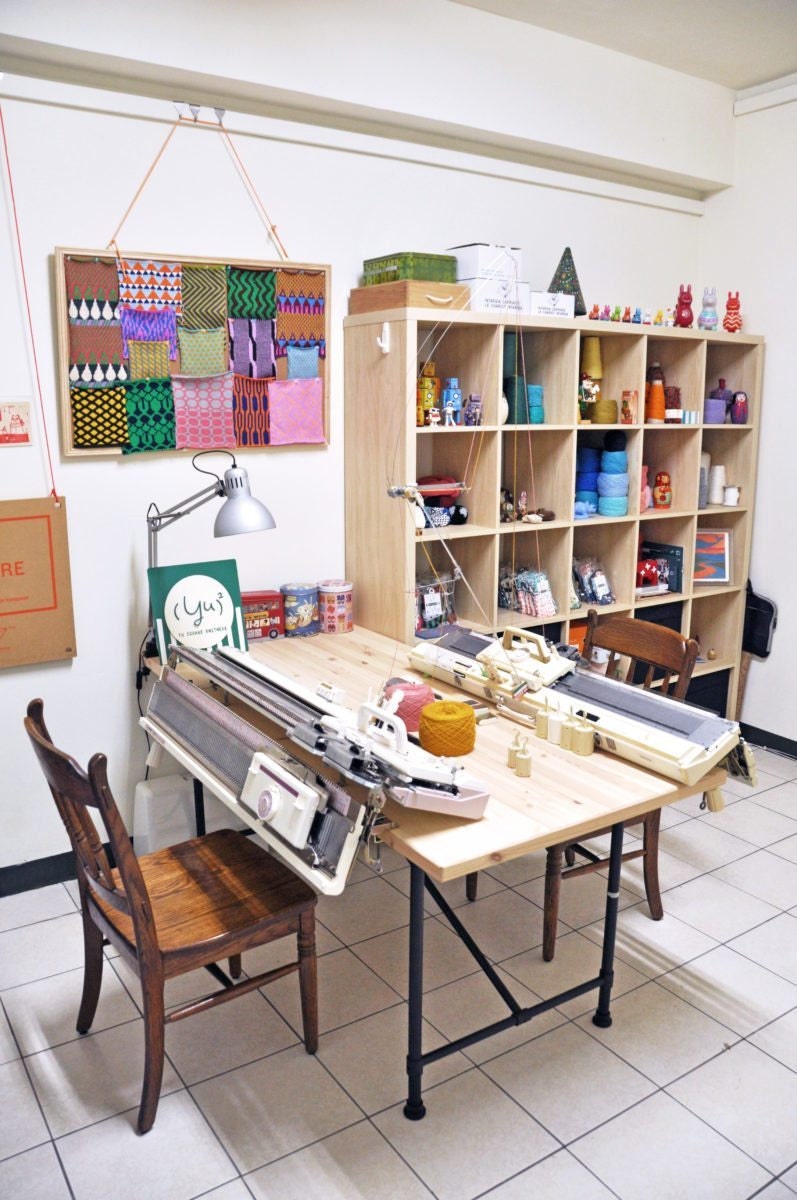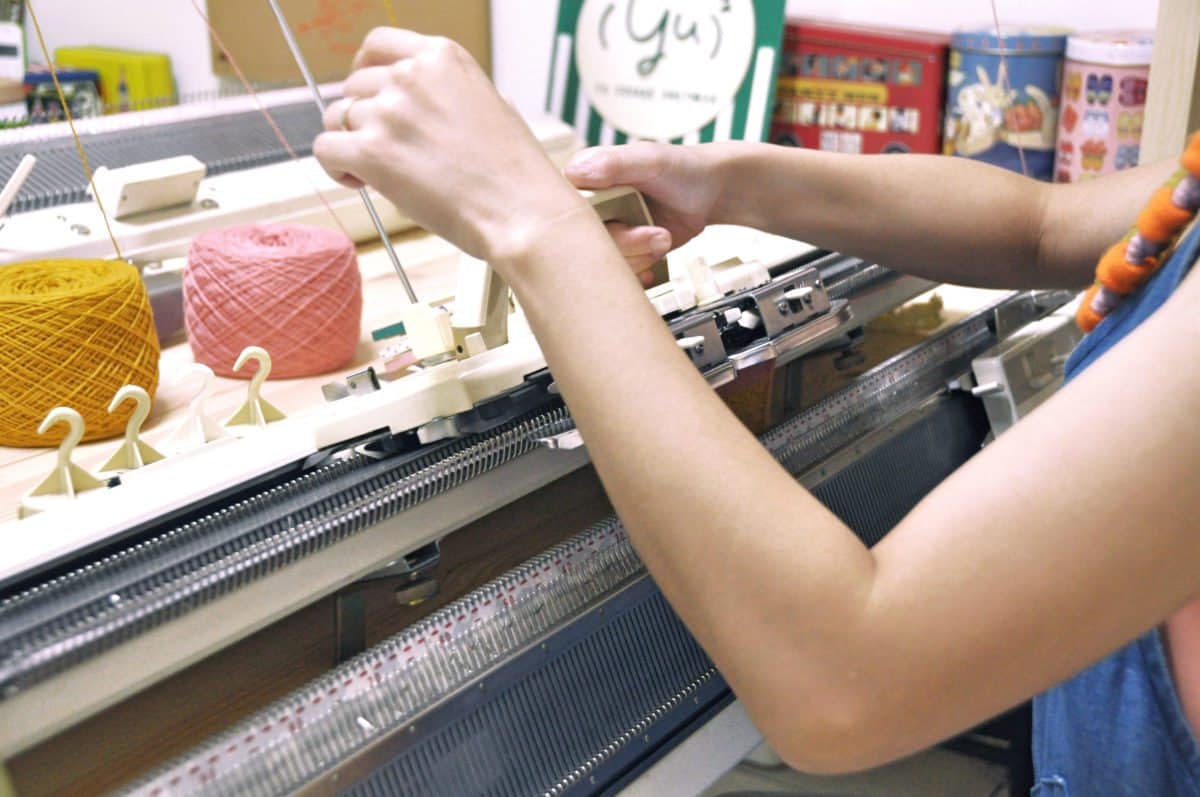 Let's talk tools. What's the most important tool in your workshop?
My most important tools are a standard gauge domestic knitting machine and a linker (it's like a sewing machine for knits). They are both very old hand-operated models and have been with me for around seven years; we've traveled together from London back to Taiwan, and they are my best partners. I also bought a chunky knitting machine a few months ago, so I can work with chunkier yarns and develop new products. I can't wait for winter!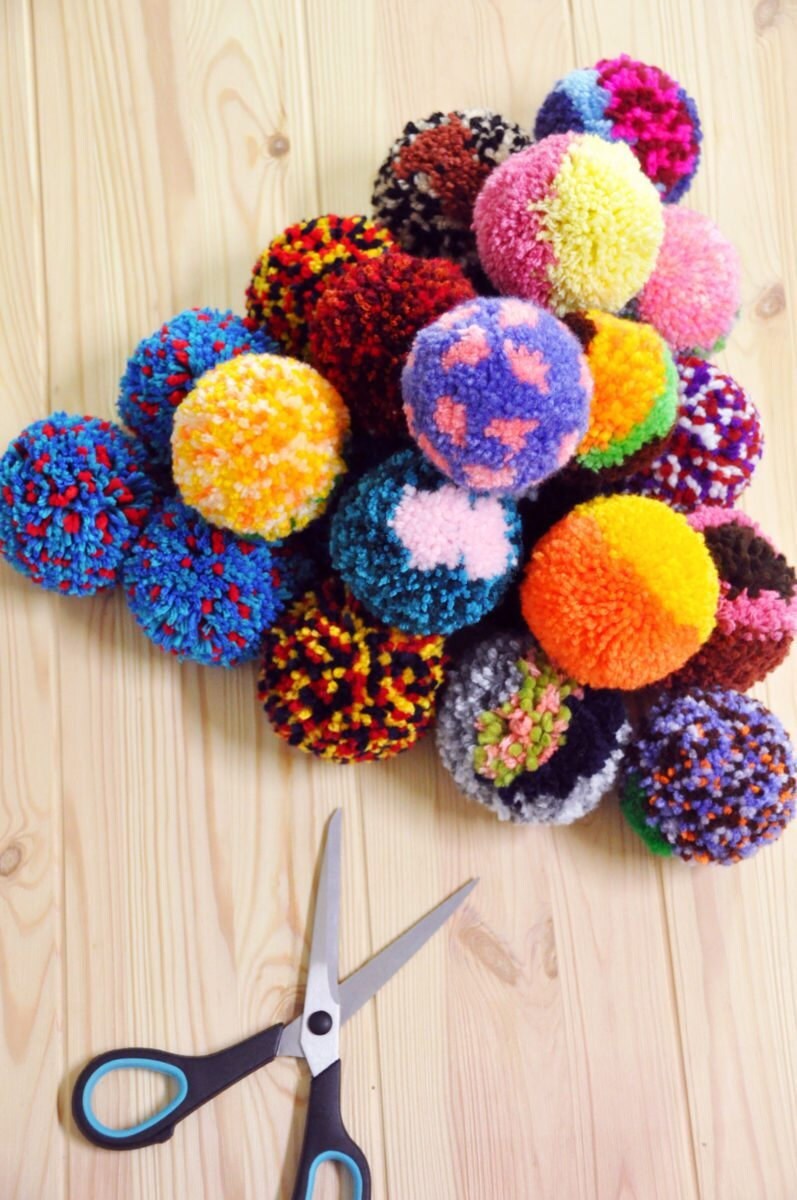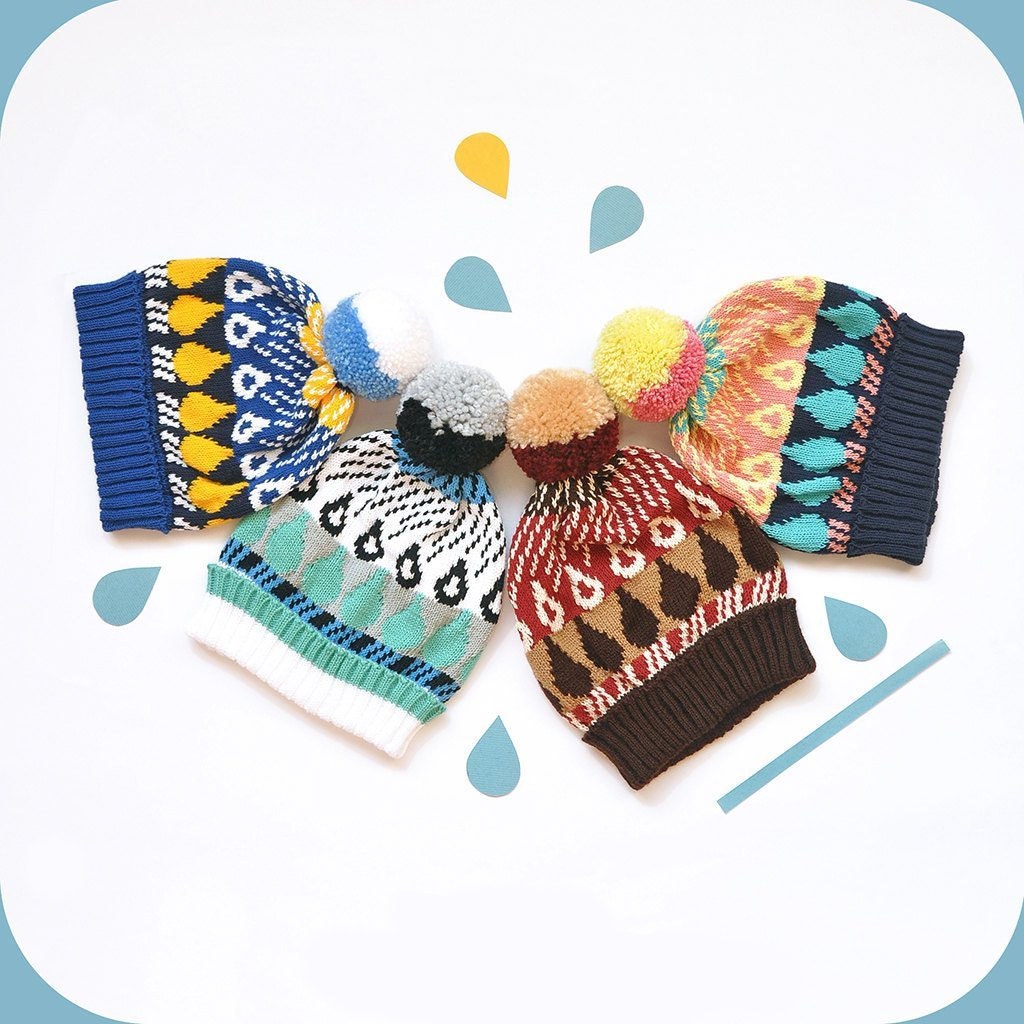 Has your work evolved over time?
Going from all handmade to partially manufactured has been the biggest evolution for both
my work and my label
. I used to knit everything myself, from
garments to scarves and hats
. Because knitting is so time-consuming, I couldn't price my work more affordably and I barely had time to develop new designs. Around two years ago, I moved back to Taiwan and had some time to think about the future of my business. After considering the time and pricing issues, I started to work with manufacturers to produce socks and some knitwear pieces. Although a commercial knitting machine can do a lot more than my knitting machine at home, I still want to maintain work that's handmade by me — otherwise I'd feel like a design robot. I also want to be able to do custom orders, because I know how great it feels to have a design that only belongs to you. I now have my socks and some knitwear manufactured, and I make all my hats and some other knitwear pieces by hand myself. I'm very busy knitting orders during autumn and winter, and now I have time to develop new collections during spring and summer, so there's a balance.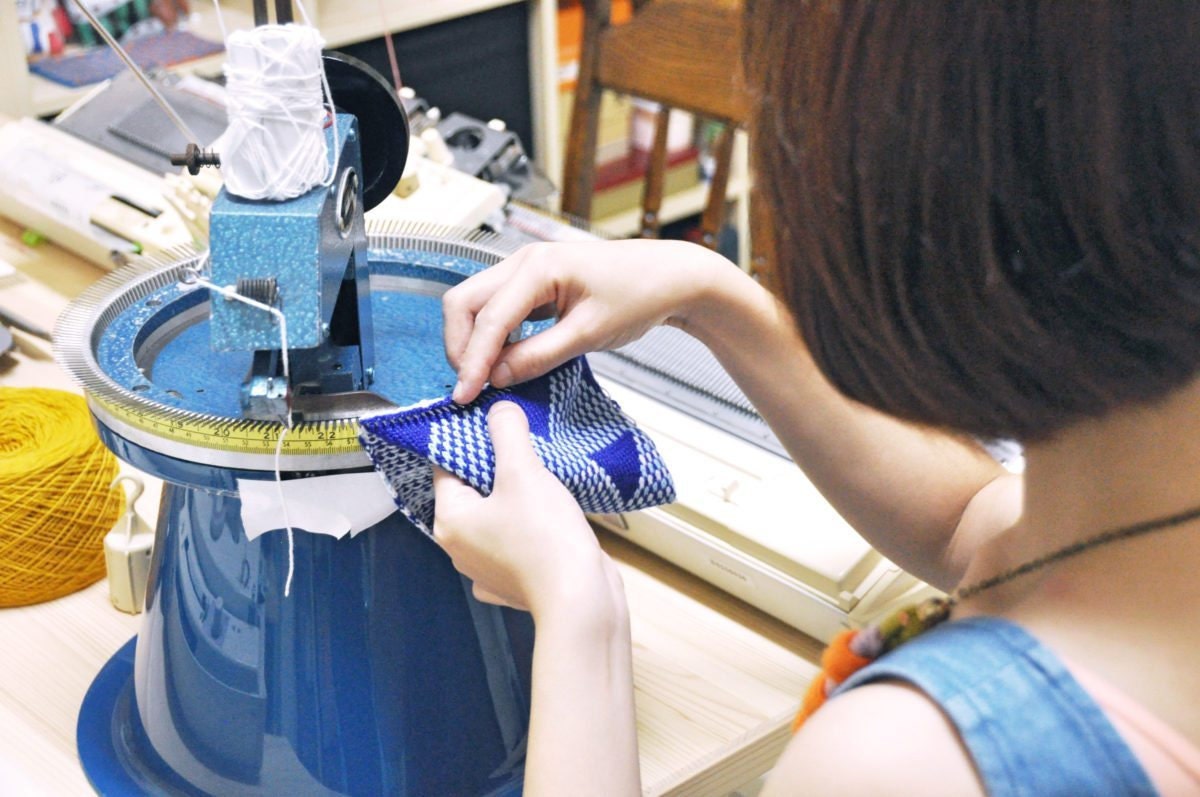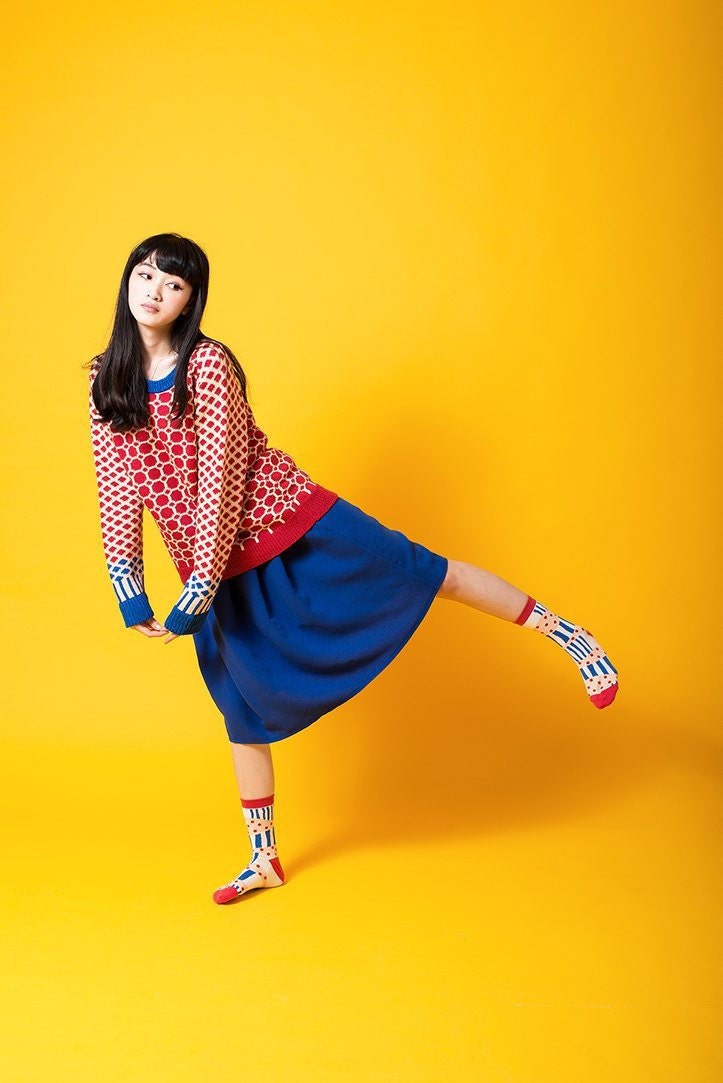 Can you walk me through the process of how you go from an idea to a finished product? 
I have both
handmade and manufactured products in my shop
, and the creation process is very different for each. For manufactured products like socks and knitwear, I always decide on a theme first and develop the rest of the designs around it. I usually spend several days sourcing information and images, doing rough sketches of patterns, putting the elements in Illustrator, and playing with colors, compositions, and scale until I'm happy with it. After a complete collection is done, which often takes weeks, I send the design sheets to the manufacturer to do sampling, then adjust the design and do sampling again and again until everything's right and ready to go to production. Developing handmade products is another story. I like knitting a swatch first, then thinking about if I could use it for a hat or a piece of a garment. I'm huge fan of
fair isle
, as it's the most efficient way to present patterns and colors using a domestic knitting machine. I will sketch some random patterns and draw them on graph paper, get the composition and scale right, transfer the designs to punch cards and finally knit them out. After deciding what I'm going to do with them, there will be pattern cutting (if it's a new shape), knitting test swatches with the right yarns, calculating stitches, knitting, steam blocking, linking, washing and making poms. It's a very long process, but I do enjoy making things myself a lot more than sending designs to the manufacturer for production. It just feels so special to make something with your own hands.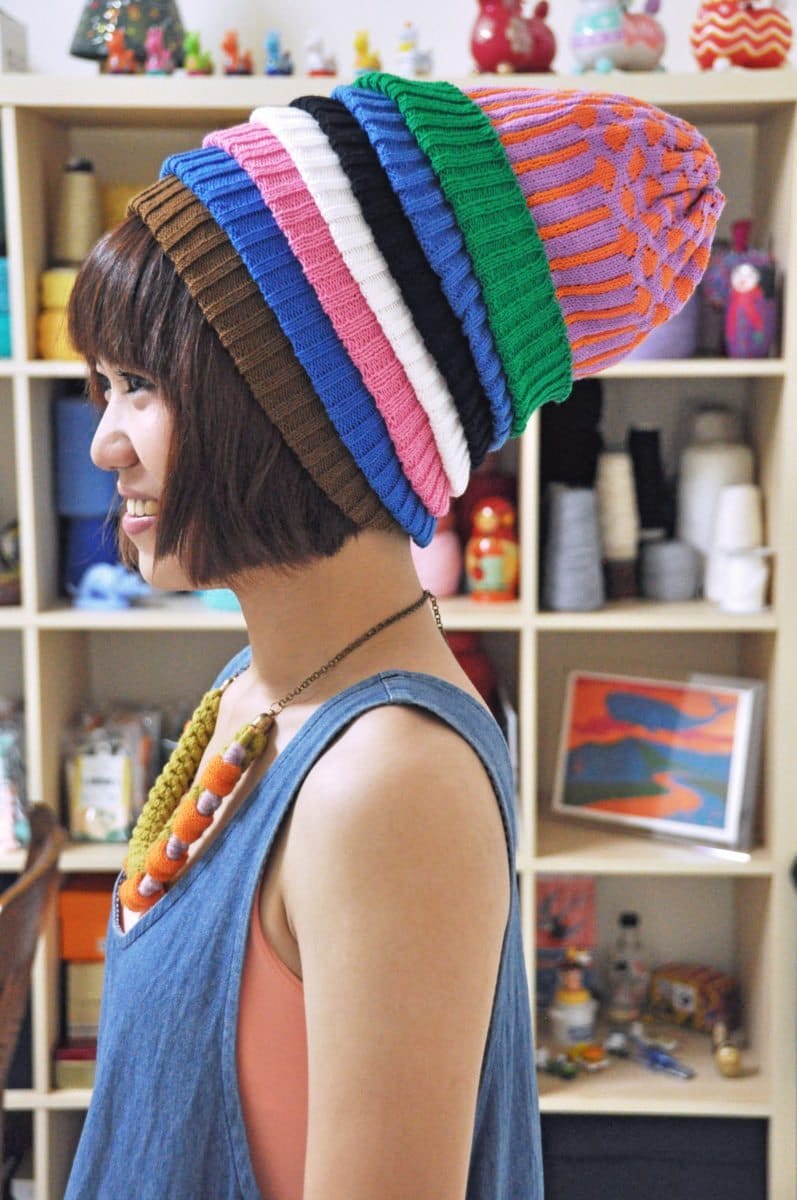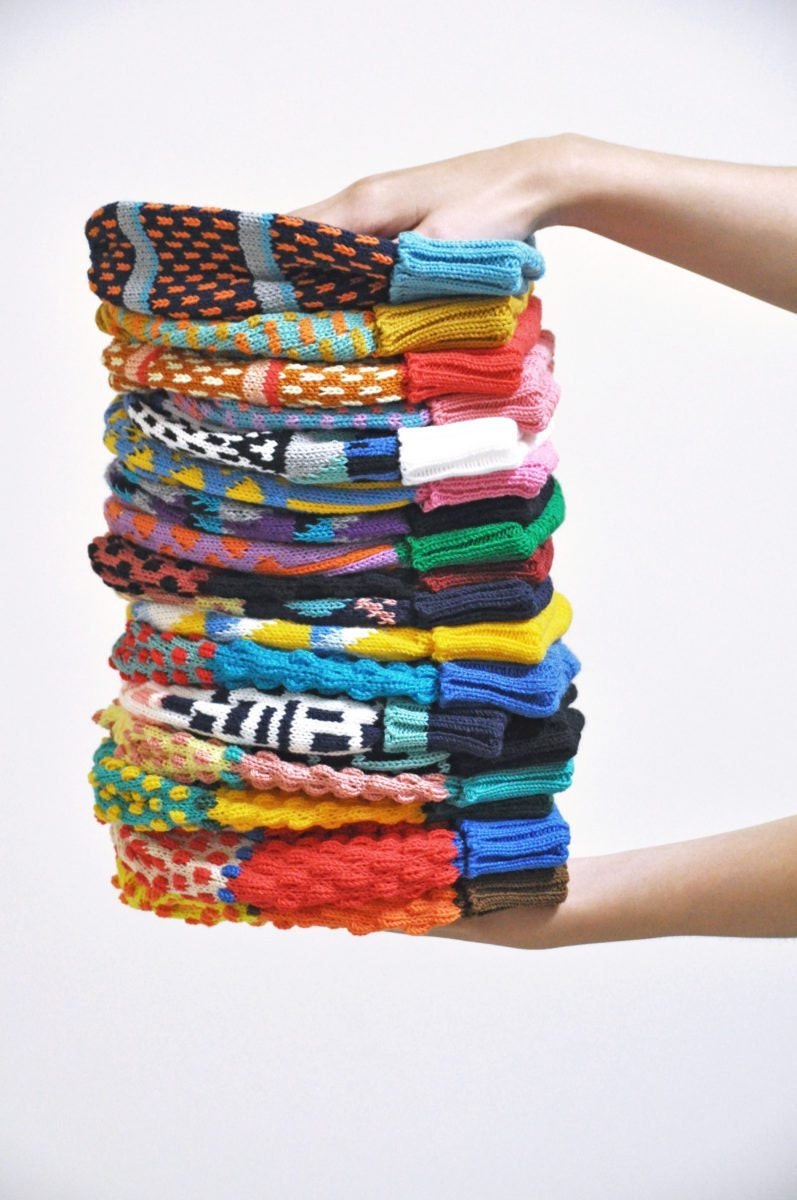 Do any of your designs have a special personal meaning for you?
The inspirations behind my collections are very personal. For example, my collection
When the summer comes, I want to go to Cornwall
was the first collection I did after moving back to Taiwan. Cornwall was my most favorite place to go during my time off when I lived in the UK: I loved the grass fields, sea scenery, and lovely towns. However, it's also a place I thought I might never visit again. I felt really sad about it, so I used my work to commemorate this charming place.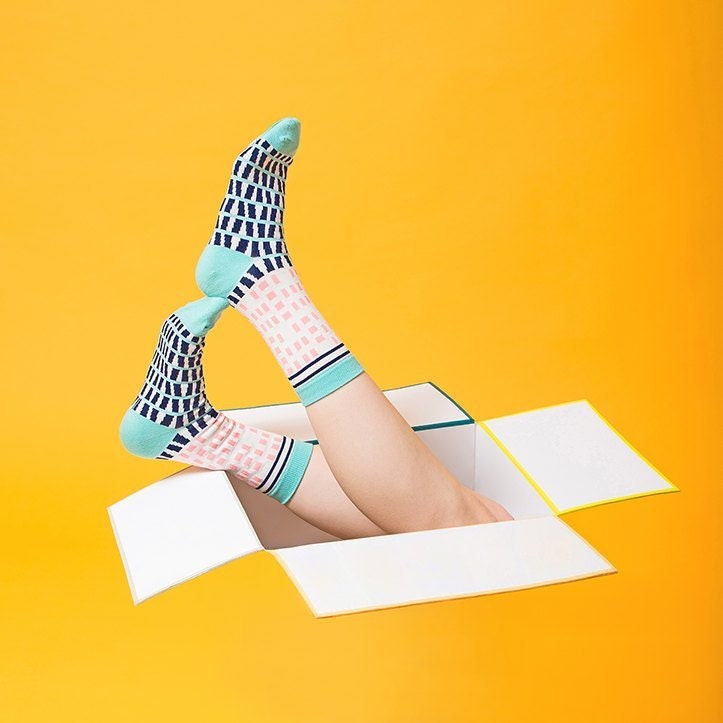 What have been some of the most exciting moments or proudest achievements of your creative career thus far?
Being selected to take part in the 
Etsy Marketplace at Tom Dixon
 and being featured in 
Frankie
 magazine were both super huge moments for me. Receiving feedback and photos from customers makes me the happiest person in the world. I recently had a customer who bought two pairs of socks in similar colorways, but different designs; she told me that she's going to share one of each design with a friend — and that she and her friend are both 72 years old. I can't help smiling when I read her message, as moments like this make me feel my efforts are worth it.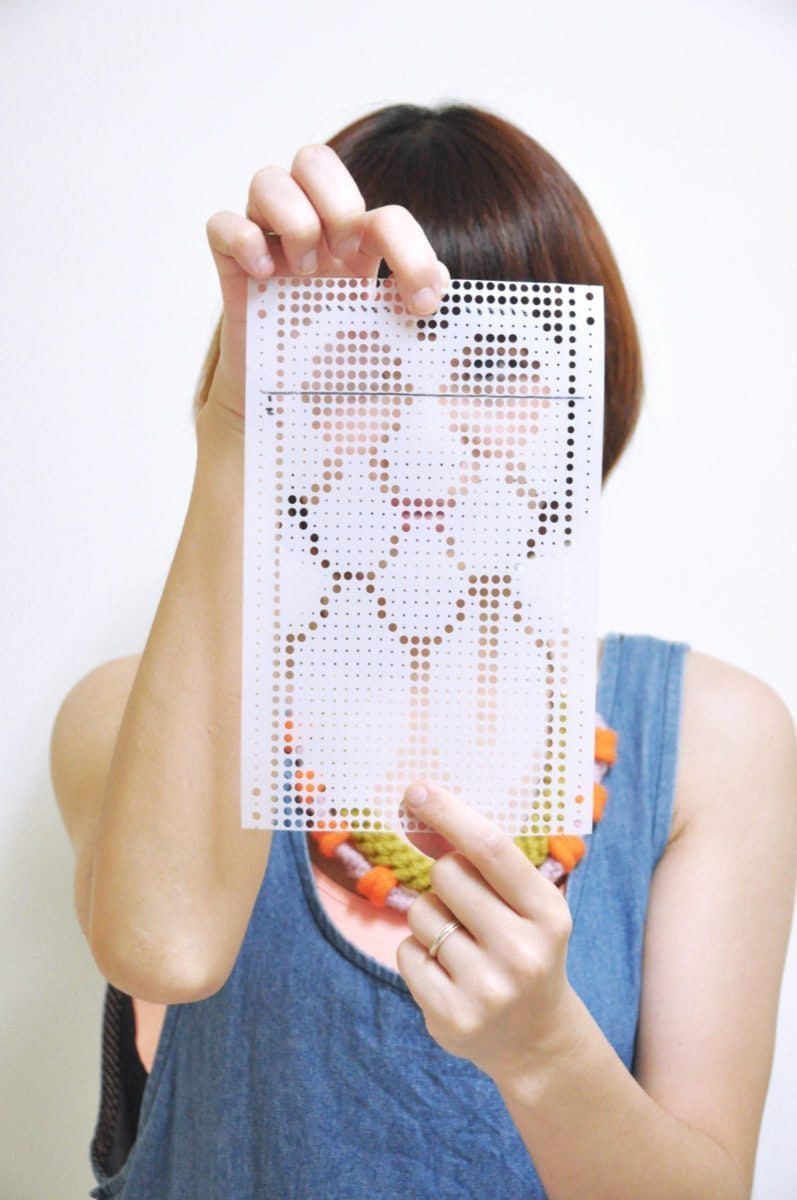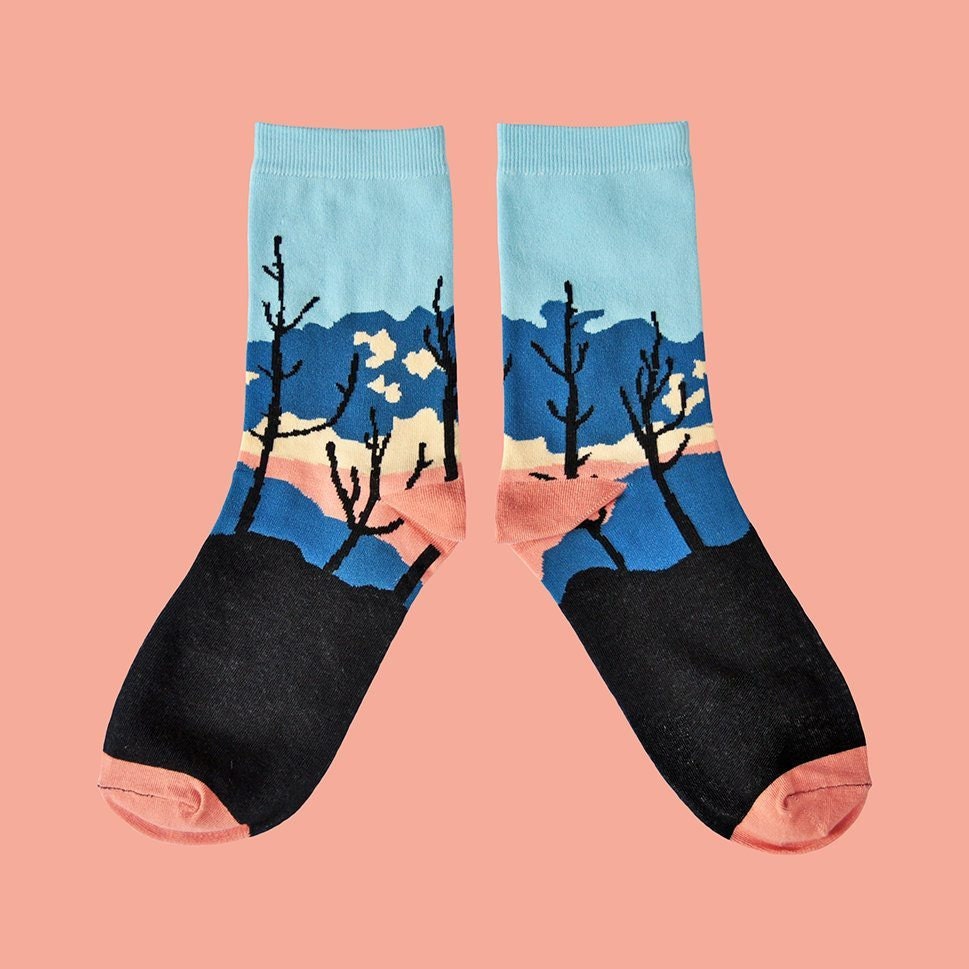 What are your goals for the future?
I really hope to turn my space into an open studio where I can showcase my work, letting people come in to chat and wear or touch my products in person. I think it would be interesting for customers to see the production process behind my work.
All photographs courtesy of Yu Square.