Less than 100 years ago, the bags that held your flour and sugar sustained second lives as undershirts and towels.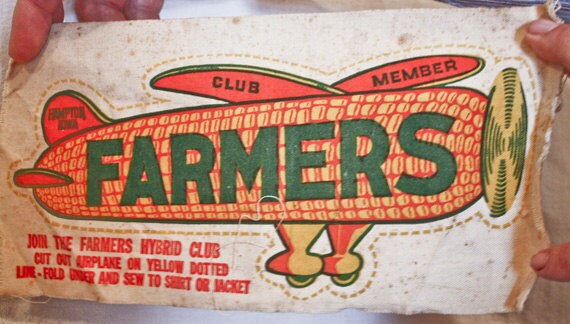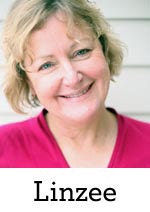 Last week I took advantage of spring's bounty and picked daffodils for a friend. For transport, I grabbed a tomato can from my recycling bin — the red orbs on its label provided a nice contrast to the yellow and orange blooms. I felt a certain smug satisfaction at my eco-chic styling. But a trip to Ainsworth, Iowa, served as a reminder that my weekly sorting of paper and plastic pales in contrast to a time when recycling was a way of life and a matter of necessity.
The reminder came at Ainsworth's Community Center, a former opera house built in 1893. On the last weekend of each April, history teacher and collector Michael Zahs festoons the center's stage and walls with nearly a thousand feed sacks and examples of the quilts and clothing made from them. Plenty of quilters have an obsession with these sacks and quilts, and their nostalgic prints and hues are reproduced in new fabrics. But Zahs told me the reality was that in many homes every bit of fabric — every coverlet, apron, diaper, and bonnet — was first a container for sugar, animal feed, or agricultural seed.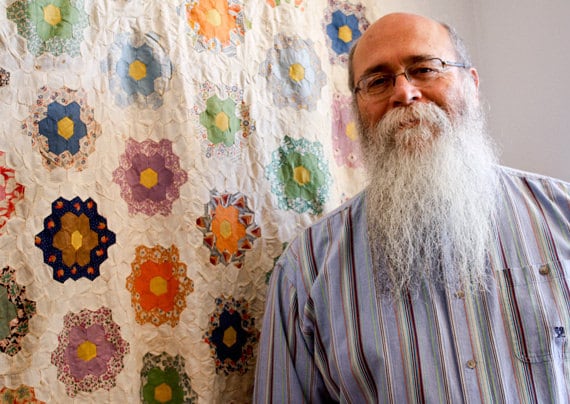 For centuries, countless items were transported in bulky, wooden barrels and boxes, awkward and heavy to carry and store. Beginning in the mid-1850s, a plethora of cotton made bags cheap to produce and improvements in sewing machine design enabled bags to be stitched tightly shut. Barrels fell by the wayside as goods were shipped in bags, including flour, sugar, seed, animal feed, fertilizer, hams and sausages, and even ballots.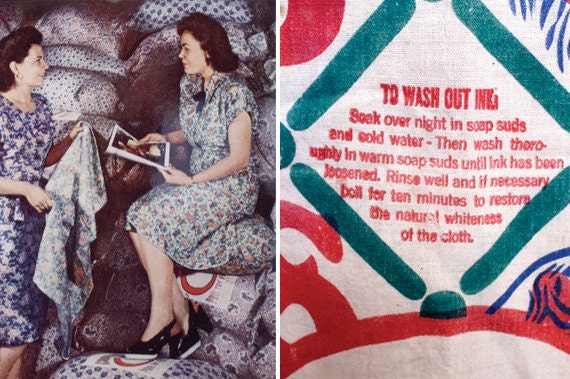 At a time when many rural families had limited resources, these bags were considered nearly as valuable as the items they contained. Feed and flour company logos were printed with water-soluble inks and removed by an arduous combination of washing and soaking in concoctions that included lye, lard, Fels-Naptha soap and bleach. Thrifty women used the whitened textiles to stitch clothing, curtains, sheets, and towels. Getting the fabric to a pristine state was no easy task and there are stories of the wife who didn't bother to remove the "self-rising" label from the flour sack she used to make her husband's underwear, or the young girl who tripped and fell, revealing "Southern Best" stamped on her derriere.
Over time, manufacturers realized increasing the value of the bags could improve profits and started including instructions for removing labels right on the bags. Bags were stamped with stitching lines for reuse as roller towels and with embroidery patterns like the classic "Wash on Monday, Iron on Tuesday, Bake on Wednesday" series. Manufacturers hoped ambitious women would convince their husbands to buy additional feed in order to complete the entire set.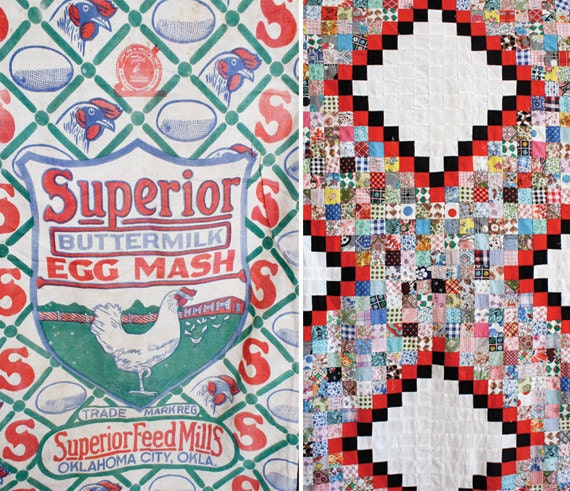 In the mid-1920s, mills started producing sacks in printed fabrics. More than 40 mills made fabric for bags in thousands of different patterns. Instead of printing directly on the sack, factories affixed their logos to easily removable paper labels. A typical women's dress took three feed sacks; bragging that you were a two-feed sack girl was the equivalent of mentioning today that you wear size 2. Wives and daughters instructed husbands and fathers to buy feed in sacks with particular patterns so they could complete dresses. In addition to overall florals, patterns included border prints (perfect for pillowcases and curtains) and children's favorites, like cowboys and animals. If the pattern sold well, it might be reproduced as yardage. During the wartime era of the 1940s, feed sack sewing was deemed patriotic and prints with "V" for victory and Morse code appeared. Many "exotic" Mexican and tropical themed fabrics got their start as feed sacks and Mickey Mouse was popular in the 1950s. Plaids and stripes saw a more limited run and solid colors were available during the Depression.
Technological advances during World War II, however, meant that by 1948 more than half the items previously in cloth bags were sold in paper or plastic (cheaper to produce and considered more sanitary and rodent-proof). Cloth bags disappeared over the next 10 to 15 years, though some are still made made for Amish and Mennonite communities, small mills, and the tourist industry.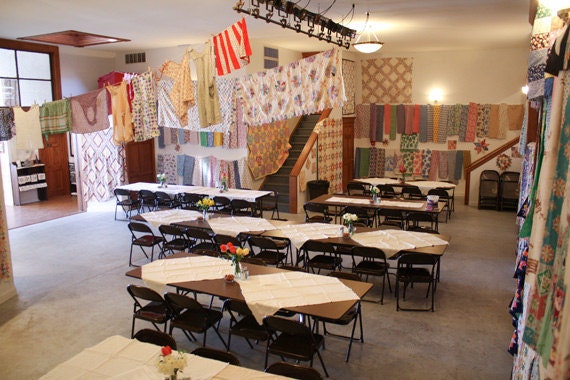 In his annual displays, Zahs incorporates household articles made from feed sacks — tablecloths, rugs, men's shirts, baby clothes, nightgowns, and more. As a child, Zahs wore feed sack clothing and both his grandmothers and mother quilted. Between scouting shops and people bringing sacks to him, Zahs adds to his collection regularly. He proudly showed me the five-pound laxative bags and 31 new feed sacks he'd scored the week before. He says the only way to verify the authenticity of feed sacks is to find the line of holes along a fabric's border, evidence of the stitching that once held fast its contents.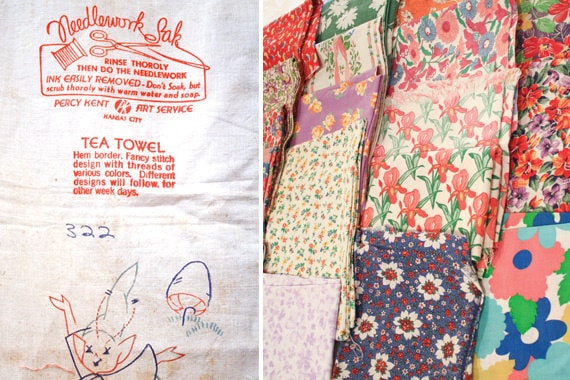 In this era of so much choice, of so many options, feed sacks are instructive. From tiny scraps, seamstresses stitched quilts with movement and charm. New materials are a delight, but the challenge of making something new from old, of using up every last bit, is a creative exercise in itself. And a reminder that recycling, far from new or trendy, is the way countless generations survived and thrived.
About the author: A lifelong sewer/knitter and former weaver/spinner, Linzee Kull McCray, a.k.a. lkmccray, is a writer and editor living in Iowa. She feels fortunate to meet and write about people, from scientists to stitchers, who are passionate about their work. Her freelance writing appears in Quilts and More, Stitch, Fiberarts, American Patchwork and Quilting and more. For more textile musings, visit her blog.