by Valerie Rains
Could your daily routine use a little more color? Let the Jealous Curator blogger (and author of a brand-new book on creativity) lead the way.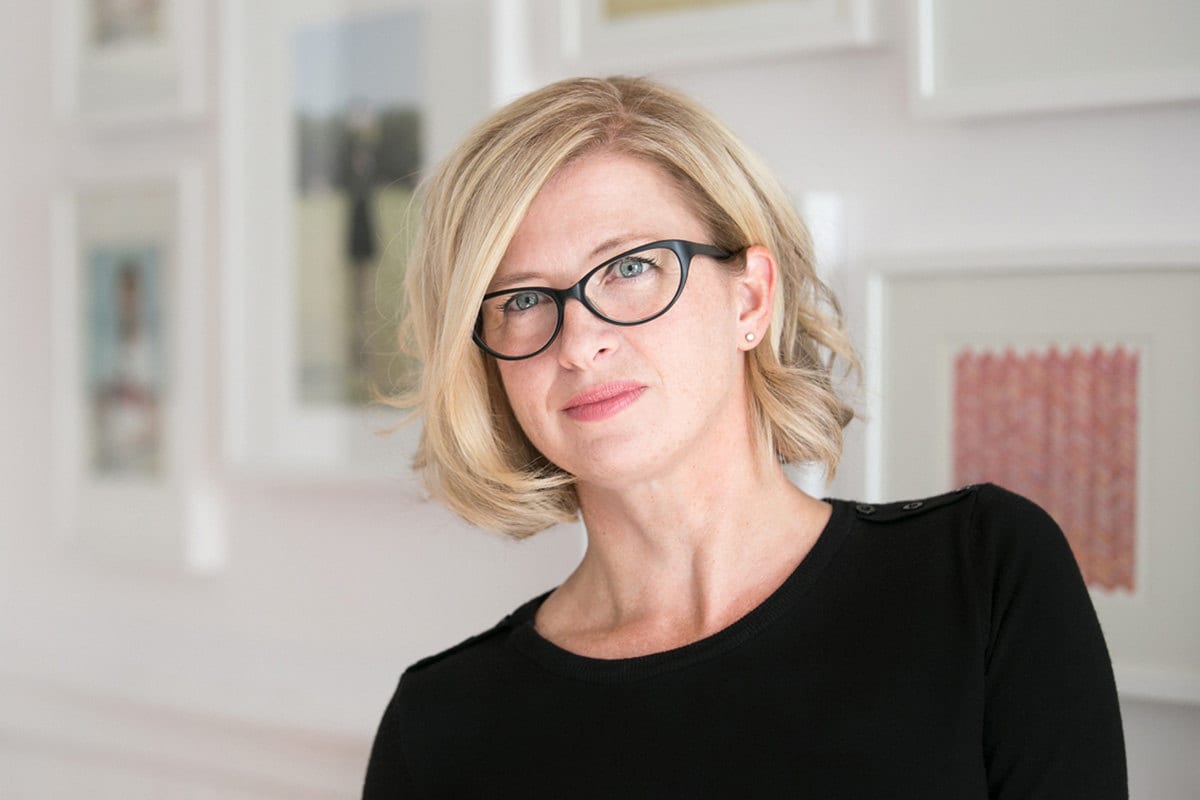 Danielle Krysa has made a career of overcoming obstacles — both external setbacks and the internal kind that can sometimes be even tougher to rise above. A painter who gave up painting after an especially harsh critique at the end of art school, Danielle rerouted her path toward a career in design and creative direction. Years later, when she was ready to return to fine art, she found herself stymied again, overwhelmed by the sheer volume of quality work that was being produced by her peers. Then something kind of miraculous happened: Danielle willed her envy into admiration. After launching
the Jealous Curator
, a daily blog spotlighting art she loved, she began delving into other artists' stories and found that neuroses and negativity afflict multitudes of creative people — not just her. (She also found her way into collage making, which turned out to be a far better fit for her creative yen than painting ever was.) Since then, Danielle has made it her mission to find and share strategies for breaking through creative blocks. In 
Your Inner Critic is a Big Jerk, and Other Truths About Being Creative
 (a follow-up to her also-awesome 2014 book
Creative Block),
Danielle
dispenses hard-won wisdom and hands-on exercises for taming the discouraging inner voice that stops so many new endeavors in their tracks — whether you're an artist or a bank teller or an astronaut. "Any time you hear that little voice telling you, 'don't bother', 'this is going to be too hard', 'you're going to fail anyway'… of course you should learn to tune that out," she says. "So many people get stopped before they even start, thanks to that jerk. You have to show up every day and just keep working on whatever it is you're trying to get better at, whether that's art or not. If you keep showing up and proving that voice wrong, eventually it's going to quiet down."
Read on for more of Danielle Krysa's insights into nurturing a creative life and pick up a copy of her book, available now anywhere books are sold.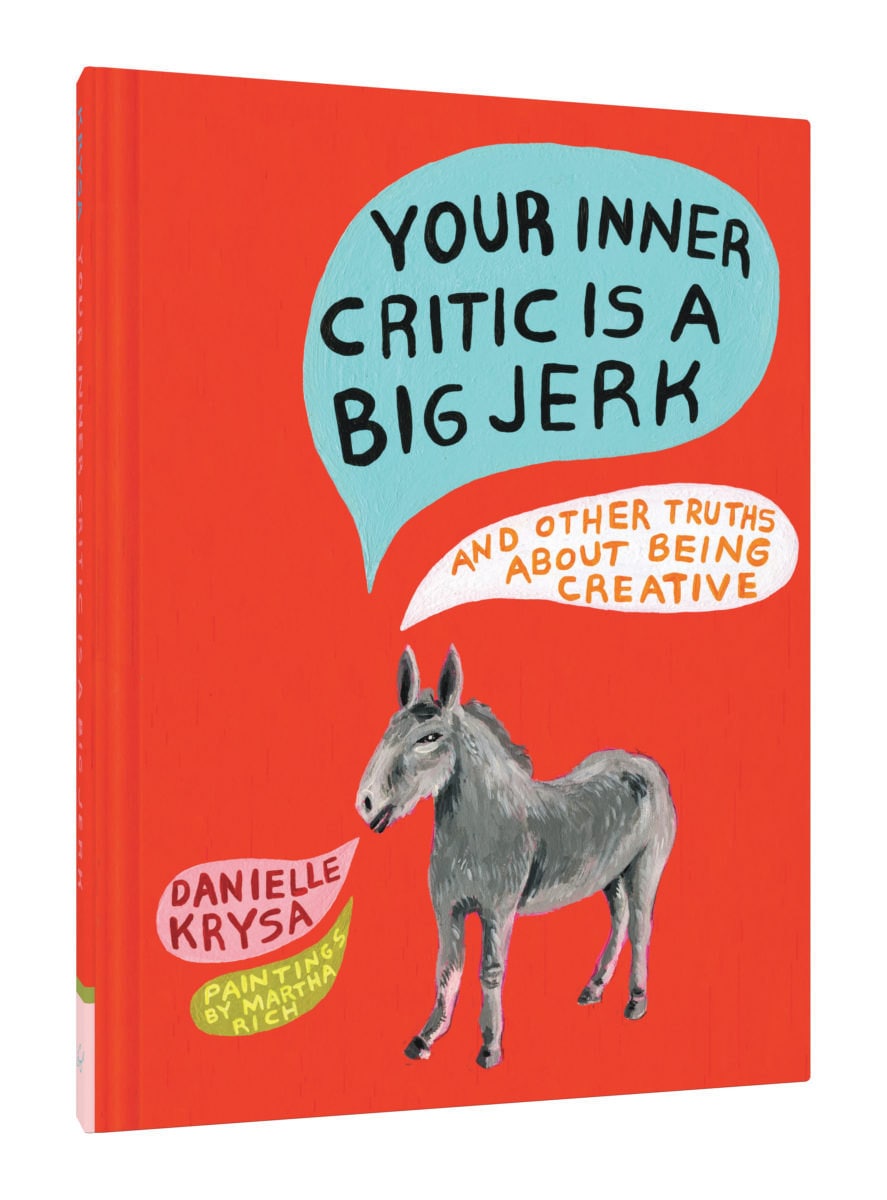 The first chapter of your book is titled "Everyone is Creative," but...are you sure about that?
Absolutely! Creativity can take on so many forms — it can happen in an art studio, in a writing notebook, in the kitchen, in the garden or in
the way you dress
. The reason I wrote this as the first chapter is because I cannot even count how many people have told me, "Oh no… I'm not creative. I'd love to be, but I'm just not." That sounds like an inner critic if you ask me!
What are the benefits of inviting creativity into your life no matter who you are?
Well first, it's fun. Remember being a kid?
We all made stuff
for the sole purpose of having fun and getting messy. Creativity is also a really great excuse to socialize! Host a "bad art night" with a group of friends, with the goal of making the ugliest thing you possibly can. Add pizza and wine and you're in for a night full of glitter glue and laughing.
In your book, you share so many great practical, hands-on ideas for shaking off your inner critic and letting your creativity loose. What are some of the ideas you think are best suited for absolute beginners to try?
My favorite would probably be the Instagram-a-day project. You take one photo every day for a month, but each day has a theme. In the book there's a list of 30 (so you don't even have an excuse not to do this!), or you can just get a friend to jot down 30 random things. For example: Day 1 = white; Day 2 = symmetrical; Day 3 =
pattern
; and so on. It seems so simple, well, because it is. What I love about this is that it instantly adds a bit of creativity to your everyday life. It also makes you so much more present. On your usual walk to work you're suddenly keeping an eye out for "pattern." Once those 30 days are over, I'll bet you $10 that you'll want to keep going!
There's sometimes a perception that art and creativity are all about being whimsical, but many of the tips in your book involve things like constraints and rules and habits. How does that work?
Being whimsical, loose and free is wonderful, but if you don't have some kind of plan, you can end up feeling like a whimsical deer in headlights. So many professional artists give themselves a set of rules, and then they let loose within that box. It's like getting an assignment at school — these rules just give you a starting place. Otherwise, you may find yourself staring wide-eyed at a very blank page.
You've pulled great advice from lots of working artists for your books. What's the best piece of creative advice you've ever gotten from someone who wouldn't call him or herself an artist?
I've spoken to so many professional artists who've given me all sorts of advice, but I've also spent countless hours talking to people who've come out to my signings and other events. One of my favorite nuggets of wisdom came from a 17-year-old high school student who told me he calls his inner critic Arlo. I loved that! Suddenly that nasty "inner critic" was just a guy named Arlo that I could kick out of my studio if he was being rude. Since that day, I always tell other people to give that mean voice a name — something nonthreatening like Gordon, Elaine, Mr. Bunnykins, whatever works! It's a really great way to make that little voice even littler.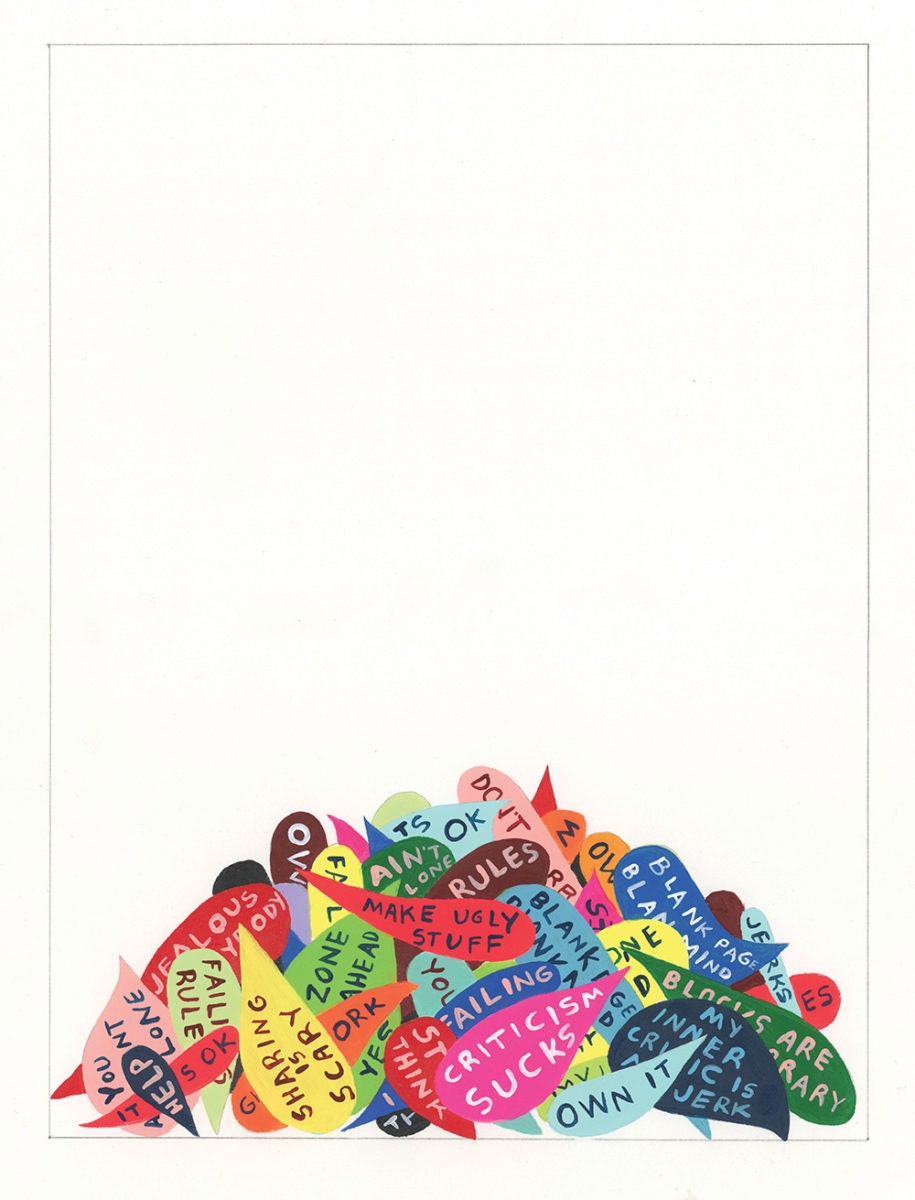 Image courtesy Your Inner Critic Is a Big Jerk by Danielle Krysa, illustrated by Martha Rich and published by Chronicle Books in 2016
How do you silence your inner critic? Tell us in the comments. 
Save Save Save