Cuddle up with chalet-chic ensembles inspired by the snowy mountain slopes—actual skiing optional.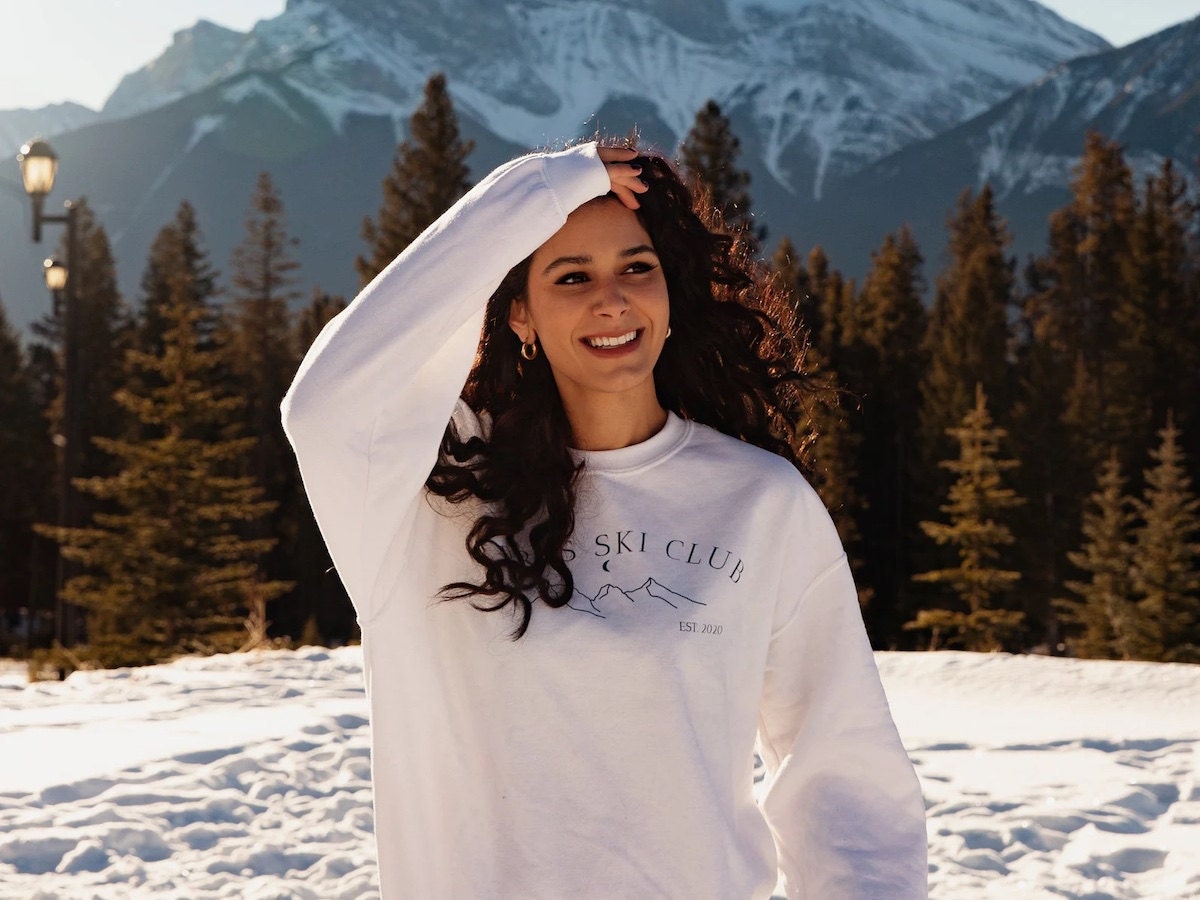 Whether you're a serious snow bunny or a more of a cozy chalet cat, no winter wardrobe is complete without an iconic après ski outfit. But what is après ski? A chic, cold-weather complement to coastal grandma style, après ski (or "after ski") attire is inspired by the leisurely looks sported while sipping, snacking, and socializing mountain-side after a long day on the slopes. The best part? There's no actual skiing required to enjoy the well-bundled benefits of après ski style. All you need are a few snow-friendly staples and accessories, artfully layered to maximize the warm and toasty vibes.
So kick off your snow boots, grab a mug of hot cocoa, and curl up by the fire; we'll take you through the steps of building your ideal après ski outfit, one piece at a time.
Start with après ski sweatshirts and sweaters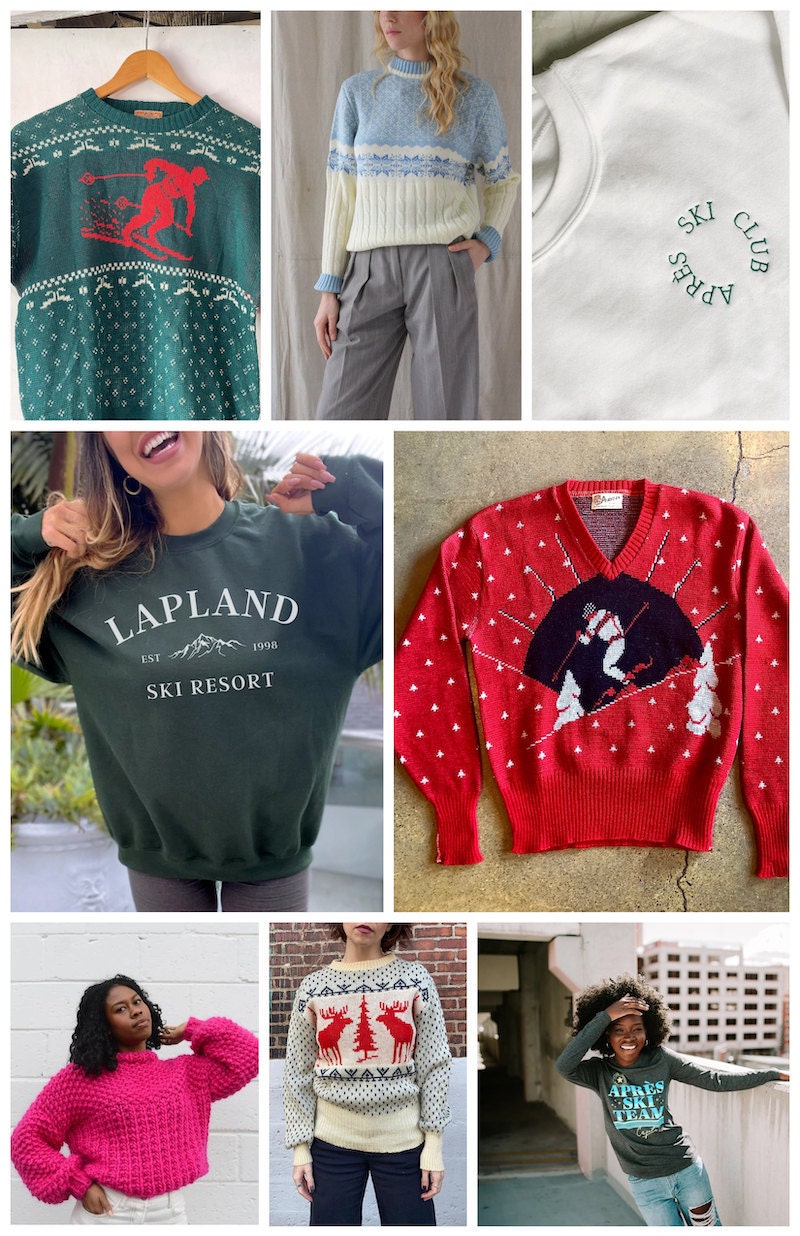 SHOP (clockwise from top left): Vintage wool ski sweater from La Bomba Vintage, $200; vintage snowflake knit sweater from Funny Old Clothes, $68; embroidered après ski sweatshirt from Three Sisters Apparel, $38; red vintage ski sweater from 1950s from CaveManTeeks, $265; graphic après ski long-sleeved shirt from CHAOS + BLISS, $22; vintage Christmas sweater from EXPO vintage, $169; chunky knit sweater in custom colors from Toast & Yarn, $262; mountain après ski sweatshirt from AORA apparel, $46
The first step in creating your après ski outfit is choosing a reliable base layer. From perfectly worn-in vintage knits to playfully themed après ski sweatshirts, there's nothing quite like a cute, comfy top to keep your core cozy. For an alpine-inspired look that channels a traditional 1950s après ski style, opt for snowflake and fair-isle-patterned sweaters in festive holiday hues. Or if you can't resist a sweatshirt moment, try modern designs sporting typographic embroidery and custom prints. You're all about that après ski life—why not shout it?
Zip up in outstanding outerwear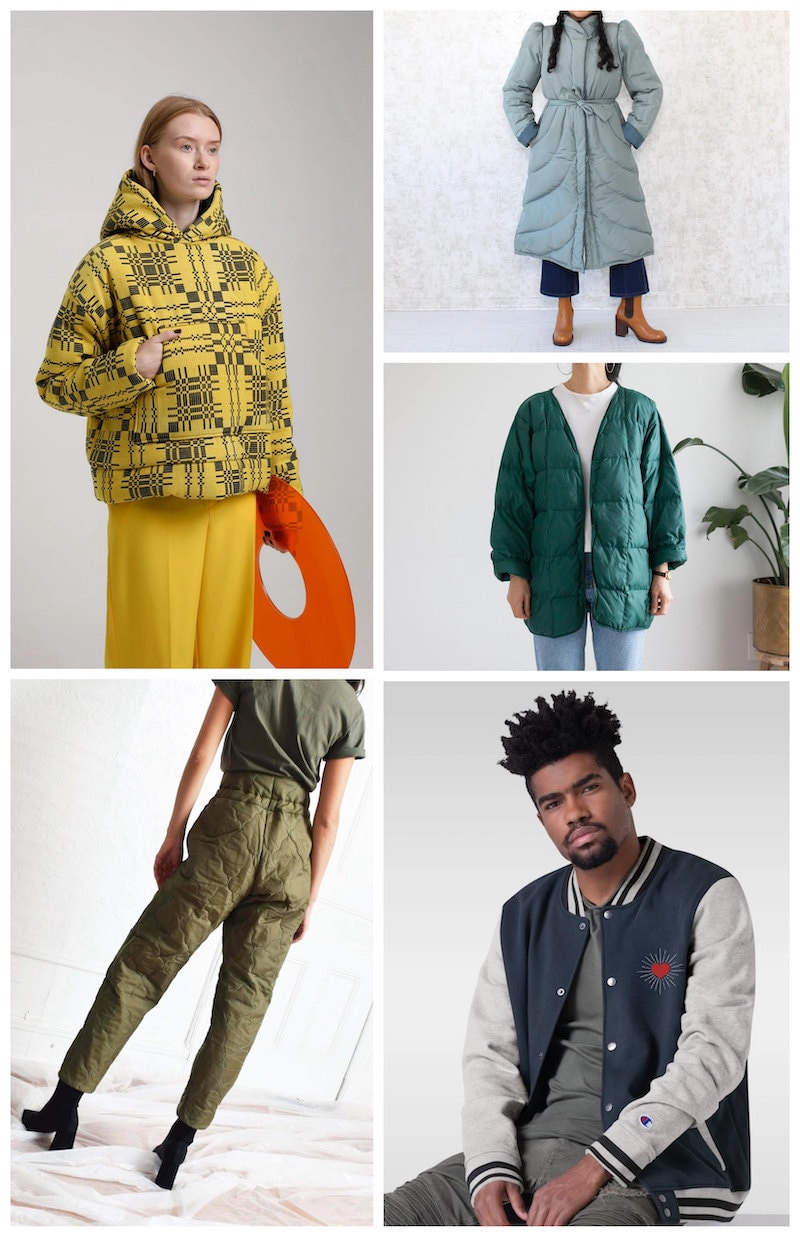 SHOP (clockwise from top left): Gender neutral graphic hoodie from Inga Skripka, $1,299; sage green puffer coat from Tell Them It's Vintage, $245; green quilted jacket liner from Inherit Shop Vintage, $115; embroidered bomber jacket from Ink and Printed, $95; quilted liner pants from Shop Narro, $148
While après ski refers to the relaxing time after hitting the slopes, these fashion-forward jackets and coats transition nicely from the snowy hills outside to the late afternoons in the lodge. Quilted liners, which add some enviable vintage flair to any après ski outfit, can be worn on their own or layered under an oversized, plush puffer. For a full-body blanket feel, complete the look with some insulated quilted pants.
Lace up with après ski boots and footwear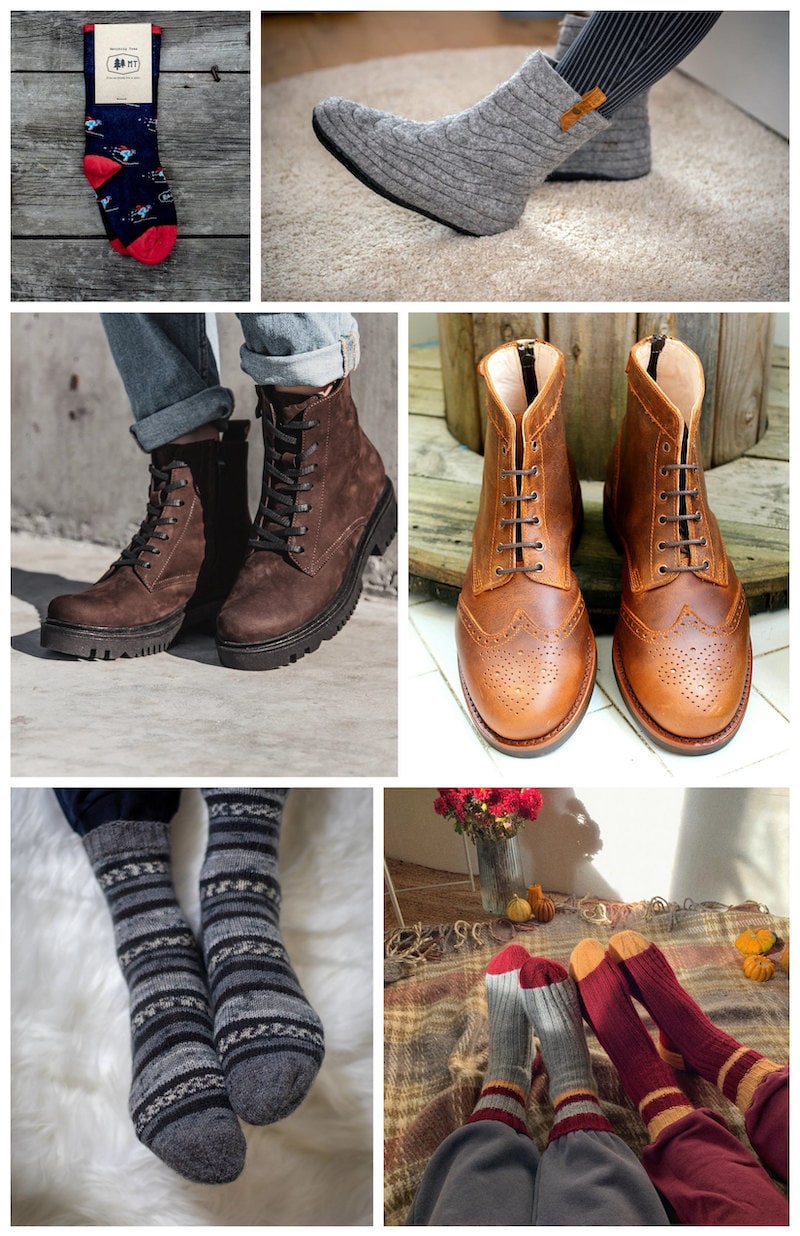 SHOP: (clockwise from top left): Kids size skier sock from Matching Tree Socks, $14; wool bootie slippers from Bure Bure Slippers, $155; leather oxford-style boots from Old Mulla, $162; sheep's wool socks from Knitya Wear, $44; striped alpaca socks from Knitya Wear, $44; brown suede boots from GOR shoes, $180
When it comes to après ski footwear, we say choose your own adventure. Rugged yet stylish leather lace-up boots can easily take you from campfire s'mores to mountainous climbs, while knitted bootie slippers keep your toes toasty while you're holed up inside. Regardless of which type of kicks you pick, an insulating pair of sturdy wool socks is key to balancing après ski fashion and functionality, and we think they look equally snazzy in sporty stripes and whimsical winter motifs.
Wrap yourself in an extra-snuggly scarf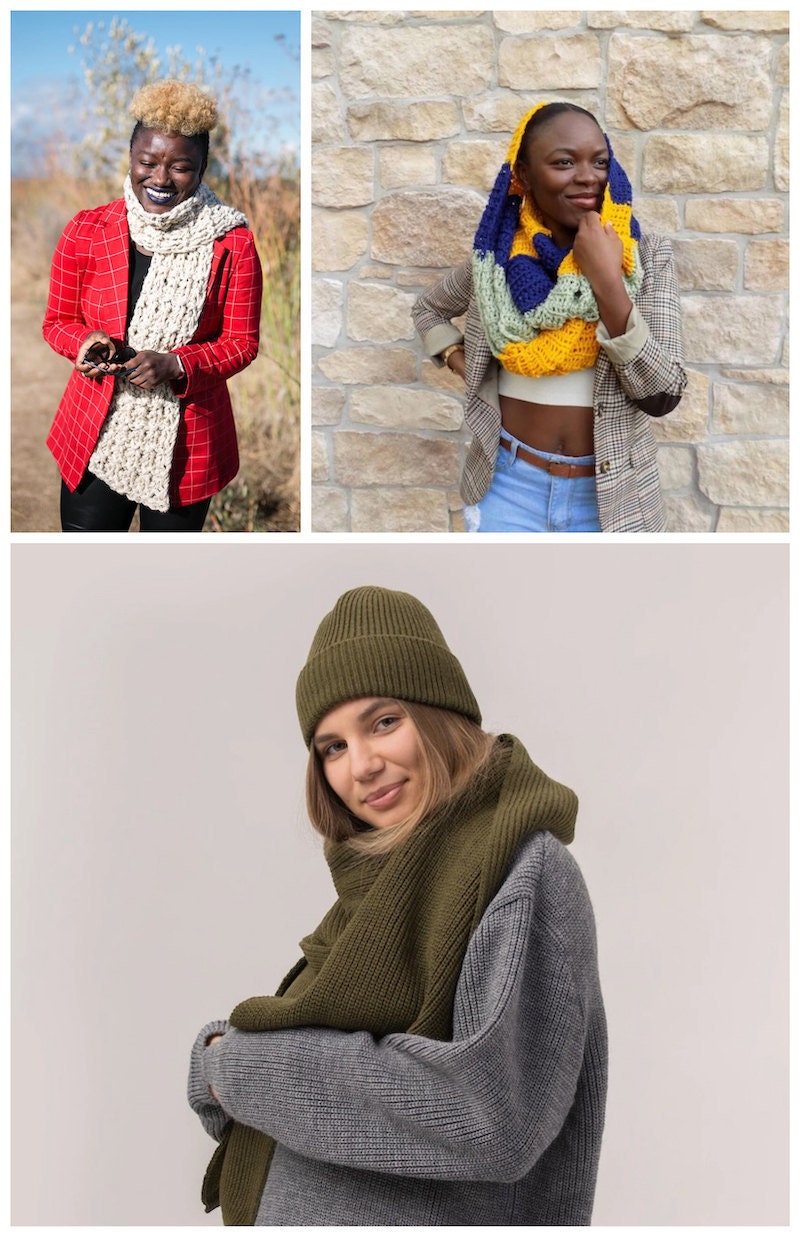 SHOP (clockwise from top left): Textured oatmeal-colored knit scarf from Nisey Knits, $48; crochet infinity scarf from FAMEousJ, from $28; matching knitted beanie and scarf from HYGGLY, from $45
Keep the chilly willies at bay with luxurious knit neckwear that can be twisted, tucked, and tossed nonchalantly over the shoulder. Whether you prefer burying your chin in a chunky cowl or loosely looping an extra-long scarf around your coat collar, these oh-so-soft, oversized stunners will give your après ski outfit that extra voluminous oomph that makes chalet-chic so covetable.
Get smitten with mittens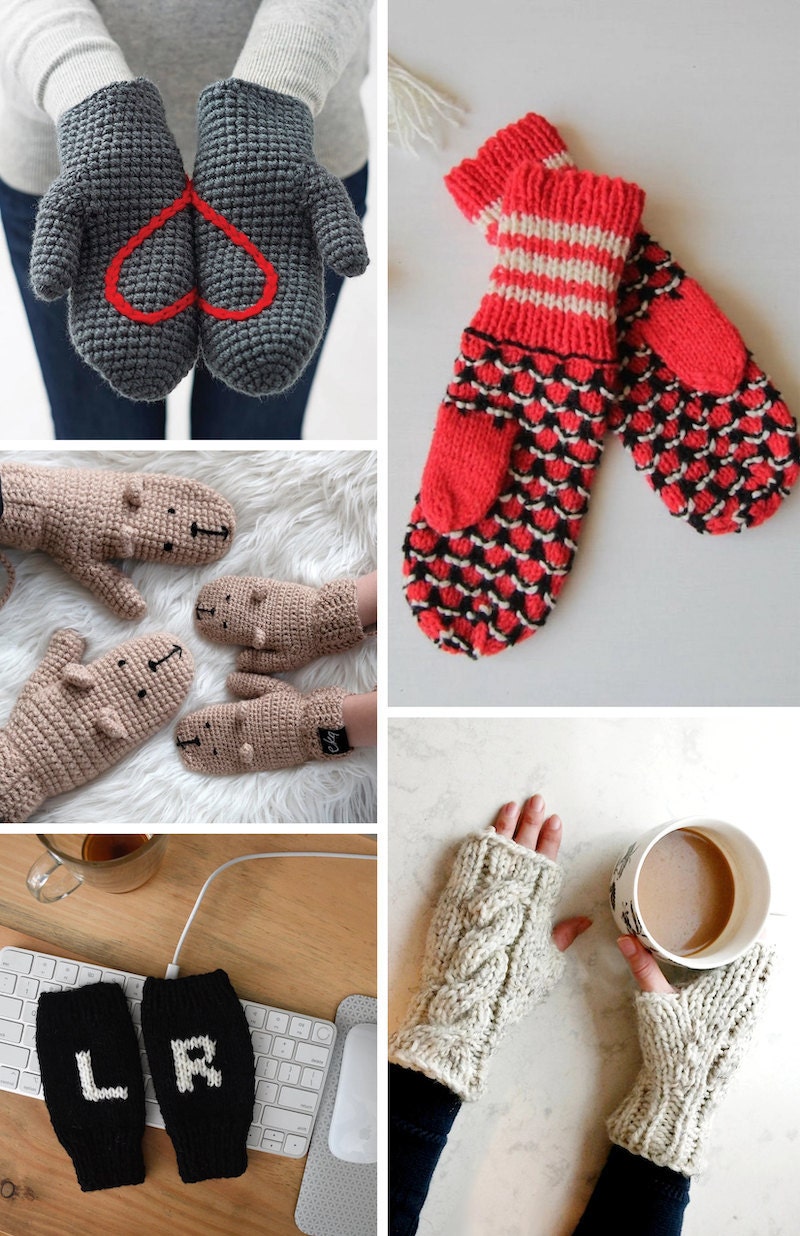 SHOP: (clockwise from top left): Valentine heart mittens from ekawear, from $28; knitted children sized mittens from Soft Wool By Regina, $34; cable knit fingerless gloves from Ornute, $30; left and right fingerless gloves from Lily's Handmade, $32; mommy and me animal mittens from ekawear, $96
For those who plan on taking their après ski clothing outdoors for a couple of bunny slope runs (or simply on a trip to sip some hot cider) don't forget to 'fit your fingers! Mittens are often our go-to pick because they keep your fingers huddled together for extra warmth, but if you desire more dexterity, fingerless gloves are the perfect accessory when it's time to set aside your ski poles and pick up a mug of something spiced.
Top it off with a knitted hat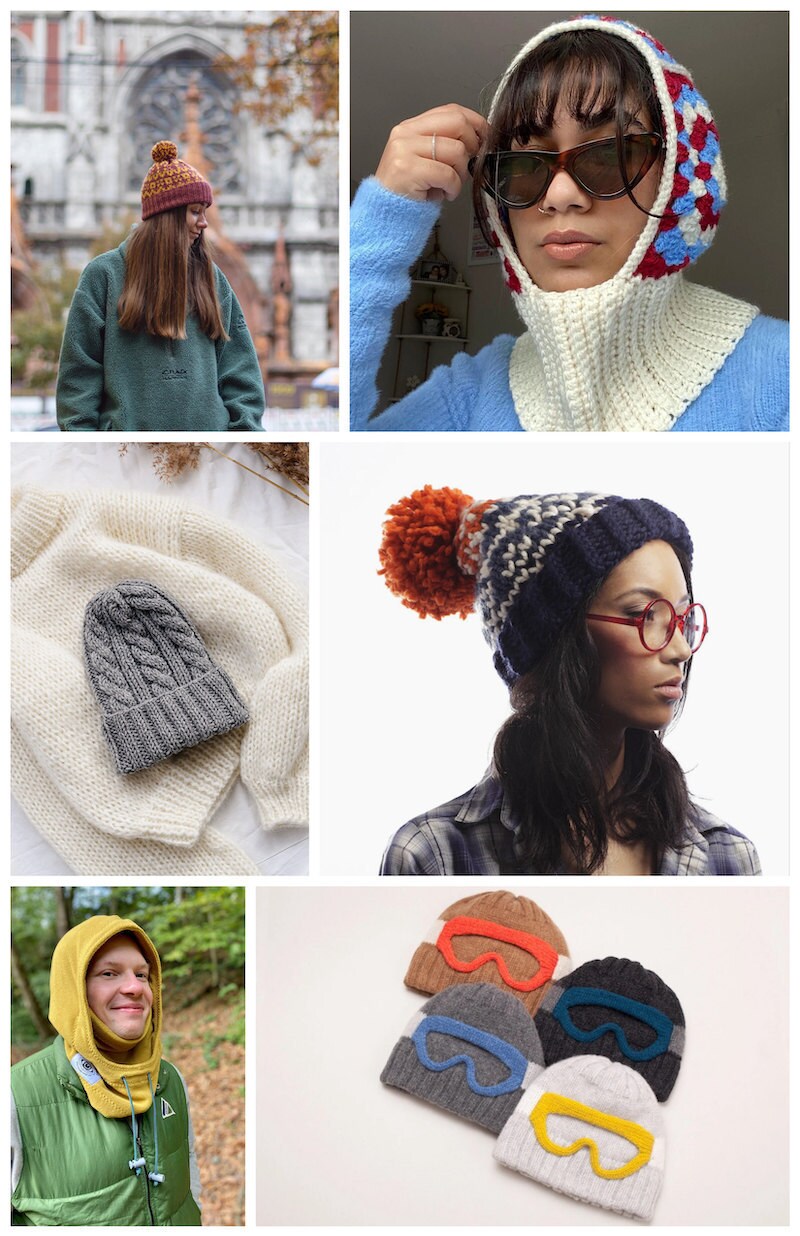 SHOP: (clockwise from top left): Fair isle ski hat from Knitya Wear, $69; granny square balaclava from By Avneet, $72; pom pom knitted hat from Claire Verity, $60; ski goggles hat from Nina Führer, $62; fleece balaclava from Ministry of Culture, from $38; cable knit beanie from Plexida, $55
No après ski outfit should go without a trusty toque, and we love handmade hats with an extra-playful factor. A knitted beanie protects your precious lobes from the winter chill, but add a poofy pom-pom and you've got an accessory with plenty of personality. Or put a decidedly ski-ready spin on your headwear and opt for a crocheted balaclava with all-around coverage, which gives a whole new meaning to "bundling up."
Bonus: Add some après accessories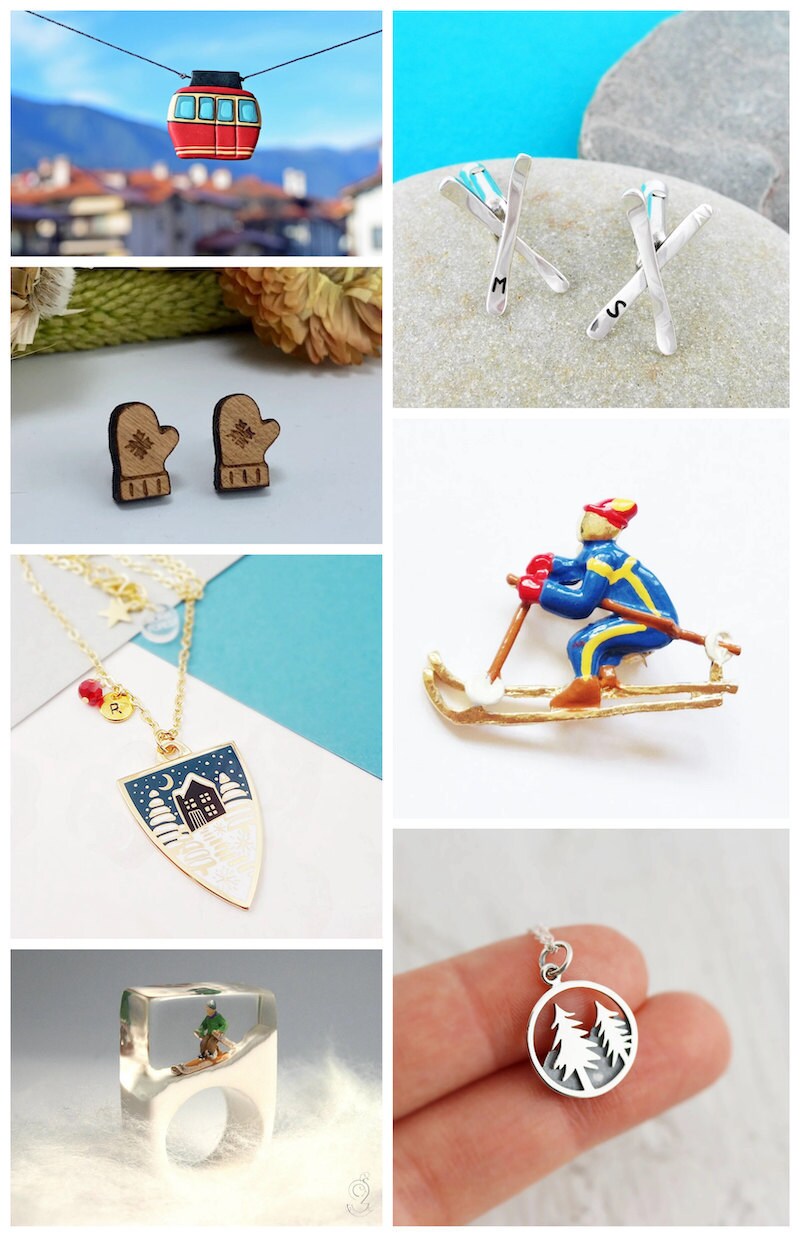 SHOP: (clockwise from top left): Mountain gondola lift necklace from Osheep, $25; personalized ski silver cufflinks from Emma Mogridge Jeweller, from $127; vintage skier brooch from Retrorox Jewellery, $11; silver pine tree necklace from TNine and Company, $33; snow bunny resin ring from Geschmeide unter Teck, $122; personalized winter birthstone pendant from Bonbi Forest, from $28; wooden mitten stud earrings from Mandragora Manvfactory, $13
The weather outside may be frightful, but these snowy slope-inspired accessories sure are delightful. From charming vintage ski brooches with cool retro appeal to sterling silver conifer pendants that shimmer in the sunlight, these wearable conversation pieces make the perfect finishing touch for any après ski outfit.