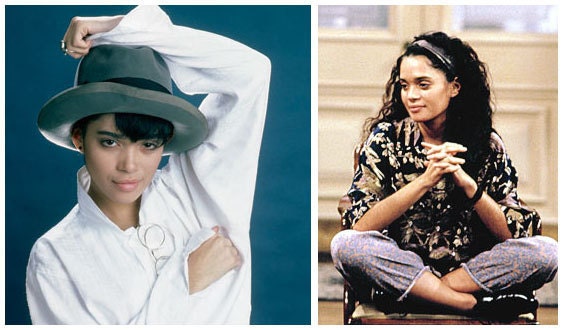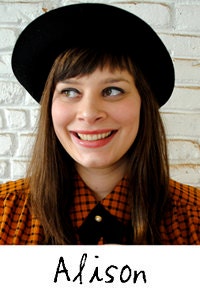 I grew up with a television screen perpetually smudged by an inquisitive nose (...mine). I'd camp out in front of our behemoth set and adjourn to the fashion forward universe of The Cosby Show, usually while reclining in Little-Debbie-stained sweatpants and a half-shirt.
Even as a kid I recognized that middle daughter Denise Huxtable was stylish. She was totally fearless when it came to her appearance and could get away with seemingly anything — oversized smocks, harem pants, jumpsuits, fluorescent face paint, pork pie hats, short hair (especially shocking to a ten-year-old with a despised bowl cut). I imagined her as my fantasy older sister, imparting wisdom about boys and how to accessorize while effortlessly dancing down the stairs to a James Brown funk riff. Denise's sagging blazers, patterned head wraps and loud style remain iconic as ever. Here's to becoming our idols.
Vintage Brown Suede Leather Fedora

From DeLaBelle, $34.

Vintage Check Tuxedo Jacket Dress

From lollycrispvintage, $60.

From vintageurbanrenewal, $29.95.

By KnitFactory, $55.

From leolucaescobar, $32.

From GinaMicheleVintage, $26.

From RecoveredVintage, $26.

Textured Bangles - Set of Three

By allisonmooney, $20.

From VerseauVintage, $82.

VTG Tweed Leather Cocoon Jacket

From SpeaksVolumesVintage, $38.

By blackmarketbaby, $110.

From nickiefrye, $42.

From SpunSugarVintage, $10.

From nstylevintage, $44.

From AquarianVintage, $75.

From POOCHIESCLOSET, $49.
By betsyandiya, $25.

Alarice, 80s Black Tuxedo Jumpsuit

From LaCaravaneBoheme, $37.

Grey Architecture Cowl Drape Top

By desirapesta, $75.

From lisazain, $38.

By PeaceImages, $40.

From PranceAndSwagger, $36.

By iheartnorwegianwood, $75.

By strungoutdesigns, $23.

By outofafrika, $60.

Vintage Oversized MISSONI Dress

From nstylevintage, $98.

By TwistedRoots2, $25.

By scotatto, $420.

Vintage ARMY GREEN SHIRT DRESS

From IKAHN, $42.

From greatestfriend, $33.

By orno, $31.

 

Square dance....Blue patchwork

By cocoricooo, $47.

 
Who's your style icon? Share in the comments below!
Past Get the Look Posts | Vintage Articles | Clothing Category