by Nicole Northway
Chicago art supply and gift shop One Strange Bird sketches out a holiday shopping list for all the creative types in your life.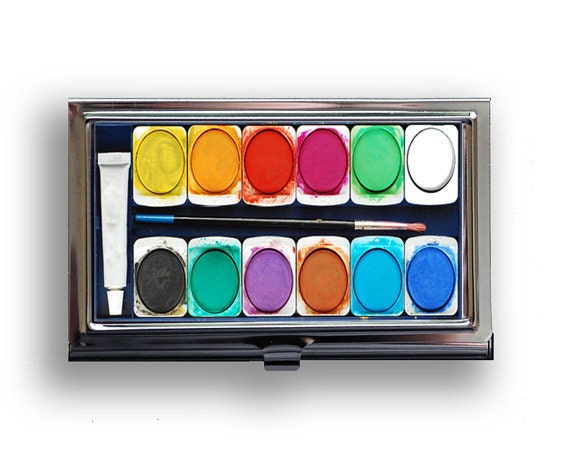 Nicole Northway is the owner of One Strange Bird, a storefront art center in Chicago's Wicker Park neighborhood. She is also an artist and educator, and she opened the shop in part to showcase the jewelry she was making for her Etsy shop, Lady Pancake, and the work of fellow Etsy sellers she'd discovered on the site. She loves painting, drawing, crafting, and learning new skills to share with her students at Columbia College, Depaul University, and One Strange Bird's own on-site art and craft classes.
Ever since I was a little girl, I've made arts and crafts. I carried that love into high school and then to college, where I got both my BFA and MFA. Now I run an art studio and gift shop where I get to be creative and support other creative people every day — whether that's providing them with great art supplies, classes for learning new techniques, a space to show their work, or just a fun selection of decorative items for sprucing up their studios. I live my dream daily, and I love to help other artists do the same. Here are my picks for the best holiday gifts for creative types: from stimulation to restoration, these items will encourage the artist in your life to get organized, stay inspired, and craft her way to success. All of us at One Strange Bird are obsessed with
washi tape
: we use it in our arts and crafts classes and around the office, too. Our customers especially love it for making collages and often buy some to take home after our collage workshops. Every artist needs a cute case to store all her drawing items — especially for sketching on the go. I always carry a small pad of paper and a pencil case of fun supplies for when sudden inspiration hits. Even right-brain types have to stay organized! This 5.5-by-8-inch
weekly planner
has plenty of space for scheming and scheduling. Botanical elements are great to have in a creative space — I love keeping plants around my studio. This hand-painted planter is the perfect size for an
air plant
, which is a pretty low-maintenance option (and therefore great for busy artists and entrepreneurs). We love Little Low designer Caitlin McClain's illustrations, and we stock many of her products in our store. This archival-quality print is a must-have for above a work station — a gentle reminder to keep going even with things get tough. I love that Etsy has
vintage supplies
, too! I have amassed a serious vintage art supply collection in my studio and I think these crayons would fit in quite nicely (wink wink nudge nudge). This brightly colored calendar from the Rochester, New York-based artist behind My Zoetrope will liven up any workspace. The inside is filled with adorable hand-drawn illustrations of koalas, kitty cats, and a pair of woolly mammoths roasting marshmallows. These color-coordinated ephemera kits are wonderful for art journaling or collaging — and
so
much easier than assembling all the individual elements on your own. Boy Girl Party is a perennial favorite in our store — our customers love it! (Warning: You might envy this octopus' eight arms after listing out the day's tasks.) A sturdy, secure canvas camera bag is an obvious choice for the photographer on your list, but it's also great for toting other art supplies — like watercolors, brushes, and even a small easel for al fresco painting sessions. The cutest colored pencils made from natural wood — who
wouldn't
want these as a gift? They add style to even amateur scribbles (and travel well, too). Art runs on coffee! We drink lots of it here at One Strange Bird and keep a supply of custom mugs next to our K-cup machine in the break room. Go for one with a motivational message and you can't fail.