by Lisa Butterworth
The original riot grrrl movement sparked a revolution that's still playing out today.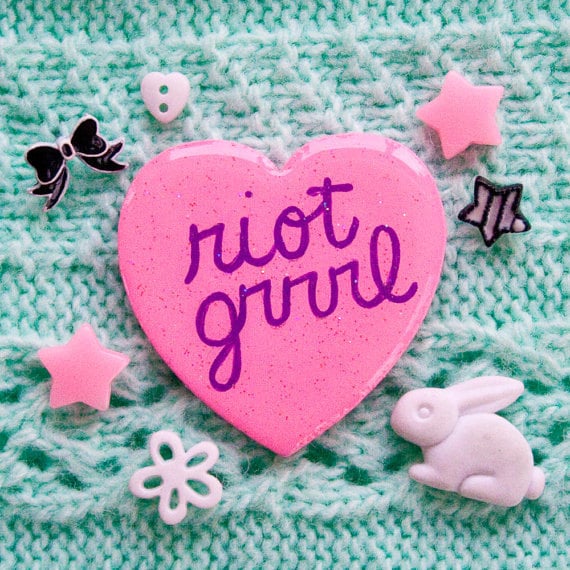 Lisa Butterworth is a writer and editor soaking up the eternal sunshine in Los Angeles. When she's not on the hunt for the latest and greatest in girl culture as the West Coast editor of 
BUST
 magazine, she's flea marketing, taco trucking, and generally raising a ruckus. 
I have very few prized possessions, but my collection of
Sassy
magazines is one of them. As a teen, devouring each and every issue when it arrived in my parents' mailbox marked the beginning of my long and storied love affair with the '90s. I wore flannel. I had multiple pairs of Dr. Martens. I wanted to be Kathleen Hanna when I grew up. As it turns out, none of these things have changed, and what's really awesome is the number of teenage girls today who are reading, wearing, and wanting the exact same things. DIY culture, the Riot Grrrl movement, and the third-wave feminism of the 20th century's final decade not only shaped the way I live my adult life, but also influenced a huge facet of today's pop culture, from '90s nostalgia (you guys,
My So-Called Life
is totally on Netflix instant watch) to the handmade/craft explosion, to the ubiquity of blogs, which are really just like 'zines with an Internet connection. So what's it like being old enough to see the major elements of my coming-of-age years being celebrated by a whole new generation? Well, it's complicated. And immensely gratifying.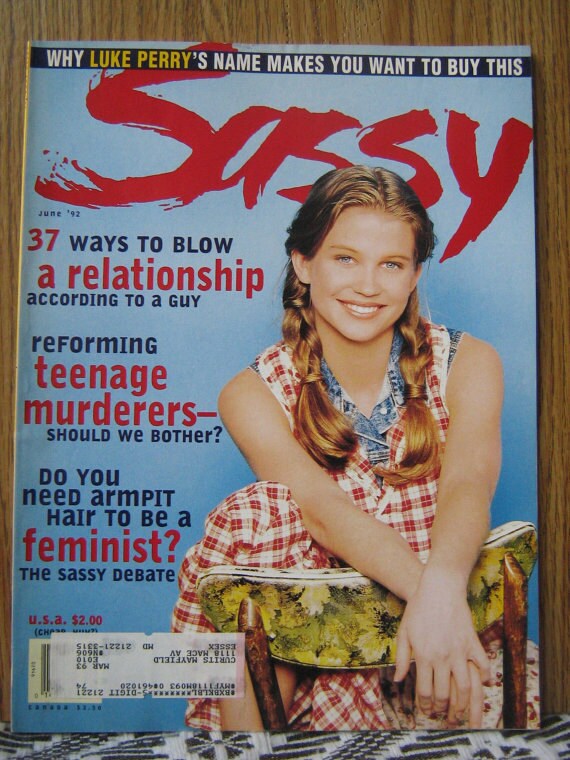 %3Cp%3E%3Ca%20href%3D%22http%3A%2F%2Fwww.etsy.com%2Fshop%2Fcriminytriplet%22%20target%3D%22_blank%22%3Ecriminytriplet%3C%2Fa%3E%3C%2Fp%3E
I had just turned 18 the first time I saw Hanna's group 
Bikini
Kill
, one of the cornerstone bands of the Riot Grrrl movement. They opened for Sonic Youth at a show in L.A. which I had to lie to my parents to attend. The year was 1995, and officially speaking, the Riot Grrrl movement was already over. In 1991, a group of badass girls in Olympia, WA — Hanna, fellow Bikini Killer Tobi Vail, and
Bratmobile
members Alison Wolfe, Molly Neuman, and Jen Smith — got fed up with the male-dominated punk scene and decided to do something about it. Not only did these ladies create bands and play their own instruments, but they also Xeroxed 'zines, screenprinted T-shirts, made art, and espoused a type of feminism that fought for modern-day women's rights (reclaiming insults was imperative and Riot Grrrls started with the word
slut
, scrawling it across their bodies with lipstick and Sharpies). They kickstarted a lady-powered DIY movement that broke gender barriers in the music world, popularized third-wave feminism, and laid the groundwork for this decade's craft revolution. But it ended as abruptly as it began. Once the mainstream media got hold of the story, the Riot Grrrl message was ignored in favor of features about short skirts, baby barrettes, and cute, angry girls. The core of the cause began to erode, and by 1994, it had run its course. But its legacy had just begun to take shape.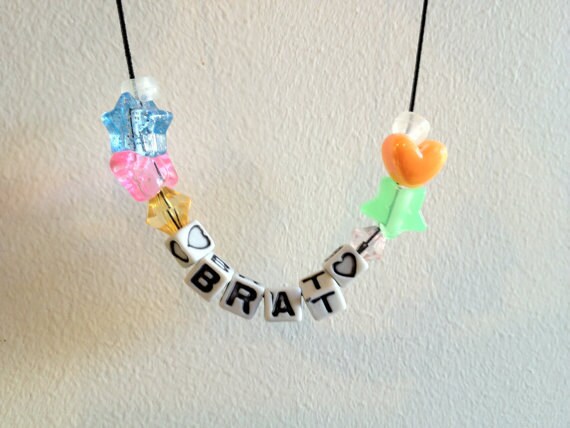 %3Cp%3E%3Ca%20href%3D%22http%3A%2F%2Fwww.etsy.com%2Fshop%2Fokwhatever%22%20target%3D%22_blank%22%3Eokwhatever%3C%2Fa%3E%3C%2Fp%3E
Despite the movement's dissolution, girls all over the country were starting to listen to Riot Grrrl music, pour their hearts out onto stapled, black-and-white pages, and get their hands dirty with all kinds of DIY projects. In 1993, using
Sassy
as inspiration and the Riot Grrrl movement as motivation,
BUST
magazine (full disclosure: I'm on their masthead) was born. By 1997, it was one of the first women's magazines to cover DIY culture in its new incarnation, taking the idea of reclamation and extending it to so-called "feminine" activities like knitting, sewing, and embroidery. In 1998, Jean Railla launched
GetCrafty.com
, the first online haven for what Railla coined "the new domesticity": crafting infused with Riot Grrrl feminism. In 2003, 
BUST
's editor-in-chief Debbie Stoller spearheaded the knitting revolution with her book
Stitch 'n Bitch
. The first
Renegade Craft Fair
was held that same year, and Etsy launched in 2005. It was also around this time that artist/documentarian Faythe Levine began producing
Handmade Nation
, a film (and now
book
) that illuminated the growing DIY scene and profiled some of its coolest makers, including stitchmaster Jenny Hart and illustrator Nikki McClure.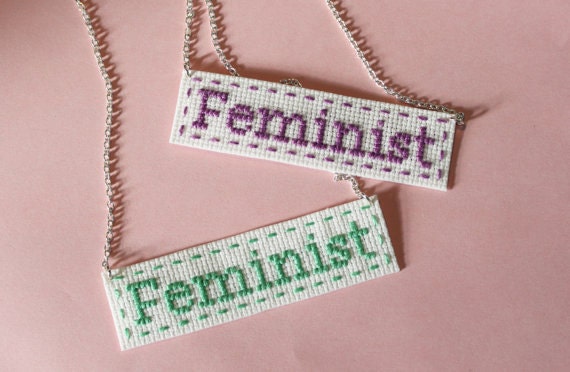 %3Cp%3E%3Ca%20href%3D%22http%3A%2F%2Fwww.etsy.com%2Fshop%2Fstrawberryfieldss%22%20target%3D%22_blank%22%3Estrawberryfieldss%3C%2Fa%3E%3C%2Fp%3E
By the mid-2000's, craft culture — overwhelmingly populated by women and with obvious roots in the DIY ethos of the early '90s — had exploded. Crafting quickly moved from the realm of pastime to serious business, as books like Meg Mateo Ilasco's 2007
Craft Inc.: The Ultimate Guide to Turning Your Creative Hobby Into a Successful Business
demonstrated.
And the popularity of DIY culture has continued to grow. As Levine modestly writes in the introduction to the 2011 book
Craft Activism
, "Our generation's interest in the resurgence of craft started as a grassroots phenomenon, though now I think it's safe to say it's leaked into mainstream culture."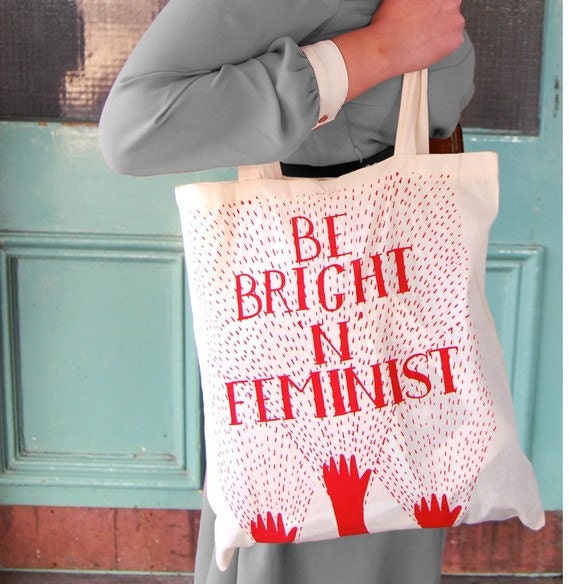 %3Cp%3E%3Ca%20href%3D%22http%3A%2F%2Fwww.etsy.com%2Fshop%2Fsarahjuliaclark%22%3ESarah%20Julia%20Clark%3C%2Fa%3E%3C%2Fp%3E
The culture of the '90s and the influence of Riot Grrrl can also be seen in today's blog world. In addition to being a largely lady-fueled realm, blogs support the same sense of connection and shared experiences as the early days of 'zines, albeit in a much more immediate nature. They're also where neo-'90s reverence has proliferated. Teen media phenom Tavi Gevinson even created
Rookie.com
to sate her desire for
Sassy
, which, incidentally, folded the year she was
born
.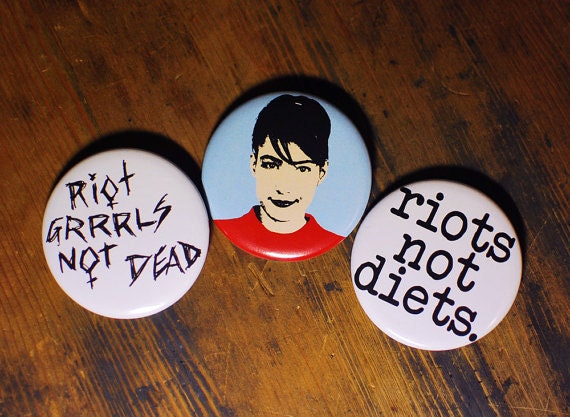 %3Cp%3E%3Ca%20href%3D%22http%3A%2F%2Fwww.etsy.com%2Fshop%2Fbuttonmachine%22%20target%3D%22_blank%22%3Ebutton%20machine%3C%2Fa%3E%3C%2Fp%3E
So yes, being able to vintage shop in my own closet for the first time in my life makes me feel old as dirt, but I've been happy to dust off my eight-hole Docs, get my 'zine reading on, and incorporate DIY and handmade goods into nearly every aspect of my existence. Yet what really thrills me about the comeback of my most formative decade is the utter
girlness
of it. In 2010, Kathleen Hanna hung out with Gevinson and gave the teen an incredibly symbolic gift: her
iconic "feminist" sweater
. And while I'm tempted to call it a poignant passing of the Riot Grrrl torch, that would insinuate that the generation Hanna originally inspired has hung up its combat boots. But the opposite is true: we've simply doubled our ranks.