As an artist, then a gallery owner, and now curator of the shop Golden Rule, Erin Duininck has always found magic in the connections between makers.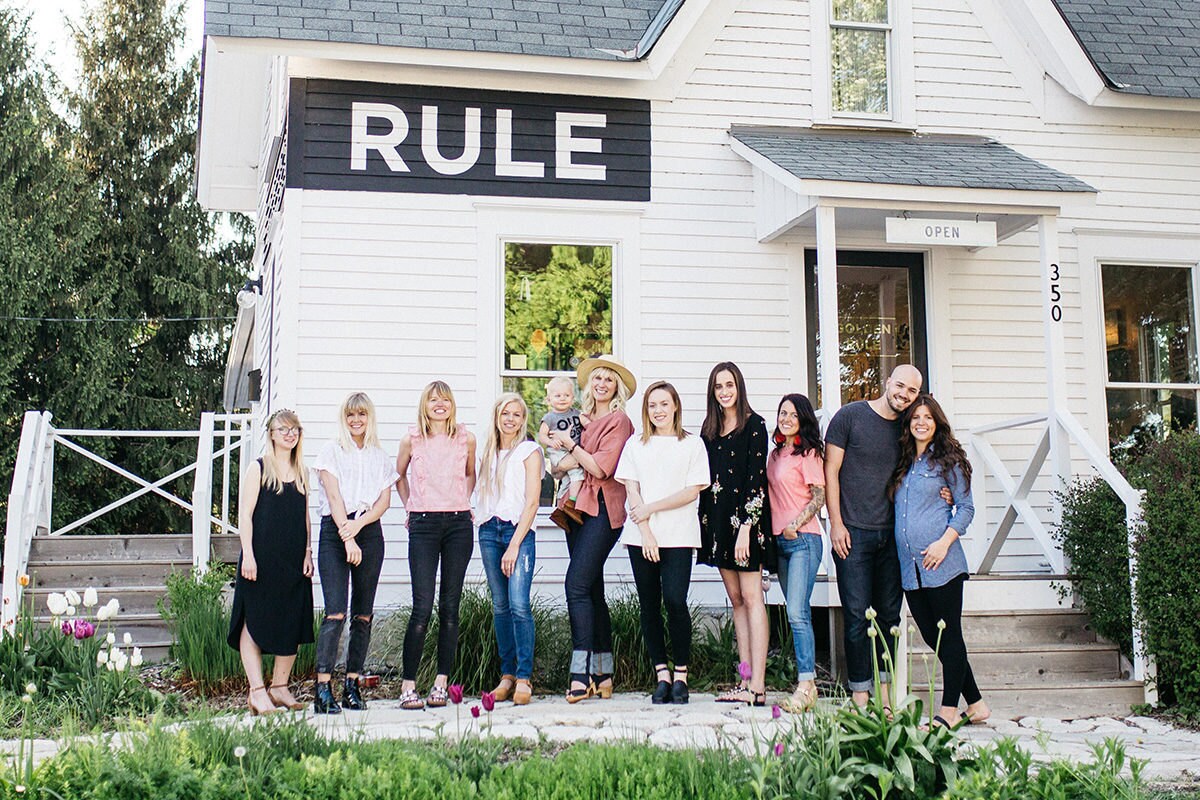 Walking into the
Golden Rule
, a maker-focused boutique in a converted 1920s house in Excelsior, Minnesota, is like stepping into a dreamy, light-drenched, and expertly curated
Instagram feed
. There's the ever-evolving gallery wall of abstract paintings, the portable jungle of potted plants (#jungalowstyle), and the
jewelry
and accessory displays descended from flat-lay heaven.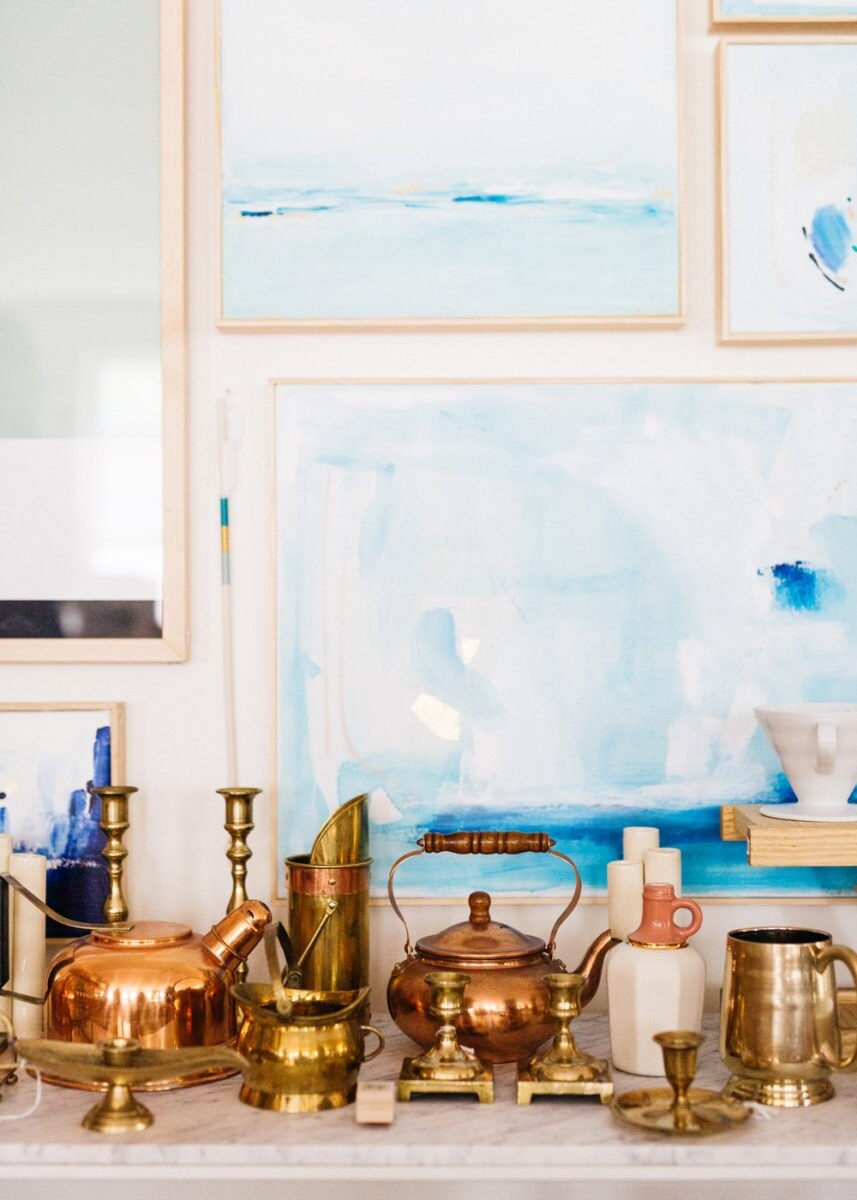 >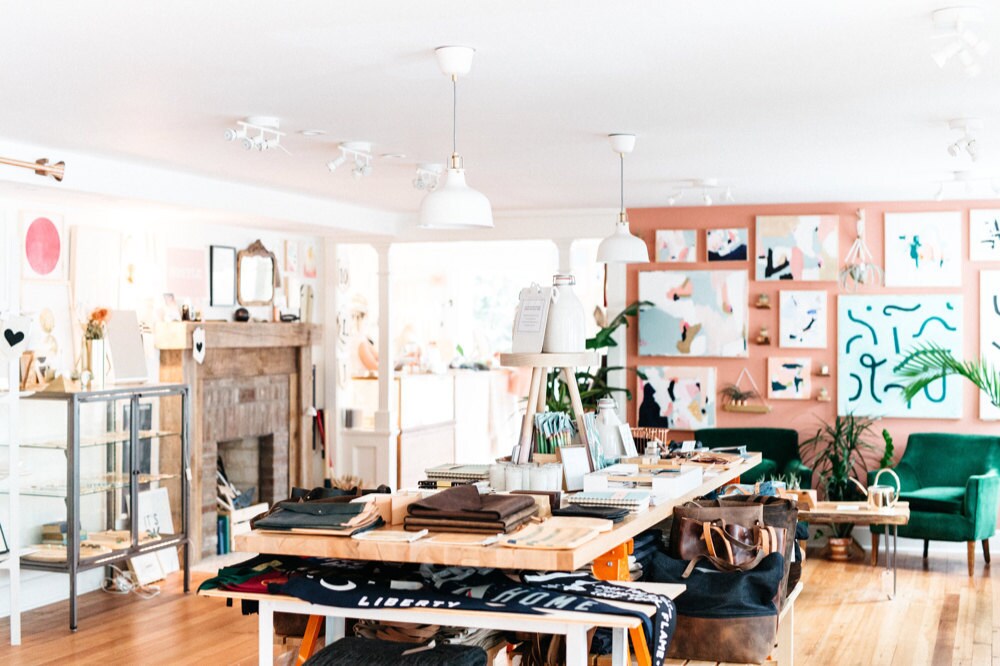 The sunny main room at Golden Rule in Excelsior, Minnesota.
But for all the care Erin Duininck puts into selecting and styling the handcrafted home goods and
small-batch beauty products
that fill her shop—many of which she sources from makers in
Etsy's wholesale marketplace
—actually selling items is secondary for the boutique's founder, curator, and animating force. "It's not about retail," Erin says. "I care about the existence of art and beauty in the world, so that part matters to me, but the act of selling things doesn't. It's this community space, this place where people feel welcome even if they can't afford to buy, or don't want to buy—that's what Golden Rule is about." For Erin, that sense of community is both lived experience and life principle, not a marketing ploy or mere talking point, and it's what sets Golden Rule (and most of Erin's other endeavors) apart.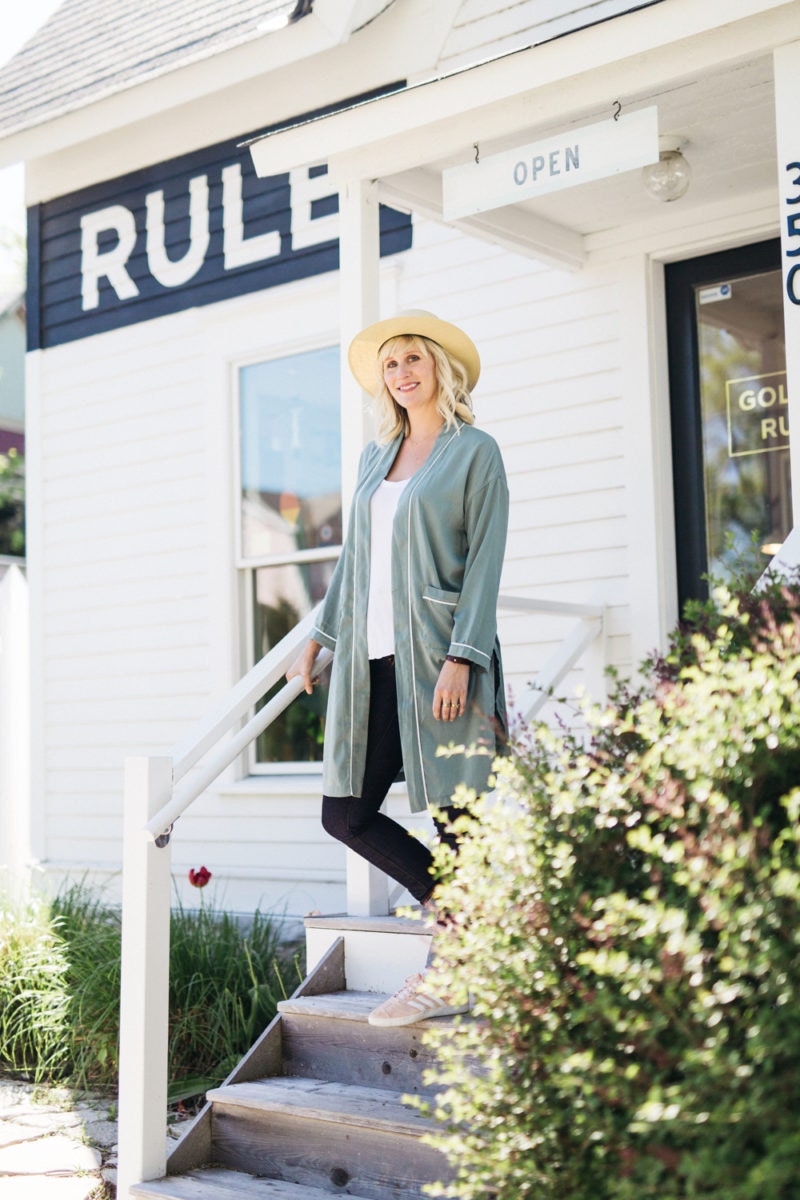 Golden Rule owner Erin Duininck on the shop's front steps.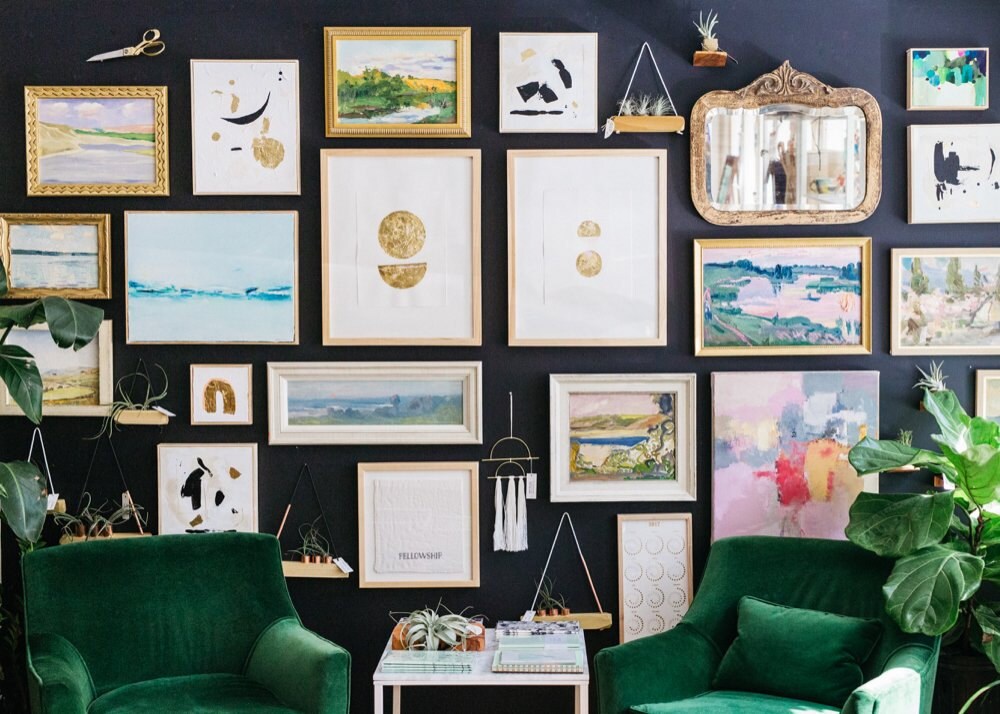 >
The daughter of ministers and musicians, and a singer-songwriter, artist, and jewelry designer in her own right, Erin was raised to appreciate the unique challenges in and value of leading a creative life. So much so that throughout her first foray into running a gallery space, in a 450-square-foot outbuilding on her property back in 2010, she didn't even charge a commission on
artwork
sales. "I felt like it was my mission to get these artists' work into people's hands," Erin says. "And at that point I also didn't really know what I was doing, so it was like, don't pay me for this, I'm just making it up as I go." Next, Erin graduated to a pop-up shop in downtown Excelsior in 2013. That experience clarified her unique vision for the role a brick-and-mortar retail space could play in a community—and in her own life. Recovering from a series of personal heartbreaks, Erin poured herself into the project, and got back far more than she bargained for. "The pop-up was supposed to last three months, and it just kept going," Erin recalls. "It was so fun and successful and brought me life—and, honestly, distraction and perspective as well. I realized that everyone who came in had a story, and it was so helpful to be able to meet people where they were and to get outside my own skin a little bit."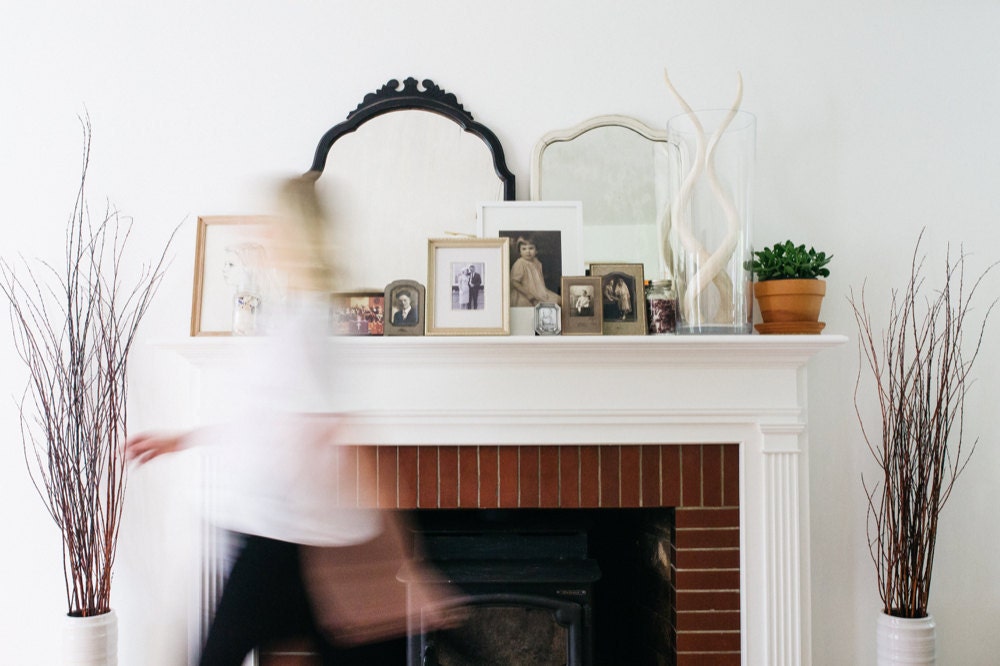 Sentimental photographs line Erin's mantel at home.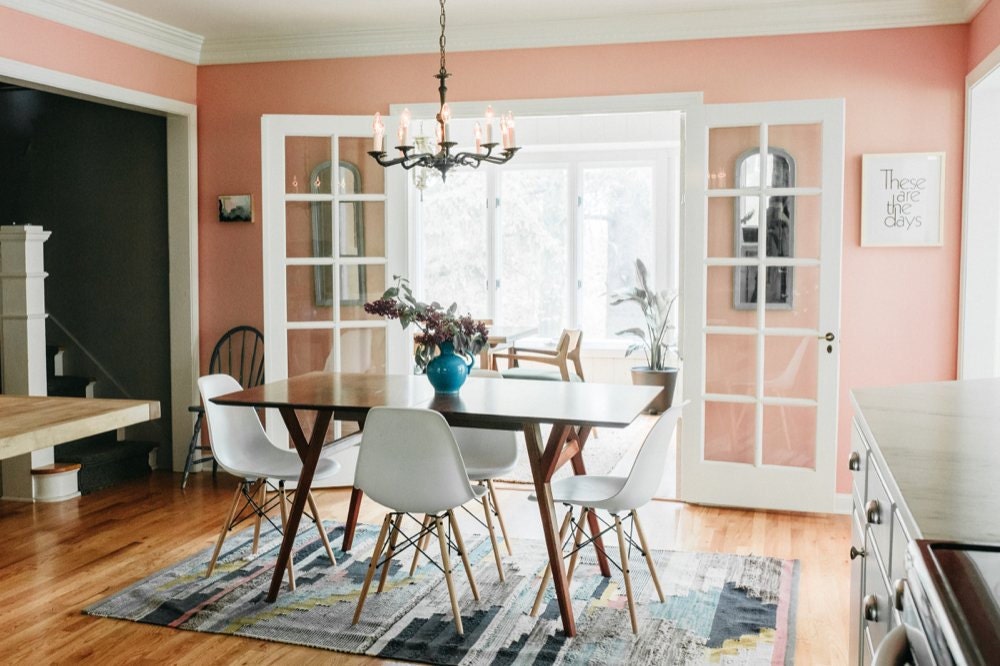 >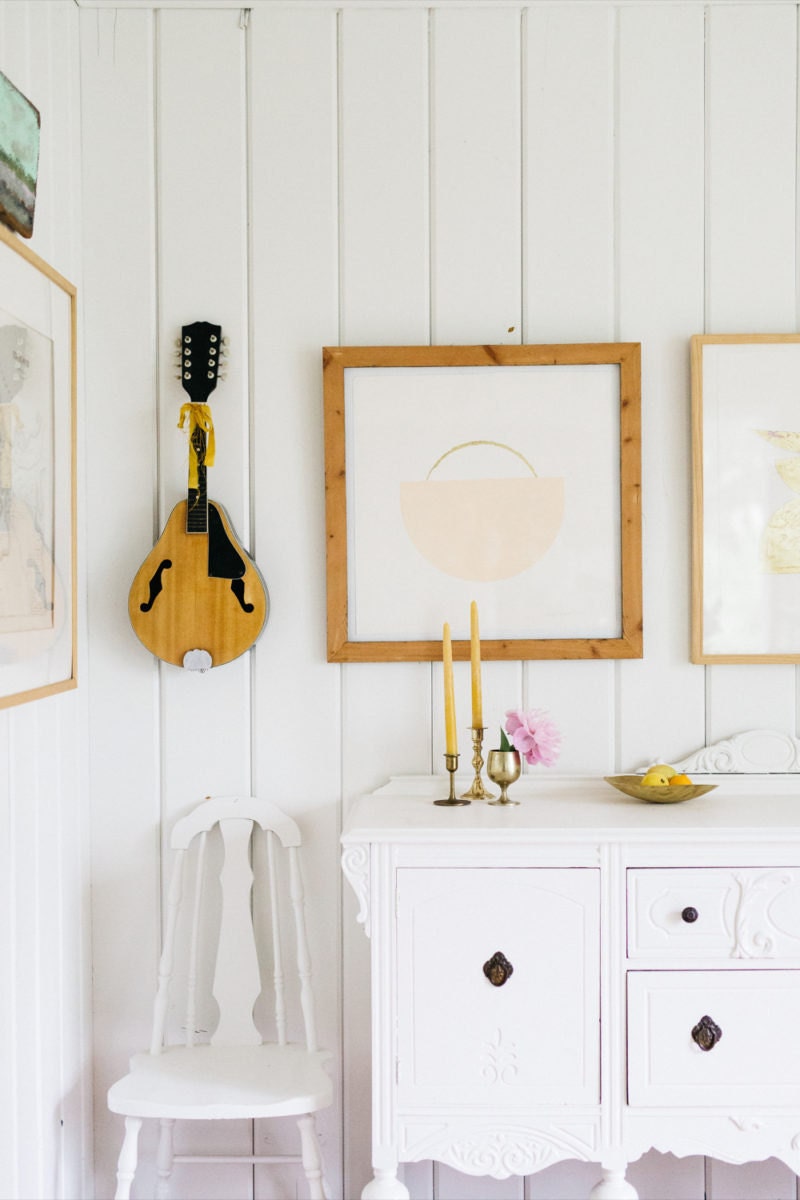 A bright nook in Erin's dining room, formerly a wood-paneled space that served as a TV room.
Blurring boundaries between the personal and the public, home and work, art and commerce is all part of Erin's modus operandi. "That's my life, it all spills over into everything, and everything is interconnected," Erin says. Fittingly, Golden Rule's aesthetic—and its come one, come all ethos—are closely mirrored in the home Erin shares with her husband, Ben, and children, Lillian and River. The first order of business when Erin and Ben bought the place back in 2008? Adding three more bedrooms and an extra bath to accommodate (and encourage) out-of-town guests. "I feel like everyone has a personal calling and a vocational calling, and maybe a family calling too, if they choose to delve into that. And I think as a family our calling is to invite and host and gather," Erin explains. "We want people to stay with us and celebrate with us; people have even had their weddings here. And we love that—it feels really good."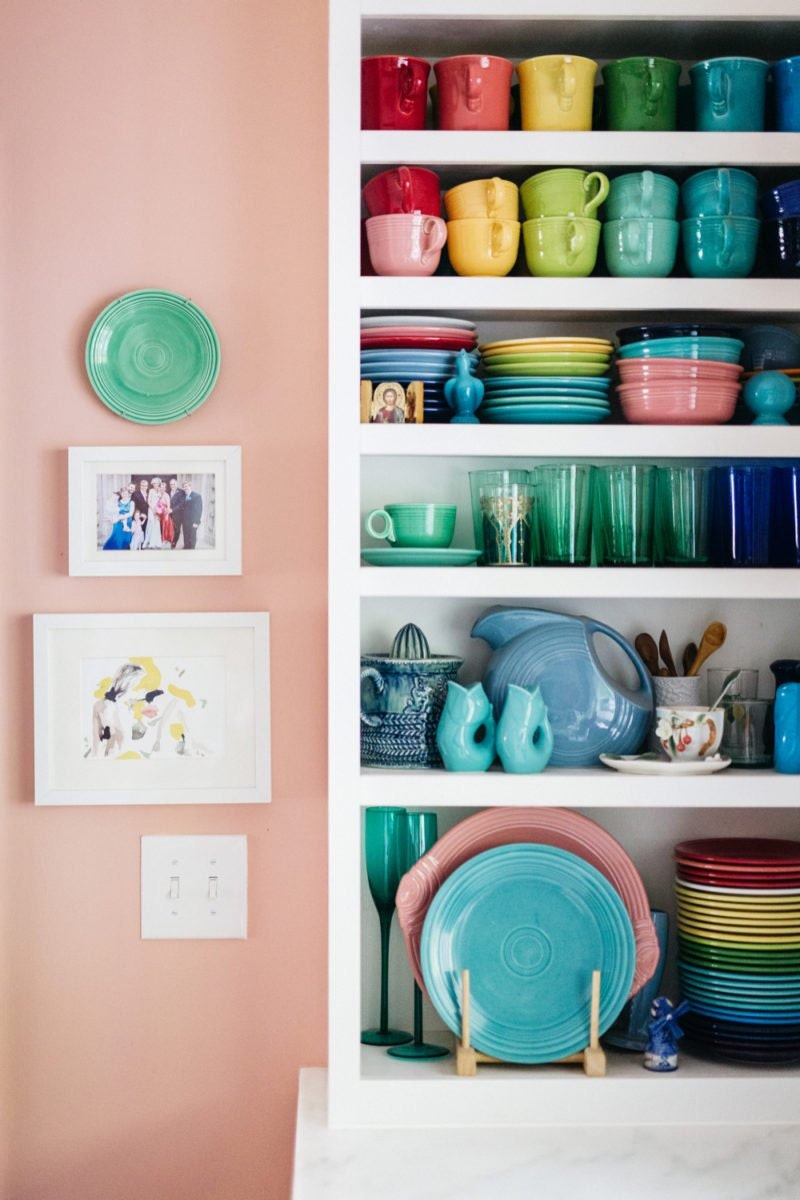 >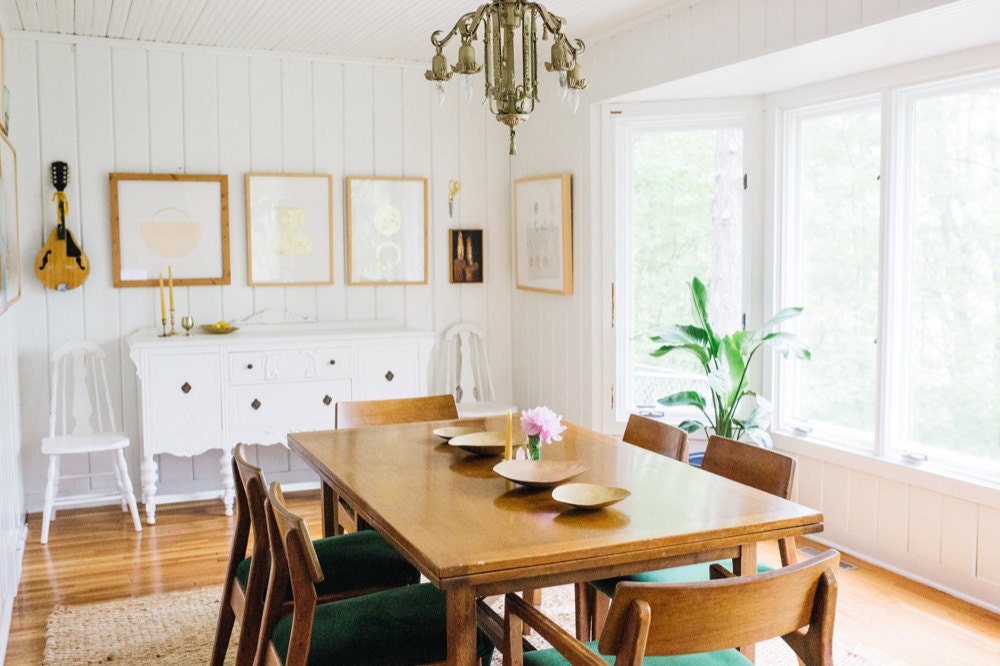 Erin's husband, Ben, found this midcentury dining table on Craigslist, and Erin had the chairs reupholstered in rich emerald velvet.
Expanding the kitchen, naturally, was also high on the couple's renovation agenda. "I love big groups; I don't ever have just a couple over," Erin says. "If I'm going to cook, it's going to be in bulk." To make more space for Erin's feeding-an-army ambitions, the couple knocked down walls to combine three rooms into one connected cooking space, then added blush-pink walls, white cabinets and marble countertops, and a vintage island to use as a prep station. From the large window over the sink, Erin can look out over the front porch and yard where the family often
entertains
. "We have huge parties where we take up every room; we've even done house concerts here, where everyone buys a ticket and brings a beautiful homemade dish to share, and we all get to hear some local bands and have a big feast."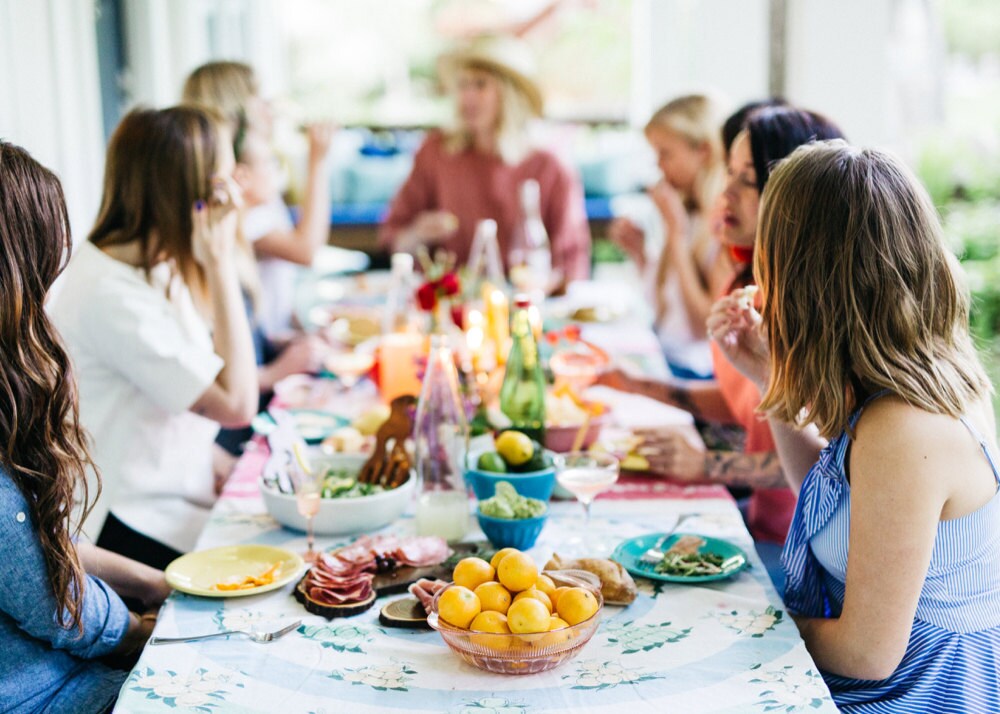 Celebrating two years in business with the Golden Rule crew.
In the
dining room
—formerly a wood-paneled TV room that downplayed the lakeview windows on three of its sides—Erin whited out the walls, brought in a long
midcentury modern
dining table that Ben found on Craigslist, and reupholstered its worn-out chairs in the emerald green velvet that's become a style signature in both her home and her shop. As for the family's favorite spot in the house? That would be the spacious, sunny living room, with its pink velvet couch (snagged on sale at a local outlet) and a striped play tent in the corner for 1-year-old River. "That couch definitely sets the tone," Erin says. "It gives everyone permission to be playful. We're not taking ourselves too seriously here."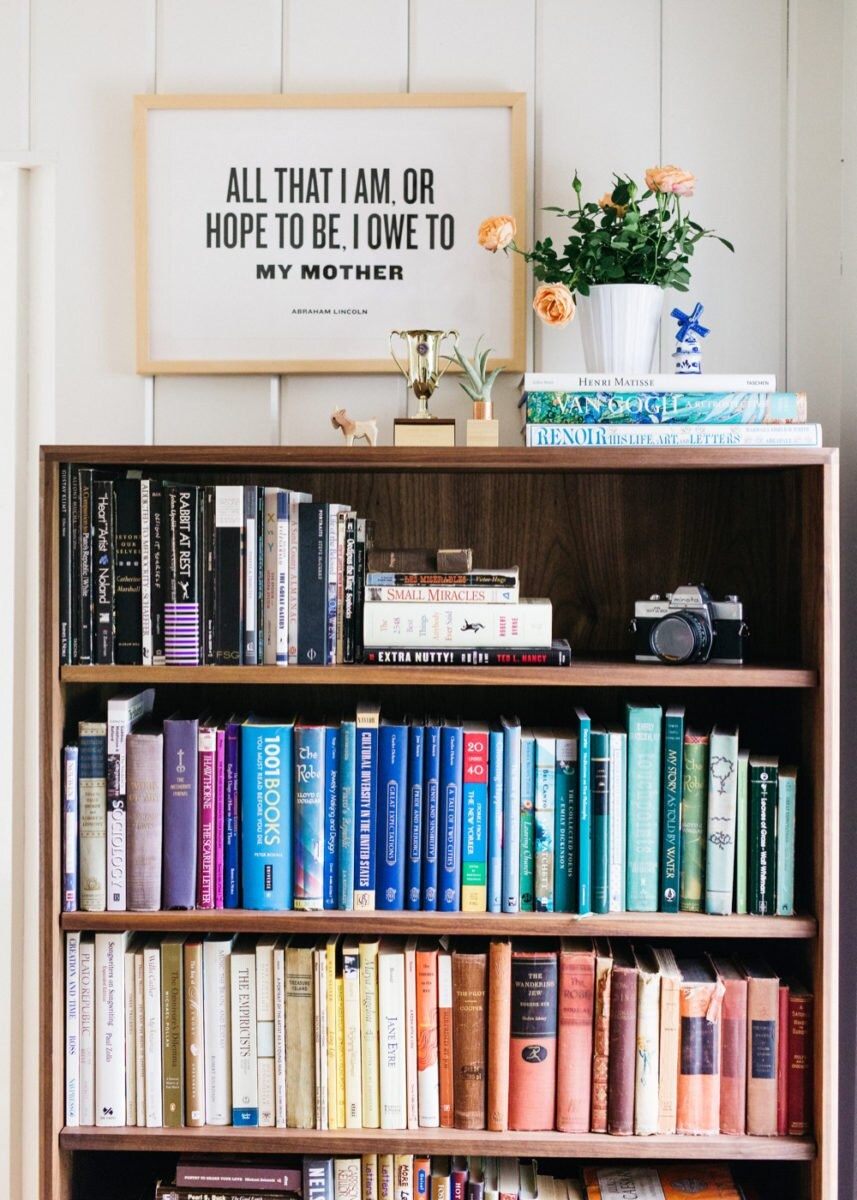 >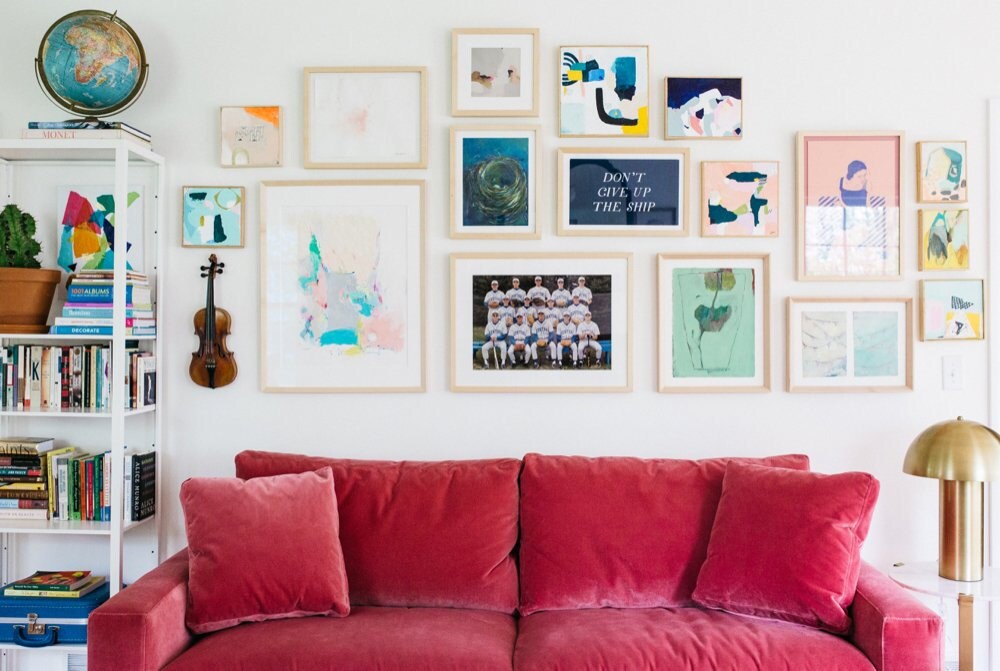 >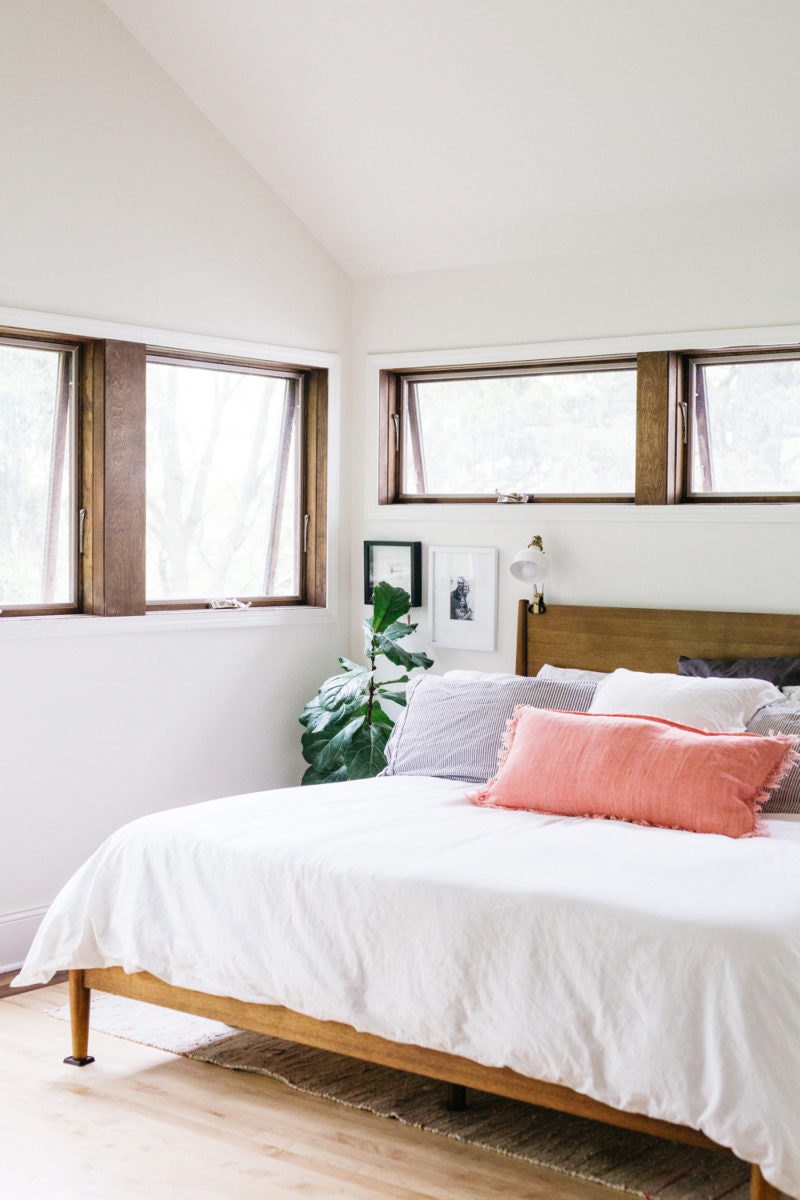 Erin and Ben's bedroom
If anything truly defines both Golden Rule and Erin's home, it's the focus on art. "The heart of our house is the artwork that's everywhere.
Every room is an art gallery
," says Erin. A lot of that art comes from family, friends, or folks whose work she carries in the shop, but it doesn't stop there. "My walls are filled to bursting with treasures, stories, and mementos of lives intertwined with mine," Erin says. "I have my mother's paintings, my father's lyrics, my husband's high school baseball team photo, a mitten my mother made for me as a child, framed and hung." Even the kids' rooms are decorated with original paintings, including Lillian's own
abstract
watercolors (Erin runs a kids' art camp every summer, and has a knack for identifying beginner-friendly mediums for frame-worthy results). She describes her style as nostalgic and personal, and herself as 'a maximalist trying to be a minimalist.' "I assign meaning and value to objects that might otherwise be thrown out," Erin says. "Of course, this puts me in a precarious perch leaning into hoarder territory, but it's where I naturally reside."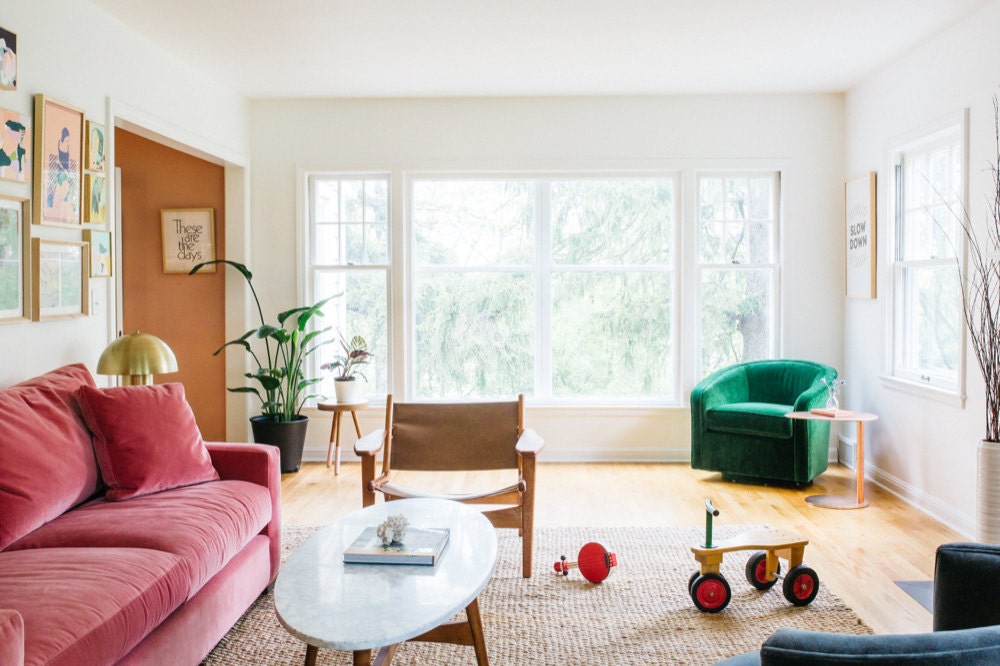 The family hangout spot, complete with toys for 1-year-old River.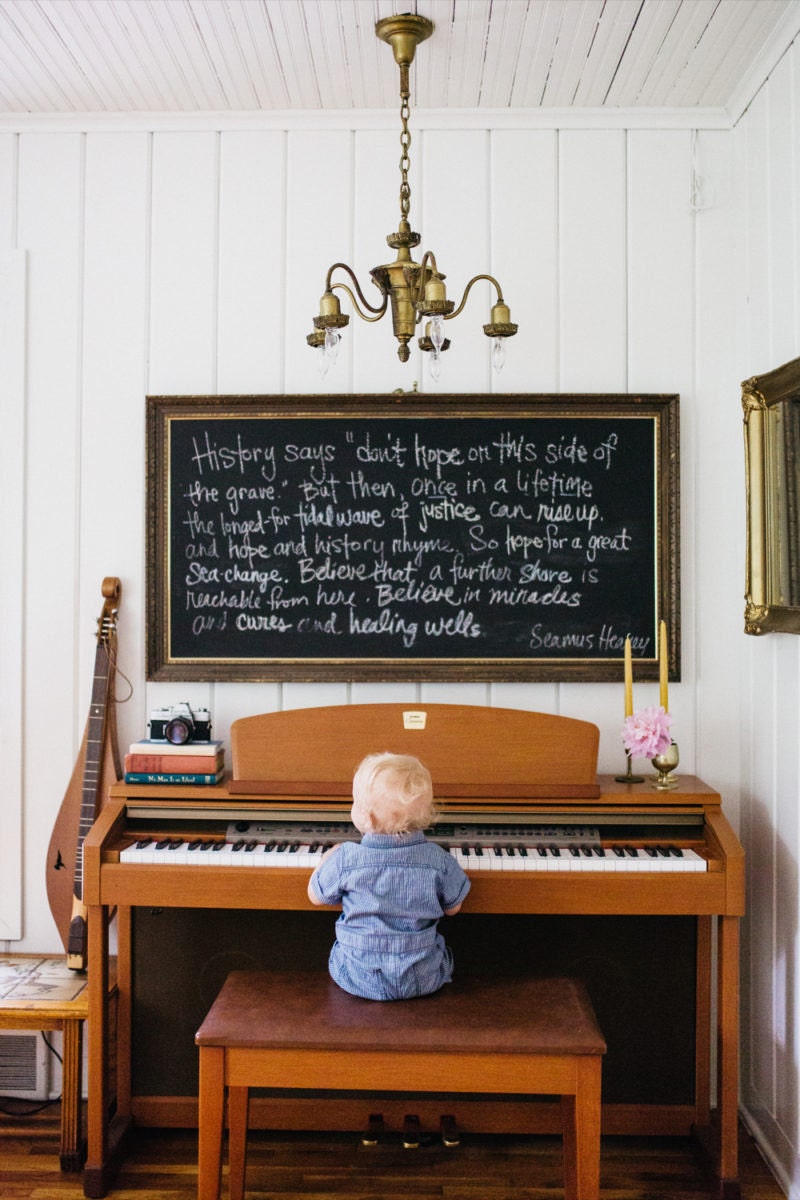 River at the family piano.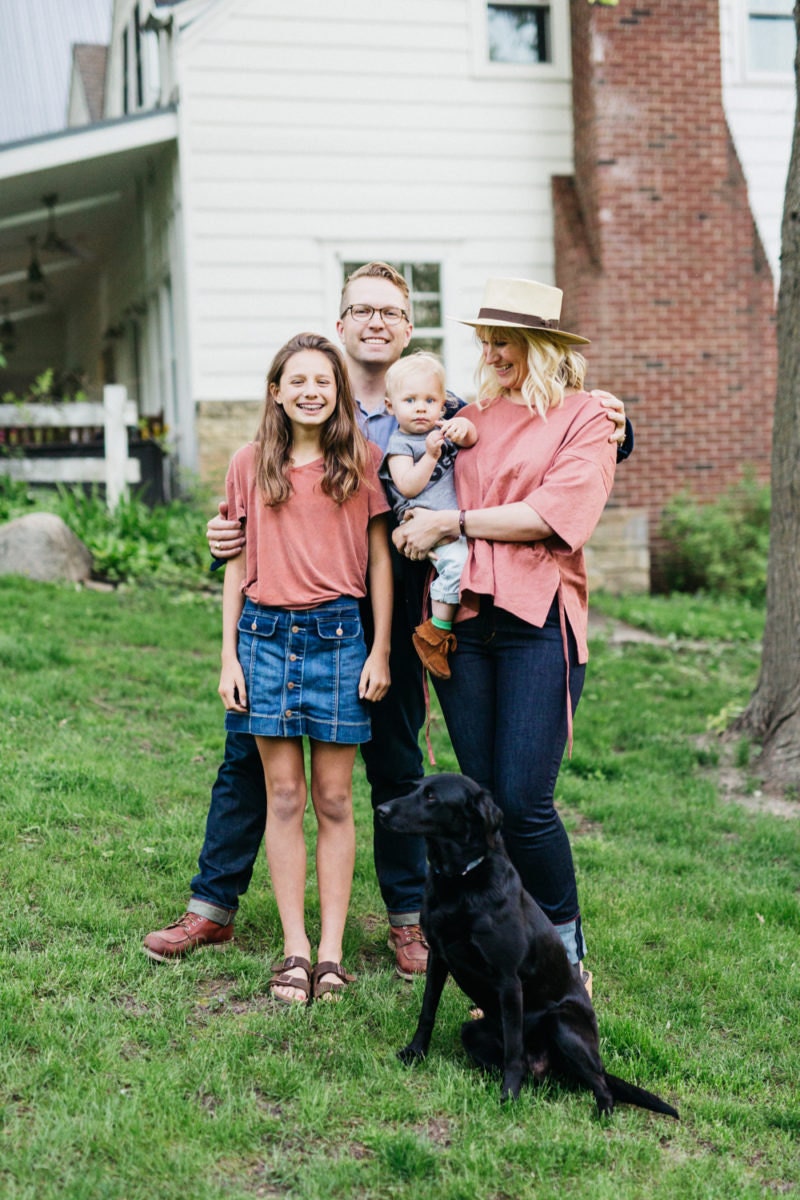 The Duinincks outside their Excelsior home.
For someone like Erin, a home—or a shop—is not something that is ever "done." It changes, it grows, it adapts to the people who inhabit it. Since opening Golden Rule in 2015, Erin has bolstered her business, and her connections with her local maker community, through a steady stream of creative collaborations: seasonal pop-ups, annual parties, and rotating art shows. She's forged relationships with artists she had long admired. ("I buy from all the people that I respected and had art crushes on," Erin says.) She's also launched an upstairs event space that hosts private gatherings and open-invitation DIY classes alike, and built vital bonds with a crew of young women (dubbed "the Golden Girls") who work in the shop, meet regularly for meals, and even vacation together. But of all the unexpected returns that running the shop has yielded, one of the unlikeliest outcomes is unfolding now, very close to home.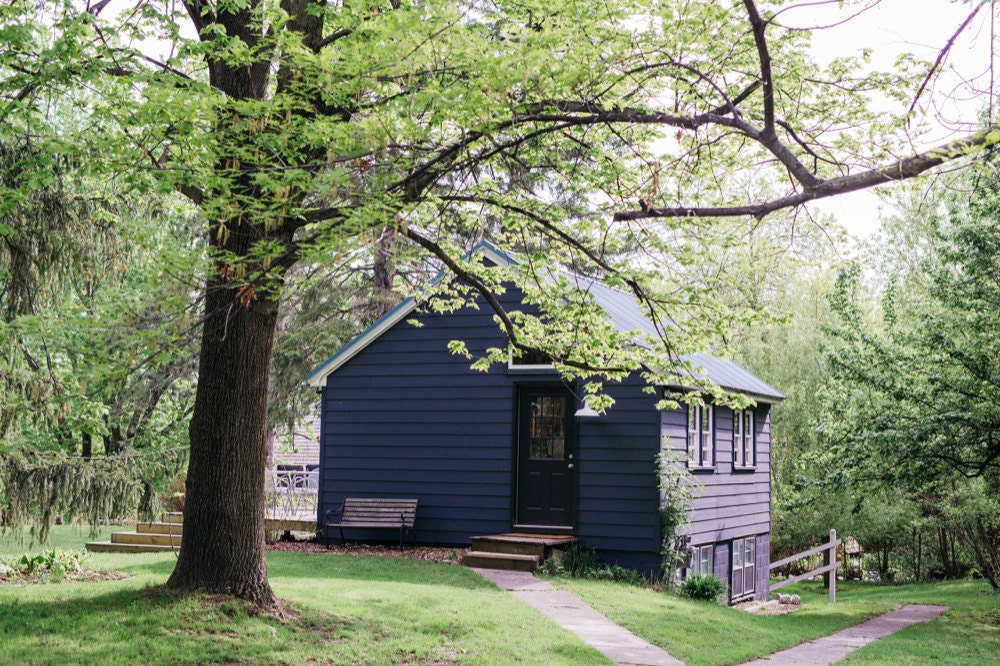 The "tiny house" on Erin's property.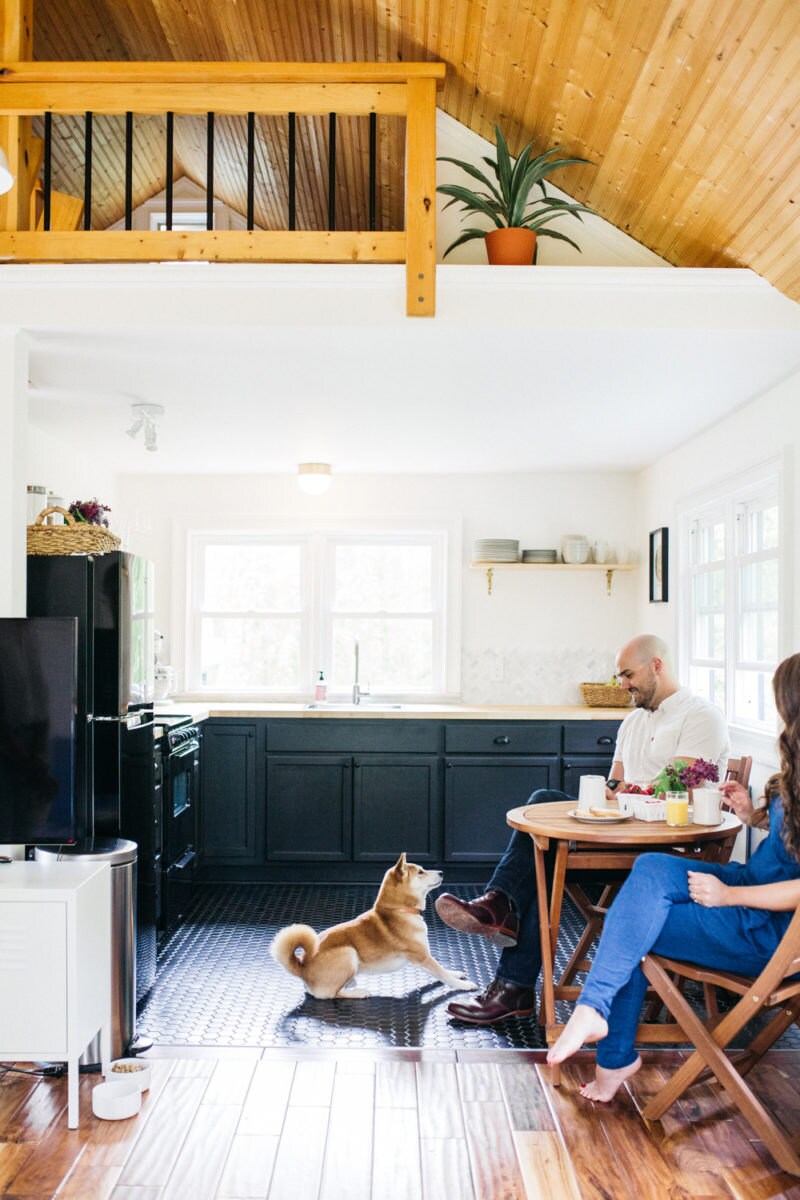 Alex and Dan Cordell, who moved into Erin's tiny house in April.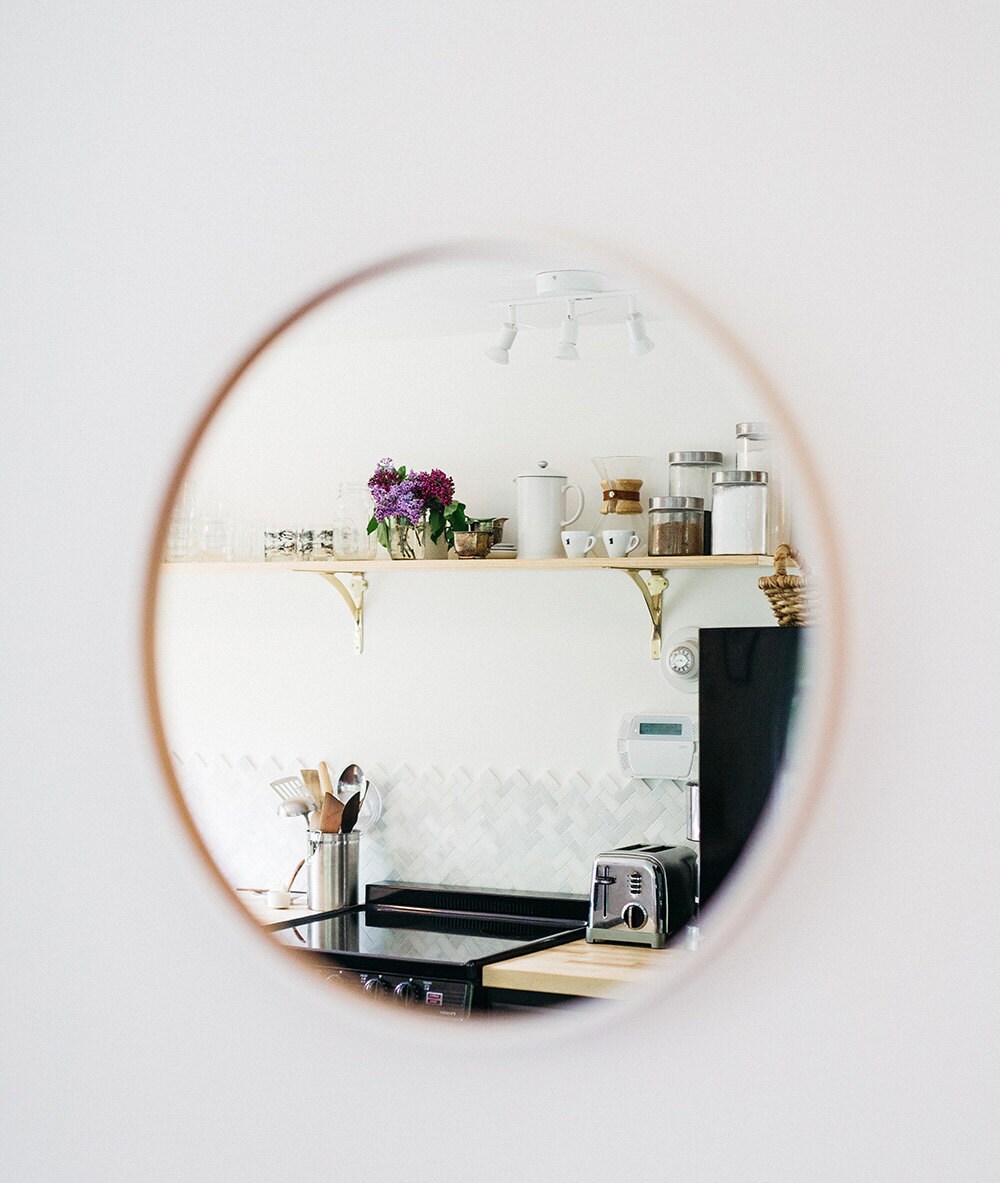 Alex and Dan opted for downsized, apartment-scale appliances in their 450-square-foot home's L-shaped kitchen.
Earlier this year, Alex and Dan Cordell, Etsy sellers and the creators of home goods brand
Solid Manufacturing Company
(one of the first product lines Erin sought out when stocking her then-new shop), began renovating the former studio and gallery space behind Erin's Excelsior home. The duo, who are now expecting their first child, converted it into a fully functional and warmly minimalist abode, and have been living there full time since April, in exchange for helping Erin and Ben manage the sometimes-wild land on which both houses sit. It's cozy but not too cozy. "On a city block we'd be about eight houses apart," says Alex. The families coexist easily, meeting spontaneously on the lawn for coffee or to dream up new ideas for their respective and overlapping businesses. "For me, community is almost part of my theology," Erin says. "It's this main, central thing and everything else falls away for me but: How can I make a space for you? How can I bring you into this fold? The way I show love is to bring people into my home and to share with them everything that I have, whether it's a living room to dance in, a shoulder to cry on, whatever is in my refrigerator, or the extra furniture I have stacked up. This house has definitely been a tool for that, and all I want is to sharpen this tool and make it better."
Erin Duininck uses Etsy Wholesale to source one-of-a-kind handmade items for Golden Rule. To learn more, visit etsy.com/wholesale