Make any celebration feel extraordinary with these gorgeous charcuterie table ideas featuring something for everyone.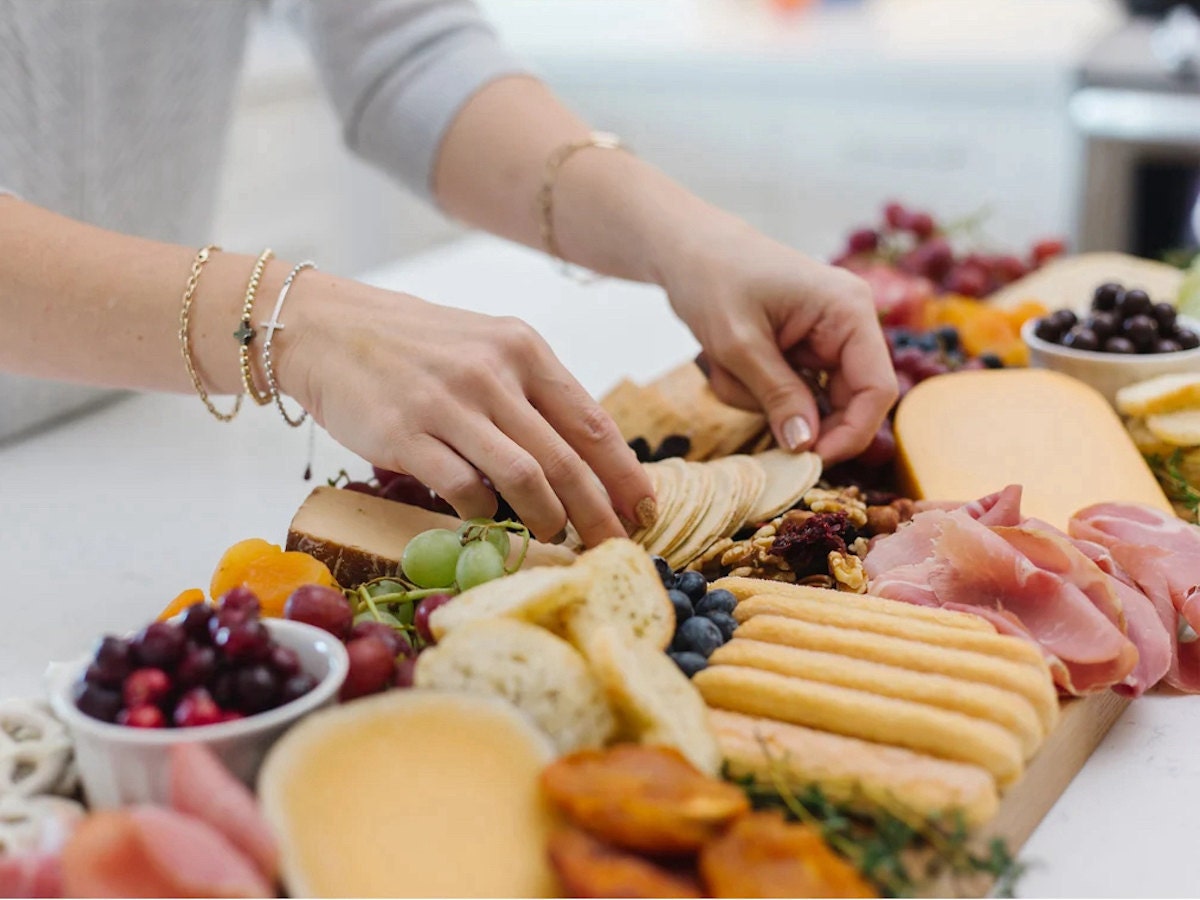 The recipe for a truly memorable get-together is simpler than you might think: Start with a warm and welcoming space, add the people you love most, and finish off with a grazing table spread designed to dazzle. So what exactly is a grazing table, you ask? The newest spin on charcuterie boards, grazing tables are oversized snackable spreads that are as eye-catching as they are delicious. Ideal for social gatherings where guests are mixing and mingling, grazing tables are easily adaptable for every season, occasion, and dietary restriction—and they're guaranteed to make any shindig feel extra special. With multiple boards, trays, treats, and sweets, they're officially our new favorite way to feed our nearest and dearest.
Endlessly versatile and beautiful to boot, a grazing table can feature just about anything edible you'd like, and be customized to suit the specifics of any event. A breakfast-themed grazing table for a brunch gathering? A chips-and-dips grazing board to pair with beers during the big game? An all-star appetizers grazing table to stave off hangry kiddos before a more formal sit-down dinner? Yes, yes, and yes! From light bites for cocktail hours to full-blown, delectable meals in their own right, these charcuterie tables can be anything you dream of—all you need are the right ingredients and styling. So pull up a chair because we've got grazing table ideas for days—brought to life with a little help from independent creators on Etsy—and we're here to walk you through 'em, step by tasty step.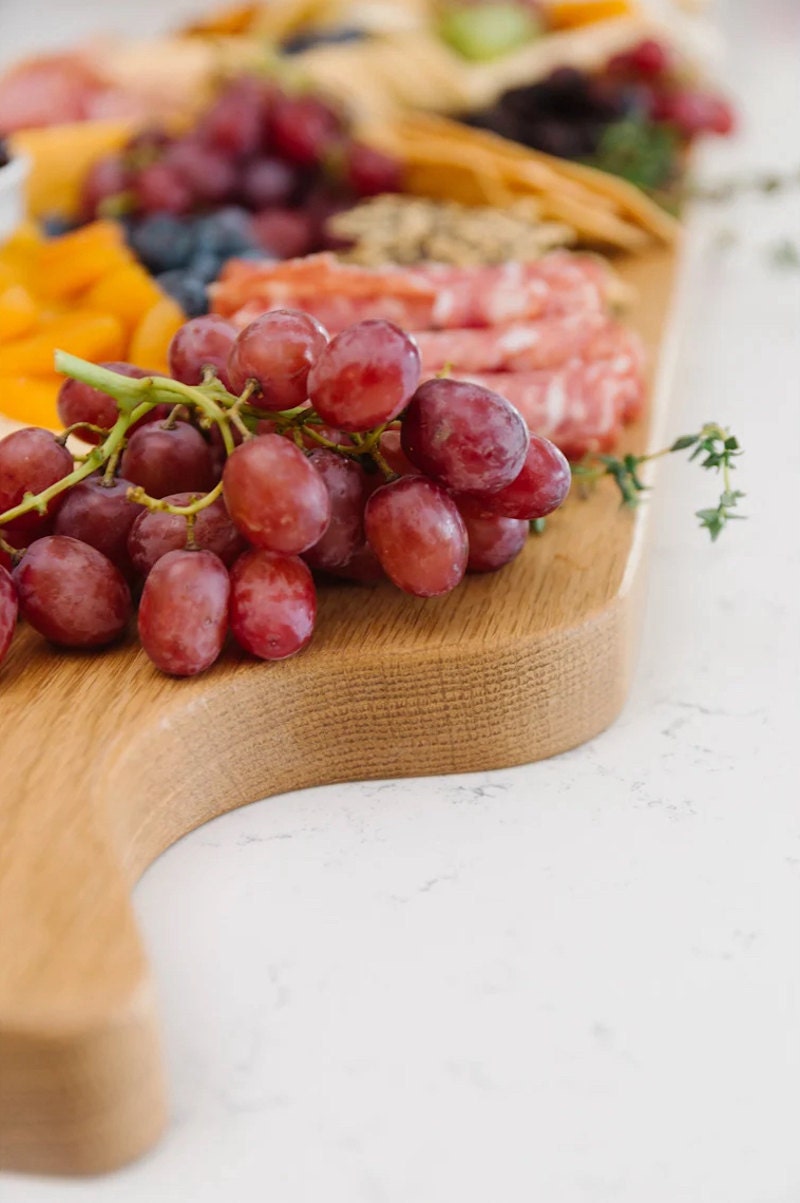 SHOP: Large white oak charcuterie board from UltraShelf, from $219
How to make a gorgeous grazing table
Before you roll up your sleeves and decide it's grazing table go-time, you'll want to do a little thinking about the type of event you're hosting. Are you planning an elegant wedding grazing table to enjoy with guests at happy hour, or a simple grazing board to bring to book club or your next neighborhood hang? Getting clear on the specific vibe and headcount will help you figure out how much styling (and food!) you'll need to get started.
Step one: Find your grazing board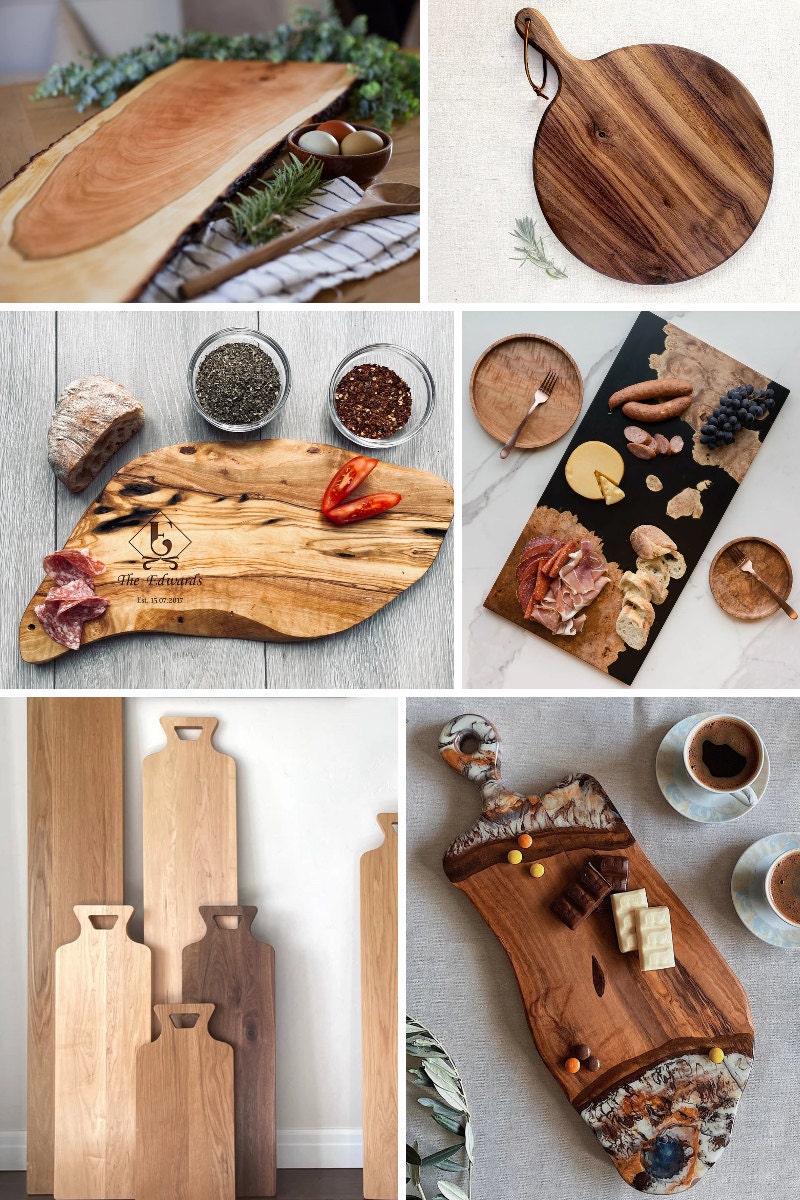 SHOP (clockwise from top left): Extra-large charcuterie board from Narrow Path Farm, from $70; round walnut charcuterie board from Farm Hill Woodshop, from $26; maple burl resin charcuterie board from Saw Live Edge, $266; personalized olive wood serving tray from Blue Caretta Studio, from $164; large white oak charcuterie board from UltraShelf, from $219; engraved olive wood cheeseboard with natural edge from Glass Trapped Designs, $50
Sure, you could roll out a sheet of butcher paper and arrange your grazing table right on top of your kitchen counter—but allow us to make the case for a grazing board. Portable enough to move with the party and pretty enough to serve as decor on its own, think of your board as the foundation for your charcuterie table. Pick a board that matches the size and style of your gathering, and for larger groups, try using multiple charcuterie boards that will allow you to cluster similar foods together in an aesthetically pleasing display (think one home base dedicated to desserts and another for deliciously fragrant cheeses).
Pro tip: Add levels and depth to your spread with a cute cake stand or by simply propping up smaller plates on an overturned bowl for some extra height.
Step two: Arrange your grazing table food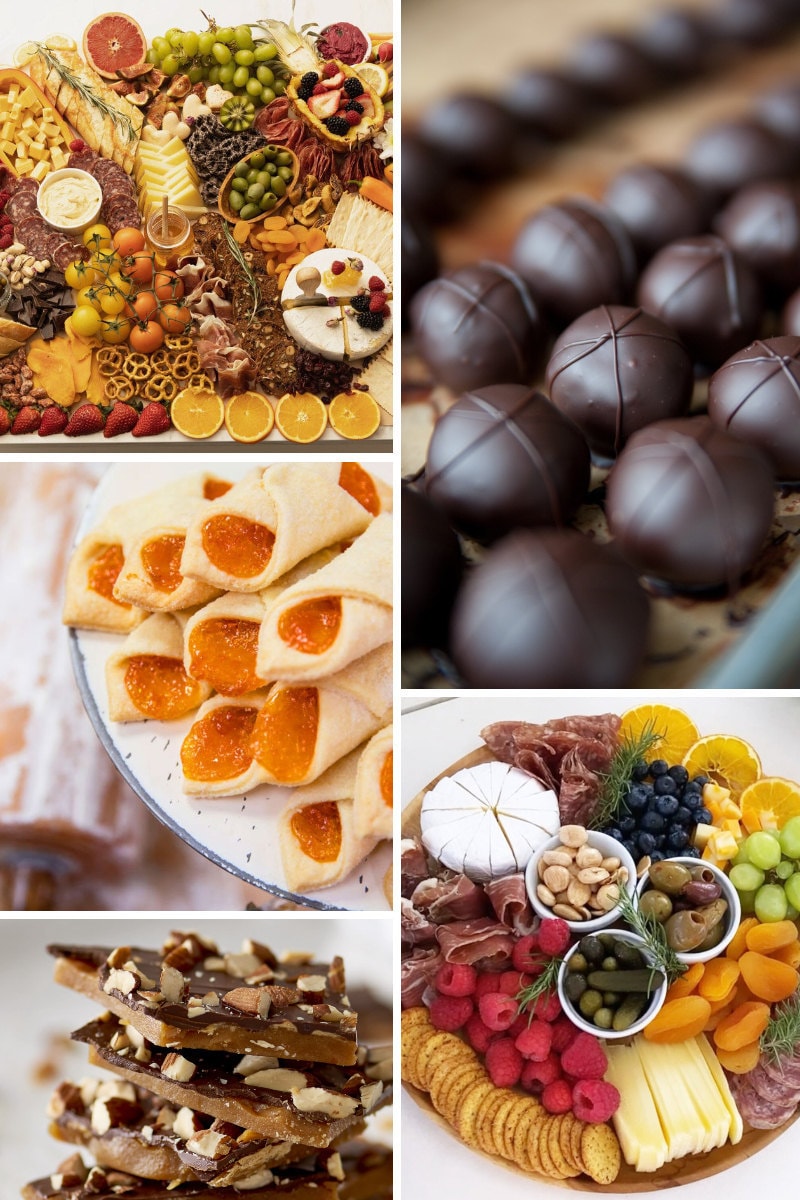 SHOP (clockwise from top left): Downloadable grazing table template from Charculicious, $14; dark chocolate truffles from Farmhouse Chocolates, $11 for four pieces; downloadable round charcuterie board template from Charculicious, $5; almond toffee bark from The Four Lunas, from $9; apricot cookies from Butter Maid Bakery, from $32 for one box of cookies
Once you've found your grazing board vessels, it's time to nail down the right assortment of foods. Customize your menu to reflect the specifics of your get-together and the unique preferences of your guests—and don't forget to add a few of your own favorites, too.
Stumped on where to start? Cheese, crackers, fruits, and veggies are popular picks for good reason—but don't be afraid to get creative!
The more personal your board, the greater the wow factor. For bonus points, have fun spotlighting your loved ones' favorite foods in unexpected ways. Obsessed with tomatoes but they're out of season? Enjoy some savory tomato jam with your crackers and cheese. Have a beloved family cookie recipe? Highlight it as the centerpiece of your dessert grazing table. Whatever your unique traditions and interests look like, a grazing board is the perfect canvas to make a gathering feel more you.
Some quick tips for planning your grazing table food:
Consider the flow of the table, pairing savory snacks together and giving sweet treats their own moment to shine.
Play with color, shapes, and patterns while arranging your display. Try alternating handfuls of different snacks to make your grazing snacks jump off the board.
Whip out the cutting board and slice your cheese and fruits into charming cut-outs that can create a masterful, mosaic-like design.
When thinking about how much food you need for a grazing table, a good rule of thumb is to plan for each person eating three or so small bites per hour. If you're planning a grazing table for 20 guests, for example, offer at least three cheese choices, a jar or so of each key condiment, two types of meat, and three types of fruit.
If you're not sure about the best food layout for your needs, Etsy sellers have your back with downloadable grazing table templates that take out all the guesswork. They've truly thought of everything!
Step three: Add food labels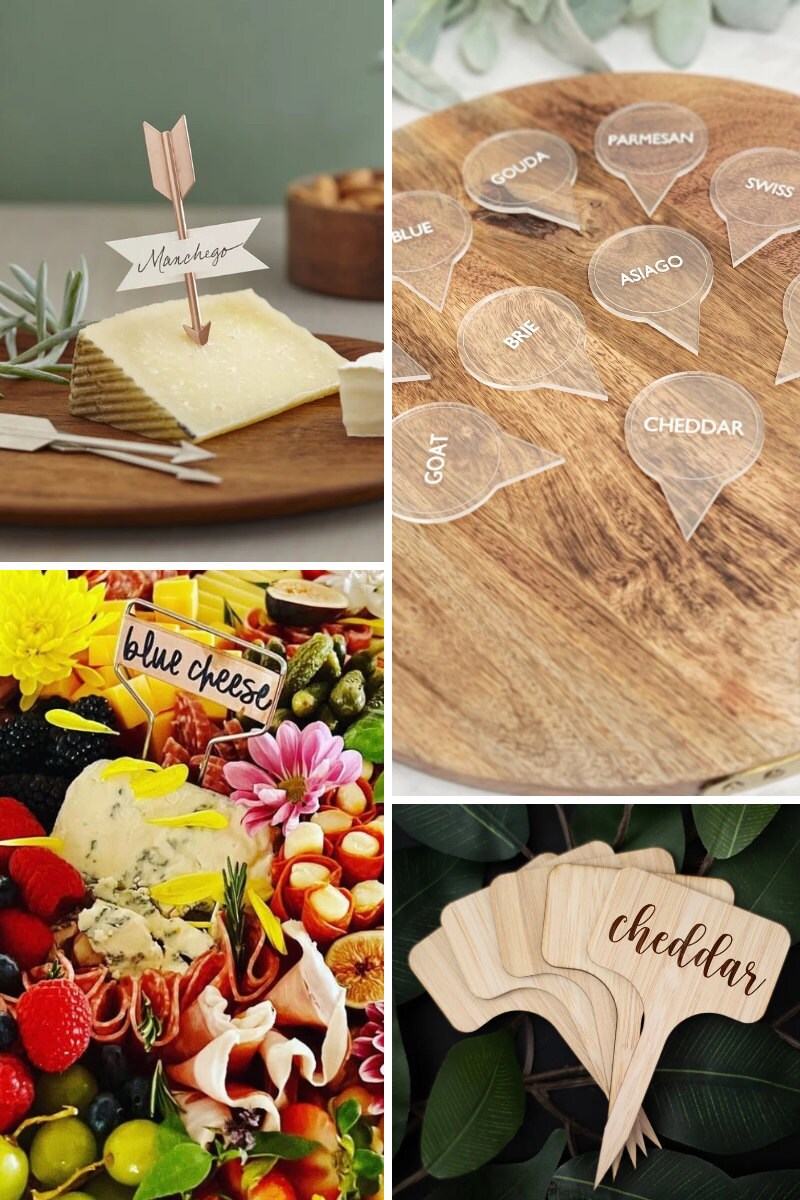 SHOP (clockwise from top left): Copper and brass arrow-shaped cheese markers with blank labels from Beehive Handmade, $71 for set of four; acrylic engraved cheese picks from Little House Lane, $25 for set of 10; customizable wooden cheese markers from Chartreuse On The Loose, $14 for set of five; customizable hand-lettered copper charcuterie tags from Fiddles and Fern, $3 each
Hosting hack alert! Instead of rattling off the vast array of cheeses and spreads to each and every person who approaches the grazing table, save your breath with helpful food labels that demystify all the tasty options and add some flair to your display. Choose from pretty pre-made cheese markers or practice your penmanship and DIY your own descriptions on handy blank labels.
Step four: Select your utensils and plates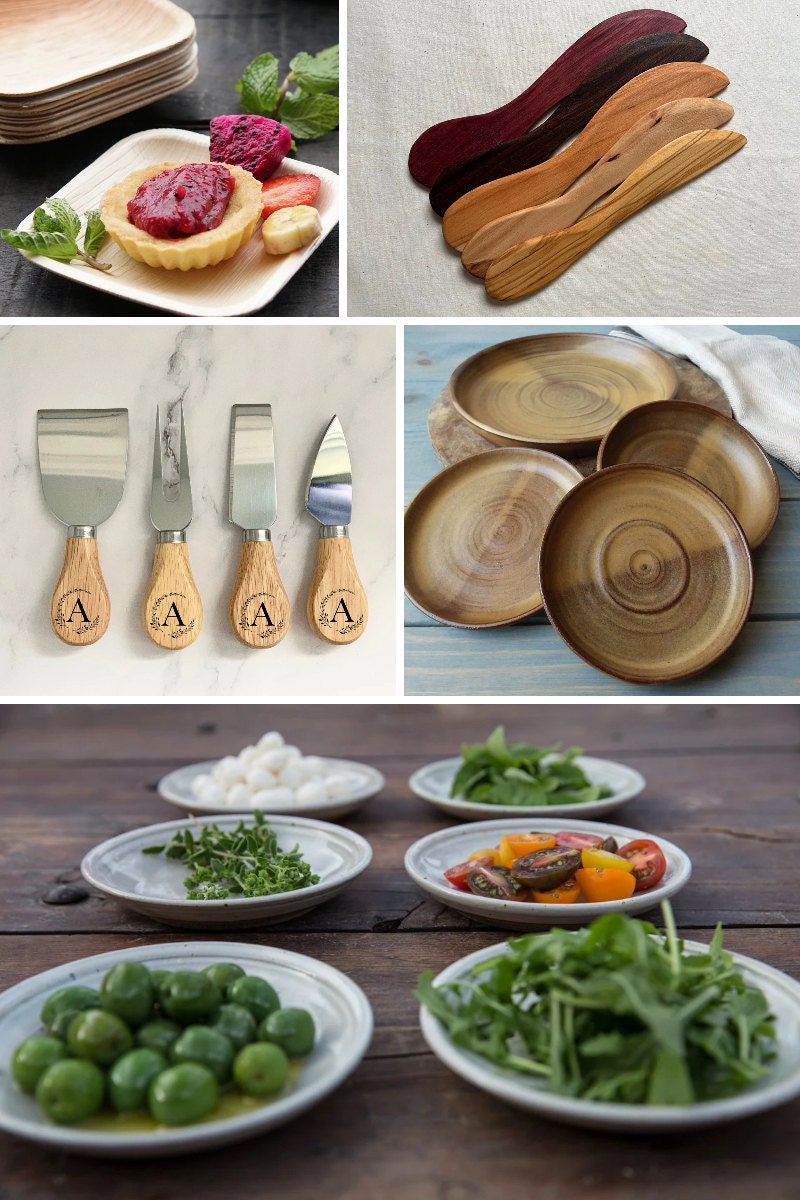 SHOP (clockwise from top left): Disposable mini canape plates from Wild Leaf Tableware $17 for pack of 25; wooden cheese and jam spreaders from Occasionally Handy, $12 each; rustic ceramic snack plate from Designs By Vivi H, from $40; hand-thrown stoneware tapas plate from Hanselmann Pottery, $52; personalized cheese knife set from LeeLee Made Me, $20 for set of four
Grazing tables might lend themselves to finger foods, but do your guests a solid and set out tableware and we promise they'll thank you. Pretty plates and carefully selected serving utensils are details that can dial up your event's theme (think vintage china plates for a high-tea themed baby shower). For a neutral yet sophisticated grazing table, we love these white ceramic tapas plates and personalized cheese knives, while these compostable palm leaf plates add an earthy, tropical touch to any affair, and make for easy cleanup.
Step five: Decorate your grazing table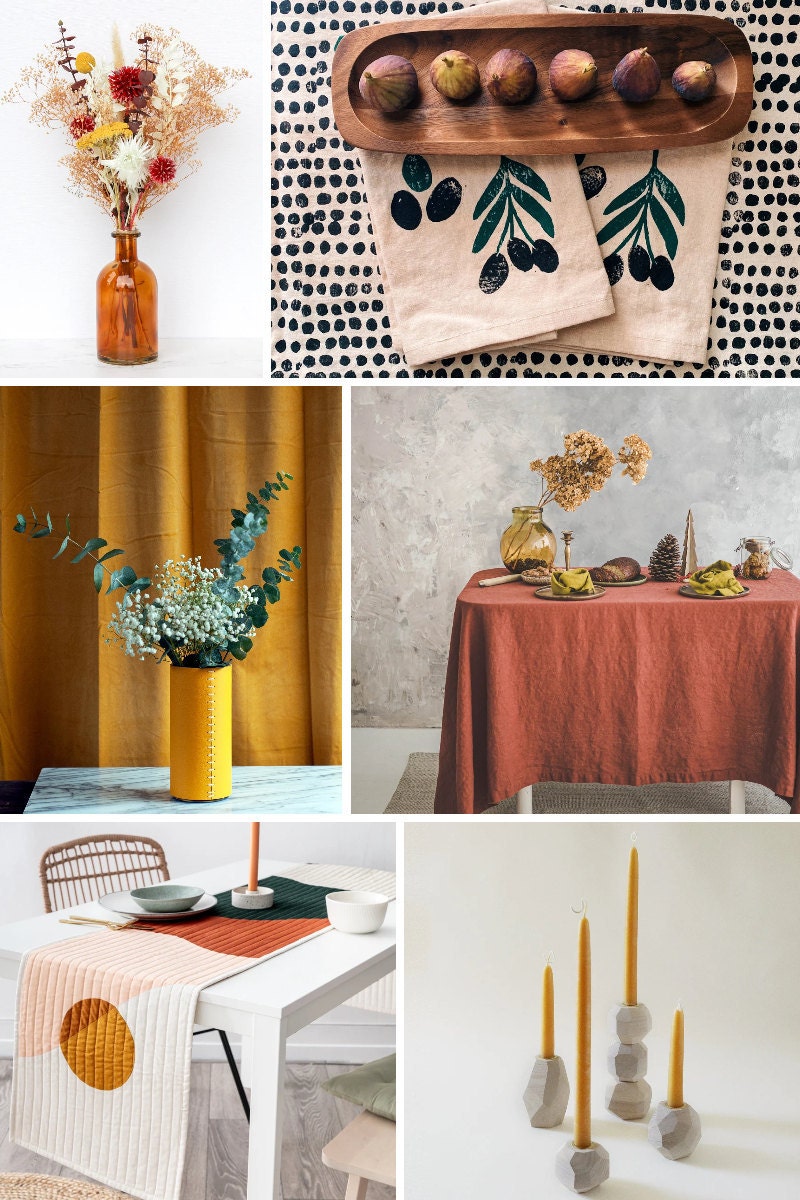 SHOP (clockwise from top left): Neutral dried flower arrangement from Books & Et Cetera, from $36; block-printed olive-patterned linen napkins from Julie Peach, from $28 for set of two; terracotta linen tablecloth from Forestland Linen, from $51; geometric tapered candlestick holders from Untitled Co, from $25; abstract modern quilted table runner from Excell Quilt Co., $286; leather-wrapped vase from Zeyn NY, from $101
Now that you've got a splendid spread that's labeled to perfection and curated to a T, it's time to round out your grazing tablescape with a few finishing decorative flourishes. Keep it simple with a crisp linen tablecloth and some coordinated napkins, or go all-out and incorporate pillar candles, candlestick holders, vases in assorted sizes, and dried and fresh flowers to create a beautifully textured and layered charcuterie table.
Pro tip: Even small grazing tables can feel grand when you include delicate touches to fill in any blank space. For an extra-fresh look whatever your grazing table size, incorporate seasonal greenery like sprigs of spruce, stems of eucalyptus, and aromatic herb bundles to fill out any gaps on your grazing table, either laid horizontally or propped up in a vase for added height.
Grazing table ideas for special occasions
We're big proponents of grazing tables for every kind of gathering, no matter how casual—but we've gotta say, there's something extra-fun about creating a grazing table for some of life's bigger moments. From wedding grazing tables for your one-of-a-kind reception to holiday grazing tables for your next Christmas party, we've rounded up some of our favorite ideas.
Wedding grazing tables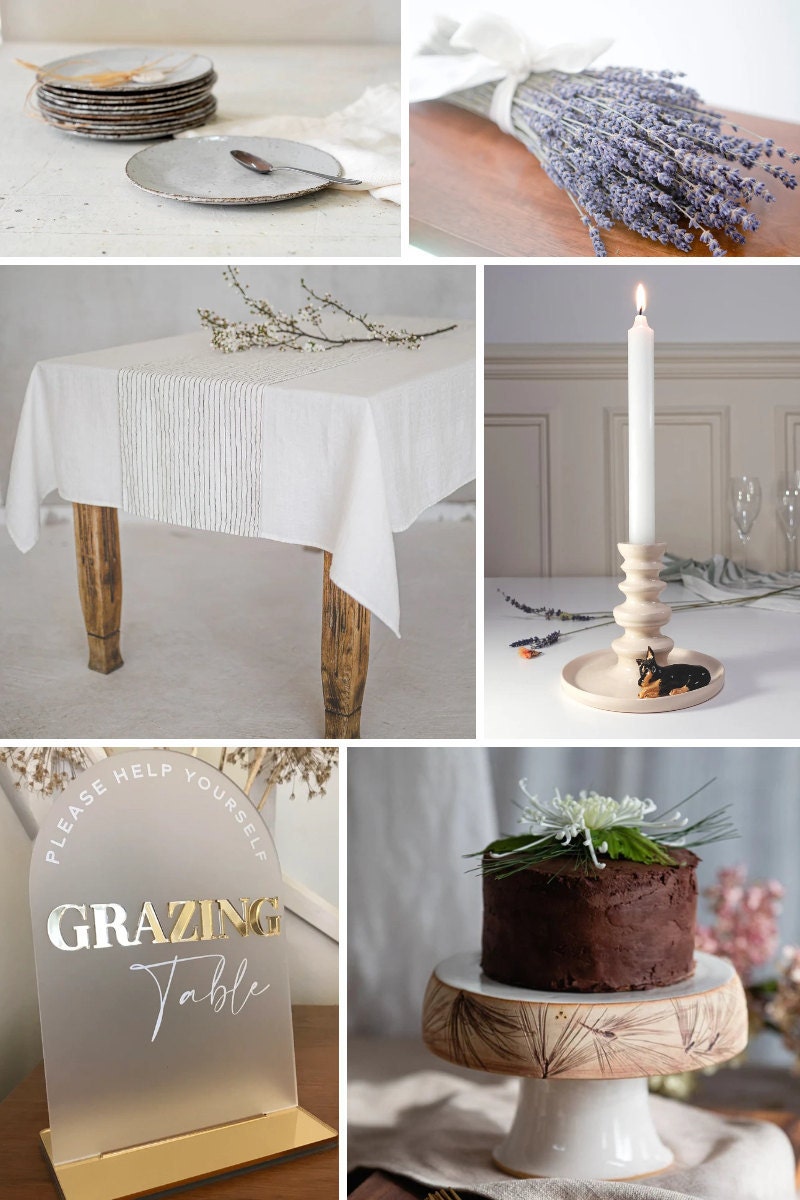 SHOP (clockwise from top left): Ceramic dessert plates from Ingrid Debard Ceramics, $130 for set of four; dried lavender bundle from The Blaithin Blair Shop, $18; personalized pet candlestick holder from KAIA Ceramics, $67; ceramic cake stand with pine pattern from Julia Edean $88; acrylic grazing table sign from Alice Jade Designs, $30; white linen tablecloth with black stripes from Forestland Linen, from $35
Wedding grazing tables are as exquisite as they are adaptable: Swap out the catered appetizers for a cocktail hour grazing table, have guests graze on a full-fledged meal at your reception, or spotlight your decadent wedding cake slices for a fun spin on a dessert grazing table. Ready to say "I do" to this simple DIY (and potential budget-saver)? Dress up your wedding grazing table with dried flowers like lavender, linen table runners, and, of course, a dainty grazing sign.
Brunch grazing tables for bridal and baby showers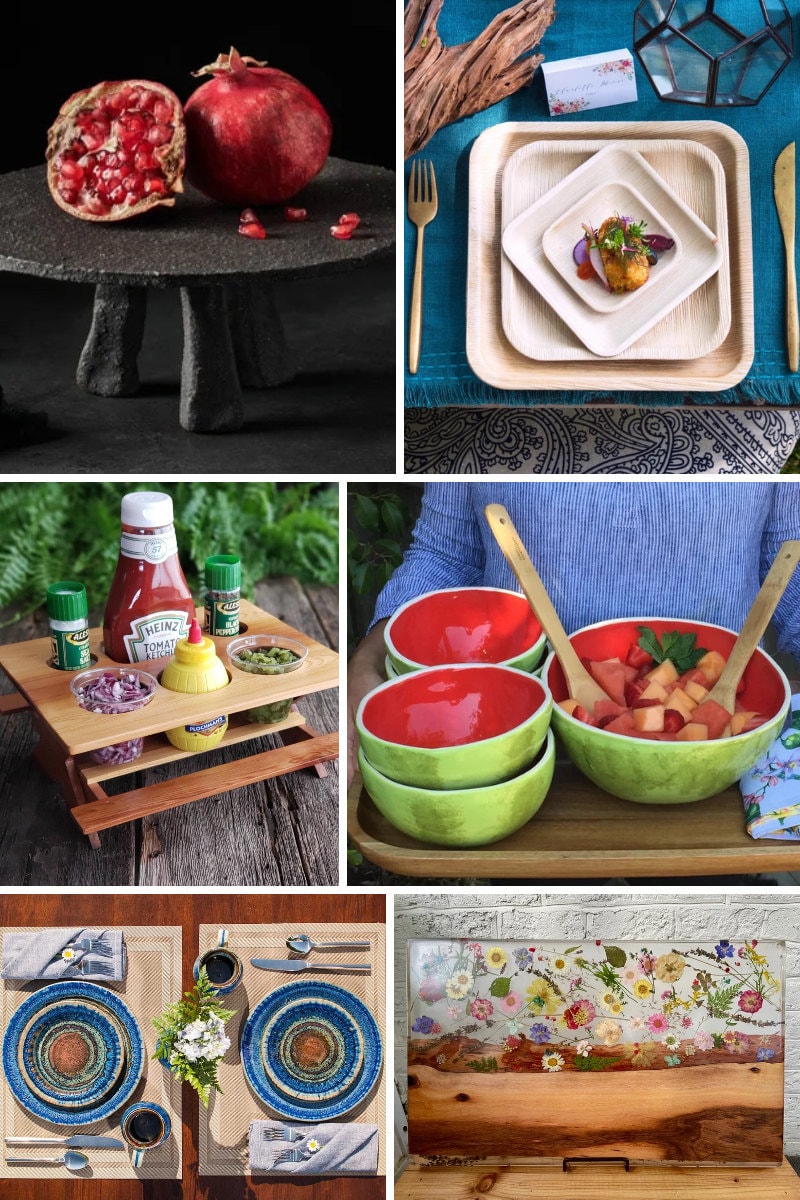 SHOP (clockwise from top left): Black ceramic cake stand from Pottery Props, $158; disposable palm leaf plates from Wild Leaf Tableware, $24 for pack of 25; ceramic watermelon bowls serving set from Vegetabowls, $180 for set of five; made-to-order dried flower wood resin cutting board from Oaky Dokey Design, $250; blue ceramic plates from Blanket Creek Studio, $41 each; utensil and condiment mini picnic table caddy from My Old Whiskey Workshop, $50
A show-stopping spread of pancakes, waffles, and fresh sliced fruit? Don't mind if we do! For bridal showers, baby showers, family reunions, and more, everyone's favorite meal can now take grazing form. Add colorful components like fruit-forward serving bowls and charming condiment stands for a joyful presentation that's sure to delight your attendees.
Holiday and Christmas grazing table ideas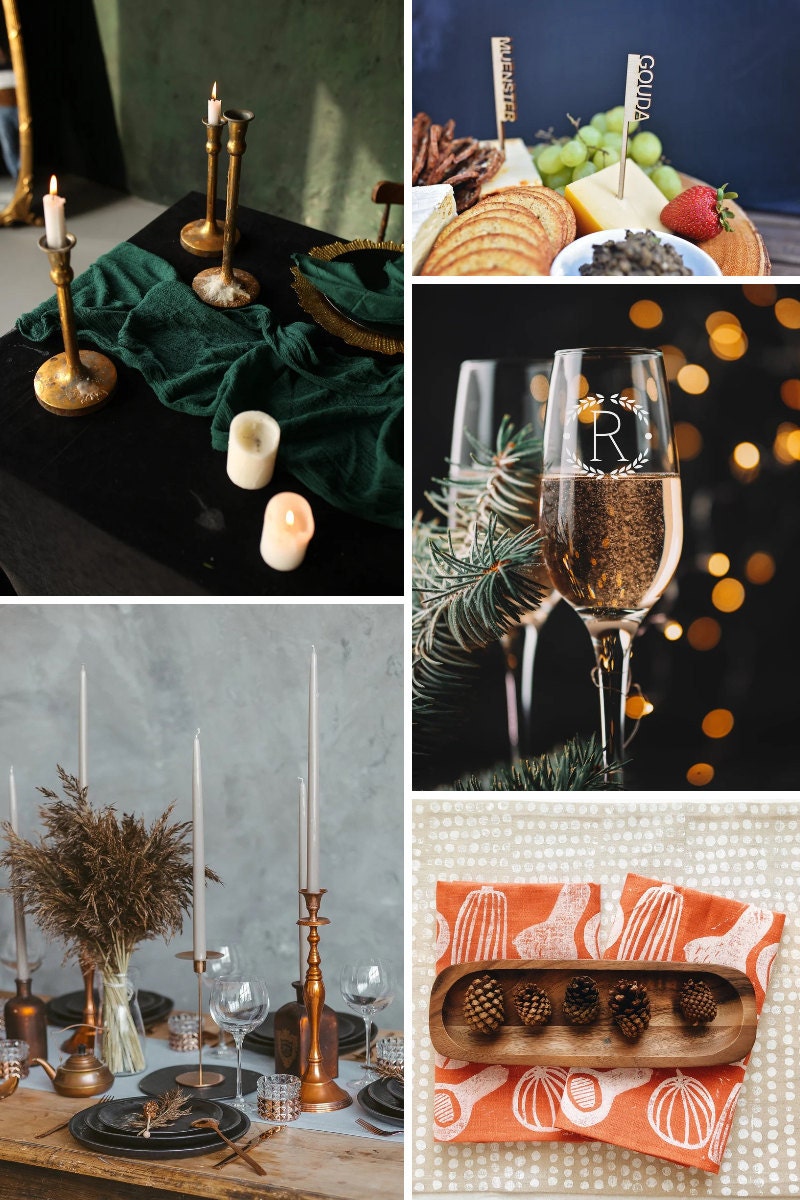 SHOP (clockwise from top left): Green gauze table runner from Lovely Heart Things, from $11; customizable cheese markers from Rare Ordinaire, from $12 for set of 12; custom engraved champagne flute from Signature Glassware, $15; linen pumpkin-printed napkin set from Julie Peach, from $28 for two; black ceramic plates from Mr. Bowl Ceramics, $164 for set of three
Get into the merry spirit with a festive grazing table featuring seasonal staples like Christmas tree-shaped candles, snowman lanterns, and gilded accents—not to mention all of your favorite holiday treats! Weave in pops of deep greens and reds throughout your tablescape, fill gaps with clusters of candy canes and sprigs of holly—and don't forget to add a little sparkle of tinsel for good measure.