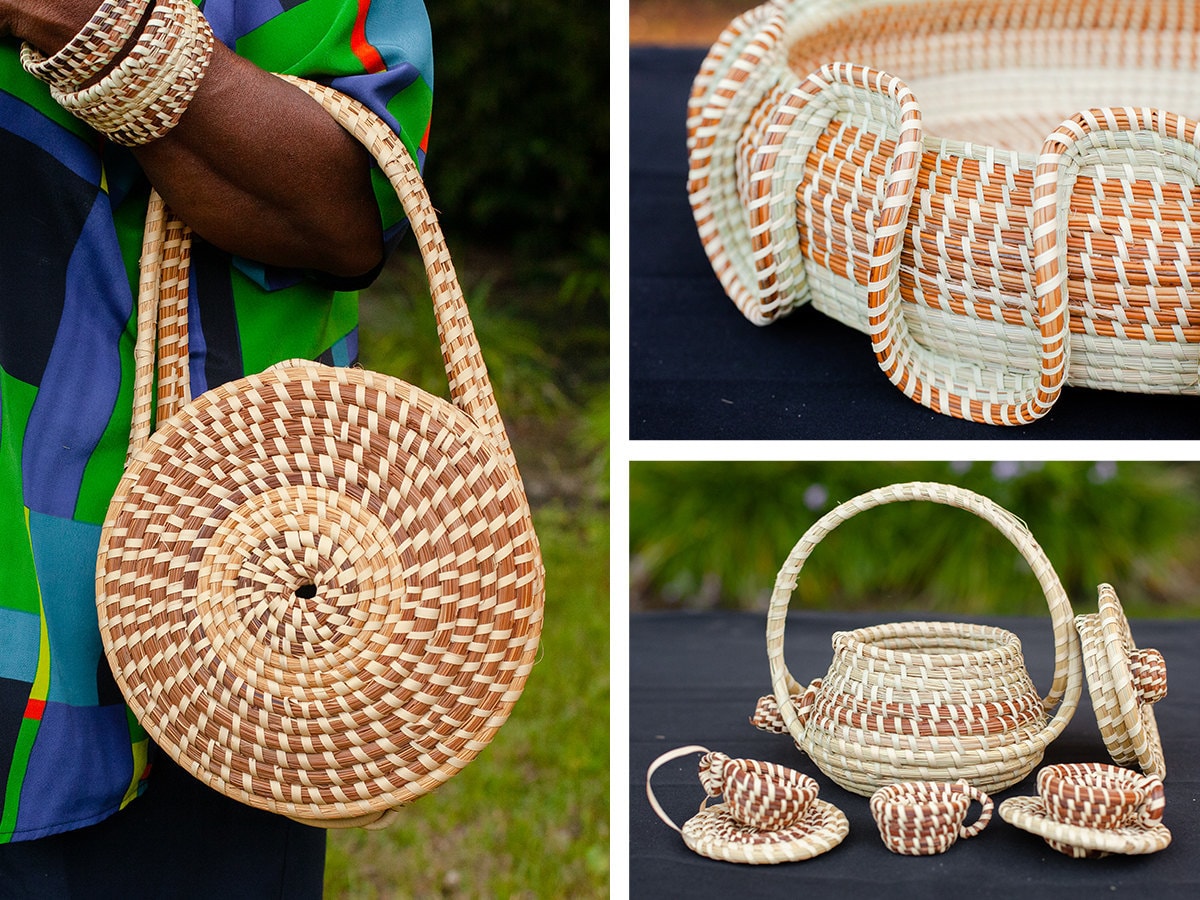 There is nothing in the world quite like a Gullah basket. Highly regarded and intricately stitched, each one showcases the maker's artistry, as well as the centuries of skill passed down through Gullah families in South Carolina's Lowcountry region. 
This storied American craft dates back to the 1700s, and is a tradition rooted in West African culture. Enslaved rice farmers first brought the art form to South Carolina, and post-emancipation, it flourished as a method of expression. For more than eight generations, the Gullah community has continued the legacy, sharing their expertise and showcasing their wares at local markets. And now, these incredible designs—made entirely with locally harvested sweetgrass, pine needles, bulrush, and palmetto—are available for purchase on Etsy in partnership with Nest and Bloomberg Philanthropies. In joining our community, the weavers have the opportunity to showcase their works to a larger audience, earning 100% of the sales from their handwoven creations. 
Below, in their own words, 16 Gullah weavers tell us the inspirations behind their baskets, each one as unique as its creator. Read on to learn more about these talented crafters and discover their distinct pieces of history. 
"Sewing baskets is not just an art to me; it's a passion." 
Gail Wright comes from seven generations of Gullah basket weavers, learning the craft from her mother and grandmother at age six. "Seeing them work hard to take care of the family, how strong they were as women, made me want to be like them," she says. "Basket weaving reminds me of where I came from—it's an important part of me." 
"I weave to show the next generation something different and beautiful." 
Growing up, Ruth Johnson helped her mother and grandmother sell designs at the local market stand, and those memories feed her creatively to this day. "A lot of my inspiration comes from everything my mother taught me," Ruth says. She also relishes the quality time spent sewing with her family. "I like to work outside with my siblings to compare ideas and talk. I want to keep the history alive, keep the culture going." 
"My ancestors inspire me to weave...I sew to continue my heritage." 
Andrea "Annie" Cayetano-Jefferson's family has been showcasing their designs at the Charleston City Market for over 30 years, giving each other support and feedback as their work evolves. "[They] sometimes help me decide what direction my baskets should take," she says. And the world is taking notice: In 2020 Annie's work was featured in the 2020 Vandiver Gallery Exhibition at Anderson University in South Carolina. "My favorite style is the bread basket—it's perfect because it can be used for just about anything!"  
"I love to sing while I sew, under the tree in my yard and on my porch." 
Everything is inspiring for Sarah Manigault, whose grandmother, mother, daughter, and granddaughters are basket weavers as well. "Some ideas come from me, while others come from seeing things on TV, in catalogs, or in stores," she says. "I challenge myself to create them in the form of a sweetgrass basket, thinking about every detail I want to put in." Her favorite styles to make are round bread baskets with a loop. "I love to see how my designs turn out," she adds.
"I love surprising even myself with what I come up with." 
In some way, shape, or form, Nicole D. Williams has always expressed herself through art. "During my school years, I loved to draw graffiti and breakdance! In high school, I learned to sew and cross-stitch, which I continue to do today," she recalls. Being a left-handed sewer, Nicole spent many hours learning to adapt the traditional weaving process her grandmother used to make baskets into her own signature style. "Most people don't realize that left-handed rows flow in the opposite direction of those done by right-handers. There aren't many left-handed basket makers, so any piece made is unique in and of itself." 
"Sometimes I find that you can get started and go on sewing for hours, the time just flies by!" 
"I remember we often sewed together on the porch as a family," says Bella Cousette, a sixth-generation basket weaver. "It was a nice way for our family to get together and practice basket sewing." For inspiration, she looks to the beauty of every day. "I always enjoy creating something new. For example, I had noticed a teacup, saucer, and teapot, and I thought it was a unique challenge. So I tried it." Challenge achieved—in 2010, the Smithsonian Museum displayed a tea set Bella created. 
"I am proud to continue the legacy, and I love that it lets me be creative." 
Basket weaving is Gillettie Bennett's favorite way to relax. "I get home from work, settle in, watch television, and sew," she says. The third-generation weaver loves to make smaller baskets in unique styles—she begins each one with a particular idea in mind but isn't afraid to change direction as her creation develops. 
"Every basket I make is a labor of love, and there is so much history that comes with each one." 
Eighth-generation basket weaver Vera Mae Manigault is continually inspired by the people she loves. "I sit around with family and friends sewing and sharing ideas, stories, and recipes," she says. The artist has taught basket-weaving classes and has been featured in magazines and books. "My signature is adding colors to the sweetgrass—I'm proud to share my heritage!" 
"I weave with pride and dignity, working hard to continue the tradition." 
Lillie Mae Jefferson comes from three generations of Gullah basket weavers; her mother, Roselee Johnson, and older sister, Henretta, were the ones who taught her to weave. "I learned in the '60s at a young age—I was so eager, and it was one of the few things I enjoyed," she says. "Of course, I still love it today!" Commitment to craft and entrepreneurship are what inspire Lillie most; in her downtime she also enjoys cooking and traveling. 
"I feel like it's my mission, my life's path. Why would I not sew baskets?"
For Renesha Wolfe, a fourth-generation Gullah basket weaver, creativity has always been a big part of her life. "Everyone in the neighborhood sews baskets," she says. "Literally everybody! All the moms would be on their porches at 7:30 in the morning, weaving as we walked to the bus stop." It also played a crucial role at family gatherings. "It was our thing: radio playing, cousins cranking up the grill, uncles preparing food, and us ladies right in the mix, making baskets."
"Each basket I make starts with an image in my head." 
Jennifaye Singleton learned the art of basket making at the age of seven. "My aunt, Martha Wright, and my great-grandaunt Dotsie taught me," she says. A fifth-generation weaver, Jennifaye has sewn for most of her life and even performed a demonstration in a communication class in college. "When I work, I love to sit outside with my family to talk, laugh, and joke around. It relaxes me, and I enjoy creating items that originated with my ancestors—I handcraft each basket with love."
"I sew to honor my family and my culture." 
Vanessa Robinson began making baskets when she was six years old, thanks in part to the five generations of family weavers who came before her. "It's an art I learned from my ancestors, and I love to keep the craft going," she says. These days, Vanessa often sews under an oak tree at home, a great source of inspiration and relaxation. Her favorite design is the elephant ear, featuring precise stitches and playful swoops. 
"Knowing where this all started makes me want to keep at it." 
Shaneka Simmons, a sixth-generation Gullah basket weaver, is proud to continue the family craft. "My mother and grandmother taught me how to make baskets," she says. "Seeing my great-grandmother, grandma, aunts, and my mother sewing makes me want to teach my kids, too." 
"I weave to keep the art alive; I just love it so much." 
Nancy White's artistic path is full of notable achievements—one of her designs has appeared in a postcard at the Smithsonian! The third-generation Gullah basket weaver learned to sew from her family at a very young age. "I get inspired by my ancestors and the beauty of baskets," she says. 
"I craft each basket with love, using my two hands." 
For Martha Cayetano, a fifth-generation Gullah basket weaver, arriving at the finished product is the best part of the process. "I find inspiration through creating new styles and love seeing how it all comes together," she says. "That, and meeting all the wonderful people who are interested in my designs."
"I want to help inform others my age about basket making and all the work that goes into it." 
Chelsea Cayetano, a seventh-generation basket weaver, sees sewing as an ever-evolving journey. "My mom and my granny both taught me a lot about the history," she says. "And every day, I learn a new skill from them." A recipient of the 2021 Traditional Arts Apprenticeship Grant (awarded by the South Carolina Arts Commission), Chelsea is inspired by the shared love of weaving across all ages. "I sew to show that it's not only for 'older women,'" she says. "It comes naturally to me. I make every basket with love." 
Chelsea Cayetano and Gillettie Bennett's product photos by Lesa Scott on behalf of Nest; all other photos by 1212 Design on behalf of Nest.