by Lisa Butterworth
Personal, emotional and intensely of its time, hairwork resonates with both antique sensibilities and contemporary meaning.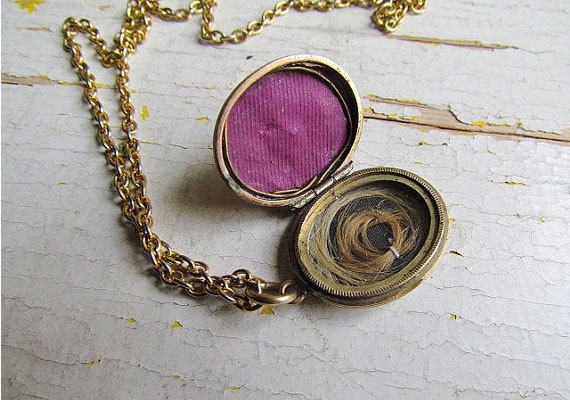 In one of my lit classes in college, our professor had us read a short story by Margaret Atwood called
"Hair Jewellry."
 I no longer remember the plot points, but I do recall that it introduced me to a tradition I've been morbidly fascinated by since: using human hair to create intricate designs for rings, bracelets, brooches, and even wall decorations. The resulting pieces are often stunning — both aesthetically and in their craftsmanship — and have just the right amount of macabre to make them doubly intriguing. I think Helen Sheumaker explains it best in her book, 
Love Entwined: The Curious History of Hairwork in America
: "Hairwork asserted the importance of the individual in a physical and emotional way," she writes. "Today, when we encounter hairwork in the odd bit of jewelry on display at a museum, or in a novel, or in a hair wreath at the local historical house, or in the loose bit of hair in an old letter, we confront a relic of the living, breathing reality of someone long deceased."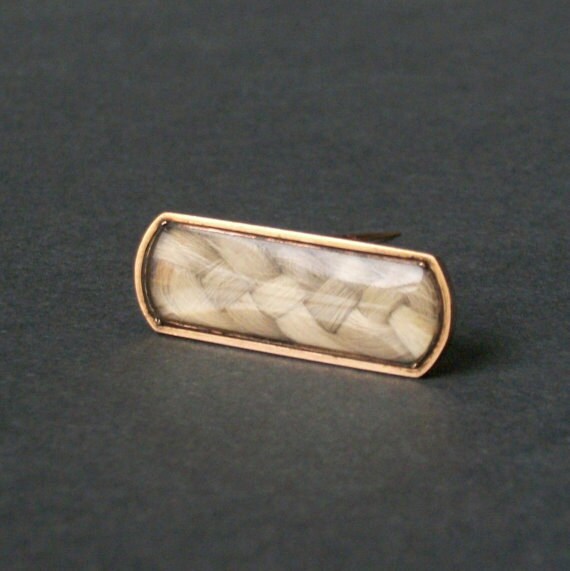 According to Sheumaker, hairwork was advertised by jewelers in England and France as early as the first half of the 18th century. The tradition spread through Europe during the Victorian era as mourning jewelry flourished: people used the hair of the deceased to create wearable mementos of lost loved ones. It should come as no surprise, since the locks of a lady were held in the highest regard during the time. "While women's hair, particularly when it is golden, has always been a Western preoccupation, for the Victorians it became an obsession," writes Elisabeth G. Gitter in "
The Power of Women's Hair in the Victorian Imagination
." "In painting and literature, as well as in their popular culture, they discovered in the image of women's hair a variety of rich and complex meanings, ascribing to it powers both magical and symbolic." Tresses were such a loaded attribute, many women would go their entire lives without a singe haircut. So for someone who had lost a wife, a mother, or a sister, weaving strands of their hair into an intricate miniature bouquet to wear as a brooch, or braided and twisted to be worn as a bracelet, was akin to honoring their very essence, and keeping it close in the most aesthetically pleasing way possible. In America, it gained popularity during the Civil War, when soldiers would leave a lock of hair for their wife before going off to fight. During the latter half of the 19th century, the trend took on a DIY element with magazines providing instructions for at-home hair jewelry creations. It was a tradition based on sentimentality. As women's monthly
Godey's Lady's Book
suggested circa 1850 (according to
Daily Life in Civil War America
), "Hair is at once the most delicate and lasting of our materials and survives us like love." It was this overt pathos, in addition to changing fashions and 20th century ideas about "cleanliness," which led to the demise of the practice. "The popularity of hairwork, which was at its peak from the 1850s to 1880s, was affected not by new technology (such as photography) or national traumas (the Civil War) but by issues of labor and production," Sheumaker writes. She explains that America's cultural shift toward "realism" and the mechanization of production led to sentimentality becoming an outdated notion by the end of the 19th century.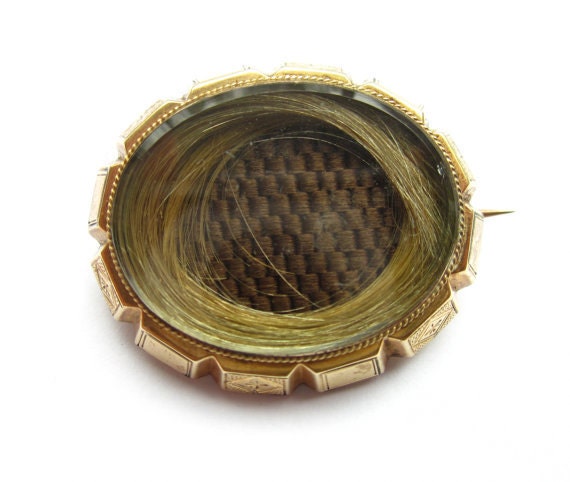 The fact that hairwork is no longer practiced makes the tradition all the more compelling, and I'm not the only one who thinks so. Leila Cohoon began collecting hair art over 60 years ago, and now proudly displays over 1,000 pieces in the
Independence, Missouri, museum
she built in 1990. As she describes in
Frontiers: A Journal of Women Studies
, her collection contains "necklaces, earrings, brooches, chains, watchbands, watch fobs, hat pins, buttons, pictures, and postcards." While wreaths made from the hair of twin sisters (featured in Cohoon's museum) are exemplary of vintage hairwork, there are a number of artists and jewelers putting a contemporary spin on the tradition. Philadelphia-based artist
Melanie Bilenker
uses strands of her own hair to render miniature, line-drawn vignettes, which she then sets in epoxy resin. Bilenker was inspired by Victorian mourning jewelry, but rather than existing as memorials, her pieces depict the familiar moments in life, like a woman brushing her teeth or pouring milk into her morning coffee. Columbian artist
Zaira Pulido
embroiders portraits of her friends using pieces of their hair as thread. The finished pieces are simultaneously compelling and off-putting.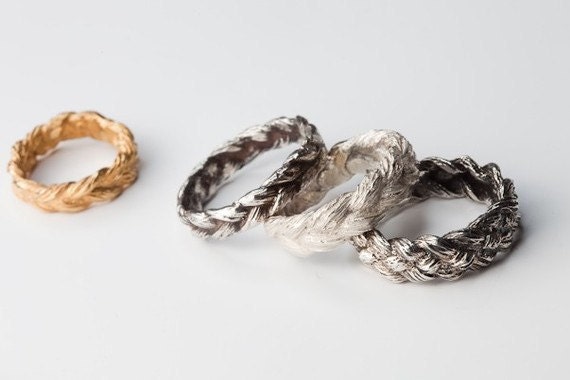 Modern hairwork isn't relegated only to the art world. There are a number of Etsy sellers interpreting the practice in a much more wearable way. Australian jeweler
Polly van der Glas
uses human hair to create striking
knuckle rings
set with a single long lock. But if you're squeamish about flaunting someone else's tresses, she also uses plaited hair to create casts from which she makes wonderfully textured, braided
rings
. Or get the look sans possible ick factor with a piece from
eelewis
; she uses synthetic hair to make edgy but elegant earrings and necklaces. Of course, eliminating the human aspect diminishes the gravity that authentic hairwork carries. As Sheumaker writes, "When you hold a brooch made of hair, you hold in your hand a memento of an individual, her life, and her emotions."