Boo! From luxe velvet pumpkins to sweet, seasonal signage, we've got everything you need to show off your spooky spirit at home.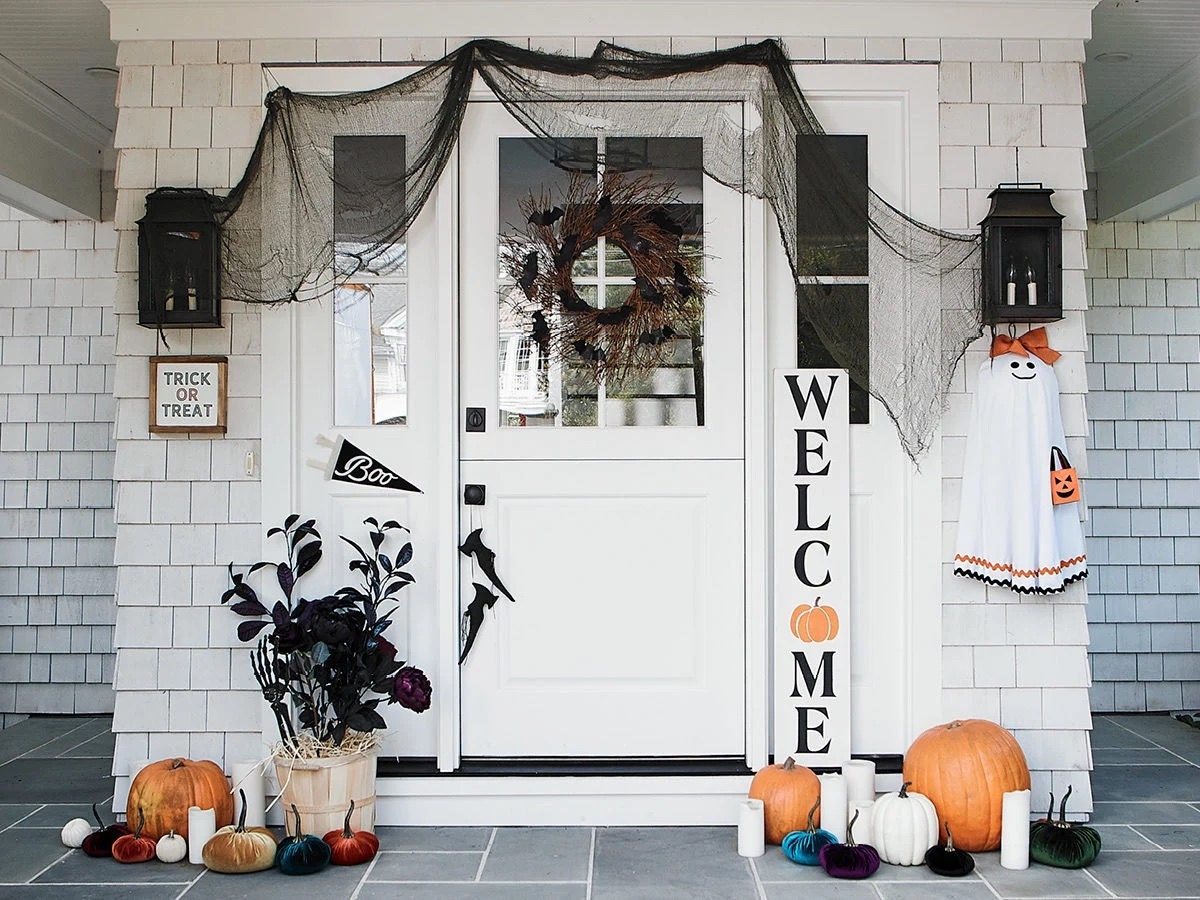 When it comes to Halloween decor for the front porch, some of us tap into an understated, autumnal vibe: a pumpkin or two, an elevated, harvest-hued wreath on the wall, an overflowing bowl of candy corn on the counter, and we call it a day. Others? We go all out. Think cobwebs in every corner, witches and warlocks conspiring on the mantle, and enough jack-o'-lanterns to rival the local gourd patch—the more porch decor, the scarier.
Click play to watch one front porch go from subtly seasonal to scream-worthy with three different porch decorating ideas, then head to the comments and tell us your favorite Halloween porch decoration.
No matter where your personal porch decorations fall on the haunted house spectrum, there's an endless supply of unique, handmade Etsy finds ready to help you bring your particular eerie vision to life. Keep reading for more creative Halloween decorations you can use to recreate this spooky but sweet front door decor.
Decorate with these Halloween porch ideas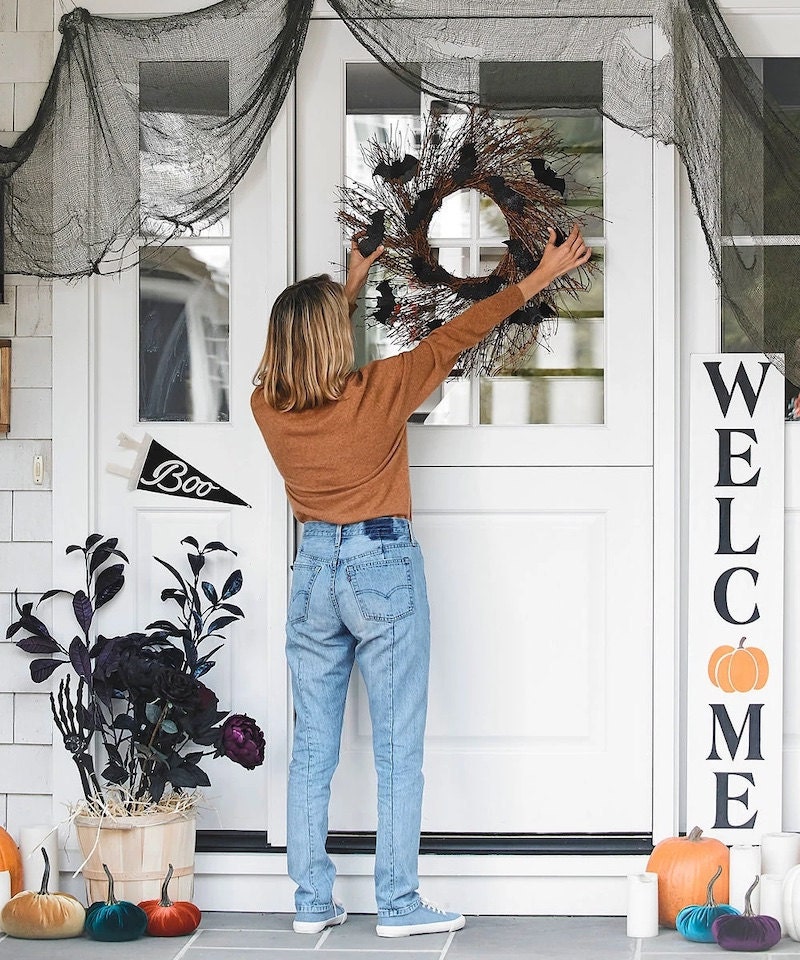 If you've spent the whole year just waiting for October to roll around, announce your enthusiasm with a tall wooden sign that offers an extra-warm welcome to trick-or-treaters (and anyone driving by). No porch space to spare? Try a cute Halloween flag that can be hung right on your door or entryway wall. And speaking of cute, this surprisingly sparkly bat wreath—featuring hand-cut glitter-foam versions of everyone's favorite flying mammal—is the perfect fall wreath idea for Halloween.
Farmhouse-inspired Halloween porch decorations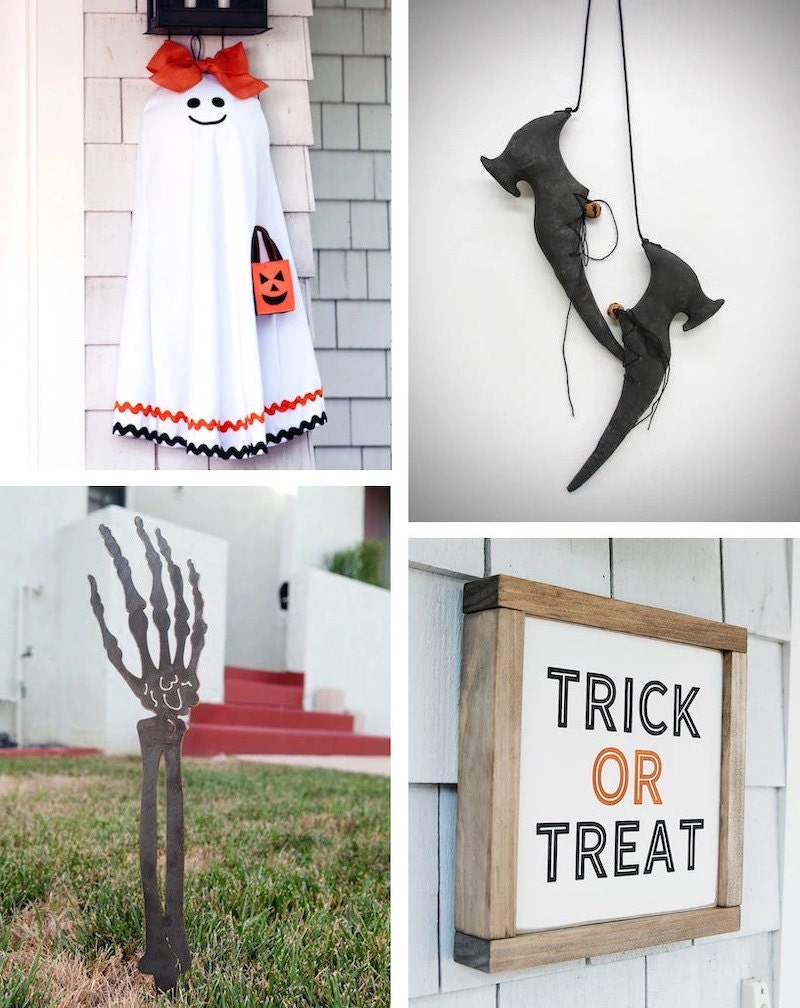 This charming hanging ghost, with its throwback rickrack trim and adorable felt tote, can be embellished with rosy cheeks, retro specs, or a jaunty mustache—plus your choice of dozens of colors of bow—to become the ultimate personalized poltergeist. A made-to-order wooden "Trick or Treat" sign, available in four frame stains, is the kind of timeless seasonal flourish you'll be proud to pull out year after year. Searching for something a little spookier? Turn up the fright factor with a steel skeleton-arm lawn ornament—complete with a handy metal spike for digging into the closest patch of grass—then dangle a pair of handmade muslin witch boots in a dimly lit corner and wait for an unsuspecting soul to stumble across them. 
Velvet pumpkins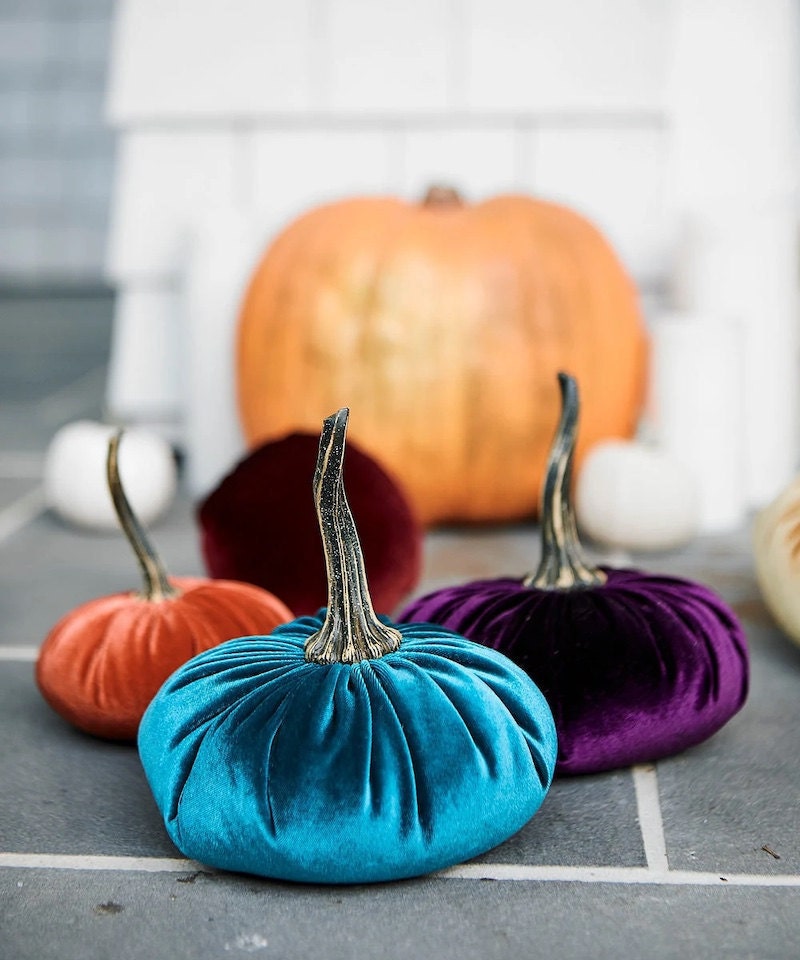 SHOP: Luxe velvet pumpkins from Your Heart's Content, $40 for four
A perennial favorite, these luxe velvet pumpkins, sold in sets of four, come in 31 shades (plus leopard print and buffalo plaid), so you can mix and match your way to a truly one-of-a-kind display. And don't be fooled by their realistic resin stems: There's no expiration date in sight, so you can safely keep your pretty patch on display into November and beyond. Velvet not your vibe? Try these Halloween pumpkin decorating ideas to bring your porch to life.
Photographs by Paul Kim.