by Chappell Ellison
Does the tradition of inheriting your grandmother's china still make sense in your modern-day life?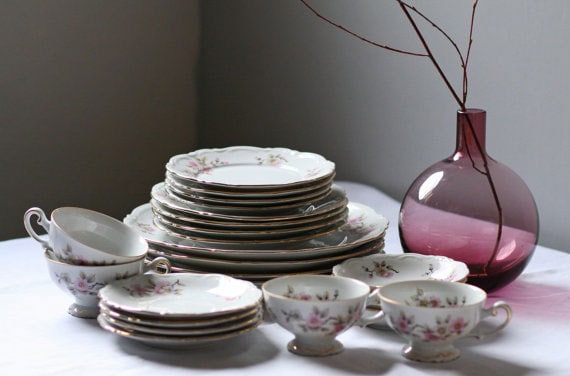 "Would you want these some day?" my mom asked, holding out two cream-colored dishes, edged in turquoise and gold leaf. The dishes were part of my grandmother's vast china service, a wedding gift that's spent roughly 98% of its life packed away in an antique hutch. While I knew that those fine, delicate plates would never seem right in my cramped, spartan apartment, it seems impossible to turn down a family heirloom. This situation isn't rare — many young women are faced with a porcelain inheritance. But large sets of china, often handed down through maternal lines, haven't proven to be so useful in recent years. "For most young households, the necessity of such large sets is questionable, which explains why so many of them sit unused in china cupboards to be handed down unscratched to the next generation," says design historian Shax Riegler in 
Dish: 813 Colorful, Wonderful Dinner Plates
. Today, we have fewer and fewer reasons to break out the china. Part of this is because china services are going the way of formal dining rooms, disappearing in our relaxed society. Surprisingly, the family dining room and the full china service haven't been around that long. Up until the middle of the 19th century, meals were eaten in the French style; guests helped themselves to the array of prepared dishes spread on the table, transferring food to their own plates. This meant that guests had only one or two plates during an entire meal. This dinning method gave way to the more familiar Russian-style service, where servants delivered plated meals to each guest. This shift in dining habits during the 1850s demanded more unique dishware; hostesses requested tiny plates for desserts, and even specially designed tureens for asparagus. Today we're opting for more open home plans, knocking down the dining room walls and serving family meals in the kitchen. Instead of fine china we use inexpensive services, perhaps even found at an estate sale. Yet there's still something about the tradition of fine china that we just can't shake. Even if your idea of cooking is ordering pizza, a set of dishes can still be important to your own identity and home. "Many women who aspire to be a good hostess still seem to covet a set of new or heirloom painted and gilded dishes, the very embodiment of grace and tradition," adds Riegler. Fine china may not make sense in the relaxed atmosphere of your home, but it doesn't mean you have to shun the dishware you inherited. There are many ways to make use of your grandmother's china, even if it's
chipped or broken
. A serving bowl transforms into a simple planter for a succulent; a set of saucers makes for a patterned wall decoration. Our relationship to dishware is constantly changing, but it remains a common every day object that reminds us of home, family and tradition.